Ben Lobb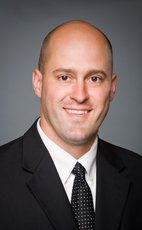 House of Commons photo
Track Ben
Your Say
Elsewhere
Crucial Fact
Conservative
MP for Huron—Bruce (Ontario)
Won his last election, in 2011, with 54.90% of the vote.
Statements in the House
Economic Action Plan 2013 Act, No. 1 May 7th, 2013
Mr. Speaker, the member asked about four or five questions, but one I would like to answer. He did make a point about the efficiencies that have been found within the department. It is not 1972 anymore. It is 2013. We can do things differently. We can do things more efficiently. As taxpayers, we expect that.
I choose to look at the fact that it is 2013 today. We can operate business differently. Up until a few years ago it was almost as if the highest technology Veterans Affairs had from the Liberal legacy was a typewriter. Therefore, we have made the investments. We have gone on our initiative to transform Veterans Affairs. I am proud of that. We are operating in a way that delivers funds to veterans, and they do not get spent on administration.
Economic Action Plan 2013 Act, No. 1 May 7th, 2013
Mr. Speaker, he can flap his gums all he wants over on the other side, but what we are talking about here is what would deliver for Canadians. It would deliver for people in my riding. If he were to get on board, it might even help people in his riding.
We are talking about helping manufacturers. We are talking about getting people back to work. What is he talking about? We have put a billion dollars into the CBC. How much more do you want?
Economic Action Plan 2013 Act, No. 1 May 7th, 2013
Mr. Speaker, let me read a quote the member may be interested in. I know his province also has manufacturing. This is from Jayson Myers, the President and CEO of Canadian Manufacturers and Exporters. It goes on quite a way, but it talks to the last point that I made about the accelerated capital cost. He says, "It creates an incentive because manufacturers will lose these tax savings if they do not continue to invest". It all—
Economic Action Plan 2013 Act, No. 1 May 7th, 2013
I do not think so.
When we focus on what we have gone through in the global economic downturn and we look at how we have come though it, there is a lot to be proud of in what this government has been able to do. Now the rest of the world is looking at Canada as the example of how to make it through and continue to provide a balance between keeping an eye on the bottom line while being able to make strategic investments to help grow our economy.
Since July 2009, we have seen the Canadian economy add over 900,000 jobs. Our employment levels are nearly back to where they were in pre-recession levels. The typical Canadian household now pays more than $3,000 less in tax each year, and seniors pay more than $2,000 less each year. We have reduced the GST to 7% and harmonized the 7% and 5%. It has made a big difference, especially in the province of Ontario, which I represent. We on this side have a lot to be proud of.
The opposition members have continued to criticize what we have done. However, time and time again we have proven them wrong. We continue to deliver for Canadians and the Canadian economy.
One point I would like to highlight with respect to Bill C-60, our budget implementation bill, is the gas tax fund. This has been an important mechanism for municipalities, and in my area, the counties, to continue to deliver on key infrastructure projects. We know that in 2009 our government doubled that from $1 billion to $2 billion, which was a huge investment commitment to our communities. Whether those projects are water, sewer, roads or bridges, it has provided the municipalities with long-term stable funding. It is ironic that at a time when Ontario is clawing back what it provides to rural municipalities, our government, in spite of a deficit and tough economic times, has continued to deliver that funding to our municipalities. With this BIA, we are expanding and indexing that. More importantly, we are expanding the number of areas that can be covered and where we are making investments for municipalities, such as economic development, shipping, whether through water, rail or airports, and broadband, to allow them to continue to develop and grow.
That is a key and important factor for economic development in the municipalities and counties in rural southwestern Ontario. Also, it is important to be able to apply some of that to economic development and tourism in the riding of Huron—Bruce, which from north to south along Lake Huron on the west side is known as Ontario's west coast. It is important that our municipalities can continue to deliver services to American tourists as well as those from the cities, so they can enjoy what we have and, more importantly, drive on safe roads and have safe reliable water and sewer services.
I will provide some information just to give members an idea of the scope and scale dollar-wise that we are able to deliver on.
When our government came into office in 2006, Bruce County received just a little over $600,000 in funding; Huron Country received $582,000; and Central Huron, the municipality within which I live, received $76,000.
In the 2011-12 budget year, the annual investment made by our government into Bruce County had more than tripled, to nearly $2 million from $600,000 just a few years ago. For Huron County it was $1.8 million, and for Central Huron it was $234,000.
The opposition likes to do a lot of talking and criticizing, but the fact is that those are real dollars going into our communities that are helping to make our roads better, our sewers operate at a higher efficiency and our drinking water clean. As we move forward, it would provide great opportunities for the topics I have mentioned in the past. These are all positives.
FCM is strongly behind us, as is the Association of Municipalities of Ontario, AMO. As well, if we look at the average age of our infrastructure, it is coming down from 17 years on average to 14 years. That is delivering.
I have not mentioned the massive commitments we made through the downturn, through RInC and accelerations through the building Canada fund, which helped to get projects on the go. In my riding where there is a huge number of contractors and so forth, it kept them at work and allowed them to make new investments in their machinery and keep people on. I think that really helped deliver, and it is something we can all be proud of, at least on this side of the House.
Another area we need to focus on, which some of my colleagues have touched on, is the commitment to the last post fund. For people watching at home and members in opposition who are listening, I should mention that our government, in the face of recession and economic downturn, maintained our funding to veterans. We did not cut and run, we did not duck, but we maintained our investment and funding to our veterans. Members can go back just a few short years to see the investments we made with the new veterans charter. We completely enhanced it.
I can hear the member for Malpeque pecking away, and usually when the truth and the facts start coming out, his blood pressure starts to go up. He was there 20 years ago when the Liberals went in and slashed benefits to veterans, especially our allied vets, the whole gamut. However I will try to stay focused on the last post fund at this time.
We would double the amount we commit to veterans in need from $3,600 to more than $7,200 a year. This is important because those men and women served us well in World War II and in Korea; they put their lives on the line. When they came back from battle, some had ailments or impairments, which they likely lived with for their entire lives. However, through the hard knocks of life sometimes, maybe the finances did not come out as they would have hoped, which is why we are here for them today, so they can receive a funeral that represents their commitment and sacrifice to the country.
It is a shame, specifically when looking at this, that the opposition would not support this bill just on that alone. It would show the support, that this can be a non-partisan event and that we can all vote together on this BIA to show veterans from one coast to the other that we are all in it together with them on this.
The last post fund runs this program in a highly efficient manner. Every dollar it receives goes toward the program and there is virtually nothing in it for administration. The fund does a great job, and I am very proud that we would be able to deliver and in a way that respects its work.
I previously worked in the manufacturing sector, and I wanted to touch upon the fact that our accelerated capital cost allowance would be renewed for two years at 50% from the previous 30%. Basically, this would allow businesses to make investments right off their machinery in three years instead of nine years, which is hugely important, especially in Ontario because of its manufacturing and industrial base.
I could do a 30-minute speech on all the investments we have made in manufacturing in Ontario and, Mr. Speaker, being from Windsor, you would certainly know of some of those investments that have benefited your region. However, I am sure members of the opposition have a question or two, maybe even the member for Malpeque, and I welcome them.
Economic Action Plan 2013 Act, No. 1 May 7th, 2013
Mr. Speaker, sometimes when I hear my Liberal colleagues give a speech in the House about their record from 20 years ago, it almost reminds me of some of the dinners we have attended for former sport athletes who are well passed their prime, talking about the good old days. However, the good old days are a long way away.
Last Post Fund April 18th, 2013
Mr. Speaker, I find the speeches in the House interesting, from time to time, and the different perceptions on reality, I guess one could say.
Just for the people at home, I have been on the veterans affairs committee since I was first elected in 2008. It is a privilege, really, to serve on the committee. In spite of the debates we have heard today, it really is not a partisan committee. I think all members are trying to do their best for veterans.
However, I think we do need to focus on a couple of things.
The Funeral Service Association of Canada was in Ottawa a couple of years ago and made its presentation on the issues it thought could be improved. The head of the funeral association came forward after the budget and really had glowing remarks about what we have been able to do to provide increased funding for the funerals of veterans.
The other thing that I think has been lost in this debate is the burial portion of it that was really unlimited, depending upon where a veteran was from, whether from a city or from an area like mine, which would be considered rural. If they were from a city, the actual burial portion of it could be quite expensive. Veterans Affairs was there to cover that cost. I think that should also be mentioned in the debate.
The member for Charlottetown and the member for Sackville—Eastern Shore commented on what they perceived to be deficiencies inside the department. However, I think they have to remember what we have done since 2006, to date, to transform this department. Seeing how they went on about this, I think I should clarify a few things.
Basically, prior to our becoming government in 2006, they were doing business in Veterans Affairs as they might have done business in 1972. Virtually all the records were paper. There were virtually no electronic veterans' files of any detail. That has come a tremendous way in the last few years. With respect to the transformation agenda that has taken place at Veterans Affairs just during my time, since 2008, I feel great strides have been made to improve efficiencies and, most important, to deliver results to veterans in a timely, appropriate and professional manner. Case managers who deal at the front line to get things done for veterans have been given a lot more leeway. I think that is really worth mentioning. It is worth noting that Veterans Affairs has stepped up to the plate.
The member for Charlottetown talked about jobs. By and large, most of those have been through attrition. I think that speaks to the compassion of the department, both at the political level and at the administration level as well. I think that speaks to the effort and the manner in which it is trying to deliver.
The other point is that such tremendous efficiencies have been developed in the last couple of years that it allows for those people in the backrooms, I guess we would call them, to perhaps be replaced through the efficiencies. However, the front-line workers are still there and are still doing a great job.
The member for Charlottetown also touched upon the offices and their ability to deliver services. In my riding of Huron—Bruce, we do not have an office, and the service is delivered quite fine, as far as I am concerned. The case managers I have come to know or spoken to over the years do a great job. They drive from London, which is about an hour's drive from where I live, and in some cases it is farther, depending on where one lives. They do a great job. They work with the Legion branches. If veterans cannot make it to the Legion, they go to their house. I have never once had a complaint from veterans on the way they have been treated or the way the case manager has treated their file or their situation.
It is the year 2013 and things can be done differently from the way they done were in 1972, even if the opposition resists those changes into modern times or modern technology.
Another thing I would like to talk about is the new veterans charter. We have already made one change since I have been here, with the new veterans charter, because we have listened to veterans and we have listened to veterans groups. We realize the new veterans charter is a living, breathing document that is not set in stone forever, and as veterans' needs change, so will the program.
I just looked at changes to the earnings loss benefit. I looked at changes to the permanent impairment allowance. These were significant improvements.
A couple of years ago, veterans came forward and said they would like some flexibility on the lump sum that is paid out. We listened to veterans, and when Jean-Pierre Blackburn was the minister, we brought those in. We have done a great job of listening.
I find it interesting that members of the opposition talk about the lack of consultation. I have been in committee since 2008, and I have heard numerous veterans groups who appeared before committee talk specifically about the last post funding and they have made themselves clear, not only in House of Commons committees but in the Senate committees as well.
As far as consultation is concerned, we have heard loud and clear about the last post fund. We have heard loud and clear from the Funeral Service Association of Canada. We have heard loud and clear from the Legion. We have heard loud and clear from veterans and different veterans associations. To say there was no consultation is ridiculous, to say the least, because there are umpteen different reports or files that can be seen, and the ombudsman has provided documentation as well.
We have been there. We have doubled funding for the last post fund on the funeral side of it, and it is a means-based program that allows a veteran and his or her family to have a dignified funeral, which is the whole purpose of the last post fund. There are hundreds of thousands of people who have served in the military who are not active clients of Veterans Affairs. However, these are people who are involved and are clients of Veterans Affairs, through their service-related injuries.The fund is to provide those veterans a proper and dignified funeral, and that is what we have done.
It is also worthwhile to note that in spite of the economic downturn and in spite of increased financial pressures on government coffers, we did not do what the Liberals did so many years ago and cut all the vital services. We go on at length about the cuts to social transfers and health transfers, but there also were cuts in the Veterans Affairs Department.
We have maintained the funding. We have found savings by providing efficiencies in the department, with which I think most Canadians agree, and we have maintained the fund. We did not cut the funerals and burials of the last post from $3,600 to $1,800. We doubled it. We have made the investments, and this is in a time of deficit.
When provinces from coast to coast—and I am from Ontario—have slashed services in some cases, we continue to deliver, and we have continued to deliver for veterans.
Many members of our caucus have parents or grandparents who have served in the Canadian Forces. We even have some members of Parliament who have served in our Canadian Forces. I have a member sitting right near me who had a great experience with his father with Veterans Affairs. If any members of the opposition would like to talk to him about his experience and the professionalism with which they treated him and his family, I am sure he would be happy to share that with them anytime. I would encourage them to do that.
To sum up, we have to look at the entire suite of programs that are going to veterans. We have done studies on what other countries provide to their veterans in the form of services, and time and time again, Canada comes out ahead. It comes out right at the top. Whether it is about vocational training, PTSD or mental health, governments around the world are looking at what we are doing in Canada with Veterans Affairs, and they are using our template to deliver services to veterans. Why? It is because we listen to veterans; we are working for veterans; and the department, the minister and all his staff are focused on getting the job done, because we appreciate the service commitment that they provided.
I appreciate the time for the debate. I think we have put forward a great case and we have shown Canadians, demonstrated our investment, and it should be noted that the Department of Veterans Affairs' budget is over $3 billion each and every year.
Kelly Gruber Performance Baseball Camp April 15th, 2013
Mr. Speaker, make sure to mark down July 8 and July 9 this summer for the Kelly Gruber Performance Baseball Camp in Clinton, Ontario, featuring Kelly Gruber, two-time all star and world series champion. The camp also features Bill "Spaceman" Lee, former pitcher of the Expos, and former Blue Jays' Mark Eichhorn, and Lloyd "Shaker" Moseby.
The camp is open to boys and girls from the ages of 8 to 17. The first 30 kids who register get a free Louisville Slugger baseball bat. Parents and grandparents should go out and sign up the kids today.
Clinton Minor Baseball is honoured to host such an exciting camp and is proud to announce that thanks to the many sponsors and donors, the camp will be one of the most affordable camps this summer, at a cost of only $50 per child. For more details and to register for the camp, please visit gruberbaseball.com.
Once again, we thank the sponsors, the participants, and the municipality of Central Huron for making this all possible.
The Budget March 27th, 2013
Mr. Speaker, I always enjoy hearing the revisionist history provided by the NDP and the Liberal Party, which voted against the largest investment in infrastructure in the history of this country with the stimulus program we brought in a number of years ago.
In Huron—Bruce we have had great success with infrastructure investments. The municipalities in my riding are now planning for the future. They are talking to architects and members of the community to come up with new ideas on what their priorities are, so I think this is well timed.
I would ask the member for Prince Albert how the Canada job grant program is going to work for him, his community and his riding. I think that is a program that will help keep their economy in high gear.
Heart Disease October 16th, 2012
Mr. Speaker, this past summer, Brett Maclean, a professional hockey player from Port Elgin, suffered cardiac arrest while playing pickup hockey with his friends in an arena in Owen Sound. Fortunately, the arena was equipped with an automatic external defibrillator, which was used to bring Brett back from the brink. Only 23 years old and coming off a 25-goal season in the American Hockey League, Brett was working toward a full-time spot in the NHL.
I would like to commend Mr. Maclean on his strength and positive outlook on life after this sudden incident. His hockey career is over for now, but his impact on the community is just beginning. In August, Brett, along with some help from his friends, put on a road hockey tournament at the Lakeshore Racquetball Club in Port Elgin, raising money for the Heart and Stroke Foundation. Earlier this month, Brett also took part in the launch of the Heart and Stroke Foundation's new awareness campaign, just three months out of the hospital.
I congratulate Brett for his courage and willingness to help others battle this serious disease. We must all work together to help fight heart disease and raise awareness. Congratulations to Brett.
Jobs, Growth and Long-term Prosperity Act June 12th, 2012
Mr. Speaker, he is probably one of the best small businessman in the House today.
I mention again competitiveness because I know the other side does not get it. We are competing with countries like Australia and Brazil, countries that are making environmental assessments happen in six months' time. Every minute that we cannot compete with these other countries, capital will leave our country, go elsewhere and never return.
It is more important now than ever before that we get it done one time and get it done right. Let us get the investments to Canada. Let us make it happen in Avalon.