Ben Lobb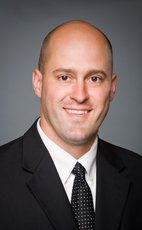 House of Commons photo
Track Ben
Your Say
Elsewhere
Crucial Fact
Conservative
MP for Huron—Bruce (Ontario)
Won his last election, in 2011, with 54.90% of the vote.
Statements in the House
Canada-Honduras Economic Growth and Prosperity Act March 6th, 2014
Mr. Speaker, it is a pleasure to rise in the House to speak to the Canada-Honduras trade agreement. I have been listening intently to the other speakers.
First and foremost, it is important to point out, as a previous speaker has already mentioned, that Canada is already trading with Honduras. It is not that we are not doing trade with Honduras and are now exploring this; we are doing millions of dollars in trade with Honduras currently. We are talking about the reduction or elimination of tariffs. That is where we are as far as the debate goes and the essence of the trade agreement.
Once this agreement is in force, nearly 70% of the tariffs that are in place today would be eliminated. Over the length of the deal, which is to be fully implemented within 5 to 15 years, over 98% of the tariffs that are currently in place between us and Honduras would be eliminated. That is important to recognize.
The population is about 8.3 million people. Over the last 25 years, the population has almost doubled. This is a very fast growing country. With countries that are fast growing, there are tremendous opportunities for growth and innovation, certainly for growth in our trade.
The population in Honduras has grown between 3% and 4% for the last number of years, and not only is the population growing, but its economy is growing as well. It is not a very industrialized nation. That in itself presents many more opportunities for Canadian manufacturers, whether it is in plastics, or any other products that may be needed in an economy that is growing, diversifying, and moving forward.
It is also important for people to note that we are not the first country trying to finalize a deal for trade with Honduras. The United States signed its trade agreement with Honduras almost 10 years ago, in 2006. The European Union signed one in 2013. Certainly there is a precedent there, which leads to my next important point, which is that Canada participates in the tariff elimination so our agricultural producers can compete with American producers and enjoy the same opportunity that they do
I will give an example of where that is hurting producers in my riding of Huron—Bruce, with edible soybeans and the lack of a deal with South Korea. There are extremely high tariffs on edible soybeans. The United States has its trade agreement with South Korea, and this is putting producers at a disadvantage in Huron—Bruce today. It means that the premium, not the price, not the basis, but the premium that a producer of edible soybeans would receive, is diminished because of the tariff that is applied to them. That is what we are talking about.
Again, Huron—Bruce is in southwestern Ontario. A lot of beef and pork is grown there. To give the size, scope, and scale just of Ontario, we are looking at about 4.8 million hogs and 600,000 head of cattle per year that are taken to market. There is tremendous opportunity in the red meat sector with this trade deal.
Of note in the last number of years, and I give Jim Clark from Ontario Corn Fed Beef top marks on this, is that a brand of corn-fed beef has been developed that is reaching across the world as a premium product. A lot of the beef producers in Alberta are sweating because they know that corn-fed beef from Ontario is the best. About 55% of the cattle in Ontario are going to this program, and for those producers, there is opportunity.
I should also mention some of the tariffs, on a percentage basis, that some of our producers would experience. Beef and pork are both at 15%.
Another product that could certainly be exported from Huron—Bruce, and from coast to coast, is maple syrup. It is about 10%, on average. We are looking at about 10.5% on agricultural products going into the Honduran market.
We have over $3 million a year in sales to Honduras. There is a great opportunity to grow that by working with people on the ground to knock down those barriers and get more products into the hands of the Honduran people.
I would also note that it is vitally important in a lot of these projects and trade deals, certainly with developing nations, for there to be a world-class port facility. Honduras, fortunately, has a world-class port facility that allows for containers to be shipped in and out. That in itself is also of value. Again, that is likely why we have had a long-term trade relationship with Honduras.
We should not only look at what is in it for Canada on an export basis; we should look at what we are bringing in and the value for the people in Honduras.
There are some products that we as Canadians consume a lot of, which would be coffee, bananas, pineapples, bananas, etcetera. Even though they may not be milk and eggs, for most Canadians these are staples in many of our diets. The reduction of tariffs on those products coming in would be good for Canadians. It would be good for all Canadians, regardless of income and wealth. It would allow their families to put those products on the table at a lower cost than they are today.
If we look at infrastructure, what are some of the issues Hondurans are faced with? They are probably consumed with infrastructure issues, such as roads and bridges, safe drinking water, and sanitary sewers in their cities and reaching into their urban areas, where it is applicable. We have world-class engineering and construction firms here in Canada. I am sure that they are doing business in Honduras right now, but this would allow them to have an expanded role and better opportunities for trade there.
I would like to talk a little more about Huron—Bruce, if I may. Huron—Bruce is a large rural riding in southwestern Ontario. I have mentioned beef and pork production. The area is a huge producer of grains, corn, soy beans, wheat, and other specialty products that may not be common to people from coast to coast.
We have the deepest freshwater port in Lake Huron, which allows for tremendous opportunities. A large amount of grain is shipped in and out of Goderich each and every year, which presents further opportunities. Maybe the Canada-Honduras trade agreement would not change the trade picture in Huron—Bruce overnight, but when we add the cumulative effect of all the trade agreements, it would make a difference for agricultural producers.
We also have the largest inland holding facility for grains, with the Hensall co-op.
I can remember in the 2005 election, back when corn was in the $2 range and farmers were legitimately struggling, one of the commitments we made to our producers was something we heard from them. They did not want to earn their living from the mailbox. They wanted to earn their living from the marketplace. I am proud to say that eight or nine years later, that is what they are doing. It is not only because of the trade agreements. There are a lot of other factors that go along with it. However, these trade agreements have added up and made significant improvements to the situation for our producers.
We can take a look at the price of a great number of commodities and look at where they have gone. We can take a look at a great number of farmland values and how they have increased since 2005. This is all because what we are trying to do is set up markets, reduce barriers, and work with other countries. We work with their veterinarians and food inspection agencies so that when a food issue comes up, they can react quickly and know that we have mechanisms here in Canada to protect the export of our food and food products. We have done that.
One other product I have not mentioned is the great hardwood lumber that comes out of Huron—Bruce. It is world-class hardwood maple, oak, and cherry. There are great products coming out. There is walnut as well, whether veneer or hardwood flooring. These are products that would now have the tariffs reduced. I believe on wood products it is around 15%. We will see that reduced.
As these are reduced, our products will become more competitive with the U.S. and with the European Union. That is good for Canadians, it is good for Canadian producers, and it is certainly good for a riding like mine, Huron—Bruce.
I am glad to take questions from the opposition.
Bruce Power February 26th, 2014
Mr. Speaker, Bruce Power is the largest employer in Huron—Bruce, employing over 3,700 full-time staff. It is the largest nuclear power plant in the world, with eight functioning reactors. It is also Canada's largest private–public partnership. In 2013, it sold electricity at a cost of 6¢ per kilowatt hour, versus the provincial average of 8.5¢. That is 30% below the provincial average. It also provides 30% of Ontario's power, making it one of the most efficient and cost-effective means for power generation in the country.
Through direct and indirect employment, nuclear energy in Canada provides for almost 75,000 full-time jobs.
I would like to welcome Bruce Power to Ottawa this week for the Canadian Nuclear Association's annual conference and trade show. I hope my colleagues in the House have a chance to visit the Weston Hotel to learn more about this vibrant and reliable industry.
Keep up the good work at the Bruce so we can keep the lights on.
Veterans Affairs February 7th, 2014
Mr. Speaker, our government remains committed to serving the Canadians who served us.
I would like to share a story from Stan Kenyon, a 95-year-old World War II veteran from Brantford, Ontario.
He recently stated in a local Brantford newspaper:
I am getting all of the benefits I need, I always have, and I've never once been to an office. Someone either comes to my home to see what I need or I get a letter in the mail.
This is exactly what Canadians and veterans expect, and I thank Mr. Kenyon for his contribution to Canada. It is an honour to serve him. I also thank the member for Brant, who sits right beside me, for his hard work on behalf of veterans in his riding and across this country.
Committees of the House November 27th, 2013
Mr. Speaker, I have the honour to present, in both official languages, the first report of the Standing Committee on Health on the supplementary estimates (B) 2013-14.
Veterans Affairs November 21st, 2013
Mr. Speaker, it has been 10 long days since the Liberal Party reminded Canadians that it just does not trust them with their hard-earned money. On Remembrance Day, no less, the Liberal Party slammed veterans by saying that giving money to veterans who are injured in the service of Canada is like "hanging a case of beer in front of a drunk", who will go and spend it on booze and addictions.
Veterans are scratching their heads. How can the Liberal veterans affairs critic claim to stand up for veterans and criticize their intentions at the same time? Veterans deserve better. How many more days do veterans have to wait for the leader of the Liberal Party to fire his veterans spokesman?
Murray Cardiff November 19th, 2013
Mr. Speaker, Murray Cardiff, a long-time resident of Huron County, passed away on October 31, 2013. Murray served the riding as the member of Parliament for Huron—Bruce from 1980 to 1993. During his time in Ottawa, Murray was parliamentary secretary to the solicitor general, parliamentary secretary to the minister of agriculture, and parliamentary secretary to the president of the Privy Council.
Murray was a pillar in his community and always encouraged those around him to get involved with their local government. He was an inspiration as a farmer, dedicated politician, husband, father, and grandfather. Murray never shied away from a meeting in his Brussels office and was active in his community well after his time on Parliament Hill. He was a charter member of the Brussels Optimist Club and a member of the Brussels Legion.
Murray Cardiff was a shining example of how a member of Parliament should represent their constituents: hard-working, dedicated, and relentless.
Our thoughts and prayers go out to Murray's wife Betty, their children, and their extended family. Murray will be missed, but he will not be forgotten,
Economic Action Plan 2013 Act No. 2 October 29th, 2013
Mr. Speaker, with that kind of scrambled logic, there is no doubt why the Liberals are in third place and heading to fourth very quickly.
Under the leadership of our finance minister and our Prime Minister, the biggest problem we have right now in Canada, and certainly the biggest problem we have in Huron—Bruce, is finding people who are qualified to do the job.
Canada job grant: those are three words the Liberals should learn really quickly. We have people who want to work hard, who have worked hard, who need a hand up. They need retraining. I know all the professors down at the far end in the third party have no comprehension about that because they learned it in a classroom, but here, where we have actually done the jobs that are in the economy, we understand that sometimes people need to be retrained. Sometimes people need a chance to improve.
In Huron—Bruce, that is what we need. We need the Canada job grant. The professor party down there at the far end needs to clue in.
Economic Action Plan 2013 Act No. 2 October 29th, 2013
Mr. Speaker, one of my suggestions to the member would be to call Dalton McGuinty.
I was the chair of the auto caucus for a number of years. Time and time again we heard from automakers that Dalton McGuinty's flawed electricity policy in Ontario raised costs.
I used to work at a foundry. The furnaces in that business use a lot of electricity. Because of the policies of the Province of Ontario, companies that use a lot of electricity are now at a disadvantage because of Dalton McGuinty's policies.
I would call Andrea Horwath, the leader of the NDP, and ask her what she is going to do about it. She is quite happy to support Kathleen Wynne and Dalton McGuinty.
Economic Action Plan 2013 Act No. 2 October 29th, 2013
Mr. Speaker, it is a pleasure to rise today to speak to the budget implementation bill.
If we think back five years ago to the day to where we were in the global economy, certainly no one would forget the financial crisis that occurred in the United States, the failures of investment banking houses and the failures of banks throughout the United States. The Lehman Brothers, a 158-year-old investment bank, went out of business. We remember the troubled asset plan, TARP, that the United States brought in, which was $700 billion to help keep the banking sector alive in the United States. We can all remember the "credit crunch" terms.
What is the point of that? The point is that it was one of the geneses of the economic downturn that occurred in early 2008 and for more than a year after that.
The idea is that the economic downturn did not start in Canada. No one would ever say that. Certainly, we were negatively impacted by the downturn. The contraction of the U.S. economy in 2005 was minus 1.5, a negative growth. The Europe eurozone went down 2%. Japan contracted as well by 2.5%.
When we put that in context, looking back five years ago, that is what this government dealt with. How to get out of it was the question we needed to answer.
Some of the realities in July and August 2009 were that the unemployment rate in Canada was 8.6% and 8.7% respectively, new car sales in 2009 dropped precipitously to under 1.5 million new cars, the Toronto Stock Exchange composite index was at 8,500, and I mentioned the economic contraction that took place.
The job of government is not one to create jobs. The job of government is to create an economic climate so it creates ease and assurance for businesses to conduct business, feel strong and secure, grow, make it through the tough times and add jobs.
My former employer, prior to getting elected, had about 150 employees. Today it has over 800. It was not due to our government. We did not create those jobs, but we created an economic climate for it to succeed, make it through those tough times and to now hire many new employees.
Since the economic downturn in 2008-09, and July 2009 is a benchmark we have used many times, the Canadian economy has added over one millions jobs, which is truly remarkable.
Another important fact we need to remember when we look back is that our unemployment rate in Canada is actually lower than the United States, and it has been that way now for a couple of years. It has literally been decades since our unemployment rate was lower than the United States. Canadians should be proud of that. Canadian businesses should be proud that they have created these jobs.
In addition to that, Canada's net debt to GDP is the leader of G7 countries with developed economies. That is something to be proud of. We have been able to get through these tough times of deficit and yet keep our net debt low. We will lead the G7 in net growth as well.
There are many things that Canada has done. We have been through the tough times and, again, it was not brought on by us but by the other much larger economies. However, because of our fiscal policy, we have been able to get through it.
The unemployment rate from September 2003 is now down to 6.9%. Huron county is at 5.4% and in Bruce county it is 4.5%. Certainly, I can take credit for none of that, but I am very proud of the people in our communities who are job creators. They have been able to adapt, respond and react to the fiscal realities and create unique and interesting jobs in our communities.
I mentioned new car sales. They were under 1.5 million in 2009. I can remember meeting in my office with car dealers at the time. They were thinking of any possible way to create a carrot, an incentive for people to buy new cars and get them going, because in December 2008 to July 2009 sales basically ground to a halt. In 2012, I am proud to report, sales were at a 10-year high. We saw 10-year highs in auto sales of over 1.7 million units. That is a 15% increase over the 2009 levels. The TSX composite index, as I mentioned, was at 8,500; it is at about 15,500 today, which is over a 50% increase.
What does that mean? Well, it means that the general health of the largest Canadian corporations is much better. Their earnings have increased and their capacity to grow and hire new employees has expanded. That is why we have seen the million-plus job increase since then.
What does BIA 2 have in it that is going to continue this growth? As policy-makers in our country, how do we continue to create a stimulus to continue to grow our economy? One of the things, in my opinion, is the freezing of employment insurance rates.
Here is an interesting fact. If we go back to 2000, the rate for the employee was $2.40 per $100 in earnings. Today, the frozen rate is $1.88 per $100 in earnings. We have been able to come through good times and bad, and we still have a very competitive rate.
Freezing the rates also helps employers, because we know that they pay 1.4 times what the employee pays, and that comes right off their payroll. It is very important for employers to be able to save as much as they can. I believe it is about $660 million that Canadian businesses would have available to use to invest in capital and employees and to continue to grow their businesses. That is vitally important.
Another point that is important for policy-makers in creating a climate where investment is going to occur and create stimulus for our economy is increasing the lifetime capital gains exemption. The last time an increase took place was in 1988; in 2007, our Conservative government increased it from $500,000 to $750,000, which is a tremendous benefit to people who are in business and are there to create jobs in small businesses.
I come from a rural riding, and that is certainly a huge benefit for our farming community. Many farmers sell their farms and move into a new community where they will reinvest that profit and interest and create jobs and economic prosperity.
The lifetime capital gains exemption would now be increased from $750,000 to $800,000, and then in 2015 it would be indexed moving forward. That is very important, because a lot of the time, what happens is that capital gets locked in. It gets locked up, and the person holding that capital and that asset does not want to sell it because he or she will trigger a taxable occurrence. That is a part of life. That is just the way it is. However, for us as government, to create a policy that provides a reason to sell and let somebody else come in to reinvest and maybe grow the business is vitally important.
There is a ton that I would like to speak about. Another point that I will mix in very quickly is the accelerated capital cost for biogas. There is a farm in my community near Walkerton that has created a biogas facility that uses methane and food waste from the food industry to power two Caterpillar engines that create electricity. To be able to now accelerate the depreciation to create a stimulus and a reason to make an investment is a great opportunity.
There are about four or five other things that I would like to talk about. Hopefully, during the questions, I will be able to address them.
Nobel Prize for Literature October 21st, 2013
Mr. Speaker, on October 10, 2013, the world took notice of something that we as Canadians have known for the past 40 years: Alice Munro is a great author. She is the first Canadian female author to win the prestigious Nobel Prize in Literature, and only the 13th woman to have ever won the award since its inception 112 years ago.
Alice was born in Wingham, Ontario, and now calls Clinton home. She has published more than a dozen collections of short stories, most of which focus on women living in rural southwestern Ontario.
The people of Huron—Bruce are immensely proud of her accomplishments, and I encourage all Canadians to pick up one of her books and have a read. Alice published her first collection of short stories in 1967 and has continued writing acclaimed Canadian works for the past four decades.
Congratulations to Alice and all Canadian writers, as this is a testament to the skills and the foresight of our heritage. I speak for all of us in this House when I thank her for representing Canada with such a passion and insight. We wish her all the best, in health, spirit and mind.