Cathy McLeod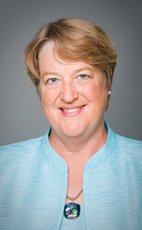 House of Commons photo
Track Cathy
Your Say
Elsewhere
Crucial Fact
Her

favourite word

is important.
Conservative
MP for Kamloops—Thompson—Cariboo (B.C.)
Won her last election, in 2011, with 52.20% of the vote.
Statements in the House
Railway Safety Act January 27th, 2015
Mr. Speaker, I am very pleased to stand to speak to private member's Bill C-627. I also want to congratulate the member for Winnipeg South Centre on a bill that really reflects the needs that she saw in her own riding. It is very interesting. As we look at this particular bill and speak to it, we are all looking at our ridings and what the impact might be on them. We heard from different members about having a lot of rail running through their ridings. I myself represent Kamloops—Thompson—Cariboo, which is 45,000 square kilometres. We have CN, which runs from the Alberta border down through Edmonton to Vancouver, and we have CP, which goes through the Calgary route. When I heard the number of crossings mentioned by the previous member, I was thinking that perhaps the bill would have an extraordinarily higher effect in my riding, because out of those 18,000 or 23,000 crossings, the riding I represent has quite a number of them.
When I was first heading into the election campaign of 2008, I certainly remember going across one of the highways in the region. We were suddenly warned to slow down and go very slowly, because this was a very hazardous crossing. In this way I was first introduced to a very hazardous crossing very early in my election campaign. Of course, I am very pleased to see that there have been improvements.
It is important to reflect that the vast majority of the crossings in our country are well maintained, but there are instances and circumstances that make this particular bill both appropriate and necessary.
As a government, we are committed to the safety and the security of Canadian communities. I think we all agree that ensuring a safe, dependable, and modern transportation system is essential to supporting the continuing advancement and prosperity of this country. It is for that reason that I am very proud, as I mentioned earlier, to support Bill C-627, an act to amend the Railway Safety Act (safety of persons and property).
Many of us have spoken about the tragedy in Lac-Mégantic. Members will recall that Transport Canada took immediate action to further improve railway safety and transportation of dangerous goods. I want to quickly itemize some of them: classification testing for shipments of crude oil; increased information-sharing with municipalities to facilitate emergency planning; and the removal of the least crash-resistant DOT-111 tank cars from dangerous goods service.
I have had conversations with a number of the members of the FCM who were at the rail transportation safety committee. They have been very pleased with their conversations with our minister in terms of her responsiveness to the concerns they identified.
To build on these actions, Transport Canada responded to the Transportation Safety Board's recommendations by issuing an emergency directive that requires railway companies to meet standardized minimum requirements for handbrake application and to implement additional securement measures.
Transport Canada is also in the process of recruiting additional staff to carry out more frequent audits, recruiting additional staff with engineering and scientific expertise to oversee the transportation of dangerous goods, creating new processes to increase information-sharing with municipalities, and conducting additional research on the hazards of Canadian crude oil.
In addition to these departmental actions, the Standing Committee on Transport, Infrastructure and Communities has launched a comprehensive review of the state of railway safety in this country. Among other things, this review specifically targets the issues of railway safety, management systems, and the transportation of dangerous goods. It will further increase our understanding of the challenges and opportunities related to rail safety.
Since its introduction, the Railway Safety Act has been amended twice. It was first amended in 1999 in order to provide for a fully modern framework for Canada's rail transportation system. This framework was truly progressive, making railways more responsible for managing their operations safely.
More recently, the act was amended on May 1, 2013, in order to further improve rail safety and to reflect the industry's evolution. To keep pace with industry changes, the amendments further strengthened the department's oversight and enforcement capacity, enhanced the implementation of safety management systems, increased the importance of environmental management, and clarified ministerial authority and responsibilities.
This bill, which would enhance the power of the minister and inspectors to intervene when people and property are at risk, is the next step towards an even stronger piece of legislation and a stronger legislative framework, putting even more emphasis on pre-emptive prevention and the protection of Canada's most important resource: its people.
Approval of this bill would be an important step in supporting a comprehensive railway safety program that would further strengthen the safety and protection of the public. Without a doubt, modernizing the Rail Safety Act to reflect the increasing requirements for public and railway safety is timely.
These are changes that few Canadians can argue about. In listening to the debate so far this evening, it appears that few parliamentarians can argue against them either. Without a doubt, modernizing the Railway Safety Act to reflect the increasing requirements for public and railway safety is timely, and these changes Canadians can agree with.
In closing, many ridings throughout this country have rail lines running through them, and we all recognize the critical importance of the rail system in transportation. I understand that almost 60% of what is transported by rail is destined for export markets, which is a critical part of our economy. Obviously, it is of great importance to match or balance our support for prosperity and jobs with making sure that it is as safe as possible.
I congratulate the member for Winnipeg South Centre on a very positive and important measure.
Business of Supply January 27th, 2015
Mr. Speaker, I want to pick up on one particular area of the member's speech. I would like to first correct the record and then ask a question.
There was a conversation about how the middle class is having some challenges. It is important to recognize that, for the first time, middle-income Canadians are better off than Americans. The average Canadian family now pays $3,400 less in taxes. Since we took office, the median net worth of Canadian families has increased by 45%. A new report from the Commission on Inclusive Prosperity says "...Canada...experienced continuing middle-income growth, while for many it has halted".
I hear the NDP talking about massive bureaucracies for social programs, whether it be the 45-day work year, the universal child care plan, which would benefit very few and would not benefit many rural or shift workers, or a massive carbon tax. Given the promising statistics under our policies, I would like the member to indicate who is going to pay, because someone is going to have to. I think it is going to be the middle class paying for those very expensive programs that the NDP proposes.
Labour January 27th, 2015
Mr. Speaker, the government is committed to keeping Canadian workplaces safe, fair, and productive, and it is why our economic action plan 2014 invested $40 million to support up to 3,000 internships in high-demand fields.
I want to point out that whether it is the youth employment strategy or support for internships, the $40 million I mentioned, the NDP does not support these measures. It needs to start supporting our government and the positive measures that we take.
Labour January 27th, 2015
Mr. Speaker, stakeholder consultation is very common on legislation that is before Parliament. The minister has asked me to meet with stakeholders across the country to discuss the issue of internship as it relates to the federally regulated workspace.
Business of Supply January 27th, 2015
Mr. Speaker, I listened with great interest, but again the NDP is not reflecting on the facts. The facts are that we have the best job-creation record in the G7 and that in spite of the challenges of oil prices, our growth rate is predicted to be in the 2% of GDP range, so we will continue to be on a positive track. We have a low-tax plan that will continue to support businesses and encourage growth in all sectors of our economy. In my riding, it looks as though the low dollar will have a positive impact on the tourism industry. Therefore, I think we have to recognize that there is some balance here and that we are on the right track.
What I hear from New Democrats are plans for a $15 minimum wage and universal child care that will maybe only help 10% of the population. I hear a lot of plans in which they intend to take money out of the pockets of Canadians, but I have not heard anything that would actually support growth in Canada.
Business of Supply January 27th, 2015
Mr. Speaker, the NDP, for the last four or five years, since I have been in the House, has consistently talked down the Canadian economy and the great work we have done in terms of seeing ourselves through a global recession and seeing the largest number of net new jobs.
We see New Democrats on the picket lines protesting against every resource project out there. Really, their plan is absolutely a plan that will not move Canadians forward. It is a plan that is anti-resource and anti-job and includes massive government spending.
I would like the opposition member to talk about the massive government programs they plan to bring in and where they intend to get the revenue for them when they are against every project and almost every job I have seen come forward.
Salvation Army Christmas Kettle Campaign December 12th, 2014
Mr. Speaker, I would like to take this opportunity to remind everyone about the Salvation Army Christmas Kettle campaign. For more than 100 years, the annual Christmas Kettle campaign has been a great way for people to help others in need in their local community.
Canada's first kettle was used in St. John's, Newfoundland in 1906. Today, the familiar kettles, or "bell ringers", are seen in more than 2,000 locations across our nation.
The holiday fundraising activities of the Salvation Army play a crucial role in sharing the spirit of the season with families in need. The Salvation Army does its best to ensure that no family goes without food, no child is without presents under the tree and that Christmas is a time of hope and healing. Beyond providing Christmas dinners, the money raised at kettles is also used to provide clothing, shelter, food, toys, financial assistance and counselling year round.
As a volunteer, it is absolutely heartwarming when I see young children and teenagers come up and give what they can. Therefore, when people hear those bells of hope, please give generously.
Royal Canadian Mounted Police December 10th, 2014
Mr. Speaker, last week there was a horrific event in my riding of Kamloops—Thompson—Cariboo, when RCMP member Corporal Jean Rene Michaud was shot while on duty. I know the whole community joins me in sending our thoughts and prayers to Corporal Michaud and his family while he is recovering in hospital.
Events such as this are dark reminders of the dangers front-line RCMP officers across the country are putting themselves in every day of the year. They will be serving, as we spend time with our families on Christmas Eve and as we sit down to our Christmas dinners, defending and protecting Canadians and their communities.
It is important that we extend our appreciation and thanks to those who serve on our behalf. These are individuals who have built a reputation for ensuring a safe and secure Canada. The RCMP is an organization that is recognized around the world for the courage and accomplishments demonstrated by its members.
I thank the RCMP and I thank Corporal Jean Rene Michaud for his service.
Petitions December 8th, 2014
Mr. Speaker, the third is an interesting petition from constituents throughout my riding who are asking for some very practical changes to our new firearms act, because of the issue of predatory animals. Unlike the NDP, who want to bring back the long gun registry, the people in my riding are looking for common sense changes to our firearms legislation.
Petitions December 8th, 2014
Mr. Speaker, I have three petitions to present. Two of them deal with the issue of sex-selective abortion. The petitioners would like Canadians to look at that practice and condemn it.