Cathy McLeod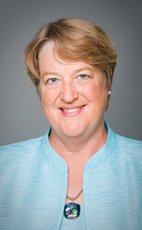 House of Commons photo
Track Cathy
Your Say
Elsewhere
Crucial Fact
Her

favourite word

is important.
Conservative
MP for Kamloops—Thompson—Cariboo (B.C.)
Won her last election, in 2011, with 52.20% of the vote.
Statements in the House
Events of October 22 October 24th, 2014
Mr. Speaker, today I would like to talk about an event on Tuesday and how it links with the despicable act on Wednesday.
On Tuesday many of us gathered at Rideau Hall to celebrate 45 individuals who received the Medal of Bravery.
Following the ceremony, a Liberal colleague offered to drive me back to Parliament, and we both reflected upon those extraordinary acts. We talked about how few individuals get tested in this way and how it is hard to know how one would respond.
What a prescient conversation that turned out to be.
In the events that unfolded Wednesday, I want to recognize many heroes in Ottawa: the bystanders who came to the aid of Corporal Nathan Cirillo, all our agencies tasked with safety and security, colleagues who were ready to fight, and people who gave comfort. I want to acknowledge all the Hill staff, from the interpreters in our booth to the many hundreds who in lockdown remained professional and calm.
We are blessed to live in Canada where these incidents are not common. We witnessed that Canadians are ready to rise with courage and dignity.
Medals of Bravery October 21st, 2014
Mr. Speaker, earlier today, I had the honour of attending a ceremony at Rideau Hall in which 45 medals of bravery were bestowed upon deserving Canadians by the Governor General of Canada, the Right Hon. David Johnston. Decorations for bravery recognize people who risked their lives to try to save or protect the lives of others. The medal of bravery recognizes acts of bravery in hazardous circumstances.
One of these 45 admirable recipients was Tyler Allan Fowler of Valemount, British Columbia. On April 27, 2012, Tyler Fowler, along with co-recipients Eli Day and Dion Lefebvre, pulled four people from their burning vehicles following a violent head-on collision near Wandering River, Alberta. The rescuers managed to extricate the victims, despite the rapidly spreading fire. Sadly, several occupants of both vehicles did not survive.
Tyler's courage and willingness to risk his own life to save another is both admirable and extraordinary. His actions inspire our nation and command our deepest gratitude.
Protecting Canadians from Online Crime Act October 10th, 2014
Mr. Speaker, what I did in my comments, and I hope I did it effectively to reassure my hon. colleague, was talk about the different levels of tools, depending on the issue in terms of what the police actually need. Again, there are times when the information that is required is perhaps more precise in nature. The bill would give the tools for that, versus the times when the police need to have the more general production orders.
What we have tried to do is recognize that it is very much a different situation in terms of small, targeted, precise information that continues to support the investigation, versus the more general production order.
Protecting Canadians from Online Crime Act October 10th, 2014
Mr. Speaker, what we have with Bill C-13 is a comprehensive bill that would get the job done. It is also important to recognize that not only do we have the bill in front of us here, but we have many other measures. We talk about the need for prevention. We talk about the need for education. This is one piece of an important puzzle, but what this piece of legislation would do is be comprehensive in terms of how it would tackle this issue in an effective way.
Protecting Canadians from Online Crime Act October 10th, 2014
Mr. Speaker, I need to reiterate that the investigative powers would be subject to appropriate judicial oversight. None of the lawful access orders such as, for example, production orders, preservation orders, interception orders and search warrants, would permit information to be obtained in the absence of a warrantee or lawful authority.
We have talked about how the world has changed, and I thought the New Democrats had maybe come along a little way toward recognizing these significant changes in terms of what is happening out there. Just yesterday, there was another example of a young woman whose intimate images were distributed without her consent, and there was a devastating impact. Again, I have to encourage the opposition members not only to support the bill but to really recognize the importance of giving the tools and moving forward in terms of making this a reality for Canadians.
Protecting Canadians from Online Crime Act October 10th, 2014
Mr. Speaker, I am very pleased to join this important debate on a Friday before Thanksgiving. I would also like to wish everyone here a happy Thanksgiving and a productive constituency week.
I am pleased to have the opportunity to speak in support of Bill C-13, which is the protecting Canadians from online crime act. This bill would give enforcement officials the tools to conduct their investigations in a world that has moved from old fashioned telephone calls and snail mail to a constantly evolving telecommunications environment.
I might date myself a bit, but I remember in the late 1980s, early 1990s, learning about the Internet. If we look at what has happened since then, we had giant computers and now most of us sit here with our smartphones and small iPads. There has been an amazing change in the world, and to be quite frank, our tools have not kept up with these enormous changes.
Although the primary objective of Bill C-13 is to ensure that the criminal justice system is able to keep pace with this new environment, as well as changing the nature of how criminals operate, the government has to be attentive to the privacy intrusive character of investigative techniques. This is what I will focus my remarks on today.
The media, through some commentators, has characterized Bill C-13 as bad for the privacy of Canadians. To be quite frank, that is not accurate. Bill C-13 would enhance the privacy protections for Canadians.
While a police investigative tool, such as a search warrant or production order will naturally impact upon a person's privacy, all the amendments included in Bill C-13 have been very carefully crafted to balance the pressing need to provide police forces with the effective investigative tools they need in the current environment with the constitutional imperative to protect the rights of Canadians to a reasonable expectation of privacy. A good term for that is "privacy with precision".
The Criminal Code already contains several tools that allow police to obtain evidence of crimes. For example, there are judicial warrant provisions to allow police forces to collect evidence themselves in real time, such as through tracking of a person. There is also judicial production orders, which allow the police to ask a third party to produce certain types of historical data or documents, for example, a record of phone calls.
These current tools were designed and implemented before the advent of much of the technology and social media that we rely on today, making them inefficient in today's world and too privacy invasive in some respects. Therefore, the approach we have taken with Bill C-13 is aimed at ensuring that the privacy of Canadians is adequately protected, while meeting the investigative requirements by providing police appropriate investigative tools that have been judicially authorized for specific investigative needs.
For example, C-13 would create new types of production orders to obtain specific information of a less personal nature, such as the path of a telecommunication, rather than relying on the current general production order, which allows access to all types of information, including those of a more personal nature, such as the content of the data that has been stored on a computer.
Police officers today basically have access to only one means of compelling the production of documents and data in relationship to the electronic evidence, and that is the general production order. Whether they want to attain a library full of information on a suspect or one single piece of information, such as an email address, police officers must use the same judicial protection order. To put it another way, and I think it is more illustrative, we can think of a general production order as a large net that authorizes police to catch everything within reach of that net.
I am going to use a bit of an analogy here, coming from a family that loves to fish. If we think of the police as the fisher, the fisher would use this net to catch everything the net came into contact with, such as mackerel, cod and salmon. It would be appropriate for the fisher to use the net if he or she was authorized to catch all those fish and the fisher wanted to catch all those fish. In the same way, when police want all data and documents a third party has on a suspect, it would be appropriate to use the net, in this case, what we term the general production order.
However, let us say the fisher is only authorized to catch a subsistence quantity of cod, so that he may be able to put food on the table for his family. If he were to use a net, the fisher runs the risk of not only catching the cod but also the mackerel and the salmon, which the fisher neither wants nor is he authorized to catch. For this purpose, the fisher should be using a more precise and more specific tool. A fishing line and a jigger is a good example. With the cod jigger, the fisher can catch his three or four fish and be on his way without fear of over-catching or taking fish that he does not want or need.
In this vein, the new privacy with precision production orders in Bill C-13 provide the police with tailored tools that grant access to specific and limited information. The specific judicial production orders are like the cod jigger, only capable of catching cod, for example.
In the context of production orders, a specific production order would only give police access to a limited range of information that does not have an elevated expectation of privacy, such as historical data related to the tracing of a communication or historical data related to the tracking of a transaction.
The use of these specific tools provides police with the information they want and need to continue an investigation, while at the same ensuring that police are not over-obtaining the personal information of Canadians.
These new tools under the reasonable suspicion standard have been crafted to reflect the leading decisions of the Supreme Court of Canada and mirror existing Criminal Code provisions, some of which date back to 1993. I mention this because these proposed new production orders have been criticized for introducing the reasonable suspicion standard to the Criminal Code.
Let me be clear, this standard is not new. It has been employed in Canadian criminal law since 1993. On this point, I am going to go back to my net analogy one more time in relation to judicial scrutiny. One could characterize this as a resource issue for police, because for police the difference between meeting the judicial standard of reasonable belief and reasonable suspicion is the amount of time and proof they need to meet each standard. In this regard, we could say that meeting the standard of reasonable belief is more resource intensive than meeting the standard of reasonable suspicion.
For the fisher, this would be the cost of his equipment or his tools. The fisher must decide whether he will spend $100 on a net or $5 for a line. While the net would give the fisher access to whatever is in the sea, the fisher may really only want a few cod for dinner. The net would be overkill and could catch things the fisher should not be catching. Again, the fisher, for this purpose, should be using the cod jigger.
I apologize for the analogy, but I think if there are Canadians watching, sometimes those analogies do help make a little sense out of what can be some very complicated legal issues.
Conversely, if the fisher is entitled to a commercial catch and authorized to catch a certain tonnage, he would probably prefer to use the net.
For the police, it is more appropriate for them to provide more proof to the courts and to spend more time preparing the application when they need all the data and documents related to a suspect for which there is a high expectation. Conversely, it is also appropriate that they meet a lower level of judicial oversight when the information they want is limited and less privacy invasive.
Before I conclude, I would like to emphasize that nothing in Bill C-13 would permit the police to compel the production of any personal data without a judicially authorized warrant or order. There are absolutely no provisions in the bill that would authorize the warrantless access of private personal data.
In addition to privacy with precision, the bill also includes other privacy enhancements. For example, Bill C-13 proposes to increase the threshold for obtaining a tracking warrant in situations involving the tracking of an individual's movements.
While reasonable suspicion would remain the test for obtaining a warrant to track the movement or location of things, the government strongly believes that tracking an individual's movements is a much more serious infringement on the right to a reasonable expectation of privacy. Hence, the legislation proposes to provide a more stringent test, which the police would have to meet before they could obtain a warrant to track an individual.
The Government of Canada is strongly committed to maintaining the rule of law through all of its legislation. It will continue to ensure that such authority will be exercised, bearing in mind the privacy interests and human rights protected in Canadian laws, such as the Canadian Charter of Rights and Freedoms, the Privacy Act, and the Personal Information Protection and Electronic Documents Act.
Bill C-13, protecting Canadians from online crime act, is a prime example of this commitment. Again, I would like to urge all members in this chamber to support Bill C-13 and to see it put in place.
Petitions October 10th, 2014
Mr. Speaker, the third petition is from a number of constituents who want reassurance that Bill C-18 will not impact the ability of our farmers to save, reuse, select, exchange, and sell their seeds.
I have had an opportunity to chat with them and reassure them that Bill C-18 does not intend to do that.
Petitions October 10th, 2014
Mr. Speaker, I have three petitions to present. Two of them condemn the discrimination against females that occurs through sex-selective pregnancy termination.
The issue of abortion is very divisive in this hall, but I hope that everyone could agree and support that this is a practice about which we are concerned.
Business of Supply October 9th, 2014
Mr. Speaker, it is important to look at the facts. The facts are that DFO informed the Government of Quebec that it was considered work and the proposed mitigation measures did not violate the federal Species at Risk Act or the Fisheries Act.
On August 8, in a response to a letter from the ministry of sustainable development, environment and the fight against climate change, DFO also sent to Quebec both documents it produced on the geotechnical work and all the supporting documents that were used to produce its analysis and make a decision about the project.
I do not know if I have to go through the list of all the documents that were provided, but I am happy to further discuss this at any point.
Business of Supply October 9th, 2014
Mr. Speaker, I am delighted to have the opportunity to join this debate today, but to be quite frank, I am very surprised that we are actually having this debate. In British Columbia where I am from, the provincial NDP leader announced that he was not going to support a project which he had originally said he was going to wait for the environmental assessment review on. He announced he was not going to support it, to everyone's surprise and shock. Certainly the voters told him what they thought of that particular move in the recent election there. Here we have a project that has not even been applied for, and the New Democrats are opposing it off the top. We have scientists in place, plans in place, systems in place. They might want to learn from their counterparts in British Columbia about allowing proper processes to go through. Anyway, we are here to speak to this motion by the member for Drummond.
As all members know, Canada's energy sector is of great importance to our national economy and our quality of life. Energy is our leading export. The oil and gas sector generates 7.5% of Canada's GDP. All Canadians depend on this energy for their homes and transportation. Over 190,000 people depend on the oil and gas industry for their jobs and their livelihood. In addition, the energy sector provides many other benefits to Canadians. I have to note that almost every time I get on a plane to come to Ottawa, or I go from Kamloops to Vancouver or Calgary, the plane is filled with people who are going to work in Alberta. They are supporting their families. Those jobs are incredibly important to them and to their families.
The energy sector has paid royalties and taxes to government totalling over $23 billion annually over the last five years. These government revenues have helped pay for programs and services for all Canadians, including education, health care and pensions. Again, I have to look at the New Democrats. We consistently hear them wanting a whole variety of new spending on social programs, 45-day work years, increases to this and increases to that. Then they say no to absolutely everything that would potentially provide the resources for some of these programs they are asking for. Canada is very fortunate to have a great wealth of oil and gas resources. We can all take comfort in knowing that the energy sector will continue to generate significant economic activity throughout Canada, including jobs and government revenues for many years to come.
It is for these vital economic reasons that our government is proud to say that we support Canada's energy sector and all of our resource industries. That is why we created our plan for responsible resource development, a plan to ensure the success of Canada's resource industries and the protection of our environment.
Under this plan, we have focused on four key objectives.
We have made the regulatory review process for major projects more timely and predictable. That is really important. Investors need to get to a yes or a no in a relatively timely fashion. Now we have set timelines. Again, getting to that yes or no is absolutely critical.
We have reduced duplication across federal agencies and with provincial organizations. I remember the day when the provincial government would have a process, for example, for a mining project, and the federal government would have a process. There would be duplication of many things. We have taken those processes and had them make more sense so there is not that duplication across the organization.
We have enshrined stronger environmental protection measures in legislation, including new enforcement and compliance tools. We are also strengthening protections for marine transportation, offshore development and pipeline safety.
We are also strongly committed to engaging first nations in every aspect of resource development, underpinning all of these objectives and the many benefits they will bring.
It is a basic fact that major resource projects will only be approved if they are safe for Canada and safe for the environment.
I would like to also note that the Kinder Morgan pipeline has gone through the Kamloops—Thompson—Cariboo riding for over 60 years now. When I look at that road, I understand if that pipeline were not there to move that oil to where it goes, there would be 2,300 trucks per day on that highway.
I drive that highway, and I know it is a two-lane highway. There are very few passing lanes. There are some horrific accidents, and I can only imagine what 2,300 extra trucks per day on that road would do.
The community of Kamloops looked at it just the other day and made some suggestions around the routing of the pipeline. We certainly recognize the importance of the gas to the people in Vancouver who regularly use it. I understand that 90% of the gas they use actually comes through that Kinder Morgan pipeline. They probably need to reflect on that particular issue.
I have talked a little bit about pipeline safety, and it is certainly something we all care about. We care about it for the safety of our families, the safety of our communities, and the safety of our environment. I just talked about that road and what the impact to it would be.
Canada's pipelines are among the safest in the world. Between 2008 and 2012, 99.999% of crude oil and petroleum products transported through federally regulated pipelines in Canada was moved safely. Furthermore, during the last 3 years, 100% of the liquids spilled on these pipelines were completely recovered. Our pipeline safety record is outstanding and compares well to the record of Europe and the United States.
There are some 73,000 kilometres of federally regulated pipelines found throughout Canada. These pipelines transport $100 billion worth of oil, natural gas, and petroleum products each year. That is, of course, just the activity that is within Canada. Beyond our borders, as global energy markets change, other nations are moving quickly to capture growing energy markets in places like China and India. As a result, Canada must act now if it wants to continue to fully benefit from the vast resource wealth.
Here, we are talking about the east coast, but I look at British Columbia and the keen interest of the province in terms of the opportunities around LNG. It is very actively trying to enjoy those opportunities for the benefit of British Columbians and Canadians.
Virtually all Canadian exports of oil and gas are destined for the United States, but growth of the unconventional gas and oil industry in the U.S. is making it essential for Canada to broaden its customer base. There is no question that Canada will continue to be a key supplier to the U.S., but shifting global demand and supply conditions clearly make it imperative for Canada to access new growing markets for its energy.
A key to achieving this market diversification is the development of new Canadian infrastructure. To support such expansion, our government is taking concrete actions to strengthen pipeline safety, marine safety, and rail safety, so that our energy transport system continues to be truly world class. The government will soon be introducing legislation to strengthen Canada's pipeline safety regime, and this new legislation will further contribute to its plan for responsible resource development by strengthening incident prevention preparedness and response, and by increasing liability and compensation.
Canada can rightfully be proud of its record for pipeline and marine safety. At the same time, we should never stop trying to do better. It is crucial to keep improving technology and updating regulations to further enhance pipeline safety.
We intend to enshrine the polluter pays principle in law, so that polluters, not taxpayers, will be held financially responsible for the costs and the damages they cause. We will introduce no-fault liability. We will require companies operating pipelines to hold minimum financial resources for incident response. For companies operating major oil pipelines, this financial requirement will be set at $1 billion. Together, these measures will significantly strengthen our pipeline safety regime.
All proposed pipelines will undergo a thorough, objective, science-based review, which will be through the regulatory process of the National Energy Board.
The National Energy Board will consider the potential environmental effects of increased marine shipping activities that would result from proposed projects, including the potential effects of accidents or malfunctions within the scope of its review.
As I stated earlier, no project will be approved unless the government is satisfied that it is safe for Canadians and for the environment.
In conclusion, right now no country in the world transports oil and gas as safely as in Canada. Canadians expect, and deserve, that government and industry should continually strive for the highest safety standards possible in the movement of oil and gas. The pipeline project would play an important role in the export of Canada's energy. The NEB will fully consider the potential impacts.
Again, the NDP wants to say no to a project before there is even an application. It is absolutely absurd. On this side of the House, we believe in having an intense, robust, strong process and letting the scientists do the evaluation, the assessment, make the decisions and advise government on how to move forward.