Cathy McLeod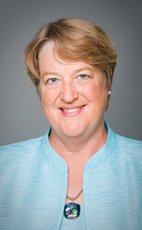 House of Commons photo
Track Cathy
Your Say
Elsewhere
Crucial Fact
Her

favourite word

is important.
Conservative
MP for Kamloops—Thompson—Cariboo (B.C.)
Won her last election, in 2011, with 52.20% of the vote.
Statements in the House
Protection of Communities and Exploited Persons Act September 26th, 2014
Mr. Speaker, I have listened to the debate with great interest. We know the Supreme Court has struck down our existing rules and we know we need new rules. We have come up with what we believe is a solution that would deal with this.
However, from what I hear from the New Democrats, is their position that we should legalize it? They speak very nice words and have very generic kinds of comments, but I have not heard what they believe we should do. Is the hon. member saying legalization?
Maternal, Newborn, and Child Health September 26th, 2014
Mr. Speaker, yesterday our Prime Minister addressed the General Assembly of the United Nations, where he focused on Canada's global leadership to end the preventable deaths of mothers and children within a generation.
In his address, he noted the tremendous progress the world has made to save the lives of the world's most vulnerable through significant financial commitments and strategic partnerships. This was generated through the Canadian-led 2010 Muskoka initiative, and then the 2014 Saving Every Woman Every Child: Within Arm's Reach summit, which was in Toronto.
There are very inexpensive things that are making an enormous difference: from training birth attendants to providing small kits that cost five cents to reduce infections in children, newborns, and mothers to providing vitamin A tablets, which make a significant impact on mortality, at a cost of four cents a year.
In the words of our Prime Minister, "We have seen success, and we have momentum. Saving the lives of children and mothers is a fight we can win."
Committees of the House September 23rd, 2014
Mr. Speaker, we heard from the victims. We also have taken note of those 40-plus reports that have been written. We need to have strategies to move forward. We do not want the lawyers getting rich. We need to move on action plans. We need to move forward on things that will make a real difference in the lives of these women and children.
Committees of the House September 23rd, 2014
Mr. Speaker, our committee had 16 recommendations and they form the government's response.
I will just pick one of the pillars, and that is preventing violence by supporting community level solutions. One of the things we heard about was the importance of a community safety plan. The plan put forward by the minister will directly address that and provide support.
The justice department has created a compendium of promising practices, for example. A list of initiatives in aboriginal communities have shown a lot of promise. An example would be outreach to sex trade workers, which gives them hope and empowers women. That one is going on in Prince George.
The committee heard that things were happening across the country. We need to share the things that are happening and provide the tools and the resources to communities to implement and adopt them.
Committees of the House September 23rd, 2014
Mr. Speaker, I was part of the status of women committee when we did a comprehensive report. I was also part of the committee on murdered and missing indigenous women. We did hear the horrific stories, but what I heard out of that was the need to have prevention. We need prevention plans in the community. We need victims to be taken care of.
We hear about our justice system. There was a horrific example last week in British Columbia. We heard the many stories. Our government is moving forward on those very important issues to provide closure and looking at prevention. We are moving in a important way on this issue.
Committees of the House September 23rd, 2014
Mr. Speaker, when I left this very important debate, I said that all parliamentarians cared very much about this issue, that we were all affected. However, the disagreement was on the best way to move forward. I did not really have lot of time to talk about why I believed we needed action and why we needed to move forward now.
Members often hear us talk about the 40-plus reports that have already been done, but have probably not heard a lot of detail around those reports, so I want to mention a few.
These reports have been done by many parliamentary committees. They have been done by the Assembly of First Nations and the provinces and territories. They are numerous of them. I looked at the list again today. I am going to pick up on just a couple of them specifically.
The B.C. Missing Women Commission of Inquiry report is called "Forsaken". It is a very powerful document. It starts with "Simply Gone" and it talks about the last contact that many of the people had with their loved ones who were murdered or went missing. It is a 1,400-page report and it provides a comprehensive view of the myriad of problems facing aboriginal women in Canada and what has made them more likely to be victims.
I want to talk specifically about what Mr. Oppal said. He was the author of the report and spent a lot of time, energy and passion on this. In response to the need for the national inquiry, he said:
Inquiries should be held if there's something that can be learned from (one). There comes a time when we really need to take action.
That is one of the 40 reports. Have the members in the House who are calling for a national inquiry read every one of those 40 reports? If they read them, they would see a myriad of recommendations, reflections and insight. What we would be doing with an inquiry would be delaying action.
The next report was the RCMP's "Missing and Murdered Aboriginal Women: a National Operational Overview". It did a fairly significant amount of very important work. It is important to note that the solution rate was consistent with non-aboriginal women. Something that people might not recognize also is the time to solve those.
I wish I had a lot more time because I would talk about the three pillars that the minister has put forward: preventing violence by supporting community level solutions, supporting aboriginal victims with appropriate services, and protecting aboriginal women and girls. Those are all very comprehensive measures. They are moving forward with action.
I would suggest that members in the House take the time and read those 40-plus reports. It gives us a good position to move forward with what would be a important action plan.
Canada Pension Plan September 19th, 2014
Mr. Speaker, I will be shifting a little, but in many ways these two are linked in how we as a government believe that people who commit violent offences such as murder are very much linked with the missing and murdered aboriginal women's piece too. However, we are talking about Bill C-591, introduced by my hon. colleague. From the comments by the opposition, it appears that all parties will support this.
The bill would amend the Canada Pension Plan and the Old Age Security Act and deny CPP survivor benefits and the OAS allowance to people convicted of murdering their spouse, common-law partner or parent. As the member for Chatham-Kent—Essex and others have pointed out, no one wants to see spouse killers receive taxpayer-funded financial benefits for their heinous act. It truly would be an insult to the taxpayer. It is an insult to the families of the victims as well as an insult to the principles of justice. Certainly no person who pays taxes and personally contributes to an insurance plan wants to see murderers receive a benefit for killing someone.
Currently, when someone murders their spouse for whatever reason, he or she stand to gain those benefits. Thankfully we are speaking of a very rare situation. Death at the hands of family members is not that common and the convicted murderers are not always eligible for these benefits anyway.
However, each year between 2003 and 2012, an average of 21 individuals in all age categories were accused of killing their parent or step-parent. Among them were approximately 5 to 6 persons accused who were between the ages of 18 and 25 and 3 of the accused were under the age of 18. That is absolutely appalling.
It is important to remember that many people accused of killing a spouse or parent are not found guilty of murder and among those convicted of murder, some do not qualify for these benefits in any case. Of these people, roughly half would be rendered ineligible for the CPP survivor pension and death benefit, one-third for the OAS allowance for the survivor and less than one-tenth for the surviving child benefit.
I will emphasize that fewer than 30 people each year would be affected in the context of a public pension system in which the CPP alone gives coverage to 13 million contributors per year. Again, it is a very small number.
We are proceeding carefully with the bill because we want to be fair.
It is important to note the legislation will only apply to people who have been convicted of murder rather than all those who are charged with murder. That is a basic principle of common law, that a person accused of crime is presumed innocent until proven guilty.
Committees of the House September 19th, 2014
Mr. Speaker, I think it is particularly appropriate that we are discussing this issue today. In the riding of Kamloops—Thompson—Cariboo, it is Take Back the Night, where a large group will gather, people will give speeches, and then there will be a march. It is very appropriate to be discussing this very important issue here today. Of course, part of the goal of Take Back the Night is that eventually we will not have to be discussing violence against women and girls.
It saddens me to hear about these violent acts against women, sisters, mothers, daughters, and wives almost every day in communities across Canada. I am a nurse. I worked in aboriginal communities. I worked in rural emergency rooms, and I saw first hand some of the horrendous situations that young women, girls, and older women face.
I find it a little offensive when opposition members indicate that they do not think we care about this issue. We care passionately about this issue, but we disagree on the best way to move forward.
Our government believes that we know many of the causes. I was on the committee of murdered and missing aboriginal women. We heard about programs that were working. We heard about prevention programs. We looked at this for a year. We heard from families. Everyone was touched by the conversations we had with them. I think we need to look at this issue and not say that one group cares and the other does not care. We all care; we just disagree in terms of how we need to move forward.
Again, it is terribly distressing to know that aboriginal women and girls continue to face violence and that so many go missing or are found murdered. These are issues that require concrete, long-term action to address every aspect of these crimes. Nothing is more important than the safety of families and our communities. Of course, we have made this a top priority over many years.
We have also heard about matrimonial real property rights on reserve. I still cannot believe that the opposition did not support that moving forward. It so important.
We heard from the minister, who talked passionately about how some of the things we have done she believes will make a real difference. She talked about matrimonial real property rights and house arrest. We heard the passion in her voice.
The committee's report had a number of specific recommendations, such as stronger laws so that violent, repeat offenders serve appropriate sentences.
In Kamloops we had a violent repeat offender who took a woman from her place of business and brutalized her. It was an awful thing to hear the history of that perpetrator. It was known that he was on the street and that he was a high risk to reoffend. We are bringing in those tougher sentences, and we are doing that through both government and private members' bills.
The victims bills of rights was introduced on April 14 and is mentioned specifically in the committee report. Once passed, victims' rights would be enshrined in Canadian federal law. It would for the first time establish statutory rights to information, protection, and restitution.
Over the period of the summer, I had the opportunity to be joined by the Minister of Justice in a round table conversation. We had the mother of a young girl who was brutally murdered talk to us about how she felt as a mother and how she was treated within the system. She had very practical, sensible recommendations for the victims bill of rights, and she encouraged us to move forward with it because of the experience she had had. It is an important measure.
Another important measure the report calls for is the creation of a national DNA missing persons index. In budget 2014, we committed $8.1 million to do just that. This index would allow for the national collection and matching of DNA profiles to support the investigations of missing persons and unidentified human remains. We intend to introduce legislation to allow for the creation of the index in the upcoming months.
One of the things we heard from some of the families was a strong desire to have closure and resolution. This measure would help provide these families with that closure.
We are also looking at addressing human trafficking in a very strong national action plan to combat human trafficking. This was launched in June 2012. We have introduced aggressive measures and initiatives to prevent human trafficking, identity and protect victims and prosecute perpetrators. Again, theses are significant investments to specifically address violence against aboriginal women and girls.
In budget 2010, $25 million went toward programs and initiatives that addressed the disturbingly high number of missing and murdered aboriginal women.
In terms of the inquiry, the NDP opposition talked to the process in British Columbia. I know Wally Oppal has very specifically come out and he said that we do not need a national inquiry, that there has been report after report and recommendations have been made. He has said that we need to move on.
I will close with the same comment I made at the very beginning. Everyone in the House cares passionately about this issue. The only difference is how do we best move forward. In this case, the government feels we are best to move forward with action, and that is what we intend to do.
Business of Supply September 16th, 2014
Mr. Speaker, again, I thank my colleague for his passion and his desire to see people living on a good wage. However, again, I have to say that we have used a very blunt instrument with unintended consequences, when other options would probably be more effective.
I have a couple of questions. The member talked about hundreds of thousands of people, and certainly both the Liberals and Conservatives have referenced the numbers that we believe would be impacted, and they are certainly significantly low. Could the member give the reference in terms of hundreds of thousands and where that is actually coming from?
The other piece is that the literature I have read has consistently talked about the negative impact. This is from economists across the country. Many studies have said that actually we could be hurting the people we are intending to help the most in terms of job availability. Could the member speak to those issues?
Business of Supply September 16th, 2014
Mr. Speaker, I would like to focus in our youth and on a fairly blunt instrument in achieving what the NDP is trying to achieve, while things like the working income tax benefit and other measures would be much more appropriate.
The NDP has certainly expressed concerns over the increase in unpaid internships, but there are studies out there. British Columbia amalgamated a number of different studies that happened over 30 years into one study. It indicated that as the minimum wage went up, the impact on youth was anywhere from a 6.9% to a 30% decrease in jobs. Therefore, this will significantly impact youth. The study also showed that the majority of those working in minimum wage jobs, over 80%, lived at home with their families.
What is the NDP suggesting we do about the profound impact that this would have on youth and the unemployment rate?