Cathy McLeod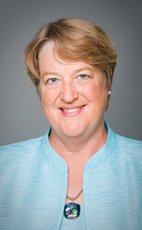 House of Commons photo
Track Cathy
Your Say
Elsewhere
Crucial Fact
Her

favourite word

is important.
Conservative
MP for Kamloops—Thompson—Cariboo (B.C.)
Won her last election, in 2011, with 52.20% of the vote.
Statements in the House
Health February 27th, 2015
Mr. Speaker, I have talked already about the increase in transfers to the provinces that will continue to take place year after year.
However, it is also important to look to a commitment to innovation in the health care system, because the reality is that more money is not going to be the only thing that we need to fix inefficiencies. I want to quote Brad Wall, who says:
This can no longer just be about money. We've got to find ways to ensure that health care is here for the future generations—that it's sustainable—without sacrificing patient care.
We are a partner with the provinces. We have to move forward.
Health February 27th, 2015
Mr. Speaker, that is an absolutely absurd statement. We have the highest recorded health care transfer dollars right now in history. Since forming government, transfers to the provinces have gone up by 70% and will reach $40 billion annually.
We have committed to increasing transfers year after year. I am very proud of our government's record on transfers, unlike the Liberals who, for many years, balanced their budget on the backs of the provinces.
Public Safety February 27th, 2015
Mr. Speaker, our government has made it a priority to continue to take concrete actions to strengthen the confidence of Canadians in our criminal justice system. This is why I am pleased that earlier this month, our Prime Minister announced that we were moving forward with new legislation to better protect Canadians from serious criminals who would be released into our communities across the country after serving only two thirds of their sentence under this current system of statutory release.
We have all heard of criminals who go on to reoffend, sometimes violently. There are too many criminals who commit serious offences while on statutory release, and Canadians refuse to accept this.
This legislation would ensure that repeat violent criminals would no longer be automatically granted statutory release after serving two thirds of their sentence. This upcoming legislation would see the most serious criminals kept off our streets for as long as possible.
I am proud of our government's strong action to keep our streets and communities safe, and placing the rights of victims ahead of those of criminals.
National Spinal Cord Injury Awareness Day Act February 25th, 2015
Mr. Speaker, it is a real honour to stand in the House today to speak about spinal cord injuries. This important issue deserves a discussion not only in Parliament but at the national level. I would like to take a moment to thank the hon. member for Montcalm for introducing this bill.
Bill C-643, an act to establish national spinal cord injury awareness day, proposes the designation of the third Friday of September each year as national spinal cord injury awareness day. At a fundamental level, this bill is about raising awareness of spinal cord injuries across Canada. It acknowledges the many challenges faced by Canadians living with spinal cord injuries as well as the critical role played by those who provide support and care for people with spinal cord injuries. It recognizes the important and significant contribution of the scientific community in improving the lives of thousands of people living with spinal cord injuries through research.
According to the final report of the national population health study of neurological conditions, entitled "Mapping Connections: An understanding of neurological conditions in Canada", there are approximately 120,000 Canadians living with neurological conditions caused by spinal cord injuries. From this report, we also know that the incidence of spinal cord injuries is likely to be anywhere in the range of 1,400 to 1,700 a year over the next 20 years. These are alarming statistics. However, for Canadians living with spinal cord injuries, they are not just numbers.
Our Conservative government recognizes the significant impact spinal cord injuries have on the individuals affected, their families and friends, their community, and society at large. Spinal cord injuries entail enormous human, social, and economic burdens. There are staggering personal costs, including the cost of care and support over a lifetime. That is why raising awareness of injury prevention initiatives is critical. This includes the important initiatives our government has undertaken as well as those undertaken by national and regional non-governmental organizations. Reducing injuries among all Canadians, including spinal cord injuries, is important and achievable by increasing awareness of spinal cord injuries and by reducing the risks.
Who of us, in our younger days, did not dive into a body of water not knowing what the depth was? There are many risks we take, and awareness is certainly important.
Through the Public Health Agency of Canada, our government is involved in enhancing efforts to increase awareness of sports-related injuries among children and youth, which in turn will help to reduce many different preventable injuries, including spinal cord injuries.
I will give the House some examples over the next few minutes of some of the interventions that are happening.
In 2011, our government provided $5 million over two years to support injury prevention initiatives that reached Canadian children and youth in the communities where they live and play. The overall goal of the active and safe initiative was to reduce sports and recreation-related injuries sustained by children and youth, up to the age of 19, who participate in hockey, snow sports, cycling, and swimming. Through community-based activities, this investment increases injury awareness in sports and recreational activities by empowering Canadians to make safe choices for their children to reduce the risk of serious injuries, such as brain and spinal injuries.
We have recently gained a better understanding of the impact of falls on older Canadians with the release of the Public Health Agency of Canada's "Seniors' Falls in Canada: Second Report", which was released in May, 2014. This report confirms that falls are the leading cause of injury among Canadians over the age of 65, with approximately 20% to 30% of seniors experiencing one or more falls per year. Of those seniors who experienced injuries due to falls, 8% involved injuries to the back or spine. That is a statistic I was completely unaware of.
In addition to supporting injury prevention initiatives, our government continues to support spinal cord injury research through the Canadian Institutes of Health Research. The work of its top researchers contributes to understanding the changes in neurons and support cells that could prevent and alleviate chronic neuropathic pain syndrome and could improve the recovery of limb function following spinal cord trauma or neurotrauma.
There are number other world-renowned organizations that work tirelessly toward reducing spinal cord injuries and disabilities. They advocate for improved quality of life for Canadians with spinal cord injury and continue to raise awareness of this issue. One of these organizations, which is a name familiar to many of us in this chamber and to Canadians across the country, is the Rick Hansen Foundation.
Before I speak specifically about the foundation, I would like to take a few moments to acknowledge the truly inspirational Canadian that Rick Hansen is. Although Rick suffered a life-changing spinal cord injury as a teenager, losing the use of his legs due to an automobile accident, he maintained a positive outlook. Through rehabilitation and steadfast determination, he continued to keep moving forward. Rick was involved in sports and eventually became a highly respected advocate for people living with a disability. At the 1982 Pan Am Games, held in Halifax, Rick took home nine gold medals. He was also hugely successful at both the 1980 and 1984 Paralympic Summer Games, winning gold, silver and bronze medals.
In 1985, Rick set out on a two-year journey known as the "Man in Motion World Tour". This was a visionary quest to demonstrate to the world that people living with a disability had huge potential and could contribute to society if communities were more accessible and inclusive. This was the raison d'être for raising awareness of spinal cord injuries and disabilities in Canada and around the world.
Shortly after completing this tour, the Rick Hansen Foundation was established in 1988. In addition to finding a cure, the foundation endeavours to accelerate the progress in prevention and care of spinal cord injury as well as raising both awareness and funds to support people with disabilities.
On the 20th anniversary of the Man in Motion World Tour in 2007, our government announced funding for the foundation in support of its search for a cure for spinal cord injuries.
From 2007 to 2013, we have provided $30 million to the foundation to implement a spinal cord injury data system across the country and to support spinal cord injury research and the promotion of best practices in spinal cord injury care so Canadians affected by spinal cord injury can benefit from an improved quality of life.
The spinal cord injury registry started in Vancouver in 2003 and has since expanded across Canada. As of 2013, the registry was operational in 31 facilities in 15 cities. It is a huge accomplishment for the foundation, and our government is proud that we have played a role in its success.
Some of this funding also supported the creation of the Rick Hansen Institute in 2007, which is focused on research and care management. This institute is an independent not-for-profit organization committed to accelerating the translation of discoveries and best practices into improved treatments for people with spinal cord injury. This means that the institute leads a network of people with spinal cord injuries, researchers, service providers and other stakeholders that facilitate greater collaboration within the care and cure communities nationally and around the world. It is truly commendable work and it showcases the steadfast pursuit to achieve a world without paralysis after a spinal cord injury.
To keep the momentum going, the government announced $35 million to support some additional work of the Rick Hansen Foundation in spinal cord research.
Many other activities are currently happening, but certainly the designation of the third Friday in September as a national spinal cord awareness day would highlight these and other related commemorative events throughout the year.
Raising awareness about an issue such as spinal cord injury is a positive action. It is a simple action that can have profound effects on those living with a spinal cord injury. Most important, if we can prevent future injuries so we can turn the tide on the troubling statistics, it will be time and effort well spent.
National Spinal Cord Injury Awareness Day Act February 25th, 2015
Mr. Speaker, I know we look at having many national days in our country and certainly the member has brought up a very important point. She has articulated very well some of the challenges and why she believes it is important.
Could she talk more about what she believes the day would actually accomplish and what this day, if it is proclaimed, would mean to the victims with spinal cord injuries?
Business of Supply February 24th, 2015
Mr. Speaker, what I really reflected on in my comments is that we have a timeline and a critical task. I also noted that it took four and a half years for Quebec to craft the legislation it thought was appropriate and over a year for the Supreme Court of Canada to render its decision after hearing the case. Committees absolutely are an important piece of this process, but many things must be done in order to ensure that we have included all the appropriate stakeholders and all the appropriate opinions and thoughts on this issue.
Business of Supply February 24th, 2015
Mr. Speaker, perhaps the member again misheard me. I said 308 members of Parliament have a critical responsibility to engage with their constituents, to have round tables, to receive emails. Certainly the Internet could be part of it. We saw with the prostitution legislation that many thousands of Canadians engaged. That is one tool among the multiple tools that are needed, but predominantly it is the 308 members of Parliament who have the responsibility.
Business of Supply February 24th, 2015
Mr. Speaker, I think what the member heard was my conversation that 308 members of Parliament need to be engaged in this very important issue. We have a responsibility to have round tables in our ridings in order to have that conversation and put forward the representations of the citizens that we represent. As the member knows, committee structures are a part of the parliamentary process, but to limit the process to 12 people with very limited time and working within a very defined structure is perhaps not going to do justice to this very critical piece of legislative work that we need to do.
Business of Supply February 24th, 2015
Mr. Speaker, I would like to note that I will be sharing my time with the member for Moncton—Riverview—Dieppe.
It is a privilege to rise today to speak to the Supreme Court of Canada's decision regarding physician-assisted dying. As we all know, end-of-life issues are deeply emotional. Questions about how our family and loved ones hope to go through their final days will not be answered easily. However, anyone who has had to support a family member during a difficult time will understand that these conversations are essential to respecting the wishes of our loved ones and ensuring that we all have dignity in our final days.
We also know from recent polls and media coverage that this is not an academic topic. Canadians are having these discussions around the dinner table, and it is important that government is equally engaged. Despite the differences Canadians experience in their respective lives, be it the jobs they have held, the lifestyle they have chosen to adopt or the contributions they have made to society, all people ultimately have one thing in common; this being that we will eventually face the end of life.
Given advances in modern medicine and care practices and the fact that we are living longer lives, the reality around this experience has changed. In the past, when deaths resulted from serious or contagious diseases, accidents or otherwise natural causes, many Canadians died in their own homes in the midst of their family and community members. Now Canadians more typically spend their last days in the clinical environment of hospitals, often after a long and arduous course of battling debilitating illnesses, disease or coping with chronic conditions.
Those who are in need of palliative and end-of-life care and who are admitted into hospital settings often find themselves surrounded by medical professionals, strangers who strive to provide the best care even when death is imminent. In such cases, people are provided with very well-meaning care, but there may be little that can be done to make patients more comfortable near their lives. These situations are distressing for both the patients and the families.
That leads me to the Supreme Court of Canada's decision. I will quote from its conclusion, which states:
—prohibit physician-assisted death for a competent adult person who...clearly consents to the termination of life and...has a grievous and irremediable medical condition (including an illness, disease or disability) that causes enduring suffering that is intolerable to the individual in the circumstances of his or her condition.
It is important to reflect a bit in terms of those different pieces, which I know some people who have already spoken have done. When we hear that 80% of people actually support this measure, I really think they do not understand the full scope and if they did understand it, they might have a different perspective.
I thought this was well said, when Andrew Coyne stated:
When most people think of assisted suicide...they have in mind not only a competent adult, capable of giving consent, but someone suffering unbearable physical pain and in the last stages of a terminal disease, for whom suicide is no more than a way to hasten an end that is already both inevitable and near.
He goes on to say:
First, it is clear from the ruling that the "enduring and intolerable suffering"...is not limited to physical pain, but also psychological pain—which, besides being a murkier concept by far, raises the question of how competent the subject really is. Nor is suffering defined further: it is enough that it is intolerable "to the individual."
He continues:
Second, nothing in the words "grievous and irremediable medical condition," the court's other requirement for the exercise of this right, suggests that death is near, or even likely.
Certainly many people share that perspective with respect to people who are near their end of life. However, I have heard many concerns with respect to the comments "intolerable psychological pain". The disability associations have spoken to this very articulately. We must also look at other countries, such as Belgium, where I understand assisted suicide is now provided to children. Those comments tell me that we have to be incredibly careful in how we craft the legislation.
It is important to look at the concerns I have regarding this motion.
The first and most obvious concern is the timeframe. The leader of the third party stood up in the House and talked about how Quebec took four and a half years to craft its legislation. It took an important length of time for Quebec to get it right. As well, it took the Supreme Court of Canada well over a year just to strike down the legislation.
Crafting careful legislation will require important conversations. My colleague talked about the special committee on missing and murdered women and girls. It is important to recognize that the committee was struck for 12 months, yet it still required an extension to complete its work. It is also important to note that it was through a unanimous motion put forward by the Liberals, which we supported. However, when we got into the special committee structure that they had presented, they soon realized that there was a real flaw in terms of a special committee's structure. We needed the Native Women's Association of Canada to be an equal partner at the table, but through the unanimous motion of the House they had not struck a committee that allowed for the important partners to play a role in that conversation.
The Liberals like to use that as an example, but there were some important flaws in how that process moved forward.
One obvious partner that I see missing in this is the Canadian Medical Association. It is going to be, and must be, intimately involved in terms of the kind of legislation that ultimately comes out.
Those are my concerns with the timeframe.
We know that there will ultimately be a committee structure to deal with this particular issue, but more importantly, how many of our 308 members of Parliament will get to sit on such a special committee? There will be only 12. Therefore, all 308 members of Parliament have a responsibility right now to be talking with groups and individuals in their communities. If every single member does not send a letter to the Minister of Justice outlining the consultations they have had, they are, in my opinion, not doing the job properly.
We do have a critical job ahead of us. We have to get it right. The motion before us today is, in my opinion, very restrictive in terms of the timeframe, and it is very restrictive in terms of the structure to be used in moving forward, since there would be no critical partners at the table. We know that committees can do great work, but they have limitations in terms of the number of witnesses they can hear from and for how long.
Again, we must do this right. Having dealt with people with ALS and terminal cancer, we know that compassion needs to be shown in what we do and how we do it. We need to move forward, but to be quite frank, the motion that the Liberals have put forward is not going to provide the comprehensive response that we are going to need.
Anti-terrorism Act, 2015 February 23rd, 2015
Mr. Speaker, we need to look at what Canadians think is common sense. For example, if someone comes in to see a consular official in Beirut and the official is very concerned about the history that person presents and about injuries that might be consistent with some activities that are less than savoury, to think that this consular official could not actually share those concerns with an organization such as the RCMP and CSIS does not make sense, although obviously that information sharing has to be done in a prudent way.
I think most Canadians will agree that if someone was raising five or six red flags, they would be concerned about that person and what that means to the safety and security of Canada. It would be more than appropriate to take some measures and flag that particular person.