Cathy McLeod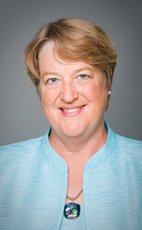 House of Commons photo
Track Cathy
Your Say
Elsewhere
Crucial Fact
Her

favourite word

is important.
Conservative
MP for Kamloops—Thompson—Cariboo (B.C.)
Won her last election, in 2011, with 52.20% of the vote.
Statements in the House
Warrant Officer Patrice Vincent and Corporal Nathan Cirillo October 28th, 2014
Mr. Speaker, as I search for an appropriate tribute to Warrant Officer Patrice Vincent and Corporal Nathan Cirillo, I am reminded that today and Saturday our country will pause to say goodbye to these two Canadian heroes.
These days not only mark the days we lay them to rest but also the beginning of our collective effort to fulfill the age-old promise to never forget their sacrifice.
A soldier's goal is to defend the nation at all costs. As a serving member of our Canadian Armed Forces for 28 years, Warrant Officer Patrice Vincent did just that. Corporal Nathan Cirillo undertook the highest honour in standing on guard at the Tomb of the Unknown Soldier at the National War Memorial.
Their sacrifices have made us stronger as a nation. What a fitting tribute to two men who will forever be remembered as two great Canadian heroes.
Canada-Korea Economic Growth and Prosperity Act October 27th, 2014
Mr. Speaker, I know that the NDP struggles to support any free trade agreement, and I think that is the first thing that is important. However, we are talking about dispute resolutions for international arbitration, which does not restrict any level of government from legitimately legislating in the public interest.
I think it is important to understand what these things do and do not do.
Canadian and foreign investors alike are subject to all of Canada's laws and regulations pertaining to environment, labour, health care, and safety standards.
The NDP knows very well that we have an agreement that has been agreed upon between two countries. However, to make such a massive change in an agreement would mean going back to the bargaining table and renegotiating, and, to me, that is sabotage.
Canada-Korea Economic Growth and Prosperity Act October 27th, 2014
Mr. Speaker, again, this particular agreement stands out from the pack in that regard. I think everyone in this House is very concerned about occupational health and safety issues, which also includes compensation in the case of injuries and illness. We see the results in Canada when we have proper legislation and regulations in place, and we are having a significant impact. There is nothing more horrific than losing a husband, wife, son, or daughter to a workplace injury.
Again, I am very pleased to see strong robust measures in this particular agreement and Canada's ability within free trade agreements to have those discussions.
Canada-Korea Economic Growth and Prosperity Act October 27th, 2014
Mr. Speaker, as the member well knows, the investor state dispute settlement has been a core element of Canada's policy, and it has been so for more than a generation. This agreement, like all other major trade agreements since NAFTA, includes these protections.
This is a two-way street. As a result of these provisions, Canadian businesses are provided with protection from arbitrary and discriminatory actions from the host government.
As I said, this is a two-way street. The investor state dispute settlement has been there for a generation, and it is a critical element that we believe should absolutely be there.
Canada-Korea Economic Growth and Prosperity Act October 27th, 2014
Mr. Speaker, I am very pleased to join today in strong support of the Canada-Korea economic growth and prosperity act.
As we have said regularly, our Conservative government is committed to protecting and strengthening the long-term financial security of hard-working Canadians. We understand that Canada's prosperity requires expansion beyond our borders into new markets for economic opportunities that serve to grow Canada's exports and investments. That is why we will continue to deliver pro-export leadership.
Since coming to office in 2006, we have reached free trade agreements with 38 countries. These countries make up more than half of the global economy and represent nearly one-quarter of the world's countries. When they were in power, the Liberals took Canada virtually out of the game of trade negotiations, putting Canadian workers and businesses at severe risk of failing and falling behind in this era of global markets. In fact, the last time the Liberals tried to talk seriously about trade, they campaigned to rip up the North American free trade agreement.
Before I continue any further, I will mention that I will be splitting my time with the member for Huron—Bruce.
Our government cares deeply about trade and our country's economic growth. Last fall the Prime Minister announced a historic agreement in principle with the 28-nation European Union that will give Canadian businesses preferred access to half a billion affluent customers.
I always go back to what my cattlemen said. They did not talk about the affluent customers but about the hungry customers, because they saw a tremendous opportunity for the cattle export business. Right in my own riding, people are seeing the enormous opportunities that this agreement would provide.
Our Conservative government recognizes that protectionist restrictions stifle our exporters and undermine Canada's competitiveness, which in turn adversely impacts Canadian families. That brings me to the issue at hand today, which is the Canada-Korea free trade agreement.
Implementing this free trade agreement is critical to maintaining Canada's competitive position in the global marketplace. It would restore a level playing field for Canadian companies in the South Korean market. Right now our competitors, including the U.S. and the EU, are already enjoying preferential access because of their respective FTAs with South Korea.
For Canada, the Canada-Korea free trade deal is a landmark agreement. It represents our first bilateral trade agreement in the Asia-Pacific region.
I heard the critic for the NDP talk earlier in terms of central Canada and eastern Canada, which tend to look to South America and Europe, but to our western provinces of British Columbia, Alberta, and Saskatchewan, the whole Asian-Pacific gateway is incredibly important. It really is a key to increasing our global competitiveness.
Of course, trade and investment represent the twin engines of growth for the global economy, and again I have to reflect on the anti-trade ideology of the NDP. Although the NDP may support the bill a little bit, it is a fact that it did try to sabotage this bill at the trade committee. Rather than thinking about what is best for all Canadians, the NDP tabled amendments to remove the investor protection provisions, cornerstones of a modern trade and investment agreement, in order to please a small group of its supporters and perhaps some supporters of the Green Party.
On this side of the House, we know that there is no better job creator or economic growth generator than freer and more open trade. Canadians are proud of our long history as a trading nation, and for good reason: one out of every five Canadian jobs is dependent on exports. In fact, trade drives 64% of all of Canada's economic activity every year. That is why we have embarked on a very ambitious pro-trade plan. I believe it is the most ambitious in Canadian history.
A diverse range of sectors would have increased trade opportunities because of this free trade agreement, including industrial goods, agri-food products, fish and seafood, and forestry products. Earlier I mentioned beef; another area that is relevant to my riding in British Columbia, Kamloops—Thompson—Cariboo is forestry. It is incredibly important to open that up, as it has gone through a little bit of a difficult time with the economic recession. There are huge opportunities.
Canada's world-class service sectors would also benefit from improved market access, including professional services and research and development services.
The Canada-Korea free trade agreement would create thousands of jobs for Canadians by increasing our exports to South Korea by 32% and boosting our economy by $1.7 billion. Over 88% of Canada's exports would be duty free upon entry into force, and over 99% would be once the deal was fully implemented. The huge amount of Canadian exports becoming duty free upon the coming into force of the agreement is important, given the urgency of restoring our competitive position in the South Korean market.
It is important to note that when embarking on trade deals with other countries, we do so bearing our responsibilities in mind. I am happy to say that while we are working hard to advance our trade agenda, our government is also ensuring that labour rights and obligations are respected. That is why the free trade agreement with Korea has a labour chapter that includes robust labour provisions.
Canada and Korea have committed to ensuring that their laws embody and provide protection for internationally recognized labour principles and rights, notably those included in the International Labour Organization's 1998 Declaration on Fundamental Principles and Rights at Work. For those who may not be aware, the declaration covers the right to the freedom of association, the right to collective bargaining, the abolition of child labour, the elimination of forced or compulsory labour, and the elimination of discrimination in the workplace. Through these provisions, we demonstrate our shared commitment to improving labour standards and protecting the rights of workers.
Both countries have also committed to ensuring acceptable protections concerning occupational health and safety, including compensation in cases of injuries or illness; employment standards, including minimum wage and overtime pay; and non-discrimination in respect of working conditions for migrant workers.
The labour provisions in this agreement stand out from the pack. For the first time, all obligations are now subject to a dispute settlement mechanism, which may apply financial penalties in the case of non-compliance. The labour provisions are comprehensive and enforceable. That speaks to the level of commitment from both countries to maintain high labour standards in this trading relationship.
Our relationship with South Korea is not new. Canada has long enjoyed positive relations with South Korea. In 2013, we marked our 50th anniversary of diplomatic relations. While the agreement would provide a modern and stable foundation to grow our bilateral relationship, it builds on a long history of political and economic co-operation. During the Korean War between 1950 and 1953, Canada contributed the third-largest contingent of troops to the United Nations Command. There were some 26,791 Canadian soldiers who served in Korea, of which 516 lost their lives. After the Korean War armistice, 7,000 Canadian soldiers served as peacekeepers between 1953 and 1957.
Significant trade and investment ties have further solidified our relationship. South Korea represents an important market for Canadian commodities and has proven to be a valued source of investment. Without question, the agreement will level the playing field for Canadian companies and enhance their ability to tap into global value chains, boosting their global competitiveness, profitability, and long-term sustainability.
The benefits of the Canada-Korea free trade agreement for our country are far too significant to overlook. Canadian stakeholders from across the country have repeatedly called for the agreement to enter into force immediately to secure Canada's competitive position in the South Korean market. Our government is equally keen to tap into the Asian market and create more jobs for hard-working Canadians. For these reasons, I call for the urgent passage of Bill C-41 and the rapid implementation of the Canada-Korea free trade agreement.
Events of October 22 October 24th, 2014
Mr. Speaker, today I would like to talk about an event on Tuesday and how it links with the despicable act on Wednesday.
On Tuesday many of us gathered at Rideau Hall to celebrate 45 individuals who received the Medal of Bravery.
Following the ceremony, a Liberal colleague offered to drive me back to Parliament, and we both reflected upon those extraordinary acts. We talked about how few individuals get tested in this way and how it is hard to know how one would respond.
What a prescient conversation that turned out to be.
In the events that unfolded Wednesday, I want to recognize many heroes in Ottawa: the bystanders who came to the aid of Corporal Nathan Cirillo, all our agencies tasked with safety and security, colleagues who were ready to fight, and people who gave comfort. I want to acknowledge all the Hill staff, from the interpreters in our booth to the many hundreds who in lockdown remained professional and calm.
We are blessed to live in Canada where these incidents are not common. We witnessed that Canadians are ready to rise with courage and dignity.
Medals of Bravery October 21st, 2014
Mr. Speaker, earlier today, I had the honour of attending a ceremony at Rideau Hall in which 45 medals of bravery were bestowed upon deserving Canadians by the Governor General of Canada, the Right Hon. David Johnston. Decorations for bravery recognize people who risked their lives to try to save or protect the lives of others. The medal of bravery recognizes acts of bravery in hazardous circumstances.
One of these 45 admirable recipients was Tyler Allan Fowler of Valemount, British Columbia. On April 27, 2012, Tyler Fowler, along with co-recipients Eli Day and Dion Lefebvre, pulled four people from their burning vehicles following a violent head-on collision near Wandering River, Alberta. The rescuers managed to extricate the victims, despite the rapidly spreading fire. Sadly, several occupants of both vehicles did not survive.
Tyler's courage and willingness to risk his own life to save another is both admirable and extraordinary. His actions inspire our nation and command our deepest gratitude.
Protecting Canadians from Online Crime Act October 10th, 2014
Mr. Speaker, what I did in my comments, and I hope I did it effectively to reassure my hon. colleague, was talk about the different levels of tools, depending on the issue in terms of what the police actually need. Again, there are times when the information that is required is perhaps more precise in nature. The bill would give the tools for that, versus the times when the police need to have the more general production orders.
What we have tried to do is recognize that it is very much a different situation in terms of small, targeted, precise information that continues to support the investigation, versus the more general production order.
Protecting Canadians from Online Crime Act October 10th, 2014
Mr. Speaker, what we have with Bill C-13 is a comprehensive bill that would get the job done. It is also important to recognize that not only do we have the bill in front of us here, but we have many other measures. We talk about the need for prevention. We talk about the need for education. This is one piece of an important puzzle, but what this piece of legislation would do is be comprehensive in terms of how it would tackle this issue in an effective way.
Protecting Canadians from Online Crime Act October 10th, 2014
Mr. Speaker, I need to reiterate that the investigative powers would be subject to appropriate judicial oversight. None of the lawful access orders such as, for example, production orders, preservation orders, interception orders and search warrants, would permit information to be obtained in the absence of a warrantee or lawful authority.
We have talked about how the world has changed, and I thought the New Democrats had maybe come along a little way toward recognizing these significant changes in terms of what is happening out there. Just yesterday, there was another example of a young woman whose intimate images were distributed without her consent, and there was a devastating impact. Again, I have to encourage the opposition members not only to support the bill but to really recognize the importance of giving the tools and moving forward in terms of making this a reality for Canadians.