Cathy McLeod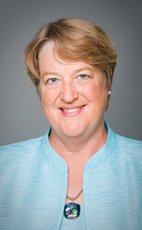 House of Commons photo
Track Cathy
Your Say
Elsewhere
Crucial Fact
Her

favourite word

is important.
Conservative
MP for Kamloops—Thompson—Cariboo (B.C.)
Won her last election, in 2011, with 52.20% of the vote.
Statements in the House
Salvation Army Christmas Kettle Campaign December 12th, 2014
Mr. Speaker, I would like to take this opportunity to remind everyone about the Salvation Army Christmas Kettle campaign. For more than 100 years, the annual Christmas Kettle campaign has been a great way for people to help others in need in their local community.
Canada's first kettle was used in St. John's, Newfoundland in 1906. Today, the familiar kettles, or "bell ringers", are seen in more than 2,000 locations across our nation.
The holiday fundraising activities of the Salvation Army play a crucial role in sharing the spirit of the season with families in need. The Salvation Army does its best to ensure that no family goes without food, no child is without presents under the tree and that Christmas is a time of hope and healing. Beyond providing Christmas dinners, the money raised at kettles is also used to provide clothing, shelter, food, toys, financial assistance and counselling year round.
As a volunteer, it is absolutely heartwarming when I see young children and teenagers come up and give what they can. Therefore, when people hear those bells of hope, please give generously.
Royal Canadian Mounted Police December 10th, 2014
Mr. Speaker, last week there was a horrific event in my riding of Kamloops—Thompson—Cariboo, when RCMP member Corporal Jean Rene Michaud was shot while on duty. I know the whole community joins me in sending our thoughts and prayers to Corporal Michaud and his family while he is recovering in hospital.
Events such as this are dark reminders of the dangers front-line RCMP officers across the country are putting themselves in every day of the year. They will be serving, as we spend time with our families on Christmas Eve and as we sit down to our Christmas dinners, defending and protecting Canadians and their communities.
It is important that we extend our appreciation and thanks to those who serve on our behalf. These are individuals who have built a reputation for ensuring a safe and secure Canada. The RCMP is an organization that is recognized around the world for the courage and accomplishments demonstrated by its members.
I thank the RCMP and I thank Corporal Jean Rene Michaud for his service.
Petitions December 8th, 2014
Mr. Speaker, the third is an interesting petition from constituents throughout my riding who are asking for some very practical changes to our new firearms act, because of the issue of predatory animals. Unlike the NDP, who want to bring back the long gun registry, the people in my riding are looking for common sense changes to our firearms legislation.
Petitions December 8th, 2014
Mr. Speaker, I have three petitions to present. Two of them deal with the issue of sex-selective abortion. The petitioners would like Canadians to look at that practice and condemn it.
Violence Against Women December 5th, 2014
Mr. Speaker, 25 years ago, on December 6, 1989, a horrific crime took place: 14 young women at l'École Polytechnique de Montréal were brutally murdered. On that awful day, their lives were senselessly ended, along with the hopes and dreams they had for the future. In shared sorrow, families across our country hugged their daughters a little tighter that night.
The tragic events of that day brought a new focus in our society on violence against women, yet well over two decades have passed since then, and many challenges still remain. Sadly, Status of Women Canada must continue to focus on initiatives to address gender-based violence across the country. This includes engaging men and boys to understand that gender-based violence is not acceptable or normal behaviour. While we cannot and probably never will be able to make sense of the crimes of that day, we must continue working to ensure that they never happen again.
On this anniversary, let us resolve to respect one another and value each other as equals.
Canada Shipping Act December 2nd, 2014
Mr. Speaker, I rise today in response to Bill C-628 which calls for, among other things, the Canada Shipping Act to be amended.
The proposed amendments would ban oil tankers from operating off the northern coast of British Columbia, specifically in the Dixon Entrance, Hecate Strait, and Queen Charlotte Sound.
I want to put some facts on the table in my conversation. We have certainly heard some passion from the other side, but I think facts become important, and certainly we are committed to protecting the environment. As a member representing British Columbia, I know how important our coastal environment is and how important waterways are, and we take our duty to protect these areas very seriously.
The member's proposal to ban tankers off the west coast is problematic for a number of reasons. First I want to talk about how we have already taken significant action to ensure we have a world-class tanker safety system and how we are keeping shipping safe.
The cornerstone of Canada's maritime regulatory regime is the Canada Shipping Act, also known as the act. The act's main purpose is to ensure marine safety. This includes preventing pollution from all shipping, including tankers. The act is applicable to all vessels operating in Canadian waters and to Canadian vessels worldwide.
What we are trying to do is balance the safety of shipping with the protection of the marine environment while encouraging maritime commerce. In order to ensure that oil is shipped safely, the act establishes standards that require oil tankers to be double-hulled and sets out how they are built, equipped, inspected, certified, and operated.
Oil tanker traffic in Canada has an excellent safety record under this regulatory regime. Roughly 320 million tonnes of oil are safely shipped off of Canada's coasts annually, with 43 million tonnes of oil shipped annually through the coastal waters of British Columbia.
Even with this high volume of oil shipping, Canada has not suffered any significant oil spills since its current regulatory regime was implemented. This track record can be attributed to the strong prevention measures that have been implemented over the past two decades.
Transportation of goods by vessel needs to be compliant with the act and is vital to British Columbia's coastal economy. Multiple prevention measures are set out in regulations, such as the Vessel Traffic Services zones, which monitor the movement of vessels so that traffic separation schemes and special routing measures are in place where appropriate.
Crews aboard these vessels must also meet stringent international standards for training and certification. In accordance with the Pilotage Act, there is compulsory pilotage in British Columbia's coastal waters. This means that a vessel must have on board a pilot, who is a navigator certified to have specialized knowledge of local waters.
Mariners are dedicated professionals who undergo years of training and experience to advance through the ranks, again in accordance with training and examinations overseen by Transport Canada and other maritime administrations around the world.
Transport Canada has also established the Canadian marine oil spill preparedness and response regime, which requires tankers to have an arrangement with a Canadian response organization to provide cleanup services in the event of a spill. Tankers are also required to have a shipboard oil pollution emergency plan.
The Marine Liability Act, which forms part of Canada's regulatory regime, sets out rules for tankers to carry insurance, not only for the oil cargoes they carry but also for the oil they use as fuel.
Internationally, Canada is highly respected in the maritime community as a country that provides a clear and predictable set of rules to ensure safety and to protect the environment. A key way we achieved this reputation was by being party to international conventions that set rules for how ships, including tankers, operate safely and prevent marine pollution. Being party to these conventions allows Transport Canada the right to inspect ships that call in Canadian ports. The conventions also provide rights for Transport Canada to act if standards are not met. This can include warnings, detaining a vessel in port until repairs are made to comply with standards, or proceeding with prosecutions.
Not only are we party to these international conventions, but we are also very active at the International Maritime Organization, the United Nations specialized agency that governs global shipping.
We have had leadership roles in this International Maritime Organization for several years and have been working to facilitate the world's adoption of maritime standards to protect the environment. So we have been working not only in Canada but also worldwide.
We continue to strive to make our regulatory regime stronger and recently have done so through our world-class tanker safety system initiatives. Of course, as members are aware, British Columbia was interested in having the best system in the world.
In May 2013-14, we announced a number of new measures that have since been put in place. We announced that there would be increased tanker inspections, new and modified aids to navigation, and an expansion of our national aerial surveillance program to increase surveillance efforts while continuing to deter polluters and enabling early detection of marine oil spills.
However, a ban on oil tankers, as proposed by the NDP, would have a lasting negative effect on Canada. I understand that the NDP is anti-trade and does not comprehend the issues of a trading nation. The NDP always wants to say no. NDP members do not ask how we can perhaps have a process in place and look at how we can have a balance.
I have to go back to the recent provincial election where their leader stood up in the riding that I represent and said that they were not even going to support this pipeline, that they did not care about having a process in place and were against it.
However, I think British Columbians spoke clearly when they said that they wanted to find a balance. The environment is critical to them, but they want to find a balance.
I am not sure it has worked out so well for the NDP members to always be saying no. They do not even want a process before they say no. It is just an automatic no. It has not worked out so well.
Banning the tanker traffic would essentially eliminate any chances Canada would have to further diversify energy exports to countries other than the United States. I would also note that the NDP has said no to the Keystone pipeline, to east-west, and to north-south. It seems to be no, no, no. NDP members are not looking for any way to get to a yes, in spite of whatever measures we can put in place to have an environmentally sound practice.
I think the ban would also be seen very negatively by the United States and other countries that view these waters as free for navigation, specifically the waters in fishing zone 3, between the Queen Charlotte Islands and Vancouver Island. As members might know, they are disputed as international waters.
In closing, our government is already keeping shipping safe and preventing pollution in our waters through our current regulatory regimes. We continue to be proactive in our approach to safety and we are proud of recent initiatives, such as our world-class tanker safety system.
Canadians generally and British Columbians can be reassured that our government is committed to protecting our beautiful west coast. As I said, as a member from British Columbia, I believe that we can get to a yes on some of these projects with the important measures that are in place.
Banning a class of vessels operating legitimately within the standards I have just described would be contrary to the comprehensive system that has served Canadians so well. This type of ban proposed by the NDP would have drastic impacts on Canada internationally.
I heard the member for Victoria say that every single person said no. However, many people in my riding are saying yes, and some say no, but I think there are people in British Columbia who recognize that we can get to a good balance on these issues.
For these reasons, our government will not be supporting the NDP's Bill C-628.
Economic Action Plan 2014 Act, No. 2 December 2nd, 2014
Mr. Speaker, I am delighted to answer that question. I believe Mr. Flaherty would have been really pleased with our comprehensive plan, which will support every Canadian family.
We have increased the universal child care benefit, from which every family with children will benefit. The increase in the expense deduction will benefit many. There is the modification in income splitting.
I think he would be very proud that we have created what is a comprehensive package. We have fulfilled our election platform commitment and we have created something, unlike the NDP and unlike the Liberals, who want to put money into a program that does not help shift workers and people in remote communities. We have a plan in place that will help every family with children. I am very proud of that, and I believe he would be as well.
Economic Action Plan 2014 Act, No. 2 December 2nd, 2014
Mr. Speaker, the facts speak for themselves. First, let us look at our government's record. We headed into the global recession. We have come out that and 1.2 million jobs have been created, mostly full-time and mostly in the private sector. Obviously, the government's plan and strategy are working.
On the tax credit for our small businesses, we know small businesses are the cornerstone. The Canadian Federation of Independent Business is one of the experts in this area. It only makes sense that when we put $550 million back into the pockets of our small business owners, they will have the opportunity to put that money into growing their business and creating more success.
Again, we have a plan, and our plan is working.
Economic Action Plan 2014 Act, No. 2 December 2nd, 2014
Mr. Speaker, I am very pleased to rise to debate Bill C-43. I will quickly go over the process that has gotten us to this point.
The budget is typically delivered in the spring, and then there are two budget implementation bills, one in the spring and one in the fall. I will read a quote that is actually attributed to a gentleman named Jacob Lew, who said, "The budget is not just a collection of numbers, but an expression of our values and aspirations". When we look at this budget, we are really looking at the values and aspirations we as a government have put forward.
It was actually February 11 when our colleague, Jim Flaherty, stood in the House as the finance minister to deliver the budget. He typically liked to joke about his diminutive stature, but we all appreciated and admired the twinkle in his eye. He was anything but small in both his heart and his influence on the direction of Canada.
I am going to frame some of the words he said in introducing the budget in 2014. It was only two short months later that we sat in the House stunned as we heard of his very sudden passing. All of us came together and grieved that day.
His opening comments back then were as follows:
Mr. Speaker, nearly 150 years ago, Canada was founded with fiscal responsibility as its cornerstone. The men and women who carved this great country out of the wilderness simply called it "good government."

That's what Minister of Finance John Rose was talking about when he stood before this assembly to deliver Canada's first budget speech in 1868. He said, "I say that we ought to be most careful in our outlay, and consider well every shilling we expend."

Now, that's just old-fashioned English for old-fashioned common sense. And it is that solid, Canadian common sense that has guided our Government through good times and bad.
He then went on to say:
Mr. Speaker, I am proud to rise today to present Canada's Economic Action Plan 2014.

This prudent plan builds on our record of strong, sound and consistent fiscal management. It is a low-tax plan to promote jobs and economic growth and support Canadian families. And it is a common sense plan that will see Canada return to a balanced budget in 2015.
Those were the words that framed the legislation we are talking about.
I now want to look at budget implementation act 2. I often hear the NDP go on about the bill being 400 pages. I would first suggest that it is not really the number of pages that matter. It is the content and what the budget is going to achieve that is important. If New Democrats are really struggling through the 450 pages, I will direct them to the legislative summary, which is about four or five pages. New Democrats often talk about hidden things in the bill, but it is very easy for the NDP or any Canadian to go to the legislative summary. It clearly articulates what is in the bill in a few short pages. Then if there is something that tweaks their interest, they can go to the budget itself.
If we look at the structure, Part 1 deals with implementing income tax measures. Now I am going to have a bit of a micro conversation. Then I will go back to the broader picture of what we are trying to achieve.
Part 1 in this bill has a whole host of income tax measures. Sometimes it is the small things that make a big difference in people's lives. For example, the move that is going to extend the tax deferral for breeding animals to bees might not sound like a big measure, but for beekeepers, that is an extremely important measure.
Throughout Part 1, there are a number of income tax measures. Another piece that perhaps people have not picked up on is the accelerated capital cost allowance for our green energy sector. It is a bit of a boost to help the green energy sector get going.
We then move into Part 2, which implements goods and harmonized sales tax measures, which again is clearly an important piece of what we do.
Part 3 amends the Excise Act. Again, I welcome the New Democrats, if they are struggling with the 458 pages, to go to the legislative summary. It is very clear what the budget is trying to accomplish.
Part 4 looks at a number of different acts in order to implement various measures. I have to go back to the words of Lew. The budget is not just about numbers; it is about the aspirations and goals of the government.
What are some of the goals of our government? In good times, with Minister Flaherty, we paid down the debt and set ourselves up and were in a great position. Of course, in 2008, the global recession hit us and hit us hard. However, we were in a good position, and we had a plan. We have seen that plan go from economic action plan 2006 right through to 2014 with the plan that was recently introduced.
What is our plan? All these measures in this budget look at focusing and supporting our movement. When in 2008 we knew we were going to have some extraordinary challenges, we decided we would put stimulus into the economy. I know that the opposition members kept saying that we needed to put more in, and now they say that we incurred that. In actual fact, we found the right balance. We managed to get extraordinary stimulus out the door. It saw us through that very challenging time. Coming out of the recession earlier than many, we have looked at some of the best job growth among the G7. We are at over 1.2 million net new jobs now. It was a global recession. I remember many countries being very concerned. We all remember Portugal, Italy, Greece, and Spain and the significant challenges they were facing. However, we had a plan, we were in a good position going in, and we came out.
We were particularly proud, with the delivery of economic action plan 2014, to say, just as we told Canadians, that we were going to be back to balanced budgets. We said that, unfortunately and with concern, we were going to spend some extra money for stimulus, but we made a commitment to Canadians that we would get back to balanced budgets, and indeed that is what we have done. Getting back to a balanced budget was certainly one of the significant priorities.
The other area I would call a pillar was supporting jobs and growth. We have to have an environment in which we are supporting jobs and growth. This again does exactly that with items such as the small-business job credit. The Canadian Federation of Independent Business, which represents small businesses, has said that this is going to make a real difference to the small businesses of this country. When they have payroll taxes that are a little more forgiving, they put that money back into hiring more people and expanding their business. Some of the real experts are the people who run those small businesses, so I certainly look at what they are doing.
Another area we looked at in terms of supporting jobs and growth was the tax credit on interest paid on government-sponsored student loans and extending that to the Canada apprentice loan. We know that with the jobs mismatch, there are jobs available for apprentices, so again, that was an important measure.
There are a number of items in there that support families and communities.
Finally, there are measures that improve the fairness and integrity of the tax system.
In conclusion, people who knew Jim Flaherty might know that he loved to sail. He was at the helm in some very difficult waters. He has now, of course, left that helm for us to take on, but he charted a course. He put us on a solid course, and I know that it has been ably picked up by our new Minister of Finance.
As this is the last time I will get to speak to the direct influence of Jim Flaherty, I will just say thanks to Jim for all his hard work.
Labour December 1st, 2014
Mr. Speaker, youth employment issues matter to thousands of young Canadians looking to acquire experience and find a job in today's competitive job market.
Our government understands the importance of having opportunities for training in the workplace yet recognizes that internships can raise important concerns about labour standards and occupational health and safety protections, especially when they are unpaid. No one should feel unsafe at work, which is why the Canada Labour Code ensures that individuals are informed of and protected from workplace health and safety hazards.
An efficient labour market includes workers of different ages. We need our young people. That is why we are studying the issues faced by interns and young workers. The government will continue to stand by our hard-working young people as they work towards building meaningful careers.