Cathy McLeod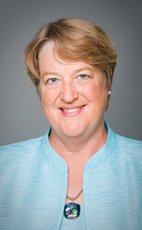 House of Commons photo
Track Cathy
Your Say
Elsewhere
Crucial Fact
Conservative
MP for Kamloops—Thompson—Cariboo (B.C.)
Won her last election, in 2011, with 52.20% of the vote.
Statements in the House
Curling February 28th, 2014
Mr. Speaker, I am happy to share that Kamloops will be hosting the country's best curlers over the next week for the 2014 Tim Hortons Brier. Tomorrow will be the beginning of the tournament that will determine who goes on to represent Canada at the 2014 Men's World Curling Championship in Beijing.
They will be playing there, of course, to double up on their recent gold medal sweep in Sochi. This will be the second brier held in Kamloops and this time we will be cheering on our Team B.C. extra loudly, especially for our hometown boy Jim Cotter in his fourth brier, who just missed representing Canada at the Olympics after his team came a close second to Brad Jacobs at the Roar of the Rings.
This year's tournament owes a lot to all of our local organizers, volunteers, and sponsors, and we look forward to showing the curlers and their fans the best that Kamloops has to offer. We are known as Canada's tournament capital.
Welcome all to Kamloops, and go team B.C.
Anti-Bullying Day February 26th, 2014
Mr. Speaker, today is national Anti-Bullying Day.
While bullying has always existed, modern technology gives bullies the ability to humiliate and intimidate their victims in front of the entire world.
As recent tragedies have shown, cyberbullying has the power to destroy lives and communities. That is why our government has introduced legislation to crack down on cyberbullies and to stand up for victims.
The protecting Canadians from online crime bill will ensure that children are better protected by making it an offence to distribute intimate images without the consent of the person depicted. We have always been clear that there is a point where bullying goes beyond just words and becomes criminal behaviour.
Distributing images of a person against his or her will should be a crime, which is why we are acting to strengthen the Criminal Code. We are also acting to modernize the law so that police have the tools they need to better investigate these offences.
I hope the NDP will begin working with us so we can get the bill to the justice committee and hopefully passed into law as quickly as possible.
The Budget February 13th, 2014
Mr. Speaker, I would point out that Canada was not alone. We were with the G20 nations in terms of this economic action plan.
I would also point out that the Auditor General gave an incredibly favourable report. It was unprecedented in the history of Canada to have such a positive response to our economic action plan and economic stimulus.
When I look at the important projects in my riding, not only did they create jobs, they have created valuable infrastructure for the citizens of those communities.
We have a list of infrastructure projects from our municipalities right now, which we know very well will keep us going for a long time in terms of what we need to do moving forward.
The Budget February 13th, 2014
Mr. Speaker, I find it ironic that in past budgets we have had measures around climate change and navigable waters, yet we had been heavily criticized by the opposition members who said the budget should be about the budget and that these were omnibus budgets.
Now that we have a budget that is focused on some important budgetary measures, I would suggest that the hon. member go to the Government of Canada's website on the environment. He would see that there is an important and strategic plan. The goals are there. We are looking at how we would go ahead in terms of our environmental commitment to Canadians.
Again, I must point out the dichotomy of the two different positions. In one minute we are criticized for having it in, and now we are criticized for not having it in.
The Budget February 13th, 2014
Mr. Speaker, I am delighted to stand up here today and speak to our economic action plan 2014. I also want to congratulate the Minister of Finance on again having a budget that is absolutely right for Canada in these times.
Today I will talk about the context, because I think it is important. People are hearing about the measures that are in the budget, but I need to set the stage for the debate in terms of the context, going back to 2009.
I do want to make one comment. Certainly our approach is not the NDP approach of raising taxes and having myriad programs for which it wants to use the money of everyday Canadians.
Unlike the Liberals, we know we need a long-term plan. We need a plan. The budget does not actually balance itself by magic, but it balances itself through a lot of hard work, a lot of thinking, and creating a plan.
I will demonstrate where we are today and why this plan is working; so throughout my speech, I will take very liberally from some of the past budget speeches given by the Minister of Finance, because as we go from 2009 to 2010, we will see the very dramatic things that were happening in our history, and indeed, the global recession impacting the entire world.
First, I go back to January 27, 2009. I was a newly elected MP at the time. I was elected in 2008. The government previous to that had been paying down the debt, and to give the Liberals their due, they had paid down some debt, and we continued on that path. We paid down, I believe, close to $39 billion in debt in the first two years.
In 2008-2009 we recognized we were heading into some very challenging times across the world. These are some quotes from the speech of January 27, 2009.
Since last fall, the global economic situation has deteriorated further and faster than anyone predicted.... Canadians are feeling the effects of the global recession, and they are concerned. They are concerned about their jobs and their savings. They are concerned about their families, their businesses, and their communities.... ...we must do what it takes to keep our economy moving and to protect Canadians during this extraordinary time.
Back in 2009, in response to the global recession, it was the industrialized countries that agreed they needed to take unprecedented action.
I often hear, again, the opposition members talking out of both sides of their mouths, because I remember at that time they were saying we should spend more, spend more. Then they would say we had a debt. They cannot have it both ways. They cannot say to spend more and then criticize the debt.
It truly was a very difficult time, and so the Government of Canada and the Minister of Finance made the deliberate choice to run a substantial, short-term deficit. It was a temporary deficit, and it was an investment that was to stimulate our economy and to meet the short-term needs while serving the long-term goals.
It is also important to note that Canada, unlike the United States and Europe, did not enter this very difficult time with a heavy deficit, like the other countries; so we really had more capacity within Canada to respond to the risk we were facing.
We also said at that time that we would not be running a permanent deficit, that as the economy recovered, we fully expected to emerge from deficit and return to surplus. It was also said that Canadians regretted the need to run a deficit in order to invest in our economy and the government also shared that regret.
That sets the stage for 2009, a very difficult time, and a purposeful decision was made.
A year and a couple of months later—again I will take liberally from the speech at the time—the minister rose in the House and said:
...our nation is at a crossroads. We have passed through steep and rocky terrain. Much of the territory was uncharted. We were prepared and we protected ourselves. We are making our way through, and our compass has not failed us. The way forward remains challenging. Some would urge us to turn at this crossroads. Experience tells us that this would eventually lead us backward. We need to keep helping those who need a hand up. We need to stay on course. We can see our destination on the horizon.
It is important to note that there were many international institutions that were failing at that time, but they were not failing in Canada. Stock markets around the world had plunged deeply, and for a time the whole global financial system was at risk of shutting down. However, we worked in partnership with the G7 and G20 in terms of an effective coordinated response.
These numbers are going to be important as I go through my comments. In July 2009, Canada had generated 135,000 net new jobs, and at the same time the U.S. was continuing to lose jobs. Let us go another year, to March 22, 2011, and Canada was emerging from this recession as one of the world's top performing economies. Compared to other countries, Canada's economy was performing very well, but our continued recovery was by no means assured. We had a plan. It was working. We needed to stay on the track.
We were looking at additional targeted investments to support jobs and growth, but we also committed to tackle government spending and eliminate the deficit. We also indicated that we were not going to do that like the Liberals did, through cuts to transfers for health care and education and imposing massive tax increases. We now had 480,000 net new jobs, more than were lost in the recession.
It was at that time that the opposition decided that we did not have a plan that was working. We took it to the Canadian public. The Canadian public gave us a strong, stable Conservative majority government because they believed in this plan to move forward. We then introduced a very similar budget, I believe it was almost word-for-word, on June 6, 2011.
I have to note, again, in the few short months between when the budget was presented and the election was called and the next budget was presented, we were at 540,000 jobs that had been created since July 2009. That was the height of the recession. And, we had seven quarters of positive GDP growth.
Heading into March 2012, of course, Canadians had every reason to be confident. Other western countries faced the risk of long-term economic decline. Our goal was to strengthen the financial security of Canadian workers and families, and to help create good jobs and prosperity in every region of the country. We also looked toward positioning our country as dynamic, moving forward, and able to compete. We were then at 610,000 net new jobs. Again, this was a year later. We saw very important improvements.
At this point, we were looking for innovation. We needed to plan for a rapidly aging population to secure our long-term prosperity. Again, that does not sound like magical wishful thinking. We have an aging populations and we needed to create a plan to help our country move through the challenges that it faces
At that time, we were on track. We had cut the deficit in half. We did this by doing exactly what the finance minister said when he introduced the economic action plan: the stimulus spending.
He then ended it. I know it is often very difficult to end stimulus measures because it is very popular. However, it was temporary, and he did take the steps necessary to look at controlling the growth of new spending. We made the commitment to implement some moderate restraint in government spending, with the vast majority coming from eliminating waste in the internal operation of the government to make it leaner and more efficient.
Finally, at that time we were looking at ambitious trade expansion. I only have a minute left, and this is such a great story. On March 20, 2013, we were at 950,000 new jobs. We were taking strong decisive action, which was required, but we were moving forward as per the plan.
I would suggest to the opposition members that if they look at that history, what our finance minister indicated was going to happen has moved along directly. Obviously, there were some twists and turns along the way because there were factors outside of our control, but we have been at the reins. We have been guiding things.
I am proud of our record. I am proud to see that we are approaching a balanced budget, and I look forward to a balanced budget in 2015-16.
The measures that we see in the budget this year are targeted toward those important strategic investments that would continue to leave Canada prosperous and in the great position it has in the world.
Fair Elections Act February 7th, 2014
Mr. Speaker, when I first went to the briefing on this piece of legislation, I was very impressed. I looked at the opportunities to move the issues around compliance to the Director of Public Prosecutions, which made perfect sense. I looked at the issues around robocalls and moving that under the CRTC. I heard the interview where the former chief electoral officer gave it an A minus. I want to congratulate my hon. colleague, the Minister of State for Democratic Reform, for the very excellent work he has done on this piece of legislation.
I think my colleague who just spoke has not looked at the piece of legislation in terms of the whole picture of what it would do for fairness in our system. I would like her to talk about the issue of voter fraud and how important it is that we have 29 pieces of ID, I believe, that would be acceptable. Could the member speak about the important role that maybe she will have as a member of Parliament, as will I, who perhaps will run in the next election, in partnership with Elections Canada, to let people know where they can vote, how they can vote, and the pieces of identification they will need.
Respect for Communities Act November 28th, 2013
Mr. Speaker, having been involved in the health care field, I regularly dealt with people who were absolutely desperate for the support of detox services and rehabilitation services. To be quite frank, the services that were needed were not there.
To the member, how can she support spending money when we do not have enough detox or rehabilitation services for the people who are truly trying to get themselves off drugs and alcohol or other substances?
We need to look at opportunity, cost, and the challenges that we have.
Air Transportation November 22nd, 2013
Mr. Speaker, the member raises a very good question and we will certainly get back to him as soon as possible.
As a government, our commitment is to the health and safety of all Canadians in all workplaces.
Korean War Veterans November 21st, 2013
Mr. Speaker, our government deemed 2013 to be the Year of the Korean War Veteran. We are grateful to all the brave men and women who served during the Korean War, and we mourn the loss of the 516 Canadians who gave their lives in the defence of freedom.
It is with great honour that I will be hosting a tribute to Korean War veterans from Kamloops—Thompson—Cariboo this Saturday, November 23, at the Kamloops Legion.
These include Robert Caffrey, Arthur Duggan, Barry Lister, Gordon MacDonald, Ray Maxfield, Bob Mitchell, John Price, Robbie Robertson, Leon Rushcall, Fred Shelton, Alex Sim, Allan Tassell, Gary Williams and of course those who are no longer with us: Mitsutoshi Arikado, Edward Alexis Fortier, Arthur Oakley and George Wilkinson.
Thanks to the sacrifices of these veterans, the Republic of Korea is one of our greatest allies, sharing our values of freedom, democracy and the rule of law.
Respect for Communities Act November 8th, 2013
Mr. Speaker, I would like to raise a few points that the member perhaps did not address very well.
As someone who was formerly involved in local politics, decisions around what goes in neighbourhood zoning is very important to those communities. The ability for a community to have some say in terms of what is located where is a critical measure. I am wondering why, for one, he does not believe that communities should have the ability to have input into these decisions.
I have a second point that I would really like the member to focus in on. One of the rationales is that this is going to allow people to move through into treatment. From my experience, there are many people who want to deal with the difficult demons of their addictions and their rehabilitation. There are not enough services. There is not enough support.
On the opportunity in terms of increased detox, increased rehabilitation, why is the member not really focusing on the people who are desperate, struggling to get off drugs, and do not have programs and services available to them?