Cathy McLeod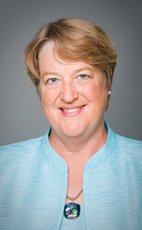 House of Commons photo
Track Cathy
Your Say
Elsewhere
Crucial Fact
Conservative
MP for Kamloops—Thompson—Cariboo (B.C.)
Won her last election, in 2011, with 52.20% of the vote.
Statements in the House
Employees' Voting Rights Act April 8th, 2014
Mr. Speaker, I welcome the opportunity to rise in the House today to speak about Bill C-525, employees' voting rights act.
In bringing this bill forward, the member for Wetaskiwin has focused our attention on an important aspect of labour relations in Canada, and that is the process of governing the certification and decertification of unions.
The amendments our government proposed to the bill, after consulting with key stakeholders in committee, would help ensure that unions remain relevant in today's evolving workforce by legitimizing union certification and decertification in federally regulated workplaces.
As members know, the Standing Committee on Human Resources, Skills and Social Development and the Status of Persons with Disabilities had the chance to study the bill clause by clause, and of course, we heard from a number of stakeholders, union members, employers, and academics. I think we can all agree that given the fragility of our national economy, it is important that we get this right for employees who are under federal jurisdiction.
After hearing from Canadians who will be affected by the bill, we have proposed a number of common sense changes that strengthen its democratic value and fairness. We have carefully reviewed them, and I believe that the bill is, overall, the better for it.
It is simple. These changes improve the bill's fairness and democratic values while they maintain the principle of the bill that all federally regulated workers should have a democratic right to a free and fair secret ballot vote when deciding whether or not to unionize.
I argue regularly that this is not about the employer and the employee and the union. It is really about the relationships among the employees. This is a very personal decision, and I think they have the right to have that very personal decision reflected through a secret ballot process.
I think it is important to note that the NDP members put forward an amendment at report stage to gut the short title, employees' voting rights act. Why have they done this? They do not want Canadians and the workers they claim to represent to learn that the purpose of the bill is simply to give them the democratic right to a secret ballot vote. Again, we have talked about how important that is for employee relations. There is the union and the employer, but we have to remember the individual relations.
The facts are the facts. We strongly oppose the NDP amendment, because we believe that the short title is exactly what this bill represents, an act that delivers voting rights to employees in federally regulated workplaces.
I would like to take a few minutes to highlight some of the common sense changes we have proposed in this bill.
The employee's voting rights bill would give all employees the opportunity to have their say about certifying or decertifying a union. As things stand today for federally regulated employees, this is not always the case. Again, that is very much undemocratic. Instead, if at least 50% plus one of the employees in a bargaining unit sign membership cards, an application for union certification can be filed automatically. This means that a significant percentage of the people in the bargaining unit may find themselves in a union, whether they like it or not and without the opportunity to have had their views heard.
I fundamentally believe that all employees should have the democratic right to have a free and fair secret ballot when considering whether they want union representation in their workplace. I would like to ask my fellow members if this is too much for workers to ask. Are free and democratic elections not a foundation of Canadian society?
In my humble opinion, not only would it appear to be a reasonable request, it is a basic right. This is exactly what the employees' voting rights bill proposes. It proposes to eliminate automatic certification and would require that a secret ballot vote be held before certifying or decertifying a union.
For a union to be certified or decertified, the bill originally required a majority of employees in the bargaining unit to vote in favour. In cases where members did not vote, for one reason or another, their unused vote would essentially be considered a vote against a union.
We propose instead that the majority be based on the number of ballots actually cast, like in most elections. With this method, uncast ballots would not affect the outcome of the vote.
Canadians take a great deal of pride in the democratic process. The right to vote and the right to be heard go right to the very core of what it means to be Canadian. When we vote, whether it is at the federal, provincial, and municipal level, we do so by secret ballot.
A secret ballot means the freedom to vote the way we want to, to vote for what we think is best for ourselves, our families, and our country. This is the essence of what it means to live in a democratic society.
A decision as important as whether to form a union should represent the employees real intentions. The only way to guarantee that employees are free from pressure and that they can express their honest opinions the way they wish is to give them a free and fair secret ballot voting system. I think I can safely say that just like there are some Canadians who do not wish to reveal who they voted for in an election, there may be some workers who are not comfortable expressing their views on unionization publicly. Their reason for wanting privacy is their own and none of our business. It is as simple as that.
Subtle and sometimes not so subtle forces can come into play in these situations. The opinions and actions of colleagues and others have an effect on how someone might make a choice. If employees do not have the opportunity to vote freely for any reason, the results of a vote cannot truly reflect how the employees feel about union representation, and that is not fair. The concept is one that our government fully supports.
We also suggest lowering the minimum level of employee support required to trigger a certification and decertification from 45% to 40%. This number is much more in line with international conventions and the majority of provincial statutes. This approach is fair and will ultimately establish a level playing field for both supporters and opponents of the union.
I would like to take the opportunity to address the amendments proposed by the NDP during report stage. They propose to raise the card-check threshold required to trigger a vote for decertification from 40% to 50%. In short, the NDP is proposing to undermine one of the basic principles of the bill, which is to ensure that certification and decertification rules are the same so that supporters and opponents of unionization are placed on the same level playing field. These amendments would give a clear and unfair advantage to supporters, and although we are not surprised by this bias, the government simply cannot support such a blatantly unfair proposal by the NDP.
Our government has also proposed amending the date on which the new bill would come into effect. Our amendment states that this bill would come into force six months after receiving royal assent. This would give labour boards sufficient time to make the necessary changes to the regulations and procedures. I believe these amendments have resulted in a stronger bill, one that is more democratic and fair, and one that serves the needs of Canadian workers.
With these amendments, we are pleased to fully back the employees' voting rights act. I would like to encourage all of my hon. colleagues to support the bill, and in doing so they would be showing respect for hard-working Canadians and the principle of democracy. Again, to me, this is an issue about employer relationships and what happens in terms of their workplaces. Being able to have a secret ballot vote is absolutely fundamental.
I would like to take this opportunity to thank the hon. member for Wetaskiwin for raising this issue and acting as a champion for the democratic rights of hard-working Canadians.
Economic Action Plan 2014 Act, No. 1 April 4th, 2014
Mr. Speaker, I am absolutely proud of the work that our government has done for seniors. The number who are living below the poverty line, compared with when we took office, has changed dramatically. The increase to the GIS was the biggest increase in many years, and there is income splitting available to seniors.
Again, our record on seniors is very strong and we are very proud of that record.
Economic Action Plan 2014 Act, No. 1 April 4th, 2014
Mr. Speaker, I have looked very carefully at the NDP's plan, its plan on the carbon tax and the plan in terms of how it was going to spend that money. To be frank, it was a myriad and hodgepodge of social programs that the members were going to spend that money on.
In contrast, we believe that Canadians work very hard for their money and they need to keep that money in their pockets. It is very expensive these days in terms of day-to-day living. The more we can have that hard-earned money in the pockets of Canadians, the better off Canadians will be, and of course the better off Canada will be because they will be investing that money. They will be investing it into their families, their futures, their businesses.
Economic Action Plan 2014 Act, No. 1 April 4th, 2014
Mr. Speaker, I am delighted to address that question. The member is perhaps not familiar with it, and I hope other provinces follow suit, but the first nations in British Columbia, in partnership with the federal government and the province, were the first to sign on to a first nations health authority. They are assuming responsibility for their services, their programs. Everyone is watching, and this will be a great opportunity in terms of creating the robust programs that meet the health care needs of our first nations communities throughout British Columbia. Hopefully, they will follow suit across Canada.
Economic Action Plan 2014 Act, No. 1 April 4th, 2014
Mr. Speaker, I am very pleased to speak to BIA no. 1 today. We all know that the budget was introduced a number of months ago now, and there are two process whereby we turn our budget into legislation. Today what we are talking about is the first very important piece of legislation.
When I spoke to the budget a number of months ago, I talked about how we had a plan that started when we first took government in 2006. It was a plan that saw us through the global recession, and we saw how the finance minister followed this plan and was leading us into some of the best positions in the G7, including the best net debt-to-GDP ratio and the best job growth rate. We are incredibly proud of the plan that we had, which saw us through a very difficult time and coming back to a balanced budget.
That speaks to the three broad themes of this budget: returning to balance, supporting jobs and growth, and supporting families and communities. I will speak to these three themes and perhaps give some small examples that represent those themes, but first I want to make a general statement.
We hear the New Democrats frequently comment about the number of pages. I am not sure if they have challenges and do not want to read those 359 pages, but it is important to recognize that legislatively it sometimes takes a lot of pages to make a little change.
For example, making MP pensions fairer for Canadians was a small change, but it took about 20 pages of legislation to actually do that. I do not think we should be judging a budget document, a plan, in terms of its number of pages.
The other point I would like to make is that I certainly believe that if the NDP, God forbid, ever had the opportunity to present a budget, given all its national plans and tax raises, it would probably fill a bookshelf with national strategy, national strategy, tax increase, tax increase. That is one piece that we need to look at.
Of course, we know that the Liberals would probably have about one page. They know that budgets balance themselves, so one page would probably be sufficient for any budget that the Liberals might decide to present.
Our government realizes that crafting a plan is a multi-year, multi-faceted process, and it requires measures that are both large and small.
First I would like to target why it is important that we return to a balanced budget.
We know that we cannot leave debt for our children and grandchildren. It would not be fair. We would not do it as a family member and we should not be doing it as a country. We also know that when we have a good fiscal position, our debt repayment is low, which means we have more money for health care, hospitals, and all the many things that Canadians feel would add value for infrastructure. When we are not paying a lot of money in debt repayment, we have additional funds to focus in those areas. We know that it gives us the ability to keep taxes low and gives us the opportunity for flexibility and stability.
When we first took government, economic times were good. We paid down $37 billion in debt. We had to provide some economic stimulus during the years, but we are on track to be back to a balanced budget by 2015-16.
Certainly if we look around the world and compare Canada with other countries, we can be incredibly proud. How do we do that? We do it in two ways. We do it on the revenue side. We do it by creating an environment where small and large businesses can thrive and survive and create that economic benefit. We do it through our aggressive trade plan and our trade agreements, such as the South Korean and the European free trade agreements, just to name a couple.
In the province of British Columbia, my cattlemen in B.C. are absolutely thrilled with the aggressive measures we have taken in terms of what is going to open up new markets for them. They have gone through an incredibly difficult time and they see huge opportunities. It was said by the cattlemen that they now have 500 million hungry customers waiting for them, so creating the environment for revenue is really important. Ensuring that the people pay their fair share of taxes by closing tax loopholes is another part of taking care of the revenue side.
The expenditure side is another important area. Again, we are looking at the expenditure side very carefully. We are making sure that the money the government spends is very thoughtful money. We are making sure that there is value for dollars, and we have undertaken a number of measures to make sure that compensation is fair.
That was a look at the return to balanced budgets and the importance of returning to balanced budgets.
Now I have just a few comments about some measures for supporting jobs and growth. I will look at one, which is a very tiny measure. We know that in British Columbia, we have a fabulous wine industry. The member for Okanagan—Coquihalla has a private member's bill to make changes to the importation of intoxicating liquor so that if people are visiting British Columbia from Ontario, they can go to one of those wineries and pick up a bottle from Quails' Gate or another winery and take it across the border. It would really open up the market. Amazingly, in Canada, the ability for interprovincial trade has been constrained for our wine industry.
In this bill we have given craft brewers and artisan distillers the same opportunities to open up their markets. I will give an example. I used to be the mayor of Pemberton. Pemberton is well known for its seed potatoes and it is known for its pristine glacier waters.
I can remember, when I was there, that for many years people would muse that someone should make vodka in Pemberton. They had potatoes and fantastic water. What a great combination.
Entrepreneurs are out there. It did not happen when I was there, but a family moved to Pemberton, and they had the same thought. They created a new business venture, Pemberton Distillery, and they make Schramm vodka. It was a small entrepreneur setting up a business. What we are doing is opening up their opportunity to sell their product.
When that kind of environment is created across the country, what we are doing is creating success for our small and medium-sized businesses. Again, it is a small measure, but it is incredibly important in terms of what the opportunities will be.
There is another area we are looking at supporting for opportunities, jobs, and growth. Last week, the Premier of British Columbia was in Ottawa. She was speaking about skilled trades shortages. She was speaking about their goal, which is coming to fruition, of having a robust LNG industry in British Columbia. She was talking about needing the manpower to fill the jobs that are going to be created.
We did identify, and I know that it is not across the country, that there are definitely skills shortages. We have a need for apprenticeship support. We have done a lot in terms of the apprenticeship program.
If we look at someone who perhaps is going back into an apprenticeship, he might have a wife and a family. We announced support in this latest budget such that registered Red Seal programs will have access to $100 million in interest-free loans. That is $4,000 per individual per session. That can make the difference for people going back, getting their Red Seal, and opening up their opportunities in terms of the new available jobs throughout British Columbia and Alberta, and of course, across the country. Again, it is important support that is going to hopefully help generate the people we need into the future.
Finally, every one of us, in our offices, have cases that touch us. I had a case of a couple who were not able to have children of their own. They had waited many years and were able to adopt a child. This child was in another country. Of course, sometimes babies do not come according to plan. The baby was born prematurely. The family had to travel to this country to spend time with their newborn. The expenses to spend that time before they were able to bring their newborn back home were extraordinary.
The $15,000 tax credit they could have to support their adoption expenses would make a phenomenal difference.
The crafting of this budget was done with input from Canadians across this country. We see many measures that we know we submitted or that our colleagues submitted. It is a plan to move Canada forward, and it is a plan to return to balanced budgets and a successful, prosperous future.
Economic Action Plan 2014 Act, No. 1 April 4th, 2014
Mr. Speaker, I listened to my colleague and one thing that stood out was her suggestion about the EI credit for small businesses. But is she aware that this government provided important temporary stimulus when it was needed during the global recession? When we look at the job numbers of today, we see that we are now at over one million net new jobs.
Would the member not agree that the government should be looking at getting back to balanced budgets, which this budget does? After we have put temporary measures in place for economic stimulus and economic action, how important is it for her children and grandchildren that we actually have the discipline to then have a balanced budget by the end of 2015?
Curling February 28th, 2014
Mr. Speaker, I am happy to share that Kamloops will be hosting the country's best curlers over the next week for the 2014 Tim Hortons Brier. Tomorrow will be the beginning of the tournament that will determine who goes on to represent Canada at the 2014 Men's World Curling Championship in Beijing.
They will be playing there, of course, to double up on their recent gold medal sweep in Sochi. This will be the second brier held in Kamloops and this time we will be cheering on our Team B.C. extra loudly, especially for our hometown boy Jim Cotter in his fourth brier, who just missed representing Canada at the Olympics after his team came a close second to Brad Jacobs at the Roar of the Rings.
This year's tournament owes a lot to all of our local organizers, volunteers, and sponsors, and we look forward to showing the curlers and their fans the best that Kamloops has to offer. We are known as Canada's tournament capital.
Welcome all to Kamloops, and go team B.C.
Anti-Bullying Day February 26th, 2014
Mr. Speaker, today is national Anti-Bullying Day.
While bullying has always existed, modern technology gives bullies the ability to humiliate and intimidate their victims in front of the entire world.
As recent tragedies have shown, cyberbullying has the power to destroy lives and communities. That is why our government has introduced legislation to crack down on cyberbullies and to stand up for victims.
The protecting Canadians from online crime bill will ensure that children are better protected by making it an offence to distribute intimate images without the consent of the person depicted. We have always been clear that there is a point where bullying goes beyond just words and becomes criminal behaviour.
Distributing images of a person against his or her will should be a crime, which is why we are acting to strengthen the Criminal Code. We are also acting to modernize the law so that police have the tools they need to better investigate these offences.
I hope the NDP will begin working with us so we can get the bill to the justice committee and hopefully passed into law as quickly as possible.
The Budget February 13th, 2014
Mr. Speaker, I would point out that Canada was not alone. We were with the G20 nations in terms of this economic action plan.
I would also point out that the Auditor General gave an incredibly favourable report. It was unprecedented in the history of Canada to have such a positive response to our economic action plan and economic stimulus.
When I look at the important projects in my riding, not only did they create jobs, they have created valuable infrastructure for the citizens of those communities.
We have a list of infrastructure projects from our municipalities right now, which we know very well will keep us going for a long time in terms of what we need to do moving forward.
The Budget February 13th, 2014
Mr. Speaker, I find it ironic that in past budgets we have had measures around climate change and navigable waters, yet we had been heavily criticized by the opposition members who said the budget should be about the budget and that these were omnibus budgets.
Now that we have a budget that is focused on some important budgetary measures, I would suggest that the hon. member go to the Government of Canada's website on the environment. He would see that there is an important and strategic plan. The goals are there. We are looking at how we would go ahead in terms of our environmental commitment to Canadians.
Again, I must point out the dichotomy of the two different positions. In one minute we are criticized for having it in, and now we are criticized for not having it in.