Chris Warkentin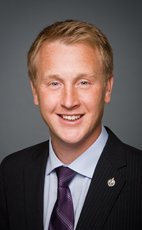 House of Commons photo
Track Chris
Your Say
Elsewhere
Crucial Fact
Conservative
MP for Peace River (Alberta)
Won his last election, in 2011, with 75.80% of the vote.
Statements in the House
International Trade April 1st, 2014
Mr. Speaker, last night, the NDP proved once again that it cannot be trusted to manage the economy and that it is unfit to govern. This is not a joke.
Last night the anti-trade party stood in the House and voted against yet another job-creating free trade agreement.
Can the Parliamentary Secretary to the Minister of International Trade please explain how this agreement, and others like it, will benefit job creators in the Peace Country, which I represent, and the rest of northern Alberta?
Committees of the House March 26th, 2014
Mr. Speaker, I have the honour to present, in both official languages, the fourth report of the Standing Committee on Aboriginal Affairs and Northern Development in relation to its study entitled "Land Use and Sustainable Economic Development".
While I am on my feet, I move:
That the House do now proceed to the orders of the day.
Grande Prairie Centennial March 26th, 2014
Mr. Speaker, the City of Grande Prairie is celebrating its 100th anniversary this year. Over the past century, Grande Prairie has grown to become the hub of northern Alberta and an economic engine for both the province and our country.
Families have flocked to the Peace Country over the past century in the hopes of building a more prosperous future for their families and the generations that followed. The foundations of our community were laid by innovative, entrepreneurial, and committed community builders who faced and overcame incredible challenges in building our community. The challenges were great, and only those that were the most committed and adventurous visionaries ever made the trek north.
Survival and success in the newly settled Peace Country was only possible with the co-operation of neighbours. Neighbours cared for one another out of necessity, and a great tradition of community spirit was born, a reality that I am proud to say is alive and well to this day.
I am a proud representative of the dynamic Peace Country and the Grande Prairie region, a community that is home to innovative, entrepreneurial, committed and community-minded residents who are building on a well-laid foundation.
Natural Resources March 5th, 2014
Mr. Speaker, we understand that resource development creates jobs and grows the economy. In fact, nearly 20% of our GDP comes from natural resource development, and one in 10 Canadians relies on it for employment.
The NDP wants to destroy these jobs with their opposition to new infrastructure and development in these industries. They are so opposed to resource development that even labour unions are attacking the NDP's flawed economic theories.
On this side of the House, we are committed to protecting Canadian jobs while ensuring that jobs and these projects are safe for Canadians and for the environment. It is time for the opposition to get onside with hard-working Canadians.
Qalipu Mi'kmaq First Nation Act February 28th, 2014
Mr. Speaker, I appreciate the parliamentary secretary's speech. I think it was important to clarify the government position on why this legislation is necessary.
However, there have been comments, specifically from one member of the Liberal Party who has claimed that this legislation is in fact unnecessary. It seems to me that it is necessary. The parliamentary secretary has articulated the reasons for that.
It seems to me that the first nation would be desiring to ensure that only those people who in fact should be on the list are included on the list. It is probably part of what was agreed to in the agreements that were negotiated and agreed to in 2008 and 2013.
Would the parliamentary secretary elaborate on why this legislation is needed to ensure that taxpayers and the first nation are protected?
Public Safety February 28th, 2014
Mr. Speaker, yesterday, we were shocked to learn that the RCMP had reclassified hundreds of sports shooting rifles from non-restricted to prohibited. This happened after they had been legally sold in Canada for more than a decade. While there have been no criminal incidents reported with this rifle, with a stroke of the RCMP's pen, individuals who may have owned this rifle legally for the last 12 years are considered criminals as of today.
I wonder if the parliamentary secretary could please tell the House what the government's position is on this reclassification and confiscation scheme.
The Budget February 12th, 2014
Mr. Speaker, the Liberal members know that this is obviously a faulty assessment, and Canadians would agree and expect more from a G7 leader.
What we all know, what we are all convinced of, and what we would ask the Liberal leader is, why will he not just admit that he is in over his head?
The Budget February 12th, 2014
Mr. Speaker, yesterday, economic action plan 2014 was announced and demonstrates our government's commitment to growing the economy and creating jobs, opportunity, and prosperity for all Canadians.
Following the Minister of Finance's announcement, the Liberal leader had some very interesting and telling exchanges. During an interview, the Liberal leader refused to answer a question on whether he would run deficits or not. I am not making this up. His answer was: "The commitment needs to be a commitment to grow the economy and the budget will balance itself".
I am sorry, but any good economist knows that a budget does not just "balance itself".
Grain Transport February 5th, 2014
Mr. Speaker, it is a privilege for me to represent the farmers from the Peace Country. Today there are Peace Country farmers looking to move their product. This has been an exceptional year. We have seen record amounts of crop coming off the fields of the Peace Country, and I am incredibly proud of the resourceful Peace Country farmers who have seen record crop yields.
We have had record crops coming off the fields. We have also had record amounts of snowfall this winter. We know that the rail companies have contended with that. We know there are a number of reasons for this. The challenges are real, but the only solution my colleagues on the other side of the House seem to have is forcing my farmers, who voted overwhelmingly to get rid of the Wheat Board, to bring back the Wheat Board and force it back on each and every farmer. That is not a solution. I have heard from many farmers who say they are really pleased with the opportunities they have today.
The other option that is being floated around on the opposition benches is nationalizing the railway. I do not think there is any Canadian who is looking at this situation reasonably who thinks that is a solution.
Therefore, I wonder if my hon. colleague could talk about some of the things our government has done to work through the challenges we are facing, in terms of the bumper crop, the amount of wheat and barley and canola that have come off Peace Country fields as well as prairie fields, and the issues of shipping that product to market?
Grain Transport February 5th, 2014
Mr. Speaker, there have been consultations and if you seek it you will find unanimous consent for the following motion:
That, notwithstanding any Standing Order or usual practice of the House, during the debate tonight pursuant to Standing Order 52 later today, no quorum call, dilatory motion or request for unanimous consent shall be received by the Chair.