Chris Warkentin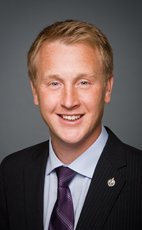 House of Commons photo
Track Chris
Your Say
Elsewhere
Crucial Fact
His

favourite word

is cbc.
Conservative
MP for Peace River (Alberta)
Won his last election, in 2011, with 75.80% of the vote.
Statements in the House
Taxation November 19th, 2014
Mr. Speaker, it was not long ago that Liberals were attacking the idea of providing support for families, saying that parents would simply spend the money on beer and popcorn. The candidate for Banff—Airdrie has shown that Liberals have not changed their ways. He recently said that tax cuts are a bad idea because Canadians will spend the money on the wrong things.
Can the Minister of Employment and Social Development update the House on the meaningful tax cuts that this government is providing hard-working Canadian families?
National Defence November 5th, 2014
Mr. Speaker, according to Human Rights Watch, the terrorist group ISIL has abducted, tortured and abused more than 150 Kurdish children over the past six months. Captured children described being forced to undergo intense religious indoctrination and being beaten with cables if they did not comply. In recent videos, ISIL fighters seem to brag about buying and selling Yazidi girls on the open slave market. These atrocities cannot be allowed to continue.
Could the Minister of National Defence please update the House on Operation Impact and on Canada's contribution to the fight against these barbaric terrorists?
Leader of the Liberal Party of Canada October 9th, 2014
Mr. Speaker, Canada is a pluralistic society that believes in women's rights, the rights of religious minorities and due process of law.
Foudil Selmoune, an imam from a Montreal area mosque, fundamentally rejects those principles. He has called for the stoning of women for adultery. He has called for the hands of thieves to be chopped off. Shockingly, the Liberal leader has gone to this man shopping for votes.
Someone who aspires to be a leader ought to have better judgment than to associate with these types of extremists. What is worse is that the member for Malpeque repeated the Liberal leader's assertion that he expected the government to tell him who he should or should not associate with. I would expect a former solicitor general to be able to do a Google search.
Associating with these types of people who have publicly called for Sharia law to be brought to Canada shows that the Liberals are absolutely in over their heads when it comes to Canada's national security.
Committees of the House June 16th, 2014
Mr. Speaker, the member opposite talked about different things that undermine this Parliament. There are a number of things, and he happens to be one of them. He has criticized every party and anyone who has not agreed with him. He has refused to answer any questions that have been put to him in this entire debate.
The question that needs to be asked and continually will not be answered by the member is when the NDP will repay what they took from taxpayers that was against the rules. It has been ruled by the non-partisan staff of this place that the NDP broke the rules, took the $1.7 million, and took off with it. We are talking also about the revelations of the scandal that saw the House of Commons staff, taxpayer-paid staff, now housed in partisan--
Foreign Affairs June 16th, 2014
Mr. Speaker, the ongoing situation in Iraq is deeply troubling. Recent reports indicate that the Islamic State of Iraq and the Levant have taken the city of Tal Afar. This news follows the capture of Tikrit and Mosul last week by this brutal terrorist organization. This organization's activities are not simply limited to Iraq but extend into Syria as well, where it is responsible for untold numbers of deaths as well as destruction.
Could the Minister of Foreign Affairs please comment on this developing situation Iraq?