Chris Warkentin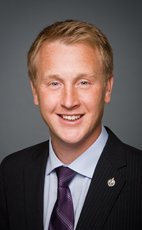 House of Commons photo
Track Chris
Your Say
Elsewhere
Crucial Fact
Conservative
MP for Peace River (Alberta)
Won his last election, in 2011, with 75.80% of the vote.
Statements in the House
Christmas Season December 4th, 2013
Mr. Speaker, today I am pleased to stand in this House to pay tribute to the thousands of Peace Country residents and the millions of Canadians who will make a special effort this Christmas season to give back to those who are less fortunate.
Community organizations, church congregations, the Salvation Army, food banks, native friendship centres, and others will lead the effort to make this festive season a true celebration for those who would otherwise go without this Christmas. Generous citizens throughout our communities will make a difference by giving their finances, donating goods, and sacrificing their own time during this busy time of the year, and for that we all want to say "thank you".
I count it a privilege to represent the Peace Country, and I am proud to be part of a region that is so caring and whose residents lead by example, each and every day, to make our community a better place to live.
As we approach this Christmas season, I want to thank those who will give generously of their time and resources to help others. Let us all be inspired by their generosity and dedication, and let us join the effort to make this Christmas season a season of hope for all.
Economic Action Plan 2013 Act No. 2 December 2nd, 2013
Mr. Speaker, the Liberal government, the Martin government, was well known for not getting anything done. Our government recognizes that Canadians want stuff done, so it brings forward initiatives like those found in the bill.
My colleague from the Liberal Party claims they created more jobs. He references the Hill Times. I will reference organizations like the OECD and the IMF. Those are somewhat more legitimate on economic issues. They have praised Canada consistently. What Canada has done following the greatest recession outside of the Great Depression is remarkable in comparison to any other G8 country.
If my hon. colleague has any advice when it comes to reducing taxes for Canadian families or reducing the debt, I would like to hear it, because that would be the first time we have heard any advice on those two measures from a member of the Liberal Party.
Economic Action Plan 2013 Act No. 2 December 2nd, 2013
Mr. Speaker, it is important that we recognize what the Liberal and the NDP plans are in contrast to what the Conservative plan is.
I have been here for the last nearly eight years. There has never been an initiative brought forward by the opposition benches that would reduce taxes or that would work to pay down debt. We have seen consistently, time and time again, that any time our government has engaged in any spending plan, the opposition benches call for those spending plans to be more robust. They want to spend more. They want to take out more debt, and they want to ensure that future generations are saddled with that debt.
Our government has put into each family, the average family of four, $3,200 per year in tax savings. This is important. This is real money. The opposition has voted against every single initiative that would see dollars go back into the hands of families. That is unfortunate.
The opposition has also called for higher debt and more debt for future generations. I will stand on this side of the House and defend our initiatives to reduce debt so that future generations do not have to pay for the decisions and the desires of the other side.
Economic Action Plan 2013 Act No. 2 December 2nd, 2013
Mr. Speaker, I do appreciate the opportunity to speak to Bill C-4. It is a real privilege for me, not only to speak to it but also to tell my colleagues on the other side that there is good news within this piece of legislation. It is good news on a number of fronts. It is good news for Canadian families. It is good news for Canadian workers.
We have a lot of naysayers on the other side of the House, people who criticize the work that our government has done. There have been a lot of folks saying that more should be done. It is interesting. They want to see a smaller bill. Then they want to include a whole number of additional measures within the bill. It is always a contradiction when we are dealing with the other side.
We listen to the complaints from the other side, but there are some folks who have some expertise when it comes to finance and when it comes to world finance. I think it is important that we listen to them.
We know that there are organizations, such as the OECD and the IMF, that have passed judgment on our government's work and on the efforts that we have undertaken to protect Canada's economy. They have, again and again, praised, not only our government's initiatives, but our finance minister, who has brought forward these initiatives.
We know that there are folks around the world who are watching what Canada is doing and who are seeking to replicate it in their countries, as well.
We are seeing significant benefits as a Canadian population, things that are hitting home in communities across this country. When we look at what has resulted from the work that our government has done following the great recession, we know that there are over a million net new jobs that have been created as a result of the efforts of our government. Specifically, within that million jobs that have been created, over 90% of them are full-time jobs and 80% of those are in the private sector. Therefore, our government's initiatives to bring forward changes have freed up business to create jobs, to create opportunity.
We often talk about these big numbers that often just flow off our tongues but do not really have an impact, I do not think. However, every job is meaningful because it impacts the person who has that job.
Most important, at this Christmas time, we know that many of these jobs that have been created impact families. Families, of course, are one of the most important building blocks of our communities. Having a job makes a world of difference, especially as we approach this Christmas time. To know that our employment rate keeps rising, that the unemployment rate keeps dropping, that more and more families have the necessary means to get what they need to have in order to support their families is great news. It is something that I wish the opposition would spend more time recognizing and spend more time giving credit for. Because I think that we, as parliamentarians, need to be concerned, first and foremost, about ensuring that families have jobs to ensure that families are supported in those mechanisms. This bill would go a great distance to continue that great effort.
I think it is important to reflect on the past. I think it is important to recognize that Canada's track record, when it comes to the economy and making these changes, did not just start yesterday. Many of these changes and these initiatives we have undertaken started nearly eight years ago when our government first got into office. We started to prepare for the possibility of a rainy day.
In the first number of years of our government, we paid off $37 billion of debt. That was surplus. We recognized it was important to reduce the debt of our country, so we paid off $37 billion of the Canadian debt. Any family knows that in order to prepare for a rainy day, if money comes in from a windfall or from any mechanism, the most important thing to do is to pay off any debt. That is exactly what Canada did.
As a result, Canada was praised during the great recession. First, we were prepared for the possibility of that, better prepared than any other of the G8 countries. We also saw that Canada was able, then, to put money into the economy. We were able to support initiatives across this country to help reduce the impact of the global economic recession.
Obviously it was something that was beyond the borders of this country that caused the great recession, but people across this country were feeling the impact of the recession. Therefore, to immediately start flowing out money in an initiative to support local communities and job creation was absolutely essential.
It is important to note that in 2012, the great recession had come and many governments had put a lot of money into their economies to support initiatives to lessen the impact of the recession. Canada had a debt-to-GDP ratio of 34.6%. That was the lowest in the G7 and the second lowest was Germany. It had 57.2%, so a significantly higher debt-to-GDP ratio.
To give some scope of what this meant in terms of our fellow members of the G7, the average debt-to-GDP ratio within the G7 was 90.4%. If members compare 90.4% to Canada's 34.6%, they will recognize, as all Canadians have recognized, that Canada was in a better spot than most other countries. However, Canada has continued to lead, because we will be the first within the G7 to move from a country that continues to run deficits to being a deficit-free country.
Our Minister of Finance has continued to lead and ensure that Canada reaches that point of being deficit-free in the coming months. No other country can boast that. No other country can boast the debt-to-GDP ratio. However, we are not going to sit here and boast. We are going to continue to do the work that is necessary to ensure that we never fall back, that we never fall behind.
We hear many calls from the opposition benches to engage in risky spending schemes. They say it is just a billion here or several billion there. The NDP had plans to bring forward a $20 billion carbon tax and we know that the Liberals have all kinds of interesting plans, including their efforts to raise the GST. We know on this side that it is important for a government to remain constrained to the dollars that come in, not simply to drag in more money from Canadians.
We believe it is important to continue to support families. It is important that families are not taxed to death. As a matter of fact, as a father of three young kids, I had an interesting conversation the other day. My daughter, who is seven years old, told me she does not think Santa Claus is real. She thinks that Santa Claus is her mother and I. It was awkward but I told her that mom and dad help out Santa Claus.
Families across this country are finding it easier to help out Santa Claus because the average family of four is getting $3,200 back that they were not getting eight years ago. As families prepare for Christmas, they recognize that our government has put over $3,200 back into their pockets so that they can support their families and can continue to help out Santa Claus at this time of the year.
The budget bill is our effort to continue to have an environment in Canada where we have opportunity, hope, prosperity and jobs for all Canadians. More importantly, when it comes down to the family level, it means more prosperity and more ability for families to support those who are most important in their lives, such as their kids, and to contribute to the local communities we live in.
I think it is important at this time of giving for the opposition to recognize that the bill is an important step forward to ensure not only that Canadians have jobs, but what that means at the family level as well.
Committees of the House November 29th, 2013
Mr. Speaker, I have the honour to present, in both official languages, the second report of the Standing Committee on Aboriginal Affairs and Northern Development in relation to the study of supplementary estimates (B) 2013-14.
Justice November 26th, 2013
Mr. Speaker, our government is committed to ensuring that the laws are strong and clear enough to protect Canadians in situations when accused persons found not criminally responsible pose a risk to the public.
That is why I am happy to see that our government has reinstated the not criminally responsible reform act. This legislation would ensure that the public is given paramount consideration. It would create a new high-risk designation for those who pose significant risk and enhance the rights of victims in the review board process.
In my opinion, creating the new designation for those few high-risk individuals would actually reduce the stigma for those who suffer from mental illness. It is acknowledged that the vast majority of individuals who are found NCR are non-violent.
Earlier this year, The Globe and Mail called the legislation a fair and measured response. The Ottawa Citizen described it as a reasonable approach.
I call on the Liberal leader to set aside his ideological opposition and help us get this bill passed.
Committees of the House November 25th, 2013
Mr. Speaker, I have the honour to present, in both official languages, the first report of the Standing Committee on Aboriginal Affairs and Northern Development entitled "Bill C-9, An Act respecting the election and term of office of chiefs and councillors of certain First Nations and the composition of council of those First Nations".
The committee has studied this bill and has decided to report it back to the House without amendment.
Employment October 30th, 2013
Mr. Speaker, every MP in the House has heard from businesses from their riding who are having trouble finding workers with the right skills to fill the jobs that are available. These mismatches are among the greatest challenges facing continued economic growth.
I wonder if the Parliamentary Secretary to the Minister of Employment and Social Development can update the House on our efforts to help unemployed people or underemployed people get these jobs?