Chris Warkentin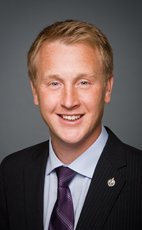 House of Commons photo
Track Chris
Your Say
Elsewhere
Crucial Fact
His

favourite word

is cbc.
Conservative
MP for Peace River (Alberta)
Won his last election, in 2011, with 75.80% of the vote.
Statements in the House
Taxation February 26th, 2015
Mr. Speaker, our government is committed to lowering taxes, and keeping them low for all Canadians. With the strong leadership of our Prime Minister we will balance the federal budget, and we are continuously putting forward measures to help Canadian families do the same.
We are proud that 11 million Canadians of all ages and income levels have opened an account that allows them to save tax-free with the tax-free savings account. We introduced the TFSAs as a way for Canadians to save for retirement, for their children's education, or for a down payment on a house. The vast majority of accounts belong to low- and middle-income earners.
However, the Liberals and the NDP will raise taxes and will reverse these benefits. They will implement a carbon tax that would hurt the Canadian economy and kill Canadian jobs.
The facts are clear. Only our Conservative government can be trusted to keep taxes low, and that is exactly what we are doing.
Red Tape Reduction Act February 3rd, 2015
Mr. Speaker, I think the member probably missed the opportunity to listen to the speech, because it was centred around the one-to-one rule that will now be legislated.
It is interesting, because she asks about the unnecessary burden of red tape, and I agree. As a matter of fact, when I sat on the Red Tape Reduction Commission, what we heard from Canadian businesses was that it is a costly endeavour to comply with the red tape that is required at the federal, provincial, and municipal levels. It is estimated that it costs businesses across the country about $31 billion to comply with regulation across jurisdictions on an annual basis. This is an incredible burden.
What the NDP, even in this debate, has reinforced time and time again is that it wants to see more red tape. It opposes the one-to-one rule. The one-to-one rule would actually require, as the member calls for, the removal of unnecessary red tape. If a new regulation is brought forward, one would have to be taken away, one that is no longer necessary, so that these small businesses would not have to comply with unnecessary red tape.
I believe that the member desires to see red tape reduced. That is why I call on her to split from her party and actually vote for the bill, which would reduce the amount of red tape for small businesses in her constituency.
Red Tape Reduction Act February 3rd, 2015
Mr. Speaker, it is interesting that the member would dispute the numbers of the World Economic Forum and the organizations I referenced, who are bringing forward these numbers, including Stats Canada. It is interesting that the Liberal Party would disagree with these numbers.
With regard to the budget, I can guarantee that we will continue to bring in budgets that will foster economic growth in this country. We will continue to lower taxes for small business. We will continue to reduce taxes for Canadian families.
We know the Liberals have not put out any policy on much, but we do know that they will raise taxes, that they will raise the debt, that they will raise the deficit and they impose a level of taxation that will be unsustainable for Canadian businesses and Canadian families.
Red Tape Reduction Act February 3rd, 2015
Mr. Speaker, it is a privilege to stand in the House and follow the minister. We definitely want to thank her for all of her work at WED and for her commitment to small business. It is a privilege for me to share a province with the member, where we are proud of the work that she has done.
The red tape reduction act is one that is very close to me. I have the privilege of serving on the Red Tape Reduction Commission, and what we have heard again and again from small businesses from coast to coast is the need for the government to get a handle on the amount of red tape that is developed. This one-for-one rule is really moving the goalpost further down the field to ensure that we get to a place where we can address some of the concerns of small businesses and other businesses across the country.
As members know, this legislation would fulfill a commitment that we made as a government. In October, 2012, we brought forward the red tape reduction action plan in response to the commission's recommendations. With this legislation, we hope to make it the law of the land that regulators strictly control the administrative burden they impose upon businesses. Under the one-for-one rule, for every new regulation that adds an administrative burden on businesses, one must be removed.
This is smart legislation. It would help Canadian businesses become more productive and help them succeed in an increasingly global and competitive marketplace.
The red tape reduction act would require that regulators take seriously the requirement to control the amount of red tape imposed upon businesses and the related costs. The legislation is designed to be tough. It would challenge regulators to think through how regulations could be designed and implemented in ways that do not impose unnecessary red tape upon businesses.
It is tough, but it is also quite flexible. The government's commitment to maintaining Canada's high health and safety standards is unwavering. The one-for-one rule would be applied without compromising the protection of the health and safety of Canadians.
This legislation is very timely. As we know, one of the government's top priorities is creating a climate in which business can innovate, invest in the future, and create economic growth and jobs. Too often, red tape gets in the way by tying up a company's time, energy, and production resources. The red tape reduction act would allow businesses to use their resources to become more productive by eliminating unnecessary regulatory red tape.
Given what is happening in the global economy today, we know that Canadian businesses have to be at the top of their game to succeed. The good news is that the Canadian economy has come through a global economic downturn, that recovery is happening, and the economy is in relatively good shape. Canada is positioned for sustainable economic growth.
It is worth remembering that when the hard times arrived in 2008, Canada was in a position of economic strength compared to its international partners. This allowed us to put in place one of the most comprehensive stimulus packages in the world. At the time, international observers, such as the International Monetary Fund, were predicting that Canada would be one of the fastest countries to recover. I am proud to say that these predictions have come true, given our relative economic and fiscal strength.
Since we introduced the economic action plan to respond to the global recession, Canada has recovered more than all of the output and jobs lost during the recession. The Canadian economy has boasted one of the strongest job creation records in the G7 over the recovery, with nearly 1.2 million jobs created since June, 2009. Over 90% of the jobs created since June 2009 are full-time positions, 80% of those in the private sector, and over two thirds in high wage industries.
What is more is that the real GDP is significantly above pre-recession levels, the best performance in the G7. Not only has Canada weathered the economic storm well, but the world has also noticed. Both the International Monetary Fund and the Organisation for Economic Co-operation and Development expect that Canada will be among the strongest growing economies in the G7 over this year and next. The World Economic Forum rated Canada's banking system as the soundest in the world for the seventh year in a row in its annual Global Competitiveness Report. According to KPMG, total business tax costs in Canada are the lowest in the G7, and 46% lower than those in the United States.
In addition, four credit rating agencies, Moody's Investors Service, Fitch Ratings, Standard and Poors, and DBRS, have reaffirmed their top rating for Canada and expect Canada to maintain its AAA rating in the year ahead.
However, we cannot rest on this record of success. Despite solid job creation since 2009, too many Canadians remain unemployed. That is why the government's economic action plan focuses on the drivers of growth and job creation—innovation, investment, education, skills and communities—underpinned by our ongoing commitment to keeping taxes low and returning a balanced budget by 2015.
Clearly, responsible fiscal management has to be in place for us to succeed. Canada is one of the few countries that can now boast of having a declining tax rate and a low debt. That is why we remain committed to eliminating the deficit. Reducing debt helps to keep interest rates low and encourages businesses to invest and create jobs.
Reducing debt signals that the public services are sustainable over the long run. The gains that we saw as a result of Canada's low-tax plan are fostering long-term growth that will continue to generate high wage jobs in Canada into the future. It strengthens the country's ability to respond to economic shocks, such as the global financial crisis that we witnessed in 2009, and it will ensure that Canada keeps its economic advantage now and for generations to come.
Helping Canadian companies succeed in the global economy has clearly been a priority of this government and we certainly have seen the success of that. By taking action such as enshrining the one-to-one rule in law, we are making the regulatory system more conducive to business success and to economic growth. We are creating a more predictable environment for businesses, particularly for small and medium-size businesses, and we are freeing entrepreneurs from the burden of regulatory red tape.
It is all part of our plan for Canada. I certainly invite hon. members across the way to join me in supporting the bill we are speaking about today. It will help us to further eliminate unnecessary rules and costs that have been the source of frustration for business people and entrepreneurs across this country, and it will bolster Canada's strong reputation as one of the best countries in the world in which to do business and to invest.
Foreign Affairs January 28th, 2015
Mr. Speaker, today we woke up to the horrendous news that Israel has once again been the target of terrorist attacks.
The brutal terrorist organization, Hezbollah, fired a missile at Israel's military near Lebanon, causing death and injuries. This is just another example of the threats that Israel faces, from Gaza to southern Lebanon and Syria, all of where there are proxies funded, trained, and supported by Iran.
Can the Minister of Foreign Affairs please tell the House what the Government of Canada's position is on these latest attacks?
The Environment December 10th, 2014
Mr. Speaker, our government believes that money belongs in the pockets of Canadian families.
The opposition believes that money belongs in government's pockets. It is no secret that the opposition would like to bring forward a job-killing carbon tax. A carbon tax would raise the price on everything, including fuel in Victoria, groceries in lqaluit and home heating in St. John's. It is a tax that no Canadian wants.
Canadians know that government cannot tax its way to the top, though the opposition disagrees. The Liberals and NDP keep trying to get their hands into the pockets of Canadians, which is why they continue to push for a job-killing carbon tax that will raise the price on everything.
Charitable Giving December 3rd, 2014
Mr. Speaker, I am pleased to stand in the House today to pay tribute to the generous folks in the Peace Country who are giving back this Christmas season.
Our communities are filled with hard-working people who are serious about supporting those in need. Over the past weeks, we have witnessed thousands of local residents engage in efforts that support others.
Churches, businesses, schools, community groups and others have come together to stuff shoeboxes that will be sent to poverty-stricken kids in faraway places. They have donated food to local food banks. They have collected toys for "Stuff the Bus" and "Stuff the House" campaigns to give children who are less fortunate toys this Christmas. Money, time and resources have also been given in support of others in need.
I am proud of our community. This Christmas there are many throughout the Peace Country and the world who will share in the season because of the generosity of local residents.
On behalf of the House, our government and the thousands who will benefit from their efforts, we want to thank each and every one of these people who have given back to make this Christmas season right for others.
Taxation November 19th, 2014
Mr. Speaker, it was not long ago that Liberals were attacking the idea of providing support for families, saying that parents would simply spend the money on beer and popcorn. The candidate for Banff—Airdrie has shown that Liberals have not changed their ways. He recently said that tax cuts are a bad idea because Canadians will spend the money on the wrong things.
Can the Minister of Employment and Social Development update the House on the meaningful tax cuts that this government is providing hard-working Canadian families?
National Defence November 5th, 2014
Mr. Speaker, according to Human Rights Watch, the terrorist group ISIL has abducted, tortured and abused more than 150 Kurdish children over the past six months. Captured children described being forced to undergo intense religious indoctrination and being beaten with cables if they did not comply. In recent videos, ISIL fighters seem to brag about buying and selling Yazidi girls on the open slave market. These atrocities cannot be allowed to continue.
Could the Minister of National Defence please update the House on Operation Impact and on Canada's contribution to the fight against these barbaric terrorists?
Leader of the Liberal Party of Canada October 9th, 2014
Mr. Speaker, Canada is a pluralistic society that believes in women's rights, the rights of religious minorities and due process of law.
Foudil Selmoune, an imam from a Montreal area mosque, fundamentally rejects those principles. He has called for the stoning of women for adultery. He has called for the hands of thieves to be chopped off. Shockingly, the Liberal leader has gone to this man shopping for votes.
Someone who aspires to be a leader ought to have better judgment than to associate with these types of extremists. What is worse is that the member for Malpeque repeated the Liberal leader's assertion that he expected the government to tell him who he should or should not associate with. I would expect a former solicitor general to be able to do a Google search.
Associating with these types of people who have publicly called for Sharia law to be brought to Canada shows that the Liberals are absolutely in over their heads when it comes to Canada's national security.