Chris Warkentin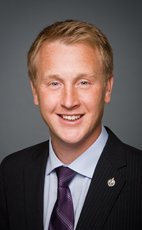 House of Commons photo
Track Chris
Your Say
Elsewhere
Crucial Fact
His

favourite word

is cbc.
Conservative
MP for Peace River (Alberta)
Won his last election, in 2011, with 75.80% of the vote.
Statements in the House
Foreign Affairs January 28th, 2015
Mr. Speaker, today we woke up to the horrendous news that Israel has once again been the target of terrorist attacks.
The brutal terrorist organization, Hezbollah, fired a missile at Israel's military near Lebanon, causing death and injuries. This is just another example of the threats that Israel faces, from Gaza to southern Lebanon and Syria, all of where there are proxies funded, trained, and supported by Iran.
Can the Minister of Foreign Affairs please tell the House what the Government of Canada's position is on these latest attacks?
The Environment December 10th, 2014
Mr. Speaker, our government believes that money belongs in the pockets of Canadian families.
The opposition believes that money belongs in government's pockets. It is no secret that the opposition would like to bring forward a job-killing carbon tax. A carbon tax would raise the price on everything, including fuel in Victoria, groceries in lqaluit and home heating in St. John's. It is a tax that no Canadian wants.
Canadians know that government cannot tax its way to the top, though the opposition disagrees. The Liberals and NDP keep trying to get their hands into the pockets of Canadians, which is why they continue to push for a job-killing carbon tax that will raise the price on everything.
Charitable Giving December 3rd, 2014
Mr. Speaker, I am pleased to stand in the House today to pay tribute to the generous folks in the Peace Country who are giving back this Christmas season.
Our communities are filled with hard-working people who are serious about supporting those in need. Over the past weeks, we have witnessed thousands of local residents engage in efforts that support others.
Churches, businesses, schools, community groups and others have come together to stuff shoeboxes that will be sent to poverty-stricken kids in faraway places. They have donated food to local food banks. They have collected toys for "Stuff the Bus" and "Stuff the House" campaigns to give children who are less fortunate toys this Christmas. Money, time and resources have also been given in support of others in need.
I am proud of our community. This Christmas there are many throughout the Peace Country and the world who will share in the season because of the generosity of local residents.
On behalf of the House, our government and the thousands who will benefit from their efforts, we want to thank each and every one of these people who have given back to make this Christmas season right for others.
Taxation November 19th, 2014
Mr. Speaker, it was not long ago that Liberals were attacking the idea of providing support for families, saying that parents would simply spend the money on beer and popcorn. The candidate for Banff—Airdrie has shown that Liberals have not changed their ways. He recently said that tax cuts are a bad idea because Canadians will spend the money on the wrong things.
Can the Minister of Employment and Social Development update the House on the meaningful tax cuts that this government is providing hard-working Canadian families?
National Defence November 5th, 2014
Mr. Speaker, according to Human Rights Watch, the terrorist group ISIL has abducted, tortured and abused more than 150 Kurdish children over the past six months. Captured children described being forced to undergo intense religious indoctrination and being beaten with cables if they did not comply. In recent videos, ISIL fighters seem to brag about buying and selling Yazidi girls on the open slave market. These atrocities cannot be allowed to continue.
Could the Minister of National Defence please update the House on Operation Impact and on Canada's contribution to the fight against these barbaric terrorists?
Leader of the Liberal Party of Canada October 9th, 2014
Mr. Speaker, Canada is a pluralistic society that believes in women's rights, the rights of religious minorities and due process of law.
Foudil Selmoune, an imam from a Montreal area mosque, fundamentally rejects those principles. He has called for the stoning of women for adultery. He has called for the hands of thieves to be chopped off. Shockingly, the Liberal leader has gone to this man shopping for votes.
Someone who aspires to be a leader ought to have better judgment than to associate with these types of extremists. What is worse is that the member for Malpeque repeated the Liberal leader's assertion that he expected the government to tell him who he should or should not associate with. I would expect a former solicitor general to be able to do a Google search.
Associating with these types of people who have publicly called for Sharia law to be brought to Canada shows that the Liberals are absolutely in over their heads when it comes to Canada's national security.