Christian Paradis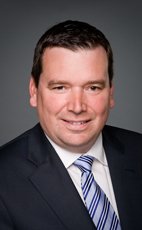 House of Commons photo
Track Christian
Your Say
Elsewhere
Crucial Fact
Conservative
MP for Mégantic—L'Érable (Québec)
Won his last election, in 2011, with 49.10% of the vote.
Statements in the House
International Development April 9th, 2014
Mr. Speaker, I was very pleased yesterday to announce an enhanced partnership with UNICEF and the World Health Organization. We also work closely with the Aga Khan Foundation and Rotary on this file.
All children, no matter where they live, have the right to dream of the future with hope and optimism, and that is why Canada is taking meaningful action to eradicate polio once and for all.
The Muskoka initiative, launched by the Prime Minister, will ensure that every child is immunized. The vaccine is a very cost-effective investment. It saves 2.5 million lives a year.
Canada is making a difference and will we will continue to lead this—
Official Languages April 3rd, 2014
Mr. Speaker, let me remind my colleague that the report on language of work in federally regulated businesses in Quebec was tabled last year. The report was prepared by senior officials with expertise in the field. The report clearly concludes that francophones can work in the language of their choice in federally regulated businesses in Quebec. We are proud to promote both official languages in Canada. We are proud to promote the French fact. We are proud to play an active role in la Francophonie.
Health March 24th, 2014
Mr. Speaker, I would like to thank my colleague for his question.
Canada has taken a leadership role in the fight to eliminate tuberculosis worldwide. We have made massive investments and are working with many partners.
With Canada's assistance, The Global Fund is saving more than 100,000 lives every month. We are continuing our support, with the recent announcement of $650 million over the next three years. This is an increase of 20%. Our support is helping to improve access to diagnosis and treatment, especially for people living in poverty. We have helped The Global Fund save an estimated 8.7 million lives to date, from AIDS, tuberculosis, and malaria.
Canada is changing things and we will continue to do so.
International Development February 25th, 2014
Mr. Speaker, Canadians and Quebeckers can all be proud of our achievements in the area of international assistance.
I would remind the House that thanks to the Muskoka initiative, under the Prime Minister's leadership, 1.3 million children under the age of five have been saved from premature death. In addition, 64,000 mothers have been saved from certain death. These universal values are shared by all Canadians. We are proud of these achievements, and we will continue on that path.
Industry February 14th, 2014
Mr. Speaker, this budget is yet more proof that we are focusing on the economy and economic growth. We are keeping tax rates low. That is how we will build wealth.
I would remind my colleague that, according to Bloomberg, Canada is now the second-best place in the world to do business. That is how we will attract investment. He can bring up isolated cases, but it is better to look at our overall record. That is how we will create economic growth.
Situation in the Central African Republic February 12th, 2014
Mr. Chair, I thank my colleague for his question.
There is a ruthless war going on between Seleka Muslims and anti-balaka Christian militias. This is really a serious ethnic conflict that requires plenty of negotiation among the various parties involved.
However, the critical issue right now is the need for humanitarian aid. We know that 868,000 people have been displaced. There are between 225,000 and 250,000 refugees. That is a lot of people in a country of 4.6 million inhabitants.
Humanitarian aid is essential right now. There is humanitarian aid on the ground, but we have to protect the humanitarian corridor. Credible organizations such as UNICEF, the World Food Programme and Save the Children should have access to that corridor. They are the ones on the ground that know how to deal with this kind of situation.
At the same time, there is the security mission. The French are there with 1,600 soldiers on the ground. We are supporting them with the funds we invested in the mission of stabilization. Diplomatic presence is not necessarily the way to go. We really need to use the organizations on the ground to make a difference in terms of immediate needs for humanitarian aid and stabilization. When the situation calms down, we can start thinking about development. We will assess the needs then.
Situation in the Central African Republic February 12th, 2014
Mr. Chair, indeed since 2007 we have invested over $25 million in humanitarian assistance in the Central African Republic. These sums address urgent needs, such as by providing food assistance; increasing access to health services, as well as water and sanitation facilities; enhancing livelihood opportunities; and providing protection services for the most vulnerable. However, as we know now with all of the violence there, a lot of facilities have been destroyed. This is why we need to be there and recently committed new money quickly.
Once again, we do condemn this violence, and we have to ensure that the humanitarian aid has a safe corridor. We need to reach the people in need, and this is why we called very loudly on all of the partners involved to ensure that they respect this basic principle of allowing humanitarian aid to flow into the regions where the needs are. Basically in the Central African Republic, this is everywhere. So we do expect to have safe humanitarian corridors, despite the extreme violence in the country now.
Situation in the Central African Republic February 12th, 2014
Mr. Chair, indeed we are gravely concerned about the deteriorating security and humanitarian situation in the Central African Republic. As my colleague just mentioned, we see an escalation of violence there and we condemn this violence. As I said before, we need to make sure that humanitarian aid corridors are accessible. This is where the real challenge is, and this is why we are saying loudly that Canada expects all involved parties to respect this basic principle.
With the $5 million we have announced, we are very confident that UNICEF, the World Food Programme, and organizations such as Save the Children will have solid plans to ensure that they do achieve what they want to achieve and we will make sure that they can have access to these corridors. This is why we committed $5 million in December for the mission of stabilization. This funding is of course in support of the mission of stabilization in general, and in this regard my colleague referred to the French l'opération Sangaris. This is also why in 2013 we supported the CAR with $6.95 million for the mission of stabilization, and have now just committed another $5 million for its needs, especially in terms of nutrition.
So we will continue to work closely with our international partners to monitor the evolving humanitarian situation and we will remain prepared to respond accordingly.
Situation in the Central African Republic February 12th, 2014
Mr. Chair, I thank my colleague for her excellent question.
If the $5 million that was just announced is not released right away, it will be very shortly.
That is why we have been careful in our announcement to properly identify our partners, including UNICEF and Save the Children. These partners have developed projects that are virtually ready to be implemented.
However, we unfortunately have to deal with an unpredictable situation because of the unprecedented violence on the ground. Canada condemns the atrocities we have heard about.
We are urging all parties involved in the conflict to allow the humanitarian aid to go through and to be duly delivered to those in need. That is what really is at stake here.
Let me assure my colleague that the challenge is not with the bureaucracy and administration in Ottawa; the challenge is on the ground. The assistance is available and ready to be sent. The challenge is on the ground. We must ensure that the humanitarian corridor is open to those working in the field.
Situation in the Central African Republic February 12th, 2014
Mr. Chair, I am pleased to rise and speak during this important debate.
Our government is deeply concerned by the crisis currently unfolding in the Central African Republic, most particularly by the deteriorating humanitarian and protection situation and its devastating impact on innocent civilians.
In March 2013, a rebel coalition known as Seleka staged a coup, ousting the president at the time, François Bozizé. After the coup, the rebel-led government was no longer able to control its former soldiers. Furthermore, the government was unable to establish any semblance of rule of law.
Not surprisingly, the security situation deteriorated considerably. For decades, groups of different faith communities had been living side by side without any animosity. However, the violence of recent months has ignited religious tensions. The Seleka groups, which are primarily Muslim, and the militias, which are primarily Christian, are locked in a never-ending battle. The fighting is especially fierce in the northwestern and southern regions of the country. Violence, looting and heinous crimes committed by these groups have increased dramatically. Acts of self-defence between neighbours of different faiths are now commonplace. In the capital Bangui alone, at least 10 people are killed every day as a result of looting, firefights or targeted attacks.
We are hearing increased reports of looting, extortion, lynching, arbitrary arrest, torture, summary execution, sexual violence, and child recruitment. Across the country, most of these are perpetrated by roving bands of armed people. The humanitarian consequences of this conflict are staggering.
All 4.6 million inhabitants of the country are affected. No region has been spared. According to the United Nations, over 2.5 million people need humanitarian aid, including food, clean water, basic sanitation, shelter and protection. Approximately two-thirds of the country's population does not have access to basic health care or basic drugs.
Over 825,000 people have been displaced so far because of the ongoing violence in the Central African Republic. Nearly half of those people are in the country's capital. Most of the people who have fled their homes have ended up in 66 different places in the capital city, including in a temporary camp near the country's international airport, now occupied by over 100,000 people. The people there are living in overcrowded conditions without adequate shelter or sanitation. These conditions could further deteriorate once the rainy season begins in a few months.
We are also extremely concerned about the food security situation in the country. As we all know, Canada is a leader in food security, and we find this situation alarming. Violence has destroyed markets and disrupted livelihoods and trade in all regions of the country, sharply increasing the cost of food.
This trend threatens to increase the number of Central Africans who do not have a dependable source of food, currently at 1.3 million people. These people are forced to depend on emergency food rations to survive. Constant danger means that aid organizations are having a harder and harder time meeting growing needs. Businesses and humanitarian organizations are being looted, which complicates the situation.
In spite of the challenges, humanitarian agencies have significantly ramped up their responses and Canada has been there to support these efforts. Through our international engagement, we have been strengthening the leadership capacity of humanitarian agencies on the ground. We have been supporting the expansion of their presence and operations outside of Bangui and we have been encouraging greater coordination of aid efforts.
We are heartened to see additional non-governmental organizations starting operations in the Central African Republic. Groups like Save the Children are having an important impact on the ground. Their presence has been a much-needed boost for the humanitarian capacity required to address the escalating needs. Agencies like these are delivering crucial life-saving aid, and Canada has supported these efforts.
In 2013, we more than doubled our humanitarian aid to those affected by the crisis. More than $6.95 million went to meet the needs of the vulnerable, including those who have fled to neighbouring countries.
With Canada's support, UNICEF provided treatment to over 10,000 severely malnourished children. It also delivered medical supplies that have benefited over 200,000 vulnerable people. Canada also supported Doctors Without Borders as they delivered primary and secondary health care. This included treating malnourished children in the northwestern region, one of the regions most affected by the violence. With Canada's support, the United Nations World Food Programme provided food for over 200,000 people in December alone.
I commend aid workers for the incredibly difficult work they do. They put their lives in danger to provide vital assistance to people in need. I am extremely proud of our fellow Canadians who are always on the front lines when needs manifest themselves. However, we must continue these efforts, especially in rural areas. We must increase protection by having a presence that is normally associated with humanitarian work.
Unfortunately, serious security problems still hamper these interventions. It is vital that we improve security if we want to reduce humanitarian needs, increase humanitarian workers' access and help them get more people on the ground.
That is why Canada contributed $5 million to the African Union-led international support mission in the CAR. The mission efforts increase security, protect civilians and enable distribution of aid to the country.
Canada is also providing an additional $5 million to aid humanitarian organizations in addressing the ongoing need. These contributions build on those that Canada has already made in the Central African Republic over the past several years. Since 2007 we have provided over $25 million in humanitarian assistance.
Canada is always a leader in the response to crises around the globe. We are currently working in Syria, the Philippines, and South Sudan, just to name a few.
We do this because it saves countless innocent lives. Lives are at stake. Innocent civilians are facing unspeakable ends at the hands of ruthless criminals. Countless children have been separated from their families, and thousands of others have been swept into the fighting forces. There have been widespread reports of sexual and gender-based violence.
It is our responsibility to help those who cannot help themselves. It is the clearest expression of our most cherished Canadian values. In the face of such violence and grave human rights violations, Canada has stepped up to the plate.
We have made international humanitarian aid a priority, and we will continue to do our best to protect innocent civilians, increase observance of international human rights, facilitate the safe travel of aid workers and also support people affected by violence.
We are committed to providing effective humanitarian aid in a timely manner. The newly amalgamated department will allow Canada to better respond to such crises and adapt our approach and our work in the most effective way.
Canada is a top donor to the humanitarian efforts in Central African Republic. We will continue to monitor the evolving situation closely, and we will continue to do what we can and must do to help the people of this war-torn country.