Christian Paradis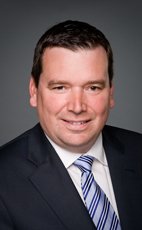 House of Commons photo
Track Christian
Your Say
Elsewhere
Crucial Fact
His

favourite word

is million.
Conservative
MP for Mégantic—L'Érable (Québec)
Won his last election, in 2011, with 49.10% of the vote.
Statements in the House
Canada-Honduras Economic Growth and Prosperity Act June 5th, 2014
Mr. Speaker, I will echo the Minister of State (Foreign Affairs and Consular) and remind my colleague again that efforts have been made on both sides, in Honduras. For example, Canada has implemented regional development programs. As for the new government in place, it is focusing more and more on sustainable economic growth and prosperity, which will help reduce social inequalities.
My colleague says that he wants to promote Canadian values, but I believe that what he really wants it to advance the NDP's partisan values, including turning down any type of trade agreement with another country.
As such, I will echo my colleague from York Centre, and again urge the NDP to leave the 19th century behind, join the 21st century and be part of what is happening in the international community. Being involved in international development also means doing trade with economies that are making an effort, instead of relying on all sorts of dictates that are totally disconnected from reality.
Foreign Affairs June 2nd, 2014
Mr. Speaker, the crisis in Syria is a real tragedy. For that reason our government has been very active. More than $630 million has been budgeted to provide assistance to the Syrian people.
The government is doing everything it can to ensure that these humanitarian corridors are as open and accessible as possible in order to help people truly in need.
International Development May 27th, 2014
Mr. Speaker, Canadians can be proud of the results of the Muskoka initiative. Canada committed to $1.1 billion in new spending above and beyond its original commitment, for a total of $2.85 billion over five years. The Prime Minister is known for keeping his commitments: 80% of the money has been paid out and we are going to meet our targets for 2015. We want to continue to do more.
We want to tell stakeholders all over the world to join us because we know that the number of children across the world who died before their fifth birthday dropped by 700,000 between 2010 and 2011. We estimate that 2 million children died as a result of preventable illnesses between 2010 and 2013. I have a lot of convincing statistics.
International Development May 27th, 2014
Mr. Speaker, on the contrary, we are very proud. A summit will be held in Toronto from May 28-30.
I can tell members that key stakeholders, like Rosemary McCarney, said, and I quote:
Canada came out of the gate when MDG 4 and 5 were the worst performing MDGs, and Canada said we're going do something about that, and get our G8 partners onto it, and kept going.
It was the same thing from David Morley, of UNICEF Canada, when he recently praised our efforts, saying:
The Government of Canada, a global leader in maternal, newborn and child health...
This is leadership. This is the impact and good results.
International Co-Operation May 26th, 2014
Mr. Speaker, we obviously extend our sympathies to all those affected by the terrible torrential rains, flooding and landslides in Bosnia-Herzegovina, Serbia and Croatia.
On May 19, the Red Cross and Red Crescent Societies launched an emergency disaster assistance fund to respond to the massive flooding and mudslides.
Through an ongoing DFATD-funded project with the Canadian Red Cross, which allows Canada to immediately respond to disasters around the world, the Canadian Red Cross automatically allocated a maximum contribution to these relief operations on behalf of the Government of Canada.
We will continue to monitor the situation very closely.
International Development May 26th, 2014
Mr. Speaker, indeed, as I said, later this week the Prime Minister will host a number of the world's most respected and influential humanitarians in order to draw the world's focus to this issue of the health of mothers, newborns and children.
His Highness the Aga Khan, Tanzania's President Kikwete, Melinda Gates and Ban Ki-moon are just some of the people taking part in this historic summit.
All Canadians and all parliamentarians can surely agree that all children and women deserve a healthy and productive life. The solution to this problem is within arm's reach, and Canada will be a driving force to this achievement.
Status of Women May 26th, 2014
Mr. Speaker, each Canadian can be proud, because we have reached a lot of good results. Globally, over 700,000 more children lived to their fifth birthdays in 2011 than in 2010. In over 125 countries, maternal death rates have declined sharply in the past five years. Between 2010 and 2013, an estimated two million deaths from disease were prevented and five million children were treated with vitamin A. Thousands of women have received antenatal care.
We can be proud of this, and under the leadership of the Prime Minister, we will keep on track on this.
Status of Women May 26th, 2014
Mr. Speaker, there will be a very important summit in Toronto from May 28-30 under the leadership of the Prime Minister. We can be proud of this, because our G8 Muskoka initiative on maternal, newborn, and child health will save the lives of 1.3 million children and newborns as well as more than 60,000 young mothers.
We have to continue to keep on track. With this summit, we will make sure that Canada says loud and clear that this is a top, main priority for years to come.
Status of Women May 26th, 2014
Mr. Speaker, the summit that will be held in Toronto from May 28 to 30 under the leadership of the Prime Minister will be vital to ensuring that we stay on track. A total of 80% of the funds committed as part of the Muskoka initiative have been distributed, and we have seen results. However, we can do more.
Under the Prime Minister's leadership, Canada will again say loud and clear that maternal, newborn and children's health is a top priority.
International Development April 9th, 2014
Mr. Speaker, I was very pleased yesterday to announce an enhanced partnership with UNICEF and the World Health Organization. We also work closely with the Aga Khan Foundation and Rotary on this file.
All children, no matter where they live, have the right to dream of the future with hope and optimism, and that is why Canada is taking meaningful action to eradicate polio once and for all.
The Muskoka initiative, launched by the Prime Minister, will ensure that every child is immunized. The vaccine is a very cost-effective investment. It saves 2.5 million lives a year.
Canada is making a difference and will we will continue to lead this—