Christian Paradis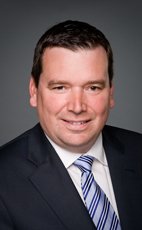 House of Commons photo
Track Christian
Your Say
Elsewhere
Crucial Fact
Conservative
MP for Mégantic—L'Érable (Québec)
Won his last election, in 2011, with 49.10% of the vote.
Statements in the House
Foreign Investment April 29th, 2013
Mr. Speaker, first, our thoughts are with the workers and their families.
I urge the opposition members to stop playing demagogy with this issue. We all know this is a labour dispute under provincial laws. They know very well that we did not hesitate to take actions in the past to ensure it was compliant with its requirements. Once again, I urge the opposition to stop playing demagogy.
Aerospace Industry April 19th, 2013
Mr. Speaker, the reason we have so much to be proud of when it comes to Canada's achievements in space and the commander of the International Space Station is that the government allocated additional funding. An additional $300 million was allocated to the Canadian Space Agency through the economic action plan. The hon. member who just asked the question belongs to a party that voted against that increased funding. She is in no position to give lessons to the government, which just launched a review.
We have David Emerson's report, which outlines the Canadian Space Agency's future direction. Indeed, the future is promising.
Telecommunications Industry April 18th, 2013
Mr. Speaker, of course we are standing up for consumers. We want to enhance competition and investment in this country, and this is why we adopted this policy back in 2008 for the AWS spectrum.
Let me say that the price went down by an average of 11% since then, and we will continue this way with the 700 megahertz spectrum. We launched consultation with the industry to make sure that we enhance competition and provide better choice and better rates for our consumers.
Asbestos March 26th, 2013
Mr. Speaker, my colleague knows full well that natural resources fall under provincial jurisdiction. The Marois government decided to stop chrysotile mining. Our government immediately showed leadership by announcing a $50 million fund to help affected communities diversify their economies. Canada no longer has any reason to keep chrysotile asbestos off the list of products subject to the PIC procedure of the Rotterdam Convention. We hope that the NDP will stop crying wolf and support us in our efforts.
Asbestos March 26th, 2013
Mr. Speaker, when the Marois government decided to put an end to all chrysotile mining, our government showed leadership. Obviously, we no longer had any reason to oppose the inclusion of chrysotile asbestos on the list of products subject to the PIC procedure of the Rotterdam Convention.
We showed leadership by announcing $50 million in funding to diversify the economies of Thetford Mines and Asbestos. This economic diversification will not happen overnight, as my colleague would have us believe. I hope that they will support the budget and that the member for Richmond—Arthabaska will stand up for his region.
North Korea March 18th, 2013
Mr. Speaker, given what we heard today in question period, I am sure that you will find unanimous consent for the following motion: "That this House reaffirm its zero-tolerance policy for all forms of terrorism and that it condemn any attempt by Amir Khadir of Québec solidaire to glorify a member of the FLQ found guilty of such criminal activity."
The Economy March 18th, 2013
Mr. Speaker, as my colleague, the Minister of State for Finance, said, we understand that there is a lot of excitement surrounding the upcoming budget, but there are still three more sleeps. We will find out what is planned on Thursday when the budget is presented.
One thing is for certain, we will stay the course with regard to economic growth and job creation. That is what we always do. To date, 900,000 net new jobs have been created across Canada. We hope that the members of the Bloc Québécois will support the budget, which will go in that direction.
Terrorism March 18th, 2013
Mr. Speaker, that goes without saying. There have been consultations, and I am very pleased to see that there will likely be unanimous consent to support this motion. The actions committed at that time are reprehensible. It is very irresponsible for people like Amir Khadir of Québec Solidaire to glorify the memory of people with a criminal past.
Official Languages March 8th, 2013
Mr. Speaker, on the contrary, it would be irresponsible to do as my colleague suggests and apply Bill 101 to federally regulated businesses in Quebec. That is because the study shows that the place of French in federally regulated businesses is already very similar to the place of French in provincially regulated businesses.
Doing as he suggests would result in a major administrative burden. His method ignores the fact that our businesses are operating in a global market. There are external factors, such as headquarters located outside Quebec and clients who require service in their language. Our focus is on productivity, and that is how we will continue to address this issue. We have 50,000—