Christian Paradis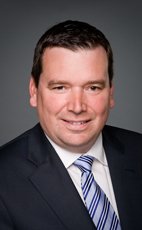 House of Commons photo
Track Christian
Your Say
Elsewhere
Crucial Fact
His

favourite word

is announced.
Conservative
MP for Mégantic—L'Érable (Québec)
Won his last election, in 2011, with 49.10% of the vote.
Statements in the House
Foreign Affairs October 7th, 2014
Mr. Speaker, the government has announced various measures involving the Red Cross, Mercy Corps, Development and Peace and Save the Children in order to address basic needs, whether it be food or hygiene kits.
Targeted military action is needed to meet these urgent needs. The ISIL's capabilities must be reduced. That is how we can get to the people in need. Military action and humanitarian aid are not mutually exclusive. I would like to remind my colleague that we are the seventh-largest donor in this humanitarian crisis.
Foreign Affairs October 7th, 2014
Mr. Speaker, this is not true. We announced several measures to help people in need in Iraq.
I need to remind my colleague that we are the seventh-largest contributor to assist the people in this crisis, but we need to take military measures to ensure we can have access to this human corridor and security.
We hope the opposition would support the motion and then walk the talk. This is the way we can reach people in need and deliver effective aid in a timely fashion.
International Development October 6th, 2014
Mr. Speaker, we have been very active in this area and neighbouring countries. I can say to my colleague that we have been very active with UNICEF with support for the No Lost Generation initiative for protecting children in conflicted areas. Also we provided support for basic needs, and now 16 million people have access to clean water. As well, 4.1 million Syrians inside the country and nearly three million refugees in neighbouring countries have emergency assistance and now have access to food assistance.
These are our concrete actions. We have been there for a while. We are one of the leading donor countries in this situation.
International Development October 6th, 2014
Mr. Speaker, Canada is already taking a very active role in this humanitarian crisis. We are the seventh-largest donor. So far, we have ensured that people in need have access to basic supplies such as shelter, food, hygiene kits and water. We are taking a very active role, and thousands of people are benefiting as we speak.
Foreign Affairs October 3rd, 2014
Mr. Speaker, this is not true. The member is not correct in saying that.
Canada is very active on the ground. As I said, we are the seventh-largest donor. We have an approach to ensure we can reach people in need. There is capacity there, and this why we work with credible organizations like Red Cross, Save the Children, Mercy Corps, and Development and Peace, because they help us to reach the people in need.
This is action. This is exactly what we are doing right now.
Foreign Affairs October 3rd, 2014
Mr. Speaker, nothing is further from the truth.
Canada is the seventh-largest donor assisting people in need during this crisis. Our contribution will allow for those most desperately in need to receive food, hygiene kits, cooking materials, blankets, tents, medical supplies, and other essential supplies, as well as making emergency repairs to essential water and sanitation facilities. This is being implemented right now.
We will continue to work closely with our allies to make sure that we can continue to support the needs of Iraqi civilians, particularly religious minorities.
Foreign Affairs October 2nd, 2014
Mr. Speaker, not only is there a plan, but it has been executed.
Canada is one of the biggest contributors to Iraq and one of the most active countries. Through Canada's contribution, the most desperate people and those in need will be able to receive food, kitchen utensils, cooking equipment, bedding, medical supplies and other essentials. That is what they need and we are giving it to them right now.
Canada-Honduras Economic Growth and Prosperity Act June 5th, 2014
Mr. Speaker, I will echo the Minister of State (Foreign Affairs and Consular) and remind my colleague again that efforts have been made on both sides, in Honduras. For example, Canada has implemented regional development programs. As for the new government in place, it is focusing more and more on sustainable economic growth and prosperity, which will help reduce social inequalities.
My colleague says that he wants to promote Canadian values, but I believe that what he really wants it to advance the NDP's partisan values, including turning down any type of trade agreement with another country.
As such, I will echo my colleague from York Centre, and again urge the NDP to leave the 19th century behind, join the 21st century and be part of what is happening in the international community. Being involved in international development also means doing trade with economies that are making an effort, instead of relying on all sorts of dictates that are totally disconnected from reality.
Foreign Affairs June 2nd, 2014
Mr. Speaker, the crisis in Syria is a real tragedy. For that reason our government has been very active. More than $630 million has been budgeted to provide assistance to the Syrian people.
The government is doing everything it can to ensure that these humanitarian corridors are as open and accessible as possible in order to help people truly in need.
International Development May 27th, 2014
Mr. Speaker, Canadians can be proud of the results of the Muskoka initiative. Canada committed to $1.1 billion in new spending above and beyond its original commitment, for a total of $2.85 billion over five years. The Prime Minister is known for keeping his commitments: 80% of the money has been paid out and we are going to meet our targets for 2015. We want to continue to do more.
We want to tell stakeholders all over the world to join us because we know that the number of children across the world who died before their fifth birthday dropped by 700,000 between 2010 and 2011. We estimate that 2 million children died as a result of preventable illnesses between 2010 and 2013. I have a lot of convincing statistics.