Chungsen Leung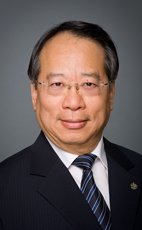 House of Commons photo
Track Chungsen
Your Say
Elsewhere
Crucial Fact
His

favourite word

is citizenship.
Conservative
MP for Willowdale (Ontario)
Won his last election, in 2011, with 41.70% of the vote.
Statements in the House
National Defence October 28th, 2014
Mr. Speaker, Canada is taking action with our allies and partners to confront the serious threat posed by ISIL in Iraq and beyond its borders.
ISIL's continued presence in Iraq is the main obstacle to getting help to the people who desperately need it. More than a million people have been displaced in Iraq and their struggle to survive continues. Let us also recall that humanitarian workers and journalists have been indiscriminately murdered by ISIL. For these reasons, Canada will continue to work with our allies and partners in a coalition of over 40 countries to conduct air strikes against ISIL in order to degrade its ability to threaten us and terrorize the people of Iraq.
The government has not taken these actions lightly. They have been carefully debated in an open forum in the House of Commons.
In closing, I would like to thank the brave men and women of our Canadian Armed Forces who stand ready to protect Canada and to face the greatest of challenges with honour and dedication to duty.
National Defence October 28th, 2014
Mr. Speaker, let me set the record straight and clarify the situation for the member.
The Government of Canada has remained committed to keeping Canadians apprised on our mission against ISIL. Unlike the previous Liberal government, it has always been the practice of this government to consult Parliament on combat missions and to hold a vote. As such, I would remind my esteemed colleague that Canada's contribution to the fight against ISIL was in fact debated in the House of Commons on October 6 and 7. I am proud to say that the majority of my colleagues made a decision to support our mission to Iraq.
Since that time, the government has held technical briefings on this issue and has also introduced a motion at the Standing Committee on National Defence requesting National Defence officials to provide committee members with an update on our mission. The motion was adopted by the committee on October 7, 2014, and the briefing will take place in the coming weeks.
The government, and our men and women in uniform, are taking strong action to respond to the obvious security and humanitarian crisis created by ISIL. Sadly, this terrorist group continues to commit horrific acts and cause untold suffering. Canada will not stand by indifferently while ISIL operatives continue to persecute ethnic and religious minorities and drive more and more Iraqi civilians from their homes and into uncertainty.
The humanitarian and refugee emergency in the region continues. The brutal crimes committed against women and girls continue. The government has already dedicated $10 million to fight crimes that are targeted against girls and women, especially sexual violence, in addition to other humanitarian aid measures.
Recent events have shown that extremism and terrorist sentiments can affect Canadians on our home soil. If permitted to remain in Iraq, ISIL will continue to inspire more hatred towards peaceful and democratic values. We saw this recently when ISIL called for the targeting of Canadians in their own homes.
There can be no greater responsibility for a government than the safety and security of its citizens. That is why the government has decided, supported by a vote in the House, to meet the threat of ISIL at its source.
In August the Canadian Armed Forces commenced airlifting military supplies from donor countries to the Iraqi forces. Over a million and half pounds of military supplies donated by Albania and the Czech Republic were successfully delivered to northern Iraq. Members of our armed forces have been deployed to assist and advise Iraqi forces in effectively countering ISIL.
Last week, additional military contributions to the coalition efforts in Iraq departed from several Canadian Forces bases and wings. A strike force of CF-18 fighter jets departed Canada to join our allies and partners in conducting air strikes against ISIL targets in Iraq just last Wednesday. A CC-150 Polaris aerial refueller and two CP-140 Aurora aerial surveillance aircraft will provide key reconnaissance and support capability to the mission.
Canada will not stand idly by in the face of the humanitarian catastrophe caused by ISIL.
Canada-Korea Economic Growth and Prosperity Act October 28th, 2014
Mr. Speaker, the trans-Pacific partnership is like other agreements in which Canada participates through the Association of Southeast Asian Nations and with APEC. The coastline spans the Pacific, covering more than half the world's population. It is possibly one of the greatest consumer markets as well, and one of the higher-income markets as we approach the next generation.
Canadian TPP negotiations are well under way. Unlike some countries, we are not the first to jump in. We are looking to see how the trade negotiations transpire. As a matter of fact, as we speak, the Minister of International Trade will be returning from his discussions on this matter.
I have also participated in a number of briefing sessions on the TPP, especially in the greater Toronto area. I think we are advancing quite well in this area.
Canada-Korea Economic Growth and Prosperity Act October 28th, 2014
Mr. Speaker, the Korean scientific model was built very much on Korea's acceptance of trade. When I went there in the 1980s and the 1990s, the first request was for us to help with scientific development. Scientific development in railroad technology and subway technology was a Canadian investment in the Korean marketplace. Understanding how that technology worked helped Korea to develop its railroad technology to where it is today.
Canada's investment record in developing all these technologies, such as in urban transit, is second to none. We have advances in software development, agriculture, and in all of our technology. We are ready to go from innovation to commercialization. The Canadian innovation record is excellent.
Canada-Korea Economic Growth and Prosperity Act October 28th, 2014
Mr. Speaker, it is a pleasure to stand in the House to speak on the Canada-Korea free trade agreement.
At the onset, I should indicate that prior to entering politics, I had an opportunity to do a significant amount of business in South Korea. As a matter of fact, one of the subway systems that is used in a suburb of Seoul is a system that I introduced to them back in the mid-1980s.
However, what I would like to address today is the broader implications of the Canada-Korea free trade agreement being the first of our many agreements, hopefully, in the Asia-Pacific region.
Our Conservative government is committed to protecting and strengthening the long-term financial security of hard-working Canadians. The creation of jobs and economic growth for the benefit of Canadian businesses, workers, and their families continues to be our focus. That is why we will continue to deliver pro-export leadership.
I would like to highlight the Canada-Korea free trade agreement in the broader context of Canada's foreign policy in the Asia-Pacific region.
This dynamic region accounts for half of the world's population and is expected to contain two-thirds of the world's middle class by 2030. By that point, it is further estimated that the region would account for one-half of global GDP. Canada and our competitors recognize the significant potential Asia-Pacific has to offer, in terms of productivity, investment and innovation.
In the last Speech from the Throne, we committed to expanding trade in the Asia-Pacific region to benefit hard-working Canadians and businesses, especially, our crucial small and medium-size enterprises and industries across the country.
In addition to the Canada-Korea free trade agreement that we are discussing today, Canada continues to pursue agreements with other Asia-Pacific nations. Earlier this month, we ratified a foreign investment promotion and protection agreement with China. We are also participating in the trans-Pacific partnership negotiations with 11 other countries in the region, and are negotiating an economic partnership agreement with Japan.
The tremendous economic momentum and potential of the Asia-Pacific has been accompanied by political and demographic shifts across the region. Amid this transformation, Canada has made our relations with Asia-Pacific a top foreign policy priority in order to contribute to regional and global security and prosperity.
In August, the Minister of Foreign Affairs announced additional Canadian funding in the amount of $14 million to help address security issues of shared concern in Southeast Asia. The projects include those to mitigate biological and nuclear threats; disrupt illicit flows, while protecting legitimate trade; combat human smuggling activities; improve regional cybersecurity tools; and work with our Association of Southeast Asian Nations partners to prevent and respond to terrorism.
For example, we are helping states by providing training and equipment, and technical and legal assistance to address the foreign fighter phenomenon and radicalization. Canada committed $2.3 million to support efforts by the Association of Southeast Asian Nations to identify and detect foreign fighters, individuals who are returning to their countries from abroad having been further radicalized and with the training and experience to undertake terrorist activities at home.
Canada also provides bilateral development assistance to countries such as Afghanistan, Bangladesh, Indonesia, Mongolia, Pakistan, Sri Lanka, Vietnam, and the Philippines, as well as other countries across Southeast Asia.
Furthermore, Canada provides development assistance through multilateral and global programs in Asia, as well as through partnerships between Canadian organizations and counterparts in Asia. In the fiscal year 2012-13, Canada provided approximately $1 billion in official development assistance to countries in Asia.
As an example, in September, our government announced funding for World Vision Canada and the Canadian Red Cross to support projects that are improving the health and well-being of vulnerable people in Afghanistan, as well as strengthening community resilience to natural disasters in Southeast Asia. Stability and security are vital to the prosperity of the region and that of Canada. We have a stake in attaining these objectives and we have made important contributions to supporting them in the Asia-Pacific region.
South Korea has witnessed rapid development, democratic evolution, and growing regional and international interests. It joined the United Nations in 1991 and in 2010 it was accepted into the Development Assistance Committee of the Organisation for Economic Co-operation and Development.
These milestones have facilitated and enhanced co-operation between Canada and Korea in a number of political and security dimensions such as arms control, disarmament, peacekeeping and development assistance. Canada and Korea are both active in multilateral fora and partners in promoting global peace and security. Both countries also co-operate on security issues in other fora, such as the ASEAN Regional Forum and the Asia-Pacific Economic Cooperation forum.
Additionally, we share important alliances with the United States and the Asia-Pacific and beyond. Canada supports efforts to maintain peace and stability on the Korean Peninsula and in that region, and takes seriously the threat posed by North Korea to regional and indeed global security. We stand with South Korea in its efforts to ensure peace on the peninsula. North and South Korea technically remain at war as hostilities were concluded with an armistice, not a peace treaty.
Canada remains gravely concerned about North Korea's provocative and destabilizing actions such as nuclear and missile tests and related proliferation, as well as its egregious human rights abuses. Canada strongly supports the six-party talks as a framework for credible negotiation on the denuclearization of the Korean Peninsula. Some of the great success stories of democratization in the last generation can be found in the Republic of Korea as well as Taiwan, Indonesia and Mongolia.
Canada now has more diplomatic staff in Asia than anywhere else in the world. Canada places great value on our relationships with the Asia-Pacific region and with Asian countries. We increased our presence on the ground with over 10 new offices in China and India since 2006. We will be establishing Canadian diplomatic presences in both Cambodia and Laos, and Canada is establishing a mission to the Association of Southeast Asian Nations headed by a new ambassador.
While in Burma in September, the Minister of Foreign Affairs opened Canada's newest diplomatic mission. Establishing a trade commissioner service in Burma is an integral component of the embassy as Canadian companies will have an important role to play in fostering sustainable economic growth while providing opportunities for Canada's private sector. No government in Canadian history has been more committed to the creation of jobs and prosperity for Canadian businesses, workers and their families. Deepening Canada's trading relations in dynamic and high-growth markets around the world is key to these efforts.
Canada's network of missions across Asia will help us to promote Canadian values: freedom, democracy, human rights and the rule of law. People in the region seek a bright future, including freedom and opportunity. Canada is ready to help them and to invite Canada's private sector to expand our engagement. Economic opportunity, in Canada and elsewhere, rests on free, transparent and open markets, the rule of law and democratic governance. As like-minded partners, Canada and Korea share a strong commitment to these values. Canadian foreign policy, including our trade policy, will not only promote peace and prosperity, but will contribute to the development of the wider Asia-Pacific region. In this context, the Canada-Korea free trade agreement is an important achievement that would advance our bilateral relations with Korea as well as Canada's broader objectives in this region.
We stand with Canadians incredibly disappointed that the New Democrats tried to completely gut the bill at the trade committee, where they made amendments to remove the investor protection provisions, cornerstones of modern trade and investment agreements. This is as harmful as the neglect of international trade under the Liberals who took Canada virtually out of the game of trade negotiations, putting Canadian workers and businesses at severe risk of falling behind in this era of global markets.
Thanks to the leadership of our government, in less than seven years our government has reached free trade agreements with 38 countries, bringing Canada's total to 43 countries. By continuing to actively pursue broader market access to new investment opportunities, we are providing Canada's businesses and exporters with access on preferential terms to the largest, most dynamic and fastest-growing economies and regions around the world.
Citizenship Week October 7th, 2014
Mr. Speaker, I am honoured to rise today to remind all Canadians that next week is Citizenship Week, a time when we reflect and celebrate the rights and responsibilities that Canadians share.
Our citizenship defines what it means to be a Canadian. It is a shared commitment to our country's core beliefs in freedom, democracy, human rights and the rule of law, values that we all hold dear.
Canada has welcomed generations of newcomers to our shores to help us build a free, law-abiding and prosperous society. For 400 years, settlers and immigrants have contributed to the diversity and richness of our country, which is built on a proud history and a strong identity.
During Citizenship Week, I encourage all Canadians to reaffirm their citizenship and reflect on what it means to be a citizen of Canada, the greatest country in the world.
Islamic State September 26th, 2014
Mr. Speaker, as the world watches the disturbing situation unfold in Iraq and Syria, we are again shocked by ISIL's latest action.
A few days ago, we learned that ISIL destroyed the Armenian Holy Martyrs church, and the Museum of the Holy Martyrs, a memorial to the victims of the Armenian genocide that houses the remains of those who perished in 1915. The deliberate and barbarous destruction of another holy site again reveals the true nature of ISIL and its agenda, which is driven by hate and intolerance.
Our government continues to condemn ISIL, a terrorist organization that tramples on the fundamental rights of all people.
Business of Supply September 16th, 2014
Mr. Speaker, ultimately government action in deciding minimum wage, as my colleague, the parliamentary secretary, has mentioned, is a very blunt instrument. It is like using a tennis racket to swat a fly.
The only way that a business person would increase jobs is if the economy is stimulated with tax credits and the business owner is encouraged to invest in production equipment or obtain a lower cost of production. As the cost of production is increased, the cost is simply passed on to the end price, which therefore increases the inflationary rate in the economy and makes it more difficult for everybody to earn a living wage.
Business of Supply September 16th, 2014
Mr. Speaker, on the contrary, if I look at this purely on the microeconomic scale as an employer, if the wages were competitive internationally or competitive within Canada and there were a growth aspect in the economy, I would absolutely hire more workers.
If we allow our economy to grow with more free trade around the world, and every dollar that we export translates to five dollars of domestic GNP, that is how I would look at improving our economy and the lot of our citizens.
Business of Supply September 16th, 2014
Mr. Speaker, it is a pleasure to rise in the House and also to be the last speaker on this issue of minimum wage.
We have heard today about our government's outstanding record of achievement with respect to creating jobs and economic growth. I would like to dedicate my time to exploring in more detail how we are building on these results by helping to connect Canadians with available jobs.
Despite our excellent employment performance, our government is constantly looking for ways to make it even better, and we find it unacceptable that many Canadians are out of work or underutilized at a time when skills and labour shortages are emerging in certain sectors and regions. Indeed, many employers agree with us and continue to identify the shortage of skilled labour as an impediment to growth. In fact, the Canadian Chamber of Commerce lists skills shortages as the number one barrier to Canada's competitiveness.
Faced with this challenge, we have taken effective and concrete action to support the development of a skilled, mobile, and productive workforce.
To begin, let me go back to budget 2007, when our government introduced the working income tax benefit, or WITB. The WITB fulfilled our government's commitment to help make work more rewarding to low-income Canadians already in the workforce and increased the incentive for other low-income Canadians to enter the workforce.
Economic action plan 2009 went even further by effectively doubling the benefits provided under the WITB. Today this initiative is making a real difference in the lives of Canadians. It has lowered the welfare wall so that low-income individuals now keep more of their earnings. In 2013, over $1.1 billion in WITB benefits were provided to individuals and families.
Recognizing that families are the cornerstone of our society, economic action plan 2011 took action to further reduce the tax burden on hard-working Canadian families. In doing so, we recognized that some families need additional support. For example, many Canadians have assumed added responsibilities in caring for infirm parents or other family members. These family caregivers make special sacrifices, often leaving the workforce temporarily and forgoing employment income.
In support of these families who care for infirm dependants, economic action plan 2011 introduced the family caregiver tax credit, which came into effect in 2012. This 15% non-refundable credit on an amount of $2,058 in 2014 provides additional tax relief for caregivers of all types of infirm dependent family members, including, for the first time, spouses, common-law partners, and minor children.
To further help caregivers, economic action plan 2011 removed the $10,000 limit on the amount of eligible expenses a taxpayer can claim under the medical expense tax credit for a financially dependent relative.
We also established the registered disability savings plan, or RDSP, based on the recommendations of the 2006 expert panel on financial security for children with severe disabilities. The RDSP is designed to help individuals with severe disabilities and their families save for their long-term financial security.
Since its implementation in 2008, our government has made a number of improvements to the program. For example, to make sure that RDSP beneficiaries with a shortened life expectancy can access their savings, economic action plan 2011 provided them with more flexibility to withdraw their RDSP assets without requiring the repayment of Canada disability savings grants and Canada disability savings bonds.
In 2011 our government launched a review of the RDSP to ensure that RDSPs are meeting the needs of Canadians with severe disabilities and their families. Based on the feedback received during the review, economic action plan 2012 announced a number of measures to improve the RDSP.
These measures provided greater access to RDSP savings for small withdrawals, gave greater flexibility to make withdrawals from certain RDSPs and ensure the RDSP assets were used to support a beneficiary during their lifetime, enhanced flexibility for parents who save in registered education savings plans for children with disabilities, introduced greater continuity for beneficiaries who cease to qualify for the disability tax credit in certain circumstances, and improved the administration of the RDSP for financial institutions and beneficiaries.
More than 81,000 RDSPs have been opened since they became available in 2008. Thanks to a measures like the RDSP, our government is making sure Canadians with disabilities get the support they need.
Let me now say a few more words about the government's tax reductions for seniors and pensioners. On this subject I once again have plenty of material to draw from.
Our government increased the age credit amount by $1,000 in 2006 and by another $1,000 in 2009. We doubled the maximum amount of income eligible for the pension income credit to $2,000. We introduced pension income splitting and increased the age limit for maturing pensions and RRSPs to 71 from 69 years of age. As a result of these actions, seniors and pensioners are receiving about $2.8 billion in additional annual tax relief.
Overall, actions taken by this government have substantially increased the income seniors can earn before they are required to pay income tax. In 2014 a single senior can earn at least $20,054 and a senior couple at least $40,109 before paying federal income tax.
Seniors and those who support them may also take advantage of tax credits, such as the disability tax credit, the medical expense tax credit, the caregiver credit, and the family caregiver tax credit, which, as I have mentioned, was introduced in economic action plan 2011 and came into effect in 2012.
In the same year our government enhanced the guaranteed income supplement, the GIS, for those seniors who rely almost exclusively on their old age security and the GIS and may therefore be at risk of experiencing financial difficulties. The measure provided a new top-up benefit of up to $600 annually for single seniors and $840 for couples, and is improving the financial security of more than 680,000 seniors across Canada.
Finally, let me add that new measures we have introduced recognize that the health of the Canadian economy ultimately depends on providing opportunities for a high quality of life for all Canadians. That is why economic action plan 2014 continues to implement the government's plan for jobs and growth by connecting Canadians with available jobs through helping them to acquire the skills that will get them hired or help them get better jobs; fostering job creation, innovation, and trade by keeping taxes low; reducing the tax compliance burden; continuing to provide Canadian businesses and investors with the market access they need to succeed in the global economy; and supporting families and communities by taking additional steps to protect Canadian consumers, keeping taxes low for families, and improving the safety of Canadians.
Keeping taxes low is an important element of our economic action plan. It helps Canadians succeed in the global economy through the creation of high-quality jobs and greater opportunities for success.
Economic action plan 2014 is the next chapter in our government's long-term plan to strengthen the Canadian economy in an uncertain world and create jobs and growth while keeping taxes low for families and businesses and balancing the budget in 2015.
Taken together, the measures our government has introduced since 2006 and those in economic action plan 2014 will continue to keep taxes low and help Canadians succeed in the global economy, creating jobs, growth, and long-term prosperity for all Canadians.
In the deliberations prior to my speaking, we talked a lot about the macro aspect of the minimum wage. A $5 increase over the Canadian average of $10 or $11 means a 50% increase. Divided over the five years that are recommended, that is a 10% increase a year. That is quite significant.
Let me address this issue from a micro point of view and as a former business owner for 20 years. If the minimum wage were to increase by 10% a year, I would not hire additional staff. I would not pass it. I would have to keep my costs down to run my business.