Chungsen Leung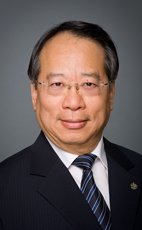 House of Commons photo
Track Chungsen
Your Say
Elsewhere
Crucial Fact
Conservative
MP for Willowdale (Ontario)
Won his last election, in 2011, with 41.70% of the vote.
Statements in the House
Canada-Honduras Economic Growth and Prosperity Act March 31st, 2014
Mr. Speaker, I wish to join my colleagues and voice my support for the Canada–Honduras free trade agreement.
I should also indicate that in my prior life I was in the business of doing business internationally, and Latin America was one of my areas of focus. It certainly has opened a whole new market for my business. I will also talk about what free trade would do for us.
Canada has always been a trading country. As an export-driven economy, Canada needs open borders. One in five Canadian jobs is related to exports, and that includes not just the export part of it, but also the transportation and communication. The fact is, we bring business people in and we also need transportation to go abroad.
Our bilateral regional trade agreements are essential to bringing continued prosperity to Canadians. This year, we celebrated the 20th anniversary of the North American Free Trade Agreement. NAFTA has provided a solid foundation for Canada's future prosperity. Canada continues to build on North American trade and competitiveness.
Only our Conservative government understands the importance and benefits of trade. Last fall, we announced that a historic agreement had been reached with the 28-member European Union.
The Canada–EU comprehensive economic and trade agreement, or CETA, is by far the most ambitious trade initiative Canada has ever negotiated. Once implemented, it will cover virtually all sectors and aspects of Canada–EU trade, from goods and services to labour mobility, investment, procurement, including sub-national procurement, and many regulatory matters.
With CETA, Canada will gain preferential access to the world's biggest market, with more than 500 million customers and a $17 trillion GDP. The potential benefits for Canada are tremendous. A joint Canada–EU study found that CETA could boost Canada's GDP by $12 billion annually and bilateral trade by 20 percent.
While the agreement with the EU will bring important benefits for Canada and Canadian companies, it would be short-sighted to focus exclusively on one area of the world. Canada's prosperity requires expansion beyond our borders into new markets for economic opportunities that serve to grow Canada's exports and investment.
On March 11, 2014, our Prime Minister and President Park of South Korea announced the conclusion of the negotiations for a Canada–South Korea free trade agreement, Canada's first free trade agreement in the fast-growing and dynamic Asia-Pacific region.
I might also add that in 1983, I represented a Canadian company exporting Canadian mass transit equipment to South Korea. It was a pleasure, indeed, a joy for me to see that 42 kilometres of that technology developed by us is now exported by Bombardier to South Korea.
In October 2012, Canada joined the multilateral Trans-Pacific Partnership, TPP, talks and bilateral negotiations are also well under way with Japan and India. Furthermore, during his first official visit to the region, the Prime Minister announced the launch of negotiations to expand and modernize the Canada–Israel free trade agreement.
Free trade agreements are but one tool that we have. Our negotiators are very active in every corner of the world, negotiating agreements that will benefit all Canadians. Canada currently has 25 foreign investment promotion and protection agreements in force; 15 additional concluded FIPAs and 10 ongoing FIPA negotiations. We continue to explore the possibility of FIPA negotiations with other commercial partners.
Since the introduction of Canada's blue sky policy in 2006, we have concluded new or expanded existing air transport agreements that now cover over 80 countries, facilitating the movement of Canadians and Canadian goods and services, and enhancing trade and investment relationships across all sectors. Canada has also been a key architect of international trade rules at the World Trade Organization, helping to establish principles of non-discrimination, transparency, and effective dispute settlement. Canada continues to welcome progress at the WTO, an organization that advances trade liberalization around the world.
Canada was an active participant in the negotiations leading up to the Bali declaration last December. This led to a new trade facilitation agreement, an agreement that will cut red tape and reduce border transaction costs for Canadian businesses, directly benefiting Canada's small and medium-size enterprises. It is estimated that this trade facilitation agreement could stimulate the world economy by up to $1 trillion and create as many as 20 million jobs worldwide.
Canada is also an active participant in the trade in services agreement currently being negotiated with 23 other countries representing 1.6 billion people and a combined GDP of more than $48 trillion.
Our government has made it a priority to diversify our international trade negotiations agenda and place increased focus on concluding regional and bilateral free trade agreements, such as the Canada-Honduras agreement that we are discussing today.
We need to be sure than we can compete. We cannot afford to hold back while our competitors are securing international trade deals. This is precisely why bolstering Canada's commercial relations in rapidly growing markets around the world, such as Honduras, is an important part of our plan for long-term prosperity.
The issue of competitiveness is also at the heart of why we need to implement our free trade agreement with Honduras. The U.S. and the EU already have free trade agreements with Honduras. How can we give our companies an edge if we do not even ensure they are on a level playing field?
Keeping pace with Canada's main competitors is just one reason we need to move forward on this deal. Both the 2013 Speech from the Throne and the budget made it clear that the government's top priority is to create jobs, growth, and long-term prosperity for all Canadians.
As Canada is an export-driven economy, international trade is fundamental to achieving this objective. One in five jobs are related to exports. Over 40,000 Canadian companies are global exporters, including global leaders in such sectors as aerospace and information and communications technology.
The Canada-Honduras free trade agreement is part of our efforts to liberalize trade with our partners in the Americas. The Americas offer great potential. Total merchandise trade between countries in the Americas and Canada, at $56.2 billion in 2012, has increased by 32% since 2007, and Canadian direct investment in the region, at $169 billion in 2012, has increased by 58% since 2007.
Our government recognizes that protectionist restrictions stifle our exporters and undermine Canada's competitiveness, in turn adversely affecting middle-class Canadian families.
Canada's Trade Commissioner Service already works with Canadian companies that are interested in doing business in Honduras, such as Gildan Activewear, Aura Minerals, and the Canadian Bank Note Company.
Once the free trade agreement is ratified, our trade commissioners will ensure that companies, in particular small and medium-sized enterprises, are aware of how they can benefit from the agreement and fully take advantage of greater stability, transparency, and protection in the Honduran market.
In addition to opening doors for Canadian companies and building our trade relationships, Canada is also committed to supporting Honduras in other ways. Canada and Honduras established diplomatic relations in 1961 and have a broad and diverse relationship driven by a wide range of links and collaboration, from political dialogue and commercial exchanges to people-to-people ties, as well as long-standing and substantial Canadian development co-operation.
We maintain an open dialogue with the Government of Honduras, as we believe that engagement, not isolationism, is the best way for us to help Honduras meet its challenges.
Thanks to these actions under our government's free trade leadership, Canada's workers, businesses, and exporters now have preferred access and a real competitive edge in more markets around the world than at any other time in our history.
Scouts Canada March 25th, 2014
Mr. Speaker, it is an honour for me to stand today to welcome Scouts Canada and l'Association des scouts du Canada who are in Ottawa today for their day on Parliament Hill.
Scouts is one of Canada's leading youth organizations for youth aged 5 to 26, offering programs for boys and girls in towns and cities across Canada. Scouts Canada has experienced successive years of significant growth. Today, Scouts Canada is a highly diverse, co-educational organization with over 100,000 members nationwide, representing many faiths and cultures. In addition to our two official languages, Scouts also offers programming in over 19 languages, reflecting Canada's multicultural landscape.
Scouts Canada is making itself known as the premier youth-serving organization in Canada. Scouting is both a program and a lifestyle. It has a positive impact on the lives of children and youth, focusing on the integrated physical, intellectual, emotional, social, and spiritual development of the individual. With leadership training starting at age 14, Scouts Canada is developing Canada's leaders of tomorrow.
I was a Scout for eight years, involved in Scouting programs in Taiwan, Japan, Canada, and the United States. Scouting certainly has enriched my life.
I ask all parliamentarians to rise today to recognize Scouts Canada and l'Association des Scouts du Canada's service to our nation. I wish to remind members to join us at the reception today at 5:30 p.m. in room 160-S.
Citizenship and Immigration February 28th, 2014
Mr. Speaker, in the immigration file, we do have a process for adoptions to come through and these are going through a normal process and we will have the department look into it.
Winter Olympic Games February 28th, 2014
Mr. Speaker, it is also my honour to congratulate our Canadian Olympic team for their incredible success at the 2014 Winter Olympic Games in Sochi, Russia.
Canadians from coast to coast to coast have witnessed excellence and are truly inspired by the performance of all of our great athletes. This is the result of years of hard work, skill, and dedication, qualities that we all aspire to and admire. Winning 10 gold, 10 silver and 5 bronze medals, Canada has proven to be a world power on the world Olympic stage and the Canadian Olympic team has captured the spirit and joy of all Canadians. The sense of pride that we all feel as a nation is incredibly monumental.
I am especially proud of the seven Torontonian athletes, who all competed with passion and professionalism. The diversity of our Canadian Olympians is truly inspirational. In 2018, we will look forward to sending our Canadian athletes to the next winter games in Pyeongchang, South Korea. This will be the third time in Olympic history that the winter games will be held in Asia.
Once again, congratulations Team Canada.
The Budget February 13th, 2014
Mr. Speaker, I would like to thank the member for recognizing the fact that I was a successful businessman. That is very helpful. It gives my speaking here in the House some credibility.
Prior to entering politics and prior to being a successful businessman, I spent over five years in public accounting, where I had the opportunity to audit companies. I audited small corner-grocery stores all the way up to publicly listed companies and multinationals.
When we do a budget, we do not look at hypothetical income coming in or hypothetical expenses. We forecast what expenses would be. We actually forecast what income would be coming in given the economic condition. The assets are then invested behind that. In a way, it is a very measured type of activity. We consult various departments, staff, and experts who give us the input we need. We also look at the entire international environment that we are doing business in.
The member mentioned something about a contingency fund. As prudent businessmen, we always put a contingency reserve on our balance sheets to ensure that we meet our budgets. The $3 billion contingency fund has been put in precisely for that, in order to be prudent and safe and to express to Canadians that we really know what we are doing when it comes to fiscal responsibility.
The Budget February 13th, 2014
Mr. Speaker, the economic cycle has its ups and downs. The last down cycle was in 2008, and if people had invested in the stock market they would have seen their stocks go down about 30%. Rather than using fairly draconian measures to bring the economy out of that down cycle, we have come up with a gradual way.
We cannot turn on a dime. A certain amount of time is needed to bring our budget to the country. These gradual changes are a steady method to make changes rather than making dramatic changes that would hurt the economy.
The Budget February 13th, 2014
Mr. Speaker, first I wish to indicate that I will be sharing my time with my colleague, the member for Nipissing—Timiskaming.
When I was a university student, one of the first words my professor in the economics department said was, "You cannot spend more than what you have taken in". Economics is a very simple science. We have to balance what we take in with what we spend.
A couple of days ago, the finance minister indicated very clearly that we need to achieve a balanced budget and that it will be done through job creation, economic growth, and ensuring the long-term prosperity of Canada.
Let me also explain to members opposite, if they do not understand, microeconomics and macroeconomics. Microeconomics has to do with one's basic household budget. We cannot spend more than we earn. Businesses also cannot spend more than they earn, or else they go bankrupt.
I have served in public companies in the past. I have had to stand in front of my shareholders every year to explain the company's strategy to achieve a balanced budget and to put it in a profitable position year after year.
I think the minister has done an excellent job outlining to the nation, to corporate Canada, if we treat Canada as a corporation, in a macroeconomic sense, that we cannot spend more than we take in. I think that is the basic lesson we have to learn about the economy of this country.
In this balanced budget, there is another side that is not being explained at all by the members of the opposition. I do not think they quite understand the concept of assets and liabilities.
The country's assets are our human resources, our natural resources, and our ability to educate our youth so that they can carry on building this nation. Where we cannot internally generate these assets or wealth, we could have policies to bring in immigrants, entrepreneur immigrants, or we could set the most favourable, business-friendly conditions in Canada to attract those types of assets to Canada.
On the liability side, we have to spend in a measured way so that we do not overspend what we have. We can argue that, yes, we can sometimes, in a stimulus way, spend a little bit more, as we did in 2008-09, by borrowing from the future. However, at the end of the day, we have to balance the budget. That is absolutely key to the long-term survival of the economy of this country.
Let me drill down a bit to help my friends across the way understand what is needed to maintain these sustainable economic conditions.
We need to create a business-friendly environment. We need to have safe families. We need to have safe communities. We need to have healthy families. We need to educate our youth from day one until the point that they can contribute to our society. We need to have a stable government. We cannot be changing a government every year or every two years, as we have witnessed in Italy or in Thailand, where in the last 50 years, they have had 30 changes of government. That is not a stable economy for a business-friendly environment.
We need to attract direct foreign investment. Some tools the government has to attract direct foreign investment are low taxes and an investment-friendly environment so that foreign business will say that Canada is a great place to do business, and they will come here and invest.
Let me share something about Canada's tax system. Since the Conservatives have been in power, we have reduced taxes 160 times, from consumption taxes to corporate taxes and just about every kind of tax we can think of.
Our general federal corporate tax in Canada is 15%. This is probably one of the lowest of the G7 and, as a matter of fact, it is the lowest in the world. I used to do business in Hong Kong, where the corporate tax rate is 16.5%. We are even lower than Hong Kong.
Bloomberg and the IMF have agreed that Canada is now one of the best places to do business. We provide our labour, our families, with a very generous universal health system. We have one of the best education systems, which attracts hundreds of thousands of international students, also benefiting our economy.
As far as stimulus to our small and medium-size enterprises, which are the backbone of our economy, our tax rate for businesses under $500,000 is about 11%. I cannot think of a country with that generous a tax regime.
Something that we talk about a lot, and the member opposite alluded to, is the government spends $1 and it generates a 50% more multiplier effect. There are many ways to look at this multiplier effect. In a business sense, if we look at the accelerated capital cost allowance, Canada has a very generous accelerated capital cost allowance. This allows businesses to modernize and to upgrade their equipment so they can be competitive in the 21st century.
We have mineral exploration credits so we could have these minerals more effectively explored and then sell them as products around the world. We have scientific research and development credits that assist our corporations to engage in research and innovation and eventually to take that quantum leap from innovation to commercialization. All of these we have to do effectively with the multiplier effect of our generous tax credit.
Opposition members seem to imply that our government is not compassionate with our spending policy. That is totally wrong. Let me share some of the examples where we are totally compassionate on this side.
We have the arts credit to encourage our youth to participate in the arts and to develop their literary and musical side. We have a fitness credit to encourage Canadians to be fit. We have a mass transit credit to encourage Canadians to use mass transit to reduce pollution in our environment. We have a live-in caregiver credit to allow seniors to live a dignified life in their own homes so they are not ending up in hospitals, old age homes, or totally alone. We have disability credits of many sorts that assist people who are hard of hearing, sight-impaired, and with other disabilities. All of these are totally compassionate measures of our government to recognize the needs of our citizens.
In the budget we also introduced the search and rescue volunteer credit to recognize the good work volunteers do in our society. There is also the adoption expense credit. We recognize that in today's world, many families are unable to have children, so we propose to reduce their adoption costs. There is also the medical expense credit.
The opposition also mentioned the immigrant investment program that we propose to delete. The immigrant investment program as it has existed for 30 years has not worked. At $800,000 it brings in only jobs like convenience stores, dry cleaners, and small grocery stores. These do not work. We will implement a new investor immigrant venture capital fund that would bring money into Canada and we would treat it almost like the CBC's Dragon's Den.
All the economic elements are there for a balanced budget.
Lunar New Year January 30th, 2014
Mr. Speaker, today is the last day of the Year of the Snake in the lunar calendar. Tomorrow, we welcome the Year of the Horse.
The lunar new year has become one of the most widely celebrated holidays in Canada, as millions of Canadians, including those of Chinese, Vietnamese, and Korean heritage, gather with family and friends to ring in the new year this evening. Many communities will put on events featuring lion and dragon dances, giving out red envelopes of lucky money, and enjoying multi-course meals. I encourage all Canadians to participate in these festivities and share in the diversity of our multicultural communities.
According to the Chinese zodiac, each one of the 12 years is dedicated to a specific animal and this year, it is the Year of the Horse. People born in the Year of the Horse are said to be energetic, active, hardworking, and elegant.
On behalf of the government, I wish all Canadians a happy, healthy, and prosperous Year of the Horse.
[Member spoke in Mandarin as follows:]
Xin nian kuai le.
And in Cantonese:
[Member spoke in Cantonese as follows:]
Sun nien fai lok.
Business of Supply December 9th, 2013
Mr. Speaker, if we take this money out of circulation in the economy, it hurts jobs. From an employer's standpoint, it is an additional cost of doing business. It would basically defer all of this to a future point. Therefore, if we put it in the hands of a pooled registered pension plan, it can in turn invest in the economy and make the economy grow and prosper.
Business of Supply December 9th, 2013
Mr. Speaker, again, I speak from my experience as a former business owner. When one has only a handful of employees, it is very hard to approach an insurance company and ask it to provide a pension plan. If I remember correctly, with a contribution of $20,000 to $40,000, one cannot make a pension plan out of that. One needs to have an annual contribution of almost a quarter of a million dollars or upwards in order to do that.
What the government is implementing is a pooled registered pension plan. It would be a regulated plan whereby the criteria for investment and so on would be regulated much like a bank or an insurance company. It would be portable so that as one moves in and out of jobs, or for a small business owner or the self-employed, the savings would be there and managed on a path to growth.