Colin Mayes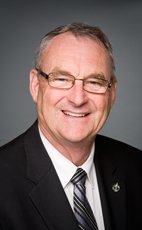 House of Commons photo
Track Colin
Your Say
Elsewhere
Crucial Fact
His

favourite word

is witnesses.
Conservative
MP for Okanagan—Shuswap (B.C.)
Won his last election, in 2011, with 55.40% of the vote.
Statements in the House
Respecting Families of Murdered and Brutalized Persons Act September 16th, 2014
Mr. Speaker, I thank all my colleagues on both sides of the House for their comments. I appreciate them. This is the great thing about our democracy. We have open debate and discuss the issues that concern our citizens. I am also very thankful that I belong to a party that allows backbenchers like me to bring forward issues from my constituents in a private member's bill.
As a person of deep faith, I had some challenges when I first looked at the bill, because my faith is based on confession, repentance, and forgiveness, but I came to the realization that my compassion should not trump justice for the victims.
I talked to a woman in my riding, a wonderful person, Marie Van Diest, who had twin daughters, and one of her daughters was murdered on the rail tracks in Armstrong. When she came to see me to talk to me about justice, she said that she just wanted life to mean life. She did not want to go through parole hearings. She said she was young, and 25 years from now she would still be young, and she did not want to hear this over and over every second year. I came here to represent her, because I agreed with what she had to say.
All the organizations that support victims of crime in this country have come out in support of the bill. I attended a justice round table in Kamloops, and every member around the table was very supportive of the bill.
I am pleased to be here for the second hour of the debate on this private member's bill, and I do thank my colleagues for their comments.
Once again, I thank the member for Selkirk—Interlake for initiating Bill C-587, an act to amend the Criminal Code (increasing parole ineligibility) as Bill C-478 back in February 2013. My bill has merit and will provide guidance and accommodation to our judiciary to further protect victims of violent crimes. This is about victims, not the offenders. My bill would support Bill C-32 in recognition of victims' rights and in protecting victims from the pain they would have to endure as they listened to parole hearings time and time again.
My colleague suggested the Norwegian model. I agreed with that, and we do that in our system, but the victims of crimes do not want to hear that over and over again. They have a healing period of 25 years. They do not want to go through opening up those wounds and reliving the tragedy they experienced in their lives 25 years previously.
The bill targets sadistic murderers. These sadistic criminals have never been granted parole, yet the families of the victims still face parole hearings every two years, reliving once again the tragedies of their loved ones. The bill seeks to extend the parole ineligibility period for those convicted of abduction and heinous and brutal acts of violent or sexual assault ending in the murder of an individual.
Once a parole hearing has been given and denied, almost the whole process starts over again. Making murderers ineligible for parole for up to a maximum of 40 years could save families approximately eight unnecessary parole hearings.
Why does the bill ask for a maximum of 40 years before a parole hearing is allowed? Murder is 25 years without parole. Abduction faces a maximum of 10 years, and sexual assault a maximum of 4.6 years. My bill would empower the courts with the ability to increase parole ineligibility when sentencing individuals who abducted, sexually assaulted, and killed our loved ones from the current 25 years up to a maximum of 40 years.
I am hopeful that the bill will pass second reading and be sent to the justice committee for further comment and further study, but I thank all those who have contributed, and I appreciate the opportunity to present the bill to this House.
Business of Supply September 16th, 2014
Mr. Speaker, that is an interesting prospect.
Quite frankly, if you look at the challenges or even the dynamics in the province of British Columbia, which I am from, it is interesting that the economy of what we call the mainland of Vancouver and Victoria Island areas are quite a bit different than the rural areas of the interior. This is always a challenge that we have in our province.
The fact is that the housing costs in Vancouver and in the mainland are significantly higher than those of the interior. So there are adjustments, and you actually do see the pay levels of a lot of the employees, especially in the private sector, being somewhat lower in the rural area simply because of those contributing factors of the cost of living.
I definitely think it is important that we allow those decisions to be made by the provinces.
Business of Supply September 16th, 2014
Mr. Speaker, the challenge that we have in a country as large as Canada is the fact that there are regional pockets of economy. The economy of the Atlantic provinces is quite different than the economy that is happening in Alberta. They call it the job "market" for a reason. It is because when there is high demand the wages go up, when there is low demand the wages are lower. That is just because of the demand. Therefore, it would skew the economies of those areas where there are some challenges with the economy and job opportunities. This is why it is important to allow the provinces to make these adjustments, because they understand the dynamics of their regions and can adjust that minimum wage to reflect the actuality of the economy that is in their region.
Business of Supply September 16th, 2014
Mr. Speaker, I will be splitting my time with the member for Brandon—Souris.
I am pleased to have the opportunity to participate in the discussion of the motion put forward by the hon. member for Rosemont—La Petite-Patrie, proposing that the federal minimum wage be raised. For a number of very good reasons already mentioned, I do not support the motion. Not the least of those reasons is the simple fact that since 1996, the federal minimum wage has been paid to the provincial and territorial minimum wage in which the employee is working, so why should we change it now so that employees in the federal jurisdiction can have a higher minimum rate of pay than those in the provincial areas of jurisdiction?
The opposition's argument is that increasing the rate on the federal side will make the provincial governments fall into line and raise their rates to catch up, but the federal government cannot just tell the provincial governments to raise their minimum rates, nor can we be certain that the provinces would follow suit if the federal rate were raised. That is an area of provincial jurisdiction.
Perhaps more important is the fact that the greater expertise in the area, particularly with respect to knowledge and understanding of local and regional conditions, lies with the provincial governments. In fact, provincial governments, for the most part, closely study and analyze the whole range of local and regional issues, including poverty levels, unemployment rates, job opportunities, average wage levels, and so on, before making changes to the minimum wage level.
Hon. members may know that over the past few years all provinces and territories have increased their minimum wage rates, in many cases after reviews by minimum wage boards or independent experts. In fact, several provinces have legislation stating that minimum wages must be reviewed every one or two years. Even those provinces without legislative requirements tend to adjust their minimum wage rates on a regular basis. In fact, Newfoundland and Labrador, Prince Edward Island, Manitoba, and Saskatchewan have all announced that they will increase their minimum wage on October 1, 2014. A recent Statistics Canada study has shown that the average growth in the minimum wage across Canada in the past decade has outstripped the rate of inflation.
I also want to point out that increasing minimum wage levels is not the only tool, and not a particularly sharp one, that governments can use to help low-income individuals and families to improve earnings and their standards of living. On the federal government side, these tools include billions of dollars in benefits given to individuals and families every year. I am referring to programs like the Canada child tax benefit; the Canada pension plan; the guaranteed income supplement; the EI program; maternity, parental, sickness and compassionate care benefits; the GST/HST credit for those with low incomes, and many more.
I list these few examples just to make the point that there is a great deal more to how we support and protect Canadian workers and families than just a band-aid short-term stunt adjusting the minimum wage. Economic growth and job creation, the top priorities of this government, are what have helped us build a strong and growing economy. They are what will continue to sustain us in the years ahead. Indeed, we are doing much better in that regard than many of our trading partners.
Since the recession a few years ago, we have had steady job growth, low interest rates, and growth rates that are the envy of many other countries. We believe that getting the economic essentials right will continue to keep us on the right track for even greater levels of prosperity and growth in the years to come.
As we all know, the best way to help improve Canadian workers' income is through the creation of good, well-paying jobs. One good example of how we can make adjustments to improve economic prospects is the recent announcement by the Minister of Finance of the small business job credit. This new credit will effectively lower EI premiums for small businesses by 15% over the next two years. According to the Canadian Federation of Independent Business, the credit will create 25,000 person-years of employment.
The minister also confirmed that in 2017, EI premiums would go down from the current $1.88 per $100 of earnings to $1.47 per $100 of earnings. This is excellent news for both workers and small business employers.
Our government will also continue to make specific changes and adjustments to a variety of programs to support workers and their families. Chief among them is making sure that all workers who come under federal jurisdiction have a safe and healthy workplace, equal opportunity for hiring and advancement, and the right to engage in a fair and balanced bargaining process.
Since being sworn in, our government has steadily increased occupational health and safety protections and improved working conditions for all employees under federal jurisdiction. This government implemented the wage earners protection program that protects the wages, vacation pay, severance pay and termination pay owing to workers whose employers go bankrupt or into receivership. This government brought in the Keeping Canada's Economy and Jobs Growing Act, which changed the Canada Labour Code to ensure employees who lose their jobs cannot be deprived of severance pay just because they happen to be entitled to a pension. This government brought in the Helping Families in Need Act that allows employees under federal jurisdiction to take unpaid leave in many different circumstances to care for their families. It also provides for flexibility for parents who need to interrupt their maternity and paternity leave for different reasons.
All of this is to say that we have offered assistance to low-income Canadians as a topic that is broader and much larger than just a discussion of minimum wage levels. Therefore, I urge all members to consider this and all of the other issues that I have mentioned and vote against the motion.
Economic Action Plan 2014 Act, No. 1 June 5th, 2014
Mr. Speaker, I live in the north Okanagan and it is right next door to the beautiful recreation facilities in Revelstoke. Of course there is a lot of snow machining going on there, but there is a risk of avalanche. There are people working in search and rescue who do a great job volunteering to look for people who may have been lost in the back woods. This tax credit says that we value the efforts that they make as volunteers for the community and the good of their fellow man. I think that is a good thing for government.
It is just another way of our government proving that we have a heart, to appreciate those who give of themselves to help their fellow man. It is a privilege. We did it first with the volunteer firefighters, for example. They really did appreciate it and that is what makes communities operate. They do not operate on government, they operate on community spirit. We are glad to be there to help them out with that.
Economic Action Plan 2014 Act, No. 1 June 5th, 2014
Mr. Speaker, I think the member needs to repent and come on board, but I would have to talk a little longer. The reason there is so much in the budget is because we have budget consultations right across Canada. We listen to Canadians and we hear what they say and they say a lot. We try to incorporate as much as we can of what their priorities are in the budget.
When we talk about the employer tax credit, the fact is that the number one priority we heard from employers is that we need people trained and we need to have skills training to happen in the country. We cannot do everything. This is a budget and we have only a certain amount of money because we do want to balance the budget. We looked at the priorities we felt the money should be spent on at this time in accordance with the priorities of businesses, to have people trained. That is why there is such a huge investment in our Canada job grant.
Obviously, there could be more in the budget, but the member complained about the size of the budget. It is the size that it is because we responded to so many of the priorities that Canadians put forward to our government.
Economic Action Plan 2014 Act, No. 1 June 5th, 2014
Mr. Speaker, I am grateful for the opportunity to discuss Bill C-31 at report stage. The bill proposes to implement certain measures from economic action plan 2014.
Today's bill focuses on the drivers of growth and job creation, which are innovation, education, skills and communities. They are underpinned by our ongoing commitment to keep taxes low and returning to a balanced budget by 2015.
In an uncertain global economy, our government's top priority is creating jobs and economic growth by building on our economic action plan, a plan that has worked and served Canadians well.
Evidence of that success is all around us. Since we introduced the economic action plan to respond to the global recession, Canada has recovered more than all of the output in all of the jobs lost during the recession.
The Canadian economy has posted one of the strongest job creation records in the G7 over the recovery. With more than one million jobs created since July, 2009, most have been full-time jobs.
Canada's GDP is now 7.6% above our pre-recession peak. Not only that, but the Parliamentary Budget Officer confirms that our government has put $30 billion in tax relief back into Canadian pockets, benefiting low-middle income families the most.
The middle class has particularly benefited from a reduction in the GST, which we cut from 7% to 6% to 5%. Under our Conservative government, the average family of four will save nearly $3,400 in taxes this year.
It is clear that Canadian families are benefiting from our low tax plan, with their net worth up over 44%. Even The New York Times says that Canada has the most affluent middle class in the world.
This economic resilience reflects the actions that our government took before the global crisis by lowering taxes, paying down debt, reducing red tape and promoting free trade and innovation. However, this is still an uncertain global economic environment, and it is crucial that we strengthen Canada's economic action plan. That is exactly what we would do with today's legislation.
First, Bill C-31 proposes to increase existing tax support for Canadians who take on the responsibility of adopting a child. As a parent, I believe there is no higher calling than raising a child, and no reward is equal. Canadians who have children deserve the government's full support, particularly when it comes to recognizing some of the additional costs borne by adoptive parents.
While all parents incur costs in raising children, there are additional expenses that adoptive parents face, including travel, adoption agency fees and legal fees. These charges can be significant, especially in the case of children who are adopted from outside of Canada. As a result, adopting a child can be a long and costly process.
While an adoption expense tax credit has existed for a while, some new and future parents were telling us that it did not cover enough of the expenses. We heard their concern. That is why our government, through economic action plan 2014, acted by proposing to enhance the tax credit to support these parents even more.
To provide further tax recognition of adoption-related expenses, Bill C-31 proposes to increase the maximum amount of the adoption expense tax credit from $11,774 to $15,000 in expenses per child for 2014. This amount will continue to be indexed for inflation for subsequent years.
My colleague from Essex did a lot of hard work on this initiative in our budget. He has adopted two children himself. As a grandfather of two boys who my oldest daughter adopted from Haiti, I wish this had been in place when she adopted our two 11-year-old grandsons. It would have been a great benefit to them, because it is a costly process.
Our Conservative government is listening to Canadians who want to have children but, unfortunately, are unable to. We are accommodating them and making it easier for them.
At the same time, our government is committed to ensuring that the tax system reflects the evolving nature of the health care system and the health care needs of Canadians. We all use the health care system, and we want it to remain strong and sustainable so that it is there for Canadians when they need it.
In fact, under our government, health care transfers are at an all-time high of over $20 billion from when we formed government, and over $32 billion this year and growing. Unlike the old Liberal government, we have not cut funding to provinces for health care. Under our funding formula, health care transfers will grow, but in a sensible and sustainable way. We will keep growing health care funding to ensure Canadian families can depend on our health care system today and in the future.
Moreover, we recognize that there are external costs, like out-of-pocket health care costs that Canadians have been paying for, such as for service animals. That is why in Bill C-31 we have proposed to expand the list of eligible expenses under the medical expense tax credit. The expanded list would include costs associated with service animals specially trained to assist individuals with severe diabetes, such as diabetes alert dogs.
Not only that, today's legislation also focuses on connecting Canadians with available jobs by helping them to acquire the skills that will get them hired or help to get them better jobs. By ensuring that federal funding responds to the hiring needs of employers and by giving them the opportunity to participate meaningfully as partners in skills training, the Canada job grant would transform skills and training in Canada. The greatest resource in any country is its people, and we recognize that. We are continuing to help people be all that they can be and to contribute to the economy of this country.
The Canadian job grant could provide up to $15,000 per person for training costs, including tuition and training materials, which includes up to $10,000 in federal contributions with employers contributing, on average, one-third of the total cost of training. After consulting extensively with employers and provinces on the design of the grant, Canadians would be able to take advantage of it by July 1 of this year. It would offer them real support toward improved employment and earning prospects.
As important as this milestone is, economic action plan went one step further by creating the Canada apprentice loan to help registered apprentices with the cost of their training. It would do so by expanding the Canada student loans program to provide apprentices registered in Red Seal trades with access to over $100 million in interest-free loans each year.
Economic action plan 2014 also introduces the flexibility and innovation in the apprenticeship technical training pilot project to expand the use of innovative approaches to apprentice technical training. With this initiative, we are continuing to work with provinces and territories to harmonize apprenticeship systems and to reduce barriers to certification in the skilled trades so that apprentices can more easily work and train where the jobs are.
In conclusion, I trust that my comments have convinced hon. members that these measures from economic action plan contained in this bill meet the government's goal of not only improving the quality of life for Canadians, but also creating jobs, growth, and long-term prosperity for all Canadians.
It also proves, in some of the measures that I have mentioned, that this bill has a heart to help those families in Canada to have children and to be all that they can be in the future. I trust that all members in this House will quickly pass this bill.
Respecting Families of Murdered and Brutalized Persons Act May 30th, 2014
Mr. Speaker, I thank the member for his support.
When we look at the bill, we see we are talking about very violent, heinous crimes, things that are done to our fellow human beings that are just grotesque and offensive. I do not think it serves justice well to have to go through that as a victim, a relative, or part of a family over and over again.
Today, as we are living longer, 25 years is really not a long time. People are living into their eighties and nineties. A young mother and father whose children were murdered might only be in their fifties and have to live through this over and over. That is the sense of this bill that is being brought forward. It is to protect those folks from having to relive that, because in 25 years, they think they are healed, and then all of a sudden, they have to come to a parole hearing and hear it again and open up those wounds. It just prolongs the healing the families have to go through.
Respecting Families of Murdered and Brutalized Persons Act May 30th, 2014
Mr. Speaker, I apologize. I should have known that.
It would support that bill in the sense that it is just another step to recognizing victims' rights and to protecting victims from this type of pain, which they would have to endure, listening to parole hearing after parole hearing. It would complement the initiative by Bill C-32.