Colin Mayes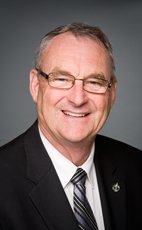 House of Commons photo
Track Colin
Your Say
Elsewhere
Crucial Fact
His

favourite word

is witnesses.
Conservative
MP for Okanagan—Shuswap (B.C.)
Won his last election, in 2011, with 55.40% of the vote.
Statements in the House
Economic Action Plan 2014 Act, No. 1 June 5th, 2014
Mr. Speaker, I live in the north Okanagan and it is right next door to the beautiful recreation facilities in Revelstoke. Of course there is a lot of snow machining going on there, but there is a risk of avalanche. There are people working in search and rescue who do a great job volunteering to look for people who may have been lost in the back woods. This tax credit says that we value the efforts that they make as volunteers for the community and the good of their fellow man. I think that is a good thing for government.
It is just another way of our government proving that we have a heart, to appreciate those who give of themselves to help their fellow man. It is a privilege. We did it first with the volunteer firefighters, for example. They really did appreciate it and that is what makes communities operate. They do not operate on government, they operate on community spirit. We are glad to be there to help them out with that.
Economic Action Plan 2014 Act, No. 1 June 5th, 2014
Mr. Speaker, I think the member needs to repent and come on board, but I would have to talk a little longer. The reason there is so much in the budget is because we have budget consultations right across Canada. We listen to Canadians and we hear what they say and they say a lot. We try to incorporate as much as we can of what their priorities are in the budget.
When we talk about the employer tax credit, the fact is that the number one priority we heard from employers is that we need people trained and we need to have skills training to happen in the country. We cannot do everything. This is a budget and we have only a certain amount of money because we do want to balance the budget. We looked at the priorities we felt the money should be spent on at this time in accordance with the priorities of businesses, to have people trained. That is why there is such a huge investment in our Canada job grant.
Obviously, there could be more in the budget, but the member complained about the size of the budget. It is the size that it is because we responded to so many of the priorities that Canadians put forward to our government.
Economic Action Plan 2014 Act, No. 1 June 5th, 2014
Mr. Speaker, I am grateful for the opportunity to discuss Bill C-31 at report stage. The bill proposes to implement certain measures from economic action plan 2014.
Today's bill focuses on the drivers of growth and job creation, which are innovation, education, skills and communities. They are underpinned by our ongoing commitment to keep taxes low and returning to a balanced budget by 2015.
In an uncertain global economy, our government's top priority is creating jobs and economic growth by building on our economic action plan, a plan that has worked and served Canadians well.
Evidence of that success is all around us. Since we introduced the economic action plan to respond to the global recession, Canada has recovered more than all of the output in all of the jobs lost during the recession.
The Canadian economy has posted one of the strongest job creation records in the G7 over the recovery. With more than one million jobs created since July, 2009, most have been full-time jobs.
Canada's GDP is now 7.6% above our pre-recession peak. Not only that, but the Parliamentary Budget Officer confirms that our government has put $30 billion in tax relief back into Canadian pockets, benefiting low-middle income families the most.
The middle class has particularly benefited from a reduction in the GST, which we cut from 7% to 6% to 5%. Under our Conservative government, the average family of four will save nearly $3,400 in taxes this year.
It is clear that Canadian families are benefiting from our low tax plan, with their net worth up over 44%. Even The New York Times says that Canada has the most affluent middle class in the world.
This economic resilience reflects the actions that our government took before the global crisis by lowering taxes, paying down debt, reducing red tape and promoting free trade and innovation. However, this is still an uncertain global economic environment, and it is crucial that we strengthen Canada's economic action plan. That is exactly what we would do with today's legislation.
First, Bill C-31 proposes to increase existing tax support for Canadians who take on the responsibility of adopting a child. As a parent, I believe there is no higher calling than raising a child, and no reward is equal. Canadians who have children deserve the government's full support, particularly when it comes to recognizing some of the additional costs borne by adoptive parents.
While all parents incur costs in raising children, there are additional expenses that adoptive parents face, including travel, adoption agency fees and legal fees. These charges can be significant, especially in the case of children who are adopted from outside of Canada. As a result, adopting a child can be a long and costly process.
While an adoption expense tax credit has existed for a while, some new and future parents were telling us that it did not cover enough of the expenses. We heard their concern. That is why our government, through economic action plan 2014, acted by proposing to enhance the tax credit to support these parents even more.
To provide further tax recognition of adoption-related expenses, Bill C-31 proposes to increase the maximum amount of the adoption expense tax credit from $11,774 to $15,000 in expenses per child for 2014. This amount will continue to be indexed for inflation for subsequent years.
My colleague from Essex did a lot of hard work on this initiative in our budget. He has adopted two children himself. As a grandfather of two boys who my oldest daughter adopted from Haiti, I wish this had been in place when she adopted our two 11-year-old grandsons. It would have been a great benefit to them, because it is a costly process.
Our Conservative government is listening to Canadians who want to have children but, unfortunately, are unable to. We are accommodating them and making it easier for them.
At the same time, our government is committed to ensuring that the tax system reflects the evolving nature of the health care system and the health care needs of Canadians. We all use the health care system, and we want it to remain strong and sustainable so that it is there for Canadians when they need it.
In fact, under our government, health care transfers are at an all-time high of over $20 billion from when we formed government, and over $32 billion this year and growing. Unlike the old Liberal government, we have not cut funding to provinces for health care. Under our funding formula, health care transfers will grow, but in a sensible and sustainable way. We will keep growing health care funding to ensure Canadian families can depend on our health care system today and in the future.
Moreover, we recognize that there are external costs, like out-of-pocket health care costs that Canadians have been paying for, such as for service animals. That is why in Bill C-31 we have proposed to expand the list of eligible expenses under the medical expense tax credit. The expanded list would include costs associated with service animals specially trained to assist individuals with severe diabetes, such as diabetes alert dogs.
Not only that, today's legislation also focuses on connecting Canadians with available jobs by helping them to acquire the skills that will get them hired or help to get them better jobs. By ensuring that federal funding responds to the hiring needs of employers and by giving them the opportunity to participate meaningfully as partners in skills training, the Canada job grant would transform skills and training in Canada. The greatest resource in any country is its people, and we recognize that. We are continuing to help people be all that they can be and to contribute to the economy of this country.
The Canadian job grant could provide up to $15,000 per person for training costs, including tuition and training materials, which includes up to $10,000 in federal contributions with employers contributing, on average, one-third of the total cost of training. After consulting extensively with employers and provinces on the design of the grant, Canadians would be able to take advantage of it by July 1 of this year. It would offer them real support toward improved employment and earning prospects.
As important as this milestone is, economic action plan went one step further by creating the Canada apprentice loan to help registered apprentices with the cost of their training. It would do so by expanding the Canada student loans program to provide apprentices registered in Red Seal trades with access to over $100 million in interest-free loans each year.
Economic action plan 2014 also introduces the flexibility and innovation in the apprenticeship technical training pilot project to expand the use of innovative approaches to apprentice technical training. With this initiative, we are continuing to work with provinces and territories to harmonize apprenticeship systems and to reduce barriers to certification in the skilled trades so that apprentices can more easily work and train where the jobs are.
In conclusion, I trust that my comments have convinced hon. members that these measures from economic action plan contained in this bill meet the government's goal of not only improving the quality of life for Canadians, but also creating jobs, growth, and long-term prosperity for all Canadians.
It also proves, in some of the measures that I have mentioned, that this bill has a heart to help those families in Canada to have children and to be all that they can be in the future. I trust that all members in this House will quickly pass this bill.
Respecting Families of Murdered and Brutalized Persons Act May 30th, 2014
Mr. Speaker, I thank the member for his support.
When we look at the bill, we see we are talking about very violent, heinous crimes, things that are done to our fellow human beings that are just grotesque and offensive. I do not think it serves justice well to have to go through that as a victim, a relative, or part of a family over and over again.
Today, as we are living longer, 25 years is really not a long time. People are living into their eighties and nineties. A young mother and father whose children were murdered might only be in their fifties and have to live through this over and over. That is the sense of this bill that is being brought forward. It is to protect those folks from having to relive that, because in 25 years, they think they are healed, and then all of a sudden, they have to come to a parole hearing and hear it again and open up those wounds. It just prolongs the healing the families have to go through.
Respecting Families of Murdered and Brutalized Persons Act May 30th, 2014
Mr. Speaker, I apologize. I should have known that.
It would support that bill in the sense that it is just another step to recognizing victims' rights and to protecting victims from this type of pain, which they would have to endure, listening to parole hearing after parole hearing. It would complement the initiative by Bill C-32.
Respecting Families of Murdered and Brutalized Persons Act May 30th, 2014
moved that Bill C-587, An Act to amend the Criminal Code (increasing parole ineligibility), be read the second time and referred to a committee.
Mr. Speaker, it is an honour to present my private member's bill in the House today regarding this issue. I would like to take time to thank the member for Selkirk—Interlake for initiating this bill as Bill C-478 in February 2013. The member was unable to forward the bill at that time and is now excluded from doing so. I am more than willing to champion this bill as it has merit and would provide guidance and accommodation to our judiciary to further protect victims of violent crimes.
Today my bill, Bill C-587, would amend section 745 of the Criminal Code to provide that a person convicted of an abduction, sexual assault, and murder of the same victim in respect of the same event or a series of events would be sentenced to imprisonment for life without eligibility for parole until the person had served a sentence of between 25 years and 40 years, as determined by the presiding judge after considering the recommendations, if any, of the jury.
My bill is targeting sadistic murderers. Sadistic criminals convicted of such crimes are never granted parole, thus the hearings are unnecessary and extremely painful for the families to endure. This bill is modelled on Bill C-48, passed in 2011 with the support of the NDP. It amended the Criminal Code with respect to parole inadmissibility for offenders convicted of multiple murders. Because of Bill C-48 receiving royal assent, Travis Baumgartner, the former armoured car guard who shot four of his co-workers, three of them fatally, in a robbery on the University of Alberta campus in June 2012, was sentenced to life in prison with no chance of parole for 40 years.
My bill seeks to extend the parole ineligibility period for those convicted of the abduction, heinous acts of sexual assault and murder of an individual, as did Bill C-48 for multiple murderers. My bill would spare families and loved ones of murder victims from being re-traumatized by repeated parole hearings.
Families of those whose lives have been lost or severely damaged may go through many emotions, namely, shock, horror, physical and emotion pain, nightmares, heartbreak, sorrow, grief, stress, sadness, anger, rage, and may end up distrusting of our social values. To have to go through this over again at a parole hearing is cruel, to say the least.
The seriousness of offences set out in the bill would ensure that the parole ineligibility period would only be applied in cases of the murderer's lack of remorse and where the act of violence would be a heinous and brutal act of violence or sexual assault ending in murder. Allowing for judicial discretion and not a mandatory minimum sentence would ensure charter compliance.
Bill C-587 is focused on preventing the unnecessary agony and trauma of parole hearings for victims' families. The bill would spare the families of victims from having to attend unnecessary parole hearings every two years after the offender's 25-year sentence expired. Making murderers ineligible for parole for 40 years could save families up to eight unnecessary parole hearings.
I want to empower our courts with the ability to increase parole ineligibility when sentencing individuals who have abducted, sexually assaulted and killed our innocent and vulnerable, from the current 25 years up to a maximum of 40 years. Currently, any Canadian convicted of both first and second degree murder is given an automatic life sentence. However, the provisions rarely have put an offender in jail for longer than 25 years, the time at which first degree murderers are eligible for parole.
Darlene Prioriello, age 16, was murdered May 6, 1982, by David James Dobson. She was abducted by Dobson at a Mississauga bus stop. She was raped and mutilated, and suffered a slow, agonizing death. Dobson was convicted of first degree murder and sentenced to life in prison on April 11, 1983. He was scheduled for the first parole hearing in March 2007, but he rescheduled it, causing the Prioriello family much agony since it had to prepare for the emotional day over and over again. In April 2007, he was denied parole.
Daryn Johnsrude, age 16, was murdered on April 21, 1981, by Clifford Olson. Olson applied for parole in 1997, 2006 and in 2010, and was swiftly denied parole every time. Daryn was brutally raped, tortured and killed. He was one of 11 victims murdered by Olson; three of the victims were boys and eight were girls. All were between the ages of nine and 18.
Olson, while in prison, tried to cause the victims' families as much suffering as he could by sending graphic, detailed letters to Daryn's parents, explaining what he had done to their son. He also once sued Daryn's parents for calling him a pedophile. Olson also tried to sell memorabilia online, and made a dozen videos of how to abduct children.
This constant reminder of Olson's cruelty made it very difficult for the families to have any kind of peace or closure. Daryn's mother said, "The only thing more bizarre than Olson's antics is the system that gives him a right to a parole hearing".
Janet and Karen Johnson, aged 13 and 11, were murdered by David Shearing, aka David Ennis, in August 1982, as were their grandparents and parents. He had parole hearings in 2008 and 2012, and was denied parole each time.
Linda Bright, aged 16, was murdered in 1978 by Donald Armstrong. He has applied for parole hearings numerous times, and then has always cancelled at the last moment. The most recent time was in March 2012.
This bill is all about saving the victims' families from having to go through the agony of attending unnecessary and traumatic parole hearings. My bill would give the judge the discretionary powers to make a recommendation to the jury and also in the sentencing process to award a period of parole ineligibility that would be increased from 25 years up to 40 years.
In my riding of Okanagan—Shuswap, I met with Marie Van Diest, mother of Taylor Van Diest of Armstrong, B.C., whose daughter murdered in October 2011 by Matthew Foerster of Cherryville. He was found guilty of first degree murder. Taylor, 18, was found beaten with fatal head wounds by the side of railroad tracks, hours after going missing on Halloween night 2011.
When my bill is passed, it will assist families by not having them deal with the re-enactment of what happened to their loved ones over and over again, having to face a loved one's killer, to read what was done to their loved one and how their loved one died.
A re-enactment of the offence in court is traumatizing for victims' families as it is. To attend parole hearings is very painful, in fact cruel. Family members have to once again find the pain they have tucked away and bring it back to the surface, and relive it and think about what was done.
If a convict is denied parole, the victims' families will once again have to be prepared to do it again at another parole haring. They should not have to go through this, but they do. They present their victim impact statements to try to ensure the convict is not released. The scheduling of parole hearings is emotional torture.
I ask members of the House to pass the bill. Families have already been victimized once. Having to attend parole hearings causes families of victims a lot of suffering and does not provide them with any closure. They should not have to relive their tragedy.
My bill would save families from going through parole hearing after parole hearing. We must save families from having to endure the cruel punishment of reliving their horror. Sharing a victim impact statement, revealing raw pain and memories is unimaginable.
Let us not fool ourselves. The Supreme Court of Canada, in R. v. Shropshire, stated "parole ineligibility is part of the "punishment" and thereby forms an important element of sentencing policy".
I will close with the following quote from Susan Ashley, Linda Bright's sister, who said:
...once they have recovered from the horrific abduction, sexual assault and murder of a loved one, then a lengthy Court process, they can spend the next many years healing their wounds...not facing parole hearing after parole hearing.
Freedom of Religion May 26th, 2014
Mr. Speaker, the Canadian Bill of Rights was enacted by Parliament on August 10, 1960. At the time, prime minister John Diefenbaker, upon signing the bill, stated:
I am a Canadian, a free Canadian, free to speak without fear, free to worship God in my own way, free to stand for what I think right, free to oppose what I believe wrong, free to choose those who shall govern my country. This heritage of freedom I pledge to uphold for myself and all mankind.
The Canadian Bill of Rights states "freedom of religion", not "freedom from religion". I am concerned that there is evidence that this freedom for Canadian citizens of Christian faith is being compromised by institutions that should be protecting their religious freedom. The Ontario government's attack on the independence of the Catholic educational institutions in its Education Act, The Law Society of Upper Canada and the Nova Scotia Barristers' Society's recent attack on Trinity Western University's student faith covenant, and the consistent marginalizing of Christian views by human rights commissions are evidence that my concerns are justified.
As former prime minister John Diefenbaker confirmed, I also pledge to uphold Canada's—
Respecting Families of Murdered and Brutalized Persons Act April 7th, 2014
moved for leave to introduce Bill C-587, An Act to amend the Criminal Code (increasing parole ineligibility).
Mr. Speaker, I rise today to introduce my private member's bill, an act to amend the Criminal Code (increasing parole ineligibility).
The bill would amend section 745 of the Criminal Code to provide that a person convicted of an abduction, horrendous acts of sexual assault and murder of the same victim in respect of the same event or series of events, be sentenced to imprisonment for life without eligibility for parole until the person has served a sentence of between 25 and 40 years, as determined by the presiding judge, after considering the recommendations, if any, of the jury.
The bill would spare families and loved ones of murder victims from being re-traumatized by repeated parole hearings for convicted murderers.
If passed, the bill would assist families by not having them deal with the re-enactment of what happened to their loved ones over and over again.
(Motions deemed adopted, bill read the first time and printed)
Income Tax Act January 30th, 2014
Mr. Speaker, Bill C-201, an act to amend the Income Tax Act , would in essence allow tradespersons and indentured apprentices to deduct from their taxable income any travel and accommodation expenses that they have incurred in order to secure and maintain employment in a construction activity at a job site that is located at least 80 kilometres away from their ordinary residence.
Let me first say that our government encourages new ways and ideas to improve Canada's tax system. Our government has a strong record of tax fairness and tax relief. We work diligently to treat each tax dollar we receive responsibly. Therefore, we are always open to ways that can keep money where it belongs, in the pockets of hard-working Canadians.
We realize that Bill C-201 has good intentions, such as providing tax relief for tradespersons and indentured apprentices who have to travel a long distance to work. We thank the member for her concern for these hard-working Canadians, but unfortunately the bill itself has too many problems for the government to support it.
Like speakers before me have mentioned when the bill was first debated, the bill contains flaws that could create opportunities for tax planning. It is a piece of legislation that could pose a very significant cost to taxpayers. Further, the bill is redundant, considering that our government already has thoughtful and practical measures to support apprenticeships and tradespersons.
Allow me to elaborate on that point. In response to growing shortages of skilled labour in some parts of our country, our government already provides a number of measures to support apprentices and tradespersons who are an integral part of our economy. Specifically, the government has introduced a number of measures to encourage businesses to hire apprentices and Canadians to pursue careers in the trades.
Let me share what we have done. Budget 2006 introduced the apprenticeship job creation tax credit which provides eligible employers a tax credit equal to 10% of the wages paid to qualifying apprentices in the first two years of their contract, up to $2,000 per apprentice per year. Budget 2006 also introduced the apprenticeship incentive grant, which provides $1,000 per year to apprentices upon completion of each of the first two years of an apprenticeship program in the red seal trades. Also, budget 2009 introduced the apprenticeship completion grant, which provides $2,000 to apprentices upon completion of their certification in red seal trades.
We have consistently supported tradespersons in Canada. Budget 2006 also introduced an annual deduction of up to $500, in 2013, for tradespersons for the cost of new tools in excess of $1,117 that they must acquire as a condition of employment. Budget 2006 also increased to $500 from $200 the limit on the cost of tools eligible for the 100% capital cost deduction which may be claimed by self-employed tradespersons and businesses. Our government has also extended the fees eligible for the tuition tax credit to include those from examinations required to be certified as a tradesperson in Canada.
It does not stop there. In addition to these tax measures and grants, our government, through economic action plan 2013, proposed new measures to support the use of apprentices in three key areas. The first is changing the government's approach to procurement by introducing measures to support the use of apprentices in federal construction and maintenance contracts. Second is ensuring that funds transferred to provinces and territories through the investment in affordable housing support the use of apprentices. Third, we are encouraging provinces, territories and municipalities to support the use of apprentices in infrastructure projects receiving federal funding as part of the new building Canada plan for infrastructure.
To further reduce barriers to accreditation in the skilled trades, economic action plan 2013 announced the government's intention to reallocate $4 million over three years to work with provinces and territories to harmonize requirements for apprentices, as well as examining the use of practical tests as a means of assessment in targeted skilled trades.
Economic action plan 2013 was a large commitment by our government to support the skilled trades and encourage growth in these very important industries. Unfortunately, the member opposite who put forward Bill C-201 voted against every one of these measures. Therefore, it is surprising to see her claim full support for tradespeople across the country.
Having established how our government has been, and continues to be, proactive when it comes to providing practical support for apprentices and tradespeople, I would like to discuss the important policy concerns that the bill raises. To put it bluntly, as drafted, Bill C-201 would make it difficult to ensure that tax relief is not provided in respect of personal expenses reflecting lifestyle decisions. For example, expenses incurred by eligible individuals who choose to live more than 80 kilometres away from the workplace for personal reasons would qualify for the tax relief. Furthermore, the open-ended nature of the proposed deduction would make it vulnerable to unfair tax planning. For example, individuals could arrange their affairs to claim a recreational property, such as a cottage more than 80 kilometres away from work, as their principal residence and deduct the cost of maintaining their urban residence as an expense required to secure and maintain employment. Legislating tax credits that are open to abuse is not how we create a fair tax system for all Canadians.
Finally, implementing Bill C-201 would cost taxpayers up to $60 million. Since our government already has significant measures in place to provide tax relief to tradespeople, we do not see any added benefit to forgoing more tax revenue for a measure that may not prove to be effective, and a measure that could subsidize personal choices, for that matter.
We take pride in the fact that under our government the overall federal tax burden is the lowest it has been in 50 years. In total, our government has introduced more than 160 tax-relief measures since 2006, reducing taxes in every way that the Government of Canada collects them. These are real measures that are helping all Canadians across the country: tradespeople, apprentices, families, seniors, and the list goes on. Canadians at all income levels are benefiting from the personal income tax relief introduced by the government, with low- and middle-income Canadians receiving proportionately greater relief. The average family of four is saving over $3,200 per year in taxes, and more than one million low-income Canadians have been removed from the tax rolls.
This is great news, and more work must be done. However, we must be cautious of proposals that would unnecessarily burden the work our government is doing to balance the budget. Our government is focused on the drivers of growth and job creation: innovation, investment, education, skills, and communities, underpinned by our ongoing commitment to keep taxes low, and returning to a balanced budget.
Therefore, it is our position that Canadians do not need Bill C-201. It contains too many flaws. It costs too much, and it is redundant, considering the policies we currently have in place to help not only tradespeople, but all working Canadians as well. With that, I encourage my fellow members to vote against the bill.