Colin Mayes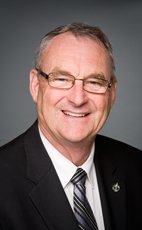 House of Commons photo
Track Colin
Your Say
Elsewhere
Crucial Fact
Conservative
MP for Okanagan—Shuswap (B.C.)
Won his last election, in 2011, with 55.40% of the vote.
Statements in the House
Respecting Families of Murdered and Brutalized Persons Act April 7th, 2014
moved for leave to introduce Bill C-587, An Act to amend the Criminal Code (increasing parole ineligibility).
Mr. Speaker, I rise today to introduce my private member's bill, an act to amend the Criminal Code (increasing parole ineligibility).
The bill would amend section 745 of the Criminal Code to provide that a person convicted of an abduction, horrendous acts of sexual assault and murder of the same victim in respect of the same event or series of events, be sentenced to imprisonment for life without eligibility for parole until the person has served a sentence of between 25 and 40 years, as determined by the presiding judge, after considering the recommendations, if any, of the jury.
The bill would spare families and loved ones of murder victims from being re-traumatized by repeated parole hearings for convicted murderers.
If passed, the bill would assist families by not having them deal with the re-enactment of what happened to their loved ones over and over again.
(Motions deemed adopted, bill read the first time and printed)
Income Tax Act January 30th, 2014
Mr. Speaker, Bill C-201, an act to amend the Income Tax Act , would in essence allow tradespersons and indentured apprentices to deduct from their taxable income any travel and accommodation expenses that they have incurred in order to secure and maintain employment in a construction activity at a job site that is located at least 80 kilometres away from their ordinary residence.
Let me first say that our government encourages new ways and ideas to improve Canada's tax system. Our government has a strong record of tax fairness and tax relief. We work diligently to treat each tax dollar we receive responsibly. Therefore, we are always open to ways that can keep money where it belongs, in the pockets of hard-working Canadians.
We realize that Bill C-201 has good intentions, such as providing tax relief for tradespersons and indentured apprentices who have to travel a long distance to work. We thank the member for her concern for these hard-working Canadians, but unfortunately the bill itself has too many problems for the government to support it.
Like speakers before me have mentioned when the bill was first debated, the bill contains flaws that could create opportunities for tax planning. It is a piece of legislation that could pose a very significant cost to taxpayers. Further, the bill is redundant, considering that our government already has thoughtful and practical measures to support apprenticeships and tradespersons.
Allow me to elaborate on that point. In response to growing shortages of skilled labour in some parts of our country, our government already provides a number of measures to support apprentices and tradespersons who are an integral part of our economy. Specifically, the government has introduced a number of measures to encourage businesses to hire apprentices and Canadians to pursue careers in the trades.
Let me share what we have done. Budget 2006 introduced the apprenticeship job creation tax credit which provides eligible employers a tax credit equal to 10% of the wages paid to qualifying apprentices in the first two years of their contract, up to $2,000 per apprentice per year. Budget 2006 also introduced the apprenticeship incentive grant, which provides $1,000 per year to apprentices upon completion of each of the first two years of an apprenticeship program in the red seal trades. Also, budget 2009 introduced the apprenticeship completion grant, which provides $2,000 to apprentices upon completion of their certification in red seal trades.
We have consistently supported tradespersons in Canada. Budget 2006 also introduced an annual deduction of up to $500, in 2013, for tradespersons for the cost of new tools in excess of $1,117 that they must acquire as a condition of employment. Budget 2006 also increased to $500 from $200 the limit on the cost of tools eligible for the 100% capital cost deduction which may be claimed by self-employed tradespersons and businesses. Our government has also extended the fees eligible for the tuition tax credit to include those from examinations required to be certified as a tradesperson in Canada.
It does not stop there. In addition to these tax measures and grants, our government, through economic action plan 2013, proposed new measures to support the use of apprentices in three key areas. The first is changing the government's approach to procurement by introducing measures to support the use of apprentices in federal construction and maintenance contracts. Second is ensuring that funds transferred to provinces and territories through the investment in affordable housing support the use of apprentices. Third, we are encouraging provinces, territories and municipalities to support the use of apprentices in infrastructure projects receiving federal funding as part of the new building Canada plan for infrastructure.
To further reduce barriers to accreditation in the skilled trades, economic action plan 2013 announced the government's intention to reallocate $4 million over three years to work with provinces and territories to harmonize requirements for apprentices, as well as examining the use of practical tests as a means of assessment in targeted skilled trades.
Economic action plan 2013 was a large commitment by our government to support the skilled trades and encourage growth in these very important industries. Unfortunately, the member opposite who put forward Bill C-201 voted against every one of these measures. Therefore, it is surprising to see her claim full support for tradespeople across the country.
Having established how our government has been, and continues to be, proactive when it comes to providing practical support for apprentices and tradespeople, I would like to discuss the important policy concerns that the bill raises. To put it bluntly, as drafted, Bill C-201 would make it difficult to ensure that tax relief is not provided in respect of personal expenses reflecting lifestyle decisions. For example, expenses incurred by eligible individuals who choose to live more than 80 kilometres away from the workplace for personal reasons would qualify for the tax relief. Furthermore, the open-ended nature of the proposed deduction would make it vulnerable to unfair tax planning. For example, individuals could arrange their affairs to claim a recreational property, such as a cottage more than 80 kilometres away from work, as their principal residence and deduct the cost of maintaining their urban residence as an expense required to secure and maintain employment. Legislating tax credits that are open to abuse is not how we create a fair tax system for all Canadians.
Finally, implementing Bill C-201 would cost taxpayers up to $60 million. Since our government already has significant measures in place to provide tax relief to tradespeople, we do not see any added benefit to forgoing more tax revenue for a measure that may not prove to be effective, and a measure that could subsidize personal choices, for that matter.
We take pride in the fact that under our government the overall federal tax burden is the lowest it has been in 50 years. In total, our government has introduced more than 160 tax-relief measures since 2006, reducing taxes in every way that the Government of Canada collects them. These are real measures that are helping all Canadians across the country: tradespeople, apprentices, families, seniors, and the list goes on. Canadians at all income levels are benefiting from the personal income tax relief introduced by the government, with low- and middle-income Canadians receiving proportionately greater relief. The average family of four is saving over $3,200 per year in taxes, and more than one million low-income Canadians have been removed from the tax rolls.
This is great news, and more work must be done. However, we must be cautious of proposals that would unnecessarily burden the work our government is doing to balance the budget. Our government is focused on the drivers of growth and job creation: innovation, investment, education, skills, and communities, underpinned by our ongoing commitment to keep taxes low, and returning to a balanced budget.
Therefore, it is our position that Canadians do not need Bill C-201. It contains too many flaws. It costs too much, and it is redundant, considering the policies we currently have in place to help not only tradespeople, but all working Canadians as well. With that, I encourage my fellow members to vote against the bill.
Retirement Income Bill of Rights December 6th, 2013
Mr. Speaker, I am pleased to have the opportunity to speak to this private member's bill. I want to thank my colleague, the member for Chatham-Kent—Essex, for his comments. I will be repeating some of the very important points that he pointed out in his speech.
Like many other Canadians, I feel very strongly about being able to have a safe, secure retirement. That is one of the reasons I am particularly pleased about our government's strong economic record. As we know, a secure retirement is directly connected to a stable economy. After all, there is no retirement if there is no job. That is one of the many reasons that our government has made creating jobs, growth and long-term prosperity our top priority.
Despite obstruction attempts from the opposition across the way, we have been steadfast in our economic commitment, and Canada is benefiting. One week ago today, Statistics Canada announced that the Canadian economy grew by 2.7% in the third quarter. This is the ninth consecutive quarter of economic growth in Canada. This is especially noteworthy when we consider the delicate global economic environment in which that was achieved. While many other economies around the world are faltering, one simply cannot argue with the success of nine consecutive quarters of economic growth.
However, this is not the first economic accomplishment under our government's stewardship. Canada has created over a million net new jobs since the depths of the recession in 2009. More importantly, nearly 90% of these new jobs are full-time and over 80% are in the private sector. This is the strongest job creation record in the G7. The International Monetary Fund and the Organisation for Economic Co-operation and Development both project that Canada will have some of the strongest growth in the G7 in the years ahead. These organizations are expressing steadfast confidence in our government because they know we are steadfast in our commitment to the economic action plan.
Economic action plan 2013 is continuing to support job creation and helping our economy grow. It includes helping small business by extending the small business hiring credit; helping manufacturers with tax relief when they make new investments in machinery and equipment; and supporting persons with disabilities, aboriginal people, youth and newcomers, with new training investments to help them secure employment.
We are proud about creating a pro-growth environment while keeping taxes low. Canada continues to have the lowest overall tax rate on new—
Organ Donations December 6th, 2013
Mr. Speaker, earlier this week, the Minister of Health launched a new social media program and website to help promote organ and tissue donations.
Today, in Canada more than 4,500 people are waiting for organ transplants. Oftentimes the needs of these patients will not be met as too few Canadians are registered donors. Being a registered organ donor is one of the most important things one can do in life. We all have the ability to give the gift of life to others. I urge all members of the House to please visit healthycanadians.gc.ca and spread the word that anywhere in Canada people can register to become a donor and give the gift of life.
During this Christmas season, we celebrate the greatest gift of life that was freely given. The donor gave us a new heart. I would encourage all Canadians to get on Twitter and voice their support by using hashtag giftoflife to help promote this lifesaving campaign this holiday season.
Legalization of Marijuana November 20th, 2013
Mr. Speaker, the City of Salmon Arm in my riding of Okanagan—Shuswap received funding from the municipal infrastructure improvement fund to replace the 30-year-old boiler at the local indoor pool. The new boiler is more energy efficient and less costly to maintain.
Last Saturday evening, I took seven of my 10 grandchildren to the pool. It was great to watch all the children enjoy the wholesome fun this wonderful facility provides. As I watched everyone, I thought that providing resources to communities for these types of activities for children and families is a priority of good government.
Then the thought came to me: why would any political party want to legalize marijuana, which would only destroy children's lives and families? Is it not the duty of government to protect the health and safety of its citizens?
I said a little prayer while I stood at the poolside. I petitioned that our grandchildren would never live under a government that would legalize marijuana.
Leader of the Liberal Party of Canada October 30th, 2013
Mr. Speaker, it has been six months since the member for Papineau became Liberal leader. In that time he has announced only one concrete policy he has for Canada, his plan to legalize marijuana.
In contrast, our Conservative government has been getting things done for Canadians. We have signed the biggest free trade deal since NAFTA, begun efforts to provide more fairness in competition for consumers and maintain our laser-like focus on jobs, growth and long-term prosperity. We are opening the market to 500 million new consumers.
While we have been focused on the economy, the leader of the Liberal Party has been focused on legalizing drugs. His plan will make marijuana easily available to our children and will increase risk of disruption in our communities.
Our Prime Minister will keep illegal drugs off our streets. Clearly, the leader of the Liberal Party is out of touch with law-abiding Canadians.
International Trade June 7th, 2013
Mr. Speaker, Canada is known around the world for its top quality beef and pork. Unfortunately, despite several rulings by the World Trade Organization, the United States has failed to abandon its discriminatory country of origin labelling requirements, hurting industry and workers in both our countries.
Could the Minister of International Trade please share with the House how our government is standing up for the beef and pork sector and hard-working Canadians who depend on it?
Economic Action Plan 2013 Act, No. 1 June 7th, 2013
Mr. Speaker, my riding of Okanagan--Shuswap is a retirement destination.
Our government is the first government to establish a Minister of State for Seniors. We have managed a number of initiatives to help seniors, such as income splitting, so they can afford to retire and initiatives to provide protection for seniors. Because they have become such a large portion of our population, we have incorporated that as part of our action plan and in our budget.
The member is a bit younger and is probably not familiar with seniors' issues, but could he please tell the House what is in the budget for seniors?
Safer Witnesses Act May 30th, 2013
Mr. Speaker, I have to say that we do not necessarily enjoy talking about things. We like taking action. We have done that as a party.
The fact is that there is time allocation and the members opposite are aware of that. It is really interesting. Those on the opposite side frequently state that there has not been enough time for debate on various bills. Here we are, giving you ample time to debate the bill and you are not taking advantage of it or do not want to take advantage—
Safer Witnesses Act May 30th, 2013
Mr. Speaker, I appreciate the question, but the member was not here in 2006, when we started the whole cracking down on crime initiative as a new government.
One of the things we did do was make strategic investments in the training centre for the RCMP, in Saskatchewan. We invested in more police officers. We decided we would make sure there would be the resources to crack down on crime when we go forward with the initiative for cracking down on crime. We increased the number of border security people to crack down on the gun trade and the drug trade across the border between Canada and the United States. There are ample resources there to do that work.
I can say with confidence that this bill would be another building block to what we are trying to accomplish, and the resources are there. The RCMP has also acknowledged that the bill would not be any stress on those costs.