Daryl Kramp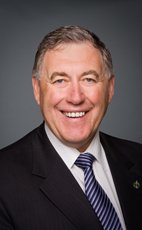 House of Commons photo
Track Daryl
Your Say
Elsewhere
Crucial Fact
Conservative
MP for Prince Edward—Hastings (Ontario)
Won his last election, in 2011, with 53.30% of the vote.
Statements in the House
Safe Drinking Water for First Nations Act May 8th, 2013
Mr. Speaker, we have introduced this bill so first nations have the same access to drinking water as all Canadians. To me, it is incredible how anybody could even consider not supporting that because many of the communities, as we all know, have waited too long for safe, clean, reliable drinking water and yet, shockingly, opposition members have continually tried to draw out and prolong debate and continue to vote against this initiative.
As the preamble states, the government will work with the first nations to develop federal regulations. Passing this bill is just the beginning. Much work remains to be done.
Could the minister please tell the House how long it will take for regulations to be put in place and why we need to take action now, not tomorrow, not next week, not next month but now, in moving this legislation forward?
Economic Action Plan 2013 Act, No. 1 May 6th, 2013
Mr. Speaker, the reality is, that just is not true. The hon. member should look at the amount of taxation that has been cut across this country. I know him well. I respect him as a person. Regrettably, every now and then his orientation gets him in little challenging moments.
When we look at the overall tax reduction, the transfers that have been increased to provinces, the increased programs that have been put out there, the bottom line is, yes, we have more money coming in, but what if we did not have a growing economy?
The economy has been growing very well. Naturally, it generates more tax. It generates more income tax when people do well, when they make more money and businesses prosper. To suggest there is no reason for taxes to have a receivable that is a gain would mean we would simply have an economy that is going the other way.
Under the Conservative government we have an economy that grows, hence more taxes coming in. That is a simple equation the hon. member could understand.
Economic Action Plan 2013 Act, No. 1 May 6th, 2013
Mr. Speaker, the hon. member's question takes me back. I sat on government operations and public accounts when I first came here nine years ago. The situation with regard to first nations aboriginal education was absolutely horrendous. For five to six years after, we spent more and more money and we did not improve the result.
We then formulated a working group to go forward. We said we had to get more bang from the buck, we have to create more jobs and we have to train our first nations people. We have a strategy now in place, and of course it has been agreed upon by the first nations people themselves, who are part of the solution on the advisory council. The dollar is going forward. The member is incorrect. We are spending more on first nations education than we ever have in the history of this country.
Economic Action Plan 2013 Act, No. 1 May 6th, 2013
Mr. Speaker, I am honoured to be able to stand here today and speak to Canada's economic action plan 2013.
I think in the House we can all agree that there are a multitude of elements involved when a person, business or family works towards a common set of goals of success and prosperity. Of course, the individual has a lot to do with the outcomes in terms of the choices we make, our determination and how hard we are willing to work toward the objective.
Admittedly, we share responsibility. The government and all members here share responsibility in helping our citizens achieve those goals. We can provide either stepping stones or barriers. I am very proud to say that our government is providing the stepping stones by putting Canadians and the economy first. It is certainly evident in our latest budget, economic action plan 2013.
Undeniably, a firm base for any healthy economy is a thriving manufacturing and small business environment coupled with job-creating initiatives. Economic action plan 2013 includes our government's plan to make the largest federal investment in job-creating infrastructure in Canadian history, totalling $70 billion over a decade. This investment would help build and repair roads, bridges, subways, rail and more, certainly in communities in Prince Edward—Hastings and across this wonderful country.
There would be a new tax break for new manufacturing machinery and equipment with the accelerated capital cost write-off, which would provide the manufacturing and processing businesses in Ontario alone approximately $560 million in tax relief to grow their companies and create jobs.
Our government has extended and expanded the hiring credit for small businesses for another year, which would see many small businesses in Ontario and across Canada save another $225 million in 2013. I can tell the House that as a small businessman myself with 38 years of experience, in my riding of Prince Edward—Hastings, small businesses are one of the key components of the local economic engine. I can assure the House that this particular initiative would go a long way to helping those businesses grow, prosper and ultimately create more jobs.
We are increasing the lifetime capital gains exemption to $800,000 from $750,000 and indexing it going forward. We are indexing it the same way we indexed the gas tax. This would provide small businesses in Ontario approximately an additional $39 million in tax relief to grow their companies and create more jobs.
I live right next to Trenton Air Base, one of the most significant air transport capitals, not only in Canada, but in the world. We are investing almost $1 billion in the strategic aerospace and defence initiative to enhance the competitiveness of Canada's economically important aerospace and defence industry. We have created the aerospace technology demonstration programs, which would support large-scale technology projects with commercial potential in Ontario and across Canada. We have CAE in Montreal, now with simulators around the world.
The northern regions of my riding had a very active forestry industry, which certainly suffered some severe challenges when the economic downturn hit and the housing boom in the States went off. Therefore, I am pleased that we would be providing $92 million to help the forestry sector in Ontario and across Canada to continue to innovate new products and to expand into new markets.
We would provide $920 million to renew the Federal Economic Development Agency for Southern Ontario. Since its creation in 2009, FedDev has supported over 340 projects and has played an important role in building a stronger economy in southern Ontario. FedDev has been instrumental in the success of so many projects in Prince Edward—Hastings and across the regions of southern Ontario.
I am very pleased as well to support the eastern Ontario development program, which would be renewed as well. It would continue to promote job creation and business development in all the rural areas of eastern Ontario. As part of the renewal of FedDev, I am very pleased that $200 million would be invested in a new advanced manufacturing fund to help Ontario's manufacturing industry innovate and become much more competitive.
Another ingredient required to maintain economic health is ensuring Canadians get the skills training and the employment-seeking assistance they need. I am fortunate. I have Loyalist College, the brand new skills development centre, which will play a pivotal role in developing skills in my area. Job-seekers know that if they have the right skills and education, they are well on their way to finding a good job. I am proud to say that our government firmly recognizes that, too.
As such, we are providing up to $15,000 per person, in Ontario, with combined federal-provincial-territorial and employer funding to help them get the skills they need for in-demand jobs. That is right; we are helping them to develop the skills for a job that is waiting for them. We know how important education is, especially, in high-demand fields. We will be encouraging students to undertake education in these high-demand fields, including the skilled trades, science, technology, engineering and mathematics.
Our government is also investing $70 million to support an additional 5,000 paid internships for recent post-secondary graduates in Ontario and across Canada. These young people are our future. We are helping them along and providing the initiative for them to get a job.
My riding of Prince Edward—Hastings includes a first nations reserve, Mohawks of the Bay of Quinte—Tyendinaga Mohawk Territory, a very proud and successful local aboriginal group.
I am proud that we are helping first nations students with post-secondary education, by providing $10 million to grant scholarships and bursaries to help them attend a post-secondary education. We realize the importance of engaging first nations youth. They are going to play a tremendous role in our country.
Finally, another very important key to having a robust economy is to limit government's interference in Canadians' wallets.
Winston Churchill once said:
For a nation to try to tax itself into prosperity is like a man standing in a bucket and trying to lift himself up by the handle.
It just does not happen.
Our government gets that, unlike the opposition, unfortunately, the tax-and-spend Liberals and the "speNDP". There is just no end of spending. The solution is very simple with them. Just spend more, spend more, spend more. Unfortunately, we have to find a balance, and we have done that.
Right from the get-go, our government has been dedicated to freeing up Canadians' paycheques by lowering taxes. In economic action plan 2013, our government eliminated tariffs on important items for families, including baby clothing, sports equipment, skates, hockey sticks, golf clubs, and more.
In fact, our Conservative government has cut taxes over 150 times and is saving the average family over $3,000 a year. That can buy a lot of groceries or clothes for the kids, or even allow families that vacation that they have waited for and that they have deserved for so long.
Our government does not put obstacles in the way of Canadians, obstacles like red tape or increased taxes. Our red tape commission said every time we bring in a regulation, we have to get rid of one. That is common sense.
So, yes, we are providing stepping stones to help Canadians achieve the happy and successful lives they want to have.
I am thankful for the opportunity today to talk on economic action plan 2013. I am proud of the initiatives in it. I have had many extensive pre-budget consultations across our riding, with so many different groups. I know our government worked closely with recommendations from the stakeholders, the businesses, the community leaders, the experts in so many fields, to achieve the best use of taxpayer dollars. We have created a budget that will strengthen our economy and solidify our economic recovery.
Interparliamentary Delegations May 1st, 2013
Mr. Speaker, pursuant to Standing Order 34(1), I have the honour to present to the House, in both official languages, the report of the Canadian delegation of the Canada-China Legislative Association respecting its participation at the 15th bilateral meeting held in Beijing, Xiamen, Hangzhou and Shanghai, People's Republic of China, from April 7 to 14, 2012.
Veterans Affairs April 15th, 2013
Mr. Speaker, colleagues from all sides know that it is rare when I stand and am personally critical of individuals in the House.
However, as a result of an online article by the member for Rosemont—La Petite-Patrie, I received significant outrage in my riding. As the son of a veteran, I was deeply dismayed to hear the member praise communism and mock the contribution of our veterans.
The NDP leader tried to downplay the article when he said not to forget that it was written years ago. Then the NDP member further defended his article in saying that it is a text with which he has no problem; "I still think like that".
This offensive article diminishes what Canadian soldiers fought and died to defend in the world war. On their behalf, the member and the Leader of the Opposition need to apologize for their anti-veteran, anti-military, anti-Canadian and indefensible statements.
I ask the member if he still thinks like that.
Hockey Hall of Fame Inductee February 28th, 2013
Mr. Speaker, hockey is Canada's game from coast to coast to coast.
Today I heartily congratulate Marc Crawford for being named a 2013 inductee to the British Columbia Hockey Hall of Fame.
Members may question why I, as an Ontario MP, would honour Marc as one of the six new inductees to the shinny shrine in B.C. this year.
Marc is a Belleville, Ontario, native who comes from a family of dedicated and talented hockey players in the Quinte area. His father, Floyd, led the Belleville McFarlands to the world title. Marc, his brothers and his family achieved great success throughout the hockey world.
After six seasons playing in the NHL, Marc was named NHL Coach of the Year with the Quebec Nordiques in 1994-1995, and of course left a great hockey legacy with the Vancouver Canucks.
From minor hockey to the NHL, hockey is legendary in Prince Edward—Hastings. We are all very proud when one of our own accomplishes so much in this great Canadian game. We send our congratulations to Marc.
2013 Scotties Tournament of Hearts February 15th, 2013
Mr. Speaker, rock on.
This weekend, Kingston Ontario's K-Rock Centre will be host to a different kind of rock as Canada's best women curlers compete at the national curling championships, better known as the Scotties Tournament of Hearts.
I know that Canadians from all across the country will be watching as defending champion Heather Nedohin's team faces challenges from the likes of Manitoba's Jennifer Jones, Nova Scotia's Colleen Jones, and from my own home province of Ontario, one of the top young exciting teams in the tournament, skipped by Rachel Homan, who hope to continue their own success following their undefeated roll through the Ontario women's championships last month.
It will not take long for Team Ontario to show that Homan is where the heart is, as they hurry hard to victory, but of course I know that all of us here in the House wish all of the teams from across the country the best of luck. We know that whoever wins the Scotties will represent us all well at the 2013 worlds in Latvia.
Doug Rollins November 22nd, 2012
Mr. Speaker, I am sad today to report that this past Monday the residents of the Quinte area lost one of the most dedicated community champions with the passing of the former Progressive Conservative member of the provincial parliament, Doug Rollins.
Doug's forthright passion for making his community become a better place to live is unparalleled. He not only worked tirelessly in his capacity as a member of the provincial parliament, but never stopped working for causes close to his heart and would stand up bravely in the face of any challenge or obstacle to achieve those things that would benefit the residents of his area.
He was a good, kind man of integrity and fairness who was a friend and a mentor to many. A Hebrew proverb says, "Say not in grief 'he is no more' but live in thankfulness that he was".
There are many in Prince Edward—Hastings, including my family and me, who are thankful that we have been blessed by knowing Doug. We sent our prayers and thoughts to his wife Cheryl and family.
Godspeed, my friend.
National Philanthropy Day Act November 5th, 2012
Mr. Speaker, I would like to thank my colleague, the member for Oak Ridges—Markham, the Parliamentary Secretary to the Minister of Canadian Heritage, for bringing forward Bill S-201, which would designate November 15 every year as National Philanthropy Day.
According to Statistics Canada, 80% of Canadians give to a charity, have given and in 2010 gave almost $11 billion alone. Philanthropy is not just about donating money. His Excellency the Governor General recently described philanthropy as giving "time, talent and treasure", noting particularly that two-thirds of the meaning honestly had nothing to do with money. Very simply, it was giving of oneself.
Philanthropy can very simply be described as anything one can do to make the world a little better place. When Canadians give of their time, talent and money, they can and they have made Canada a better place. I know locally in my riding, Volunteer & Information Quinte, one organization, represents and comprises more than 150 agencies and various organizations.
I would like to mention a few today that I have had the personal pleasure to be involved with. There is Alternatives for Women. There is the Alzheimer Society; I participate in the annual walk as much as possible to demonstrate, of course, that it is so important not only to support the victims but the affected families. There is the Canadian Hearing Society and the Canadian Cancer Society. Locally I was privileged to act as the past president of the local Canadian Cancer Society, and every year we have thousands of people who participate in the cure for cancer walk in our riding, which I know we are all so pleased to support.
There is the Christmas Sharing Program that is out there for families who at that time of year need that special help. There is Operation Red Nose. Not every community has one, but we are so blessed in our riding to have a group of people who put together such a caring group of volunteers who decided they would help out at that troublesome time of year for some people. It has been a tremendous asset—certainly the contribution from Rick Watt, the organizer, and a number of his committee members. To the past chairs over the years and certainly the outgoing chair, Mary Hanley, and the present incoming chair, Mark Rashotte, I wish them well in their work this year again.
There is the CNIB; Family Space; Safe Communities; and Gleaners Food Bank. That is an organization, locally, that has had a far-reaching effect across our entire riding, and there are the food banks across our country. I know they have served the school breakfast programs and have been helping families across our country, certainly in my riding, going through some challenging times.
There is the Habitat for Humanity, which in many cases provides the dignity of having a home that would not otherwise be available for people. There is the Children's Aid Society; the Hastings and Prince Edward Counties Health Unit; the Heart and Stroke Foundation; the Multiple Sclerosis Society; and the number of children's day cares we have in our riding and the hundreds of volunteers who help out, helping the moms and pops feel more comfortable during their day at work, knowing their children are being looked after.
It is the Community Living and the Chamber of Commerce. I served as the president of a local Chamber of Commerce, and when I see the hundreds of members and hundreds of businesses that reach out, not only through the business itself but through their employees, as members of the Chamber of Commerce, I know they contribute tremendously to our area.
There is the Red Cross and the Sexual Assault Centre, and it is sad that we need that, but for those who have been victimized, what a wonderful resource it is, to be able to reach out and be assisted.
There is the Salvation Army, Sally Ann as most of us comfortably call it. When we see that kettle campaign every year, that is only the tip of the iceberg of all the wonderful work and volunteerism they do in our communities.
There is the Three Oaks shelter for abused women. Once again, it is unfortunate that in society we even need something like that, but it is a reality we have. When we have the people who help in those times of distress, it is tremendously encouraging.
We have the Trenton Military Family Resource Centre, and of course this has been more in vogue as we have had a number of repatriation ceremonies at Trenton, right next to me. I see the post-traumatic stress syndrome that is evident through a number of armed forces personnel. I am very pleased to see the volunteers there.
There is, of course, the United Way itself, which is really an umbrella financial organization that just absolutely makes it possible for a number of these groups to be able to participate. It raises a significant amount of funds. Those funds come through volunteers, companies, corporations and individuals.
There are the Victorian Order of Nurses, the Quinte Vocational Support Services, the Brain Injury Association, and Foundations itself, which is a group dedicated to assisting young people having challenges or looking for mentorship or fellowship. Some people classify it as a drop-in centre, but it does so much more. It provides a hot meal, a warm smile and a ready helping hand. There is the Diabetes Foundation and the various hospice organizations supported by many volunteers in all communities. At times of ultimate sadness, there are ways to reach out, help console and show the consideration necessary.
There is the Diabetes Foundation, as I mentioned before, and the Mental Health Support Network. In my area, there is the Quinte United Immigrant Services. It is a wonderful help not only to new Canadians who go there for advice and assistance but, as a member of Parliament who deals with a number of immigration cases, as do a number of my colleague, I find it a wonderful assistant to me in providing support, consideration and advice. There is Pathways to Independence. Having been a big brother myself over a number of years, I know Big Brothers Big Sisters reaches out and helps many people.
There are autism services and local hospital auxiliaries. I am sure many people go into hospitals and always find the auxiliary there to reach out, welcome, give directions and console at times of distress. There are, of course, all churches spread throughout the country. There are a significant number in my riding who are most active. They run many volunteer programs and are literally a cornerstone of our communities.
There are service clubs, such as the Legion, the Rotary, the Kiwanis, the Lions, the Women's Institute, the Kinsmen or the Elks. The list goes on. It is absolute volunteerism to the ultimate. There is Meals on Wheels for those who are not able to cook their own meals; they do not have the capacity, the commodities or the ability to do so. There are senior citizens clubs that reach out to people they know need help, guidance and assistance. There are Scouts Canada, the Girl Guides and the Humane Society. People question why I would include Humane Society. To many people who live alone or have an animal, that animal is a very precious being, so the Humane Society reaches out in a number of ways.
There are thousands of coaches, sponsors and volunteers in many sporting, cultural and artistic organizations throughout the ridings in our country. I know many of them. I have been a coach myself at the various levels, whether provincial, national or local. I see the countless hours put in on semi-pro teams and kids' teams or teachers putting in the dedicated commitment to many young people after hours. There are many more I could name, but I am obviously limited in my time here today in listing all the local contributors, let alone those who reach out both nationally and internationally.
We have to remember that it is our young people. They might not be able to donate money, but they represent an important demographic because they are future of philanthropy. Though they make up a small number, they of course will ensure the future sustainability of our voluntary sectors. We all recognize that seniors are the most active volunteers, but as they age, they will begin to reduce their volunteer participation.
Our government has numerous programs and projects that encourage youth in their philanthropic endeavours, because when people are inspired to take action, they can make an incredible impact not only in their communities but around the world. Whatever way it is manifested, philanthropy plays an important role in our country. It is at the heart of who we are as a nation; it is part of our identity; it is at the core of our values; and it is the spirit of giving of every type, from donating to volunteering. It defines our people and our country. Therefore, why do we need to legislate a national philanthropy day? As the Prime Minister has himself said, volunteers need to be acknowledged and honoured for their work. This day would be a day to do so.
I am happy to support this legislation highlighting the actions of so many generous Canadians across the country. I tip my hat and my hand today to all of those who contribute so much to making our country what it is.