Daryl Kramp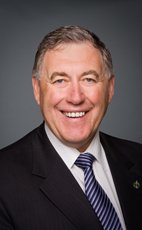 House of Commons photo
Track Daryl
Your Say
Elsewhere
Crucial Fact
His

favourite word

is course.
Conservative
MP for Prince Edward—Hastings (Ontario)
Won his last election, in 2011, with 53.30% of the vote.
Statements in the House
Trade with China June 9th, 2014
Mr. Speaker, China is one of Canada's key trading partners, and the Chinese market is highly valued to our agricultural industry. Under our Minister of Agriculture's leadership, China has moved from being our fourth-largest export market to our second. In 2012, Canadian exports to China reached $5 billion.
Here are some of the government's accomplishments in working closely with China. We have expanded our access for Canadian pork. We have reopened access, thus enabling Canadian beef to be served in China for the first time in almost a decade. We have developed new opportunities in China, for up to $500 million in sales for pulse crops. We have secured additional capacity for export of canola to China, a market worth over $1.9 billion.
With our minister, our government has always appreciated the great relationship we have been able to build with our hon. counterparts in China. Be assured that our government will continue to strengthen trade, to increase Canadian exports, and to certainly protect all Canadians doing business abroad.
International Trade June 6th, 2014
Mr. Speaker, our government is focused on the real priorities of Canadians: creating new jobs and new opportunities. That is why we continue to open new markets for our Canadian exporters around the world. With the Canada-Honduras free trade agreement, Canadian exporters, our service providers, and our investors will all benefit from enhanced market access, which will create new sources of prosperity for Canadian businesses of all sizes and also, of course, for their workers.
Could the Parliamentary Secretary to the Minister of National Revenue please update the House on this important trade agreement?
Committees of the House May 12th, 2014
Mr. Speaker, I have the honour to present, in both official languages, the fourth report of the Standing Committee on Public Safety and National Security entitled "Economics of Policing". I might add that municipalities across this country have been eagerly waiting for this report, so I am pleased today to do that. Pursuant to Standing Order 109 the committee requests that the government table a comprehensive report in response to this report.
I also have the honour to present, in both official languages, the fifth report of the Standing Committee on Public Safety and National Security in relation to a study on the main estimates 2014-15.
Business of Supply May 5th, 2014
Mr. Speaker, I think everyone in the House recognizes the need for a balance between security and privacy. Striking that balance, of course, is an ongoing battle and always be, particularly with the technological changes taking place and that will take place in the future. We are very blessed in that we have a number of levels of scrutiny, whether it is the independent officers, accounting agencies, or everyone from ombudsmen to people who are dedicated to that duty.
As well, we have warrants. Being a person who at one particular point was involved in the judicial field, I can certainly appreciate the necessity and the opportunity on many occasions to use warrants, particularly in trying to find that balance between protecting the privacy of individuals and securing the ultimate protection and safety of our citizens, which to my mind is probably our number one priority as parliamentarians.
To try to put this in perspective, how many other countries in the world require a warrant? I would ask him to be mindful of that, because this could come back on him in a different perspective than he might consider, should he not be aware of this reality.
Winter Olympic Games February 24th, 2014
Mr. Speaker, what an Olympics it was. While we in the House may occasionally differ on our politics, I do know that all of us can agree on one thing, and that is the enormous pride we hold in our hearts for the manner in which all of our Olympians represented us.
Through the highs and lows, they were an inspiration and a role model across the globe. Whether one was an athlete, a parent, a coach, a volunteer, or a fan, there were countless unforgettable memories. Who will forget Don Cherry predicting that our Canadian women were in tough but that with a never-say-die effort would come back for an exciting win, and then predicting that our men would play Sweden and win the gold in the final. Right on Don! That is Canadian, eh?
Who will forget the member of the Canadian coaching team's passing a ski to the Russian skier so he could finish with dignity before his home country, or Charles Hamelin embracing Marianne St-Gelais after his win, or, has been stated before by my colleague from down east, Gilmore Junio who unselfishly stepped aside so that Denny Morrison could compete and bring home a silver medal. That is Canadian, eh?
We all have countless unforgettable memories of what it means to be a Canadian, and I am so proud of all of our participants for showing the world what it means to be a Canadian, eh.
Consumer Protection February 5th, 2014
Mr. Speaker, on this side of the House, we have taken decisive action to put families first by cutting taxes an incredible 160 times. That means over $3,000 more every year for the average Canadian family because of our government.
Sadly, the New Democrats want to play Big Brother when it comes to consumer needs. Their plan includes creating more bureaucracy, a whole department to monitor and dictate what is best for Canadians. Not only that, but the NDP has voted against all of the following consumer-protection measures since 2006.
The New Democrats voted against protecting consumers with new credit card rules that will require consent for credit limit increases, against bringing in a code of conduct for the credit and debit card industry to help small businesses deal with unfair practices, against requiring greater disclosures of mortgage repayment charges, against making mortgage insurance more transparent and understandable, and against banning unsolicited credit card cheques.
While the opposition parties vote against measures to help consumers, our government has acted and will deliver for Canadians.
Business of Supply February 4th, 2014
Mr. Speaker, the government takes all transgressions and inadequacies into consideration. We had a situation that was deemed not to be proper, and action was taken to correct it. Do we need another body on top of that when we already have review agencies and an independent audit that has identified the problem clearly?
Yes, it was not perfect. Was there an error or omission? Yes. Has it been obviously identified and corrected? Yes. Is that reason to spend countless dollars on another bureaucracy that would simply duplicate what we already have in place?