Daryl Kramp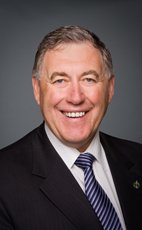 House of Commons photo
Track Daryl
Your Say
Elsewhere
Crucial Fact
His

favourite word

is course.
Conservative
MP for Prince Edward—Hastings (Ontario)
Won his last election, in 2011, with 53.30% of the vote.
Statements in the House
Protection of Canada from Terrorists Act November 18th, 2014
Mr. Speaker, I certainly welcome the interjection of my hon. colleague. Though we may occasionally have a philosophical difference, I do respect the time he has spent in the House and as attorney general. He certainly has experience in this field.
As such, I think he made a very clear point. To obtain a warrant and/or have a course of action, we must have sufficient evidence to access those instruments. One of the challenges we have is that without the proper legislation, without the proper oversight, without the capacity and ability to ask for functions, we have instruments in place right now that we cannot fully utilize.
Give us the opportunity to offer more scrutiny so that when we approach the judiciary, the departmental level, or the senior bureaucrats within the department, they will know that they will then operate within the expanded capacity of investigative techniques that are sufficient to allow them to act with the warrant. Without that, there are so many times we sit with our hands tied and are not able to properly defend the interests of Canada.
Protection of Canada from Terrorists Act November 18th, 2014
Mr. Speaker, I have two points.
First, regretfully, I heard one of the members of the official opposition state that balance was not necessary, that balance between civil liberties and public safety was not necessary. That is absolutely shocking.
However, when it comes to reductions, the fact remains that over the past number of years, we have added, by one third, the amount of expenditures for our surveillance services.
There has been a reduction as of late. However, we met with CSIS Director Michel Coulombe, Commissioner Paulson from the RCMP, the minister, and senior departmental people. We asked them if the reduction has had any influence on their ability to do the job for Canadians. They assured us that it did not. They knew darn well that the small reductions were made at the administrative level, at the front office level, and have had absolutely not been enacted on those in the field of operations.
Protection of Canada from Terrorists Act November 18th, 2014
Mr. Speaker, I am pleased to rise today to speak to Bill C-44, the protection of Canada from terrorists act. This legislation would make important changes to modernize the CSIS Act as well as bring into force provisions related to revoking the citizenship of terrorists and those who take up arms against the Canadian Armed Forces.
Our government has a strong record of action in protecting Canada's national security. We have given law enforcement new tools by making it a crime to go overseas to engage in terrorist activity. We have given authorities tools to strip Canadian citizenship from those engaged in terrorist activities. We have increased the funding for our national security agencies, such as the RCMP and CSIS, by one-third. We have introduced new measures to allow our national security agencies to better track threats to Canada. However, it is clear that there is still much more work to be done.
This past Sunday, we all saw a video released of more than a dozen men being beheaded by ISIL terrorists, including the American aid worker Peter Kassig. His parents said that they were heartbroken to learn that their son had lost his life as a result of his love for the Syrian people and his desire to ease their suffering. As Canadians, we all, in this House and across this country, condemn these barbaric actions in the strongest possible terms.
In addition to the horrific reports from Iraq and Syria, recent horrific terrorist attacks right here at home, as we all know, have been and are a stark reminder that ISIL is a threat to Canadians. That is why we are taking part in the coalition that is currently conducting air strikes against ISIL and are supporting the security forces in Iraq in their fight against this terrorist scourge. That is also the reason we are working very determinedly to strengthen the tools available to the police and the intelligence community. The protection of Canada from terrorists acts is just the first step in our efforts to do that.
As chair of the public safety committee, I am certainly pleased to discuss in a bit more detail some of the key measures that would appear before the committee for evaluation. This bill has several key measures that I would like to discuss, then, in more detail.
First is the authority to investigate threats, collect foreign intelligence within Canada, and provide security assessments. Section 12 of the CSIS Act mandates CSIS to collect and analyze intelligence on threats to the security of Canada, and in relation to those threats, to report to and advise the Government of Canada. These threats are defined in the CSIS Act as espionage or sabotage, foreign-influenced activities that are detrimental to the interests of Canada, activities directed toward the threat or use of acts of serious violence, and activities directed toward undermining the system of government in Canada.
Section 16 of the CSIS Act authorizes CSIS to collect within Canada foreign intelligence relating to the capabilities, intentions, or activities of any foreign state or group of foreign states, subject to the restriction that its activities cannot be directed at Canadian citizens, permanent residents, or corporations.
Sections 13, 14, and 15 authorize CSIS to provide security assessments to the Government of Canada, provincial governments, and other Canadian and foreign institutions; to provide advice to ministers of the crown on matters related to the Citizenship Act and the Immigration and Refugee Protection Act; and to conduct such investigations as may be required to perform these functions.
I would like to discuss investigative techniques in more detail. Fulfilling these mandates requires that CSIS use a suite of investigative techniques. These techniques can include, among others, open-source research, physical surveillance, interviews, and analyzing intelligence from a variety of sources. Human sources, however, are at the core of CSIS's ability to fulfill its mandate to investigate and advise on threats to the security of Canada. Techniques used by CSIS may include, among others, searches of a target's place of residence, analysis of financial records, or telecommunication intercepts.
Section 21 of the CSIS Act authorizes CSIS to apply for a warrant to conduct activities where there are reasonable grounds to believe that a warrant is required to enable CSIS to investigate a threat to the security of Canada or to perform its duties and functions pursuant to Section 16 of the CSIS Act. The CSIS Act requires that the Minister of Public Safety and Emergency Preparedness approve warrant applications before they are submitted to the Federal Court. Co-operation with other domestic agencies is also critical.
Section 17 of the CSIS Act authorizes CSIS to co-operate with any department of the Government of Canada or the government of a province or any police force in a province. CSIS, as such, works closely with the Royal Canadian Mounted Police, Canada Border Services Agency, other government departments, and police forces across Canada. CSIS's co-operation with these entities must be approved by the Minister of Public Safety.
In investigating threat-related activities occurring outside of Canada, CSIS's relationship with Communications Security Establishment Canada is particularly important. CSIS relies heavily on the capabilities and expertise of CSE to conduct telecommunications intercepts outside of Canada.
CSE's legal authority to provide assistance to CSIS stems from paragraph 273.64(1)(c) of the National Defence Act. CSIS must obtain a warrant from the Federal Court of Canada to seek assistance from CSE to intercept the telecommunications of a Canadian outside of Canada.
As well, we cannot forget the importance of co-operation with foreign intelligence agencies. Fulfilling CSIS's mandate also requires that CSIS undertake investigative activities outside of Canada and co-operate and share intelligence with foreign entities. Targets of CSIS's investigations often depart Canada to engage in a range of threat-related activities. At the same time, in some cases, threats to the security of Canada develop entirely outside of Canada.
CSIS cannot limit itself to undertaking investigative activities only within Canada. Pursuant to section 17 of the CSIS Act, CSIS may, with the approval of the Minister of Public Safety, after consulting with the Minister of Foreign Affairs, enter into an arrangement or otherwise co-operate with the government of a foreign state or an institution thereof.
Unfortunately, in the past, the opposition has been less than supportive of measures to keep Canadians safe from terrorists. The NDP voted against making it a criminal offence to travel abroad to engage in terrorism. The Liberal leader has said that it was an affront to Canadian values to strip passports from those who may engage in terrorist acts.
I am pleased to see that all parties in the House have expressed support for further studying this important bill at committee. I hope that this support continues, and I encourage all members to support these most important measures.
Committees of the House November 18th, 2014
Mr. Speaker, I have the honour today to present, in both official languages, the sixth report of the Standing Committee on Public Safety and National Security in relation to Bill C-2, an act to amend the Controlled Drugs and Substances Act. The committee has studied the bill and has decided to report the bill back to the House without amendment.
Canadian Heavyweight Boxing Title October 29th, 2014
Mr. Speaker, born in Madoc, my hometown, Dillon Carman participated in high school boxing, where he grew to love the sport.
Today I rise to congratulate Dillon Carman on winning the Canadian heavyweight boxing title. Dillon, who is known as "Big Country", was crowned on Saturday, October 25, in Toronto, at the Mattamy Athletic Centre, formerly known as Maple Leaf Gardens. Going seven rounds, Dillon ended the proceedings with a wicked left-right combo to rugged Eric Martel Bahoeli.
Dillon's heart is as big as his powerful punch. He is proud to be a Canadian and encourages building the sport of boxing.
Congratulations to Big Country. He is an inspiration to our youth for demonstrating the confidence and determination necessary to achieve one's goals. The next time folks hear, "let's get ready to rumble", think of Big Country Carman.
Public Safety October 27th, 2014
Mr. Speaker, in Canada, using DNA for national identification purposes is strictly governed by provisions in the DNA Identification Act, which only permits DNA use for criminal justice purposes.
Today could the Minister of Public Safety and Emergency Preparedness please update the House on this very important measure?
Restaurant Industry October 21st, 2014
Mr. Speaker, I rise today to congratulate Restaurants Canada for 70 years of service to Canada's food service industry.
Canada's restaurant industry is a cornerstone of our economy and the numbers speak for themselves. With 4% of our country's GDP and an impressive $68 billion in sales, restaurants stimulate activity in various industries, from tourism to agri-business. Globally, they put our cities on the map as must-see culinary destinations and locally they support our farmers and fishers.
Restaurants also create 1.1 million jobs across the country, and generate 250,000 jobs in diverse industries such as agriculture, manufacturing, wholesale trade, finance and insurance.
As a former restaurant owner and hospitality professional for over 30 years, I believe that a successful and growing restaurant industry is vital for our economic and social well-being.
Whether an owner, franchise, manager, server or support staff, I am thankful for their dedication to this key Canadian industry. We look forward to many more years of working with Restaurants Canada to help this fine industry grow and prosper.
Public Safety October 9th, 2014
Mr. Speaker, yesterday American media reported that Islamic State sympathizers were planning an attack on the American embassy in Ottawa and on a shopping mall. Once more, the Commissioner of the RCMP confirmed that they have active ongoing investigations on nearly 100 individuals who have travelled overseas to engage in terrorism.
Canadians are concerned about these threats posed by radical Islamic extremists. Could the Minister of Public Safety and Emergency Preparedness please give the House an update on this real terrorist threat to Canada?
Business of Supply September 23rd, 2014
Mr. Speaker, yes, I recognize that I misspoke when I said "week", and I thank my hon. colleague for the correction.
He has been relatively successful in politics and I relate that a bit to his spending some time in my riding, in which he attended Loyalist College and received an adequate education that, I suppose, enabled him to get a job.
There is seasonal employment in all of our ridings, and I recognize that in the hon. member's area seasonal employment is a significant problem. There is also seasonal employment in my riding, high in tourism and industries like that.
However, moving from that argument to the Liberal motion, the suggestion is that we need to spend more and more money simply to attract and/or create new jobs. The Liberal motion would simply reward employers that create jobs. There are a lot of businesses and a great proportion of businesses that simply would love to survive and maintain jobs. It does nothing for them, whereas the tax credit would accomplish that for businesses, albeit not large businesses but small ones, as well as those who try to maintain and keep the jobs they have.
Business of Supply September 23rd, 2014
Mr. Speaker, there appears to be a bit of a platform coming from the member, who gave what I consider to be some informative comments on EI and the economy. At some point, I certainly hope he could take counsel in those comments and not simply oppose the measures that have proven, and will continue to prove, to bring jobs for the Canadian public.