David Sweet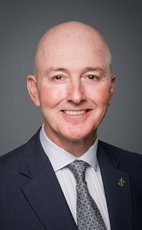 House of Commons photo
Track David
Your Say
Elsewhere
Crucial Fact
Conservative
MP for Ancaster—Dundas—Flamborough—Westdale (Ontario)
Won his last election, in 2011, with 51.30% of the vote.
Statements in the House
Business of Supply April 10th, 2014
Mr. Speaker, I have been listening to this debate, and one thing I have noticed this morning is that the only thing that has outweighed the hyperbole is the vitriol.
I can assure the hon. member that there has never been a time that I have personally been embarrassed or have been embarrassed for my family, my kids, or my kids' kids about defending our government's legislation. I do that boldly and proudly, and thank you very much.
Since the member talked mostly about the fair elections act and not about the motion before the House today, I want to ask him if he has spoken to his constituents regarding the 39 different pieces of identification that can be used at a poll, or if he has tried to communicate with them to make they have one of those, which is easily obtainable, or if he has specifically talked to his constituents about making sure that the Commissioner of Canada Elections has the ability in the Office of Public Prosecutions to be more independent and not only hold parliamentarians and the electoral process to account but also hold Elections Canada to account because then there will be a neutral office to do that?
I wonder if he has talked to his constituents about those kinds of aspects and what they have said to him in that regard.
Industry April 4th, 2014
Mr. Speaker, Sir John A. Macdonald, our first prime minister, had a vision of a railway from coast to coast. Today, as we near Canada's 150th birthday, digital technology is what connects Canadians, bridging the divisions instantaneously. There are few jobs, few sectors, and few aspects of our lives that remain untouched by digital technology.
Can the Parliamentary Secretary to the Minister of Industry please tell the House what our government is doing to promote Canada's digital future?
Health March 31st, 2014
Mr. Speaker, all Canadians rely on our country's public health system to treat themselves and their families. That is why my constituents are so pleased to see our historic support to the provinces and territories in health care and innovation.
This is in stark contrast to the Liberal policy of balancing budgets at the expense of health care transfers.
Would the Minister of Health please update the House on how our government is delivering on health care?
Pensions March 28th, 2014
Mr. Speaker, unlike the Liberal leader, who wants to raise taxes on seniors so he can spend, spend, spend, our Conservative government believes that seniors deserve to keep more of their hard-earned dollars. That is why we have taken unprecedented action to put more money back in the pockets of seniors and all other Canadians.
We cut the GST, introduced pension income splitting and created a tax-free savings account that has allowed more than nine million Canadians to save tax free. However, we did not stop there. We introduced pooled registered pension plans to help small businesses and the self-employed to save for their retirement.
Yesterday a new report from the Ontario Chamber of Commerce and the Certified General Accountants of Ontario endorsed pooled registered pension plans as a solution for Ontario. A whopping 86% of employers surveyed support introducing PRPPs. We are pleased to see such strong support for our government's action. It is too bad the opposition voted against it.
We encourage all provinces to move forward with PRPPs. We continue to stand up for seniors and retirees in Ancaster—Dundas—Flamborough—Westdale, and all of Canada, by building our world-renowned retirement income system while keeping taxes low.
Offshore Health and Safety Act March 27th, 2014
Mr. Speaker, based on the last question and answer, I have a simple question. If the member allows the debate to collapse, we could go right to a vote and make sure that this gets through. That is all we need to have happen, and we can make it law.
Energy Safety and Security Act March 25th, 2014
Mr. Speaker, I thank my colleague for his good presentation. We have done some good work together.
I wanted to interject on the last question because McMaster University, in the riding I represent, has one of the few university reactors, and I have not had any direct conversations with the minister regarding the full scope of the intention of the ministerial discretion.
Would the member agree that so far we have been talking about big power producers in this regard, and that a small research reactor in a university or public institution would raise other questions regarding liability that would not be germane to, let us say, Ontario Power Generation and the large capability it has through reactors?
Energy Safety and Security Act March 25th, 2014
Mr. Speaker, I wonder if the minister can tell us today what the actual cost to a nuclear power plant operator would be when the liability limit increases to $1 billion. Could he also give us an idea of what the phase-in period is for that?
Farm Family of the Year Award March 7th, 2014
Mr. Speaker, March is nutrition month in Canada, so it is fitting that I rise today and talk about apples. We know the old saying about an apple a day.
What brings this to mind are the award-winning apples that have been grown for 103 years by generations of the Bennett family on Garner Road in Ancaster. The Bennetts were recognized at a banquet last Saturday, receiving the Osborne L. Sager Farm Family of the Year award from the Hamilton-Wentworth Federation of Agriculture. My congratulations to Todd, Carrie, Richard, and Andrea Bennett, the current partners in the popular local apple store and farm.
Not only are the Bennetts innovative farmers and entrepreneurs, they are also big contributors to the community, their church, and the history of the village of Ancaster.
My congratulations to everyone involved in carrying forward the very best of this Ancaster institution and doing the legacy of their forefathers so very proud.
Qalipu Mi'kmaq First Nation Act March 6th, 2014
Mr. Speaker, could the minister clarify why this legislation is needed, what process led to the legislation, and why it is important to send the bill to committee and on to royal assent as expeditiously as possible?
Committees of the House March 6th, 2014
Mr. Speaker, I have the honour to present, in both official languages, the third report of the Standing Committee on Industry, Science and Technology in relation to supplementary estimates (C) for the fiscal year ending March 31, 2014.