David Sweet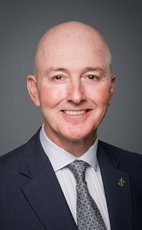 House of Commons photo
Track David
Your Say
Elsewhere
Crucial Fact
His

favourite word

is mentioned.
Conservative
MP for Ancaster—Dundas—Flamborough—Westdale (Ontario)
Won his last election, in 2011, with 51.30% of the vote.
Statements in the House
Lincoln Alexander Day Act September 24th, 2014
Mr. Speaker, I want to say a heartfelt thanks to all of the members who spoke so warmly about Linc from their memories of him, from working with him, and from his reputation.
It is an honour for me to close the second hour of debate at second reading of Bill S-213, an act respecting Lincoln Alexander day.
I was blessed to know Lincoln Alexander in his later years, in particular because the riding he represented when he was a member of Parliament back in the late 1960s and 1970s, the constituency of Hamilton West, included some of the same neighbourhoods that are in the constituency I currently represent. But more than that, everyone in the Hamilton area has stories of their encounters with Lincoln Alexander. He was approachable. He was a man of the people and the people loved him for it.
I will note that it is appropriate that we are having this discussion today, since we watched the swearing in of another Lieutenant-Governor of Ontario yesterday, when Elizabeth Dowdeswell became the 29th Lieutenant-Governor of Ontario. It is the perfect context for our discussion today of Ontario's 24th Lieutenant-Governor, Lincoln MacCauley Alexander, and one of our most beloved.
Most people knew him better as "Linc". It is a signature of his character that he preferred the familiar name rather than more formal names that someone of his accomplishment, credentials, and stature could rightly demand.
This legislation seeks to designate January 21 of each year as Lincoln M. Alexander day, and here is why. It is to honour the memory of this great Canadian, great Ontarian, and great Hamiltonian; to recognize his commitment to building a better future through our young people and to use this day to further Linc's life-long passion of investing in our young people and building up tomorrow's leaders; and to also honour his many contributions, both personal and political, toward equality and fairness, more specifically, to ending racial discrimination. This was equally a lifelong passion of Linc's.
His very presence in public life opened doors and broke down barriers.
As is the hallmark of a great man, many people have many good things to say about him. So I apologize up front if I am repeating a few highlights of Linc's distinguished career that have already been mentioned by members opposite and members on this side of the House during the course of this discussion.
Long before Linc was Lieutenant-Governor of Ontario, a post that allowed him to grow his mission exponentially to help youth in our society, he was a scrappy, outspoken member of Parliament from Hamilton. There are more than a few members who will agree that MPs from Hamilton can have that kind of reputation. Perhaps it is the grit of a hard-working city and region, but one thing is for sure: Linc exemplified that day-in and day-out.
I will never forget attending Linc's funeral service in October 2012 at the Hamilton Place auditorium in downtown Hamilton. It was a fitting final tribute to a great man who had laid in state at the Ontario legislature in the days leading up to his funeral.
For a man who came from humble beginnings, who worked hard to make a difference in law and politics despite all the barriers put in his way, how amazing it was that prime ministers, premiers, mayors, cabinet ministers, MPs, and MPPs dropped all their plans on that Friday in October to pay tribute to Linc, along with thousands of his fellow citizens, his fellow Hamiltonians. I dare say it was the latter group, his fellow citizens, who had a larger place in Linc's heart.
Lincoln M. Alexander distinguished himself in the Royal Canadian Air Force in World War II. He believed in our youth. He was a relentless champion for equality and fairness. He was a trailblazer in the fight to end racial discrimination. He was an eloquent ambassador for Ontario and Canada as Lieutenant-Governor. He was an inspiration to so many Canadians. The very least we can do is name January 21 in his honour. Let his birthday and the values he stood for live on forever in the hearts of Canadians.
I ask all members of the House for their support of the bill at second reading so that we may advance it to committee and eventually to the law of the land. I can think of no better tribute.
God bless the memory of Lincoln M. Alexander.
Islamic State September 24th, 2014
Mr. Speaker, Canadians have been watching the events in Iraq unfold with increasing horror over the past couple of months. There is no doubt that ISIL, also known more appropriately now by the name Daesh, are the most barbaric, heinous terrorists this world has ever known.
Our Prime Minister and Foreign Affairs Minister have shown unrelenting leadership on this issue. Just this week, Daesh called for attacks on Canadians and all westerners.
In addition to the threat Canadians are facing, what is also alarming is the direct targeting of Christians within Iraq. CNN, churches, and other news organizations have all reported that Daesh is marking their homes with an Arabic symbol signifying Christian. Is there anything in history that can compare to this barbarity? It is an affront to everything Canada stands for. It is outrageous to all Canadians. We cannot stand idly by. We cannot be ambiguous.
I urge all members of the House to speak out clearly, loudly, and in unison against the tactics and very existence of Daesh. Let us heed the lessons of history.
International Trade June 20th, 2014
Mr. Speaker, the Pacific Alliance is a forum that gives Canada an important opportunity to shape the future prosperity of the Americas.
Opening new markets and increasing Canadian exports is a key part of our government's plan to create jobs, growth and long-term prosperity.
Can the very auspicious Parliamentary Secretary to the Prime Minister please give this House an update on Canada's engagement with the Pacific Alliance?
Yad Vashem June 16th, 2014
Mr. Speaker, 2013 marked the 60th anniversary of Yad Vashem, Israel's official living memorial to Jewish victims of the Holocaust, and the world centre for documentation, research, education, and commemoration of the Holocaust. To recognize this notable occasion, Yad Vashem is leading an international mission through Poland and Israel to educate participants on the horrors Jews faced at the hands of German Nazis during the Holocaust. We are proud to have our Minister for Multiculturalism participating in part of this mission on behalf of all Canadians.
Today and every day we must never forget. We must realize how pernicious anti-Semitism is, and continue to be vigilant against anti-Semitism in all its insidious forms.
Petitions June 12th, 2014
Mr. Speaker, I have a petition from dozens of Canadians calling on the Parliament of Canada to take action in regard to the systematic persecution of Falun Gong and organ harvesting from its members.
An Act to Bring Fairness for the Victims of Violent Offenders June 4th, 2014
Mr. Speaker, it is with great gratitude and emotion that we come to the final minutes of debate on this bill in the chamber. For me to bring forward these right and necessary changes on behalf of all victims, including, not least, my constituents, has been a great privilege and honour.
As all members of this House know, the process for private members' bills is a long journey. There are many steps and it can take years. This one has been no different.
I am proud that the bill builds upon the good work of ministers and the government since 2006.
I am grateful that the bill builds on the Canadian victims bill of rights that the Prime Minister announced in April, which would provide for victims the tools that a couple of my opposition colleagues said Bill C-479 was deficient of.
I am gratified that the bill would strengthen the voice of victims, provide additional support to victims, and give the Parole Board of Canada the tools it needs to ensure re-victimization is reduced and, in some cases, even mitigated.
I strongly believe all these things are worth fighting for.
I will not belabour the point. I thank all members for their support and interest. Once again, I reiterate three key points. One is that this is about the worst kind of offenders: violent offenders. This is about giving victims a stronger voice and role in the process, something we have heard time and again in public consultations, in letters and emails, and calls. This is about giving the Parole Board of Canada tools.
Please allow me to close, as I have before, with the words of The Hamilton Spectator editorial from March 2, 2012. It sums up the decision before us now, the decision that the victims of Jon Rallo, the victims of Clifford Olson, and the family of Constable Sweet have been calling for, for years.
...the PBC also has a responsibility to victims of crime. For those victims, the parole board is virtually the only source of information about the status of the person who committed the crime against them.... some local victims of crime don't feel well-served by the board. That must change.
Indeed, that must change. With the vote of this House on Bill C-479 we will be a good part of the way saying it will change.
An Act to Bring Fairness for the Victims of Violent Offenders June 4th, 2014
Mr. Speaker, my colleague's great question affords me the opportunity, in case there is ever any misunderstanding in this regard, to say that we thoroughly agree and understand that the parole process is part of the rehabilitative process for offenders to go through to be integrated into society. The best thing that can happen to people who are convicted of crimes and institutionalized is they come out rehabilitated and become contributing Canadian citizens. I want that to be clear.
The premise of the provisions in the bill is to give the Parole Board of Canada the tools so it can make judgments when offenders apply for parole. If offenders have been working diligently through their correction plans and want to make amends, want to be contributing Canadians, and want to ensure there is a large space between them and those who were victimized so they feel safe, then I think the Parole Board is professional enough that it will make the right decision and conduct the reviews early. For those who want to continue their victimization and behaviour, the bill would give the Parole Board the tools to decide not to conduct reviews until five years later.
That is the purpose and intention of the bill. I sincerely trust that the professionals with Parole Board of Canada will follow the spirit, as well as the letter, of the law.
An Act to Bring Fairness for the Victims of Violent Offenders June 4th, 2014
Mr. Speaker, I thank my colleague for his very kind words and for his very constructive question.
I would hope that part of the informing process would be our collective efforts in the 308 ridings across the country. When I first launched the initiative, I did not know that the timing would be the way it was or the magnitude of the victims bill of rights, but since it complements the victims bill of rights quite well, I believe that part of the government's initiative will be to communicate that, and aspects of this bill will go along with it, hand-in-glove.
Since my colleague has raised it, I will be communicating on this specific question with the federal victims ombudsman's office to see exactly what tools it has. I am certain it will make sure victims know about this, as part of its mandate. Certainly, I will make sure I deliver any information it needs, so that it can push this information out and that victims will know all about it and can access their new rights that the bill provides.
An Act to Bring Fairness for the Victims of Violent Offenders June 4th, 2014
moved that Bill C-479, An Act to amend the Corrections and Conditional Release Act (fairness for victims), be read the third time and passed.
Mr. Speaker, I say this every time, but it is indeed an honour to stand here at third reading stage of Bill C-479 to make these important and necessary amendments to the Corrections and Conditional Release Act.
In the time since the chamber debated the bill at second reading, the Prime Minister launched the first ever Canadian victims bill of rights in early April. I am proud that Bill C-479 works in concert with this historic piece of federal legislation to better protect victims of crime and give them a much stronger voice in our criminal justice system.
In addition, I would like to acknowledge the ongoing and dedicated leadership of the Minister of Justice and the Minister of Public Safety and Emergency Preparedness when it comes to victims' rights. The Canadian victims bill of rights is just one of many initiatives on which they and their ministries are working.
I extend special thanks to the Parliamentary Secretary to the Minister of Public Safety and Emergency Preparedness, the member for Scarborough Centre, for all of her support at the committee process and in readings of Bill C-479 in the House.
I also thank the members who sit on the Standing Committee on Public Safety and National Security for all their comments, questions, and interest. I appreciate every one of them.
I would especially like to thank the Federal Ombudsman for Victims of Crime, Sue O'Sullivan, for her frank advice before and during the crafting of Bill C-479. We are fortunate to have such an experienced, dedicated, and caring Canadian leading this office as our ombudsman. It has been a pleasure to get to know her better over the past couple of years through the process of this bill. I salute the good work she does, and I know the provisions of Bill C-479 will help in the work she and her office do on a daily basis. I would also encourage all of my colleagues to go to the office's website and watch the videos of the victims and their stories. It is very educational about what victims have to endure presently in the process they go through in regard to parole hearings.
As we consider Bill C-479 for third and final reading in the House before it moves to the other place, please allow me to recap what this bill would do. Bill C-479, an act to bring fairness for the victims of violent offenders, would make nine changes to modernize the Corrections and Conditional Release Act, so it can better protect and support victims of violent offenders. Let me please summarize this.
The bill would extend mandatory review periods for parole. This means that if an offender convicted of a more serious violent offence is denied parole, the Parole Board would have to review the case within five years rather than the current two years.
It would increase the period to within four years in which the Parole Board must review parole in cases of cancellation or termination of parole for an offender who is serving at least two years for an offence involving violence.
It would require that the Parole Board take into consideration the need for victims and victim's families to attend a hearing and observe the proceedings.
It would require that the Parole Board consider any victim impact statement presented by victims.
It would require the Parole Board, if requested, to provide victims with information about the offender's release on parole, statutory release, or temporary absence, as well as provide victims with information about the offender's correctional plan, including progress toward meeting its objectives.
It is important to remember Constable Michael Sweet, and again I remind the House that he is no relation to me. It is important to remember that case because he was brutally murdered by two brothers and they were sentenced for this terrible, heinous crime. There was only one thing Michael Sweet's family asked for. Their plea was simple. They said that the offenders committed the crime in public—in other words, they killed the father and husband of the family in public—they were tried in public, and the family simply said the Corrections and Conditional Release Act should be changed so that it would be known publicly that offenders were making some effort to be rehabilitated and become contributing citizens.
I do not think that is too big a request.
It also matters a lot to victims and families who have gone through a tremendous ordeal only to be re-victimized by the process. We have discussed many examples during the course of debate on the bill, so let me make three points as we embark on this hour of debate.
In the cross-country public consultations held by the government that led to the introduction of the Canadian victims bill of rights, which I have previously mentioned, the overwhelming and clear message was that victims of crime want increased participation in the criminal justice system. I would submit that Bill C-479 would do exactly this.
We know we must pay particular attention to instances of violent crime, crimes that are heinous, repugnant, calculated, and senseless. I would also submit to members in this House that Bill C-479 would do exactly this.
It is victims of violent offenders who we are looking to help and support with this bill.
The statistics on violent offences in this country that I cited at the bill's second reading are alarming. These are contained in the Sampson report of December 2007.
Nearly 60% of all people serving sentences of less than three years, at the time this report was done, had histories of violence, and one in six had known gang or organized crime affiliations.
To make real and meaningful change for victims and families of victims whose lives have been turned upside down by these violent offences, we must do two things well: strengthen the voice of victims of violent crime by providing additional support to victims in the parole process; and give the Parole Board of Canada the tools it needs with regard to review of detention periods with the option of increasing the time between parole hearings for violent offenders.
I would repeat to my colleagues in the House that we want to give the option, discretion, and tools to the Parole Board so that, case by case, it will know when to engage those tools we would give it through this bill.
Once again, I would submit to members in the House that Bill C-479 would do exactly this.
As I have acknowledged before, in developing a well-researched and well-thought-out bill, my office and I spoke numerous times with the Federal Ombudsman for Victims of Crime, Ms. Sue O'Sullivan, and her office. Her testimony before the standing committee was certainly compelling.
I am pleased that some of the recommendations of her 2013 report, "Meeting the needs of victims of crime in Canada", have been acted upon in Bill C-479—in particular, the rights of victims to good communication throughout the system, the use of technology in victims' statements presented at Parole Board hearings, and ensuring the parole process is more accommodating to victims' needs.
However, I also believe this bill has a sound basis when I look at other jurisdictions that are doing similar things.
As I noted before the standing committee, the Victims' Rights Act of New Zealand, instituted in 2002, has been a model for the world. Under the corresponding provisions of the New Zealand Parole Act of 2002, rights of victims are also enshrined, much as is being proposed in Bill C-479. Similarly, the basis is support and respect for victims.
In 2009, the New Zealand Ministry of Justice launched an extensive public consultation to further enhance victim support within its justice system. One of the areas it looked at, which is echoed in Bill C-479, is the modernizations I propose to reflect with the use of technology through video conference and links to oral statements delivered in regional offices via telecommunication.
This is expressly addressed to ensure victims have a strong voice in the process, but also to mitigate the re-victimization of victims and their families. The Victims of Crime Reform Bill, introduced to the Parliament of New Zealand, includes this provision.
The New Zealand victims of crime reform bill also included improvements to the victim notification system, again similar to the bill we have before us today. It would allow Canadian victims increased access to information about how offenders are progressing with their correctional plans and pertinent documents.
Aside from New Zealand, our friends in other great western democracies are also looking at these issues. The report by Ms. O'Sullivan and the Office of the Federal Ombudsman for Victims of Crime looked at U.S. legislation, both at the federal and state level. Also, the United Kingdom's code of practice and the 2012 European directives on victim support and protection were also studied.
Once again, this underscores that Bill C-479 is both timely and appropriate.
Before closing, I would again like to acknowledge the hard work and many long hours of my staff in bringing this bill through each stage of the House of Commons process. I dearly appreciate their work.
In closing, I would like to conclude where I began when I first introduced Bill C-479.
As the House knows, I have attended Parole Board of Canada hearings with my constituents who are victims of a very violent offender. I have attended them on three such occasions now.
This is the case of Jon Rallo, who to this day still denies the triple murder he committed, the gruesome triple murder of my constituent's sister, niece, and nephew. The body of her nephew has never been found. It is believed to have been disposed of in waterways around the Hamilton area.
The most compelling moment each time has been when my constituent asks Mr. Rallo the same question in her victim impact statement at each hearing:
Why did you kill our family? What did you do with your son?
She never gets a response. The offender sits stone-faced. He feels no remorse. This is something the parole board noted carefully in its last decision before denying him full parole in 2013.
However, since he may reapply for parole again next year, we may go through the same reading of a similar impact statement, and the tears and emotion from the family that inevitably accompany them will happen again.
I think I need to mention just once more that because of the duty these families feel to their loved ones who have been murdered, part of the re-victimization is something that they shoulder, but we should do everything we can legislatively and by regulation to make that re-victimization as minimal as possible.
Watching it in person, I can say it is as dramatic an example of re-victimization as there ever could be. This is what motivates me to see Bill C-479 through to fruition. Let us get on with the job.
Terrorism June 4th, 2014
Mr. Speaker, my question is about the government's fight against international terrorism. This month an exhibit that is celebrating terrorism is on display right here in the nation's capital. It honours terrorists like Dalal Mughrabi and portrays her as a victim. The reality is that Mughrabi led a terror squad and bloody murderous rampage that left 38 Israelis dead. Thirteen of them were children. What is the government's position on this and other aspects of international terrorism?