David Sweet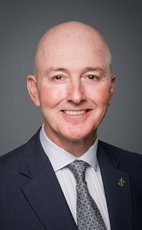 House of Commons photo
Track David
Your Say
Elsewhere
Crucial Fact
His

favourite word

is mentioned.
Conservative
MP for Ancaster—Dundas—Flamborough—Westdale (Ontario)
Won his last election, in 2011, with 51.30% of the vote.
Statements in the House
Public Safety November 20th, 2014
Mr. Speaker, last week in Hamilton at McMaster University, a pro-Palestinian group held an event called "hug a terrorist day". This was shocking and deplorable given that less than a month ago, Canada lost Warrant Officer Patrice Vincent and Corporal Nathan Cirillo, two brave Canadian Armed Forces members, in a terrorist attack right here on our own soil.
Could the Minister of Public Safety and Emergency Preparedness please update the House on his views on this extremely offensive event, which makes light of victims of terrorism, and what our government is doing to protect Canadians?
Protection of Canada from Terrorists Act November 5th, 2014
Mr. Speaker, my colleague alluded in her speech to her desire for simple answers to direct questions, so I wonder if she would just humour me and live by her principle.
Does she believe that the horrific events of late October were terrorist attacks? If not, could she share with the House what she knows that would contradict the President of France, the Secretary of State of the United States, and more specifically, the Commissioner of the Royal Canadian Mounted Police?
Human Rights November 5th, 2014
Mr. Speaker, yesterday Human Rights Watch released a disturbing report which suggests that the terrorist group ISIL abducted more than 150 children and systematically abused and tortured them over a period as long as six months. These children were forced to undergo intense religious indoctrination. Those who did not conform to this coercion were beaten with cables.
This is in addition to a video purporting to show a number of ISIL fighters discussing, in an all too familiar manner, a modem-day slave market where Yazidi girls are bought and sold as property.
These are absolutely shocking developments, and further proof of the fact that ISIL is a depraved and barbaric organization that needs to be confronted with military force.
This is precisely why the Canadian Armed Forces is involved in the fight against ISIL. Our CF-18s recently destroyed engineering equipment being used by ISIL to flood villages and roads near Baghdad. Because of the efforts of our armed forces, ISIL's capability to further terrorize this area has been substantially degraded.
We thank the men and women in uniform of the Canadian Armed Forces.
Nathan Cirillo and Patrice Vincent October 29th, 2014
Mr. Speaker, yesterday I had the honour to represent my home community at Corporal Nathan Cirillo's funeral. What a sight to see thousands of neighbours and fellow Canadians winding every road and street in Hamilton, some cheering, some visibly moved, others singing O'Canada, but all standing in solidarity with Corporal Nathan Cirillo and his family, and his home regiment the Argyll and Sutherland Highlanders.
In times of national tragedy a country has the choice to shutter its windows and close itself off from the world, but after yesterday, I can say with absolute confidence that my home town of Hamilton and our great country of Canada have chosen another path.
Canada has come together stronger than ever to stand behind Corporal Nathan Cirillo and Warrant Officer Patrice Vincent. Our society, our democracy, mourns their loss and we are stronger and all the more confident because of their sacrifice.
God bless the families of Nathan Cirillo and Patrice Vincent, and God bless Canada.
Patrice Vincent and Nathan Cirillo October 24th, 2014
Mr. Speaker, this has been a week like no other in Canadian history. We witnessed two attacks meant to terrorize us on Canadian soil, and our hearts are filled with incredible sadness for the two brave Canadians who were lost this week.
Warrant Officer Patrice Vincent, who was murdered in a calculated hit-and-run attack, served his country with distinction for 28 years. Then, on Wednesday, my fellow Hamiltonian, Corporal Nathan Cirillo, was murdered in the attack that took place in this building and at the National War Memorial. Corporal Cirillo was a fine young father who was slain in the very duty to our country the memorial is there to honour.
I would like to thank all Canadians for their outpouring of sentiments, particularly at the James Street armoury, where Corporal Cirillo's regiment is based, including the Hamilton Muslim community, which laid a wreath at the site yesterday afternoon.
Although our nation has been undeniably changed by the events of this past week, let us be mindful of the words the Prime Minister spoke on Wednesday evening. Let us be clear. We as Canadians will not be intimidated, ever. We will continue to be a role model for the world of freedom, democracy, and human rights. There is no greater legacy we can leave for Warrant Officer Patrice Vincent and Corporal Nathan Cirillo.
May God bless their families in this time of grief, and may God bless Canada.
Veterans Affairs October 23rd, 2014
Mr. Speaker, as a member of Parliament from Hamilton, I want to express my thanks to all of my colleagues for their kind words and condolences to Nathan Cirillo's family and loved ones, to everyone who placed flowers at the James Street Armoury in Hamilton, and to those who continue to sign the book of condolences in the Hamilton city hall.
Yesterday the most sacred place to pay honour to those who have fallen in the service of Canada was attacked. Would the Minister of Veterans Affairs please give us his reflections on the events of yesterday?
Nááts'ihch'oh National Park Reserve Act October 23rd, 2014
Mr. Speaker, I thank my colleague for her speech, as well as her commitment to pass this expeditiously. I want to ask her to clarify what "expeditiously" means. Has she dealt with her colleagues and are they ready to let this pass today?
Dalai Lama October 20th, 2014
Mr. Speaker, it is my pleasure to rise to welcome one of Canada's honorary citizens back to the soil of our great country today. His Holiness the Dalai Lama arrived in Vancouver about an hour ago.
It was an honour for me to move the unanimous motion in the House in 2006 to convey honorary citizenship on His Holiness and to have met him on a number of occasions since. This is because his teachings on enlightenment and empowerment are a lesson for all of us, and are reflective of the values of freedom, democracy, and human rights that we, as Canadians, cherish.
During this week in Vancouver, the Dalai Lama will be giving a series of talks and lectures, including a lecture at UBC in support of the Tibetan resettlement project and a session with CEOs of small businesses about ethics. On Friday some of the members of the House and of the upper chamber will meet with the Dalai Lama under the auspices of the Parliamentary Friends of Tibet.
We all know that the ongoing situation in Tibet is of grave concern to His Holiness as well as to my colleagues. I pray that their meeting will be fruitful and that future generations of Tibetans finally experience the hope and freedom that they have so long desired.
Intergovernmental Affairs October 10th, 2014
Mr. Speaker, our government announced support for four new research projects that will highlight the benefits of internal free trade to Canadian consumers.
As we complete trade agreements abroad, our government has taken concrete action to free Canadians from the internal barriers that limit their success, movement and choice.
Would the Parliamentary Secretary to the Minister of Industry please update us on this announcement and the benefit it is to Canadian consumers?