Dean Del Mastro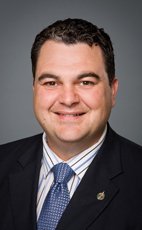 House of Commons photo
Track Dean
Your Say
Elsewhere
Crucial Fact
His

favourite word

is tax.
Independent
MP for Peterborough (Ontario)
Won his last election, in 2011, with 49.70% of the vote.
Statements in the House
Foreign Affairs September 15th, 2014
Mr. Speaker, on July 17, Malaysian flight MH17 was shot down flying through Ukrainian airspace, killing all 298 civilians on board. Despite the very real demands and focus that the ongoing crisis in the Ukraine requires, the global community must follow through and ensure the perpetrators involved in this outrageous act are held accountable.
I want to thank the Prime Minister and the Minister of Foreign Affairs for forcefully addressing this provocative act, expressing both outrage toward the perpetrators and profound sympathy for the innocent victims and their families. Can the Prime Minister please update the House on Canada's efforts in ensuring that these perpetrators are held accountable?
Natural Resources June 16th, 2014
Mr. Speaker, everyday Canadians are struggling with the rapidly increasing price of energy. Recent events in places like Iraq remind us that the world's dependency on conflict oil can have serious financial consequences on Canadian families and businesses.
While the world is progressing toward greater efficiency and new technologies, current events demonstrate why Canadian oil must have sustainable, efficient and secure access to Canadian as well as global markets.
I was pleased to read the comments made by our Minister of Natural Resources in his recent meetings in New York. Could the minister share his message with the House and speak to his commitment to Canadian energy, Canadian jobs and Canadian families?
Main Estimates, 2014-15 June 10th, 2014
Mr. Speaker, I agree with the motion and stand with the Conservative Party, and vote yes.
An Act to amend the Assisted Human Reproduction Act (surrogacy) June 2nd, 2014
moved for leave to introduce Bill C-607, An Act to amend the Assisted Human Reproduction Act (surrogacy).
Mr. Speaker, I am also pleased to have the support of the member for Mississauga South.
This bill is very important. As I started researching this, I had personal experience with the issue. Very good friends of mine went through challenges as a result of not being able to conceive children, and today they have a wonderful family.
Thousands of Canadian families struggle in this regard today, and sections 61, 62, and 63 of the Assisted Human Reproduction Act prohibit payment to a surrogate mother or payment for services related to surrogacy. At the same time, there is real hypocrisy, as we recognize these contracts when Canadians venture across the border to the United States or elsewhere around the world.
This is a pro-family bill. It would help families to have children of their own, to have their own families. I hope the bill finds support in all quarters of this House. It is time we moved to put these changes in place.
(Motions deemed adopted, bill read the first time and printed)