Dean Del Mastro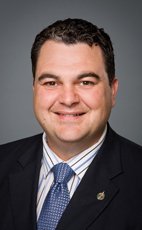 House of Commons photo
Track Dean
Your Say
Elsewhere
Crucial Fact
His

favourite word

is riding.
Independent
MP for Peterborough (Ontario)
Won his last election, in 2011, with 49.70% of the vote.
Statements in the House
Medals of Bravery October 21st, 2014
Mr. Speaker, today at Rideau Hall, the Governor General recognized a special group of Canadians for acts of bravery. During the ceremony, His Excellency the Right Hon. David Johnston remarked that those recognized had shown extraordinary courage when called upon by circumstance to act and that their actions represented the most extreme examples of philanthropy, which literally translates as "love of mankind".
On May 2, 2011, Hailey Menard and paramedics Mark Cameron and Gregory Landon rescued Hailey's younger sister, whose foot had become trapped in a piece of farm machinery near Havelock, Ontario. Hailey jumped into a gutter filled with animal waste to prevent her three-year-old sister from drowning while waiting for help to arrive. After an hour of struggling in a most difficult situation, which put their own health at risk, paramedics Cameron and Landon were able to loosen the conveyer's mechanism and free the child.
On behalf of all the residents of the Peterborough riding, I salute each of them for their bravery and thank them for inspiring each and every Canadian with their incredible courage.
Aboriginal Affairs October 20th, 2014
Mr. Speaker, the government has smartly prioritized skills training in order to respond to critical labour shortages as well as to create more opportunities for individual Canadians. In this regard, first nations citizens across Canada have accessed the aboriginal skills, employment and training strategy as a way to improve their skills and contribute toward the Canadian economy.
I note that recently the Standing Committee on Human Resources and Skills Development recommended that the aboriginal skills and employment training program, or a similar program, be renewed for a minimum of five years, a suggestion I support.
Can the Minister of Aboriginal Affairs and Northern Development please comment on this program?
Natural Resources October 7th, 2014
Mr. Speaker, there is no tar in the Canadian oil sands. In truth, the oil sands represent one of the world's richest deposits and largest reserves of energy. They drive investment in job creation, technology and innovation in every corner of Canada while related revenues support many of the government's services, which millions of Canadians rely on every day.
Despite years of misinformation and attacks presented by special interest groups, the European Union announced today that it will not single out oil sands crude. It is a clear victory for Canadian energy, and I would argue, an acknowledgement of the tremendous technological progress that has been made in improving oil sands extraction processes.
Could the Minister of Natural Resources please comment on today's announcement?
Aboriginal Affairs October 1st, 2014
Mr. Speaker, the government has placed a priority on providing safe drinking water on first nations reservations and has made significant progress in this regard over the last several years dealing with the most urgent cases.
Curve Lake First Nation in my riding is, however, facing challenges, as its water treatment system is stretched well beyond its capacity and useful life. Maintenance of the system is actually causing financial hardship. The due diligence for a replacement system has been completed, and the application for funding is with the Department of Aboriginal Affairs.
Can the minister comment on the status of the application, or if not, would he review the file and respond in writing to my office and Curve Lake First Nation by providing an update on the status of the application?
Cuddles for Cancer September 30th, 2014
Mr. Speaker, it is my pleasure to rise in the House today to share with members the story of a remarkable grade 7 student from the Peterborough riding.
Two years ago, Faith Dickinson decided she wanted to make a difference in the lives of others. She thought everyone deserved to feel warmth, comfort, and love, especially those battling cancer.
At only nine years old, Faith started her own non-profit organization, called Cuddles for Cancer. Since then, she has remarkably raised more than $15,000 and delivered more than 700 cuddles blankets to cancer patients across Canada and beyond.
Faith has also been named an outstanding Ontario junior citizen and received the Peterborough County Award of Recognition, as well as being selected as one of Build-A-Bear's global finalists making a positive impact on their community and the world.
This is a young woman who is enacting change in helping others. Now she is challenging all of us to do the same. The compassion and ambition Faith demonstrates is something to be admired.
Later this week, in Peterborough, I will be joining Faith to announce her challenge formally and to discuss ways we can all get involved.
Let us all join with Faith in making a difference in the lives of others.
Foreign Affairs September 15th, 2014
Mr. Speaker, on July 17, Malaysian flight MH17 was shot down flying through Ukrainian airspace, killing all 298 civilians on board. Despite the very real demands and focus that the ongoing crisis in the Ukraine requires, the global community must follow through and ensure the perpetrators involved in this outrageous act are held accountable.
I want to thank the Prime Minister and the Minister of Foreign Affairs for forcefully addressing this provocative act, expressing both outrage toward the perpetrators and profound sympathy for the innocent victims and their families. Can the Prime Minister please update the House on Canada's efforts in ensuring that these perpetrators are held accountable?
Natural Resources June 16th, 2014
Mr. Speaker, everyday Canadians are struggling with the rapidly increasing price of energy. Recent events in places like Iraq remind us that the world's dependency on conflict oil can have serious financial consequences on Canadian families and businesses.
While the world is progressing toward greater efficiency and new technologies, current events demonstrate why Canadian oil must have sustainable, efficient and secure access to Canadian as well as global markets.
I was pleased to read the comments made by our Minister of Natural Resources in his recent meetings in New York. Could the minister share his message with the House and speak to his commitment to Canadian energy, Canadian jobs and Canadian families?