Dean Del Mastro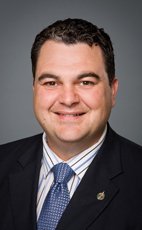 House of Commons photo
Track Dean
Your Say
Elsewhere
Crucial Fact
Conservative
MP for Peterborough (Ontario)
Won his last election, in 2011, with 49.70% of the vote.
Statements in the House
New Democratic Party of Canada May 9th, 2013
Mr. Speaker, during a time of global economic uncertainty, Canadians have placed their trust in our Conservative government to keep taxes low, balance the budget and create jobs, growth and long-term economic prosperity. It is clear the last thing Canadians need is increased taxes and spending. Unfortunately, this is exactly what the leader of the NDP proposes to do.
The NDP platform clearly demonstrates that the leader of the NDP wants to impose a $20 billion carbon tax. This massive new NDP tax plan would increase the price of everything, including gas, groceries and electricity, while disproportionately targeting the poor, seniors and rural Canadians. It is shameful. If this massive new carbon tax were not enough, the NDP also proposes to bring in an additional $56 billion in wasteful new spending. The last thing Canadians need are the failed socialist policies of the past.
It is time for the leader of the NDP to come clean with Canadians about his $20-billion carbon tax and his $56 billion of proposed wasteful spending. He can do it right now.
Economic Action Plan 2013 Act, No. 1 May 7th, 2013
Mr. Speaker, I listened intently to the member's comments. He spoke about a number of measures in this piece of legislation. I know he has spent some time in my riding, the electric city, Peterborough, Ontario. I also know that he has frequented his own area. I also know that he is an accomplished weatherman. I wonder if he has read the barometer on a number of the issues in the budget, such as incentives for manufacturing, the extension and indexing of the gas tax credit for municipalities and infrastructure funding. Has he read the barometer on these and found out that they are indeed popular?
Economic Action Plan 2013 Act, No. 1 May 7th, 2013
Mr. Speaker, I do not think that the member has actually read the budget bill. That is the only conclusion I can come to.
He talked about affordable housing. This budget would make huge investments in affordable housing, including, frankly, a requirement for new affordable housing projects in which apprentices would be given an opportunity to work on that housing. This would mean that, in his own riding, the young people would be given an opportunity to learn the skills they need while they build affordable housing.
We have been proud to partner with Newfoundland and Labrador on a number of enormous projects. We have been proud to support seniors in the member's riding. However, what does the member stand and champion today? He champions more money for the CBC, while he points out that people in his own riding could use more support from the government.
Does this member understand that the resources of government are finite? If he does as he proposes and provides more to CBC while he taxes individuals and businesses more, he will be able to help the people of his riding less.
Hockey May 1st, 2013
Mr. Speaker, Leafs nation is not defined by borders. It is not defined by citizenship and it never runs a deficit. In Leafs nation, it is a passion for the blue and white that unites us all.
While some may delight in the fact that we have not won the cup since Canada's centennial, no one can deny that our commitment to our team and to our cause not only endures but grows.
This year, every team in the original six has made the playoffs. It is a rare occurrence in today's NHL. Perhaps it is a sign of things to come, a signal that the wait for Leafs nation is over.
How fitting it is that the journey for our beloved Maple Leafs begins in Boston. It is a clash for tradition, a clash of passion and a clash of two great cities and two great teams.
Tonight, millions of members of Leafs nation around the world will gather to cheer for our team. In the words of the legendary Bob Cole, "Oh baby, this is going to be big". From every corner of the country, from every town, every rink and every member of Leafs nation, there is one battle cry: "beat the Bruins", go Leafs go.
Business of Supply April 25th, 2013
Mr. Speaker, picking up a bit on where the hon. Minister of Canadian Heritage left off, it is not just that the Canadian public rejected Liberal proposals over the last three campaigns, of course mindful of the Liberals' woeful record with respect to climate change, but it is something to hear the Liberals continue to retread through ideas that have been rejected and present them once again as though they are new and should be taken up even though Canadians have said something quite different.
Does the member understand that there is a world price for oil, there is a world price for gasoline and that oil companies like the idea of a carbon tax principally because they will get the world price for oil or gasoline regardless, but the carbon tax will then be paid by Canadian consumers and it will completely exempt them? However, if they are actually regulated, they will have to absorb these costs and only receive the world price for oil and gasoline. Oil companies are not charitable organizations. They are an important industry for Canada, but they are not charitable.
Business of Supply April 25th, 2013
Mr. Speaker, we have heard this from the Liberals all morning, and now into the afternoon, that after 13 years they were just about to take off. They had it figured out. After 13 years of practice, they finally had a game plan, and it is the New Democrats' fault that the game plan never happened. It is such nonsense. Rhetoric on the environment does not get it done.
The former member for Etobicoke—Lakeshore said that in a leadership competition. He said, "We didn't get it done". He did not say they were about to get it done. He said "We didn't get it done". That is the truth on the Liberal record.
When we talk about the environment, it is important to talk about the three es: the economy, employment and the environment. That is what this government has done in trying to focus both on reducing greenhouse gases and also on having cleaner air, water and land. It is a focus that is working while we are also seeking to grow the economy and grow jobs.
Does the member agree that we must focus on the three es, and not one in exclusion of the others?
Business of Supply April 25th, 2013
Mr. Speaker, it never ceases to amaze me that the Liberal Party continues to confuse press conferences with action. It is very clear that the Liberals can cite the number of press conferences they had while they were in government. They can probably even tell us what types of finger foods were served at these press conferences, but that is not action.
It still shocks me that the Liberals stand in this place and indicate that somehow political parties have conspired to put them where they are in this House. The Canadian people determined the position they should hold in this House, in part because of the Liberals' lack of action on the environment and climate change and also in part because project green, for the Canadian people, refers to the sponsorship scandal and 40 million missing dollars.
I have listened to the member talk about climate change and the need to act. This is the first government to actually reduce climate change, and this while we have seen economic growth in this country. She talked about CAFE standards; we have in fact increased CAFE standards significantly for fleet fuel economies.
I would like to know from the member if she will acknowledge that the government has worked in partnership with the provinces and provided funding to the provinces. We have worked with industries. We are bringing in real change. We are, in fact, bringing in reductions of greenhouse gases in Canada while other countries continue to increase them.
Business of Supply April 24th, 2013
Mr. Speaker, I am struck by the irony of that member standing in the House to talk about free speech and the ability of members to express themselves freely in the House. My colleague has indicated that the member for Winnipeg North may well have used up about 400 years of statements since the 2011 general election, and that is his right as a member. He is recognized by the Speaker and he uses that right frequently.
I have to be honest, given the ruling that we heard yesterday I think that members' freedom and their ability to be recognized by the Speaker has been codified by that ruling. I would like to hear, for example, questions or statements by the member for Ottawa South or perhaps the member for Scarborough—Agincourt. I have not heard them speak in the House for some time. Maybe the Liberal Party would like to unshackle those members.
Combating Terrorism Act April 23rd, 2013
Mr. Speaker, I listened with interest to the member's statements. He has put together a number of decent arguments. However, I say that he is missing the point in a couple of key areas.
He said what is most important is the protection of our freedoms and our civil liberties. I agree. The freedoms that Canadians enjoy are a big part of what makes this country so special, but it is those very freedoms that people in this place are tasked with protecting.
Every time we see a terrorist act that targets civilians, we see those freedoms taken away. We see some of them infringed upon as everyday Canadians and everyday citizens are asked to go through more and more clearances, more tests and more challenges simply to do the things we have always done. This is the cost of terrorism.
We also have people feeling under threat in their own neighbourhoods and in their own homes. They ask for us to be able to provide the basic protections.
Our law enforcement officials have asked for these measures to be put in place. They have asked for them as tools they can use to protect Canadians if necessary. It is only responsible that the people in this place would provide those protections so that we can protect Canadians at all times.
I would like to hear the member's response.