Dean Del Mastro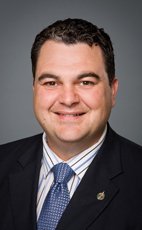 House of Commons photo
Track Dean
Your Say
Elsewhere
Crucial Fact
Independent
MP for Peterborough (Ontario)
Won his last election, in 2011, with 49.70% of the vote.
Statements in the House
Air Transportation February 24th, 2014
Mr. Speaker, despite fierce opposition from municipal governments and residents, the Government of Ontario has continued to press forward on the Sumac Ridge industrial wind turbine project. Last week, I learned that the project, as proposed, would place restrictions on Peterborough airport, against the express wishes of airport management and the City of Peterborough.
This is simply unacceptable. Continued growth at Peterborough airport is critical to my local economy, and it cannot be constrained or restricted in this manner. Can the Minister of Transport please indicate if she has spoken with Nav Canada about the mitigation obligations that have been placed and proposed for Peterborough airport, and will she review the entire matter on behalf of my community?
Intergovernmental Affairs February 13th, 2014
Mr. Speaker, Ontario technically qualified each and every year for equalization between 1977 and 1982. Understanding that Ontario had not suddenly become poor but rather that resource-based provinces had become relatively richer, Premier Bill Davis turned down equalization, reasoning that if Ontario qualified for equalization, this must mean there is something seriously awry with the equalization formula, not something wrong with Ontario. His principled position was a source of pride and confidence for all Ontarians. Rather than crying poor, Premier Davis and the big blue machine focused on building a stronger Ontario, with great success.
As an Ontarian, the Minister of Finance has directed record federal transfers to Ontario. Could he please detail these massive transfers to the Province of Ontario?
Employment January 28th, 2014
Mr. Speaker, when it comes to jobs and job creation, this Prime Minister and Minister of Finance have an unparalleled record compared to their international peers.
A few weeks ago, following meetings with his provincial counterparts, the finance minister quite correctly asserted that increasing payroll taxes, by doubling CPP premiums, would harm Canada's economic recovery and job creation during these fragile global economic times.
Can the finance minister confirm for this House that his priority remains economic growth and job creation, and that he will continue to keep payroll taxes or taxes on jobs low for Canadians and Canadian employers?
Intergovernmental Affairs December 9th, 2013
Mr. Speaker, I applaud the government's confident and aggressive trade initiative. Trade barriers limit growth, productivity and prosperity, while reducing overall employment.
In 2007, shortly after Alberta and B.C. established a trade investment and labour mobility agreement, I proposed a more sweeping national plan entitled "Completing Confederation" for the government's consideration. Picking up on this important and still outstanding initiative, a coalition of business groups has written the Minister of Industry highlighting that barriers between Canada's provinces continue, even as we celebrate the Canada-Europe free trade agreement.
Will the minister engage his provincial counterparts and seek to end these ill-conceived interprovincial trade barriers?
Business of Supply November 26th, 2013
Mr. Speaker, I know this member to be a very decent person, but I would like to ask him a question that goes more to the spirit of this motion.
The Liberals seem to be saying on one hand they would really like to see transparency, but on the other hand they do not provide transparency. I have been here since 2006, and I have never heard a Liberal member stand up and say, "We demand to know which Quebec Liberal riding associations got illegal sponsorship money. We would like to have Elections Canada look into this and determine it". They have never once said that.
When at least three of their members were caught charging rent to this place, the House of Commons, and paying it to their children, which is contrary to the rules of this Parliament, the Liberal Party actually participated in covering that up by allowing the members to simply pay it back and sweeping it under the rug. The information was completely covered up and kept from taxpayers.
If the Liberals really want to have this kind of transparency, why will they not stand up and demand it of their own members? Why will they not demand accountability for Colin Kenny?
The Budget November 25th, 2013
Mr. Speaker, I recently had an opportunity to attend a meeting of the tri-counties manufacturing association. This association represents a number of very important manufacturing employers in eastern Ontario, including the great riding of Peterborough.
Recently the Minister of State for economic development for southern Ontario has had the opportunity to meet with these very important employers. I know he is working hard on advanced manufacturing and a new initiative. Could he update the House on how he is making out and provide some direction to these employers?
Safeguarding Canada's Seas and Skies Act November 19th, 2013
Mr. Speaker, the member made an allegation that is simply not true. Government relations representatives, or lobbyists, work in Ottawa on a whole range of issues, including environmental issues but also labour issues. I know the New Democrats often meet with GR members, and so they should, who would represent labour and would seek to rewrite labour legislation. That does not mean it is implemented; it means they are working on behalf of their clients and they are informing people in this place.
However, I am actually quite proud of Canada's record, both the record of the pipelines and the energy industry, and I am proud of Canada's record in terms of technology investment. I do not hear any discussion about that. Canada's record in terms of shipping is quite good and we are seeking to improve it. I see recommendations by companies on how they can improve that. I am quite proud to see an industry that is actually looking at things and asking how they can be more socially responsible and how they can improve.
I do not see any of that represented in the member's statements. What I do see are dangerous comments that could negatively impact the Canadian economy.