Dean Del Mastro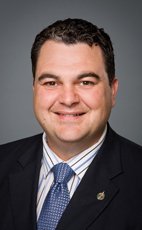 House of Commons photo
Track Dean
Your Say
Elsewhere
Crucial Fact
Independent
MP for Peterborough (Ontario)
Won his last election, in 2011, with 49.70% of the vote.
Statements in the House
Air Transportation April 7th, 2014
Mr. Speaker, the Peterborough airport, which has seen over $50 million in infrastructure investment since just 2010, is my region's fastest growing economic driver. That said, as I have indicated many times in the House, its future is in jeopardy should the Sumac Ridge wind turbine project move forward as planned.
Despite federal protection of its airspace, in what could only be described as ideology trumping common sense, the provincial government, through its jurisdiction-related land use planning, has granted approval for the placement of a wind turbine in the approach path of aircraft seeking to land at Peterborough airport.
The City of Peterborough, the County of Peterborough, and the City of Kawartha Lakes have all voiced their strong opposition. Can the Minister of Transport please indicate if she shares my concerns?
Former Minister of Finance March 25th, 2014
Mr. Speaker, I rise today to pay tribute to the member for Whitby—Oshawa, Canada's former minister of finance, for his selfless and determined efforts to guide our nation through the global economic crisis.
While the member for Whitby—Oshawa received international recognition for his economic leadership, perhaps what was most remarkable during his time as minister of finance was his determination to consult with national stakeholders and members of Parliament. He would later demonstrate his attentiveness by reflecting those consultations with his actions in his annual budgets.
Perhaps what stands out most was the member's personal commitment to assist low-income seniors, to reduce taxes for families and, of course, the many supports he put in place to assist persons and families of persons living with physical and mental challenges that allow them to demonstrate, and our society to celebrate, their many abilities.
The member for Whitby—Oshawa has demonstrated absolute commitment to public service.
On behalf of my constituents, I thank him for the many sacrifices he has made. I would also be remiss if I did not recognize the many sacrifices that his wife, Christine, and his sons, Galen, Quinn, and John, have made over the past two decades of the member's service to Ontarians and Canadians.
Pensions March 24th, 2014
Mr. Speaker, this past weekend, Ontario Premier Kathleen Wynne stated:
It's somewhere between offensive and inexplicable to ask that people who've worked hard all their lives to be rewarded with a retirement that takes them out of the middle class.
I agree, but I have to admit it is a bit of a head scratcher. I thought she was talking about the 40% increase in Ontario electricity prices, but no, she was talking about the need to impose new payroll taxes. Will the finance minister please confirm for the House that he will continue to oppose Ontario's proposed new—
Air Transportation March 7th, 2014
Mr. Speaker, I thank the parliamentary secretary for that response, and the government for demonstrating its commitment to the future and success of the Peterborough airport.
This situation at Peterborough airport highlights a very serious problem with Ontario's Green Energy Act, in that consultations with airports are not required on the siting of wind turbines. The Canadian Owners and Pilots Association is one of several groups joining with the City of Peterborough calling for a new and more robust review system, involving consultations with Nav Canada prior to any consent being granted for the construction of wind turbines within any aerodrome in Canada.
Will the government direct Nav Canada to immediately undertake to discuss any and all wind turbine applications with airport owners so they can better understand the future growth of these airports?
Air Transportation March 7th, 2014
Mr. Speaker, recently in the House, I brought to the attention of the Minister of Transport that a proposed wind turbine project named Sumac Ridge threatened the future of the Peterborough regional airport, and I requested that she investigate the matter and intervene.
Given the substantial investment and significant growth that has occurred at Peterborough airport since the Prime Minister himself cut the ribbon at the new facility, it is shocking that the Ontario government would permit any new build to interfere with this incredible regional success story.
Can the minister confirm that she is seized with the situation, and can she update the house in this regard?
Air Transportation February 24th, 2014
Mr. Speaker, despite fierce opposition from municipal governments and residents, the Government of Ontario has continued to press forward on the Sumac Ridge industrial wind turbine project. Last week, I learned that the project, as proposed, would place restrictions on Peterborough airport, against the express wishes of airport management and the City of Peterborough.
This is simply unacceptable. Continued growth at Peterborough airport is critical to my local economy, and it cannot be constrained or restricted in this manner. Can the Minister of Transport please indicate if she has spoken with Nav Canada about the mitigation obligations that have been placed and proposed for Peterborough airport, and will she review the entire matter on behalf of my community?
Intergovernmental Affairs February 13th, 2014
Mr. Speaker, Ontario technically qualified each and every year for equalization between 1977 and 1982. Understanding that Ontario had not suddenly become poor but rather that resource-based provinces had become relatively richer, Premier Bill Davis turned down equalization, reasoning that if Ontario qualified for equalization, this must mean there is something seriously awry with the equalization formula, not something wrong with Ontario. His principled position was a source of pride and confidence for all Ontarians. Rather than crying poor, Premier Davis and the big blue machine focused on building a stronger Ontario, with great success.
As an Ontarian, the Minister of Finance has directed record federal transfers to Ontario. Could he please detail these massive transfers to the Province of Ontario?
Employment January 28th, 2014
Mr. Speaker, when it comes to jobs and job creation, this Prime Minister and Minister of Finance have an unparalleled record compared to their international peers.
A few weeks ago, following meetings with his provincial counterparts, the finance minister quite correctly asserted that increasing payroll taxes, by doubling CPP premiums, would harm Canada's economic recovery and job creation during these fragile global economic times.
Can the finance minister confirm for this House that his priority remains economic growth and job creation, and that he will continue to keep payroll taxes or taxes on jobs low for Canadians and Canadian employers?