Don Davies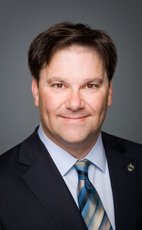 House of Commons photo
Track Don
Your Say
Elsewhere
Crucial Fact
NDP
MP for Vancouver Kingsway (B.C.)
Won his last election, in 2011, with 50.10% of the vote.
Statements in the House
Business of Supply March 24th, 2014
Mr. Speaker, I would like to congratulate my hon. friend on a very well-reasoned speech.
I listened to the debate this morning, and some numbers were thrown around. One of them concerns the important issue of vouching. The estimate is that in the last election about 120,000 Canadians took advantage of the vouching provision. I have heard the hon. minister say that there have been 45,000 cases of administrative irregularity, but the flip side is that there were 75,000 cases in which the vouching system was used absolutely properly. Canadians gave proper ID, the paperwork was done properly, and they vouched for a single Canadian. I find it instructive that not a single one of those 75,000 cases has resulted in an incident of voter fraud. While we have 75,000 cases of proper procedure being followed, there is not a single example across the country of someone voting when we did not have the information to verify.
In the time when Canadian federal elections are seeing turnouts of about 60%, could the member explain what merit he might see in putting any restrictions on the ability of Elections Canada to restrict voting programs, whether to students or to any other group that may have difficulty voting?
I would conclude by pointing out that when all of the opposition parties are opposed to a bill, all of the major media in the country are opposed to a bill, international experts are opposed to a bill, and the Chief Electoral Officer is opposed to a bill, does my hon. colleague think it might be instructive to the government that maybe it has struck the wrong chord with this piece of legislation?
Canada-Honduras Economic Growth and Prosperity Act March 6th, 2014
Mr. Speaker, I listened carefully as the hon. member spoke a lot about corporate social responsibility and how important that is to Canadians. However, I think Canadians are also expecting government democratic responsibility.
Honduras is an undemocratic country, with one of the worst human rights records in the world. It has the highest murder rate of journalists on the planet. It is a major cocaine trafficking centre. It tolerates environmentally destructive policies.
Honduras ranks 104th on Canada's list of trade partners and DFAIT itself acknowledges that this deal would provide only marginal benefits to Canadian exporters.
Honduras permits corporate actions that harm the environment, violating indigenous rights and the wishes of local populations, and permits a lot of paramilitary death squads to operate, intimidating citizens and committing violent acts against those who raise peaceful voices of dissent.
Canadians would not support a trade agreement with the previous government of Ukraine or North Korea or Iran. Why does the current government believe that Canadians would support an agreement with Honduras, which has an equally bad record of violating the democratic and human rights standards not only of Honduras but also of Canada and the world?
Canada-Honduras Economic Growth and Prosperity Act March 6th, 2014
Mr. Speaker, here is the truth. The Conservatives have brought in two motions today to do one thing: to disrupt the testimony of the Chief Electoral Officer. This is after the Conservatives gave their word to the parties in this House that we would end a filibuster in order to have that testimony on Thursday. That is the only reason this is happening. It is the Conservatives breaking their word.
Let us talk about Honduras a bit. The Economist calls Honduras a hybrid regime, rather than its previous designation as a flawed democracy. It is getting worse. Transparency International ranks Honduras as the most corrupt country in Central America, calling it a major drug smuggling centre. The U.S. State Department estimates that 79% of all cocaine shipments originating in South America land in Honduras.
In 2013 there have been, on average, 10 massacres per month. Massacres are defined as the murder of three or more people at a time for political reasons. Honduras is the murder capital of the world, with 81 murders per 100,000 people, and the United Nations Office on Drugs and Crime reports as well that it is the most dangerous place in the word for journalists.
If the Conservatives have the courage to look at the facts, why are they cutting off debate in this House after half a day of debate? If this deal is so good, if Honduras is such a great partner, if this is so important to the Canadian economy, then let us have at least three or four sessions so that Canadians can debate the facts. However, the Conservatives do not have—
Canada-Honduras Economic Growth and Prosperity Act March 6th, 2014
Mr. Speaker, this is simply outrageous. The Minister of International Trade is defending the government's move to curtail debate on a Canada–Honduras trade deal after half a day of debate.
The government talks about opening negotiations in 2009, which is ironic because in 2009 a military coup in Honduras overthrew the government. Every government in the world recognized that the government was illegitimate except the Conservatives, who rushed to sign a trade agreement. They rushed to sign a trade agreement with an undemocratic government that is one of the worst human rights abusers in the world and the most dangerous place for journalists on the planet. There is no freedom of expression in Honduras. There is no freedom of association. Seventy-nine per cent of all cocaine shipments in South America land in Honduras.
The Conservative government is afraid to debate those facts in the House because it knows that the Canadian people would not support an agreement with a country like Honduras that is a human rights—
International Trade March 5th, 2014
Mr. Speaker, in the statistics that my friend raised it is interesting that the highest percentage increase in trade comes with those countries that we do not have trade agreements with, China and Hong Kong. That speaks to some flaws in the current neoliberal trade template that I would urge my friend to take a look at.
We have trade-related problems in this country, and all the rhetoric in the world will not change that. We have had record-breaking current account deficits five years in a row. We have record-breaking foreign debt. We have a hollowed-out economy. We have low productivity. As well, we must remember that all liabilities caused by these recurring current account deficits need to be paid back. This raises an important question about process.
American and European trade negotiators are releasing trade text to legislators and the public. Why does the government insist on secrecy when our allies choose transparency? Does it have something to hide? With all this bad news about trade in Canada, Canadians need to know that the Conservatives are being watched on the trade file. Canadians deserve checks and balances in our trade negotiations to ensure they do not get another bad deal from the Conservative government.
Are the Conservatives afraid to be transparent with Canadians because their government's trade performance, objectively, is so poor?
International Trade March 5th, 2014
Mr. Speaker, New Democrats believe in open and progressive trade. We believe in negotiating new market access for our exporters to unlock good jobs here in Canada. We believe in promoting value-added industries to raise standards of living and create benefits for all Canadians and across all sectors.
Canada is a wealthy country and a trading nation. We have maintained strong trade balances for decades, yet this story has changed under the Conservative government.
On February 11, I asked the Minister of International Trade to explain to Canadians why his trade policies were failing to reverse Canada's troubling numbers on trade. I was referring to news that Canada's trade deficit had widened to $1.7 billion in December 2013, worse than that forecasted by economic experts, and that Canada's monthly merchandise trade deficit was now more than two years old. That deficit was big enough in that fiscal quarter to knock a full percentage point off of Canada's GDP.
Since then, Statistics Canada has announced that Canada's current account deficit has increased to $16 billion in the fourth quarter of 2013, and our current account deficit for 2013 now totals $61 billion. Our current account has been in deficit now for five straight consecutive years.
When the Conservatives came to power in 2006, they inherited a current account surplus of some $26 billion. Today we have a current account deficit of some $61 billion. That is an $85-billion swing in seven years. That is a $12-billion loss in our current account performance for each and every year that the Conservatives have been in power.
Worse, our trade woes are entirely sectoral. In a written statement about Canada's trade deficit made last November, BMO chief economist Doug Porter said, "there is energy (doing just fine) and there is everything else (doing anything but fine)". In 2013, Canadian energy exports saw a $63-billion surplus, while everything else in Canada's economic basket saw a $73-billion deficit.
Canadians are rightly proud of our energy sector, but a modern, well-diversified economy needs to be firing on all of its cylinders, not just one. The Conservatives want Canadians to trust them when they tell us that they understand the economy. If they do understand economics, Conservatives should admit that these statistics are bad news for a sustainable and prosperous Canadian economy.
As Conservatives should know, a country that runs a sustained current account deficit is building liabilities with the rest of the world, and eventually those liabilities need to paid back.
According to senior IMF officials, "whether a country should run a current account deficit depends on the extent of its foreign liabilities (its external debt) and on whether the borrowing will finance investment with a higher marginal product than the interest rate...the country has to pay on its foreign liabilities".
Let us think about this for a minute. Canada's foreign debt has never been higher than it is now under the Conservative government. As evidenced by our export performance that I mentioned earlier, the Conservative legacy for Canada amounts to putting all of Canada's economic eggs in a narrow basket.
Canada's productivity has slumped by almost 2% since the Conservatives came to power in 2006. It is also the case that while fluctuations in the current account are tolerable, a chronic sustained current account deficit hurts our economy. According to IMF analysis, these are not the conditions under which a government can justify long-term current account deficits.
It makes one wonder what happens if commodity prices or production drops in Canada's energy sector. With massive Conservative-induced government debt, productivity weakness, and no significant export growth in other sectors, Canada's current account deficit is a problem that the government simply cannot continue to ignore.
That is why our Bank of Canada has singled out Canada's poor export performance as a major cause of Canada's slow growth and lack of well-paying, full-time jobs.
Any investment planner in Canada would advise Canadians to do three things: diversify, diversify, diversify, and deal with chronic deficit.
How can the Conservatives continue to justify their massive current account deficits year after year after year?
Privilege March 4th, 2014
Mr. Speaker, for Canadians watching, what we are dealing with here is the finding from the Speaker that there has been a prima facie case of privilege.
The common practice in this House, as described by former clerks of this House, is to refer that matter to committee for further study.
We need certain legal measures taken, because what we have here is a member who stood in this House and, in trying to persuade fellow members of this House and the Canadian public, said he personally witnessed people breaking the law. This member did not just have a slip of the tongue in that he said it once. He said it twice, on two separate occasions.
When something happens once, I think we all recognize that someone can slip up. However, when something is said twice, that is a sign of a deliberate, intentional statement. That statement was also completely false.
I have stood in this House for almost six years now and listened to the Conservatives say to Canadians that we have to get tough on crime, we have to hold people accountable, we have to hold people responsible. Young people who may have been caught with a marijuana cigarette when they were 20 years old have been denied, by the government, the right to apply for a pardon. People have committed crimes that have not been serious crimes and that have not created great victims, yet the government says they have to pay a heavier price, that they have to be accountable for their actions.
However, what happens when a Conservative stands in this House and deliberately misleads this House, not once but twice? The government says that all that person needs to do is to stand up and apologize. There is no consequence. There is no further action to be taken by anybody, according to the government.
That is wrong. It is hypocritical. The government has made a practice of decision-based evidence making. That is what it does. It comes to a decision without the evidence. The evidence here is clear. We should be sending this to a committee to find out why this member deliberately attempted to mislead this House, what was behind it, and to take steps to make sure that member is accountable for his actions, just as the government wants Canadians to be accountable for theirs.
I would like my hon. colleague to comment on that.
Canada Post February 26th, 2014
Mr. Speaker, I and my colleague from Vancouver East recently hosted a community town hall to hear our constituents' views about Canada Post's plan to end home delivery and double the price of stamps. A standing-room-only crowd attended and expressed unanimous opposition to these misguided moves.
Our constituents told us that ending home delivery and raising stamp costs hurts seniors and those individuals with mobility challenges. It will damage small businesses and destroy 8,000 well-paying jobs. It eliminates letter carriers, who are the eyes and ears in our communities and who report suspicious activity and emergencies in our neighbourhoods.
The constituents expressed concern about the superboxes that will increase mail theft and car traffic, create litter, and decrease property values.
They told us that a strong public post office is good for our economy, good for taxpayers, and good for our communities. They wanted us to ask a question: If every government since 1867 could manage to provide home mail delivery to Canadians, why are the Conservatives incapable of doing so?
International Trade February 11th, 2014
Mr. Speaker, the minister should apologize for a $62-billion current account deficit in this country.
According to the Bank of Canada, poor export performance is a major driver of our slow economic growth, and this means Conservative policies are costing us good, middle-class jobs.
Canadians want a trade policy that gets value-added exports moving again; so when will the minister admit what years of weak export growth have made obvious? His ideological trade strategy is simply not working.