Don Davies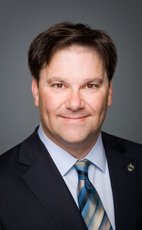 House of Commons photo
Track Don
Your Say
Elsewhere
Crucial Fact
His

favourite word

is deal.
NDP
MP for Vancouver Kingsway (B.C.)
Won his last election, in 2011, with 50.10% of the vote.
Statements in the House
International Trade November 27th, 2014
Mr. Speaker, the minister has the power to stop this practice, if he wants to, just as the U.S. has done.
Port Metro Vancouver says:
...the shipment of meat from a [convention]-listed [endangered] species is inconsistent with Canada's trade priorities and is something...[we do] not support.
In February, the Minister of Foreign Affairs called on world governments to "protect our threatened species" and act "before it's too late".
Will the Minister of International Trade heed the Port of Vancouver and his own colleague's advice before it is too late?
International Trade November 27th, 2014
Mr. Speaker, this week, 65,000 Canadians petitioned Port Metro Vancouver, calling on this government to halt shipments of endangered whale products through Canadian territory.
We have learned that Canada is being used as a conduit to ship prohibited meat from the most endangered whales on Earth, from Iceland to Japan, despite Canada's international commitment not to trade in those species.
Will the minister stop this facilitation of trade in the most endangered species on earth?
Immigration November 26th, 2014
Mr. Speaker, Canadians have been watching with deep concern the tragic events in Ferguson, Missouri. They remind us that racism and intolerance still exist and that we must be vigilant in our quest for a society of equality and justice.
Unfortunately, Canada is not immune to these negative forces. In Richmond, British Columbia, an organization called Immigration Watch Canada recently put up a sign at a major intersection that said "Fight Gridlock: Cut Immigration". Worse, this group's spokesperson stated that there were "too many immigrants living in Richmond who are making it unbearable for the existing European residents". With thinly veiled prejudice, he is calling for Canada to slash immigration levels by 90% and threatening further provocative actions.
Canada is a nation of immigrants from all over the world, and our country was and is built on the contributions of us all. We are also a society who prizes acceptance, equality and respect for every resident, regardless of origin.
I ask all members of the House to join me in condemning this racist group and its unacceptable behaviour.
Ethics November 7th, 2014
Mr. Speaker, spending $120,000 on a last-minute reception is simply unjustifiable. This royal treatment for Europeans cost Canadians $34,000 on food and hotels, $13,000 on drinks, $8,000 on music, $19,000 on backdrops, and a total of half a million dollars for a party and a pointless photo op.
Does the minister not agree that this money would be much better spent helping Canadians and Canadian businesses actually benefit from trade opportunities?
Interparliamentary Delegations November 5th, 2014
Mr. Speaker, pursuant to Standing Order 34(1), I have the honour to present to the House, in both official languages, the report of the Canadian delegation of the Canada-China Legislative Association respecting its participation at the Co-Chairs' Annual Visit held in Shanghai, Beijing, Urumqi, Hong Kong, People's Republic of China, May 11 to May 15, 2013.
Canada-Korea Economic Growth and Prosperity Act October 27th, 2014
Mr. Speaker, I was not present in the House for the entirety of my hon. colleague's speech, but I was advised by some who were that she and some others on the Conservative side of the House were making some sort of accusation that somehow the NDP was holding up the bill in committee, or seeking to kill it entirely. That is 100% false.
During the clause-by-clause study of the bill, the New Democrats did our job as opposition and of course studied the clauses. We proposed six amendments that were debated very briefly and voted down by the government. We actually passed the bill at committee after second reading in one meeting. That is because the New Democrats have, from the beginning, listened to the testimony of the business community that it would like to see this agreement in place by January 1, if at all possible. The official opposition has been co-operative in doing so.
Would my hon. colleague correct any remarks she may have made that would erroneously suggest to Canadians that the New Democrats were somehow working to kill or slow down the bill?
Canada-Korea Economic Growth and Prosperity Act October 27th, 2014
Mr. Speaker, I have a couple of questions that I think Canadians would want me to put to the hon. member.
She is the international trade critic for the Liberal Party, but she does not sit on the international trade committee and does not attend international trade committee meetings. When this agreement was put before committee to be studied and we heard from witnesses, she was not present to listen to any of the testimony that was put before the committee. The Liberal Party advanced and proposed no amendments to this agreement.
Could the member explain to Canadians why, as Liberal trade critic, she does not think it is important enough to come to the international trade committee and actually study the legislation, listen to the witnesses who come before our committee and give us the benefit of their perspective, and to help formulate policy in the House?
Canada-Korea Economic Growth and Prosperity Act October 27th, 2014
Mr. Speaker, I would like to thank my hon. colleague, who does excellent work on the international trade committee and provides many thoughtful interventions there and in the House.
These negotiations commenced in 2004, so it has taken about a decade to conclude this agreement. On the one hand, it is regrettable that Canada was unable to close a trade agreement quicker because, as we heard, Canadian businesses lost what those businesspeople told us is about 30% of their market share in South Korea because the Americans and the Europeans got first market access two or three years before we did. On the other hand, I am a big believer that Canada should be getting good agreements not quick agreements.
I do believe that this agreement that has been placed before the House is a thoughtfully negotiated one. I believe overall it is quite strong and all parties are going to work together to ensure this agreement is in place to support Canadian businesses before the January 1 important deadline.
Canada-Korea Economic Growth and Prosperity Act October 27th, 2014
Mr. Speaker, I would point out that while the New Democrats have announced a child care plan, it was based on the fact that the leader of the Liberal Party refused to commit to a Liberal government in 2015 bringing in a child care plan. The difference between the child care plans is that a New Democrat government will actually bring it in, whereas the Liberals will only talk about it.
In terms of the TPP, which is a whole different issue, it raises a lot of profoundly important considerations, many of which do not really apply to the South Korea agreement. It is a very important thing. This summer Canada hosted TPP negotiations in Ottawa. The TPP negotiations have been conducted with a completely unacceptable and unnecessary amount of secrecy.
Of course, the United States is the major anchor in the TPP negotiations, which is a regional pact with 12 different countries in it. There are many different concerns about that, including whether the United States will be pushing a very aggressive intellectual property regime that would damage Canadians' access to a free and open Internet. There are concerns about Australia and New Zealand and the United States wanting Canada to open up our supply-managed sectors, which the New Democrats are very strongly against. We believe that we should be keeping a strong supply-managed sector, as I believe the Conservatives agree with as well. For my hon. colleague from the Liberal Party, I am not quite sure what the Liberals feel about the supply-managed sector because some of their MPs and former MPs spend their time attacking the supply-managed sector. I am not quite clear on what their position is on that.
However, the TPP is a very important set of negotiations that I would like to see opened up so that Canadians and parliamentarians can see what is being negotiated and we can keep close tabs on the progress of that important pact.
Canada-Korea Economic Growth and Prosperity Act October 27th, 2014
Mr. Speaker, I thank my hon. colleague for the kind words. As she said it was refreshing to see New Democrats vote for a trade agreement, I would like to see the government support a child care program. Perhaps we can mutually improve this country by working together on some important policy areas.
I come from Vancouver and my riding is Vancouver Kingsway. Of course, British Columbia is Canada's Pacific province and we have a very strong orientation towards the Asia-Pacific. This is something that I think is sometimes not recognized quite as much as it ought to be in Ontario and Quebec, who tend to be South America, European or American focused. However, the opportunities for British Columbia, and Canada through British Columbia, to build strong economic relations as well as cultural, social and political bonds with South Korea and other important countries in the Asia-Pacific region are explosive.
We know that China is posed to be the largest economy in the world in just a number of years. It is Canada's second-largest trading partner. Therefore, any opportunity we have to strengthen our economic relations with an important Asian economy such as South Korea will pay dividends for Canada down the road.