Don Davies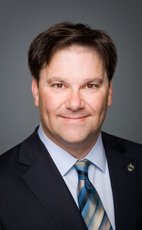 House of Commons photo
Track Don
Your Say
Elsewhere
Crucial Fact
His

favourite word

is ceta.
NDP
MP for Vancouver Kingsway (B.C.)
Won his last election, in 2011, with 50.10% of the vote.
Statements in the House
Mount Saint Joseph Hospital February 26th, 2015
Mr. Speaker, Mount Saint Joseph Hospital has an emergency department that is staffed by excellent medical professionals. However, it is severely overcrowded and under strain. The emergency department was built to handle 14,000 visits per year. It is now seeing over 28,000. Up to three patients are being housed in rooms built for one and physicians are treating patients in the hallways. There is no proper isolation capability, which is a serious concern for the control of infectious disease. Patient privacy, proper medical histories, and staff safety are being sacrificed.
The hospital requested $24 million from the provincial government to build a new emergency department. Unfortunately, this funding was refused by the B.C. Liberals.
MSJ provides the only emergency department conveniently accessible to east Vancouver residents. Because the department is only open until 8 p.m., residents are put at unnecessary risk as they are forced to travel to Burnaby or the west side of Vancouver to receive emergency care.
I request that the federal government work with its provincial counterpart to ensure that this important facility can better protect the health of Canadians.
Pipeline Safety Act February 26th, 2015
Mr. Speaker, I congratulate my hon. colleague on an excellent speech and for the fine work he does on behalf of a balanced and intelligent energy and environment policy in our country.
My question is one that I asked my Conservative colleague a few moments ago, and that is about the relationship between pipelines and climate change.
Conservatives, to their shame, pulled Canada out of the Kyoto accord. Liberal Party Eddie Goldenberg, the former assistant to the Liberal prime minister said that the Liberals never had any intention of every implementing Kyoto. In fact, greenhouse gas emissions rose under Liberal administration.
If we are to increase pipelines in the country, if we are to move resources, what are Canada's obligations or the proper policy course for us in order to play a responsible role on the world stage in dealing with climate change?
Pipeline Safety Act February 26th, 2015
Mr. Speaker, Bill C-46 takes a long overdue first step toward a true polluter pays regime for pipelines in Canada, which has always been an element of the NDP's plan to grow the economy while also protecting the environment. I think this is a positive first step.
Presently in Canada some of the pipeline proposals are to export raw bitumen, which is not only a substance that will float to the bottom of the ocean and that cannot really be contained but is a substance that represents the export of jobs. That bitumen could remain in Canada and be processed here, creating all sorts of good, high-paying jobs for Canadians. I am wondering if the member has an opinion as to whether Canada should be seeking to try to process bitumen in Canada.
My second question is on climate change. Does she have any concerns that increasing our exports of fossil fuels will contribute to global carbon emissions, leading to climate change, and does she have some ideas on how we should be dealing with that?
Petitions February 26th, 2015
Mr. Speaker, finally, I have a petition signed by, again, thousands of people across the country who want to make sure the government ensures that Canadians receive home mail delivery from Canada Post.
Petitions February 26th, 2015
Mr. Speaker, the second petition is signed by many people in my riding who would like to see a climate change strategy adopted by the present government.
The petitioners are very concerned about the effects of climate change and would like to see carbon emissions controlled so that we do not end up in an irreversible loop that would threaten our climate.
Petitions February 26th, 2015
Mr. Speaker, I have three petitions to introduce today.
The first petition is signed by thousands of people across the country who want the Canadian government to negotiate 10-year multiple-entry visas with the Government of China, in support of my Motion No. 558.
The petitioners note that this is important to level the playing field for Canadian businesses, to facilitate tourism and family unification, and to put us on a level playing field with American citizens, who have 10-year multiple-entry visa privileges to China.
Food Safety February 24th, 2015
Mr. Speaker, when news broke of a BSE case in Alberta, the Minister of Agriculture said that it would not harm exports, but within days, South Korea banned Canadian beef, and then Indonesia. Now Peru, Belarus, and Taiwan have also announced blanket restrictions. Far from there being no harm, we now have five jurisdictions banning Canadian beef.
These trade restrictions will cost our producers and our economy, and there is concern that they could grow.
Why have the Conservatives failed to effectively protect our beef exports and what are they doing to reverse the damage?
Lunar New Year February 19th, 2015
Mr. Speaker, it is a pleasure to stand on behalf of New Democrats to commemorate the lunar new year. This year, lunar new year falls on February 19, today, and all across our country Canadians will be welcoming the Year of the Goat.
People born in goat years are calm, friendly, and possess a strong sense of kind heartedness and justice. They exhibit creativity and perseverance. Although they look gentle on the surface, they are tough on the inside. They have excellent defensive instincts and are resilient. I think they would make excellent politicians.
Canadians of Chinese, Korean, and Vietnamese origin, especially, will be celebrating across our nation. Families will gather in their homes, friends will meet at banquets, performers will entertain at spring festivals, and thousands will march in parades to mark this wonderful occasion.
Canadians of all backgrounds will join in the festivities as we share this expression of cross-cultural magic. On behalf of all New Democrats: Xin nian kuai le. Yang nian kuai le. Gong hey fat choy. Chuc mung nam moi.
Petitions February 19th, 2015
Mr. Speaker, I am getting thousands of petitions from people across this country in support of my Motion No. 558, to urge the Canadian government to negotiate with the Chinese government 10-year multiple entry visas for Canadians to visit China. This is good for tourism, good for businesses, and good for family unification. It would also level the playing field with the United States, which in November negotiated 10-year multiple entry visas for American citizens visiting China. The petitioners urge the government to level the playing field and obtain this benefit for Canadian citizens as soon as possible.
Petitions February 19th, 2015
Mr. Speaker, I have two petitions to present today. The first petition was spearheaded by parishioners at St. Patrick's Catholic Church in Vancouver and has over 500 signatures. The parishioners wish to bring to the attention of the House their concern about multinational seed companies that are gradually replacing the diversity of farmers' seeds with industrial varieties and obtaining an increasing number of patents on different seeds and threatening the ability of small family farmers to produce the food required to feed their families and communities. The petitioners ask that the government adopt international aid policies that support small family farmers, especially women, and ensure that Canadian policies and programs are developed to ensure that farmers have access to the seeds they need.