Don Davies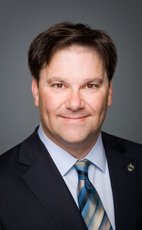 House of Commons photo
Track Don
Your Say
Elsewhere
Crucial Fact
His

favourite word

is countries.
NDP
MP for Vancouver Kingsway (B.C.)
Won his last election, in 2011, with 50.10% of the vote.
Statements in the House
Canada-Korea Economic Growth and Prosperity Act September 24th, 2014
Mr. Speaker, when speaking about the Canada-EU trade agreement, the Liberal trade critic said:
We have been supportive of the deal from the start. It's important to say this is a great step, but also we really need to start seeing some details. At some point though we need to see what it is we're actually supporting.
It begs this question. Why is it that the Liberals are willing to support trade deals before they even read them or see the details?
My question is about democracy. My hon. colleague mentioned favourably that Korea is a democracy, yet the Liberals supported a free trade agreement with Honduras, where the democratically elected government was overthrown by a coup, where journalists are regularly killed, where the LGBT community is persecuted, and where human rights are brazenly violated. They also supported the China FIPA, which has all sorts of problems in many other respects as well.
I am just wondering if my hon. colleague could name a single country with which the Liberals would not support signing a trade agreement.
Canada-Korea Economic Growth and Prosperity Act September 24th, 2014
Mr. Speaker, I do agree with that. When the government took office in 2006, Canada had a current account surplus of about $18 billion, and today it has a current account deficit of some $64 billion. So there has been about an $80 billion swing to the negative since the government came to power. I think that is because the government has taken an ideological approach to trade. Conservatives will sign any trade agreement with anybody, regardless of the terms, without taking a strategic, thoughtful approach to trade policy. New Democrats believe that we should take a thoughtful strategic approach, with balanced trade agreements that will benefit the Canadian economy. New Democrats would support those agreements if they do, and will oppose them if they do not.
Canada-Korea Economic Growth and Prosperity Act September 24th, 2014
Mr. Speaker, I agree with my hon. colleague that it is regrettable and, in fact, wrong that the House did not have an opportunity to debate the Canada-China FIPA. Certainly the New Democrats brought forth a motion and devoted one of our opposition days to that very subject. We also moved motions before the trade committee to have that committee study it. Unfortunately, that was not accepted by the government. So the New Democrats have used every tool we have in the House to try to get a debate on that important deal.
We believe that all trade agreements, including FIPAs that govern investment, ought to be debated in the House. In the case of trade agreements, they usually require enabling legislation. That is why we are debating this, as these agreements must come before the House because they require legislative amendments. FIPAs often do not require legislative amendments, which is why cabinet has the ability to pass them. But as a matter of policy and good governance, both FIPAs and trade agreements should come before the House for thorough scrutiny and debate before Canada commits to them.
Canada-Korea Economic Growth and Prosperity Act September 24th, 2014
Mr. Speaker, I cannot really speak about where the government gets its sources of information, but I will say that the Canada-China FIPA stands in stark contrast to the deal before the House. Many Canadians have serious concerns about this FIPA, not the least of which is that it provides for secretive tribunals to hold hearings behind closed doors on lawsuits filed by investors that will put taxpayers' liabilities in the billions of dollars, and which violate the Canadian concept of the rule of law. It is also undemocratic, and worse, the Canada-China deal will be in force for a minimum of 31 years. It is a bad deal and not a good example for Canada. I note that the Liberals support the Canada-China FIPA along with the Conservatives. Only the New Democrats have stood in the House with the Green Party and opposed the deal.
The agreement with Korea, in contrast, has guarantees of transparency in its investor-state provisions. The hearings must be open and the agreement is cancellable on six months' notice. All investments under that agreement would not fall under the ISDS provisions after the six-month period. So the New Democrats, when we are government in 2015, will be watching this agreement very carefully to make sure that the procedure is not abused, so that we can protect Canadian taxpayers.
Canada-Korea Economic Growth and Prosperity Act September 24th, 2014
Mr. Speaker, I appreciate the question from my hon. colleague from the Liberal Party because it gives me a chance to comment on the Liberal approach to trade. The Liberal trade critic said about CETA that the Liberals have been very happy to be supporting that agreement for all these years, and they look forward to the text being released so they can finally determine what it is they have been supporting. That is not a thoughtful approach to trade.
As well, I should correct my hon. friend. He knows full well that the New Democrats voted in favour of this, and often votes are taken in the House where some we stand for and some we do not, but we all know what the result of that is. The Liberal Party is an expert in opportunism so the Liberals should know what they are talking about.
In terms of shipbuilding, again I would encourage my hon. colleague and members of his party to read the agreement. They would know that shipbuilding is exempt from this agreement.
Canada-Korea Economic Growth and Prosperity Act September 24th, 2014
Mr. Speaker, I agree with my hon. colleague that history is made. It is the first time that a member of the Conservative government has called the New Democratic official opposition "intelligent and informed". I would encourage a repetition of that astute observation.
The New Democrats' trade policy is one where we want to look at each trade deal on its own merits. We want to approach it from a rational, thoughtful and balanced point of view, and I have already pointed out the different criteria that we have. That has been typical of the New Democrats' trade policy for the last two years, and certainly this Parliament. Of course, my friend knows that this is not the first agreement that the New Democrats have supported. We supported the Canada-Jordan trade agreement, and we voted in favour of it.
In terms of the automotive sector, I wish it were that simple. We have a Canadian and American integrated auto sector, and I do believe that this agreement provides challenges and the auto sector has raised legitimate concerns. I would encourage the government to work with the auto sector, both industry and labour, to help improve the Canadian auto sector so that we can create good Canadian jobs and increase auto production in this country. Korea provides that opportunity to do so, but only if the government provides the policies that will assist the industry.
Canada-Korea Economic Growth and Prosperity Act September 24th, 2014
Mr. Speaker, as the official opposition critic for international trade, I am pleased to stand to speak on behalf of the New Democratic Party on Bill C-41, an act to implement the free trade agreement between Canada and the Republic of Korea.
By way of background, Canada and South Korea first discussed the possibility of a trade agreement in 2004, and negotiations for a trade agreement officially launched in July 2005. In a testament both to the challenges that such agreements pose and to less than satisfactory diligence on the part of various governments, it took some nine years to bring this agreement to completion.
Notably, several trade agreements have been concluded by Korea and other partners over the past 10 years. A trade agreement between Korea and the EU entered into force in 2011, and a Korea-U.S. agreement became operative in 2012. As well, Korea and Australia recently concluded negotiations.
As I will expand upon later, these nations' agreements have played a critical role in shaping Canada's bargaining position. As major competitors with Canada, their advantage in securing preferential first entry to the Korean market has done substantial damage to Canadian exporters in a myriad of sectors.
The Canada-Korea Free Trade Agreement was signed on March 11, 2014, and submitted to Parliament on June 12, 2014. Once in effect, the agreement will eliminate 98.2% of South Korea's tariff lines and 97.8% of Canada's tariffs. While many tariffs between our two countries are already quite low, there are a significant number of tariffs and other barriers to market that exist that will either be removed immediately upon this agreement's implementation or phased out over various periods of time.
The NDP uses three important criteria to assess trade agreements. First, is the proposed partner one that respects democracy, human rights, adequate environmental and labour standards, and Canadian values, and if there are challenges in these regards, is the partner on a positive trajectory toward these goals? Second, is the proposed partner's economy of significant and strategic value to Canada? Third, are the terms of the proposed agreement satisfactory?
New Democrats also evaluate trade agreements on a comprehensive basis to determine if they are of net benefit to Canada. In our estimation, we believe that the Korea trade agreement meets these tests.
I will deal with each in turn.
First, since emerging from authoritarian to civilian rule in 1987, South Korea has transitioned into a multi-party democracy with an active trade union movement, a diverse civil society, and freedom of expression. South Korea's so-called tiger economy has succeeded in rapidly industrializing the country and raising the welfare and incomes of the Korean people.
Today South Korea is a developed country, ranking 15th on the Human Development Index, the highest in East Asia. South Korea has developed social programs, sound rule of law, low levels of corruption, and high access to quality education, including having the highest level of post-secondary education participation in the OECD.
In recent years, South Korea has emerged as a global leader in environmental economics, investing billions in an ambitious green growth strategy aimed at improving energy efficiency while boosting renewables and green technology.
There is no doubt that South Korea is a democratic country that possesses admirable environmental and labour standards and shares important Canadian values, including respect for human rights.
Second, is the proposed partner's economy of significant and strategic value to Canada? South Korea is a G20 country with the 15th-largest GDP. It is the G20's eighth-largest importer. South Korea is Canada's seventh most important trading partner and our third largest in Asia, after the two larger economies of China and Japan.
In 2013, total bilateral trade between our two nations totalled nearly $11 billion. Canadian exports to South Korea totalled $3.4 billion, while Korean exports to Canada totalled $7.3 billion. In relative terms, Canada exports the same amount to South Korea as it exports to France and Germany. We import approximately the same amount as we do from the U.K.
South Korea is also a major part of the Asian global supply chain and is a gateway market for other Asian economies. As this is Canada's first trade agreement with an Asian country, it provides an important opportunity to gain advantages in the Pacific region and diversify Canada's export markets. Economic models predict that this deal is expected to increase Canadian exports to South Korea by 32% and expand our economy by $1.7 billion.
In addition, the Canadian and South Korean economies are largely complementary, meaning that most Canadian industries do not compete directly with Korean industries. As Korea has emerged as a world leader in renewable energy and green technology and needs energy and energy technology from Canada in return, we can increase our trade in these important sectors and, more importantly, build Canada's green technology sector.
Domestically, a trade agreement with Korea offers significant economic benefits to a broad cross-section of economic sectors in Canada that represent all regions of the country. In fact, this agreement is favoured by almost every industrial sector in Canada.
Sectors that support the Korea free trade agreement include manufacturing, heavy industry, aerospace and transportation, forestry and wood products, agriculture, beef and pork industries, agri-foods and food processing, energy and chemicals, fish and seafoods, financial services, and high technology.
In sum, South Korea is a large market that offers significant opportunities for Canadian business to gain a foothold in important Asian markets.
It is vital to note that Canadian exporters have lost some 30% of their market share in South Korea since 2012, when the EU and the U.S. implemented agreements and secured preferential access for their companies. These losses are estimated to total several hundreds of millions of dollars annually, and are mounting each year that U.S. and European competitors enjoy tariff advantages and increased market access to Korea.
The losses have been particularly heavy in the agri-food, seafood, and aerospace industries. These sectors sustain thousands of quality, family-supporting jobs with high rates of unionization. As an example, when Korea signed the FTAs with the United States and the European Union, Canadian aerospace exports to Korea dropped by 80%, from $180 million to roughly $35 million.
Yuen Pau Woo, former president and CEO of the Asia Pacific Foundation of Canada, and, in my estimation, Canada's leading expert on Asia-Pacific issues, said that Canada is:
....an outlier compared to most of our industrialized country competitors, certainly in the G-7 and the OECD, and that puts us at a competitive disadvantage vis-à-vis countries that do have trade agreements with Asian partners. The best example of this competitive disadvantage is in the case of Korea, where we have been negotiating—as you all know—coming to nine years now. In the meantime, we have been overtaken by the United States and more recently, by Australia. Both of those countries now have margins of preference, particularly in the cultural sector, that put our exporters at a disadvantage.
Canadian exporters need a level playing field to compete in Asia and to protect the jobs they provide here in Canada. In the view of New Democrats, this agreement is essential to do so.
This agreement offers the opportunity for Canadian producers and exporters to increase trade with a modern democratic country with a high-income complementary economy. It will allow Canadian producers in a wide variety of sectors to more effectively access an Asian gateway economy that plays a pivotal role in global supply chains and offers entry opportunities not only to Korea but to other Asian economies.
It will level the playing field for Canadian exporters, who can compete with the best in the world when given the opportunity to do so on equal terms. It will permit Canada to deepen our Asian presence and diversify our trade patterns beyond the North American and European markets. There is no doubt that Korea is both a significant and a strategic economic partner for Canada.
Third, are the terms of the proposed deal satisfactory?
This is not the precise agreement that New Democrats would have negotiated. This deal includes investor state dispute settlement, a provision that allows corporations to launch legal challenges to government measures that they believe violate the terms of the agreement. They are permitted to file their suits not in domestic courts but in international trade tribunals that lack certain fundamental attributes of judicial independence and the rule of law.
This is something the New Democrats would not include in any trade agreement we negotiate. We believe such provisions carry excessive risk and are unnecessary when dealing with nations with independent and well-functioning judiciaries, which both Canada and South Korea possess.
There are also legitimate and well-founded concerns about the possible impact of this agreement on the Canadian auto sector. Knowledgeable industry actors, such as Ford Motor Company and Unifor, which represents most auto workers in Canada, have both expressed the view that this agreement will reduce domestic auto production and sales, and that South Korea adopts policies that serve to impair access to its domestic market.
In our estimation, however, when viewed on a comprehensive basis, this agreement is of net benefit to Canada. It benefits the vast majority of Canadian export sectors, and we believe that its weaknesses can be dealt with by effective Canadian government policies.
An examination of a few key sectors bears this out. This agreement is not only good for Canadian agriculture and the agrifood industry, it is essential. The agrifood sector represents 8% of the Canadian economy and is said to sustain one in eight jobs, or over two million jobs.
As stated, Canada has suffered significant losses in market share for Canadian agricultural exports to Korea following implementation of the Korea-U.S. deal in 2012. For example, Canadian beef exports to South Korea shrank from $96 million in 2011 to $8 million in 2013. Canadian pork exporters went from first to fourth in the Korean market. Australia, a major competitor of Canada in many agricultural products, is poised to bring their own agreement with Korea into force. As well, January 1, 2015, will see the next reduction in tariffs for U.S. and EU products, further exacerbating the harm to Canadian sectors.
The Korea FTA will progressively eliminate 86.8% of agricultural tariff lines and allow Canadian exporters to compete on a level playing field and recapture these markets. There are also impressive opportunities for Canadian grains, pulses and oils.
In aerospace, the agreement will gradually eliminate 100% of industrial tariffs. As such, there is general support for the Korea FTA among manufacturing sectors in Canada, notably Bombardier and other Aerospace Industries Association members.
According to Jim Quick, the president of the Aerospace Industries Association of Canada, South Korea is an important market due to its proximity to other major economies, including Japan, China and Malaysia. He said in the next 20 years, airlines in the Asia-Pacific region would account for 37% of global aircraft demand, or 12,000 planes worth $1.9 trillion. At the same time, half of the world's air traffic would be driven by travel to, from, and within the Pacific region.
Similar opportunities lie in light rail and transit infrastructure. Global Canadian champions like Bombardier see important opportunities in South Korea to position themselves to tap this growth.
Canadian seafood producers on both coasts stand to benefit from the Korea agreement. Pacific seafood and fish product exporters are being out-competed in Korea by their Alaskan competitors due to the fully implemented Korea-U.S. agreement.
Current seafood and fish product tariffs in Korea for Canadian exporters are up to 47%, and most of these tariffs lines will be eliminated. Lobster farmers see growth opportunities in the Korean market on the Atlantic coast.
Canada's forestry and wood products industry, including newsprint, wood pulp, wood panels and other value-added products, contribute over $20 billion to Canada's GDP and employs over 230,000 Canadians, many of them in high-skilled and unionized jobs. Canadian exporters to Korea are disadvantaged by tariff lines on Canadian wood products, which reach 10%. The Korea agreement will provide growth opportunities for value-added wood products. This will help develop good jobs in the vital Canadian value-added economy.
With respect to energy and green technology, New Democrats see sustainable technologies and renewable energy as key industries of the future. They are estimated to be a $3 trillion sector and we believe that Canada must position itself for this economic opportunity and environmental imperative. As stated, Korea is an emergent global leader in this area and encouraging sustainable trade and technology transfer is one of the most compelling parts of this agreement.
There are positive and negative aspects of this agreement in terms of the Canadian auto sector, and opinions on it are mixed. General Motors, Chrysler, Toyota and Honda all have automotive production facilities in Canada and support this agreement. Ford and Unifor are also significant stakeholders in Canada, but they do not. The Korea FTA will gradually eliminate Canada's 6.1% tariff on auto product imports from Korea over a three-year period. In turn, South Korea's 8% auto tariff will be eliminated immediately upon the Korea agreement's implementation.
Other positives include rules of origin provisions that recognize Canadian-U.S. integrated products without volume limits and an accelerated dispute mechanism that allows for monitoring of non-tariff barriers. This will permit disputes related to motor vehicle trade to be resolved in a timeline that is as fast or faster than the Korea-U.S. deal, and it could be used to obtain remedies to unfair trade barriers to Canadian auto exports into Korea. In addition, transitional safeguards exist in case of a surge in imports.
At the same time, there are legitimate concerns about the deal's impact on the Canadian auto sector. These concerns have validity, as more Korean imports will affect domestic auto sales to some degree, and South Korea has been cited for implementing non-tariff barriers that restrict access to its market.
It is also a fair criticism that this agreement does not go as far as the Korea-U.S. deal does in protecting domestic auto producers. Under that deal, U.S. tariffs are phased out over a longer period, five years, and there is a snap-back provision that permits the U.S. to impose duties if certain import and export numbers are exceeded. The Conservatives were unable to obtain these protections in this agreement.
What is without doubt is that the current 6% Canadian tariff on Korean-made automobiles is insufficient to meaningfully keep products out. Among other things, lower Korean labour costs and vertical integration savings substantial exceed the tariff. More compelling, Korean automakers service the Canadian market from U.S. plants, with more opening in Mexico within two years, and their products enter Canada tariff-free due to NAFTA in any event. Accordingly, between 40% and 50% of Korean auto products already enter the Canadian market tariff-free from the U.S., so the status quo is clearly insufficient to assist Canadian production.
It is clear that the Canadian auto industry faces a very competitive global environment. It is equally apparent that this requires more support form the federal government. In 2013, Canada failed to attract any of the $17.6 billion in auto investments that were made around the world, not a penny. Competing countries like China, Brazil and our North American trading partners are upping their games, subsidizing up to 60% of the capital investments required to establish auto plants.
New Democrats believe that more needs to be done to support auto manufacturing in Canada, to promote growth in the sector and to encourage the competitiveness of North American brands around the world.
Therefore, a New Democrat government would pursue strategies to strengthen the Canadian auto sector. These would include policies that would encourage Korean automakers to locate production facilities in Canada; assist Canadian automakers to better access Korean and other Asian markets; closely monitor non-tariff barriers and act quickly and effectively to resolve disputes; place substantial resources into trade offices and lead frequent trade missions to Korea; and work with industry and labour to create an effective auto innovation fund.
Both CETA and the China FIPA have provoked widespread public concern in Canada and New Democrat share those concerns.
Importantly, the Korea agreement differs substantially from those two agreements. Unlike the China FIPA, the terms of the Korea agreement are reciprocal. Unlike CETA, the Korea agreement does not apply to provincial, territorial or municipal procurement or Crown corporations, where most Canadian procurement is located. Unlike CETA, the Korea agreement does not apply or negatively affect supply-managed agricultural products. Unlike CETA, the Korea agreement does not contain any negative intellectual property provisions, for example, pharmaceutical patents or copyright.
Notably, intellectual property expert, Professor Michael Geist has pronounced positively on the IP terms of the Korea agreement, calling it an example of a good agreement in this important area. While the Korea FTA does have an ISDS provision, it contains transparency guarantees and is fully cancellable on six months' notice. This is contrasted with the China FIPA, which binds Canada to ISDS for 31 years, and CETA, which appears to do so for 20 years.
Unlike the Conservatives and Liberals, a New Democrat government would involve a full spectrum of Canadian stakeholders, including industry and labour leaders in monitoring and implementing this deal. Unlike those two parties, the New Democrats would work diligently to eliminate non-tariff barriers and scrutinize the use of the investor state provisions very closely. Unlike those two parties, a New Democrat government would not hesitate to renegotiate or terminate this deal if meaningful market access is not achieved or the ISDS provisions are abused.
Overarching all, New Democrats want to deepen Canada's trade linkages with the Asia-Pacific region, something we recognize as essential to maintaining Canadian prosperity in the 21st century. We support breaking down harmful trade barriers, but believe government should provide the support Canadian industry needs to remain competitive in a more open world economy. We agree with such diverse voices as the Canadian Chamber of Commerce and the Canadian Labour Congress that the government needs to do more than sign trade agreements. It must promote Canadian exports, develop sound Canadian industrial strategies, invest resources in trade commission services, and participate meaningfully in regional and international bodies of all types.
The Korea trade agreement presents a vital opportunity to diversify Canada's economy and promote good quality job creation in Canada. We cannot let this opportunity pass.
While certain terms of the agreement are not what an NDP government would have negotiated, on balance we believe that the benefits of the Canada-Korea trade agreement are significant for Canadians. We will be supporting the legislation accordingly.
Canada-Korea Economic Growth and Prosperity Act September 24th, 2014
Mr. Speaker, I would first like to congratulate the minister on the conclusion of this important agreement.
It is, however, common ground that one of the weaknesses of this agreement is its impact on the Canadian auto sector, which is a key Canadian industry that adds billions of dollars to Canada's GDP. Industry players, such as Ford and Unifor, which represent most auto workers in Canada, are concerned that removing the 6.1% tariff on Korean products would damage domestic auto production and sales.
The U.S. negotiated a superior chapter on auto with Korea in its deal. There is a longer phasing period for tariff reduction and there is also a snap-back provision that protects U.S. auto production in case of a Korean auto product surge in that country which harms the U.S. auto sector. Canada did not get this measure.
Why did Canada not get as good a deal on the auto sector and the auto chapter as the U.S. did in its deal with Korea?
International Trade September 22nd, 2014
Mr. Speaker, the government ratified the Canada-China FIPA on a Friday afternoon when Parliament was not sitting when it thought no one would notice. Canadians did notice, and so did the Conservatives. Among other things, they used social media to make their opposition to this FIPA clear. Did the government engage these Canadians and defend their decision? No. It just deleted the Facebook comments, hoping no one would see.
Is the government that insecure about the Canada-China FIPA? Does the minister really think that by trying to hide the opposition of Canadians to this flawed deal, he can make it go away?
Prohibiting Cluster Munitions Act June 18th, 2014
Mr. Speaker, it is an honour to stand in this House and speak on Bill C-6, an act to implement the Convention on Cluster Munitions.
We debate a wide range of subjects in this House. They are all important, but some subjects are more serious than others and some have more implications than others. Some deal with policy that affects our lives, but once in a while an issue comes up that involves matters of life and death and invokes some of the most important considerations that a government and a deliberative body like this one can have. This is one such act.
This bill deals with the use of cluster munitions by states around the world. It is the position of the official opposition, the New Democrats, to oppose Bill C-6 in its current form on the grounds that it contradicts and undermines the very international treaty that it is supposed to implement. I would point out to Canadians watching that the New Democrats did what a good official opposition does; that is, we attempted to work with the government and, in a good faith attempt, to amend the bill at committee. However, the Conservatives only allowed one small change. As we will see later on, it is not a change that is sufficient to render an inherently flawed bill acceptable to us.
This Conservative legislation purports to implement the Convention on Cluster Munitions. I will say that it is widely recognized as the weakest attempt to do so in the world. It undermines the very spirit of the treaty it is supposed to implement.
The NDP will continue to push the government to further amend Bill C-6 to try to ensure that Canada's humanitarian reputation is not tarnished further by this weak legislation.
I will give a bit of background to detail exactly what we are talking about.
Cluster munitions are a weapon, an armament, that can release hundreds of explosives over a large area in a very short period of time. They have a devastating effect on the people in the area, mainly civilians. I will say right now that 98% of the casualties of cluster bombs around the world are innocent civilians.
These munitions often do not explode on impact and therefore can last many years after a conflict has ended. We have heard some testimony by members on all sides of the House that this is still a problem for countries such as Laos, where these weapons were dropped during the Vietnam war; some thousands of these munitions, unexploded ordnance, that are still in that country risk going off and harming and killing innocent men, women, and children today.
Canada participated actively in what was known as the Oslo process to produce a convention to ban the use of cluster munitions. The Oslo process came on the heels of the success of the Ottawa treaty to ban land mines. These are important international initiatives that attempt to get worldwide consensus on an agreement to refuse to use certain weapons that are of particularly egregious effect. The U.S., China, and Russia did not participate in the process, and they continue to have stockpiles of cluster munitions to this day.
Despite strong opposition from the majority of states participating in the Oslo process and from many non-governmental organizations that have an interest in peace and in moving forward to a more civilized world, Canada succeeded in negotiating an article into the final text of the convention that explicitly allows for continued military interoperability with non-party states. That is article 21 of the treaty. In other words, Canada worked to allow and facilitate the continued use of cluster munitions by states that refused to participate in the process or sign the treaty, but limited that to the concept of interoperability, which essentially meant that a nation's military that was working in conjunction with an ally would not necessarily face criminal sanction under the treaty if its ally happened to use cluster munitions.
It was surprising and unacceptable to many countries in the world to see Canada urge the exception that would continue to allow the use of these devastatingly horrific weapons. The Minister of Foreign Affairs used the word "horrific" to describe these weapons, and properly so.
These weapons are often the size of batteries or small tennis balls, and they come, as the name would suggest, in clusters. When a cluster of these munitions explodes, many of these things are spread. Where they end up cannot be controlled. Often they exist for years unexploded until someone accidentally trips them, and then an innocent person is hurt.
After Canada, some years ago, negotiated that treaty, even with the narrow exception, the government then, as it was committed to do under that treaty, drafted the legislation that is before us in this chamber that is supposed to implement its obligations under the Oslo Treaty.
Bill C-6 now comes before us. When it came before us in its original draft form, inexplicably and completely unacceptably, the bill contained a number of widened exceptions that would continue to allow and facilitate the use of cluster munitions, directly contrary to the spirit and intent of the treaty Canada signed.
In its original form that the government drafted, it put in a clause, clause 11 of the bill, that would permit Canadian soldiers to use cluster munitions, to acquire cluster munitions, to possess cluster munitions, and to transport cluster munitions whenever they were acting in conjunction with another country that was not a member of the convention. It would also allow Canadian military personnel to request the use of cluster munitions by another country. That is shocking.
After sitting in an international arena to negotiate the end of the use of these munitions, and even though Canada, incorrectly, I think, advocated at that treaty table that there be a limited exception, the interoperability concept, the legislation the Conservatives drafted and brought before the House widened those exceptions, which effectively gutted the intent of the bill.
At the foreign affairs committee, New Democrats, led by our foreign affairs critic, the member for Ottawa Centre, supported by Canadian and international civil society groups, pushed for changes to the bill. We engaged closely with the government in public and through direct dialogue to encourage improvements to this legislation, and we were successful to a limited extent. We were successful in persuading the government to formally prohibit the use of cluster munitions by Canadian soldiers.
The bill comes before us with that one improvement, but it would still permit Canadian soldiers and military to request the use of cluster munitions by another country, to acquire cluster munitions, to possess cluster munitions, and to transport cluster munitions when they are acting in concert with another country.
Unfortunately, these loopholes are rightly attracting the criticism not only of Canadians but of the world. Without amendments to rectify these loopholes, Canada's commitment to ending the use of cluster munitions will be superficial at best. Indeed, many suggest that Bill C-6 would even damage the convention as a whole by establishing an international precedent for opt-outs and exemptions.
As it currently stands, Canada's legislation has been called the weakest of all countries in the world to have ratified this convention, and that is no small feat, because 113 countries have signed the convention and 84 have ratified it, and of those countries, Canada has the weakest legislation.
I am going to ask the indulgence of my colleagues for a minute. In six years, almost, in the House, I have yet to mention a very special person in my life, and that is my mother, Renee Marlene Davies. She is a very lovely and talented woman. She is hard working. She is loyal. She is a fantastic mother. I mention her because this debate made me think of her for two reasons. First, she was born on December 7, 1941. That is the day the Japanese bombed Pearl Harbour. It was a surprise attack. It was unprovoked. It shocked the United States. In fact, it shocked the world. That war was ended in the Japanese theatre some four years later by the dropping of two horrific weapons of mass destruction, atomic bombs.
The issues of the eradication and control of nuclear weapons continue to this day, and the government has continued that process. I understand that the government has completely boycotted and sanctioned Iran. It has closed our embassy even because of its view that Iran's development of nuclear processes threaten international security. I think that, not quite to the same degree but similar in kind, so do cluster bombs.
Cluster bombs threaten international peace and security in a different way, perhaps not in such a dramatic profound way, but when we have thousands of people around the world killed by cluster bombs, people who have nothing to do with the conflict, that is mass killing of innocent people and is something that should shock the conscience of all right-thinking people.
The second reason article 11 made me think of my mother is because she would never countenance me using dangerous or illegal products, or allow me to hold a product for a friend of mine, transport it for a friend of mine, or to request a friend of mine to use it, which is what this is. None of us would permit, as a logical exercise, a state of affairs where we would say that something is so dangerous and horrific that we will not use it, but we will certainly hold it, transport it or ask someone else to use it if they really want to. That is aiding and abetting.
I know the Prime Minister and the government have often stated that they want Canada's foreign policy to be one of principle. They want our foreign policy to be one that is not subject to the vagaries of relative arguments or of relative shifting of values or morals. They want to take the right position, and it does not matter what other countries think.
Why is that perspective absent here? Why does the government not say that it will not compromise its strict and absolute commitment to the eradication of a weapon that has no place in a civilized world? These weapons have no place in modern warfare at all, and the government should say that it will not consider views otherwise from anybody, friend or foe alike.
Why have the Conservatives gotten relative here? Is it because they will not use it, but their friends use it, they cannot really stop them, so they will just have to get along with that? This is contrary to the principled assertion the government claims to follow.
The government's approach to the Cluster Munitions Convention fits into a broader pattern of weakness on arms control, and I do not think that affects just our government, but it affects many countries in the world. The government has refused to join all of our NATO allies in signing the UN Arms Trade Treaty and it has loosened restrictions on arms exports.
The New Democrats, for our part, fully supported the creation of a treaty to ban cluster munitions. We fully believe that Canada should take a leadership role on the world stage and say that under no circumstances should these weapons be used and we will not be part of it in any fashion whatsoever. We will not have our military work with another military that uses them, end of story. That is a principled approach to the use of what has been described as horrific weapons of war, which do not kill soldiers, they kill civilians.
The bill would undermine the convention rather than implement it. Therefore, we are opposed to the bill as presented. We will continue to urge the government to make the kind of changes that I would like to think the Conservatives want to make.
I have heard members opposite talk about their commitment to ending the use of these weapons. They have described, in very accurate detail, the devastating impact of these weapons. They know that these weapons have no place in the modern world and should not be used by any country of good conscience. However, we know that Israel, the United States, China and Russia use them.
There are validators of our position, such as Earl Turcotte, the former senior coordinator for Mine Action at the Department of Foreign Affairs and International Trade. He was the head of the Canadian delegation to negotiate this convention. He also negotiated the Convention on Certain Conventional Weapons and the Convention on the Prohibition of Anti-Personnel Mines, also known as the Ottawa convention. Mr. Turcotte resigned as a result of Canada attempting to implement this weak legislation.
Mr. Turcotte is active in advocating for stronger legislation. This is coming from someone who I think has the most credibility of anybody, perhaps, in the country on this subject. He said:
...the proposed...legislation is the worst of any country that has ratified or acceded to the convention [on cluster munitions] to date.

It fails to fulfill Canada's obligations under international humanitarian law; it fails to protect vulnerable civilians in war-ravaged countries around the world; it betrays the trust of sister states who negotiated this treaty in good faith, and it fails Canadians who expect far better from our nation.
Paul Hannon, executive director of Mines Action Canada, said this:
Canada should have the best domestic legislation in the world [not the worst]. We need to make it clear that no Canadian will ever be involved with this weapon again but from our reading this legislation falls well short of those standards.
Former Australian prime minister Malcolm Fraser said this:
It is a pity the current Canadian government, in relation to cluster munitions, does not provide any real lead to the world. Its approach is timid, inadequate and regressive.
I will pause there for a moment. Canadians have always been proud of Canada's historic position on the world stage, where we have been respected by countries around the world as a country of balance, a country of moderation, a country of peacemaking, a country of peacekeeping, a country that is respected around the world as an honest broker. Yet we have people no less than former prime ministers of other Commonwealth countries like Australia saying that our approach now is timid, inadequate, and regressive.
I would venture to say that the Canadians I talk to, and I would dare say the majority of Canadians, want to see Canadian reassert our historic role on the world stage where we are respected for our fairness, where we are admired for our ability to bring peace, good sense, and responsibility to situations of conflict. We are a middle power, and that is a position on the world stage that we have historically occupied.
Instead, under the government, we are turning into a country that is associated with aggression, violence, and lack of international commitment—for example, the government withdrawing from Kyoto, the only international treaty on climate change. Our lack of standing in this world is demonstrated by a number of objective facts. For the first time in history, Canada did not get our turn at the UN Security Council and in fact had to withdraw our application because we knew Canada would suffer an embarrassing defeat by the United Nations, the other nations of the world.
As I have already said, 98% of all cluster munitions casualties have been civilians. One cluster bomb contains hundreds of bomblets and typically scatters them over an area the size two to four football fields. Up to 37 countries and territories have been affected by cluster munitions use in armed conflict, 19 countries have used cluster munitions in combat, and 34 countries have at one point produced the weapons. Half of those have since ended production, some as a result of the convention.
While Canada has never used or produced cluster munitions, and I think that is a testament to our international position that I just described, the global stockpile of cluster bombs totals approximately four billion, with a quarter of those in U.S. hands.
I would end by saying that I would urge the government to work with its closest allies, United States and Israel, and use our influence to urge them to sign this treaty and urge them not to use these weapons, so that Canadians can once again reassert our respected, peaceful, and responsible position on the world stage, as Canadians want.