Ed Fast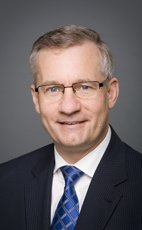 House of Commons photo
Track Ed
Your Say
Elsewhere
Crucial Fact
Conservative
MP for Abbotsford (B.C.)
Won his last election, in 2011, with 65.00% of the vote.
Statements in the House
Points of Order April 9th, 2014
Mr. Speaker, thank you for the opportunity to respond.
Earlier this afternoon, it was alleged that I made a gesture in the House that was akin to pointing a gun. In fact, the footage shows, very clearly, that what I did was point to the end of this House. You will notice, Mr. Speaker, there was no cocking motion. There was no trigger motion. In fact, anyone who knows me knows that when I point at people, when I point at objects, that is how I point.
If anyone actually took offence at how I pointed to the end of the House, obviously, I would apologize for that.
Having said that, I would also want to address the issue of my conversing with my colleague across the way. As you may recall, I waited until things had settled down in the House. Obviously, I wanted to clarify for him what the intent of the motion was. I also expressed my desire that he express an apology for having suggested that I would make a motion that would be akin to pointing a pistol at someone.
Mr. Speaker, that has never been how I have conducted myself in the House.
I believe that we in this House should be conducting ourselves with the highest level of decorum. We should be setting an example for others across the country because they view these proceedings on television.
However, Mr. Speaker, I can tell you that on the rare occasions where I have uttered a word or a phrase that was deemed unparliamentary, I have always stood to accept that and to apologize.
Today is a different matter. The gesture I made was a pointing gesture, one I often use. It was obviously misconstrued by the opposition. Obviously, I am going to use great care to make sure that I do not use that motion in the future because of the possibility it will be misinterpreted.
At the same time, I want to assure you, Mr. Speaker, there was no intention, at all, at any time during the proceedings this afternoon, for me to suggest that I was aiming a pistol or a gun at anyone else in this House.
I hope, Mr. Speaker, you will have an opportunity to view the video of this particular incident. I believe you will find that it is also an innocent gesture, and I believe I have clarified that here in this House. I thank you for the opportunity to clarify that.
Points of Order April 9th, 2014
Mr. Speaker, this member is making that up. It is completely false. I made no such gesture. I said no such word.
I am surrounded by my colleagues here. None of them saw me make a gesture or make that kind of a comment.
I ask that member to apologize to me and to this side of the House.
Canada-Honduras Economic Growth and Prosperity Act March 6th, 2014
Mr. Speaker, the only part I agree with is that yes, Honduras is a challenging place for security. It is a challenging place for human rights. We acknowledge that, but these same arguments were made by the NDP when we negotiated a trade agreement with Colombia. It was the very same argument, and we have seen significant improvements in security in Colombia. We have seen significant increases in support for human rights in Colombia.
What is interesting about Honduras is that it is the largest source of development support from Canada. We are very interested in helping Honduras escape its troubled past. We are helping it on the security side. We are helping it on the justice side and the police enforcement side. We are helping it on the democratic capacity side. We want to make sure that as we open up new trade opportunities for Hondurans to improve their prosperity, move more people out of poverty, and give people hope, we also address those other areas that the member has just raised.
Canada-Honduras Economic Growth and Prosperity Act March 6th, 2014
Mr. Speaker, our strategy since 2006 has been to use trade and investment to drive economic growth at home. That means opening up new markets around the world for Canadian investors and Canadian exporters.
Let me talk again about Honduras, because that is the subject of this motion. It is really unfortunate that the NDP does not want to debate the merits of the bill. I will.
There is a Canadian company that is very active in Honduras. The name of the company is Gildan. It employs 20,000 Hondurans in manufacturing textiles and apparel.
Gildan has won numerous awards for corporate social responsibility and sustainability. This company has asked our government to please sign a trade agreement with Honduras because it will allow that company to increase trade between Honduras and Canada and provide it with opportunities to employ even more Hondurans.
I had the opportunity to be on the ground in Honduras to visit one of Gildan's plans. It is clean and organized and has modern machinery. The company treats its employees well. That is the Canada brand going forward. That is why we want to open up new markets all around the world for Canadians exporters and investors.
Canada-Honduras Economic Growth and Prosperity Act March 6th, 2014
Mr. Speaker, I would again remind the member of the NDP's appalling record on trade. NDP members have opposed virtually every trade agreement Canada has ever signed, so it should not be surprising to see the NDP members stand up in this House today and oppose the Honduras trade agreement, just as we fully expect them to oppose the EU trade agreement and an agreement with Japan or Korea. They are ideologically opposed to trade, and I would remind them of their terrible record.
When we were negotiating a trade agreement with Colombia, what did NDP members do? For two and a half years they stalled, obstructed, and filibustered. They had no intention of having a robust debate on the merits of the deal. They are simply stuck in an ideological rut and they cannot get out of it.
On this side of the House, we support trade and we support investment with our key trading partners abroad.
Canada-Honduras Economic Growth and Prosperity Act March 6th, 2014
Mr. Speaker, perhaps the reason we have only $38 million worth of exports to Honduras is that we do not have an open market there and we do not have a free trade agreement with Honduras.
In fact, I would remind the member that the European Union has had a free trade agreement in place for years. The United States has a trade agreement with Honduras. Mexico has a trade agreement in place with Honduras. Chile has an agreement in place with Honduras. Why is that? It is because they have understood that Honduras needs our help.
The countries I mentioned all have strong, robust human rights regimes and strong democracies. They understand that Hondurans needs someone to walk beside them to share best practices, to move them into the 21st century, and to welcome them into the family of nations that respect human rights. That is the key role that Canada can play here.
We are absolutely committed to bringing this trade agreement into force. We have provided lots of opportunities since November for the opposition parties to view this agreement here in the House. It was tabled back in November. We make no apologies for that. We want to get this deal done.
Canada-Honduras Economic Growth and Prosperity Act March 6th, 2014
Mr. Speaker, the member is absolutely right that Japan is very important, which is why we started trade negotiations directly with Japan on a bilateral basis. In fact, we are moving toward a fifth round of negotiations, which is something he may not have been aware of.
Yes, Japan is very important, but Honduras is also important because we have an opportunity in Honduras, a country that is moving out of a very troubled past, to share our best practices on issues such as democracy, human rights, the environment, and labour. These are areas where Canada has great strength. If we want to see one of the poorest countries in the world move out of poverty and have hope for the future, it is going to require engagement by countries like Canada.
Yes, we are going to do the deals with Japan and we are going to do deals with Korea and we are involved in the trans-Pacific partnership. However, I guarantee members that the NDP will be opposing those very same trade agreements when they come up for debate here.
Canada-Honduras Economic Growth and Prosperity Act March 6th, 2014
Mr. Speaker, that is ridiculous. The motion before us is a time allocation motion relating to the Honduras free trade agreement. That is what I am going to focus on.
However, it is not surprising that the NDP does not consider Honduras important. In fact, it does not consider the Americas to be important. Let me quote a statement made by my friend across the way, the member for Vancouver Kingsway. As he was describing the importance of the Americas to Canada, he said that countries like Colombia, Honduras, Peru, Chile, Costa Rica, and Panama are ..."not key economies with any kind of strategic value for Canada."
The Americas are of no importance to the NDP because it does not understand trade. In fact, the combined economies of those countries I mentioned are equivalent to almost a trillion dollars worth of GDP. Does Canada want to engage with that region of the world? Of course we do. We want to engage with Honduras, and with Costa Rica, Panama, Chile, Peru, and Colombia. Those are trading partners we do want to engage with.
Canada-Honduras Economic Growth and Prosperity Act March 6th, 2014
Mr. Speaker, ever since being elected in 2006, our government has focused on the economy and on building prosperity in Canada. A very significant part of that effort is to use trade and investment to drive economic growth in Canada. We do so by opening up new opportunities around the world through free trade agreements, through bilateral investment treaties, and through air transport agreements.
What we do with our trading partners is engage with them. Some of those partners are coming out of very troubled pasts, so what do we do? There are two choices. We can either isolate countries such as Honduras, the way the NDP wants to do, and treat them like pariahs when they ask for help, or we can engage with them. Our choice has been to engage, walk with them through very difficult times, and help them improve their prosperity.