Ed Holder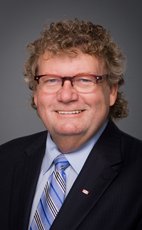 House of Commons photo
Track Ed
Your Say
Elsewhere
Crucial Fact
Conservative
MP for London West (Ontario)
Won his last election, in 2011, with 44.50% of the vote.
Statements in the House
Workplace Safety April 25th, 2013
Mr. Speaker, I rise today to mark the annual National Day of Mourning, April 28.
This day reminds us of the need to establish safe working conditions in all of Canada's workplaces.
In Canada, nearly 1,000 workers die each year as a result of workplace accidents.
That is correct. One thousand workers die needlessly every year from preventable workplace accidents. This is too sad, and it is wrong. Every one of these people is precious to someone. This government recognizes those workers who have been injured or killed because of on-the-job accidents by improving our standards and by working towards safer workplaces through education, co-operation and action.
This Sunday, the flag on Parliament Hill will fly at half-staff, and Canada will be joined by 80 countries around the world to pay tribute to those who never made it home. Through federal laws and regulations, our government strives to ensure that workplaces are safe and productive for all Canadians.
This Sunday and every day, we must remain vigilant in our commitment to ensuring that people return home safely after each day of work. Their families deserve no less.
Interparliamentary Delegations April 25th, 2013
Mr. Speaker, pursuant to Standing Order 34(1), I have the honour to present to the House, in both official languages, the report of the Canadian delegation of the Canada-United Kingdom Inter-Parliamentary Association respecting its participation at the bilateral visit to Northern Ireland and Westminster, London, United Kingdom, from March 16 to 24, 2012.
St. John Ambulance Day April 23rd, 2013
Mr. Speaker, today is St. John Ambulance Day on the Hill. Representatives from St. John are meeting with senators and members of Parliament to talk about the important work they do.
This morning I attended one such meeting with several colleagues. I was impressed to learn that St. John Ambulance is Canada's oldest charitable organization, having started first aid training when Sir John A. Macdonald was Prime Minister of Canada. In fact, the first St. John Ambulance brigade was in Canada's 10th largest city, London, Ontario.
Each year, St. John certifies over 550,000 Canadians in first aid and CPR. Because of this, 23,000 Canadians annually receive assistance from someone trained by St. John Ambulance. This is only part of the work they do. In addition to training first responders, they provide therapy dog services, and we see them at different community events everywhere.
This evening, all parliamentarians are invited to a reception, hosted by the Speakers of both the House and the Senate, to honour St. John Ambulance. Members who attend could win an AED defibrillator, which they could donate to an organization of their choice in their riding. I hope to see many members there tonight.
St. John Ambulance April 18th, 2013
Mr. Speaker, next Tuesday, April 23, St. John Ambulance is hosting its first ever Day on the Hill. I would like to thank the member for Ottawa—Vanier and the member for St. John's East for helping make this day a success.
All parliamentarians are invited to attend one of several meetings to be held that day, to learn about the importance of first aid training and the valuable work done by St. John Ambulance. Members are also invited to a reception that evening, hosted by speakers of both the House and the Senate, where we will honour several people who have done the incredible act of saving a life.
Later this spring, St. John Ambulance will provide free CPR and free AED training to all parliamentarians so that we too will know how to save a life.
Since founding Canada's first St. John Ambulance Brigade in London, Ontario, Canada's tenth-largest city, St. John Ambulance has always had a close relationship with the constituents in my riding and I am proud to support it.
As my Cape Breton mother used to say, "community service is the price you pay to live somewhere". When the price to pay is learning the skills to save a life, we should all be willing to pay that price. I look forward to working with all of my fellow parliamentarians in making a difference in our communities.
Retirement Congratulations March 22nd, 2013
Mr. Speaker, I rise today to thank George Myatte, a Londoner who is being honoured today on the occasion of his retirement from the Canadian Forces. George has given so much more than just dedicated service; he is a true Canadian hero. He would not say so, but just look at his service to Canada. His career highlights include service in the Gulf war and the Bosnian war, as well as Kuwait and Yugoslavia. He has received countless honours and awards for his service. If ever anyone could be said to be a patriot, it is George Myatte.
In addition, he has been a driving force on behalf of London's military family resource centre and the Memory Project. These are testaments to his strong belief in giving back. Today, Londoners will gather to honour and thank George for his exemplary service. He has truly made London proud.
I look forward to seeing what the future holds for my friend. I know that he will take on his next endeavour with commitment, dignity and passion. George means many things to London and to Canada. To me, he is a dear friend of the highest order.
I thank him, I salute him and I honour him. On behalf of the House and our country, I would like to thank George for making a difference. Pro patria.
Stompin' Tom Connors March 8th, 2013
Mr. Speaker, this week, Canada lost a legend and at the same time lost a part of its soul. Stompin' Tom Connors, a Canadian icon, died too soon. I wish to pay tribute to a man who loved our country, as only he could, and made us better Canadians for knowing him, because he was:
Bud the Spud, from the bright red mud, a trucker and a miner
A tobacco picker from Tillsonburg, a hockey fan no finer
From Sudbury in the nickel mines to Hockey Night tonight
to Big Joe Mufferaw from Ottawa, and he sure enjoyed the fight.
He was everyman, he was you and me, he always dressed in black
So you'd focus on his words, and not his stetson hat
And what he said, we understood, because he was so clear
That Canada is number one, and for that we'll always cheer
From east to west, from coast to coast, we know you loved the game
To us, you've won the Stanley Cup, you'll be in the hall of fame
So Stompin' Tom or Bud the Spud by any other name
You're rolling down the highway smiling to the good old hockey game.

Thanks Stompin' Tom. We will see him around.
Scouts Canada February 27th, 2013
Mr. Speaker, Scouts Canada held its day on Parliament Hill yesterday. Scouts from across Canada met MPs and senators to share their message of leadership, respect and community service.
I was honoured to meet Alex Killby from London, as well as Nhattan Nguye, Cody Dixon and Heather Eskritt. These young people reminded me of my days in Scouts. Although it was many years ago, I remember well the lessons taught about integrity and personal conduct and how to develop survival skills, technical skills and confidence. These principles of duty to God, duty to others and duty to self resonate today.
In my city of London we have 30 Scouts groups with more than 1,000 members and 400 volunteers, with service ranging from one to 60 years.
Just this past weekend London Scouting hosted a citizenship court welcoming 27 new Canadians, and 20 scouts received their pathfinder citizenship certificate.
Members may know that the Canadian General Council of the Boy Scout Association was incorporated by an act of the Canadian Parliament on June 12, 1914, so as scouting enjoys 100 years of service, let me on behalf of the House thank Scouts from across Canada for what they do to make London, Canada and our communities better.
Imjin River Cup February 11th, 2013
Mr. Speaker, members of Parliament sometimes get the opportunity to honour history.
Such was the case yesterday when 10 Conservative MPs faced off against members of our military to commemorate the 60th anniversary of the Imjin River games held in Korea.
We need to take our minds back to a place decades ago and thousands of miles from home, where Canadians again answered the call. Our soldiers were sent to repel a Communist invasion of South Korea. It was a bloody war; all wars are. In the end, Canada lost 516 of its best with thousands more wounded. To keep morale high, they played hockey on the frozen Imjin River.
Yesterday we recognized that history, playing on the frozen Rideau Canal. I was honoured to be part of the celebration, and yesterday we played to an 11-11 draw. It was not exactly a defensive gem, but the tie was the most appropriate ending. We honoured our military by playing Canada's game, just like they did in Korea so long ago.
Thanks to Senator Yonah Martin for organizing this special day. It was a thrill to hold the Imjin River Cup, knowing that participants from both teams will have their names engraved on it. Thanks again to our military for making us proud.
Sport February 7th, 2013
Mr. Speaker, let the countdown begin. Today marks one year to go until the kickoff of the 2014 Sochi winter games, and my city of London will be well represented.
Our government is the single largest contributor to sport in the country, which provides opportunities for all Canadians to benefit from a healthy, active lifestyle.
With that said, let me ask the Minister of State for Sport if he could update the House on how, partly thanks to our investments, Canada is excelling in sport from the grassroots to the world stage.
Business of Supply February 7th, 2013
Mr. Speaker, I recall being on the Library of Parliament committee as my first committee when I was elected in 2008. We studied the issue of the Parliamentary Budget Officer. All the witnesses who were part of that process said that the Parliamentary Budget Officer clearly overstepped the responsibility of the role in the way they had envisioned it.
I recall a point when the Parliamentary Budget Officer spoke out on a very specific issue during an election. I would like the member's impression of it and whether he thinks it was unprecedented and, for that matter, appropriate.