Ed Komarnicki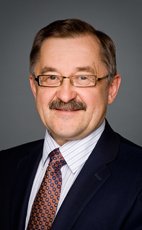 House of Commons photo
Track Ed
Your Say
Elsewhere
Crucial Fact
Conservative
MP for Souris—Moose Mountain (Saskatchewan)
Won his last election, in 2011, with 74.00% of the vote.
Statements in the House
Ukraine February 26th, 2014
Mr. Chair, I think the government has taken significant steps to date, but with the change and transition in government I think it needs to reassess and work with its allies. Certainly I know there is a desire to take steps to punish, to sanction, or to seek a certain amount of revenge on those who have done harm, but if there were a caution I would put to those in the government in transition, it is not to become subject to the same difficulties the regime found itself in. They must be sure to proceed within the rule of law, within an impartial judiciary. They need to make laws in accordance with the constitution. They need to proceed in accordance with what is right and develop along that track.
Yes, there needs to be a singular, narrow focus on dealing with those, and maybe one or two or more, individuals who have caused the deaths of unarmed people who were no threat. They need to be punished in the course of time. But at the moment, as we speak, that is not the most important issue for Ukraine. The most important issue is to ensure that the territory is integrated, that the people can indeed function as a democracy, that they get a government in place and start putting the building blocks in place for a free and democratic society as we know it in the western world.
Ukraine February 26th, 2014
Mr. Chair, there is a lot in there. However, there is no doubt Ukraine has a lot of resources, not only in shale gas but also in very valuable land. It also has the human resources that need to be harnessed. Certainly, if it could have the rule of law operating as it should and basic economic principles and understanding, I believe there would be people who would invest in Ukraine's future. Indeed, as governments around the world invest in Ukraine to ensure it can develop, if it can develop, it can be self-sustaining. Ukraine has a great opportunity and it has the resources to make it happen.
While there is trepidation and great difficulty and struggle, there is also great hope for Ukraine. The western countries must not abandon Ukraine in its hour of need. They must be there for Ukraine. That includes business, which I think is able to invest mightily.
Ukraine February 26th, 2014
Mr. Chair, it is a privilege to speak tonight about the events occurring in Ukraine. I would first like to offer condolences to those who have lost family members at this very trying time, those who paid the ultimate price to stand for what they believe in. Many were injured. Some were kidnapped and badly beaten. Many were abused. Many were put in jail and incarcerated for doing what one would anticipate they would be legally entitled to do, which was have the freedom to associate and to express themselves in light of a government, a regime, and a president who had taken some fairly significant steps to take them away from what they hoped would be a free and democratic Ukraine. Their hopes rested in part on an association with the European Union. Their hopes rested on the fact that they would be encouraged by that association to continue with their fledgling democracy and to continue with improvements to their judiciary. They saw that slipping away, and they took to the streets to ensure that this did not mean an end to what they had tasted.
With social media and the Internet, we are able to see the events that are transpiring there live. It is an encouragement to Ukrainians to know that they are not alone, that there are people and countries who stand with them. Equally important is that with social media, they appreciate what democracies experience from time to time. Having partaken themselves in that, they were not prepared to give it up.
I recall, in my first year here, in 2004, as a young parliamentarian, when the Orange Revolution was taking place. I came to the House near midnight and spoke to encourage the Ukrainian people at that point, because it seemed that there was an opportunity for them to strive for democracy and freedom of association. That hope did not blossom as we thought it might. Those dreams and aspirations were lost for a variety of reasons, perhaps because the opportunity given to those in leadership was not taken advantage of or not proceeded with. As a consequence, we saw a reversion of what they had experienced and thought they were well on their way to accomplishing.
I should mention that I will be splitting my time with the member for Pickering—Scarborough East. I want to be sure that is on the record.
It was with that hope and determination that people thought they were going forward. Then they saw it dashed, particularly when the Yanukovych regime eliminated Yulia Tymoshenko as a potential political rival by incarcerating her and preventing her from running in the election. At that point, we could see that the country was proceeding in the wrong direction and that it needed correction.
Just a few days ago, who would have thought that events would so unfold that we would see her released? One of the fundamental rights of a democracy is a judiciary that is independent and not manipulated, where someone can expect to be under the rule of law, come before a judicial system, and have it provide a judicial pronouncement without interference or manipulation. That was a fundamental part of it. To see her released through the efforts of the people and the stand they took in Maidan was remarkable.
To see that there will be elections on May 26 and there will be nominations by March, is incredible. It is breathtaking. As a country, we must support Ukraine, not only in ensuring that those elections are free and democratic, we must also help them with their economic circumstances and the fundamentals they need to succeed at this time. There are a lot of challenges and there will be a lot of struggles. I know their territorial integrity is important. We must ensure that those are maintained and that we are there to stand with them in the difficult future, just as we have to this point. It is going to be very important for that fledgling democracy to take root. We need to do everything we can to see that happen.
Ukraine February 26th, 2014
Mr. Chair, I appreciated hearing the member speak about the spirit and the people of Ukraine, and the fact that they were prepared to put themselves in harm's way, where death and bodily injury ensued.
What would the member say was the underlying point or principle that caused a nation or a group of people to be prepared to go to that degree to ensure that a certain set of events would take place?
Support for Volunteer Firefighters Act February 25th, 2014
Mr. Speaker, I am thankful for the opportunity to speak on Bill C-504.
The Government of Canada, of course, is committed to ensuring that workplaces are fair, safe, and productive, and that they contribute to a prosperous economy for all Canadians. However, as the previous speaker mentioned, I know of no employer who has prevented an employee under this particular circumstance from doing volunteer firefighting work.
The main objective of Bill C-504 is to provide support to volunteer firefighters who are employed in federally regulated enterprises. The bill proposes to amend the Canada Labour Code to ensure that volunteer firefighters are supported when considered for employment or when called upon to perform their duties during working hours.
We have carefully studied the bill, and we would like to assure Canadians and business owners that the bill attempts to solve a problem that does not really exist.
First and foremost, our government recognizes the sacrifice and hard work carried out by volunteer firefighters across Canada, and there is no question about that. Who can forget the disaster at Lac-Mégantic this past summer? There is no way the small community's fire department could have dealt with this tragedy without the help of its volunteer firefighters.
These volunteers are a beacon of courage for all of us. They are a shining example of the bravery shown in thousands of Canadian communities by men and women who freely give their time to keep us and our communities safe. Our government recognizes their critical role and that is why we created the volunteer firefighters tax credit, which is available to those who provide at least 200 hours of eligible service per calendar year at one or more fire departments.
In 2011, more than 37,000 volunteer firefighters took advantage of this tax credit, which is a fairly significant number. In other words, under the leadership of this government, all men and women across Canada who serve as volunteer firefighters get real action with real results.
No one doubts the hon. member's sincerity, and certainly we hear the passion displayed, in wanting to protect the estimated 4,200 volunteer firefighters who work in federally regulated industries. However, we cannot support the bill.
First, there is little evidence that federally regulated employers are unsupportive of their employees who act as volunteer firefighters. I think the previous speaker alluded to that. The truth of the matter is, that is the situation across the country.
The labour program, which is responsible for the Canada Labour Code, has not received a single complaint from a federally regulated employee who has been dismissed, suspended, laid-off, demoted, or disciplined for fulfilling their volunteer firefighting duties; not one single complaint.
Second, Bill C-504 would have a disproportionate impact on small employers, who represent 80% of all federally regulated employers.
The other side of the coin, of course, is that small employers would have to manage unpredictable absences in their organizations while not necessarily having back-up resources to complete the work left behind. The bill would mean an additional burden on employers who would have to manage additional red tape.
Let us not forget that our government has reduced red tape and regulatory burdens on Canadian businesses to provide them with the required flexibility to grow, create jobs, and strengthen the economy. The idea is to reduce red tape for businesses, not increase it. Our economic action plan measures have produced results. The last thing we want to do is to move backwards.
Finally, there is no indication that volunteer firefighter departments, or even volunteer firefighters themselves, see a need for legislation.
A survey was recently conducted by the Canadian Association of Fire Chiefs in which recruitment and retention was identified as a challenge by volunteer firefighter departments. However, a lack of support from employers was not identified as the main cause for this challenge. Rather, and in many parts of Canada, a lack of local employment poses the greatest challenge for fire departments in small and medium-size communities concerning the recruitment and retention of firefighters.
Although the intent of the bill is to support volunteer firefighters, it would add little to no additional support.
What the bill truly represents is another NDP attempt to create regulation for the sake of regulation, without any forethought to any consequences and when no regulation is required.
The bill is also inconsistent with other provisions provided in the Canada Labour Code. For example, it introduces the concept of good cause, which would leave room to multiple interpretations and could lead to disagreements between employers and employees, creating a situation that does not need to be created.
It also fails to define under what circumstances a volunteer firefighter would be granted leave from work. An important part of a volunteer firefighter's duties are deemed non-urgent situations, such as training and fire hall maintenance.
I am not so sure anyone here wants their communities unprotected from the ravages of fire. Of course, every one wants to be protected from the ravages of fire. However, there is little evidence that discrimination against employees who act as volunteer firefighters actually exists.
As I mentioned earlier, the bill would have a negative impact upon small and medium-sized employers, while adding no additional protection to those who serve as volunteers.
For all these reasons, the government cannot support the bill and will be voting against it.
Not to be misunderstood, to be sure, our government is committed to ensuring that each and every workplace in Canada remains fair, safe, and productive. That is what is guiding each and every one of our decisions now and going forward.
It seems to me that, so far, the relationship between employers and employees has been excellent and that volunteer firefighters have been able to attend and protect citizens from fire whenever it was required. It does not appear to be a problem. It has not been identified as a problem. Why would we need this legislation at this particular time to legislate a situation or to try to cure a situation that does not exist—a problem that employers and employees have been able to work out on their own terms?
In fact, many employers themselves are volunteer firefighters, and when there is a call and a need by the community or society that needs protection, they are first to go. They see it as a community effort, a duty to the community, and they work that out amongst themselves.
It is our view that this legislation is not necessary, certainly not in a federally regulated sphere.
Ukraine February 24th, 2014
Mr. Speaker, the events that unfolded in Ukraine over the last few days, in fact still unfolding, are nothing short of miraculous, breathtaking, and profound. The holding back of fundamental human rights—the freedom of expression, the freedom of speech, and the values individuals hold dear—has been broken.
I do not think anyone is under any illusion, however, that the road ahead is difficult, where personal interest will have to give way to the national interest and the overall good of Ukraine. Fundamental human rights and the rule of law must be fostered and allowed to take hold. We look to a free Ukraine, where individuals are allowed to be and become who they can be in a free and democratic society, without fear or trepidation.
As stated by our foreign affairs minister, "The unity of the Ukrainian people is fundamental. Canada stands firmly behind you, in this difficult journey towards democracy".
May all of those who have paid a price—and there will be many more who will continue to pay the price—and those who paid the ultimate price, be forever remembered. Vichnaya Pamyat.
God bless Ukraine. Slava Ukraini.
Business of Supply January 28th, 2014
Mr. Speaker, there is no doubt, first of all, that one has to face the reality and note where Canada Post is operating efficiently and making dollars and where it is losing dollars. The fact of the matter is that taxpayers, generally speaking, are prepared to make some accommodation to ensure they are not on the hook for $1 billion a year. That is a lot of money.
I appreciate that they would like the action to be taken in such a fashion that it would have the least possible impact, and where it could be mitigated, that steps would be taken to mitigate those actions. At the same time, one has to be realistic and ask what a corporation is prepared to do to ensure it becomes closer to a self-sustaining position.
Of course, community mailboxes would bring a savings of about $400 million to $500 million, with higher stamp prices being $160 million to $200 million, and franchised post offices and streamlined operations, $140 million to $200 million. Those are the kinds of things that have to be taken into account to bring Canada Post back in balance and where it should be.
Business of Supply January 28th, 2014
Mr. Speaker, as has already been mentioned, two-thirds of Canadians do not receive their mail door to door, and certainly this is something that the other one-third need to address.
The bigger question, of course, is that through the consultation it has been revealed that many customers are prepared to pay a reasonable portion for their services, provided they are not subsidizing a part of the business that is losing a significant amount of dollars. It has been quite clear that if nothing is done and everything is left to go as it is, it will cost Canadians up to $1 billion a year. Someone will have to pay for that. Through the consultations that have taken place throughout the country, generally the indication has been that they do not want taxpayers to be subsidizing a part of the business that is not profitable.
I think Canadians would expect that Canada Post would focus its attentions, dollars and infrastructure on those areas that are very competitive, that Canadians demand and expect as a service, and to remain competitive and profitable in that area.
Business of Supply January 28th, 2014
Mr. Speaker, I will be sharing my time with the member for Don Valley West.
I would like to take this opportunity to address the subject matter. Last month Canada Post Corporation released a comprehensive five-point action plan, "Ready For the Future", which was designed to realign how it delivers and prices postal services to meet Canadians' emerging and future needs while substantially reducing the cost for taxpayers. In all of this, we have to keep the taxpayers in mind and appreciate that the corporation needs to ensure that it is itself viable and that the services it provides continue to make it so.
Canada's national postal service is at a crossroads as we speak. Letter mail volumes have been declining since 2002, when Canada Post delivered one billion more letters than it did in 2012. The writing is on the wall. It shows a significant increase in one type of service and a specific decrease in letter mail volumes. The corporation estimates that for every 1% drop in mail volume, it loses $30 million in revenue. This is the reality. This is placing a huge strain on Canada Post's finances, as witnessed by losses of $129 million, before tax, in the postal segment alone, in the third quarter of 2013. It is clear that the services currently provided by Canada Post are no longer sustainable. Action is required and corrective steps must be taken.
There is, however, strength in the parcel delivery part of the business. An important component of Canada Post's proposed strategy is its intention to build on its current strength in parcel delivery, which has demonstrated solid growth over the past few years, thanks in large measure to the fast-growing market in online shopping.
It is clear that Canadians have become enthusiastic online consumers. Statistics Canada reported in October 2012 that the value of orders placed online by Canadians reached $18.9 billion in 2012, up 24% from 2010, when the survey was last conducted. More than half of Internet users, 56%, ordered goods or services online in 2012. Perhaps even more encouraging, most Internet shoppers, 82%, placed an order with a company in Canada.
Canada Post's parcel line of business currently offers a range of domestic and international delivery services and is the largest player in the Canadian parcel market, with more than 50% of market share. The corporation sees an unprecedented opportunity for additional growth linked to e-commerce as online business activity increases. Customers for parcel services include businesses, customers of all sizes, government, international and postal administrations, and other delivery companies.
According to a recent report by the Conference Board of Canada, residential and small business customers indicated that their demand for parcel service will continue to rise with the spread of e-commerce. Parcels are, in fact, the fastest growing line of service in the core Canada Post business. The corporation reports that overall growth in parcel volumes experienced a record-breaking holiday season, which runs between November 11 and January 4. Canada Post delivered 30 million parcels during this period, which was five million more than during the holiday season last year. The corporation delivered more than one million parcels a day on 10 different days. Weekend deliveries were also very successful, with Canada Post employees delivering a total of 1.1 million parcels over the six weekends of the holiday season, with the highest number of deliveries occurring on December 21 and 22. There were 317,000 deliveries.
The main reason for this growth is that parcels are the one postal product that is seeing growth driven by the digital revolution. Canada Post advises that its top 25 retail customers are making major e-commerce gains. January parcel volumes from these retailers shot up 35% compared to January of last year. This dramatic increase follows a highly successful holiday season in which year-over-year parcel volumes from this top performing group grew by 50%. These are the facts. This is the new reality Canada Post examined as it made its five-point plan. Overall revenue and volume growth reflect the strength of the fast-growing consumer-to-business e-commerce delivery market.
In 2013, Canada Post's increased revenues from parcel deliveries contributed to offsetting significant revenue declines from letter mail volume erosion. There is no doubt that we are in the midst of a changing postal environment. Canada Post must manage its business as a viable commercial enterprise that competes effectively in every product line. Even its traditional direct marketing business is facing digital rivals that use mobile and smart technologies.
The parcel business operates in a highly competitive environment. The corporation is well aware that to build on recent successes it must attract customers in an increasingly complex economic environment. Unlike letter mail, the parcel business is highly competitive, and parcel volumes have been rising worldwide. Postal services in many countries have been aggressively using their extensive sorting and delivery infrastructure to expand in this sector. This only makes sense. The infrastructure that presently exists across the country can be used as an advantage to further its market share in this particular area.
Globalization means more parcels coming into Canada to be processed to the same high standards. The highly competitive parcel delivery market means that service providers must modify operations in order to win and retain customers with the quality and reliability of the service. In the business-to-customer parcel delivery market that means providing fast, reliable and convenient delivery, excellent tracking options and reasonable prices.
The growth in the parcel industry has also intensified local and global competition. For example, FedEx and UPS have increased their competitive positions with Canada. Consumer patterns have also shifted from premium to less urgent products that cost less. The increased competitive landscape has put increased pressure on Canada Post to manage costs, improve product offerings and provide a superior customer service.
With approximately 40% of parcel deliveries to Canada originating internationally, Canada Post has negotiated bilateral agreements, notably with the United States and China, to increase its share of this inbound traffic.
The corporation has also made extensive investments in new facilities, including a 700,000 square foot plant at Vancouver International Airport, increased real-time tracking through portable scanners for employees and added to its capacity for motorized delivery to handle growing package volumes. All of this has required internal reforms and changes in the way it does business.
Canada Post is aware of the changing face of the postal industry and has been preparing for the future with less mail and more parcels for the last number of years. The corporation has implemented measures to expand its parcel volume, both through its postal operations and its Purolator courier service. For example, changes to internal operations, which first began in 2010, have made for a more efficient flow of parcels through the network to the customer.
Canada Post has launched an aggressive plan to invest in replacing its aging processing infrastructure and delivery processes with more modern and cost-effective approaches driven by technology. This is something businessmen have had to do all along. As we all know, technology has changed dramatically in the last number of years. Businesses have had to stay attuned and abreast of what is happening, and so do businesses like Canada Post. The sorting equipment in place today is faster and more accurate. From a delivery perspective, it has made a massive shift toward motorization.
Canada Post has also offered on-demand parcel pickup for small businesses in 2011. In 2012, it provided enhanced web services for online retailers, including the seamless management of returns.
Canada Post will continue to leverage these investments, and it must. Doing so will further reduce the costs of processing the mail and will allow the company to better serve the growing parcel market and provide the services Canadians will need in the future.
In many urban areas, Canada Post has moved away from letter carriers delivering mail by foot, to carriers who leave their depot every morning with a fuel-efficient van containing the mail and parcels for delivery to their route. Putting mail and parcels in one truck for delivery provides a better customer experience, especially in the parcel business, at a much lower cost to the corporation.
These improvements will allow Canada Post to compete more effectively in a fast-paced and technology-driven global parcel market.
It is quite remarkable what Canada Post does handle, which is everything from health care products, gourmet food, to live bees. It must continue to adapt, to modernize, and to ensure it is able to service the demands of the Canadian public.
Situation in Ukraine January 27th, 2014
Mr. Speaker, if I recall correctly, the member who put the question in question period was the member for Wascana.
In fact, when I look at the recommendations made by Mr. Paul Grod, president of the Ukrainian Canadian Congress, I see he listed a number of suggestions of actions that could be taken. Of course, the ambassador of religious freedom is in Ukraine almost as we speak. The very specific types of actions that the member for Wascana put forward are the types of actions that have been listed by the Ukrainian Canadian Congress and are taken into consideration by the foreign minister and the Prime Minister, in concert with the allies, to decide what actions will be taken. I think that is totally appropriate. That is exactly what I would do.