Ed Komarnicki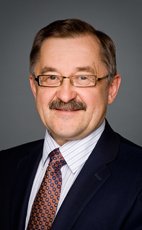 House of Commons photo
Track Ed
Your Say
Elsewhere
Crucial Fact
His

favourite word

is might.
Conservative
MP for Souris—Moose Mountain (Saskatchewan)
Won his last election, in 2011, with 74.00% of the vote.
Statements in the House
Outstanding Cadet September 26th, 2014
Mr. Speaker, today I would like to highlight an outstanding 16-year-old army cadet from my riding. He is Master Warrant Officer Radley Kolb of the Princess Patricia's Canadian Light Infantry in Estevan.
This summer Radley spent most of July and a few days in August at the Canadian Forces base in Trenton, Ontario, successfully making five parachute jumps from a plane at 1,250 feet to accomplish his paratrooper certification. He is the first person from Estevan in more than 40 years to successfully complete the paratrooper program and is now the only person in Saskatchewan with this certification.
It is one accomplishment for this young cadet in the short six years he has been with army cadets. The paratrooper certification will help put Radley another step closer to his dream of a career in the Canadian military.
Again I would like to congratulate Master Warrant Officer Radley Kolb on his accomplishment and wish him great success in his future with the Canadian military.
Foreign Affairs September 23rd, 2014
Mr. Speaker, today we learned that the United States and its allies have carried out airstrikes against ISIL and Syria. As members are aware, ISIL has been using Syria as its launching pad for its operations in Iraq. These airstrikes were aimed at key ISIL areas, including ISIL's stronghold, Raqqa.
Can the Parliamentary Secretary to the Minister of Foreign Affairs please comment on this latest development?
Public Safety September 19th, 2014
Mr. Speaker, recently authorities in Australia arrested more than a dozen Islamic terrorists who had hatched a plot to conduct random beheadings. It is clear that the Islamic State represents a threat to Canada. It is indeed a dark and dangerous world we live in, yet the Liberal leader said seizing passports from terrorists in an affront to Canadian values.
Can the Minister of Justice tell the House what our government is doing to keep Canadians safe?
Energy Safety and Security Act May 29th, 2014
Mr. Speaker, Bill C-22 does address the need for operators to provide adequate and appropriate compensation—and I have referred to that—without burdening them with exorbitant costs for unrealistic amounts of insurance against events that are highly unlikely to occur in this country. The $1 billion that I spoke of strikes a proper balance between providing adequate compensation for citizens for a nuclear incident and holding companies to account in the event of an accident. In all of these matters we must have that balance.
The amount is also well above the liability limit imposed on nuclear operations in many other countries and is in line with the limits that have been proposed in the EU, so in a lot of ways we have set a standard and in a lot of ways we have done what other countries have been thinking about doing.
Of course, when we look at what the present regime is compared to what we propose it would be, we see there is a substantive and significant increase to ensure that there is adequate protection at the same time that we protecting taxpayers as well. This is a balance that I think has been appropriately achieved in this bill.
Energy Safety and Security Act May 29th, 2014
Mr. Speaker, as we all know, the nuclear liability portion of this particular piece of legislation would ensure that we have continuous production of clean energy, particularly in Ontario, and that member is from this particular province.
In my riding we have the carbon capture and sequestration project, which takes care of emissions generated in other types of electrical production, so we have gone a long way in ensuring clean energy and in dealing with that aspect of it.
The present liability portion is $30 million to $40 million. This would be increased substantially. Not only would it be increased substantially, but the bill makes provision for additional funds to be put in place by the operators for immediate concerns and immediate purposes. Additionally, depending on which part of the legislation, the matter can be brought back to the House as well.
Energy Safety and Security Act May 29th, 2014
Mr. Speaker, as I mentioned earlier, this particular legislation would raise the standard considerably in terms of the amount of liability and the amount that developers must put together. It would raise the liability amount from $30 million or $40 million, depending on the location, to $1 billion, and there are provisions beyond that. When we compare that to the amounts and the standards in the world, we certainly meet or exceed the top countries involved in this particular type of regime.
This legislation is leading in its own way, and it would be a standard that others would use and apply in the future.
Energy Safety and Security Act May 29th, 2014
Mr. Speaker, I will be splitting my time with the member for Calgary Centre.
It is a great opportunity to speak to this very important piece of legislation that would update the liability limits for nuclear and offshore oil and gas sectors. As part of our government's responsible resource development plan, we are enshrining the polluter pays principle into law, and certainly this makes for a very important piece of legislation.
I would like to focus on the fact that the proposed act would play a very central role in advancing our government's northern strategy. I will be limiting most of my remarks to that aspect of the bill, although it would also affect the Atlantic offshore region of our country. When much of the attention has been focused on the impact of the legislation on the Atlantic offshore, it would be equally valuable to northern residents, industry, and taxpayers, as it would extend the same provisions and protections to the Arctic offshore.
We know that Canada's north has tremendous resource potential. Approximately 38% of Canada's remaining marketable resources of natural gas are located in Canada's Arctic, as well as 35% of the remaining light crude oil at over 11 billion barrels of oil. These figures do not include unconventional resources, such as shale oil and gas.
Canada's Arctic petroleum, found primarily offshore in the Beaufort Sea, accounts for one-third of the country's unconventional oil and natural gas reserves.
The responsible management of Canada's immense petroleum and mineral resources in the region supports our northern strategy goals: more predictable, timely environmental reviews; reduced regulatory burden and duplication; improved environmental protection, which is always important; and meaningful aboriginal consultation making provision for that. No one likes duplication just for duplication's sake and this would harmonize a lot of the regulatory burdens and ensure that they are far easier to follow.
More specifically, Bill C-22 would provide the clarity and certainty industry needs to ensure its developmental plans protect the environment while promoting economic development in Canada's north. The energy safety and security act would also help ensure that any future development occurs in a way that respects aboriginal communities and safeguards the environment for the benefit of future generations. All Canadians can be assured that our government is committed to the safety of Canadians and the protection of the environment.
Once passed, the new legislation would enshrine in law the polluter pays principle that I referred to earlier. This would fulfill our commitment in the Speech from the Throne. It would mean that oil and gas companies operating in both the Atlantic and Arctic offshore would be subject to one of the strictest liability regimes in the world.
Under the proposed act, before any offshore drilling or production activity could take place, the proponent must provide evidence that it can cover the financial costs and damages that may result from a spill. Absolute liability for the environmental costs and third-party losses in the unlikely event of a spill in the Arctic would increase from the $40 million that is there today to $1 billion. Of course, the regulators may require higher amounts if they deem it necessary.
A proponent found at fault for a spill would continue to be completely responsible for cleanup and compensation costs.
However, we are saying $1 billion for strict and absolute liability. Whether they are responsible or at fault or not, the liability would be there. Of course, anyone found at fault for a spill would continue to be completely responsible for cleanup and compensation costs, as I mentioned.
This would standardize northern and southern oil and gas regimes across the country.
In addition, Bill C-22 would demand that industry provide regulators with direct and unfettered access to $100 million in funds per project or a pooled fund of $250 million. This would give regulators immediate access to money in the unlikely case they need to take direct action to respond to a spill or compensate affected parties.
There would be an immediate short-term provision, there would be a longer-term provision, and there would be a significant increase in the amount of liability under strict liability and an unlimited amount otherwise.
The energy safety and security act would also establish the right of governments to seek environmental damages. This means that they would have the power to pursue operators for any damages to species, coastlines, or other public resources. These measures would build on a sound system overseen by strong regulators to ensure world-class standards for Canadian offshore and nuclear industries. They would further strengthen safety and security to prevent incidents and they would ensure swift response in the unlikely event that a spill takes place. Prevention and response and then, in the unlikely event, damages would ensue.
It would also build on recent legislative initiatives to complete our government's action plan to improve northern regulatory regimes by ensuring a predictable, timely regulatory system across the north that supports economic growth in the north while ensuring environmental stewardship. A prime example of such an effort is the Northwest Territories Devolution Act, which received royal assent on March 27, 2013. It gives northerners more control over their own land and resources and will help ensure Northwest Territories residents benefit from the responsible development of the region's great resource potential.
Apart from having strong regulators, Canada has a responsible industry with a solid record of safety and security. With the assurance of these strict new requirements, northern communities can proceed with resource development projects with confidence. We need only consider the benefits the energy industry has already produced for northerners to appreciate its potential to generate even greater impacts for Arctic communities when these energy resources are responsibly developed. Responsible development is key in all areas, but particularly in the north.
In earlier phases of exploration, more than 1,500 wells were drilled, which led to abundant discoveries. Some discoveries were developed for production to support local energy consumption in the north. Imperial Oil's Norman Wells installation, for instance, has contributed to the town's energy supply and economic development. For several decades now, it has also sustained the surrounding communities in terms of jobs, businesses, and infrastructure. It has generated a large revenue stream to government with a percentage of revenue contributing to resource revenue sharing with aboriginal groups in the Mackenzie Valley under the provisions of their land claims.
We know that the Beaufort Sea has incredible potential to produce even better results in the future. There have been more than 60 discoveries to date. In addition, several companies hold exploration licences with cumulative work commitments of over $1.8 billion. Oil and gas companies are planning work and have filed extensive drilling proposals with the National Energy Board. The proposed drilling is a first for Arctic deep waters, and the first after the release of the National Energy Board's 2011 report on offshore drilling in the Canadian Arctic. That report confirmed that the National Energy Board's regulatory regime can address matters related to the safety of northerners, workers, and the environment.
Environmental stewardship is and always will be a key consideration in resource management. Achieving this objective requires accurate environmental and other scientific, social, and economic data to support good decision-making. Oil and gas exploration development creates unique opportunities to advance Canada's knowledge of the north. As part of the northern strategy, we are looking for innovative programs to advance responsible development and increase our knowledge of the north. One example is the Beaufort regional environmental assessment initiative, or BREA for short. Our government is providing $21.8 million over four years to ensure that governments, Inuvialuit, regulators, and industry are prepared for renewed oil and gas activity in the Beaufort Sea. Northerners play a prominent role in BREA and the Inuvialuit Regional Corporation is part of the national executive committee, while the Inuvialuit Game Council and representatives of the hunter and trapper committees are members of various committees and working groups.
The north's resource potential is a key asset for Canada, though still largely unexplored and untapped. Oil and gas exploration development essentially offers an opportunity for economic and social development through investments, jobs, and training and infrastructure, as well as revenues from resource development.
Given this world-class potential throughout the Arctic, it is imperative that exploration continue responsibly and that northerners actively participate and benefit from that development. Bill C-22 is designed to do just that, as it complements and advances the northern strategy, which promotes the same goals.
Business of Supply May 7th, 2014
Mr. Chair, we heard from a number of witnesses in committee from the Canadian firemen's association with respect to the flow of information with respect to what is being transported.
I wonder if the minister can tell Canadians of the discussions she has had with the Canadian Association of Fire Chiefs with respect to rail safety and the role of first responders in the event of an accident.
Business of Supply May 7th, 2014
That is right, Mr. Chair.
It is my pleasure to speak to the House tonight on the help the federal government provides to municipalities and first responders.
First responders are the front line in public safety and when an emergency occurs, multiple 911 calls flow into municipal emergency centres. This begins the all-important response by police, fire, and ambulance personnel to the scene of the incident. Without this vital safety link, Canadians' lives would be placed further at risk.
That is why our government recognizes the importance of proper first responder capability and has provided assistance to municipalities to ensure that Canadians have access to the support they require following an incident related to the transportation of dangerous goods.
For example, our government has allocated funding to support municipalities, and a portion of that funding is being provided by Public Safety Canada toward helping in the response and recovery in Lac-Mégantic.
By their very nature, the vast majority of emergencies in this country are dealt with at the local level; by provincial, territorial, and municipal governments. Under Canada's emergency management system, first responders and provincial officials are responsible for addressing the immediate needs of their residents in times of disaster. However, the federal government can and does play an important role through the disaster financial assistance agreements, particularly when communities are devastated by a large-scale natural disaster.
These arrangements were put in place to provide financial assistance to provinces and territories, on a cost-shared basis, when response and recovery costs for a natural disaster exceed what they could reasonably be expected to bear on their own. Through this program, our government has provided more than $2.5 billion in post-disaster assistance to help provinces and territories with the costs of response and of restoring infrastructure and personal property to pre-disaster condition.
However, as we learned last summer, our communities can be shattered by incidents that do not fall into the category of large-scale natural disasters. The unprecedented nature of the Lac-Mégantic tragedy was such that our government was compelled to find an exceptional and rapid funding response. In the face of such a devastating and immediate impact, it was clear that there was no time to waste. The priority was to deliver immediate help to the people whose lives had been ripped apart. With its commitment to provide $60 million to the province of Quebec, that is exactly what our government did. Since then, we have also provided up to $95 million to help with the decontamination of the water and soil.
In addition, to help meet this extraordinary need, Public Safety Canada committed to provide $25 million of the total funds, to help the Province of Quebec in its immediate response and recovery efforts, as well as to help repair, rebuild, and restore this devastated community.
The funds provided could be directed to a number of eligible costs, which would include: the delivery of emergency services; rescue, transportation, and emergency food and shelter; the registration of people who were displaced from their homes due to the destruction; incremental short-term security measures, including removing valuable assets and hazardous material from the sites; emergency provision of essential community services; the removal of damaged structures that constituted a threat to public safety; repairs to public infrastructure, such as roads and bridges; and finally, the cleanup costs.
Since this announcement, our government continues to work with officials in the Province of Quebec and Lac-Mégantic to ensure that provincial requests for federal assistance are handled without delay. The health and safety of Canadians is our government's top priority, and this funding is just another example of how we are working closely with the provinces and territories to assist Canadians when large disasters strike.
We continue to support first responders to make sure they have access to information that may assist them in dealing with an incident.
That is why on November 20, 2013, my colleague the hon. Minister of Transport took action to make sure that municipalities and first responders have access to information about dangerous goods that flow through their communities. This government has obligated industry to provide municipal emergency planners and first responders with the information they need to conduct proper risk assessments, emergency planning, and first-responder training.
Moreover, the Transportation of Dangerous Goods Act, 1992, provides the federal government with the necessary authorities to develop policy, verify compliance, conduct research to enhance safety, guide emergency response, and develop regulations and standards to manage risk during the transportation of dangerous goods.
To further help municipalities deal with an emergency, the transportation of dangerous goods directorate within Transport Canada, operates the Canadian Transport Emergency Centre, CANUTEC, to assist emergency response personnel in handling dangerous goods emergencies. This world-renowned centre is staffed by bilingual professional scientists, specialized in emergency response and experienced in interpreting technical information and providing advice to first responders.
The centre operates 24 hours a day and handles some 30,000 phone calls a year related to safety. Delegations from around the world regularly visit CANUTEC to incorporate Canadian practices into their own countries' dangerous goods programs.
CANUTEC was involved immediately after the incident in Lac-Mégantic, providing first responders involved in the tragic incident with information regarding potential hazards of the dangerous goods, evacuation distance, train consist information, and protective clothing requirements, among others.
First responders regularly communicate the importance and necessity of CANUTEC to help them accomplish their response work and to understand the risks associated with the transportation of dangerous goods. CANUTEC also offers first responders access to immediate dangerous goods information following an incident.
A rail operator is required by regulation to provide CANUTEC with the train consist immediately following an incident. This train consist provides first responders with detailed information on the specific products the train in question was transporting, beyond the general information provided by the placards on the cars. This is much more detailed information.
It allows CANUTEC specialists to target detailed advice on handling products, which may have spilled and mixed, or recommended initial evacuation zones. It enables them to understand immediately what risks they face when they are involved in an incident.
This existing requirement for immediate information to be provided to first responders through CANUTEC, in combination with the new requirements to provide municipalities with historical information through the protective direction, demonstrates our government's commitment to support first responders with the information they require to respond to a dangerous goods incident.
We are fortunate. Anyone involved in emergency response and the transportation of dangerous goods safety knows the importance of CANUTEC and its emergency response guidebook. This guidebook, produced by Transport Canada, helps first responders, police, fire, ambulance and paramedics, to respond and protect Canadians during the initial phase of a dangerous goods incident.
The emergency response guidebook is an informative and comprehensive guide designed for use at a dangerous goods incident occurring on a highway, aircraft, ship or railroad. It enables first responders to quickly identify the specific or generic hazards of the material involved in an incident. The guidebook is used by many first responders. It is something that is widely provided.
Could the minister clarify a number of oversight positions for each mode of transportation, and for the transport of dangerous goods? After she has done that, perhaps she could comment on the January 23 Transportation Safety Board-issued recommendations regarding emergency response assistance plans, ERAPs. Perhaps the minister could tell the House what actions our government took to respond to these recommendations.