Geoff Regan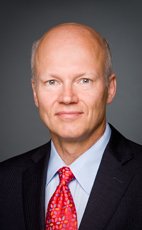 House of Commons photo
Track Geoff
Your Say
Elsewhere
Crucial Fact
His

favourite word

is important.
Liberal
MP for Halifax West (Nova Scotia)
Won his last election, in 2011, with 35.90% of the vote.
Statements in the House
Natural Resources September 25th, 2014
Mr. Speaker, the Conservative government's pipeline policy has been an utter failure. One result of this incompetence has been a dramatic increase in oil shipments by rail. We all know the dangers of that. Industry predicts oil shipments by rail will increase by sevenfold to 1.7 million barrels a day in the next few years.
Does the government have any plan to ensure Canadians are not put at risk as a result?
Government Spending September 19th, 2014
Mr. Speaker, this inept government squandered more than $280,000 because it could not pay its cell phone bills on time. Taxpayers are not happy to see their money wasted on late charges.
Millions of Canadians pay their bills on time every month. Why can the government not do that?
Respecting Families of Murdered and Brutalized Persons Act September 16th, 2014
Mr. Speaker, I am pleased to rise in debate on Bill C-587 and to follow my colleague from Montreal, who has spoken very eloquently, as always. He is also a heck of a hockey player and he is kind enough sometimes to drive some of his colleagues to hockey. That is always appreciated.
However, this is not about hockey tonight. It is about a much more serious matter: the question of parole eligibility and the notion of making life a little easier for families of victims of crime. This is an objective that everyone in the House would share, and if we all share the objective, the key is that when we bring forward a piece of legislation, we have to ask ourselves if it will achieve the objective that the mover of the bill has in mind.
The second issue is the fact that the government has tended to bring in a lot of criminal legislation through private members' bills instead of government bills. A private member's bill does not go through the kinds of constitutional checks that a government bill does. When the government brings forward a bill on criminal law, the normal practice is that the Minister of Justice would have his department examine the constitutionality of that bill to make sure that it complies with, for example, the Charter of Rights and Freedoms and would not be found unconstitutional on the grounds of being offside with the charter or on other grounds.
This summer we saw some problems arise with bills that went through the House in the less thorough manner that is given to private members' bills as compared to government bills. We all know that more time is spent debating and examining government bills than is spent on private members' bills, because they are, generally speaking, of a somewhat different nature. Government bills tend to be longer and more detailed, and to some degree usually deal with more substantive matters, although not always.
Here is an issue in which we are considering amendments to the Criminal Code. That is a significant thing, and it seems to me that it ought to be given full and proper consideration.
As my colleague said, we are going to support sending the bill forward to committee to have it examined there. We support the idea of the bill, but it is important that it have thorough examination in committee, because that is not always the case. Certainly my recent experience and my experience since this government has come into power is that committees do not get the ability to perform a thorough study of these matters because the Conservatives, who have the majority on these committees, cut the time allotted for the study of bills to maybe a day or two days.
When I say "a day", I am talking about one meeting of a committee, which is generally two hours. That is not much time to give to these sorts of private members' bills on criminal law, which need proper study to ensure not only that the ends that are sought are achieved but also that the bill works with other elements of the Criminal Code and with other bills that are in the process of being amended. If things conflict in some way, all kinds of problems can be created in the future.
There is no question that we do like the idea of allowing families in cases of egregious crimes to avoid the stress and the horror of having to sit through a parole eligibility hearing every few years for an offender who realistically is never going to get out of prison. I think it is fair to say that a lot of Canadians do not realize that even though we think of the maximum sentence as being 25 years, the maximum sentence in Canada is life. There are people in prison in Canada who are there for the rest of their lives, for actual life, because although after 25 years a person in the worst cases can apply for parole, the fact of the matter is that there are people who do not get it.
Really, the question we are talking about here tonight is this: in the cases of the kinds of people who are not likely to ever get parole, how frequently should a family have to go through the process of worrying about the possibility of that criminal getting eligibility and being paroled? That is obviously a fearful and very worrisome thing. Not only do those families feel revictimized by this process but there is also a concern about what that person might do to someone else. That is a concern we all share as Canadians and as members of the House.
We think there are some flaws in this bill that could perhaps be corrected in committee. First of all, it would eliminate one of the only incentives for a certain class of violent offender to behave well in prison. There is a question here about whether taking this particular class of offenders, as opposed to a broader class of serious offenders, is the right way to achieve the objective.
It is also important to think about what eligibility for parole can mean in prison. We know from people who look at these things and from people I have talked to in the past from law enforcement and from prison guards that when we are dealing with offenders in prison, there can be a real difference between the offender who hopes for parole and therefore works toward rehabilitation, which we would all like to see, particularly with those offenders who will someday get out, and the one who has no hope of getting parole. There is a difference in the way they treat other inmates and guards and in terms of the safety of the correctional service guards. We do not want to put those guards in a worse situation.
Moreover, it may be the attitude of the government that anyone who is in prison should rot there, and it may not even think about the question of rehabilitation. However, not every offender is going to be there forever. Some offenders are, in fact, going to get out, so doing whatever we can to support rehabilitation during the period of their incarceration is absolutely vital, especially for those who will get back out into society.
We have seen many cases of offenders who go to prison, do their time, serve their time, and come out and do not commit offences. They become good citizens. We would like to see more of those, and we should always consider what impact a bill might have on that process.
Energy Safety and Security Act September 15th, 2014
Mr. Speaker, I said earlier in my remarks on the bill that members on the Conservative side are only interested in one side of the equation, or they were in committee when we studied this legislation, but it is also true of the NDP and its position on the bill.
Does my hon. colleague not think that we ought to consider what tax revenue comes to Canada and its provinces from these industries? What revenue is there for Canadian workers who have salaries in the nuclear sector or in the offshore oil and gas sector? What revenue is there for pensioners who have pension funds or mutual funds that invest in these sectors?
We heard from the minister that going to $1 billion for absolute liability would increase the cost of insurance for these companies by eight or nine times. Could the member tell us if he knows what the NDP's plan of unlimited absolute liability would do to the cost of insurance for the companies in this sector? What would be the impact on these sectors?
Energy Safety and Security Act September 15th, 2014
Mr. Speaker, I would like to thank my hon. colleague for his question.
I respect the NDP's right to take the stance that it has. If I understand correctly, they believe that absolute liability should be unlimited, even if there is no proof that there was any negligence. In my opinion, that would put an end to the oil industry in Newfoundland and Labrador and in Nova Scotia.
I respect their right to that opinion, but I do not agree with them. I believe that when we have the opportunity to improve the situation, by increasing the limit from $30 million to $1 billion, we should approve it. That is my opinion, but I respect their alternative position.
Energy Safety and Security Act September 15th, 2014
Mr. Speaker, this leaves me confused about what the NDP's position is. Is it in fact, as I have heard up until now, that absolute liability should be unlimited, or is it what the member is now proposing, which is the American level is of $12 billion?
This leaves me a bit confused. I am not surprised that I hear a confused response from NDP members on this issue, but I do not think it makes much sense to be unclear in the way that they are on this question.
As I said before, the fact of the matter before us is this: do we vote for a bill that would increase the limit in the offshore of Newfoundland and Labrador from $30 million to $1 billion, or do we not?
In my view, the bill is not ideal, but I have to decide whether it is an improvement and whether to vote for it or not, even if it is not the ideal. I know the NDP love the ideal, but we are not in the world of playing with ideals. We have to make a choice, and we are making the choice to move in the right direction, even if imperfectly.
Energy Safety and Security Act September 15th, 2014
Mr. Speaker, as the member well knows, the fact is that the current government is not all that interested in prevention in general. We think of its attitude towards criminal penalties. In most cases the Conservatives are much more interested in penalizing people, especially in cases of criminality, than they are in prevention, and this is another example of that attitude.
As I was saying earlier, this is an area that the committee ought to have been able to study to see what is happening in this field and have experts tell us what is going on and what ought to be happening. I know that much more should be happening under the current government in terms of prevention.
However, the fact of the matter is that, again, the scope was restricted so much by the Conservatives in committee. The Conservatives, who have a majority, ended up with a scope so narrow that one was not able to get into it very much, and we had only three days to study the bill.
In the end, though, the question is whether we are better off with a limit of $30 million or a limit of $1 billion. I think the answer is obvious. In the utopian world of the NDP, perhaps it would be unlimited. Of course, then we would not have any of these activities at any rate. It is fine to think of living in utopia, but we do not.
Energy Safety and Security Act September 15th, 2014
Mr. Speaker, with all due respect to my hon. colleague, I think the question is actually this: do we think that we have to consider the environmental concerns and the impact of environmental disasters as well as the economic benefits of various activities? Do we consider both, or do we decide that we are not going to have any of these activities? The result of the NDP position on this issue would be that we would not have these activities at all. We would not have an offshore sector off Newfoundland and Labrador. Is that really what the NDP wants? They would not answer that question earlier. They would not say that they do not want that, but that is what flows from what they are saying.
Energy Safety and Security Act September 15th, 2014
Mr. Speaker, it is a pleasure and an honour to be here today, in the House of Commons, to speak to Bill C-22.
The Conservative government has failed, on numerous occasions, to follow through on prior attempts to update nuclear liability legislation and update the safety and security regime for Canada's offshore. I am pleased to see that this legislation has finally come to third reading. Past attempts were started and then the government would either call an election or prorogue the House and not bring the bill forward. We have seen that with various government bills, whether it be on the Criminal Code or a variety of matters. The government introduces a bill with great fanfare and then we do not see it for months. It disappears, and the government does not present it again in the House. It is nice to see that finally we are getting somewhere in terms of this legislation moving forward because it does deal with an important issue in terms of nuclear liability and the liability for spills offshore.
I want to thank the witnesses who appeared before the natural resources committee to talk about this legislation. We would have liked to have heard a lot more from them, had we not been cut off a number of times, and had we not had a limited time of three days to consider the bill. I appreciate that they were willing to share their expertise, provide insightful comments, and give us their sage advice. We should all be thankful when experts appear before our committees.
Unfortunately, as is the case with much of the work conducted in committees of the House, the government restricted the scope of the study of this legislation. We all know that the government has the majority on almost all committees and can determine not only what the committee will study but the terms and scope of the study. It was very much restricted in this case. In fact, government members showed a distinct lack of interest in what we should have been doing, which was to make every effort to ensure that we ended up with the strongest possible legislation on this issue. If we think about the role of members of Parliament and our responsibility to hold the government to account and ensure that legislation is as good as possible, in my opinion, that did not allow us to do the job we ought to have been able to do, which is what committees are for.
If a member is a government backbencher or a member of the opposition and not a minister or a parliamentary secretary, then that member has the responsibility for holding the government to account. When governments have been going for a while, I have seen some members on the backbenches start to realize that. However, it would seem that we have fewer than ever with the Conservative government and we need to see more of that kind of attitude. There is a lack of interest in legislation that is focused on more than just the economic side of the equation, as in this case when we are dealing with the economy and the environment. We must do better than that in future.
The development of our natural resources and the strength of our economy depends on having good policies that people can have confidence in, so we can get community support for the kind of things that are happening or might happen in natural resources. If the government is seen as simply a cheerleader, as not being a responsible regulator, then we are going to have a hard time convincing Canadians that we are going to do a good job of regulating the natural resource sector. That is the fundamental problem that the government has at the moment.
The Liberal Party supports the development of our energy potential in Canada. We recognize the positive contribution that resource development has on our economic growth and job creation, especially for the middle class.
We also understand, and this is essential, that resource development must be done in an environmentally responsible and sustainable manner. It must be done through consensus building, which is something that is entirely lacking these days. The need is there to ensure that if an accident does happen, the proper regimes are in place to deal with an accident. Obviously a key part of that process is by making sure that legislation, like this legislation dealing with liability limits, is in place and that it protects our interests. With regard to Bill C-22, everyone in the House understands that there is a need to raise the absolute liability limit in terms of the offshore oil and gas sector and the nuclear sector.
Let us be very clear. Let us understand what this means. If we have a case where there is an accident, either at a nuclear site or in the offshore oil and gas sector, and negligence is proven by the operator, liability is then unlimited. The operator would have to pay for the entirety of the damages, whatever they might be.
What we are talking about is a case where negligence is not proven and the liability is absolute. This means that regardless of whether someone proves that the operator was negligent, it still has to pay, because the operator was undertaking this risky activity. That is what this is about.
That is the reason we have supported this legislation. It is going in the right direction. In the nuclear sector, it would increase the liability cap from $75 million to $1 billion, bringing Canada in line with the promises it made when it signed the international Convention on Supplementary Compensation for Nuclear Damage. In the offshore oil and gas sector, the absolute liability for companies operating in the Atlantic offshore would increase from $30 million to $1 billion, and in the Arctic, from $40 million to $1 billion.
With regard to the Arctic, as I was saying earlier when I asked the minister a question, there are still many unanswered questions. Is $1 billion adequate in the Arctic, where the environmental conditions make spill response efforts very challenging? There we are dealing with a situation where we are a long way from ports. It is a remote and isolated area, with difficult conditions.
We heard today that the minister has approved exploration licences, two of them in deepwaters in the Beaufort Sea. We heard at the natural resources committee a couple of years ago, at the time of the BP Deepwater Horizon well blowout in the Gulf of Mexico, that the technology did not exist to clean up a spill in the high Arctic in deepwater under ice.
It seems to me that this is a very irresponsible decision by the government when that kind of cleanup capacity is not there. Yet, we did not have a chance at the committee to get into this because the scope of our study was so restricted. That is most unfortunate.
Why did we not also take the opportunity to look at our ability to respond generally, and to review our ability to respond to other events and accidents in shallow water in the Arctic, or any kind of spill there? We did not get to that.
As my esteemed colleague from Ottawa South said in debate on Bill C-22, the committee should examine the question of response capacity and incident prevention in the Arctic. That should have been examined by the committee. I hope that the member is recovering well from a broken ankle that he unfortunately suffered not too long ago, and I look forward to his quick return.
Instead of being concerned that the science does not always exist to confirm how long ecological damage will last, the government has rushed through those Beaufort Sea exploration licences that I mentioned. That is perhaps why the government decided that the scope should be so narrow for our committee study.
The member for Ottawa South also correctly pointed out that while looking at the issue of nuclear liability, the committee should have addressed the question of what has been happening around the nuclear sector in the past eight years. I suspect that government members may have been told to avoid any discussion of how we are no longer a world leader in the production of nuclear power capacity, as we have been in the past. They may have been told to avoid discussion of how the government ran down the value of the AECL and sold it off at bargain basement prices, and how it compromised Canada's future with regard to nuclear energy. This is not to mention the production of medical isotopes, which has been so important, and where Canada has been one of the world leaders.
Part of the discussion at the committee around suitable liability limits should have been focused on how we see the role of nuclear power as part of the energy mix going forward. The committee, for example, could have looked at how nuclear might fit in with renewable power options in the future, and other energy sources, like geothermal or tidal.
Wind is another area that is very interesting these days. My province of Nova Scotia has tremendous wind resources. I suppose some might say MPs have good wind resources as well, but that is another kind of wind resource. I am not sure if my colleague appreciated that remark, but he seemed to agree.
I recently had the pleasure of meeting with Dr. Lukas Swan, a professor of engineering at Dalhousie University. He runs the renewable power storage lab where they are working with various kinds of batteries. However, the important thing is not so much the different kinds of batteries, as the examination of the different kinds of conditions that happen with wind turbines. Sometimes there will be different speeds and fluctuations, with all kinds of variables. They are trying to find out what works best in managing the batteries so that we can have more capacity.
At the same time, there is a new study going on in Liverpool, Nova Scotia, involving a company called LightSail. It started because of the research of a young woman from Dartmouth, Nova Scotia. She is a graduate of MIT and has developed new technology to store energy, in air basically, underground cabins that compress air. Previously there were problems with that, and she has created a new technology where a very fine mist can be sprayed so that heat is not created. Heat had apparently been a problem in this technology until now. There is a major trial project going on in Liverpool, Nova Scotia, thanks to the brilliant research of this young person, who is 26 years old and from Dartmouth, Nova Scotia. That is a marvellous example of renewable energy that is happening right here.
In fact, if we in Canada can get this right, if we can actually find a way to be successful with much better storage of electricity, we will overcome the problem of wind, which unlike the wind of some MPs of course, does not blow all the time. Wind does not blow all the time. Therefore variability is a problem when we want to have power. People want to turn on the television, a microwave, oven, or do the laundry, and not just when the wind is blowing. Getting this right so that we can even out the power supply with storage could make an enormous difference. In a place like Nova Scotia, it could remove the need for what we have now, which is power created by coal and natural gas, although more and more wind is playing an important role. We think tidal power is making very good progress, and we hope it will play a big role in the future.
It is unfortunate that the scope of the committee work was restricted. We did not get an opportunity to examine these important questions in a broader context. We could have perhaps ended up with a much stronger bill. It reminds me of a study that we did last year at committee on the cross-Canada benefits of the oil and gas sector. There is no question that there are benefits to that sector across this country. I am from Nova Scotia. We have natural gas off our shore, which is important. We have exploration by BP and Shell for oil, and that could have a positive impact on our economy. There are benefits across the country.
As I said before, it is the Conservatives who have majority at committee, so they have the ability to determine what a committee will study and what its scope will be. In having a study that looks only at the benefits, where we cannot ask questions about the cost, problems, challenges, or the downsides of an industry, we end up with a report that has no credibility with the public. It does not advance what we are attempting to do in creating a report that is credible, to tell of the impact across the country, both good and bad. Let us have a balanced approach and look at both of these things because there are benefits and there are costs that we need to examine. We need to make it more sustainable. We need to improve the performance of the industries. We have some that are good, but there is always room for improvement on the environment.
We all recognize that Bill C-22 is an important piece of legislation, particularly given some of the disasters we have seen recently around the globe. There was the devastating meltdown of the Fukushima Daiichi nuclear plant, which is estimated by the Japanese National Institute of Advanced Industrial Science and Technology to cost at least $31 billion; I heard a much larger figure earlier. The damages from the BP Deepwater Horizon spill, in the Gulf of Mexico, are estimated at $42 billion.
While this updated legislation is long overdue, we do need to ensure the level of liability is appropriate in relation to the level of potential damage of either a nuclear incident or an offshore spill. It is also relevant to consider how frequently these things occur. We have to examine those things. If we do not consider both of those, we have the view of the NDP, which is that we would not have the kind of exploration we have had off Newfoundland and Labrador and not have the economic benefit we have had.
We have to have a good regime that protects our environment, but let us have one that makes sense. Let us consider all of these things.
We of course need to make sure that Canadian taxpayers are not at risk and that the polluter pays principle is maintained. That is why it is important that if a company is negligent, it pays the whole shot, obviously. Let us keep that in mind.
The real question before us today is this: do we think the limit of liability for the nuclear sector should be at $75 million, or should it be $1 billion? For the offshore, should it be $30 million in the Atlantic and $40 million in the Arctic, or $1 billion? Which is it going to be?
In my view, the answer is fairly obvious. This bill is by no means perfect; it could have been much improved; it should have had much more study in committee; however, the answer is this bill should be supported.
Energy Safety and Security Act September 15th, 2014
Mr. Speaker, I ask the hon. member if it is not the NDP position, essentially, that in this country the nuclear sector should not exist and should cease to exist. Is it the NDP position that in the oil and gas sector there should be no more exploration? What is its position in relation to this kind of resource development on both these issues?