Geoff Regan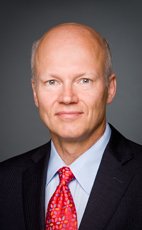 House of Commons photo
Track Geoff
Your Say
Elsewhere
Crucial Fact
His

favourite word

is important.
Liberal
MP for Halifax West (Nova Scotia)
Won his last election, in 2011, with 35.90% of the vote.
Statements in the House
Natural Resources June 16th, 2014
Mr. Speaker, the joint review panel on the northern gateway warned that this project would cause adverse effects on a number of valued ecosystems. Obviously the environment is not a priority for this government. Because of gross Conservative mismanagement, this proposal faces a battery of legal challenges and even threats of civil disobedience.
Why are they pandering to the Prime Minister's pals instead of protecting the environment and defending the rights of aboriginal and B.C. communities? Just say no.
Natural Resources June 16th, 2014
Mr. Speaker, the government is soon going to announce its decision on the northern gateway pipeline.
Meanwhile, even the Prime Minister's special envoy has said that the Conservatives have ignored aboriginal communities and that this project could violate their constitutional rights.
This government is incapable of protecting our environment and defending aboriginal communities.
Will it make the right decision and reject this project?
Petitions June 12th, 2014
Mr. Speaker, I would also like to present a petition on behalf of many Nova Scotians who are concerned about recent cuts announced by Canada Post. They call upon the government to place a moratorium on these cuts and conduct meaningful consultations with the public to determine the best way to modernize operations with the least impact on customers and employees.
Petitions June 12th, 2014
Mr. Speaker, I rise to present a number of petitions. The first group of petitions are on behalf of a large number of Quebec residents who are calling for the creation of a legal mechanism to establish an ombudsman for the extractive sectors.
The ombudsman would have the power to receive and investigate complaints, make public its findings, recommend remedial actions and recommend that penalties be imposed.
Committees of the House June 11th, 2014
Mr. Speaker, on the same report, I wish to present the dissenting report of the Liberal Party in relation to the seventh report of the Committee on Natural Resources.
Natural Resources June 11th, 2014
Mr. Speaker, since getting U.S. approval for Keystone XL is important for our economy, why have the Conservatives so badly bungled this file? The Prime Minister thought that he could bully President Obama into submission. How did that work out? They have destroyed Canada's environmental reputation, and that has delayed the approval process.
When it comes to an important piece of energy infrastructure like the Keystone XL pipeline, why are the Conservatives so strategically stupid?
Natural Resources June 10th, 2014
Mr. Speaker, British Columbia communities like Kitimat have clearly expressed their opposition to the northern gateway pipeline. First nations are very worried about environmental risks involved.
Yet the ideology-driven government ignores these legitimate concerns. Why will it not listen to millions of Canadians and put away the rubber stamp?
Trade-marks Act June 9th, 2014
moved for leave to introduce Bill C-611, an act to amend the Trade-marks Act (public authority).
Mr. Speaker, it is my pleasure to table a bill that would amend the Trade-marks Act.
It has come to my attention from a constituent who is a small business owner, and through intellectual property experts, that official marks are at times used for commercial benefit rather than to protect public interests, as intended by the Trade-marks Act.
The bill would clarify what constitutes a public authority under section 9 of the Trade-marks Act. It would also create a review and objection process to ensure that official marks are in the public interest and do not unduly restrict the market.
I would like to thank Dr. Andrea Slane, associate professor at the University of Ontario centre for technology; and Dr. Teresa Scassa, the Canada Research Chair in Information Law, at the University of Ottawa, for their input on the bill.
(Motions deemed adopted, bill read the first time and printed)
Economic Action Plan 2014 Act, No. 1 June 5th, 2014
Mr. Speaker, in relation to the question a moment ago from our hon. Conservative colleague, if he were to go knocking on doors or go to the mall this weekend and speak to constituents in his riding, if he were to tell them that everything was fine, that the cost of living was not going up, that they should not worry about the difficulties they thought they had in making ends meet because they really did not having any trouble at all and that they were in the best situation in the world, I wonder how they would react. I would ask him to talk on that.
I would also like him to talk about the fact that infrastructure improvements are important. I had a meeting recently with folks from the St. Margaret's Centre in my riding, who are working to replace the swimming pool there. They are looking for funding for infrastructure in a year in which the government has cut the annual funding for infrastructure from $1.3 billion last year to only $210 million this year, which when spread across the country, is pretty darn thin and does not allow much for things like pools, roads, transit, or other needed infrastructure in our communities.