Geoff Regan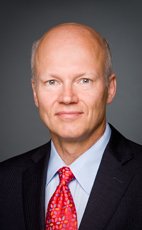 House of Commons photo
Track Geoff
Your Say
Elsewhere
Crucial Fact
Liberal
MP for Halifax West (Nova Scotia)
Won his last election, in 2011, with 35.90% of the vote.
Statements in the House
Business of Supply April 10th, 2014
Mr. Speaker, the hon. member was talking about the government's bill to amend the Elections Act coming back to the House and how he is keen to have further discussion on it. The difficulty is that there has been no sign whatsoever of the Conservatives listening to any of the witnesses so far, particularly people like Marc Mayrand, of Elections Canada; the Commissioner of Canada Elections; the commissioners of elections for provincial governments; the former auditor general, Sheila Fraser; and even an expert witness from Britain. We have become international now.
So many witnesses are attacking this bill. We have a situation where the Commissioner of Canada Elections is trying to investigate alleged fraudulent actions in the last election by Conservative members of Parliament. The Conservatives are making it more difficult for the commissioner to comment on those elections and are making it harder for that person to investigate those elections.
In view of these actions, will the member agree that they really ought to change this bill, in terms of what it does in allowing members who have committed fraud to get elected, to the elect more crooked Conservatives act?
The Environment April 4th, 2014
Mr. Speaker, all week, the Minister of the Environment has avoided questions on the impact of climate change. She has simply read from her pre-approved cue cards. I would like to give her a chance to show that she can think for herself.
What is the minister's response to the new report of the Intergovernmental Panel on Climate Change?
Foreign Investment March 31st, 2014
Mr. Speaker, the plan to sell Nordion shows the lack of transparency in the Investment Canada Act review process. Canadians who rely on medical isotopes hope that this agreement will be approved only if it is in their best interest.
Will the minister add to this government's incompetence or will he publicly announce the criteria on which he will base his decision?
Offshore Health and Safety Act March 27th, 2014
Mr. Speaker, I know that the other parties like to go back eight, ten years, and so forth, and talk about what the Liberal government did at that time. It is quite a while ago now, so it is interesting that they continue to do that, but it is a good sign when they try to throw barbs in our direction and challenge us on things. They are certainly paying attention and must be concerned about our party.
The fact is, if we do go back that long, I was very engaged, particularly as the Minister of Fisheries and Oceans, with concerns about search and rescue and the Coast Guard. I very strongly supported measures to improve the situation for our Coast Guard. In fact, we announced funding for new Coast Guard vessels, which took quite a while for the following government to bring to fruition.
Offshore Health and Safety Act March 27th, 2014
Mr. Speaker, Commissioner Wells certainly made it clear that he believed it was an important recommendation. He talked about the circumstances of his report. I thought he was a very impressive witness. Many of us on the committee, in view of the work he did on that commission, felt a certain deference to his opinions. Nevertheless, the government has chosen not to adopt recommendation no. 29. I think that is unfortunate. In the future we ought to seriously look at separating that function of health and safety. Obviously, the government would not reconsider it now, at third reading of the bill. However, I hope the government would at least reflect on this question and look for ways to improve it in the future.
Offshore Health and Safety Act March 27th, 2014
Mr. Speaker, first, my understanding is that governments had been in discussion for 10 years on this legislation and that we have seen the same bill brought forward a few times now. Therefore, it is surprising to me that the Conservative government did not bring it forward more expeditiously, to get it done. The Conservatives could have done that a number of times over the last eight years they have been in government. As I understand it, there were discussions going on, and I am not sure why it was not sooner than that, but that is my understanding and my recollection.
However, on the question of search and rescue, the people I know who have some knowledge of search and rescue across the country have been very concerned about the Conservatives' attitude toward this area. Whether it is in the offshore, in our North or on either of the coasts and throughout the country, we have not seen the kind of interest. We have seen cutbacks to search and rescue. We have a lot of people in Newfoundland and Labrador who are very concerned about the lack of effective search and rescue equipment in that region and throughout the country. My hon. colleague has raised a very important point.
Offshore Health and Safety Act March 27th, 2014
Mr. Speaker, I thank my hon. colleague for the question.
I was not involved in the natural resources file during the period in question. I know that the provincial governments and the federal government finally discussed these issues after some time. I do find it strange, and rather astounding, that it has been 10 years. There are always various things at issue between the provincial governments and the federal government, and these complexities need to be discussed. I can understand that it might take two, three or four years, but 10 years is a very long time. I do not understand. Was it because of the change in governments? I do not know.
Offshore Health and Safety Act March 27th, 2014
Mr. Speaker, I thank the hon. parliamentary secretary for her question. However, as she heard from my speech, I do have some concerns about amendments that were not adopted by the committee and were not supported by her party.
As I said, we think this legislation is important because it is a step in the right direction. It moves the ball forward, even if it is not as good as we would like. Therefore, we are supporting the bill. We do not have any intention to slow it down.
I should point out, of course, that the Conservative government certainly has the means to move legislation faster than it has moved this legislation. Not a week has gone by, that I can recall, in which we have not seen at least one motion of time allocation or closure by the Conservative government. I do not know if it has used it 7,000 times, but I know it is well over 50, even by last fall. The Conservatives have used these measures far more than any other government in the history of this country. For them to talk about bills not moving fast enough is a little rich, but I appreciate the question.
Offshore Health and Safety Act March 27th, 2014
Mr. Speaker, I am pleased to rise to speak on Bill C-5. This is the second day this week that the House has debated legislation that impacts activities in the offshore sector, which, to those of us in Atlantic Canada, like my colleague the member for St. John's East, who just spoke, and the member for Avalon, who asked him a question, is very important. It is very important to our economy and to the people who work in the offshore sector who benefit from that. It is very important that they are safe in the work they do and in travelling to and from the offshore platforms.
The offshore sector can be a dangerous place. I know there are many measures taken to make it as safe as possible, but it is tough work. It can be dangerous work, and we have seen unfortunate proof of that over the years. In fact, there are brave men and women working out there every day performing very challenging work.
Making sure that these people are safe in their workplaces and that they return home to their families must be a priority for all of us. Bill C-5 is a step in the right direction.
However, I hope the government will actually listen to experts on Bill C-22, which we debated on Tuesday, because it did not listen to experts with respect to Bill C-5, which we are discussing today.
When the House was debating second reading of Bill C-5, the member for Burnaby—Douglas asked if I thought the legislation went far enough in addressing the concerns of the Wells royal commission.
I did not, and I do not. One concern I have with Bill C-5 is that it did not adopt recommendation 29 of the Wells commission report, which flowed from a terrible helicopter crash off Newfoundland. That was already discussed a bit this morning.
My hope was that when the bill went to committee there would be consideration given to an amendment to adopt recommendation 29, which called for a separate organization to look at the question of workers' health and safety, an organization solely dedicated to that absolutely vital task.
Commissioner Wells testified at the committee last fall that he "felt that an independent safety authority was the best choice..". Commissioner Wells went on to add that he did not think everyone would agree with the recommendation. That is reasonable. He included a fallback position, which was to create a separate safety division within the Canada-Newfoundland and Labrador Offshore Petroleum Board. Of course, this legislation would also apply to the Canada-Nova Scotia Offshore Petroleum Board.
While the fallback position was adopted, in my view it falls short of what is needed. It is yet another missed opportunity by this neo-Conservative government. Unfortunately, Bill C-5 was reported back to the House of Commons with only a few technical amendments which correct inaccurate wording in a number of clauses.
It was also very unfortunate, in my view, that the Conservatives on the committee would not support efforts to provide greater clarity on the word "danger" in the act. That word is particularly important, and the meaning of it is particularly important in this kind of legislation.
Under this legislation, certain terms such as "danger" are not defined in this bill. They remain to be defined by federal regulation on the recommendation of the Minister of Natural Resources and the Minister of Labour, and with the approval of provincial ministers.
In committee, I introduced a proposed amendment calling for consultations with the provinces and key stakeholders on the definition of "dangerous work", something that we have heard is important. I felt it would coincide with the testimony we heard in committee about the importance of consulting on this question of the word "danger". That is critical for all parts of the offshore oil and gas industry, and the men and women who work in our offshore.
While this legislation does push the yardsticks and while it is a move in the right direction, it could have been better. It could have been strengthened. It should have been amended. As legislators, that is our job. It is our job not only to examine these carefully, to look for ways to improve them, but also to hear the evidence, hear the experts, and reflect on that expert evidence and testimony and make the appropriate changes. We are not simply here to do whatever the kids in short pants in the Prime Minister's Office tell us or order the Conservatives to do.
We are often asked to strike a careful balance between economic success in the oil and gas sector, the rights of employees and, of course, environmental concerns. Bill C-5 is one of the many tools to achieve this balance, and I believe the Canadian Parliament, including members in the House of Commons, ought to strive to set an example to the rest of the world by clearly indicating that we value human capital at least as much as the wealth we derive from our natural resources. That is why the Liberal Party has supported this bill.
Bill C-5 will effectively solve the issue of jurisdiction surrounding occupational health and safety in Canada's offshore oil and gas industry. It was not clear until now—which became very clear after the terrible helicopter accident off Newfoundland when it was unclear which level of government had responsibility and jurisdiction. This will solve that issue and that is important. That is an important step forward, which has taken over 10 years to realize.
The legislation would also create a streamlined process for rectifying health and safety issues and to assign responsibility. That is important because we do not want to have any doubt about jurisdiction if there is an accident in the offshore. An issue of the utmost importance is our capacity to respond to an accident or spill in the offshore. However, that is a debate for another day, and I hope we will have opportunities to do that.
This legislation is focused on the right to a safe workplace. It is an important right and a right that all Canadians must enjoy. Many of us as Canadians, and certainly those of us as members of Parliament, have a very safe work environment and are very fortunate in the kind of work we do. For the most part, it is indoor work and a lot of it is desk work or standing up work, but it sure is not in conditions some workers across this country face, by any means.
If we think of working outside on a cold day like this, or of the folks in Atlantic Canada—and I look across to my colleagues from New Brunswick and consider our families back home and other families in Atlantic Canada, digging out from a terrible storm and still experiencing terrible wind, some of them without power, and consider the folks from the power companies and snowplow drivers and others out there who are working to get things back to normal—we should feel pretty fortunate to be working in a place like this with the kind of jobs that we have.
Though a safe workplace is not the reality for all Canadians, governments have worked with stakeholder groups in the past to improve conditions faced by Canadians in their places of employment.
That, obviously, is incredibly important work. Bill C-5 is an example of these efforts—in this case, the joint efforts of the provincial and federal levels working together, which does not happen often enough. Indeed, this government is not known for working with provincial governments. However, it is our collective responsibility, whether as a legislative body, employers or employees, or society as a whole, to ensure that the right to a safe work environment is respected.
It is absolutely vital. The conditions for employees on offshore drilling projects should be comparable to those on land-based projects. There is no question that a drilling rig, whether offshore or onshore, can be a very dangerous environment.
I think employees and their families can be confident that what is proposed in Bill C-5, as far as it goes, would improve the health and safety regimes of our offshore oil and gas projects. However, members of my party believe we still need to ensure that the separation of health and safety concerns from those of production and economic viability occur. Justice Wells made that very clear in much more eloquent language than I.
We recognize that these two issues are very different things, but one trumps the other, and health and safety comes first. We need to make sure that, when necessary, those health and safety concerns are paramount, as they ought to be.
Bill C-5 should guarantee that the proposed chief safety officer has powerful methods of inquiry to hold operators to account. A regime of self-regulation, in our view, would be insufficient. I have already said that we do not think the chief safety officer approach is necessarily ideal. There are other things that Commissioner Wells recommended, but since that is what we are going with, let us try to make it as strong as possible.
The chief safety officer must not be influenced in decision-making by concerns of economic viability or by political pressure, which should be obvious. This individual must be a champion of a healthy and safe environment for all employees who work in our offshore oil and gas industry, or in any of those kinds of projects.
Bill C-5 has survived changes in governing parties at both the federal and provincial levels. It has received clear provincial support, and legislatures in both Nova Scotia and in Newfoundland and Labrador have given the bill's mirror legislation assent, in short order. By supporting Bill C-5, we have the opportunity to improve upon legislation that has already met some of the concerns of the provinces.
If we take into account all the elements of employee health and safety, the original offshore accords, and Bill C-5 itself in those bills, this could provide the model for future negotiations between the federal government and other provinces, like Quebec for example, that are looking to develop their oil and gas sectors.
Let me conclude by noting that while Bill C-5 is a step forward, we should recognize that more work needs to be done. Hopefully, we will not have to wait another decade for that to occur.
It is not new to Canadians that our country places great economic importance on the development of natural resources. Forest products, natural gas, hydro electricity, and oil and gas are cornerstones of our export market and contribute immensely to the creation of jobs, which, of course, we believe is very important. We want Canadians to have a good quality of life that comes with jobs and opportunity. However, let us make sure that those resources are developed in a responsible and sustainable way. Let us recognize that occupational health and safety must be paramount.
Purple Day March 26th, 2014
Mr. Speaker, I am thrilled once again to stand in the House to recognize Purple Day for epilepsy awareness.
Purple Day was founded by Cassidy Megan to raise international awareness about epilepsy, a condition affecting 300,000 Canadians and 50 million people worldwide. Thousands of people across Canada will wear purple today as they celebrate our nation's leadership in epilepsy awareness. I thank my colleagues, many of whom are only too familiar with epilepsy, for their generous support and for wearing with pride their purple ribbons and shirts and blouses, and even socks today.
I ask my colleagues to join me in extending sincere thanks to Cassidy for her courage and her commitment to improving the quality of life of people with epilepsy.