Geoff Regan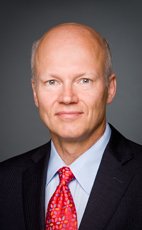 House of Commons photo
Track Geoff
Your Say
Elsewhere
Crucial Fact
His

favourite word

is offshore.
Liberal
MP for Halifax West (Nova Scotia)
Won his last election, in 2011, with 35.90% of the vote.
Statements in the House
Business of Supply October 9th, 2014
Mr. Speaker, what the hon. minister is suggesting is that we cannot be in favour of one pipeline and against another. That makes no sense to me at all.
Yes, we want to have good, strong environmental processes. In fact, the way the government has weakened those processes leaves us very concerned about projects like northern gateway.
However, we believe we ought to have an independent process, contrary to the NDP, which wants to have an arbitrary process. The NDP wants us to vote today and decide right now what happens with this project. That does not make any sense either.
Let us have a good, strong environmental process and make our decision. In the case of northern gateway, we have very strong concerns about the course it has taken and the environmental impacts it would have, and it is legitimate for us to have those concerns.
In the case of energy east, we want a good environmental process. We are open to it. We think it has many benefits. Let us see it, but let us do it based on science, the kind of science that has been squelched by the government, squelched by the Minister of Fisheries and Oceans' department.
Business of Supply October 9th, 2014
First, Mr. Speaker, I always enjoy my hon. colleague's passion. However, I wish the level of his logic would reach the level of his passion. If he were in Saudi Arabia, for example, I think he would say that no oil should leave Saudi Arabia because it should all be processed right there. That is what he would say. They should not export it and have benefits come to their country as a result.
I have talked already today about the economic case. Economists, the industry, and even environmentalists admit that there is not an economic case for more refineries in Canada. I invite him and his colleagues to listen to what I am saying: one of the few continents in which the demand for petroleum products is in decline is in fact North America.
If there are cases to have refineries here in Canada, let us have them, absolutely, but let us have an economic basis. Let us live in the real world. Let us not just engage in magical thinking.
Business of Supply October 9th, 2014
Mr. Speaker, I am pleased to have the opportunity to speak to this misguided NDP motion.
The motion we are debating calls on the federal government to outright reject a proposed Port of Gros-Cacouna oil terminal.
Unfortunately, as the Minister of Fisheries and Oceans pointed out yesterday in this House, no proposal for the terminal construction has been submitted yet. No assessment has been done.
The Cacouna terminal is one component of TransCanada's energy east pipeline proposal. Actually, it is not yet a proposal because it has not put it forward to the NEB yet, but that is the idea. TransCanada's exploratory drilling in Cacouna has been temporarily halted by the courts, as we have discussed today a great deal.
As we know, the company has been studying the composition of the seabed in that part of the St. Lawrence to determine if it is suitable for a terminal site. Of course we are very concerned about the situation there with the belugas and how this decision came about.
A marine terminal in Cacouna and another in Saint John, New Brunswick, would allow TransCanada, as it proposes, to export oil from Alberta as part of the energy east project.
It is estimated that the energy east project, if approved by the NEB, would pump the equivalent of 1.1 million barrels of crude oil a day through the pipeline to refineries and terminals in Quebec and New Brunswick. This is a big project. There is no question about it.
We are talking about some 4,600 kilometres of pipeline. The company says it would generate more than $2 billion in tax revenues for the Province of Quebec alone. It would also create 2,200 jobs in the development phase, 7,300 jobs during construction, and more than 500 jobs in operation.
Canada needs new infrastructure, including pipelines, to move our energy resources to domestic and global markets. These projects must earn the trust of local communities and cannot ignore the implications for coastal economies and the environment. Liberals have been consistent in calling for stronger environmental protections and pushing for a more substantive project review process.
We are deeply concerned that the federal government deliberately withheld information needed to assess the impact of the explorations being conducted at Cacouna.
This is yet another example of the government preventing scientists and evidence from informing decision-making on project developments. The federal government must turn over all the information it has to Quebec, so that the impact of the exploratory work can be properly assessed. This is the only way to determine and mitigate the impacts TransCanada's work might have, including on the beluga whale population in the case of Cacouna.
In this motion, the NDP is asking Parliament to reject a project that has yet to be submitted for approval and has not yet been put through an environmental assessment. This comes after the NDP leader promised last December to "...take arbitrary powers out of the hands of cabinet", so it could not override the findings of environmental assessments.
Apparently, now it wants to pass this motion to demand that cabinet do exactly what it said it should not do, which is take arbitrary actions in the absence of an environmental assessment.
What is the NDP policy on this? Is it environmental assessments or arbitrary action? Does the NDP want an independent process or not? Apparently it does not.
The NDP's central argument here, though, as it was in a debate this spring on the Keystone XL pipeline is that the export of unprocessed Canadian oil will cause the loss of well-paid jobs. That is the first issue and the main issue the New Democrats cite in the motion today.
The NDP is saying the oil has to be refined in Canada, every drop of it. Does this mean it is saying it would have the government subsidize refineries? Refineries have been shutting down because they have not been competitive. In fact, the demand for petroleum products in the North American continent is declining, unlike in most parts of the world.
The NDP wants to tell the market how it should work. Perhaps the plan is to have the government build refineries. The New Democrats have not actually considered the economics of this. In fact, there is lots of evidence that they are out to lunch in what they are saying here.
It costs about $10 billion to build a refinery. It would be about 5% of the federal budget just to build one. Therefore, the question is where New Democrats will find this money. Will they raise taxes? What will they cut?
Environmental and industry groups have said there is no market case for refining in Canada. Even environmentalists say there is no market case for refining in Canada. Generally speaking, refining is done close to the market because a lot of the products for refining are volatile and should be moved as little as possible. New Democrats ignore this reality. However, if the products can be refined economically in Canada, Liberals are all for it. That is great; we want to create jobs here, but let us have an economic case and let us not ignore economics in this case.
New Democrats want to engage in magical thinking and ignore these things, so how are they going to cause it to happen? That is a good question. I do not know. However, let me be clear. I do not believe that Canadians have much confidence in the NDP to determine what makes economic sense, so I am not too worried about that.
This is really about the NDP wanting to say one thing in Alberta and something else in Quebec. In Alberta, New Democrats want to appear to support the development of the oil sands and in Quebec they want to appear to be opposed. In the Atlantic, New Brunswick especially, they want to appear to be in favour of the pipeline but want to appear in Quebec to be opposed to a pipeline.
They say no oil should be exported unless every drop is refined in Canada. Is it their position that the oil should stay in the ground? If that is the case, why do they not have the courage to say so? If this is not what they are proposing, then I invite them to tell us what their position is.
What is the point of view of industry? This is what the Canadian Fuels Association said about pipelines:
In a nutshell, new pipeline capacity...is essential to enable Canada to fully benefit from...oil production in a world where energy demand is expected to grow by more than one-third by 2035. Failure to get our oil to markets is detrimental to Canada's economic growth and Canadians' prosperity. West-to-East pipelines that provide Eastern Canadian refineries with access to Western crude will help secure their future and the jobs they provide and communities they support.
Ironically, the leader of the NDP has said he supports energy east. Yes, that is right. We would not have believed it earlier today when New Democrats were attacking the leader of the Liberal Party for saying he was supportive of energy east provided, of course, there was the proper environmental process. They were attacking him for that, which appears to be the same thing as their own leader has been saying. It is a little hard to understand what they are getting at here exactly. Maybe some of the NDP MPs missed that endorsement by their leader or maybe they are more interested in playing political games.
It is interesting that our NDP friends support the pipeline on one hand and reject the terminal on the other. Do they really expect Canadians, particularly Quebeckers, to be fooled by such obvious trickery? Yes, in both cases they ought to go through the proper process, and in fact the Conservatives should allow the Quebec government to have the proper information on which to base their decision in a case like Cacouna. That terminal should only go ahead if it makes sense scientifically.
I think all of us in this room, I hope, are concerned about the belugas. They are a threatened species. We ought to be very concerned about them. We do not want them to be harmed, so let us be careful what we do in that situation in the St. Lawrence.
I could understand if the NDP had brought forward a motion saying that the Cacouna project should not get approval unless there were guarantees it would not constitute an unacceptable environmental threat to beluga whales in the St. Lawrence. If New Democrats were acting responsibly, that is what they would have done, and I believe everyone in the House probably would have supported that, because they must be protected. However, New Democrats are asking us to kill a project that has yet to be proposed and on which no assessment has been carried out.
Business of Supply October 9th, 2014
Mr. Speaker, I wonder if my hon. colleague is aware of the ruling handed down by the Quebec Superior Court, which issued an injunction against the Department of Fisheries and Oceans, which issued advice and a permit without consulting its scientific experts on the issue of beluga whales?
As we already knew from a recent report by Simon Fraser University, many departments are muzzling their scientists. In this case, the department gave advice without consulting its experts.
What does he think of the government's way of doing things?
Business of Supply October 9th, 2014
Mr. Speaker, Simon Fraser University did a report for the group Evidence for Democracy indicating there was a muzzling of scientists in many government departments. The environment commissioner has also expressed other very serious concerns recently about the government's actions.
In this case, apparently, the Department of Fisheries and Oceans did not ask its scientists for information, or perhaps did not give the province of Quebec the information it was asking for about the belugas in the Saint Lawrence. Here again we see that the government is not letting the scientists speak. How can we accept this decision of the Department of Fisheries and Oceans?
Business of Supply October 9th, 2014
Mr. Speaker, I enjoyed my hon. colleague's speech today. I would like to ask her about what was said by the Superior Court of Quebec in its decision to impose an injunction in this case, because it reminds me of what we heard a few days ago from the Commissioner of the Environment, who expressed deep concern about the muzzling of federal government scientists in many departments across the government. Then we have the decision of the Superior Court of Quebec. I do not know if the member has read it. The only copy I found so far was in French, and I am not sure if she reads French or not. However, I encourage her to obtain it or have it translated, because it makes it very clear that the provincial government in Quebec repeatedly asked the Department of Fisheries and Oceans for expert information, the kind of scientific opinion from real scientists who are experts on belugas, about this project and did not get it. It asked over and over and did not get it.
Why are the Conservatives muzzling their scientists?
Business of Supply October 9th, 2014
Mr. Speaker, I already mentioned the fact that the leader of the NDP has expressed his support for this project on several occasions. Today, the comments made by the members of the NDP show that they are opposed to exporting any oil from Canada unless it has been refined in Canada. The problem is that the industry and even environmentalists have indicated that that will not work. Economically, it is not possible to do all of that in Canada.
In cases where this is possible, the Liberals are certainly in favour of building refineries and creating jobs in Canada. The problem is that a number of Canadian refineries have already closed because of economic problems. North America is one of the few continents where the demand for petroleum products is dropping.
Does the NDP believe that $10 billion should be spent on building one or more refineries? What is the party's position?
Business of Supply October 9th, 2014
Mr. Speaker, I was interested to hear my hon. colleague's and other members' speeches earlier today.
The New Democrats said that they are opposed to this project and they expressed their concerns about the belugas. I express the same concern.
However, I would like to know what their position is. I googled it and already found three instances where their leader said he was in favour of the project. He said so in September 2012, March 2013 and February 2014.
Business of Supply October 9th, 2014
Mr. Speaker, in its decision to issue an injunction to stop the drilling off Cacouna, the Superior Court of Quebec has said that the federal Department of Fisheries and Oceans refused to provide the evidence that was being asked for. In fact, it said that instead of answering the two questions posed by the Quebec government, all it did was return the same information the provincial department already had and did not give it the information it was looking for.
Why is it that the federal government has so desperately failed to do its part in environmental protection in this case?
Bedford Volunteer Firefighters Association October 1st, 2014
Mr. Speaker, the Bedford Volunteer Firefighters Association just celebrated 75 years of service. I was very happy to be on hand to mark this milestone.
The fire service started out with 25 buckets, two ladders, and an axe hanging on the side of a shed. Although the equipment is much more advanced today, the service still relies upon the brave men and women who are there in an emergency.
Volunteer firefighters sacrifice their time and their safety to protect their communities. They often miss family gatherings, holidays, and certainly sleep, in the process.
I ask my colleagues to join me in recognizing the members of the Bedford Volunteer Firefighters Association.