Gerry Ritz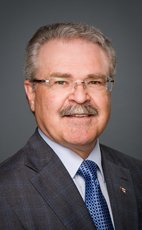 House of Commons photo
Track Gerry
Your Say
Elsewhere
Crucial Fact
Conservative
MP for Battlefords—Lloydminster (Saskatchewan)
Won his last election, in 2011, with 66.90% of the vote.
Statements in the House
Agriculture and Agri-Food May 10th, 2013
Mr. Speaker, absolutely nothing could be further from the truth. The member for Guelph constantly leaves farmers in the cold himself. They did that for years, in their 13 years, in a decade of darkness.
Of course, what we are looking for is the effective, efficient use of Canadian taxpayers' dollars. Farmers are taxpayers as well. They expect us at Agriculture Canada, and across the government, for that matter, to make efficient use of those tax dollars. We continue to analyze our programming and put the right foot forward to build a strong farm gate in this country.
Agriculture May 10th, 2013
Mr. Speaker, the member opposite has it all wrong. What the agricultural department is doing is looking to reduce costs in IT, human resources, asset management, policy and a lot of things that are duplications of what are done by industry and by the provinces. We are looking at an efficient, effective system that builds the strength of the farm gate. That is exactly what we are delivering.
Questions on the Order Paper May 3rd, 2013
Mr. Speaker, the hypothetical situation presented would depend on a variety of factors, including personnel availability, salary demands on the employer, technical support staff requirements, bees, equipment, laboratory and storage space, and ongoing operating funds. All these factors would need to be included in the amount and would vary depending on the size of any new apiary program.
Owing to these factors, an accurate cost estimate cannot be provided at this time.
Employment April 25th, 2013
Mr. Speaker, this government recognizes the need down on the farm for temporary foreign workers. That is why it has been set aside from any of the changes that are proposed to strengthen the program and certainly bring it back on point.
I can assure the member opposite that temporary foreign workers will still be available for every farm in his riding.
Agriculture April 24th, 2013
Mr. Speaker, it is too bad the member for Guelph was not here in 2005 when his counterparts actually did this without those types of studies being done. It was the Liberal government in 2005 that first authorized trials for Roundup Ready alfalfa.
We, as a government, continue to rely on the sound science that will allow this type of product to be introduced, or not. It will be based on a scientific decision, not on a partisan political decision. Farmers ultimately will decide whether they will grow this crop. Certainly we take the concerns to heart, but at the end of the day, it will be science rulings that will carry the day.
Agriculture and Agri-Food April 24th, 2013
Mr. Speaker, it is unfortunate the member for Wascana is several months behind on this file.
We have done exactly that. I have had meetings, face to face, with APAS members. I have had other interventions from other groups that are interested in picking up the facility. We have offered it on two or three different levels to two or three different competitors. There is quite a demand for it.
We have also said we will continue to run it through 2013, and that is exactly what we intend to do.
Agriculture and Agri-Food April 23rd, 2013
Just as I said to the member's colleague, Mr. Speaker, we continue to consult with the affected industries and with the producers who supply the product to those processing facilities. We will continue to do that. We will come up with a program and a policy that would benefit everyone across that sector.
Agriculture and Agri-Food April 23rd, 2013
Mr. Speaker, the member opposite should be aware that I was on the ground consulting with the very industries he was consulting with some six weeks to two months ahead of when he was there.
We continue to have consultations. We continue to work with the industries and affected communities to come up with a positive result that will reinforce Canadian agriculture and Canadian processing, unlike what those members would do with their $21 billion carbon tax.
Food Safety April 17th, 2013
Mr. Speaker, it is unfortunate that the NDP members continue to do faulty research. They have their numbers wrong. We as a government continue to build the capacity of CFIA. We have put some $150 million into its budget over the last two budgets in this cycle. We have also added 20% to its capacity at the front line.
We continue to do that while we are looking for efficiencies in the agency, and in every other department across the government, to make sure we are spending money properly on behalf of Canadian taxpayers and making sure their food is safe at the same time.
We will continue to do that. NDP members will continue to vote against all that.
Food Safety April 17th, 2013
Mr. Speaker, we are in the consultation phase on Bill S-11. We are working with a number of groups both domestically and abroad that would import food into this country. We have to have an idea of what is coming so that we know what is there when a traceability situation is asked for.
We will have these consultations and then we will plan our course of action and put moneys to that course once that plan is in place.