Gerry Ritz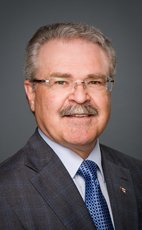 House of Commons photo
Track Gerry
Your Say
Elsewhere
Crucial Fact
His

favourite word

is cfia.
Conservative
MP for Battlefords—Lloydminster (Saskatchewan)
Won his last election, in 2011, with 66.90% of the vote.
Statements in the House
Agriculture and Agri-Food June 12th, 2014
Mr. Speaker, since NAFTA put some rules in place, we work with the Americans on the WTO, we work with them on the Trans-Pacific Partnership, and we also have other trade agreements that involve the Americans as we pass through merchandise to Mexico. It is always incumbent on us to ensure that those trade routes stay open. There will be disputes, but we continue to work with our partners in the U.S.
I was at a trilateral meeting in Mexico just a couple of weeks ago, where I and the Secretary of Agriculture for the U.S. and the Secretary of Agriculture for Mexico started hammering out some of these deals.
We continue to work on behalf of Canadian agriculture. I wish the NDP would do the same.
Agriculture and Agri-Food June 12th, 2014
Mr. Speaker, the member opposite would know that Canada is a large agricultural trading nation, the third largest in the world. We rely on multilateral and bilateral trade agreements. We want to see them successful.
We are a very strategic partner in the movement forward on the Trans-Pacific Partnership. We continue to make arguments on behalf of Canadian agriculture, as well as all the industries that will be affected. We will never sign an agreement that is not in the best interest of the Canadian economy.
However, at the same time, what I am getting phone calls from farmers about right now is when the NDP is going to pay back all the money it has ripped off from Canadian taxpayers.
Agricultural Growth Act June 4th, 2014
Mr. Speaker, we have done just that. We did not wait for Bill C-18 to be put together. A tremendous amount of consultation went into putting Bill C-18 together. We worked with agricultural groups and the provinces across this great land.
I agree with the member that farmers are the salt of the earth and they work hard to save their land. But the one thing the member opposite has missed is if farmers want to save their land, the best way to do that is to make sure they have the most innovative tools at their disposal so they have the ability to make a bottom line profit so they can continue to grow that enterprise. I agree with the member on that.
To the best of my knowledge, I have never dealt with or met with anyone from Monsanto.
Agricultural Growth Act June 4th, 2014
Mr. Speaker, the gentleman opposite is actually making my point. Democracy is about having one's say, not necessarily having one's way, regardless of what percentage is represented.
At the end of the day, the vast majority of farmers, 99.9% of them, want this now, and we are delivering exactly that for them.
The NDP members get a supply day. That is when those members control the debate. If they want to debate closure, then they should bring it up next Tuesday. We will talk about it all day, right until midnight if that is what they desire.
Agricultural Growth Act June 4th, 2014
Mr. Speaker, as usual, the member is twisting the words a bit. This also makes me wonder why NDP members were so vociferous in the boundary changes of ridings so that they could differentiate between what was rural and what was urban. If the member is proud of the fact that her cows are standing at the subway stop, then so am I. That makes a stronger MP who actually understands better what is going on across this country.
How can the member say it is so important to listen to farmers who live in Montreal and farm out in the country, which is great because we have a lot of them, and say having cows and subways in a riding is important to her, while at the same time her party is fighting to separate rural and urban? It makes no sense, very similar to all of that party's agriculture policy.
Agricultural Growth Act June 4th, 2014
Mr. Speaker, I listened to what the Green Party leader said, but the unfortunate part is, if she looked at all those interventions she got, they would be a form letter from the same type of people who are actually operating under misinformation, or myth-information, done willingly by a small splinter group of agricultural producers.
At the end of the day, this actually backstops our organic industry. It makes sure they have the ability to get the new varieties they need to move forward, to get the yields that they need to make that operation a viable operation. Therefore, whether we spend five hours or fifty hours, the ultimate end is, the vast majority of farmers in this democracy we call Canada are demanding this sooner rather than later. Let us just get it done and deliver what they are asking for.
Agricultural Growth Act June 4th, 2014
Mr. Speaker, that is a very important question because it actually laid the foundation to be able to move forward with UPOV '91. When the old single desk monopoly at the Canadian Wheat Board was in place, there was absolutely no demand or desire to move forward with new varieties. The old single desk was so fixated on high protein number one red that it was starting to lose market share around the world and we were hemorrhaging acres of wheat, durum, and barley, simply because of the constrictive, restrictive nature that it operated within. Once we made that change in 2012, and farmers have never looked back, they started to talk about how they could look forward to this new foundational piece with UPOV '91 to move them into the 21st century with the varieties that are required by our customers.
The Wheat Board always used to hold up Warburton's flour mills in Great Britain. I have had the opportunity to be in the mill and talk to the buyers and the owners there. They were to the point where they were actually going to drop away from Canadian content and move to Australia, Argentina, and other suppliers, some in the U.S. and so forth. We actually recaptured that. I am proud to say that Warburton's is actually buying 50% more now, on an annual basis, than it did in its best year under the old single desk. It is contracting acres directly with farmers in western Canada to get the variety and the types of grains it requires for the new mixes it is doing.
We have done a tremendous amount of work blending pea flour into noodles in the Pacific Rim area to get the protein in those noodles, which is a major part of their diet. A lot of good things are happening and it is simply because our farmers are innovative and they need the backstop. They need the tools that UPOV '91 will give them to continue that important work.
Agricultural Growth Act June 4th, 2014
Mr. Speaker, I would be the first to argue that democracy pivots around the ability to speak one's mind, put forward one's ideas and have them debated, but democracy is also underscored by the fact that we can have our say, but not necessarily our way.
At the end, I continue to work with farm groups across this great country. I probably met with a number of farmers from the riding of the member opposite on a number of issues. Certainly, we work together through our provincial counterparts, directly with industry, to make sure we put our best agricultural foot forward.
A lot of this innovation that we are talking about under UPOV '91 actually allows Canadian agriculture to have a lighter environmental footprint, which is extremely important, moving forward: less pesticides, less chemicals, less fertilizers, all very important to the member opposite, I know.
To get on with 21st century farming, we have to actually have 21st century guidelines.
Agricultural Growth Act June 4th, 2014
Mr. Speaker, I would challenge any Canadian, if they wanted to, to check the speeches that the NDP give on any on any particular issue, and they would find a carbon copy over and over again. New Democrats will have one or two issues and they overplay them. That is fine. That is their job. That is their role.
However, when we talk about agriculture across Canada, and agriculture on Vancouver Island, which is very important and I absolutely get that, we are talking about grains and oilseed varieties. I have a quote from Keith Kuhl, president of the Canadian Horticultural Council:
As farms work to match production with the growing global population it becomes increasingly important that they have the tools needed to continue to increase production. New varieties are an important segment of this growth. Ensuring that our plant breeders' rights are aligned with our global trading partners is imperative.
That is from the horticulture industry. There is a tremendous amount of horticulture on Vancouver Island and a tremendous amount of livestock too, which would also benefit from new, improved varieties of feed that will bring the price down so that meat across the counter stays reasonable, so that Canadians continue to enjoy the cheapest food basket against their disposable income in the world, and the quality is unsurpassed.
Agricultural Growth Act June 4th, 2014
Mr. Speaker, I am not concerned about hearing those concerns at all, but I would like them to come from farmers, people who are actually vested in this particular bill. I am not interested in hearing from people from downtown Vancouver or downtown Montreal. I want to actually talk to farmers whom the bill would impact.
Having said that, I am not concerned to make these arguments with anybody at any time, but I do want them based on sound science. I want them based on evidence that is quantified, that actually shows that this is a very important piece to move our agricultural sector forward in this country.
I am not scared to have that debate with anybody.