Jack Harris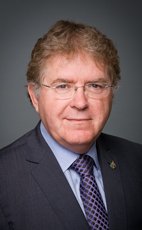 House of Commons photo
Track Jack
Your Say
Elsewhere
Crucial Fact
His

favourite word

is talking.
NDP
MP for St. John's East (Newfoundland & Labrador)
Won his last election, in 2011, with 71.20% of the vote.
Statements in the House
National Defence December 11th, 2014
Mr. Speaker, the government has had these reports in its hands for months. The Pentagon has documents showing that we have already asked for earlier purchase of the F-35 and there is an entire secretariat devoted to this, so it hardly seems likely that a decision has not already been made.
Can the minister tell us whether this proposed purchase has actually gone to cabinet?
National Defence December 11th, 2014
Mr. Speaker, rising costs and slipping timelines of the F-35s were laid out in careful detail in yesterday's independent review report. There could be $1 billion more in costs and the final purchase could be pushed back to 2025, a far cry from the $9 billion originally claimed in 2010. The report also says three other jets could equally meet Canada's needs.
Will the Conservatives be having an open competition, or are they still in favour of a sole-sourced purchase of the F-35s?
Petitions December 4th, 2014
Mr. Speaker, the second petition is also signed by a number of individuals in St. John's and other communities in Newfoundland and Labrador. The petitioners state that Canada does not recognize transpersons who identify as a particular gender without genital reconstructive surgery or persons who identify as neither male nor female, and that the effects of denying correct gender markers to transcitizens denies them the freedom to fully express who they are. Therefore, the petitioners call upon the House of Commons and Parliament assembled to ensure the Government of Canada takes action to ensure equal rights for all citizens by allowing all citizens to identify truly to themselves.
Petitions December 4th, 2014
Mr. Speaker, I have the honour to present two petitions.
The first petition is from a number of individuals in St. John's and other communities in Newfoundland and Labrador. The petitioners are calling upon the House of Commons and Parliament assembled to ensure that the Government of Canada takes action in allowing individuals to have access to all different professions and not be limited by their physical appearance. The petitioners state that the citizens of Canada have a right to be accepted for their physical appearance whether or not they exhibit body modifications, have disabilities, or are minorities in the workplace.
National Defence December 1st, 2014
Mr. Speaker, we are talking about gravely serious allegations of a pattern of sexual assault, abuse, and harassment spanning four decades. This involves young people between 12 and 18 participating in the cadet program on Canadian Forces bases, and it includes cases involving Canadian Forces personnel.
We have a solemn responsibility to protect these young people. How long has the Minister of National Defence been aware of these allegations, and what action is he taking to deal with this horrific situation?
Business of Supply November 27th, 2014
Mr. Speaker, I would like to thank my colleague from Algoma—Manitoulin—Kapuskasing for her question and for her concern about this issue.
Speed is very important. That is why part of my speech was to emphasize that, yes, we appear to have unity today in the House. As my colleague pointed out, it has been more than six months that the group has been trying to meet with the minister and the government. She has agreed to do that and has shown some compassion. We need to move very quickly, because each and every day that goes by, we know that these individuals have needs. Those needs are going to become greater. Two of these individuals have died in the last year, so it is very important that whatever effort can be made be made soon.
It is important that the government act in good faith, meet with the individuals, understand their needs, and provide something that is going to satisfy them
Business of Supply November 27th, 2014
Mr. Speaker, I thank the member for his question, but I do take issue with one of his comments, which is that Canada has been trying to help. As early as 1962, discussions about compensation began, and it was not until 1991 that some form of compensation was offered. However, clearly it was totally inadequate to provide for the needs of these individuals.
Yes, I agree with the member that it is important to have unity on this issue, because it does express the unanimous feeling of Canadians about this story, which has been hidden for some time. It has been invisible. People remember it, but they were never faced with its consequences and the heartbreaking stories of the individuals who we now know about today who are struggling. Yes, we need to have unity of purpose here, but the real thing that we need is a proper, good faith system based on the models we have seen, such as that in the U.K. and in Germany with a lump sum payment and a substantial monthly payment that provides for the needs they have on an individual basis.
That is what is really needed here today: unity first, good faith solutions second.
Business of Supply November 27th, 2014
Mr. Speaker, I will be sharing my time with the hon. member for Victoria.
I am pleased to have an opportunity to speak to the opposition day motion presented by the member for Vancouver East. The motion would ensure that we see a response from the government to the plea made by the surviving victims of the thalidomide drug and the tragedies that occurred in 1960, 1961, which continue to this day for these individuals who survived the approval of this drug for pregnant women suffering from nausea or insomnia. In some cases, even though a single pill was prescribed, it caused birth defects.
The resolution itself calls for full support to be offered to the survivors of thalidomide, that the urgent need to defend the rights and dignity of those affected by thalidomide be recognized, and that the government provide support to survivors and "in co-operation with" the Thalidomide Survivors Task Force, as per the amendment moved.
I do not know what the amendment means, so I will start with it. I hope that the change in the wording from "as requested by" to "in co-operation with" will not mean a lessening of good faith and commitment by the government to support the needs of the surviving victims of the thalidomide tragedy. I would want to see the principles that are spelled out and suggested by the Thalidomide Survivors Task Force to be honoured in any discussions or negotiations. We have precedents in other countries, which have been far more compassionate and responsive to the needs of thalidomide victims in recognizing the responsibility of their governments to look after them.
Let me speak for a moment about the circumstances and the timeline of what happened. We are talking about something that occurred in 1961. As a young boy, I recall the tragedy. It was something that we saw pictures of on television and in the newspapers. It was heartbreaking to see the consequences of the use of this drug on the children who were born at that time. In some cases, they were born with no arms, but had hands protruding from where their arms should have been. Other children were born with organ problems, were blind, or had other severely debilitating conditions that have caused them enormous struggles over many years.
The timelines were very short. I commend The Globe and Mail for bringing the issue to the doorsteps of the nation and its other newspapers and media, and the message that it is time that the government deal with this tragedy. Some of these thalidomide survivors received some sort of settlement in 1991, which has been described by many of them as a take it or leave it offer that did not satisfy their needs in any real way.
The application to allow this drug to be used was made to the Canadian food and drug directorate in September of 1960. The approval was given in November 1960, two months later. A month after that, there were articles in the medical journals warning that thalidomide was the possible cause of nerve damage. Yet in April Canada put thalidomide on the market. Within six months of its approval, it was being sold despite the fact that warnings were already appearing in the journals.
In April 1961, thalidomide was put on the market. By November 1961, the manufacturer took it off the market in Germany as a result of media reports revealing suspicions in the medical community that thalidomide was causing malformations in babies. By December, it was pulled in Britain and in Australia, but it was not until the next year in March that the Canadian food and drug director advised that thalidomide should be removed from the market. However, it remained available in some pharmacies until mid-May. The consequences were horrific for victims who were born with the defects that we have talked about as a result of their mothers having taken this drug.
The article in The Globe and Mail said:
The thalidomide scandal caused a furor in Canada in the early sixties, shocking a nation that trusted in the safety of medications and the federal gatekeepers who were supposed to screen them. The story has been largely forgotten, but its victims have never escaped it. Now almost all in their early 50s, many are exhausted and in pain, unable to work, and struggling to get by.
They need help. They need the help from a country that should be compassionate and caring, the kind of country that we on this side of the House have been struggling to build for many decades.
The needs of these individuals have been spelled out by the Thalidomide Survivors Task Force. It has been seeking, since last March, to get a meeting with the minister to talk about it. Now we have this resolution, as a result of all of the publicity and the public becoming aware of this. It is very timely. I want to congratulate the member for Vancouver East for bringing it forward and to thank the government for responding positively. We hope that this will pass today with unanimous approval of the House, but we are concerned that the principles the victims requested be included in any resolution to this situation.
I will run through what the thalidomide group has told us are the principles they want respected. They want a one-time payment to survivors to help them address their immediate and urgent needs, such as health care and assistive devices for living circumstances, and they also want a monthly payment to survivors, based on the level of disability, to assist with their ongoing care and medical needs.
In the United Kingdom, for example, there is a substantial grant administered by a trust providing payments to survivors based on their level of need. The average payment is approximately $88,000 Canadian, which is a very substantial amount of money. Given that it is based on need, it provides us with an idea of how great the need is of these individuals in dealing with the problems they have encountered. Many are in pain. Many require a tremendous amount of help to be able to carry on with the activities of daily life.
I want to end by saying that it is important to me and my constituents, and I think to all Canadians, that we recognize the need and the situation these individuals find themselves in as the result of a failed system of protection of Canadians that was in place when they were born.
National Defence November 26th, 2014
Mr. Speaker, on Monday, the Parliamentary Secretary to the Minister of National Defence implied that the minister would finally reveal the cost of the Iraq mission at yesterday's defence committee meeting, but yesterday the minister was mum. Either his parliamentary secretary was misleading Canadians or the minister got cold feet. This is not a state secret we are talking about. The Americans have shared their costs with the American people, and the Australians have shared their costs with the Australian people.
The minister has been given these costs by the Chief of the Defence Staff, so when will the minister share the costs of the Iraq mission with Canadians?
National Defence November 18th, 2014
Mr. Speaker, how is it that, despite official denials, the government is down in Washington organizing an early production date for F-35s? The Pentagon did not say that these documents were wrong or that the presentation was wrong; it said it was "...for official use only. It was to inform future decisions regarding Canada's F-35 acquisition".
The document does state that, for this proposed swap to happen, the Conservatives will have to deliver a letter of intent this month. Will the government be doing that?