Jack Harris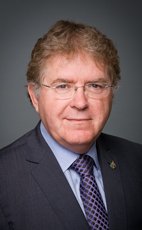 House of Commons photo
Track Jack
Your Say
Elsewhere
Crucial Fact
His

favourite word

is someone.
NDP
MP for St. John's East (Newfoundland & Labrador)
Won his last election, in 2011, with 71.20% of the vote.
Statements in the House
National Defence June 20th, 2014
Mr. Speaker, I was not asking whether they like the helicopter. I was asking whether there was a 30-minute run-dry capability. We hear the same cagey words reflected in the equally obscure language of the Department of National Defence press release.
Will Sikorsky have to meet the essential safety standards set out in the statement of requirements, or not? Will there still be a 30-minute run-dry capability for the gearbox, or will there not?
National Defence June 20th, 2014
Mr. Speaker, the Conservatives' recently signed contract with Sikorsky relieves it of obligations to produce a military helicopter that meets a statement of requirements that all bidders were expected to meet. We have reason to believe that one of those reduced requirements may be the 30-minute run-dry capability of the gearbox, a defect that was responsible for the deaths of 17 offshore workers in Newfoundland and Labrador in 2009 with a civilian version of the same helicopter. Will the government confirm that Sikorsky is no longer required to meet this standard?
Combating Counterfeit Products Act June 19th, 2014
Mr. Speaker, I would like to congratulate the hon. member for Saint-Hyacinthe—Bagot for a very informative speech on this topic.
She talked about person-years and the employees who will be lost between now and 2015, totalling 549. What is interesting about this number, along with some facts and figures that I have here, is that the budget cuts introduced in 2012 amount to $31 million in the first year, $72 million in the second year, and $143 million in the third year. The number is going up, doubling each year, so that the big impact is going to be in 2015, when this new responsibility will likely be passed on to the border guards.
It seems to be a pattern throughout. Agencies and departments and all aspects of government are going to be hit with this all in one year. How is it that the government, which wants the border agency to do more to enforce this legislation, would ask it to do the job with 549 fewer employees? That pattern is going to occur throughout the entire public service.
Would the member care to comment on that phenomenon and the Conservative government's approach?
Petitions June 19th, 2014
Mr. Speaker, the second petition concerns Canada Post.
The petitioners call upon the Government of Canada to reject Canada Post's plans for reduced services and explore other options to update the crown corporation's business plan.
Petitions June 19th, 2014
Mr. Speaker, I have two petitions to present to the House today.
The first petition is for the Minister of National Defence concerning the Valcartier cadets and an explosion that occurred in 1974, killing six cadets and injuring some 60 others.
The petition is signed by a number of residents of Quebec.
They are calling on the Minister of National Defence to ask the National Defence and Canadian Forces Ombudsman to investigate this situation and to make recommendations to the government on how to help these former cadets.
It is an important matter. Permission has been granted.
The 40th anniversary of this explosion is July 30 of this year.
National Defence June 17th, 2014
Mr. Speaker, the Prime Minister and his cabinet have already launched a few trial balloons on missile defence, and the answer from Canadians will always be "no" to this very expensive and ineffective system.
Yesterday's report from unelected and unaccountable Liberal and Conservative senators called on the Conservative government to favour joining the missile defence scheme. Is the government going to buy into this expensive boondoggle?
Petitions June 16th, 2014
Mr. Speaker, I rise to present a petition in support of fair employment insurance. The petitioners, most of them from my riding of St. John's East, say that the insurance plan that Canadians pay into throughout their working lives is because they believe the benefits will be available if they lose their jobs. It was designed to strengthen the workforce by helping jobless Canadians resume careers that take advantage of their education and training. However, with six out of 10 workers already disqualified from EI, the government is further restricting access, requiring Canadians to accept any jobs it deems suitable, even if it takes them off their career paths and comes with a 30% pay cut and an hour-long commute.
Therefore, the petitioners are calling on the Government of Canada to reverse the devastating changes made to EI and restore fair access to decent EI benefits for jobless workers.
National Defence June 12th, 2014
Mr. Speaker, the minister keeps saying he takes this seriously, but he talks about sexual harassment, not sexual assault.
It has been two months since we have had these revelations, yet the military's internal review says no serious changes are needed. It hardly even mentions the subject of criminal sexual assault. What could be a better sign that an independent review is necessary?
Would the minister now agree that we need a truly independent inquiry, led by someone who is not hand-picked by the military brass and supported by independent counsel?
National Defence June 12th, 2014
Mr. Speaker, two months ago we heard shocking revelations about the extent of sexual assault in the military. The minister promised a review, but only dealing with policies and procedures. The internal review is now out, and it claims "There are no assessed gaps in policy".
Every day five individuals in the Canadian military are victims of sexual assault. Could the minister explain how that can leave him satisfied with current policy?
Petitions June 12th, 2014
Mr. Speaker, I have a petition from a number of Canadians, particularly from St. John's, Newfoundland and Labrador. The petitioners wish to call upon the Government of Canada to abolish the unelected, unaccountable Senate of Canada once and for all. The petitioners say that appointed senators, especially those who abuse their privileges, do not represent the interests or values of Canadians.