Jack Harris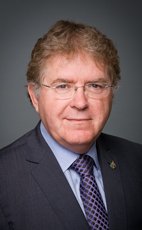 House of Commons photo
Track Jack
Your Say
Elsewhere
Crucial Fact
His

favourite word

is forces.
NDP
MP for St. John's East (Newfoundland & Labrador)
Won his last election, in 2011, with 71.20% of the vote.
Statements in the House
CSEC Accountability and Transparency Act October 30th, 2014
Mr. Speaker, I am pleased to have an opportunity to speak to Bill C-622. I have to say I am not surprised by the remarks I just heard from the government, but let me first talk about the bill itself.
I want to thank, once again, the member for Vancouver Quadra for bringing forth Bill C-622. It seeks to do two things, as has been pointed out by her. It seeks to change the nature of the intelligence agency CSEC and Parliament's ability to oversee its activities, which are two separate things, divided in two parts.
The Minister of National Defence has a lot of control over the activities of CSEC, and in fact can make things legal that would otherwise be illegal in such a way that we actually do not know what the rules are. That also deals with the issue of metadata. However, part two seeks to establish an intelligence security committee of Parliament, not of any particular House of Parliament but of Parliament itself and not a parliamentary committee, with members of Parliament and senators together to provide oversight. Those are the two separate parts.
We know that there have been plenty of warnings that CSEC needs greater oversight and that as we move forward with changes to greater security measures and powers, we also need greater oversight. It is pretty clear that the Conservatives have been refusing to act, and we heard the same thing today.
Under the Conservative government, the spying activities of CSEC and its budget have ballooned to four times what it was in 1998, yet Canada remains the only member of the Five Eyes intelligence alliance that does not have parliamentary oversight of its intelligence activities. By "parliamentary oversight", clearly we are talking about members of Parliament to whom the government is accountable, having oversight over the intelligence activities of the executive.
New Democrats support the spirit of Bill C-622 to establish this parliamentary oversight, but we do not think the bill is robust enough. We also think that it should not include senators because that destroys the democratic legitimacy of the kind of oversight that we are talking about. Our proposal, which I mentioned in my question to my colleague from Vancouver Quadra, was a plan to have comprehensive parliamentary oversight by a committee of Parliament of all intelligence activities, not just of CSEC, crafted to take into account the modern realities.
We know something was done 10 years ago and things have changed since then, but we want the whole thing evaluated and looked at afresh to craft the best possible committee, taking into account the changes and modern technology and hearing from experts about what is the best way to deal with the technology that we have.
Given the indication from the other side that the government will not be supporting the bill, it is not likely to even get to committee, so we will not have the opportunity, unfortunately, to deal with the questions of the bill itself. However, I want to indicate that New Democrats support the measures included in it that would make a change, particularly in the role that the minister has in terms of authorities under the existing National Defence Act to allow the collection of metadata and other kinds of information without the oversight or even the knowledge of the Canadian public of what the authorities are.
It is easy enough for the commissioner for CSEC to say that in all of the matters that he reviewed the law was complied with. We do not even know what the rules were, but we do know that he did not review all of the things that CSEC did.
Although I know the member for Vancouver Quadra did not have time to deal with all the questions that I had, one area of significant concern is the relationship between CSEC and other agencies of government, whether they be law enforcement agencies such as the RCMP, the Canada Border Services Agency or provincial and municipal police forces.
Part of the role of Communications Security Establishment Canada, CSEC, is to provide technical and operational assistance to federal law enforcement and security agencies in the performance of their lawful duties. Although we constantly hear that CSEC is not allowed to spy on Canadians or look at the activity of Canadians, clearly under that provision, that is almost all it does, look at the activity of Canadians. Unfortunately, the bill does not go far enough to deal with that relationship.
We had an earlier report this year that the government agencies requested the involvement of CSEC on many occasions. This is something we need to have proper oversight of as well.
We do not get the right answers for this either, but we also found out that CSEC had a relationship with telecommunication companies, which is problematic. In fact, it was also reported that government agencies in general, including CSEC, requested user data from telecommunication companies 1.2 million times in 2011 alone.
When CSEC officials who came before the parliamentary committee, because this is one of the alternatives that was suggested by the Parliamentary Secretary to the Minister of Public Safety and Emergency Preparedness, were asked questions about the relationship with telecommunication companies and if they got information from telecommunication agencies, we were not given an answer. They refused to answer those questions. Therefore, we do not have oversight from parliamentary committees. There is not oversight by Parliament as a whole.
The Conservatives, who despite their claims of accountability and transparency, and in fact bringing in legislation when they became government, have refused to co-operate with parliamentary committees and the requests such as we are bringing forth now to have a more robust system of parliamentary oversight.
I do not think I will go into too many of the details, but I know that the model of the bill is based on former Senator Segal's work, who did a good job slightly adapting the U.K. legislation model, which has members of the House of Lords and members of the U.K. parliament not sitting as members of that parliament, but sitting as so-called parliamentarians outside of that parliament, and incorporating the terms "House of Commons" and the "Senate".
However, that is not the model we like. It would not report to Parliament, but to the Prime Minister who would have the right to veto anything in the report before it would be tabled in the House of Commons or in the Senate on the grounds of his opinion.
In the opinion of the Prime Minister, it would be injurious to what? It is the three things that this activity is all about: injurious to defence, international affairs and security. If the Prime Minister had the ability to prevent a report from getting to Parliament on that basis, members can be sure that the report would be significantly truncated and not contain the kind of information that we would want. There needs to be some discussion about that.
The parliamentary committee that we are talking about would need to have significant security clearances, and perhaps members of the Privy Council. All this is a matter of discussion that would take place in the kind of robust all-party committee that would have the authority to compare and get advice from all parts, particularly our five eyes, the countries that we deal with on these matters.
However, we need more robust oversight of activity, because the job of our security agencies is to keep Canada safe and also protect our rights in the process. That requires good laws for the authorities and powers of the intelligence agencies. It also requires robust and comprehensive parliamentary oversight.
CSEC Accountability and Transparency Act October 30th, 2014
Mr. Speaker, I want to thank the member for bringing forth this legislation to allow the debate that we are having here today. I want to let her know that we do support this bill at second reading and want to see it studied in committee, but I have some questions.
First, the member knows that I have a motion, Motion No. 61, to set up an all-party committee of this House to examine the entire issue and come before the House with the best model. If her own bill is not accepted by the House, would she support that approach of having an all-party committee of this House look into the whole issue and come up with a model that can be recommended to the House?
Second, if the member wants it to be a democratic committee and have the confidence of the public, as she said, so that MPs can say that their security is protected, why do we not have simply a committee of this House for oversight? Why would we want to included unelected senators?
Third, I recognize the importance of metadata, and her definition of it is actually quite good. However, I do note that part of the mandate of CSEC is that its third mandate provides for CSEC to assist—
National Defence October 30th, 2014
Mr. Speaker, the Canadian Forces ombudsman has called the universality of service rule for the Canadian military "arbitrary and unfair". Members across the country have also been saying that the rule makes it harder for them to come forward with mental health issues. They fear being discharged.
The number of members who are being forced out for medical reasons before getting enough experience to receive a pension is large and growing. Does the minister still believe that it is a reasonable, fair, and effective policy for the Canadian military?
Economic Action Plan 2014 Act, No. 2 October 30th, 2014
Mr. Speaker, the hon. member knows that his remarks are out of order. He was ruled out of order before when he raised this, but he insists on raising points of order and then when he is denied, he continues to want to talk about it.
My point of order is on how the member gets to have two speaking opportunities by having a point of order and then wanting to speak. That seems to me to be out of order.
Economic Action Plan 2014 Act, No. 2 October 30th, 2014
Mr. Speaker, the minister said a few moments ago that omnibus bills were common. They have been common since the current government started putting 600-, 700-, and 800-page bills together and forcing them on the House through time allocation, which is also becoming common. It is 80 times that the current government has used either closure or time allocation to limit debate on measures before this House.
I want to ask the minister of state this. Canadians are not clamouring, to my mind, for rules that would allow provincial governments to cut off refugees from social assistance and welfare, even though they are not allowed to work in this country while they are refugees. Is that something the minister of state thinks people are clamouring for that must be put into a bill? It has nothing to do with the budget itself.
Veterans October 21st, 2014
Mr. Speaker, once again, the parents of a soldier who committed suicide are being treated with total disrespect. This time, the government was trying to force them to participate in a secret hearing, with no legal counsel, under the legal threat of a summons.
Thankfully, it backed off when their lawyer filed a court application.
Would the minister apologize to Rick and Ellen Rogers for this abuse of process?
Will the government finally fix this broken military board of inquiry system and have an open and accountable process?
Petitions October 20th, 2014
Mr. Speaker, I have the honour to present a petition on behalf of hundreds of residents of my constituency of St. John's East who object to the erection of a cellular telephone antenna on the rooftop of a hotel that is close to a child care centre and across from a major subdivision. The petitioners believe this is potentially harmful for their children and the neighbours.
The petitioners are requesting that the Minister of Industry deny the application for a licence to erect this tower, or alternatively that Bell Mobility and the hotel owners withdraw the application and move the cell tower at least 200 metres away from area residents and child care facilities.
National Defence October 20th, 2014
Mr. Speaker, fully one-third of Canadian Armed Forces members feel that disclosing a mental health issue threatens to end their career. This speaks to continued problems in military mental health that the government has failed to adequately address. In the last five years, more than 1,000 soldiers have been medically discharged before they qualified for a pension. For those who come forward, wait times for assessment can take over 100 days and there are still 40 vacant military mental health positions.
More than nine months after the minister promised to act, where is the action?
National Defence October 8th, 2014
Mr. Speaker, the replacement program for the navy's resupply vessels is so far behind that the Conservatives are now considering using private ships to resupply the navy while relying more on the United States. Despite promising replacements in 2006, the Conservatives cancelled the program two years later. We are now years behind. Is this the future for the Canadian navy: lend or lease?
Military Contribution Against ISIL October 7th, 2014
Mr. Speaker, I would remind my colleague on the opposite side that in 1939 the CCF party also supported the Second World War. Although the leader was a pacifist, the rest of the caucus fully supported Canada's involvement there, and of course we supported the mission in Libya initially in 2011, when it was directed at the responsibility to protect.
However, I want to put this proposition to him. The effectiveness of the air strikes being proposed is being seriously questioned by many, and others with substantial experience have even suggested that air strikes are counterproductive. Even those who accept that tactic are aware that we will run out of targets very soon.
My concern is with the costs that might be involved. In Libya, we were talking about $350 million. Why would the government's money and efforts not be better spent in providing direct humanitarian aid to the 1.8 million people whose lives are at risk immediately and who need—