Jack Harris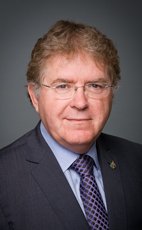 House of Commons photo
Track Jack
Your Say
Elsewhere
Crucial Fact
His

favourite word

is forces.
NDP
MP for St. John's East (Newfoundland & Labrador)
Won his last election, in 2011, with 71.20% of the vote.
Statements in the House
National Defence September 18th, 2014
Mr. Speaker, what does it really mean to be a priority for the Conservative government?
Nine months ago after the minister stood and solemnly vowed to fix the problem, DND still has not met the benchmark of 454 mental health staff, with 40 empty positions across the country and wait times that are increasing. We are now aware that the government knew full well that suicides in the Canadian Forces eclipsed direct combat deaths in the past decade.
Where is the urgency? What is it going to take for the minister to get this essential staff hired?
Situation in Iraq September 16th, 2014
Mr. Speaker, I listened to the very comprehensive speech of my hon. colleague from Mount Royal. However, I would like to ask him this. He referred to part of this resolution in his speech, the UN Security Council resolution 2170, calling on all members to try to hold accountable any individuals, groups, undertakings and entities associated with al-Qaeda for abuses of human rights and violations of international humanitarian law. Also in section 5, it urges all states, in accordance with their obligations, to co-operate in efforts to find and bring to justice individuals, groups, undertakings and entities associated with al-Qaeda, including ISIL and ANF who perpetrate, organize and sponsor terrorist acts.
This was unanimously agreed to and certainly contemplates holding them to account and bringing them to justice.
Would the member care to comment on how that might be done, and emphasize this co-operation? This seems to require some major effort. Would he have any suggestions as to how the nation should co-operate in bringing this about?
Situation in Iraq September 16th, 2014
Mr. Speaker, I want to thank the member for his contribution to the debate tonight. It was a well-written and well-read speech.
I know the member has had considerable military experience. We are happy to see that and we thank him for his contribution as a fighter pilot, a lieutenant colonel in the air force and serving on the defence committee and the joint board. I agree with him about the capability of our military, in particular our special operations forces.
I do have one question for the member. Being an experienced military person, he would also know that one of the areas that has been historically rife for what we are calling mission creep has been this whole notion of military advisers being sent in as an advance team, such as in the Vietnam War, the 3,000 or 4,000 sent in by President Kennedy leading to the Vietnam War. It is one thing to be training people, such as in Jamaica with the Canadian Joint Incident Response Unit training others to do that. That is a valid and useful thing to be doing, and we can do it in many parts of the world, as well as police forces. However, we already have an example, and we are not even a week past President Obama's announcement of the Americans, through the president or the chairman or the joint chiefs of staff, talking about turning his advisers into assault troops along with Iraqi forces. Is this not really part of the slippery slope that Canadians are—
Situation in Iraq September 16th, 2014
Mr. Speaker, once again I note the patronizing comments.
We are here to debate a serious matter involving a commitment of Canadian troops to a foreign operation, without a UN mandate. We want to know exactly where this is leading Canadians, but we have not had that answer.
We made it very clear that humanitarian assistance can and should be provided. That is something that we can support wholeheartedly. We are not prepared to support the deployment of troops without a full knowledge of where Canadians are being taken, how far we are prepared to go, and whether, as the member for Westmount—Ville-Marie is saying, Canadians better get prepared for the long haul because we could be in for two or three years. Everybody knows this is not going to be over in 30 days.
The people who are not being honest here are the Conservatives. As well, I do not think the Liberals are being intellectually honest when they say they fully support what the government is doing, because they do not know what the government is doing any more than we do.
Situation in Iraq September 16th, 2014
The member says "sort of", Mr. Speaker. We backed that motion and we voted on it in the House and we supported it, but guess what happened? Mission creep. The effort to provide some support based on the responsibility to protect turned into a very different mission.
The mission then became that we had to get Gadhafi. We had to destroy the government totally. Then everybody left, and what was left behind was a country that was unable to govern itself. There was civil war, which is continuing now, followed by destruction into Mali and other things. That was based on the fact that mission creep took over. The nation building that was required did not take place. The assistance to form a stable government did not take place. We are now left with a mess in Libya, south of Libya in the desert, and in Mali. We are seeing the same thing in the Iraq situation for similar reasons.
Situation in Iraq September 16th, 2014
Mr. Speaker, I want to thank the member for her question. It is a legitimate question. We have answered that question in the past. In fact, we answered that question by supporting the mission to Libya when backed by United Nations—
Situation in Iraq September 16th, 2014
Mr. Speaker, I am pleased to join in this debate tonight. It is an important debate because it underscores an important point that has been made many times by our party, a point joined in by the Prime Minister in 2004, 2005, 2006, and later. It is that for the deployment of Canadian troops, we need a vote in Parliament and that Parliament has the right to make that decision.
We have learned, of course, that it is not something that the Prime Minister wants to do, and he seems to have the full support of the Liberals.
I want to underscore that by saying that we are talking about a mission that is being undertaken without basic questions being answered. Last Tuesday, a week ago, there was a meeting of the defence committee after the commitment had been made, and after the commitment had been made, by the way, without the request of the Iraqi government. Otherwise, why would the Prime Minister say the government is going to send troops to Iraq once it gets the consent of the Iraqi government? Therefore, this is not at the request of the Iraqi government, despite what members opposite have said. We do not know where this mission is going.
Last week when we asked what was going to happen after 30 days, the answer was, "We don't know. Things are changing all the time. We're not really sure what it is going to be." When we asked what criteria were going to be used to determine where we go from here, up or down, or whether we bring the troops back home, the answer was, "We don't know." No criteria were laid out. No numbers were given.
It took until today to even get a number from the Prime Minister, and that was after the embarrassment of being left without an answer again and again when a very simple question was being asked and after the U.S. president stated exactly how many additional troops he was sending, which will be 475 troops in addition to the 1,200 who are already there. At least the Americans set out what they were going to do, but we could not find out what our government was intending to do.
When we asked when the troops will depart, the answer was "We can't tell you that. What do you want? The flight numbers would be a security problem." The Conservatives could not even answer exactly what the troops were going to do. They had to rely on the member for Westmount—Ville-Marie to make a suggestion and then have the Conservatives tell him whether he was right or wrong. That was the most ridiculous briefing that any opposition has ever gotten from a government. A member of the opposition had to go so far as to make a suggestion so that he would have it on the record that we are behind some non-existent wire.
We heard yesterday and tonight from the member for Westmount—Ville-Marie that this is going to last for years and that Canadians had better get used to the idea that this is a long-term mission. We heard similar remarks from the Minister of Citizenship and Immigration.
What, then, is this debate for tonight? Is it to soften up the Canadian public to the idea that we could be there for three or four or five years, and that after 30 days, we are going to have something else, something that we call "mission creep"? The government does not want to even acknowledge that there is such a thing.
The people I talk to are universally saying that they do not want to be dragged into a war in Iraq, yet today, only a week after the President of the United States announced this mission and was trying to build a coalition, there are reports out of the U.S. about the Chairman of the Joint Chiefs of Staff, the equivalent of our CDS, talking about the possibility of advisers accompanying Iraqi troops in attacks against ISIL targets.
That is very reminiscent of the Vietnam War a long time ago. President Kennedy sent military "advisers" to Vietnam, and that led to an incredibly long and destructive war that the Americans eventually lost in 1975. We have had mission creep before, and already we are hearing hints of advisers being used as troops and participating in attacks.
We can say that they are there to advise and assist, but, as was pointed out earlier, what exactly does that mean? We are talking about special forces. We are not talking about advisers teaching people how to do particular things; we are talking about special forces troops, boots on the ground, and all the equipment that goes with that.
As retired Colonel Steve Day pointed out on Question Period the other day, of course they have the right to defend themselves. They will be there as troops.
As has been pointed out as well, there is no wire that the troops are behind or not behind. My colleague, the foreign affairs critic for the NDP, the member for Ottawa Centre, and the member for Westmount—Ville-Marie were there two weeks ago, and they were within firing distance of ISIL forces that they could see.
This is an asymmetrical war. There is no wire. It is not on a base in Kandahar, behind a wire. This is an asymmetrical war that the Peshmerga are fighting, a war that they have to fight to defend themselves.
What we are talking about is Canadian participation. We are talking about what we are doing and whether or not we have the mandate to do it. The government has been long on rhetoric and very short on the facts of the mandate and the goals. It is called a 30-day mission; that timeline is meaningless. I think everybody agrees that very little can really be accomplished within 30 days.
What we are saying is we are going to assess the situation. What does that lead to? We can be sure, given what we have heard from both the government and in the support of the opposition Liberals, that there will be more to come.
We do not know what the real intentions of the government are. We are very unconvinced by the speeches that we have heard, particularly from the Minister of Citizenship and Immigration this evening, as to what exactly is going on. What battle is it we are involved in? Are we involved? Are we expected to be involved in the battle, as the member phrases it? The battle that the ISIL people think they are involved in is a battle to take over the entire Middle East from Spain to India. Is that the battle that the member believes we are involved in? Does he really think that we in the West should be playing that game and aggrandizing the nasty work that is being done by the ISIL group?
We are in full agreement with Security Council resolution 2170. Unanimously adopted on August 15, it calls on member states of the United Nations to take measures to prevent people from going to join this group by adopting serious measures and sanctions and all of the things that are laid out there. It recognizes that gross, systematic, and widespread abuse of human rights is being carried on by the Islamic State of Iraq and the Levant. This is a full statement decrying this action.
For the record, I want to say that we are fully supportive of the condemnation of what this group is doing. It is criminal activity of the worst kind. It is an abuse of human rights. This resolution also calls for ensuring that the perpetrators of these actions are brought to justice. These are international criminal breaches of human rights.
However, we are not talking about that here. We are talking about a military mission of a different sort, and we know not where it will lead. We know not where it would lead Canadian forces.
We do not really have faith that this government is now being forthcoming about what it is doing. We have no faith, and Canadians have no faith, in what the government's real intentions are and where it will take people.
I know there is someone who wants to yap across the way. I am sure he will have an opportunity to speak if he wishes. I know he has regretted things he has said in the past; I hope he is prepared to be quiet now and listen.
Unfortunately, there is a grave concern in this country that the government is about to take us down a road that leads to more involvement by the Canadian Forces and by our country in what may well be a very long-term mission in a country and place where we chose 10 years ago to not go. We are now suffering from the consequences of a mission that was undertaken there over many years and then left behind. The problems were left behind.
There is a crisis there. There is no doubt about that. We have a crisis in Libya as well, but we are not going there to solve the crisis left over after the Libyan mission went on to mission creep and left the country afterwards to a civil war and the destruction going on there now.
This is the concern we have. This is why we want a full disclosure from the government, a full debate. Once we have the cards on the table, we must have a vote in the House. That is what must happen.
Situation in Iraq September 16th, 2014
Mr. Speaker, I too was at the meeting last week, and we did not get the kind of detail that was asked for at that time. In fact, it has taken almost a full week to get the number of Canadian troops that are being sent to Iraq. Apparently, they are going to land and not wear their boots when they hit the ground.
Could the member be a bit more specific about what aspects of the special forces are going? There are four units of the Canadian special forces, including the JTF2, the Canadian Special Operations Regiment and the 427 Special Operations Aviation Squadron. Which of these units are being sent, or is it a combination of them?
The member mentioned diplomatic assistance as well. Is that part of this same group?
Situation in Iraq September 16th, 2014
Mr. Speaker, I do have a question for the Leader of the Opposition in light of the comments heard here tonight from the member for Westmount—Ville-Marie that Canadians should be prepared for a long battle.
The Minister of Citizenship and Immigration talked about the length of time it would take to do the work.
We have a 30-day mission with a vague mandate.
I wonder, given the fact that mission creep has been dismissed by the Minister of Foreign Affairs, what the Leader of the Opposition thinks of reports out of the U.S. that the Joint Chiefs of Staff's General Martin Dempsey is already talking about considering having the use of the military advisers in attacks against ISIS.
That is before Canadians are even there. The Americans are talking about advancing the advisers. These are the advisers and assisters that we are going to be sending. The Americans are looking at possibly using them for attacks on ISIS.
Is the Leader of the Opposition concerned? Does he wonder why Canadians are concerned about the potential of being dragged into a war in Iraq?
Situation in Iraq September 16th, 2014
Mr. Speaker, I know the minister has previous experience there, but listening to his speech, one thing we get from it is the enormous complexity of what is going on in the Middle East, with all of the different players and different effects that have been created by interventions of one sort or another by the United States and others. He talked about ideology and one brand of Islam versus another.
Is he serious that Canada can actually play a significant role in that, or is there is a way we can concentrate our efforts on, as he mentioned at the end of his speech, preventing and doing whatever we can to ensure that Canadians do not participate in this, but assisting in the humanitarian struggle? We have 800,000 to over one million displaced persons in northern Iraq who need help very badly.
I am not sure he has convinced me that Canada has a role to play militarily there that would be of any use.