Jack Harris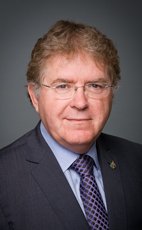 House of Commons photo
Track Jack
Your Say
Elsewhere
Crucial Fact
His

favourite word

is forces.
NDP
MP for St. John's East (Newfoundland & Labrador)
Won his last election, in 2011, with 71.20% of the vote.
Statements in the House
Veterans October 21st, 2014
Mr. Speaker, once again, the parents of a soldier who committed suicide are being treated with total disrespect. This time, the government was trying to force them to participate in a secret hearing, with no legal counsel, under the legal threat of a summons.
Thankfully, it backed off when their lawyer filed a court application.
Would the minister apologize to Rick and Ellen Rogers for this abuse of process?
Will the government finally fix this broken military board of inquiry system and have an open and accountable process?
Petitions October 20th, 2014
Mr. Speaker, I have the honour to present a petition on behalf of hundreds of residents of my constituency of St. John's East who object to the erection of a cellular telephone antenna on the rooftop of a hotel that is close to a child care centre and across from a major subdivision. The petitioners believe this is potentially harmful for their children and the neighbours.
The petitioners are requesting that the Minister of Industry deny the application for a licence to erect this tower, or alternatively that Bell Mobility and the hotel owners withdraw the application and move the cell tower at least 200 metres away from area residents and child care facilities.
National Defence October 20th, 2014
Mr. Speaker, fully one-third of Canadian Armed Forces members feel that disclosing a mental health issue threatens to end their career. This speaks to continued problems in military mental health that the government has failed to adequately address. In the last five years, more than 1,000 soldiers have been medically discharged before they qualified for a pension. For those who come forward, wait times for assessment can take over 100 days and there are still 40 vacant military mental health positions.
More than nine months after the minister promised to act, where is the action?
National Defence October 8th, 2014
Mr. Speaker, the replacement program for the navy's resupply vessels is so far behind that the Conservatives are now considering using private ships to resupply the navy while relying more on the United States. Despite promising replacements in 2006, the Conservatives cancelled the program two years later. We are now years behind. Is this the future for the Canadian navy: lend or lease?
Military Contribution Against ISIL October 7th, 2014
Mr. Speaker, I would remind my colleague on the opposite side that in 1939 the CCF party also supported the Second World War. Although the leader was a pacifist, the rest of the caucus fully supported Canada's involvement there, and of course we supported the mission in Libya initially in 2011, when it was directed at the responsibility to protect.
However, I want to put this proposition to him. The effectiveness of the air strikes being proposed is being seriously questioned by many, and others with substantial experience have even suggested that air strikes are counterproductive. Even those who accept that tactic are aware that we will run out of targets very soon.
My concern is with the costs that might be involved. In Libya, we were talking about $350 million. Why would the government's money and efforts not be better spent in providing direct humanitarian aid to the 1.8 million people whose lives are at risk immediately and who need—
Military Contribution Against ISIL October 7th, 2014
It was Syria, Mr. Speaker. The notion of radicalization of young Canadians is a serious one. In fact, as the Prime Minister states our role here, it is somehow a direct threat to Canada.
We have some information that 100 or more have gone and maybe 80 have come back. I wonder if there is any insight into what is going on in the minds of these young men who were radicalized. When they come back, are they coming back disillusioned? Are they coming back trained? Do we have the capability of dealing with that? Did the mother have any suggestions?
How is it that bombing is going to solve that problem? That is what I want to know. It has been suggested by some that bombing is in fact counterproductive and leads to more recruiting.
Military Contribution Against ISIL October 7th, 2014
Mr. Speaker, I listened with great interest to the comments of the parliamentary secretary, particularly the first part about one of his constituents and the loss a mother was experiencing of her son who had become radicalized and gone to Iraq and lost his life. I am assuming it was Iraq—
Military Contribution Against ISIL October 7th, 2014
Mr. Speaker, I listened with interest to the member for Winnipeg North and his predecessor, the member for Malpeque. Forgive me if I am confused about the position of the Liberal Party. I had understood that it gave unquestioned support for the initial mission of 30 days, even though questions were not answered. We did not support it because we did not really know what we were being asked to support. However, that is a different question altogether.
The Liberals, in both previous speeches, said that they are opposed to the air strikes but they want to find a military mission that they can get behind. I am wondering what that might be, because people are saying that the air strikes alone are not enough. The answer from the military perspective seems to be ground forces. Is that what the Liberal Party is now suggesting? Is it trying to show that it does want a military response but it has not figured out what that is, or is it just that it is not sure what it wants to propose?
Military Contribution Against ISIL October 7th, 2014
Mr. Speaker, we had an interesting debate yesterday. I do not know why, in the midst of that, the government House leader decided that they had to have a closure motion to bring it to an end.
On the government side mostly we have heard from ministers or parliamentary secretaries. I am sure there are a lot of backbenchers on the government side who would like to participate in this debate, and maybe a lot of other people over here.
Why insist on bringing the debate to a speedy close, when it is an important mission? Some of the speeches have been full of rhetoric, but this is an important debate. Questions need to be asked and answered.
I do not know why we are going through this process.
Military Contribution Against ISIL October 6th, 2014
Mr. Speaker, we were responding to the motion that was put forward and we wanted to make it clear that we did support that aspect of the mission that was already going on with military effort, the delivering of materiel and munitions. We do not make a general statement about that, but if we are to be actively involved in setting up refugee camps and those sorts of things, we may need a military component associated with that as well.
This is not about no military versus yes military. This is about the combat role. I think the Liberal Party now supports the fact that there ought not to be a combat role, at least with respect to air strikes. We have not discussed anything else, because there is nothing else on the table at this point and we were not consulted. It was not discussed with us. It was not discussed with our leader, which had always been done in the past, even with our current leader.
Also, we could not support a motion that did not have full disclosure from the beginning. I am afraid the member's party signed on to, essentially, a blank cheque without even hearing the details. All you asked at that time was if the government was to change it, to let you know. That was all I heard at the time. I did not hear anything about a vote. I did not hear anything about having a debate and full disclosure in the House. What I heard was "We support you and just keep us informed. We're going to monitor it. Keep us informed if there's any change".