James Rajotte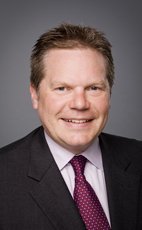 House of Commons photo
Track James
Your Say
Elsewhere
Crucial Fact
His

favourite word

is finance.
Conservative
MP for Edmonton—Leduc (Alberta)
Won his last election, in 2011, with 63.60% of the vote.
Statements in the House
Finance June 20th, 2014
Mr. Speaker, innovation and investment are the key drivers of the Canadian economy leading to jobs, growth and long-term prosperity. That is why our government launched the venture capital action fund.
Yesterday, the Minister of Finance was on hand to announce a significant private sector led investment in helping Canada's entrepreneurs and innovative startups.
Could the hard-working, dapper and affable Parliamentary Secretary to the Minister of Finance provide the details of this very important announcement?
Petitions June 17th, 2014
Mr. Speaker, it is my pleasure to stand today and present a petition on behalf of many Albertans who are calling upon the government to act to stop the persecution of Falun Gong practitioners in China.
Committees of the House June 12th, 2014
Mr. Speaker, I have the honour to present, in both official languages, the sixth report of the Standing Committee on Finance
The report is entitled, "Youth Employment in Canada: Challenges and Potential Solutions". Pursuant to Standing Order 109, the committee requests that the government table a comprehensive response to this report.
As it is the end of the session, I would like to thank very much all of our hard-working staff, our clerk, our analyst, and all the legislative staff for their excellent work on what will probably be our last report of this session.
Business of Supply June 10th, 2014
Mr. Speaker, I have so much respect for my colleague in this that I have to return to the subject.
The criticism from the other side is that targeted tax measures like income splitting, like pension income splitting, ought not to be done because they would not benefit the entire population. If we look at pension income splitting, that is true. It does not benefit people in my age group. If I look at my parents, they are both school teachers. They have pensions that are very similar. They do not benefit as much from the policy. However, there are many Canadians across this country who benefit from pension income splitting who are very positive on that.
I think it is incumbent upon the official opposition to be very clear with respect to that policy. Would it reverse the policy of pension income splitting that was put in place by this government in 2006?
Frankly, if the NDP ever forms government, I could see the member as a possible minister of finance. He is going to have to make that decision.
I think the NDP needs to be clear with Canadians as to where it stands. Does it support the pension income splitting that was put in place in 2006, and if not, would it seek to reverse that policy?
Business of Supply June 10th, 2014
Mr. Speaker, I would like to thank the hon. member for his speech and for the work he does on the Standing Committee on Finance.
I would like to address the income inequality issue that we studied at the finance committee. We issued a report and we talked about the need for support for general measures like health care, education, and social services that our government has funded at 6% year over year and 3% year over year.
We also talked about targeted measures like the working income tax benefit, which I believe has not been mentioned on the other side of the House. I would like members opposite to comment on the benefit of that program that specifically targets low-income working families and individuals to ensure that they get ahead.
I do want to focus my remarks and ask the member opposite to comment on pension income splitting. If I understood him correctly, he was in fact quite critical of the measure brought in by our government in 2006 to allow pensioners to split their income. In fact, he said this was sort of a foreshadowing of what would happen under income splitting generally. Pension income splitting has been a resounding success. I have certainly heard it across the country. Pensioners come up and say that they have been able to keep much more of their income in their pockets.
I would just ask the member to clarify NDP policy on this. The NDP opposed it at the time, but does the NDP still oppose pension income splitting, and would it reverse that policy if it were given the opportunity?
Energy Industry May 30th, 2014
Mr. Speaker, I rise today to acknowledge the contributions of a great Albertan and a great Canadian. Dr. Eric Newell is well known by many members of the House as a source of wisdom on the responsible development of Canada's oil sands . His vast knowledge led him to a storied career in Canada's petroleum and energy industries. In this regard, he is perhaps best known for his 14 years as the CEO of Syncrude.
Dr. Newell is also well known for his contributions to higher education, notably the University of Alberta, and his passion in ensuring the success of aboriginal people in Canada.
In 2008, the Alberta government tasked Dr. Newell with building and chairing the Climate Change and Emissions Management Corporation. This organization funds initiatives to achieve actual and sustainable greenhouse gas emission reductions. This organization is now in the midst of its Grand Challenge, through which innovative thinkers from around the globe are invited to put forward ideas on how to turn a liability like carbon into a useful asset.
I am honoured to consider Dr. Newell a friend. He, and other energy visionaries like him, leave me with nothing but optimism about the future of Canada's energy industry.
Edmonton Oil Kings May 26th, 2014
Mr. Speaker, I rise today to congratulate the Edmonton Oil Kings on their victory as the 2014 Memorial Cup champions, the third national championship in franchise history. This team defined courage, strength, and resilience, as it overcame adversity all season, and especially through the playoffs.
In the Memorial Cup tournament, it played two monumental games against Val-d'Or, losing the first in double overtime and then winning the second in triple overtime to advance to the final. This set up a matchup against the powerful Guelph Storm, a team that had a record-setting year in the Ontario Hockey League. The Oil Kings were down a goal at the end of the first period, but their resilience showed once again, as they skated, checked, and scored to a decisive 6-3 win over their OHL counterparts.
At the end of the game, the players hoisted the cup, but also the sweater of their friend and teammate Kristians Pelss, who passed away following last season. The emotions were evident as each player celebrated his victory but mourned the loss of the teammate to whom the team dedicated this year and this title.
Congratulations to all of the players, their coaches, and the entire Edmonton Oil Kings organization on an inspirational season and an amazing Memorial Cup victory.
Business of Supply May 14th, 2014
Mr. Chair, I appreciate that response by the minister and all the investments in this area.
If I have time, I would like to perhaps pose another question for the Minister of State for Finance with respect to financial literacy. I was very pleased when he made the recent announcement that Jane Rooney would be the Financial Literacy Leader in Canada. She has done outstanding work at the Financial Consumer Agency of Canada for years and that organization has done excellent work. I encourage all Canadians to visit that website to see the amount of work it has done for individuals, families, schools and other such organizations.
Perhaps the Minister of State for Finance could indicate where the government is going in terms of this path. This is obviously an issue of concern to many Canadians, but it is something that I introduced a motion on this topic to Parliament in 2010 and was very gratified it was adopted by the House nearly unanimously. I am very pleased with the government's follow-up with respect to that specific motion. Could the Minister of State for Finance indicate where the government is going with respect to financial literacy?
Business of Supply May 14th, 2014
Mr. Chair, I am pleased to welcome all those Canadians from coast to coast who were watching the hockey game. I know they will now be tuning in to this committee of the whole tonight.
It is my pleasure to address this committee tonight to highlight one of the central initiatives in the budget, the important role our government plays in Canada's science, technology and innovation system.
Since 2006, this government has provided more than $11 billion in new resources to support science, technology and innovation in Canada.
We have long recognized that the development of new ideas and new products is key to Canada's future prosperity. It fuels the growth of small and large businesses alike and drives productivity improvements to raise the standard of living of all Canadians.
Canada remains the G7 leader in research and development expenditures in the higher education sector as a share of the economy. Our universities and post-secondary institutions are recognized internationally for providing a truly world-class education.
Canada's strengths in post-secondary research make our nation a destination of choice and Canadian institutions have attracted some of the world's best researchers.
However. we cannot be complacent as Canadian post-secondary institutions face significant competition from their counterparts in other countries for the best minds, partnership opportunities and breakthrough discoveries.
Canada's ability to attract top research talent, innovators and enterprises requires its world-class institutions to be able to seize emerging opportunities and excel on the global stage.
That is why the economic action plan 2014 will create the Canada first research excellence fund to help Canadian post-secondary research institutions leverage their key strengths to the benefit of all Canadians.
The plan will provide the Canada first excellence research fund with $50 million in 2015-16, growing to $100 million in the following year, $115 million in 2017-18, and reaching a steady state level of $200 million annually in 2018-19 and beyond.
Within the next decade, this fund will provide an additional $1.5 billion to advance the global research leadership of Canadian institutions. This initiative will position Canada's post-secondary institutions to compete with the best in the world for talent and breakthrough discoveries, creating long-term economic advantages for Canada.
I would like to highlight some of the comments of economic action plan 2014 investments and, in particular, this fund and these investments received.
The president of the University of Alberta, Indira Samarasekera, said the measures in budget 2014:
—demonstrate the Government of Canada's commitment to excellence in higher education, research and innovation and I would like to thank it for such strong support. I am convinced that this investment will help universities such as the U of A meet rising global competition. With it, we will be able to increase our capacity to attract and retain the best and brightest faculty, post-doctoral fellows, graduate students, and international partners to advance the scientific discoveries, solutions and ideas that will benefit Canadians for generations to come.
Another comment is from the president of the Association of Universities and Colleges of Canada. Mr. Paul Davidson said:
Today Canada is signalling to the leading research nations of the world that it intends to compete with the best in terms of support for research excellence and attracting top innovators to our universities...This new strategy recognizes that research excellence takes place at universities of all sizes and in all regions of the country; the benefits will be shared by communities, students and faculty across Canada.
Obviously our government is very pleased to see such strong support for economic action plan 2014. I would like to recognize people like Indira and Paul Davidson for the work they did in encouraging the government to invest in this manner.
Our government has also taken numerous steps to strengthen our nation's capacity for advanced research, the kind which leads to breakthroughs at universities, colleges or other institutions across the country. As an example, let me highlight one of the jewels in Canada's scientific community, one of our big science projects, the TRIUMF cyclotron particle accelerator, a facility that the industry committee visited during our study of science, technology and innovation across the country years ago.
Through TRIUMF's ambitious international partnerships, Canadian researchers have been at the centre of some of the most important international research projects, most recently making critical contributions to the discovery of the Higgs boson particle at the Large Hadron Collider at the European Organization for Nuclear Research.
TRIUMF has also forged highly successful partnerships with industry leaders in order to commercialize the scientific breakthroughs, and is recognized globally for its innovative work in the production of medical isotopes used for treating thyroid, breast and other cancers.
It has helped to launch several spin-off companies and accelerate the growth of existing firms by sharing expertise, laboratory and research space and jointly developing leading edge research equipment.
Our government strongly supports these efforts and, starting in 2015, our government will be providing an additional $126 million over five years to further support the world leading research taking place at TRIUMP. Initiatives such as TRIUMP have proven that Canada's innovators are up to the task of competing on the world stage if they have the opportunity and the resources to do so.
Unfortunately, all too often our nation's innovative enterprises lack access to the very fuel that would drive their success, mainly venture capital. Venture capital plays a critical role in providing the investment and resources needed for these promising enterprises to realize their full potential.
The Canadian capital venture market has had mixed results over the past decade, which has resulted in an overall decline in venture capital fundraising. Clearly there is a need to expand the supply of venture capital in Canada, as was noted by the expert panel review of federal support for research and development. However, this is not a challenge the government can address on its own.
That is why in 2013 our government introduced the venture capital action plan, making significant resources available to support Canada's venture capital industry, including $400 million to help increase private sector investments in early stage risk capital, fulfilling a commitment that was made in 2012.
Business accelerators and incubators are important players in the venture capital system. These organizations bring entrepreneurs together and provide them with working spaces, hands-on mentorship by successful innovators, and access to specialized business services in order to develop their ideas and grow their businesses, one of our biggest challenges in our country. Graduates of these programs can present superior investment opportunities for venture capital funds, attracting more investors and more capital.
Budget 2013 announced $60 million over five years to help outstanding and high potential incubator and accelerator organizations expand their services to entrepreneurs to be delivered through, I think, one of the best programs through the Government of Canada, Natural Research Council's industrial research assistance program, NRC-IRAP.
Our most recent budget will boost this investment by providing an additional $40 million over four years, bringing the program's total funding to $100 million.
Working together, we will strengthen Canada's venture capital system and help promising Canadian firms not only to launch their innovations, but unleash their unlimited potential.
These programs not only strengthen Canada's capacity for world leading research, but they will also help improve the commercialization of Canadian innovations. The research they support and the researchers they develop will help sustain Canada's economic advantage well into the future.
Since 2006, sustaining Canada's economic advantage has been a priority of our government.
I ask the Minister of Finance to highlight what the government is doing to support advanced research and specifically how our record and our plan compares with the plans of the other parties.