James Rajotte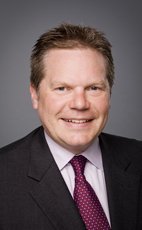 House of Commons photo
Track James
Your Say
Elsewhere
Crucial Fact
Conservative
MP for Edmonton—Leduc (Alberta)
Won his last election, in 2011, with 63.60% of the vote.
Statements in the House
Petitions May 10th, 2013
Mr. Speaker, I am pleased to rise today to present petitions on behalf of hundreds of Canadians who call upon the government and Parliament to enact tougher laws and implement new mandatory minimum sentences for those persons convicted of impaired driving causing death. The petitioners would also like to see the Criminal Code of Canada changed to redefine the offence of impaired driving causing death as vehicular manslaughter.
Committees of the House May 10th, 2013
Mr. Speaker, I have the honour to present, in both official languages, the 18th report of the Standing Committee on Finance.
The report is entitled "Main Estimates 2013-14".
Pro-Am Face Off for Alzheimer's May 10th, 2013
Mr. Speaker, I rise today to recognize a wonderful fundraising hockey tournament that recently took place in my riding, the Pro-Am Face Off for Alzheimer's.
Approximately 747,000 Canadians are currently living with dementia. This event raised critical research dollars for the Alzheimer's Society of Alberta and Northwest Territories. From April 26 to 28, local amateur hockey players teamed up with some of the NHL's all-time greats, like my weekend teammate, Theo Fleury, as we took to the ice in the battle against Alzheimer's and other types of dementia. There were many highlights in the weekend, including a luncheon with the one and only Mr. Hockey, Gordie Howe, where we heard some very heartfelt stories of people touched by this disease.
Through fundraising efforts, we raised over $2 million for the Alzheimer's Society. Currently, Alzheimer's disease has no known cause or cure. Until a cure is found, the society is there to help and provide support to those impacted by this terrible disease.
I would like to recognize and thank the local organizing committee and the volunteers in Edmonton and Leduc for putting together such a wonderful event.
Economic Action Plan 2013 Act, No. 1 May 2nd, 2013
Mr. Speaker, I would have loved to have given a 20-minute speech, but the member for Brampton West, I am sure, will top it off and be even better.
I appreciate the opportunity to speak about veterans. This is an area in which the government has made a number of additional investments for veterans, both those from previous wars, who are quite aged, and those from recent engagements such as Afghanistan. They have encountered all sorts of challenges, whether they are challenges with respect to physical health or with respect to mental health. In my view, this government and this minister have made some real strides forward.
With respect to this particular bill, it would support veterans and their families by no longer deducting veterans' disability benefits when calculating other selected benefits. In terms of a specific measure in this bill members on both sides of the House should support, they should definitely support this one. It is another strong argument as to why members should support this particular bill.
Economic Action Plan 2013 Act, No. 1 May 2nd, 2013
Mr. Speaker, I thank my colleague opposite for his work on the finance committee, and I appreciate his words about my chairmanship. We disagree sometimes on economic and political policy, although I will note that he quoted Milton Friedman this past week in committee, which impressed me, as he has inspired us both in different ways, I suppose.
With respect to the process, obviously what happens here is that at second reading, the vote is on the principle of the bill. I strongly urge the member opposite to look at all of the very good items in this bill and to move it forward to committee.
With respect to committee, as the member knows very well, we vote clause by clause. If there is a certain clause in the bill members opposite feel they can support, they can vote in favour of that measure. If there is a clause they oppose, for whatever reason, they can vote against that particular clause of the bill.
However, in terms of the overall items, and because of the items I identified in my speech, I would strongly encourage members opposite to vote for increased funding for Genome Canada; increased funding for Indspire, which is a fantastic program for our first nations students; and increased funding for municipalities across the country. These are items that should be supported by members on both sides of the House. That is why I encourage the member to do that.
Economic Action Plan 2013 Act, No. 1 May 2nd, 2013
Mr. Speaker, it is my pleasure to rise today to address Bill C-60, economic action plan 2013. I will be splitting my time with the very hard-working member for Brampton West and I look forward to his speech very much.
This is budget implementation act 1. Just for the benefit of those following this debate, I will outline the process at the beginning. Each summer, the finance committee initiates pre-budget hearings to hear from Canadians and organizations from across the country. Last year we heard from approximately 800 organizations and individuals who had input into the pre-budget process. We table our report in Parliament each year in December. The government considers that report and tables its budget, typically in February or March. We tabled it in March this year. It then follows up with two implementation acts, one in the spring, which the government hopes to pass by June, and then one that follows in the fall.
What the budget implementation acts do is take the budget, which was debated for four days this spring and then passed by this Parliament, and then make all the necessary legislative changes to ensure that the budget will in fact be implemented.
This particular bill, Bill C-60, has a number of measures that were included in our budget presented in March.
It would extend for two years the temporary accelerated capital cost allowance for new investments in machinery and equipment by Canadian manufacturers.
It would index the gas tax fund payments to better support job-creating infrastructure in municipalities across Canada. This is something I just asked my colleague across the way about.
It would extend for one year the mineral exploration tax credit for flow-through shares for investors, especially for the junior mining sector in our country.
It would modernize the Investment Canada Act, as announced in December 2012 by the government, to clarify the treatment of proposed investments in Canada by foreign state-owned enterprises and the timeline for national security reviews.
It would provide $165 million in multi-year support for genomics research through Genome Canada, following up on our research and development agenda.
It would provide $18 million to the Canadian Youth Business Foundation to help young entrepreneurs grow their firms.
It would provide $5 million in 2013-14 to Indspire, which is an excellent organization, for post-secondary scholarships and bursaries for first nations and Inuit students.
It would support Canadian families through such measures as promoting adoption by enhancing the adoption expense tax credit to better recognize the cost of adopting a child.
Following up on recommendations from the finance committee with respect to our report on charities, it would introduce a new temporary first-time donor super credit for first-time claimants of a charitable donations tax credit to encourage all young Canadians to donate to charity.
It would expand tax relief for home care services to better meet the health care needs of Canadians.
It would remove tariffs on imports of baby clothing and certain sports and athletic equipment.
It would provide $30 million in fiscal year 2013-14 to support the construction of new housing in Nunavut.
It would invest $20 million in the Nature Conservancy of Canada to continue to preserve ecologically sensitive land.
It would provide $3 million to the Pallium Foundation of Canada to support training in palliative care for front-line health care providers.
These last two measures, with respect to palliative care and the Nature Conservancy of Canada, I should point out were both brought to members of the finance committee over the last year.
It would commit $3 million to the Canadian National Institute for the Blind to expand library services for the blind and partially sighted. This, again, was brought to members of the finance committee as well.
It would support veterans and their families by no longer deducting veterans' disability benefits when calculating other select benefits supporting veterans in this manner.
It would streamline the process for approving tax relief for Canadian Armed Forces members and police officers.
We are also very much respecting Canadian taxpayer dollars. We are proposing to improve the fairness of the tax system by eliminating duplication. We are proposing steps to align employee compensation offered by crown corporations with what is available to federal employees.
I want to address a couple of these points in particular. I will start with the accelerated capital cost allowance for new investments in machinery and equipment. This is an extension of a measure that was first put forward by our government in the March 2007 budget. It follows on a report by the industry committee in February 2007. That committee did an intensive six-month study of the manufacturing sector. We travelled across the country. Members of both sides did an excellent job in surveying what the challenges were for that sector.
The committee made 22 unanimous recommendations at that time. The first recommendation was to have an accelerated capital cost allowance. For people who are not aware of all the technicalities, it allows businesses in the manufacturing sector to write off their equipment at a faster rate. It enables them, therefore, to purchase more equipment on a much more expeditious basis to ensure that they are as up to date as possible. This makes them more productive, as they can have the most recent equipment in their shops. Having the most up-to-date equipment is also better from an environmental point of view. It has multiple benefits.
In the past, the Canadian Manufacturers and Exporters, led by Jayson Myers, who has done an outstanding job as head of that association and of the Canadian Manufacturing Coalition, has argued that this enables companies to invest in their own productivity.
I see the Parliamentary Secretary to the Minister of Health here. He was an instrumental part of that report as well.
This is fundamental to ensuring that our manufacturing sector is competitive. We often hear that manufacturing is sort of a thing of the past. In fact, in Canada, considering the challenges they have had to face in the past, such as a rapidly appreciating dollar, variable energy costs, finding enough skilled and unskilled labour to meet their challenges, and responding to some real challenges from emerging and now emerged economies such as China, the manufacturing sector, in my view, has responded very well, in part because of specific measures like these and some of the other measures in the budget that was presented in March.
The accelerated capital cost allowance was first introduced in March 2007. It has been extended a couple of times, and it is going to be extended in this year's budget. This is an excellent reason for the members opposite, particularly those who have manufacturing bases, to support this particular piece of legislation. I encourage them to take a very good look at that.
The second item I want to spend some time on is the gas tax fund. Municipalities from across Canada have been coming to provincial and federal governments for years, saying that they need a long-term infrastructure plan to address their needs. They cannot go by this variable rate on a year-to-year basis. They are asking for a long-term sustainable plan. They asked, obviously, for gas tax funding.
Every time we, as Canadians, fill up our vehicles, we pay the 10¢-per-litre federal excise tax. Approximately half of that flows into funding, through the federal government, through the provinces, back to municipalities to ensure that it meets their needs. What we are doing is indexing that gas tax fund so that municipalities can not only count on it over the long term but will know how much it is going to be and will know that it will, in fact, be increasing on an annual basis.
This allows municipalities such as Edmonton—Leduc, Devon, Leduc County, in my area, to then borrow against that if they have something large. In Edmonton, light rail transit was expanded in my area. I believe that the City of Edmonton took approximately $100 million out of gas tax funding and put that money into light rail transit, which I think all parties in this Parliament should support.
Further to that, Edmonton recently announced another extension of their light rail transit system by using the P3 model the government has put in place. That is another excellent model municipalities across the country should look at.
The one-year extension of the mineral exploration tax credit was first put in place in 2000. This credit is sort of like Groundhog Day, because it is constantly extended by one year each and every year. This is especially important for the junior mining sector. It is very important for us to realize the importance of the mining sector in Canada.
The largest mining conference every year, the PDAC conference, is held in Toronto. It is an outstanding conference that not only shows the importance of the mining sector but the importance of that sector in relation to our other important sectors, such as the financial services sector.
I will just finish up by talking about investments such as those in Genome Canada. This follows on the government's science and technology strategy. We released our S and T strategy, again going back, in 2007. Following on that report, we have been investing in a number of areas, whether it is in the Canada Foundation for Innovation, Genome Canada, or the research granting councils, which received increased funding in this past budget, as well. That is why organizations such as the Association of Universities and Colleges of Canada have strongly endorsed this budget.
I would ask all parliamentarians to endorse the government's initiatives in this budget to support research and development, science and technology and those high-quality jobs of the future in this country.
I look forward to questions from all members in this House.
Economic Action Plan 2013 Act, No. 1 May 2nd, 2013
Mr. Speaker, I appreciate my colleague's speech. I serve with him on the finance committee. I know he is very hard-working, even though we often disagree.
I would like to have him address one aspect of this particular bill, Bill C-60, which deals with infrastructure.
As he knows, many witnesses come before our committee from many municipalities and other individuals from across the country. They came to the government this past year and asked us to index the gas tax fund, which was done in the budget in March and which is being done in this particular piece of legislation. They asked us to do this in order to allow municipalities to address their infrastructure needs across this country, to count on that going forward over a longer period of time so they can in fact use that as a source against which to borrow money to address their infrastructure needs, in addition to other programs that this government has initiated, such as the public-private partnership funding.
Does the member opposite's party in fact support the measure in this bill, in Bill C-60, that would index the gas tax fund?
Committees of the House May 1st, 2013
Mr. Speaker, I have the honour to present, in both official languages, the 17th report of the Standing Committee on Finance pertaining to its study of tax evasion and the use of tax havens.
Pursuant to Standing Order 109 of the House of Commons, the committee requests that the government table a comprehensive response to the report.
Canadian Cancer Society April 25th, 2013
Mr. Speaker, I rise today to recognize the 75th anniversary of the Canadian Cancer Society and give thanks for its work to raise awareness, advocacy and funds in support of cancer research and treatment. Since its founding in 1938, due to the tireless efforts of cancer researchers and treatment by health care professionals, five-year survival rates have gone from 25% to 60%.
As Canadians are all too aware, cancer touches everyone. In 1977, 36 years ago, my dad spent five weeks in a hospital being treated for cancer. I am pleased to say that we celebrated his 78th birthday last Sunday.
Whenever I encounter a friend battling cancer, I am struck by two things: their courage in facing and fighting this disease; and the comfort and care provided by their family, friends and caregivers.
Thanks to them, and the efforts of the Canadian Cancer Society, no one is alone in the journey to beat cancer. The support they provide continues to raise public awareness about this terrible disease and will hopefully lead to one day finding a cure for all cancers.