Joyce Murray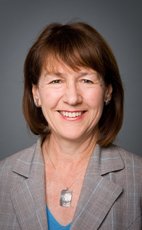 House of Commons photo
Track Joyce
Your Say
Elsewhere
Crucial Fact
Her

favourite word

is military.
Liberal
MP for Vancouver Quadra (B.C.)
Won her last election, in 2011, with 42.20% of the vote.
Statements in the House
National Defence February 25th, 2015
Mr. Speaker, yesterday I asked about armed forces member Robyn Young's misdiagnosis by a military doctor which caused her considerable harm.
The minister responded that the Defence Department is continuing to cover these costs, but that was disingenuous. It only started to cover them recently and has not reimbursed the tens of thousands of dollars she has already spent. In fact, Robyn's family has had to resort to community fundraising to help pay her health bills.
When will Ms. Young finally get full and fair compensation from the government?
Business of Supply February 24th, 2015
Mr. Speaker, I would also like to ask a question of my hon. colleague. Should the government continue to sit on the sidelines with this issue and not take proper action and given that the courts have said that this clause will be removed in early February, does the member see the possibility of harm for the most vulnerable, should we not have a strong and clear framework of protection?
National Defence February 24th, 2015
Mr. Speaker, here is another failure to deliver.
Robyn Young joined the Canadian Forces as a reservist at the age of 17, serving full time until 2011. In 2009, a military doctor misdiagnosed her tumour and performed unnecessary surgery. The result is a debilitating condition that now affects her ability to work. Young now works only part time and no longer gets the medical benefits she needs to heal and return to full-time work, benefits she would have received if diagnosed correctly.
Would the minister commit today to fix this injustice for Robyn and any others who may be in her situation?
Veterans Affairs February 24th, 2015
Mr. Speaker, the Conservatives pay lip service to the brave men and women who serve in our armed forces, but they fail to deliver when help is needed. The government trumpeted its plan to give ex-military members priority for public service jobs, but it is refusing to let former members transfer all of their pensions if they make such a move.
Why do the Conservatives disrespect the service of our armed forces members and why are they treating them so unfairly?
Academy Award February 24th, 2015
Mr. Speaker, it is my pleasure to rise in the House today to congratulate B.C. resident Dr. Robert Bridson for winning an Oscar for his innovation and technical achievements in the motion picture industry. Dr. Bridson is an adjunct professor of mathematics at the University of British Columbia in my riding of Vancouver Quadra, and he is being honoured with the Academy Award for developing the mathematical software and creating the computer-generated models used to simulate real world scenes in major blockbusters such as Avatar, The Avengers, The Hobbit, and the sci-fi thriller Gravity.
Dr. Bridson's success highlights the economic and social importance of arts and culture to Vancouver and the country as a whole. On behalf of Parliament, I would like to acknowledge and thank Dr. Bridson for his contributions to mathematics, the film industry, and our entertainment and to thank him for serving as an inspiration to young people considering math as a field of study or a career.
Petitions February 24th, 2015
Mr. Speaker, I rise to table a petition today demanding respect for the right of small-scale family farmers to preserve, exchange, and use seeds. This is signed by hundreds of petitioners from across the Vancouver area. They are asking that the Government of Canada and the House of Commons commit to adopting international aid policies that support small family farmers, especially women. This will ensure that Canadian policies and programs are developed in consultation with small family farmers and that they protect the rights of small family farmers in the global south to preserve, use, and freely exchange seeds.
Anti-terrorism Act, 2015 February 23rd, 2015
Mr. Speaker, the Liberal Party believes that it is important to update the law to increase Canadians' security, because times have changed. We are concerned about overly broad powers, and that is why we are going to bring forward a number of amendments. We invite the Conservative Party and the minister to understand how our amendments would make this a much more effective bill. It would bring in protections against overuse of security measures. Right now, there are some unclearly undefined edges that need to be fixed.
Why would the government want to go forward with a poor bill when, with some reasonable and focused amendments, it could go forward with a good bill?
Anti-terrorism Act, 2015 February 23rd, 2015
Mr. Speaker, my hon. colleague across the way is mistaking intention for oversight. That may be in the law, but who knows if that would actually play out? That is what oversight is all about. Do we simply provide the criteria and the conditions and let the security agency go forth and conduct operations? Do we never need to know or understand whether all of the conditions were satisfied? That is the point of oversight.
The report of the Maher Arar commission made it clear that even though there were rules, they were not being properly applied.
Oversight does not look at just one particular piece of evidentiary decision-making. It also looks at how intelligence and security are being managed across all of the agencies. Are there gaps that could be filled to be more effective? Are there duplications? Are there ways in which privacy is not being respected, regardless of the law? That is the point of oversight, and that is why all of our allies have such a structure.
Anti-terrorism Act, 2015 February 23rd, 2015
Mr. Speaker, I am pleased to join the debate on Bill C-51 today.
Canadians are well aware of the harm that terrorism can cause and the fear that it can bring. The overarching aim of terrorist activity is to instill fear and to divide us from one another and weaken our society. An important duty of Canadians, therefore, is to be vigilant against this divisiveness, as we will always be stronger when we are working together and united against acts of intimidation.
In recent decades, particularly since the 2001 terrorist attacks in the United States, the global security landscape has undergone massive changes, in part due to the evolution of the Internet and electronic technologies. An important responsibility that falls on the government and parliamentarians is to improve our security system and framework so as to meet the challenges of our times in a manner that upholds our most cherished democratic values and principles. The Liberal Party and most Canadians recognize that our laws must adapt to reflect the changing global security landscape, and Bill C-51, the government's anti-terrorism act, takes some productive steps to meet our collective security needs.
One measure that this bill would put in place is to lower the evidentiary threshold for detaining a suspected terrorist. In fact, had it been in place six months ago, this measure might have prevented the tragic death of Quebec CAF member Patrice Vincent. His murderer was under surveillance and that person's passport had been revoked in June of last year, but due to the lack of concrete evidence, he remained free.
The bill also would serve to put certain important programs, such as Canada's no-fly list, on a firmer legal foundation. Better coordination of information sharing among Canada's many security departments and agencies is also a positive aspect.
However, there are deficiencies in this bill, many of which have been pointed out to me by constituents of Vancouver Quadra, and the Liberals have written amendments to address those weaknesses.
The bill does not include the critical accountability that is provided by review and oversight mechanisms to ensure proper checks and balances on information sharing. This is in fact one of the overarching areas for improvement to this legislation that should be articulated through debate and expert testimony at committee, and there should be fair consideration of amendments. A bill of this importance deserves a proper, thorough, and non-partisan process.
Bill C-51 is inadequate in other areas, particularly with regard to the far-reaching and vaguely articulated definition of "national security" in terms of the lack of a sunset clause to provide Parliament with an opportunity to quickly review and correct any negative consequences of the bill.
Finally, there should be a much more robust commitment to preventing the radicalization of Canadian young people in the first place by funding and working with their families and communities to that end and by strengthening our social safety net regarding mental illness.
I would like to talk more about the need for greater oversight and review.
As many members know, last year I put forward my private member's bill, Bill C-622, the CSEC accountability and transparency act. This bill proposed to modernize the framework for accountability and transparency for Canada's signals intelligence agency, the Communications Security Establishment Canada. It would have brought the 14-year-old laws governing this agency up to date to account for advances in Internet and communications technologies and it would have strengthened the mandate of the CSE commissioner. Furthermore, Bill C-622 would have assigned a committee of parliamentarians with security clearance the responsibility to review and report on all of the intelligence and national security activities of our government, the very oversight that is being called for right across Canada by experts and non-experts alike.
Despite widespread support from security, defence, and privacy experts and from opposition MPs, my bill unfortunately did not receive support from the government and was therefore defeated.
To put a need for this kind of parliamentary oversight and review mechanism into perspective, Ottawa-based journalist John Ivison has correctly pointed out that "Canada is the only country among our close allies that lacks a dedicated parliamentary committee with substantial powers of review over matters of national security and intelligence."
He is right, and we should have one. Just as our security laws must be improved to meet the challenges of today, so too must Canada's framework for transparency and privacy protection evolve in order to cope with fast-paced, changing technology.
As journalist Glenn Greenwald noted in the Oscar-winning—as of last night—documentary, "When the decisions that rule us are taken in secret, we lose the power to control and govern ourselves."
That is not what Canadians want. The federal Privacy Commissioner and all our provincial privacy commissioners stated in a recent communique:
Canadians both expect and are entitled to equal protection for their privacy and access rights and for their security. We must uphold these fundamental rights that lie at the heart of Canada's democracy.
What do our partners south of the border think about these things? One example is the United States Department of Homeland Security, in which this understanding of that balance is explicit. The department "embeds and enforces privacy protections and transparency" in all of its systems, programs, and activities, according to its privacy commissioner, who oversees a staff of 40 people in that department alone. In a recent speech, Homeland Security's deputy secretary Mayorkas confirmed that not only is this integral to the DHS mission and crucial to maintaining public trust, but it has also resulted in Homeland Security becoming a stronger and more effective department.
If the government adopts the Liberal Party's reasonable amendments to create this balance, we can move beyond the dichotomized debate that pits security against Canadians' freedom and liberty.
As it stands, Bill C-51 would give CSIS broad powers to disrupt not only real or perceived terrorist threats but also threats that might undermine the economic or financial stability of Canada. This is too broad. It is just not necessary for guarding against any legitimate risks and threats from terrorists. It could also be very harmful in further chilling important rights for citizens to have a voice and for the rights for civil society groups that disagree with government policies in a peaceful way. The Liberal Party will be proposing amendments to rein in and better define the vague and far-reaching new powers that would be granted to CSIS in the bill.
To assess Bill C-51's effectiveness in keeping Canadians safe and ensuring our freedoms and values are respected, a future Liberal government will require a review of the entire bill in three years to ensure any aspects that are unaccountable or harmful are quickly identified and fixed.
In addition to granting CSIS greater powers, let us acknowledge that preventing individuals from becoming radicalized and falling into violent extremism in the first place is important and is an effective second track toward reducing these incidences and the terrible harm they create. Let us not forget that several of the recent actual and planned terrorist attacks involved young men who were suffering from mental illness and addiction and turned to violence. Canadians experienced a deep sorrow on behalf of the victims and their families.
This situation is the reason the government must allocate more resources and be a partner. The government must consult with a variety of stakeholders from police to social agencies and from families to religious leaders and collaborate in developing community-based strategies to prevent radicalization at the outset and to improve support for those suffering from mental illness and addiction. That is a commitment that the Liberal Party has made and will bring into our platform.
Currently, through the work of local and provincial governments, community and religious leaders, and friends and family members of the disaffected youth, there are a number of innovative models for supporting youth at risk and lending them support and guidance. However, more funding and more focus on this aspect are needed. A Liberal government would provide them.
As an aside, I want to mention that supporting mental illness would have a great deal of benefit to society, aside from reducing terrorist risks. Let us not forget that over 3,000 men commit suicide every year. Many of them are in their 20s, and most of them are under the age of 45. The grief and sorrow caused to their families and to our society could be significantly reduced with a greater emphasis on the second track, the track of prevention and support for those with mental illness challenges.
In 2001, in response to the September 11 attacks, the Liberal government introduced a number of anti-terrorism measures. We understood then, as we do today, that sometimes quick action is needed. We did, however, make sure there were full hearings. Amendments were made. We heard from the public. We heard from Parliament in committees. We also built in a sunset clause so that the bill could be corrected and be great legislation.
We believe that is possible. The Conservative government has the choice to take that path rather than the path of unilaterally charging ahead. We invite the Conservatives to take our amendments seriously. If not, we will be campaigning on them. If elected, we will be sure that they are put into effect in order to respect our most deeply prized democratic values.
National Defence February 19th, 2015
Mr. Speaker, today the respected Conference of Defence Associations released a damning report on the Conservative government's mismanagement and budget cuts to National Defence. The report states:
The reality is that we are entering a period of continued decline, diminished [Canadian Armed Forces'] capabilities and capacities, less training and lower output, with consequently reduced influence on the world stage and weakened contribution to our own security, domestic and international.
Why are the Conservatives so undermining the Canadian Armed Forces? Why are they still pretending they support them?