Joyce Murray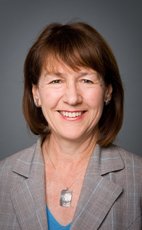 House of Commons photo
Track Joyce
Your Say
Elsewhere
Crucial Fact
Her

favourite word

is conservative.
Liberal
MP for Vancouver Quadra (B.C.)
Won her last election, in 2011, with 42.20% of the vote.
Statements in the House
Natural Resources June 19th, 2014
Mr. Speaker, B.C.'s Premier Christy Clark is clear that the northern gateway pipeline does not meet her five conditions.
Despite that, the Conservatives have given the thumbs up to this risky proposal to run a pipeline clear through the heart of the province's wilderness and send massive supertankers along our treacherous coast.
B.C.'s Conservative MPs can run, but they cannot hide from their own government's bad decision. How could the Minister of Industry, the regional minister for B.C., possibly support this Conservative cabinet's approval of this dangerous project, dangerous for the environment, dangerous for the economy, and contrary to the wishes of British Columbians?
CSEC Accountability and Transparency Act June 18th, 2014
moved for leave to introduce Bill C-622, An Act to amend the National Defence Act (transparency and accountability), to enact the Intelligence and Security Committee of Parliament Act and to make consequential amendments to other Acts.
Mr. Speaker, I rise today introduce my bill, the CSEC accountability and transparency act.
The Liberal Party of Canada has a long history in establishing Canada's framework for national security. A Liberal government established Canada's first peaceful signals intelligence function by an order in council in 1946 and established the Communications Security Establishment Canada, or CSEC, in 2001, following the 9/11 terrorist attacks in the United States. However, the laws governing CSEC have not been updated since then and do not reflect the rapid advances in Internet and communications technology since 2001.
This bill aims to correct that situation. It would establish clear rules for judge authorizations and for the reporting, oversight, and review of CSEC operations. It would strengthen protection of Canadians' personal communications, including their metadata, by updating CSEC's legal statute and by providing intelligence and security oversight by a committee of parliamentarians, consistent with most western democracies. This bill would help improve transparency, an important Liberal value, and would restore public trust in this important establishment that is so vital to protecting the security of Canadians.
(Motions deemed adopted, bill read the first time and printed)
Northern Gateway Pipeline June 18th, 2014
Mr. Speaker, yesterday, much to the dismay of millions of British Columbians, indigenous and non-indigenous alike, and Canadians from coast to coast to coast, the government approved the northern gateway pipeline and tanker project. This decision is extremely disconcerting as the project poses an unprecedented risk to B.C.'s economy and environment.
The hundreds and thousands of people whose jobs and livelihoods depend on the Pacific Ocean do not trust that a catastrophic spill can be prevented, a spill that would foul the sensitive ecosystems of our north coast and harm the fishing and tourism industries for decades. Despite this, the Prime Minister spent the last several years arrogantly trying to ram this pipeline through, disrespecting communities, weakening Canada's environmental protection, and politicizing our environmental review system.
Canada needs to move energy resources to market. However, these projects must first earn the trust of local communities. The Liberal Party rejects the northern gateway pipeline. We call on all members of the House to join us in standing up for the economy, the environment, and our communities.
Natural Resources June 16th, 2014
Mr. Speaker, I think the minister is getting a bit uncomfortable with his weak excuses.
Doug Eyford, the government's own special envoy, reported that the northern gateway pipeline approval process lacked proper governmental oversight, lacked consultation with first nations. In fact, Eyford asserts that the Prime Minister mismanaged the whole process, being wilfully blind to the project's risks.
One major oil tanker spill and the Pacific north coast would never be the same again, and the people of B.C. understand this. They understand that the risks are real and that they are not worth the benefits.
Why will the minister and Prime Minister not listen to British Columbians?
Public Works and Government Services June 16th, 2014
Mr. Speaker, great news today from the Department of National Defence, which announced that an RFP to replace the aging CF-18s will be coming out between 2017 and 2019 with a decision to come between 2018 and 2020.
Can the government confirm that the Prime Minister's Office will not overrule DND's timelines, that an RFP will go out in 2017 to 2019, and that that request for proposals will be open to all airplane manufacturers?
The Environment June 12th, 2014
Mr. Speaker, on the northern gateway pipeline and tanker project, the Conservatives are completely out of touch with British Columbians. They are out of touch with the communities and the indigenous people right across the province whose jobs and livelihoods would be ruined if there was an oil spill on B.C.'s coast. They have ignored local groups who have been warning about the impacts of the pipeline on B.C.'s sensitive ecosystems.
Will the government commit today to listen to British Columbians and finally reject this risky project?
Protection of Communities and Exploited Persons Act June 12th, 2014
Mr. Speaker, to my colleague from Charlottetown, the Canadian Federation of University Women is a group that has been staunchly supporting the so-called Nordic approach based on women's equality and based on reducing violence and exploitation of women and children. It has responded to the Conservative government's bill by issuing a press release strongly criticizing the bill for criminalizing vulnerable women in the sex trade.
Could my colleague please explain why criminalizing prostitution further endangers these victims of exploitation?
Business of Supply June 10th, 2014
Mr. Speaker, I welcome this motion on income inequality, a topic that our finance critic and Liberal members have been raising for several years now. It is very important for Canadians. It is very important for the quality of life of people at all income levels, so I thank the member for Parkdale—High Park.
I do note, though, that her party has chosen to add in a comment about recent Liberal governments. Presumably eight and a half years is considered recent. The NDP was not able to stop itself from taking a shot at the Liberal government that introduced so many things to reduce inequality.
I would like to point out the $40-billion health accord, the Kelowna accord to bring the level of accomplishment of first nations up to non-first nation communities, and the national child care program that she herself referred to in her speech. Does she believe that these programs were not directed toward reducing income inequality? Why would the member not at least have made her input to a clear motion that did not include a partisan shot?
Public Works and Government Services June 10th, 2014
Mr. Speaker, after the Auditor General exposed the Conservatives for completely botching the CF-18 jet replacement, they promised a thorough review of the process. We are now learning that the review has been rigged to select the F-35 jets. So was this a seven-point plan, or a seven-point scam?
The panel's report is not classified, but the government is refusing to release it. Why will the Conservatives not table this report? Why can Canadians not know the truth?
Natural Resources June 9th, 2014
Mr. Speaker, the Liberal Party stands firm in opposing the northern gateway pipeline. Rather than listen to the millions of British Columbians who were concerned about the risks of this project, the Prime Minister threatened and bullied them and then weakened environmental laws to clear the way.
Last week, the minister said that the project would only be approved if it was safe for the environment, but hundreds of scientists said that it was not safe, not on land and not on sea. Will the minister finally accept the science and reject this project?