Joyce Murray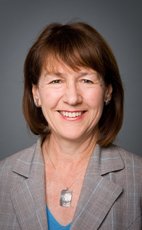 House of Commons photo
Track Joyce
Your Say
Elsewhere
Crucial Fact
Liberal
MP for Vancouver Quadra (B.C.)
Won her last election, in 2011, with 42.20% of the vote.
Statements in the House
Infrastructure April 9th, 2014
Mr. Speaker, let us put the new infrastructure funding cut into perspective.
Ten years ago, the federal government committed $500 million for just one investment: the Canada line to Vancouver airport.
However, today, the Conservatives' fund is down to just $200 million for an entire country.
Vancouver's Broadway corridor generates billions in economic activity. However, to grow, it urgently needs rapid transit.
Why are the Conservatives making our cities wait years longer for help with their critical infrastructure investments? Why are they sabotaging them rather than supporting them?
Democratic Reform April 8th, 2014
Mr. Speaker, voter turnout among students and young people is the lowest of all age groups. Last night, student associations testified in Parliament about how Elections Canada had been helping them run educational programs to reverse that trend. Yet, the government's rigged elections act would not only stop Elections Canada from encouraging young voters, it would make it harder for them to vote.
Now, it seems to me to be a good thing to have young people participating in Canada's democracy. Why would the Conservatives want to block them? Is it because they tend to not vote Conservative?
Economic Action Plan 2014 Act, No. 1 April 8th, 2014
Mr. Speaker, I want to thank the member for Vancouver Centre for her eloquent remarks.
I want to address the issue of search and rescue. There is a non-refundable search and rescue tax credit, which implies some commitment to this very important initiative on the part of the government, yet at the same time it has been acknowledged that almost $50 million has been wasted by a set of false alarms that have wasted search and rescue's time and efforts over the last number of years. That situation, which has not been corrected by the government, could pay for the Kitsilano Coast Guard search and rescue base for years.
I would like the member's comments on whether the budget appropriately addresses a search and rescue base for her community of Vancouver Centre.
Petitions April 8th, 2014
Mr. Speaker, I am presenting a set of petitions from residents of Vancouver, as well as my riding of Vancouver Quadra, who are concerned about the announcements that there will be a strategic disposal of what is known as the Jericho Garrison lands, which is 22 hectares of land in the middle of west Point Grey. It has significant heritage buildings, trees, and green spaces.
They are concerned that there has been no public consultation with respect to this disposal. The efforts that I have made to get clarity about the timing and a commitment for consultation have been rebuffed by three different ministries. Therefore, they are calling on the Government of Canada to coordinate a full process of public consultation prior to the commencement of any disposal of the Jericho lands.
Economic Action Plan 2014 Act, No. 1 April 7th, 2014
Mr. Speaker, my question is about the search and rescue part of the member's speech. He mentioned that these measures in the budget implementation bill are for Canadians and their families. Clearly when there is a non-refundable search and rescue tax credit, there will be family members who are doing search and rescue, putting in those volunteer hours, and helping to keep their communities safe, but they may not have enough other income to qualify for a tax credit.
I would ask the member this: given the importance of this activity, why would he cut out the Canadians and families who are not able to claim a tax credit because of their low income?
Economic Action Plan 2014 Act, No. 1 April 7th, 2014
Mr. Speaker, indeed, it has been an absolute knockout punch to the municipalities and provinces that were counting on the federal partnership in their infrastructure investments, a partnership that has existed for decades. It is nothing new for the federal government to invest in infrastructure. In fact, the federal government used to partner with the municipalities and provinces, on the basis of one-third each. The Conservative government has decided to whack off that infrastructure funding by 87%, bringing it down to a total for the next two years of $210 million a year.
To put it into perspective, on one project alone, the Canada Line in Vancouver, the previous Liberal government offered $500 million for that one project. That shows the scale of the tiny infrastructure funding that the Conservative government will put forward over the coming years. It will take years to ramp up to where it should be.
Economic Action Plan 2014 Act, No. 1 April 7th, 2014
Mr. Speaker, the hon. member is quite right. The bill's response to FATCA raises obvious concerns about privacy and sovereignty. There was not the kind of consultations that could have avoided those concerns.
This is an element in Bill C-31 that attempts to shield Canadian banks from U.S. financial penalties. It protects Canadian banking information at the expense of those citizens of Canada who find themselves being targeted by FATCA and who are outraged that they would be required to have their banking information shared with the United States.
I think the overall point that my colleague was making is that this government is very well known for its absence of consultation.
I am very happy to hear that the Minister of State for Western Economic Diversification has consulted widely on a complex issue.
That is exactly why it should be in its own bill and not wrapped up in this anti-democratic omnibus budget bill.
Economic Action Plan 2014 Act, No. 1 April 7th, 2014
Mr. Speaker, it is a little disappointing that members from the Conservative Party continue to go back decades rather than actually defending their actions over the last eight years.
This government has been in power for eight years. It has been raising taxes on small business by increasing EI premiums year after year, at a time when businesses simply could not afford that due to a recession.
I would also remind the member that in eight years this government has brought in seven consecutive deficit budgets. The only reason it was not eight is because the government cruised in on a $13-billion surplus that was left to it by the previous Liberal government which had ten consecutive surplus budgets.
Economic Action Plan 2014 Act, No. 1 April 7th, 2014
Mr. Speaker, I am pleased to speak on the budget implementation bill, Bill C-31, having just been part of a debate about major policy changes that were put into the bill.
One of the first points I want to make is that it is an abuse of parliamentary process to take complex areas of public policy and to propose policy change to them by slipping them into a budget bill like this. It is an abuse because the members on this side of the House are not able to find out the details of that section of the bill, and because there are so many new and different policy changes that are not related. This is not an omnibus bill with housekeeping changes, but includes major policy changes, making it impossible in the short amount of time allocated for debate to cover all of the facets of the bill adequately.
It is one more anti-democratic omnibus bill that really undermines Parliament's role to properly discuss and give input, and then have a proper opportunity at committee to look at a substantive and complex public policy issue. This is because there are literally 500 separate clauses, more than 40 different pieces of legislation involved, and 359 pages in the bill. Omnibus bills are a hallmark of the Conservative government's disdain for Parliament and its function and the hallmark of its disdain for the Canadian public and its stakeholders, who deserve better.
There are some implications of the bill overall that I would like to touch on and then some specific measures that I will be discussing.
First, the bill overall misses the mark for Canadians. It is essentially designed to provide some speaking points in the next election that would be advantageous to one party, the Conservative Party. It fails to address the major concerns of Canadians. It fails to address the fact that our economy is just limping along, and the measures that the government has taken have been so driven toward partisan advantage and not to the benefit of Canadians that it has failed really to put our economy back on track.
I am from the riding of Vancouver Quadra, and in Vancouver the business community is surprised and disappointed by the dismal level of capital investment for B.C. projected for the coming year. This budget is not helping British Columbia. I will quote the Business Council of B.C. executive vice-president, Jock Finlayson, in his March blog post:
We were surprised at the weak overall investment outlook for British Columbia. Total capital spending in the province...is set to come in essentially flat this year, compared to 2013....
His remarks were based on a Statistics Canada report in February.
This budget fails to address the high unemployment rate for young people, far higher than it was when the government took office. It fails to address the fact that middle-class Canadians are staggering under record high debt loads compared with their incomes, which creates a great deal of concern about their ability to put their kids through school and just manage their day-to-day finances, and of course it createdes concerns about retirement security, which is not being addressed in any substantive way by the government, contrary to what the provinces have been asking it to do.
Last, one aspect of the budget that we Liberals are extremely concerned about is that it is essentially cutting almost 90% of the new infrastructure spending over the next two years. This is very important funding for the communities, for jobs, and for the economy.
Vancouver Quadra has the Broadway Corridor, the second largest economic zone in greater Vancouver. According to a KPMG report, the development of that economy and investment in high tech, health sciences, and all of the businesses and activities along the Broadway Corridor are being impeded by poor connectivity, including poor transportation. We need rapid transit along that corridor. It would benefit our economy, but is the kind of project that would be pushed far into the future by this budget because of its cuts to the government's current infrastructure spending.
The Conservatives' new building Canada fund had $1.63 billion for this year, which has just passed, but goes down to $210 million for the year we are now in. That is a massive reduction. However, it will be only $200 million in the following year, and it will be years before it is back at the level it was at last year. This undermines for years to come the plans and economic prospects that depend on infrastructure. This is an aspect of the bill that is taking partisan advantage over the economic realities and investments required by Canadians today.
Second, I would like to talk about the part of the bill where the Department of National Defence loses $3.1 billion. This is a claw-back of funding that had been announced before, and it is on top of a lot of other claw-backs. There will be over $7 billion clawed back from DND's budget.
The Department of National Defence is a very important to the economy of Canada. Not only does Canada need an effective, prepared, and respected military, but it also needs a military that is ready to serve the sovereignty and defence requirements of our country, as may be outlined by the leadership of the country. The National Defence budget is a huge economic driver of jobs, contracts, exports, equipment, and technological innovation.
The Conservative government raised expectation with its Canada first defence strategy funding promises, which I now call the Conservative's failed defence strategy because of how those promises have been broken. In fact, to date approximately $30 billion has been clawed back or cut from the level of funding promised by the Conservatives' failed defence strategy, according to defence analyst Dave Perry.
This has led to equipment delays, making equipment far more costly down the line when it does arrive, and it has meant that our men and women in uniform are using obsolete equipment that poses safety risks. It has also meant that there has not been proper funding for the kind of support that wounded soldiers desperately need.
I was shocked to find through an access to information request that the director of mental health for the Canadian Forces, Colonel Scott McLeod, a year ago begged to be able to hire uniformed registered psychologists in the armed forces because they were so desperately needed. He said that "...there is strong indication that the addition of a uniformed clinical psychology capability would greatly enhance the mental health care of CAF members...". He said these positions were crucial to the effectiveness of care for ill and injured soldiers.
However, the minister ignored that request. To date, not a single uniformed clinical psychologist has been hired by the Canadian Armed Forces. We know that the care is not adequate. It has been reported by the ombudsman and soldiers themselves for a number of years, and it is having tragic consequences. So why are there these cuts and the government making these kinds of uncompassionate decisions that are landing on soldiers who have risked their lives for our country? It is completely unacceptable.
In part of 1 of the bill there is a tax credit for search and rescue. We support the tax credit, but we wonder why it is not refundable so that those who are doing search and rescue—which is a very important service to their community—and who are not in a position to pay taxes will get no benefit from this tax credit.
Veterans put their lives on the line. In part 6, division 1, there is nothing in the budget to suggest that the government will withdraw its opposition to the Equitas court case. A number of wounded solders are having to go to court to get the support they need, such as increased lump sum payments for injuries, and a proper pension, which veterans have always been provided with in the past in Canada. They deserve better, and they deserve to be cared for. That is part of the sacred compact that the current government is fighting to undermine through its lawyer in the Equitas lawsuit.
I would like to talk about other elements, FATCA. Vancouver Quadra residents are very concerned about the impact of this—
Economic Action Plan 2014 Act, No. 1 April 7th, 2014
Mr. Speaker, to pick up on the debate here, I appreciate the hard work that the parliamentary secretary has done to inform herself about the changes to trademarks. As my NDP colleague said, they may well be positive changes, but that is the parliamentary secretary's job. She is the parliamentary secretary for an economic portfolio and her stakeholders would be interested in this.
The point remains that an omnibus bill is not supposed to be for introducing new policy elements into law. Until the current government came into power, the convention in this House was that changes that were substantive and of interest to a broad range of Canadians should be debated in their own bill, not slipped into an omnibus bill. This is a brand new area of policy. It has little to do with the budget. Hiding it in this bill is simply not appropriate and is anti-democratic.