Kirsty Duncan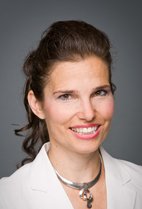 House of Commons photo
Track Kirsty
Your Say
Elsewhere
Crucial Fact
Liberal
MP for Etobicoke North (Ontario)
Won her last election, in 2011, with 42.40% of the vote.
Statements in the House
Citizenship and Immigration April 8th, 2014
Mr. Speaker, we have heard that the government is considering no longer accepting Somali refugees in Canada.
Can the minister tell the House whether or not the government will continue to accept Somali refugees, and does he agree with us that the Somali Canadian community makes an important contribution to Canadian society?
Economic Action Plan 2014 Act, No. 1 April 8th, 2014
Mr. Speaker, there is an increasing trend in omnibus bills. We need to be able to undertake scrutiny, and we cannot.
One of the big changes is that the Canada I grew up in believed in a fair and just society, where everyone had an equal shot. If we worked hard, we had enough food on the table and a roof over our heads, we could send our children to college or university, and we could save for our retirement. Where is that Canada today?
The Canada I grew up in believed in feeding our neighbours' child when there was need, and believed that the government was there to look after our most vulnerable citizens. It is really shameful that the government has forgotten these core Canadian values.
We need to honour the promise. In 1989 and 1992, we promised to eliminate child poverty in Canada and to ensure safe, nutritious food for all. There are 169 other countries that feed their children every morning. In Toronto, 40% of elementary school students and 62% of secondary school students go to school hungry. Hungry children cannot learn. It is unconscionable.
Economic Action Plan 2014 Act, No. 1 April 8th, 2014
Mr. Speaker, I would like to thank my hon. colleague for the question. It is a pleasure to work with her on committee.
There have been tremendous cuts to women's groups, to Status of Women, a huge reduction in the service centres.
We could be tackling the major issues affecting women, like violence against women. We absolutely need a national action plan to end the violence. We need an inquiry into missing and murdered aboriginal women.
We need to tackle pay equity. It is unconscionable that women in Canada earn 81 cents for every $1 a man earns. There was a 2005 study by the Royal Bank of Canada, saying we are losing $156 billion annually because of the pay equity gap.
Economic Action Plan 2014 Act, No. 1 April 8th, 2014
Mr. Speaker, I rise today to speak to Bill C-31, the Conservatives' first bill to implement budget 2014. Yet again, it is another massive omnibus budget bill of over 350 pages and 500 separate clauses.
I will not be supporting this bill, because it fails to address the very real challenges faced by the middle class. Moreover, it does little to help Canadian youth find jobs at a time when there is persistently high youth unemployment and underemployment. Today, there are still 264,000 fewer jobs for young Canadians than before the economic downturn.
The bill does little to help middle class parents and grandparents make ends meet and tackle record high levels of personal debt. Today, the average household owes a record $1.66 for every dollar of disposable income.
A few weeks ago, we had two weeks in our constituency offices, and 80% of my meetings were with people who are unemployed and looking for work. These were skilled people, engineers, lawyers, and Ph.D.s. There was one young man who had just graduated in nursing. Unfortunately, he could not afford the $500 for the exam. As a result, he could not work in the field for which he had studied so hard.
I cannot be clearer: people in my community have education, are skilled, and are desperate to work, but they cannot find jobs. Instead of the government putting new programs in place, support services are being cut in my Etobicoke North community. I have gone to the minister several times on this issue, for both settlement programs and job programs.
During those past two constituency weeks, we needed to get weekly food programs for five families. They did not ask for the help, but I realized the need when I reviewed their resumés and saw the last time they had worked and the number of family members they needed to feed.
Four individuals asked for counselling to deal with their depression as a result of not having a job, and one talked of suicide.
I will bring up one more case. A refugee woman, 18 weeks pregnant, bled through the night. She was afraid to go to the hospital because she could not afford the health care. Now she is afraid of getting an ultrasound because she cannot afford to pay for it.
The Conservatives' changes to Canadian society do not happen in a vacuum. They impact real Canadians who are hurting. The government needs to learn to see the hurt and to respond.
Our community is seeing real economic challenges. The government seems out of touch when it talks about this recovery as if it were a uniform recovery that is affecting and helping people in all regions of the country. The reality is that there are groups that are simply being left behind. A lot of families are struggling just to get by.
University graduates have come in to get help after being out of school and out of work for two years. Grandparents have come on behalf of their grandchildren—the first in the family to graduate from university and college—asking why they had fled their country of origin to come to Canada, the land of promise, so their children could have an education, but now that they have an education, they still do not have a job.
The people in my constituency need jobs. I have worked hard to get them jobs. In fact, I obtained funding for a completing the circle program, a $500,000 job program in our community. I personally review and edit resumés late into the night, sometimes doing two and three drafts. We get our people into jobs programs. We follow up with them to make sure their job searches are going in the right direction.
While they search, we help them with food, clothing, and whatever other supports they might need. We should all remember that we have seen a 31% increase in food bank usage since 2008.
At critical times, I have personally bought bedding, food, furniture, and medicine to help hurting Etobicoke North families. We had one lady come looking for help. She was in agony due to an ear infection that had raged for three weeks. She had pus and blood running down her face. The sad reality is that she could not afford antibiotics because she could not find a job.
I have MS patients who cannot take their drugs because they cannot work. How many more stories are there like theirs?
What I was looking for in the budget implementation bill, first and foremost, was real help for the people of Etobicoke North for jobs. Instead, we have over 350 pages with 500 separate clauses. Once again, my constituents are saddened by the fact that this is an omnibus bill with multiple sections that deserve full and proper hearings in committee and full parliamentary scrutiny.
Bill C-31 includes numerous measures that do not belong in a budget implementation bill; for example, rules about food safety, hazardous products, rail safety, and even the number of federal judges. The bill continues the Conservatives' battle against openness and transparency by weakening requirements to consult and inform Canadians about safety regulations and user fees. These changes have nothing to do with the implementation bill and are meant only to limit debate on important issues to Canadians. The Conservatives chose this anti-democratic route in order to adopt the bill's measures quickly and to avoid having them reviewed by Parliament.
The Conservatives have repeatedly abused Parliament by ramming through outrageous omnibus bills. For example, a few years ago the government introduced an 880-page omnibus bill, a grab bag of bills the government wanted to pass quickly. In fact, it was half the entire workload of Parliament from the previous year. As a result, the government was severely condemned for turning the legislative process into a farce.
More recently, the government introduced Bill C-38, the 400-plus page omnibus budget implementation bill. Through the bill, the government sprung sweeping changes on our country, affecting everything from employment insurance, to environmental protection, to immigration, to old age security. None of these changes were in the Conservative platform. They were rushed into law by "an arrogant majority government that's in a hurry to impose its agenda on the country".
The government's actions reek of hypocrisy. In the 1990s, the right hon. member for Calgary Southwest criticized omnibus legislation, suggesting that the subject matter of such bills is so diverse that a single vote on the content would put members in conflict with their own principles and that dividing the bill into several components would allow members to represent the views of their constituents on each part of the bill. The right hon. member is now using the very tactics he once denounced. It is a shame that he changed his tune when he was elected to the highest office in the land.
One newspaper previously stated that omnibus bills are:
...political sleight-of-hand and message control, and it appears to be an accelerating trend. These shabby tactics keep Parliament in the dark, swamp MPs with so much legislation that they can't absorb it all, and hobble scrutiny. This is not good, accountable, transparent government.
In this omnibus budget implementation bill, Bill C-31, parliamentarians are being asked to consider measures including compassionate leave, expansion of the adoption expense tax credit, medical expense tax credits, and sickness benefits. We would actually be supportive of these measures as individual measures, but unfortunately these positive measures are being lumped together with some very unreasonable, harmful, and regressive measures that we cannot support.
Like the omnibus bills before it, Bill C-31 includes corrections to mistakes in previous budget bills.
For the people of Etobicoke North and for young people across Canada, Bill C-31 offers very little. My constituents and Canadians need better and deserve better.
South Sudan April 3rd, 2014
Mr. Speaker, the United Nations fears that South Sudan is imploding, but with so many competing crises around the world, it is getting scant media attention.
Political divisions within South Sudan have resulted in heavy fighting and mass atrocities, committed by rival pro-government and anti-government forces. Ethnic mobilization threatens wider intercommunal violence. Communities face horrendous suffering, including disease and malnutrition.
With the rainy season imminent, the desperate situation will only get worse. Life-saving supplies must be deployed to the hardest to reach in order to avert a humanitarian catastrophe. Air drops are taking place now, and famine is probable.
The international community has a special obligation to South Sudan, as it is a new and young country. I urge this House to come together to encourage the international community to work toward a successful peace and reconciliation process and respond to the changing humanitarian needs in South Sudan.
Citizenship and Immigration March 27th, 2014
Mr. Speaker, yesterday, the Minister of Citizenship and Immigration refused to rule out the ridiculous idea of imposing language requirements on the spousal sponsorship program, when questioned by my colleague from Markham—Unionville. Aside from criminality or age, the state should not impose conditions on who Canadians can marry and bring to this country. This harmful policy will only serve to keep families apart.
Will the minister now clearly commit to not imposing this draconian requirement?
Employment March 25th, 2014
Mr. Speaker, before the recession, the unemployment rate for recently arrived immigrants was 12%. Today it is 16%. In the last two weeks, 80% of my meetings were with people unemployed and looking for work. These are Ph.D.s, lawyers, and one nurse who had graduated but could not afford the $500 for the exam, all looking for work, in need of help to feed their families.
When will the government start addressing the needs of new Canadians?
Petitions March 25th, 2014
Mr. Speaker, every year roughly 800 children are born with cerebral palsy in Canada, meaning that 50,000 Canadians currently live with CP. Canadians with CP often need special resources to maintain their productivity, including special education, aids, and environmental adaptations. The average lifetime costs for each Canadian with CP are conservatively estimated to be $1.5 million for medication, therapy, adaptations, and equipment. The petitioners call upon the government to work with the provincial and territorial health ministers and all stakeholders to develop a comprehensive pan-Canadian strategy for CP, including better diagnosis, treatment and support, and a national awareness day.
Questions Passed as Orders for Returns March 24th, 2014
With regard to Canada's Muskoka Initiative: (a) what definition of family planning services is the government using; (b) what are the top five projects recipient of family planning funding and their amounts; and (c) regarding the $5 million Canada has pledged to fight early and forced marriage, is this new funding or redirected from funds under the Muskoka Initiative?
Questions on the Order Paper March 24th, 2014
With regard to the National Action Plan on Women, Peace and Security (NAPWPS) released on October 5, 2010: (a) will the government issue annual reports on this plan, (i) if so, when will the annual reports for fiscal years 2011-2012 and 2012-2013 be issued, (ii) if not, why not; (b) what plans have been made for the mid-term review, particularly the scope, terms of reference, dedicated resources and schedule; (c) will Canadian civil society organisations be consulted or involved in conducting the mid-term review, (i) if so, when will these consultations begin, (ii) if not, why not; (d) what section, program or directorate within the Department of Foreign Affairs, Trade and Development structure is responsible for coordinating the implementation of the NAPWPS; (e) in terms of previous commitments and new commitments, what resources have been committed and disbursed to support the implementation of the NAPWPS, broken down by fiscal year and department; and (f) will the government commit to making public the results of the mid-term review?