Kirsty Duncan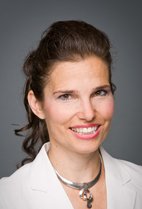 House of Commons photo
Track Kirsty
Your Say
Elsewhere
Crucial Fact
Her

favourite word

is health.
Liberal
MP for Etobicoke North (Ontario)
Won her last election, in 2011, with 42.40% of the vote.
Statements in the House
Ebola Outbreak September 15th, 2014
Mr. Speaker, my colleague is right. Dr. Margaret Chan, Director-General of the World Health Organization, said the Ebola outbreak is "the largest, most complex and most severe we've ever seen" and is racing ahead of control efforts. The UN coordinator for the Ebola response estimates the cost to respond at $600 million and will require several thousand people to scale up our response three to four times.
The WHO assistant director-general for global health security said, "We don't have enough health workers, doctors, nurses, drivers, and contact tracers" to handle the increasing number of cases. Insufficient health personnel and facilities to care for the growing number of cases is fueling the spread of the epidemic, as families are forced to care for patients at home.
In light of this being the most severe outbreak, as he points out, will Canada provide more money and additional health personnel?
Ebola Outbreak September 15th, 2014
Mr. Speaker, I thank my colleague for his very thoughtful speech. Money and materials are important, but these two things alone cannot stop Ebola virus transmission. The World Health Organization said that human resources are clearly the most important need. Doctors and nurses are needed. The World Health Organization is hoping that Cuba's offer of 165 people will catalyze additional offers of support from other countries.
The government has heard all night that more needs to be done. Will Canada provide more money? The $5 million is not enough. That is the most recent investment. We have asked many times how many people, specialists, the government has sent. We have yet to get an answer tonight. Will the government send a field hospital?
Ebola Outbreak September 15th, 2014
Mr. Speaker, according to U.S. scientists, the Ebola outbreak may last a further 12 to 18 months, although the WHO is standing by its original numbers. The director of CDC, Dr. Frieden, has said that the situation is worsening and is spiralling out of control.
The U.S. said that it will build a 25-bed, $22-million field hospital in Liberia to care for health care workers, with 100 staff and 50 more coming. France will deploy 20 specialists to Guinea. Britain will build and operate a 62-bed hospital in Sierra Leone.
We have a critical shortage of trained health professionals. I wonder if Canada will help with the field hospital. How many specialists has Canada sent, and will Canada do more?
Ebola Outbreak September 15th, 2014
Mr. Speaker, a few days ago the World Health Organization issued a plea for more health workers. The key to beating the disease, said the World Health Organization's Margaret Chan, is people power. Pledges of equipment and money are coming in, but 500 to 600 foreign experts and at least 1,000 local health workers are needed on the ground. The number of new patients is moving far faster than the capacity to manage them. We need to surge at least three to four times to catch up with the outbreaks.
I am wondering if my hon. colleague knows how many specialists Canada has sent. I did not get any answer. Is that number enough? If there are Canadian specialists who want to go, is the government helping them to be able to do that?
Ebola Outbreak September 15th, 2014
Mr. Speaker, the World Health Organization says that every 70 beds devoted to Ebola patients require between 200 and 250 staff to care for them properly. Many of those workers could be local, but there is an enormous need for outside expertise as well.
Médecins Sans Frontières has facilities throughout the region. It says that the Ebola cases are surging and it cannot keep up, "They were turning [away] between 30-40 people a day in Monrovia alone...This is...untenable".
Cuba has offered to send 165 doctors, nurses and specialists to aid the outbreak in Sierra Leone. We thank all those who put their life on the line to help.
How many specialists Canada has sent? If medical specialists want to help, what is the government doing to allow them to do so?
Ebola Outbreak September 15th, 2014
Mr. Speaker, the United States has already contributed $100 million, and it will spend up to $75 million more to provide 1,000 treatment beds in Liberia, the worst-hit country, and 130,000 protective suits for health workers. The Obama administration has asked Congress for another $88 million to send additional supplies and public health experts to develop potential Ebola medications and vaccines. The CDC has 103 staff in West Africa working on outbreak control, and plans to send another 50.
I am wondering if the government accepts that the international response to the Ebola outbreak in West Africa has been inadequate and that we must dramatically scale up the response. Will the government respond to the WHO's request? It needs $600 million to respond.
Ebola Outbreak September 15th, 2014
Mr. Speaker, I wonder if the member could comment on how coercive measures, such as forced quarantines and laws criminalizing the failure to report suspected cases, impact cases and containment.
Ebola Outbreak September 15th, 2014
Mr. Speaker, that is one of the reasons we wrote to the Minister of International Development on August 3.
At that time, we asked that the minister show leadership and work across departments; we suggested Border Services and Health, for example. Unfortunately, we are still waiting for answers to that letter. I am hoping that those answers will be forthcoming.
That is why I have outlined a series of questions tonight. We have asked the same thing: Will the government show leadership, and how is it working across departments?
Ebola Outbreak September 15th, 2014
Mr. Speaker, there are many interventions that must be prioritized: scaling up isolation centres; deploying mobile laboratories to improve diagnostic capabilities; dedicated air bridges to move personnel and equipment to and within West Africa; building a regional network of field hospitals to treat suspected or infected medical personnel; and, what really needs to happen, an operationalization of the new Ebola road map.
Ebola Outbreak September 15th, 2014
Mr. Speaker, I will be sharing my time with the member for Ottawa—Vanier tonight.
I rise tonight to speak about the Ebola outbreak in West Africa where the situation is dire and getting worse every day, where the international response has been inadequate, and where the global community must dramatically scale up its response. The worst Ebola outbreak in history has hit Guinea, Liberia, Sierra Leone, and has reached Nigeria and Senegal. It has been blamed for more than 2,200 deaths. Ebola is spread through direct contact with the bodily fluids of sick patients, making doctors and nurses especially vulnerable to contracting the virus, which has no vaccine or approved treatment. Without immediate international action we are facing the potential for a public health crisis that could claim lives on a scale far greater than the current estimates and set the countries of West Africa back a generation.
As U.S. Ambassador Samantha Power said, "This is a perilous crisis but one we can contain if the international community comes together to meet it head on." As a result, she has asked the 193 UN member states to come to a meeting with concrete commitments to tackle the outbreak, especially in hardest-hit Liberia, Sierra Leone, and Guinea.
Health practitioners and scientists know how to contain Ebola and it is important that we must avoid panic and fear, but our collective response to date has not been sufficient. We must tackle Ebola aggressively and in a coordinated manner.
Very briefly, Ebola virus disease, formerly known as Ebola hemorrhagic fever, is a severe often fatal illness in humans. Outbreaks have a case fatality rate of up to 90% and have primarily occurred in remote villages in Central and West Africa near tropical rainforests. The virus is transmitted to people from wild animals and spreads in the human population through human-to-human transmission. Fruit bats of a particular family are considered to be the natural host of the Ebola virus. Severely ill patients require intensive supportive care. No licensed specific treatment or vaccine is available for use in people or animals.
Our health critic and I first wrote to the Minister of International Development on August 3, 2014, about Ebola and asked, among other requests, whether the government would consider providing additional funding to help fight the Ebola outbreak. We were pleased to see the government provided an additional $5 million in funding on August 8, 2014. I am looking forward to receiving answers to our other questions.
The needs on the ground have changed significantly since the beginning of August and Canada can and should be doing more. At that time, the World Health Organization was asking for $100 million, but it is now asking for $600 million to stop Ebola transmission in affected countries within six to nine months and to prevent the international spread of the virus in West Africa.
Moreover, in many areas of intense transmission the actual number of cases may be two- to fourfold higher than that currently reported, and the aggregate case load of Ebola virus disease cases could exceed 20,000 over the course of this emergency. The top U.S. Centers for Disease Control and Prevention official has warned that the Ebola outbreak in West Africa has become a real risk to the stability and security of society in the region.
While I recognize Canada's contributions to date, I would like to know what more the government is considering to assist its international partners to provide aid in the affected regions, particularly as the international response has been inadequate and the world is losing the battle to control Ebola.
The reality is that we need to dramatically scale up international response. Nearly 40% of the total number of reported cases has occurred within the past several weeks. UN Secretary-General Ban Ki-moon issued an international rescue call for a massive surge in assistance on September 5, warning that "the world can no longer afford to short-change global public health." Guinea, Liberia, and Sierra Leone need more doctors, nurses, beds, and more equipment.
The European Commission and the U.S. have given more than $250 million in additional funding. The U.S. has a 26-person disaster response team in place, and the U.S. military has trained 230 armed forces of Liberia personnel on the proper use of personal protective equipment, safe handling of patients, securing health sites, and escorting humanitarian and medical personnel. The United States has also sent more than 70 disease control experts to West Africa who are providing technical expertise to national public health institutions and agencies to help protect and prevent the spread of the Ebola virus, and have put in place a second Ebola testing laboratory.
Does the government accept that the Ebola outbreak in West Africa has become a real risk to the stability and security of society in the region? Does the government accept that Guinea, Liberia, and Sierra Leone need more doctors, nurses, beds, and equipment?
Does the government accept that the international response has been inadequate and that we need to scale up international response? Is the government considering responding to Secretary-General Ban Ki-moon's international rescue call and the World Health Organization's request of $600 million? In light of the United Nation's international rescue call, will Canada do more to help?
Specifically, how is Canada working with other countries, particularly through the Global Health Security Action Group and the global health security agenda? How is the government working across departments and what specific departments are involved in each of preparedness, response and recovery, and what is the lead agency for each? What specific actions are each of the departments undertaking?
What is the government doing to ensure the safety of Canadians travelling to West Africa to undertake humanitarian work, commerce and trade, and to safeguard the well-being of those who are there now in areas where Ebola is spreading? What guidance is being provided to Canadians before they leave and while in areas in which Ebola has been reported? If they think they have symptoms compatible with Ebola, what should they do upon their return to Canada?
How specifically was the April 18 funding of $1,285,000 used to address the outbreak? How many specialists and in what disciplines did Canada send to work with the World Health Organization and/or to West Africa to help? How specifically was the August 8 funding of $5 million to address the outbreak spent?
What specific plans were put in place to monitor the health of the three-person mobile team from Winnipeg's National Microbiology Laboratory as they were brought home from Sierra Leone and afterward in voluntary isolation, and for how long were they in isolation?
Although the risk is low, is Canada ready to isolate and care for someone if affected? Does the Public Health Agency of Canada have a public awareness plan to help Canadians understand the prevention, transmission, and signs and symptoms of the disease?
Canada can and must do more. We are asking the government to show leadership in responding to this deadly, devastating outbreak.
As the United Nations said, a humane world cannot allow Africa to suffer on such an extraordinary scale.