Leona Aglukkaq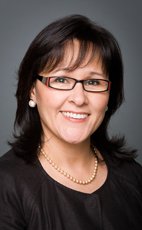 House of Commons photo
Track Leona
Your Say
Elsewhere
Crucial Fact
Her

favourite word

is environment.
Conservative
MP for Nunavut (Nunavut)
Won her last election, in 2011, with 49.90% of the vote.
Statements in the House
The Environment September 16th, 2014
Mr. Speaker, our priority is to protect the environment while keeping the economy strong. We are taking a sector-by-sector regulatory approach to reduce greenhouse gas emissions. We have taken action on some of the largest sources of emissions in the country: the transportation and electricity generation sector.
I am also looking forward to taking part in the UN climate summit in New York next week to speak to Canada's record on taking action on climate change.
Questions on the Order Paper September 15th, 2014
Mr. Speaker, the answer to part (a) is on Thursday, March 24, 2011 at 4:43 p.m.
In regard to part (b), yes, the Alberta CIC notification centre sent a summary email of the occurrence and a link to the full Suncor report to an Environment Canada environmental emergencies officer in the Edmonton office. The CIC notification reference number was 245344.
Regarding (c), the answer is none.
Regarding (d), the answer is none.
With regard to (e), information gathered during this investigation has determined that Suncor has been operating their wastewater system diligently and that the March 21, 2011, incident could not have been reasonably foreseen. Consequently, no charges were laid against Suncor. On November 8, 2011, the file was approved for closure, with no recommended enforcement action.
The answer to (f)(i) is on March 25, 2011; and (f)(ii) is November 8, 2011. Finally, (f)(iii), was answered in the response to (e).
Questions on the Order Paper September 15th, 2014
Mr. Speaker, between 2010 and 2013, Parks Canada mailed 1,531,749 passes for entry into Parks Canada places to schools with grade 8 or secondary II students, or enough passes to distribute to every eligible student. Once the passes are distributed, no registration is required to validate them. Parks Canada calculated the required number of passes in collaboration with its program partners, based on information provided by school boards about the number of eligible students, including those in split classes, in their schools. The agency has endeavoured to be inclusive of home schooling, private schools, federally funded schools on reserves and charter schools, which are not included in the 347,694 grade 8 or secondary II students reported by Statistics Canada.
The yearly totals are as follows: in May 2010, 390,365 passes were distributed; in April 2011, 381,142 passes were distributed; in March 2012, 380,639 passes were distributed; and in March 2013, 379,603 passes were distributed.
Students are not required to register their pass for use at Parks Canada places. However, based on Parks Canada's tracking systems, which include point of sale systems and manual procedures, an estimated 17,000 passes were used to enter Parks Canada places between 2010 and 2013.
To respect the privacy of minors, students entering Parks Canada places with a My Parks Pass are not required to provide their school's details. Therefore, data identifying the schools is not available.
To respect the privacy of Canadians, particularly minors, Parks Canada does not collect personal information from individuals using the My Parks Pass to enter Parks Canada places. Therefore, data on region and city is not available.
All parks and sites administered by Parks Canada participate in the My Parks Pass program through online and in-class activities. All Parks Canada places that charge an entry fee also participate by accepting the pass for free entry and discount.
Canadian Heritage September 15th, 2014
Mr. Speaker, the discovery of Sir John Franklin's long-lost ship defines our national identity. It connects us from the past to the present from coast to coast to coast.
The two ships were the only undiscovered national historic sites in Canada and finding one of the ships is an excellent example of the teamwork between our government, the Government of Nunavut, and the private sector partners who shared resources and expertise.
The oral history of Inuit ultimately pointed us in the right direction and makes our case for Arctic sovereignty stronger than ever.
The Environment June 20th, 2014
Mr. Speaker, many people forget that Canada represents less than 2% of global emissions, while the United States produces almost 20%, and that coal-fired electricity energy generation in the United States produces twice the greenhouse gas emissions as all the emissions produced in Canada.
We are pleased that the United States is following in Canada's footsteps. We will continue to build on our record and work with the United States to help reduce greenhouse gas emissions internationally.
Parks Canada June 19th, 2014
Mr. Speaker, I am very pleased to say that we have tabled a bill in the House recently that would create the Rouge national urban park in the greater Toronto area. The park is near 20% of Canada's population, enabling Canadians to connect with nature, culture and agriculture, without having to travel far from their homes. This park would be 16 times larger than Central Park in New York City. This action has been taken by our Conservative government to make this happen.
The Environment June 18th, 2014
Mr. Speaker, our government has played a leadership role when it comes to protecting our environment. In budget 2012, we committed to spending a significant amount of money to help clean up the contaminated sediments at Randle Reef in Hamilton Harbour. In the main estimates this year, we are committing even more.
We will continue to work with Ontario municipalities and industry on this project, and we will keep the community informed as the project moves forward.
Northern Development June 17th, 2014
Mr. Speaker, a new atlas of the Arctic was released last week that shows Inuit discovered the Northwest Passage even before we thought of it. There are trails and place names that are hundreds of years old and are still used by Inuit today. This proves that the Northwest Passage is very much a part of Canadian history. We will continue to claim this area as ours and ensure that northerners continue to occupy these lands today and into the future.
The Environment June 6th, 2014
Mr. Speaker, our government has made responsible resource development a priority.
We have worked with the Province of Alberta to launch a world-class scientific monitoring system for the oil sands. This is a transparent public process, which has some of Canada's top scientists involved.
These reports show that our plan is working, and we will continue to be transparent and promote independent scientific assessment and evaluation.
The Environment June 6th, 2014
Mr. Speaker, we welcome the movement in the United States to regulate greenhouse gas emissions related to the electricity sector.
Again, building on our record, we want to work with the United States on reducing greenhouse gas emissions for the oil and gas sector. Our countries should be taking action together, not alone.
This is consistent with what we are already doing, aligning with the United States on greenhouse gas emissions regulations in the transportation sector. For example, 2025 passenger vehicles and light trucks will emit about half as many greenhouse gas emissions in Canada compared to 2008.