Maxime Bernier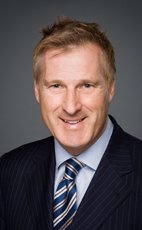 House of Commons photo
Track Maxime
Your Say
Elsewhere
Crucial Fact
Conservative
MP for Beauce (Québec)
Won his last election, in 2011, with 50.70% of the vote.
Statements in the House
Tourism Industry May 8th, 2013
Mr. Speaker, our government and I understand that keeping taxes low for Canadians and properly managing public funds to achieve a balanced budget result in jobs and wealth.
At the same time, we want to ensure that organizations such as the Canadian Tourism Commission have the funds required to promote our country abroad.
I would like to say to my colleague that spending on Canada's tourism industry has increased in the past 10 consecutive quarters. That is good news. He should be pleased about that.
Tourism Industry May 7th, 2013
Mr. Speaker, I just want to let my colleague know that the mandate of the Canadian Tourism Commission is not to promote tourism in Canada. It is to promote Canada outside our country; it is to promote our country to our visitors. That is the mandate of CTC. He must know that and it is doing that very well. The numbers are increasing. We have more visitors from abroad and I am very proud of the work done by the CTC.
Tourism Industry May 7th, 2013
Mr. Speaker, I am pleased to tell my hon. colleague that I recently had the opportunity to travel to India with the Canadian Tourism Commission. I saw Canadian exporters selling their goods to Indian buyers and inviting them to come to Canada. I can say that the number of foreign visitors, especially from India, is on the rise, as is the number of visitors from China.
We asked the Canadian Tourism Commission to focus its efforts on these emerging markets because people who come to visit Canada from those countries stay longer and spend more money visiting the wonders of Canada.
Pensions May 7th, 2013
Mr. Speaker, on the contrary, we are using appropriate fiscal measures to work for all Canadian workers.
I invite my colleague to vote in favour of the budget. He will still have an opportunity in the coming days to vote in favour of the legislative measures that will enable the government to support Canadian workers and help them find jobs. As for the labour-sponsored funds, I would like to remind my colleague that $8.8 billion was allocated to labour-sponsored funds in Quebec, in order to invest in businesses, and that amount will remain.
Points of Order May 2nd, 2013
Mr. Speaker, I would like to rise to ask the hon. member for Rosemont—La Petite-Patrie to apologize to Canadians and to the members of the House for using unparliamentary language during question period.
I cannot be more specific. I asked him to apologize. I could repeat his unparliamentary language, but he used very vulgar language in the House. I am asking him to apologize immediately.
Canada-U.S. Relations April 23rd, 2013
Mr. Speaker, our government will vigorously lobby against this proposal. Our government sees red tape for businesses and Canadians at the border. This is not the time to have this kind of proposal in force.
That is very important because the two countries do over a billion dollars in trade of goods and services every day. We must continue in that direction and promote free trade. That is what we are going to do.
Education April 23rd, 2013
Mr. Speaker, as I said in French, all accredited post-secondary institutions in Canada were eligible for funding under the knowledge infrastructure program.
In the 240 colleges and universities that benefited from that program, the student codes were not considered as criteria for receiving funding.
Education April 23rd, 2013
Mr. Speaker, all post-secondary schools accredited by the provinces and by our government under the knowledge infrastructure program have followed the same rules. The student code was not a factor in obtaining funds under the program. We focused on the goal of the program, which is to create jobs for the future in the knowledge industry.
Canada-U.S. Relations April 23rd, 2013
Mr. Speaker, I would like to inform my colleague that this government will do everything it can to make sure this proposal does not go through.
International trade is important to both countries. More than 8 million American jobs rely on trade with Canada. We will do whatever it takes to make sure this proposal does not go through.
Supreme Court April 15th, 2013
Mr. Speaker, the Supreme Court said that it was looking into what happened in 1982. These issues involve a former Supreme Court justice who has since died and who was on the bench under the former Trudeau Liberal government.