Maxime Bernier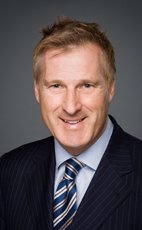 House of Commons photo
Track Maxime
Your Say
Elsewhere
Crucial Fact
His

favourite word

is entrepreneurs.
Conservative
MP for Beauce (Québec)
Won his last election, in 2011, with 50.70% of the vote.
Statements in the House
Health October 24th, 2014
Mr. Speaker, I am pleased to answer my colleague's question.
Indeed, radio frequency emissions can be hazardous to Canadians. However, I would like to point out that Canadian regulations are very modern and address Canadians' concerns.
Red Tape Reduction Act September 15th, 2014
Mr. Speaker, I am pleased to sit with my colleague on treasury board. We are all working hard to ensure that entrepreneurs can do what they do best, which is create jobs and wealth in our country. As a government it is very simple: it is more economic freedom. If people are free to realize their dreams, they will be able to do what they want to do and, at the same time, create jobs and wealth in the country. It is not a big fat government that creates jobs; it is the entrepreneurs.
To allow entrepreneurs to do what they do best, this legislation is important. Now we will reduce the burden and abolish the red tape so entrepreneurs can do what they do best, and that is great news. That is the language of our free trade agenda, our low tax agenda and red tape agenda.
I am very pleased today that we have the opportunity to vote on this excellent bill.
Red Tape Reduction Act September 15th, 2014
Mr. Speaker, I said earlier in my speech that 2,300 irritants that were affecting entrepreneurs have been eliminated, as these were measures that were no longer needed. This will give us a more effective regulatory framework.
Canada has been a country since 1867, and some legislation contains outdated regulations. We will continue to examine those outdated regulations and eliminate them. That is why we are studying this bill and the one-for-one rule here today. It is important to eliminate the outdated regulations as new ones are introduced.
Treasury Board does this kind of work every day, and we will continue to do it in order to ensure that Canada will always have an effective regulatory system in place, without any unnecessary regulations.
Red Tape Reduction Act September 15th, 2014
Mr. Speaker, my colleague and I have not been talking to the same business people. As the member for Beauce, I am lucky to be surrounded by SMEs. Many of the business people in Beauce are happy with our government's measures to foster freedom, which includes economic freedom and, of course, individual responsibility. When people are free to make their dreams come true, they can create wealth. That is what is happening in Beauce and all over Canada.
That being said, there is certainly a very heavy administrative burden on small businesses, and that is because of the three levels of government: federal, provincial and municipal. Perhaps people in the member's riding have talked to her about provincial and municipal government regulations. The federal government, however, has done its part, and I urge my colleagues in other provinces to do the same and reduce the administrative burden they place on business people.
Red Tape Reduction Act September 15th, 2014
Mr. Speaker, I was saying that these 2,300 irritants identified by the commission, with the support and the vigilance of Canadians, have been eliminated. As I said earlier, this rule was put in place in April 2012. It will now be legislated.
I would also like to inform the House that as of June 16, 2014, the reduction in administration burden under the rule was valued at more than $20 million. That is $20 million in net savings for Canadian business owners. How did we manage these savings and ensure that Canadian business owners would benefit from them? We did so by reducing and abolishing 19 regulations at the federal level. We made the regulations much simpler and easier to understand, and we ensured that the rules were written in more accessible language.
I remind members that in budget 2007, we committed to reducing the overall paper burden on businesses by 20%. I have good news about that. Our government fulfilled this commitment in March 2009. We have eliminated some 80,000 regulatory requirements and obligations. The effect has been quite simple: business owners now have more time to focus on creating wealth and jobs in Canada.
One example of these unnecessary regulations that were imposed by departments and that we abolished came from the Canada Revenue Agency. The agency has many regulations, especially for entrepreneurs. We identified more than 8,000 obsolete forms, filings and obligations that the agency required from entrepreneurs and Canadians. We simply abolished them. Now we know that when the agency is dealing with Canadians, it is treating them the way it treats every other commercial enterprise. That is to say that when an individual sends a written request to the agency about the interpretation of a regulation or a law, that person will receive a written response from the agency. In that way, the agency is serving Canadians better. When entrepreneurs have a question about how to interpret a tax law or regulation, they can simply write to the agency and it will respond within a reasonable time frame.
It seems quite simple, but these are the sorts of things that were not done before at the agency and that are done now. It means that entrepreneurs can know in advance how the agency interprets a regulation so that they can legitimately comply with it.
We also ensured that companies can now submit more than 1,200 electronic records of employment at the same time. That was a request from the associations that represent the majority of Canada's entrepreneurs. We made it happen.
In the 2011 throne speech, we also committed to reducing red tape. That commitment is reflected in the fact that the agency is now listening to the public and entrepreneurs and is responding to requests from Canadians in a timely manner.
There are many other initiatives that we have taken within the government to reduce red tape. I would like to point out that Canadians can now obtain a passport that is valid for 10 years instead of only five. That, too, will reduce red tape.
I am proud to have been able to speak to this bill, since I worked with my government colleagues to develop the bill as it now stands. It addresses the concerns of entrepreneurs. I am pleased that the one-for-one rule will be enshrined in law.
Red Tape Reduction Act September 15th, 2014
Mr. Speaker, I am very pleased to share my time here today with my colleague from Don Valley West and particularly to have the opportunity to speak to this bill.
As members are aware, I had the opportunity to chair the Red Tape Reduction Commission several months ago. This bill enshrines in law a very important rule. Of course I am referring to the one-for-one rule, which entrepreneurs asked for in consultations.
What does this rule mean in terms of regulations?
It is quite simple: any time one of my cabinet colleagues wishes to introduce a new regulation that affects entrepreneurs and business people, he or she must remove or eliminate another. That is why it is called the one-for-one rule. This will ensure that the administrative burden on businesses does not increase from year to year.
This rule has already been in effect for a year here in the government. It is a pleasure for me to enshrine it in law to ensure that it is always followed and to fulfill our campaign commitment to Canadians.
When a minister has to repeal a regulation, he or she must remove a regulation with an administrative burden that is equal to that of the regulation to be implemented. This new regulation must therefore have the same cost of compliance for businesses.
Consequently, regulations are assessed so that when the minister wants to implement a new regulation, he or she removes a regulation that carries the same weight for small businesses.
This rule was instituted as a result of the consultations that we, the members of the commission, conducted. In all, 15 round tables were held in 13 different Canadian cities, and they were attended by 189 entrepreneurs or their representatives through their associations. We also received submissions through the Internet.
We concluded that business people want less government regulation and a more efficient government that does not treat people like children by holding their hands their whole life. They want a government that respects individuals' freedom and responsibility and that treats Canadians and entrepreneurs like free and responsible people. Canadians are responsible and they know that they must obey Canada's laws. However, we must eliminate redundant regulations that affect the profitability of businesses. That is why we have introduced the one-for-one rule.
People who appeared before the commission told us that government regulations have an impact on their companies' bottom line. We all know that time is money. In a small business with less than 10 employees, filling out a form required by the state means that they are not doing what they do best, that is, working for themselves, creating jobs and being more productive. That is why this rule is in the bill and will be enshrined in law so as to ensure that the administrative burden on businesses does not increase.
During our consultations, we identified more than 2,300 clear and specific irritants. I invite members and Canadians to have a look at the Red Tape Reduction Commission's report, which provides a list of irritants specific to various federal government departments. There were more than 2,300—
Tourism June 17th, 2014
Mr. Speaker, clearly my colleague was not in Vancouver a few weeks ago during Rendez-vous Canada, the Canadian tourism industry conference. This event was a great success. The entire tourism industry was in attendance, as well as international buyers.
This tourism conference was the biggest one that has been held in Canada for years. What was celebrated? The success of the Canadian tourism industry.
Tourism June 16th, 2014
Mr. Speaker, I am pleased to say that we have a federal tourism strategy. The opposition did not support this strategy, even though it was well received by the tourism industry. It is a major industry, worth $84 billion. We are not like the NDP, who want to impose a $21 billion carbon tax that will harm the tourism industry. We will not do that. We will continue to support this industry.
Tourism June 16th, 2014
Mr. Speaker, as everybody knows, the Canadian tourism industry is on the right track. This year is one of the best. That is a fact. Visitors coming from outside the country are spending more money this year than they did last year.
We have created more jobs in this industry. When I say "we", I mean that the industry and the small entrepreneurs—the real entrepreneurs—are creating jobs.
We continue to have more travellers coming from China, India, Brazil, and America to visit our country. It is a great year for the tourism industry.
Tourism June 16th, 2014
Mr. Speaker, I thank my colleague for her question. The tourism industry appears to be important to the NDP, but what really disappoints me is that the New Democrats want to impose a $21 billion tax that will hurt the tourism industry. Their words are not consistent with their actions.
We will not impose additional taxes on the tourism industry. We will welcome tourists across Canada. This is an $84 billion industry that creates more than 608,000 jobs in Canada. This industry is important to us, unlike the NDP.