Maxime Bernier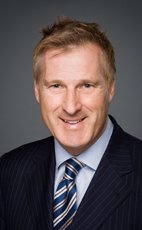 House of Commons photo
Track Maxime
Your Say
Elsewhere
Crucial Fact
His

favourite word

is entrepreneurs.
Conservative
MP for Beauce (Québec)
Won his last election, in 2011, with 50.70% of the vote.
Statements in the House
Housing February 6th, 2015
Mr. Speaker, I am a bit disappointed in the question from my colleague since she should know that this matter falls under provincial jurisdiction. This government respects the jurisdictions. The provinces are capable of working in their own jurisdictions. What is more, in 2011, the Government of Quebec launched a program to address this issue.
I would tell the people affected by this problem to contact the Société d'habitation du Québec.
Telecommunications February 6th, 2015
Mr. Speaker, I do not think my colleague has been following the debates in the House or has read the bills we introduced recently. In fact, we have a program that has existed for a few years now to help bring Internet access to northern communities and other communities in Canada that do not have it.
It is important that Canadians have Internet access, and under our government, we put this program in place to ensure that they do. I invite my colleague to look into the Industry Canada program. She will see that high-speed Internet access is available to all Canadians.
Employment February 6th, 2015
Mr. Speaker, I am pleased to respond to my colleague's question.
Quite simply, we see that the NPD's plan will not work. Their plan requires more spending and will put Canadians further into debt. The Government of Canada's debt will be paid by these people, by workers. We know that workers need more money in their pockets to stimulate the economy.
That being said, our plan is working very well because it is creating jobs. A total of 1.2 million net new jobs have been created since the recession. We will continue in that direction in order to create jobs and lower taxes for all Canadians.
Employment January 30th, 2015
Mr. Speaker, the real fact is that we have created more than one million net new jobs since the last recession. That is the reality.
This is the reality because we know it is the business sector that creates jobs and we have the right policies for entrepreneurs. It is not only me saying that. KPMG stated that the total business tax costs in Canada were the lowest in the G7, 46% lower than those in the United States.
When we have lower taxes and when we give money to entrepreneurs, they will create jobs and wealth in our country.
Employment January 30th, 2015
Mr. Speaker, that is what we have been doing since 2006. However, I would remind my colleague that the NDP voted against our budgets and our proposals to help the manufacturing sector.
For example, the NDP voted against cutting the 15% corporate income tax rate, the return of the accelerated capital cost allowance program for small business, the automotive innovation fund, the implementation of the national shipbuilding procurement strategy, and so many other initiatives. They vote against proposals that create wealth in Canada.
Employment January 30th, 2015
Mr. Speaker, the opposition is talking as if Canada were in a recession. We are not in a recession. There is economic growth in Canada and businesses are creating jobs.
Just for example, Ford is creating 1,000 new jobs and has secured 2,000 jobs at its plant in Oakville. I have also the investment for Linamar, which will create 1,000 new jobs and maintain nearly 7,000 new jobs over 10 years. These are only two companies, but I have a long list here.
The goal is to explain to the NDP that when we lower taxes and give money to businesses—
Employment January 30th, 2015
Mr. Speaker, if the NDP had read the last budget, they would not ask this type of question. Our economic plan is working very well.
What is more, I would like to tell our opposition colleagues that Dan Kelly, the president of the Canadian Federation of Independent Business, said that the NDP's plan was dumb and anti-business. That is what people in the private sector are saying about the NDP's plan and they are right. Their plan will not create wealth.
Employment January 30th, 2015
Mr. Speaker, that is not the case.
The company made a very clear commitment to us. The head office will be in Oakville, Ontario, and the number of restaurants in Canada will increase. What does that do? It creates more jobs for people in that industry. The new company will keep all of Tim Hortons' commitments to the Canadian community.
It is a good investment for Canada that creates jobs.
Employment January 30th, 2015
Mr. Speaker, my opposition colleague spoke about her party's plan.
Its plan is one that we adopted back when we came to power in 2006 and reduced corporate taxes. Lowering taxes for small businesses is something new for the NDP.
That is what we are doing. We are lowering taxes for all business owners so that they have money in their pockets and their coffers and they can invest that money. Business owners create wealth, not government spending.