Mike Lake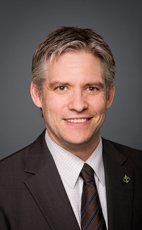 House of Commons photo
Track Mike
Your Say
Elsewhere
Crucial Fact
His

favourite word

is consumers.
Conservative
MP for Edmonton—Mill Woods—Beaumont (Alberta)
Won his last election, in 2011, with 61.00% of the vote.
Statements in the House
Victims Bill of Rights Act February 4th, 2015
Mr. Speaker, a couple of New Democrats have talked rather hypocritically about how long it takes to get legislation through the House. It is kind of interesting hearing them talk about how long it takes to get legislation through the House, when time after time they obstruct and delay, on a regular basis, the government's measures on free trade, on safety and security, on criminal justice, and on the economic action plan for this country.
The reality is that the opposition parties, the NDP in this case, particularly, are ideologically opposed to free trade. They are ideologically opposed to the security measures and finding that balance between freedom and security that were taken. They are ideologically opposed to holding those who commit crimes to account. They are ideologically opposed to lower taxes. Therefore, they obstruct and delay at every turn.
I want to ask the minister the following question: When it comes to this piece of legislation in particular, why is it so important that we move this legislation forward, that we make sure we get this legislation passed through the House and the Senate before the next election?
Consumer Protection December 11th, 2014
Mr. Speaker, on average, Canadians pay roughly 15% more for goods in Canada compared to goods available in the U.S. These price differences are real. They hurt the bottom line of hard-working families. We will continue to stand up for hard-working Canadian families.
Consumer Protection December 11th, 2014
Mr. Speaker, I thank the hon. member for Provencher for the great question. Our government believes that hard-working Canadians and their families should not be charged higher prices than Americans simply because of where they live. That is why we tabled the price transparency act, which would give Canada's Commissioner of Competition the power to investigate price discrimination and expose it.
The intentional manipulation of prices on identical goods for sale in Canada and the U.S. places an unfair burden on Canadians and is simply wrong. This government will continue to and will always stand up for the interests of Canadian consumers.
Economic Action Plan 2014 Act, No. 2 December 9th, 2014
Mr. Speaker, the hon. member comes from a party that has proposed a 45-day work year policy in relation to EI. The NDP policies would drastically increase costs for both businesses and consumers. Every expert in the country who looks at its policy would say that it is the case and would back that up.
We hope the hon. member will look honestly at Conservative policies, which have created 1.2 million net new jobs in our country. The vast majority of those are in the private sector and are full-time. Hopefully, when he takes an honest look at Conservative policies and legislation as it comes before the House, he will vote according to his conscience and with the evidence on those things, instead of doing what his whip tells him to do.
Economic Action Plan 2014 Act, No. 2 December 9th, 2014
Mr. Speaker, that is another interesting question from the Liberal Party. I would hope that, as we have the debate on this new legislation, the hon. member will read it and support it as it makes an impact on Canadian consumers in a positive way.
It would be unlike when the Liberal Party opposed measures in legislation we introduced over the course of time that had a significant impact on the prices in the wireless sector, for example, with Canadians paying about 20% less than they were paying in the past. It opposed those measures every step of the way.
It would be unlike when we have introduced measures that have been very positive for Canadian consumers, which have resulted in taxes coming down for an average family of about $3,400 every year and, again, the Liberals have opposed those measures every step of the way.
Economic Action Plan 2014 Act, No. 2 December 9th, 2014
Mr. Speaker, I find it interesting that the hon. member would ask a question regarding EI. I wonder if the hon. member has done any research into the NDP plan to introduce a 45-day work year, supported by the Liberal Party. It would increase costs dramatically for Canadian businesses and Canadian employees.
Our government has taken measures over the years that have resulted in an increase of 1.2 million net new jobs in the country, the vast majority of which are full time and in the private sector. The hon. member's party has voted against those measures every step of the way.
Economic Action Plan 2014 Act, No. 2 December 9th, 2014
Mr. Speaker, I am pleased to rise today to speak to Bill C-43 and the benefits it would have for Canadian consumers and businesses.
Our government has taken decisive action on putting Canadian consumers first. We have cut taxes nearly 180 times, which is saving Canadian families nearly $3,400 per year on average. Our government has also committed to making it easier for small and medium-size businesses to invest, innovate, grow and create jobs. We are keeping taxes low, freezing EI rates for next year, cutting red tape and returning to balanced budgets. Canada is one of the most tax-competitive countries and has the best job creation among the G7, and we will continue down that path.
Budget 2014 continued with these commitments, including consumer-focused measures to ensure that Canadian families would get value for their hard-earned dollars and measures that would help small and medium-size businesses to thrive.
Specifically, economic action plan 2014 committed to introduce administrative monetary penalties for the violation of rules in the telecommunications sector; eliminated the practice of pay-to-pay billing so Canadian consumers would not have to pay extra to receive paper bills; clarified the prohibitions against violating Industry Canada's spectrum auction rules to ensure fair and competitive bidding that would achieve the greatest benefit for Canadians; modernized Canada's intellectual property framework to better align it with international practices and reduced the burden for Canadian businesses; and continued to ensure that Canadian businesses and investors would have the market access they needed to succeed in the global economy.
I would like to take a few moments to explain these important initiatives and the benefits they will have for Canadian consumers and small businesses.
Our government is committed to ensuring that companies in the telecom sector play by the rules. That is why we are introducing new enforcement measures that will increase consumer protection in this sector. Bill C-43 would amend the Telecommunications Act and the Radiocommunication Act to provide the CRTC and the industry minister with the authority to impose administrative monetary penalties on companies and individuals that would violate the rules. Companies would face penalties of up to $10 million and up to $15 million for subsequent violations. These new measures would provide Canadian regulators with the needed tools to ensure companies would comply with the rules. They would protect Canadian consumers and support a competitive marketplace by promoting regulatory compliance and providing for appropriate remedies should violations occur.
Canadian consumers have been clear that they expect lower prices and better services from telecommunications providers. That is why our government committed to ending unfair pay-to-pay billing practices, putting the interests of Canadian consumers first.
More and more Canadians are finding a new charge appearing on their monthly bills, including their wireless bill. This fee is charged to those who receive their bill by mail. Increasingly, many Canadians are being charged for this new fee by companies from which they have been receiving service for decades.
In August, the Public Interest Advocacy Centre published a report in which it estimated that Canadians paid between $495 million and $734 million annually in fees for monthly paper bills and statements in the banking and communications services industries.
We believe Canadians should not have to pay more to receive a paper copy of their telephone or wireless bill. As such, economic action plan 2014 commits to ending this unfair practice. Bill C-43 would end these pay-to-pay billing practices by adding an explicit provision to the Telecommunications Act that would prohibit any person who provided telecommunications services from charging a subscriber for a paper bill. Any company that broke the rules would face penalties of up to $15 million.
Canadians have also been clear that they want their government to take action to ensure the provision of more choice, lower prices and better service in Canada's wireless sector. I am proud to note that our government has consistently introduced measures to support a healthy, robust and competitive wireless industry.
For instance, we implemented a use it or lose it policy to ensure that wireless companies that did not use their spectrum licences would lose them. We have been taking important steps to increase the amount of wireless spectrum available to provide Canadians with the access they need on the devices they choose.
In January, the government unveiled details of the 2,500 megahertz auction, which would benefit Canadians in urban and rural areas. In February, we announced the results of the 700 megahertz auction, the most successful auction of spectrum in Canadian history, generating roughly $5.3 billion in revenue for taxpayers and putting high-quality spectrum in the hands of at least four wireless providers in each region of Canada.
Bill C-43 would further ensure that spectrum auctions would be conducted in a fair and transparent manner, in accordance with rules of conduct, to the benefit of all Canadians. In particular, the bill would amend the Radiocommunication Act to require that any person who would be subject to the spectrum auction rules must comply with those rules or risk the imposition of an administrative monetary penalty of up to $15 million.
These measures would increase regulatory compliance in the wireless sector and ensure that Canadian consumers would benefit from better service.
Our government also understands that reducing red tape for small and medium-sized businesses is central to Canada's economic growth. In budget 2014, our government committed to modernizing Canada's intellectual property framework by ratifying five international treaties. Earlier this year, our government passed the first three of the treaties relating to trademarks, the Madrid protocol, the Singapore treaty, and the Nice agreement.
Bill C-43 proposes amendments to the Patent Act and the industrial design act to ratify and accede to the remaining two treaties, the patent law treaty and the Geneva act of the Hague agreement.
Overall, the amendments in Bill C-43 would harmonize Canada's intellectual property regime with international practices, standardizing and simplifying administrative processes to lower costs and reduce red tape for small businesses. In particular, these amendments would allow a company to file for industrial design protection in multiple countries through one single application, filed in one language and for one fee. The resulting administrative and financial savings to Canadian businesses would be very significant.
The amendments would also harmonize administrative aspects of Canada's patent regime with international standards. This would result in a simpler application process and reduce the risk of errors.
Modernizing Canada's intellectual property regime and bringing it in line with international standards will continue the work to foster an environment in which businesses can grow and succeed in the global economy. These measures will increase Canada's openness to trade and investment and further reduce barriers to the international flow of goods and services.
Our government is also committed to making it easier for small and medium-sized businesses to invest, innovate, grow and create jobs. Bill C-43 contains updates to the Business Development Bank of Canada, which will help small and medium-sized businesses grow and succeed in an increasingly competitive and global environment.
Amendments to the Business Development Bank of Canada would help provide even more flexibility to SMEs that wish to grow beyond our borders. Changes would also establish a wider variety of consulting services for SMEs to access and help the BDC better leverage partnerships with third party organizations to improve its reach into the business community.
The BDC is the only bank in Canada solely dedicated to entrepreneurs and the legislative amendments in Bill C-43 would allow the BDC to expand its support for SMEs.
In conclusion, Bill C-43 proposes amendments that fulfill a number of the government's commitments to a stronger and more prosperous Canada. These initiatives, along with the other measures contained in the bill, will have significant benefits for Canadian consumers, families and small businesses.
Agriculture and Agri-Food December 4th, 2014
Mr. Speaker, our government does understand the importance of Canada's fresh produce industry and its contribution to the economy. On this side of the House, we listen to farmers and deliver on our promises. That is why, as part of Canada's economic action plan, we introduced clear legislation to provide a single dispute resolution body that would help reduce issues of non-payment faced by the fresh produce industry.
We will continue to expand markets for our fresh fruit and vegetable growers beyond the U.S. and into new markets such as Europe and Asia. Our government is committed to supporting Canadian producers and exporters, and we will continue to review this issue.
Agriculture and Agri-Food December 4th, 2014
Mr. Speaker, I am pleased to respond today to comments by the hon. member for Malpeque on payment protection for Canadian fresh produce sellers in the United States and to set the record straight on our government's action to the fresh produce industry in Canada.
The hon. member, as usual, is clearly mistaken in saying that Canadian fruit and vegetable sellers no longer have protection under the U.S. Perishable Agricultural Commodities Act, or PACA. Canadian fresh produce sellers will still be able to access PACA benefits. PACA officials confirm that most Canadian seller disputes with U.S. buyers are settled informally and that it is only during the formal complaints process that a Canadian seller would need to post a bond.
Moreover, U.S. legislation requires all U.S. buyers to honour their financial obligations to all foreign and domestic sellers of fresh produce. Accordingly, Canadian fresh produce sellers will be treated fairly and on equal footing with all other exporters of fresh produce to the U.S.
The recent action by the U.S. does not impact Canadian buyers of U.S. fresh produce. Therefore, there are no anticipated impacts in terms of availability and cost of fresh produce to Canadian consumers or to jobs in Canada. Our government and the United States department of agriculture committed to establish comparable approaches to protecting Canadian and U.S. fresh fruit and vegetable growers from buyers that defaulted on their payment obligations. We did not commit to identical outcomes or to implement the U.S. law, as the member has suggested.
Surely the Liberal member recognizes that the Government of Canada must work within its constitutional, political and legislative framework in developing a made-in-Canada solution for Canadian produce sellers. The implementation of a single dispute resolution body would enhance the business environment in Canada by providing greater stability through a single unified set of rules governing instances of slow, partial and/or no-pay situations. This would address the majority of non-payment issues and would reduce the risk of fraudulent practices, making Canada an importer of choice.
Takeover of Stelco December 4th, 2014
Mr. Speaker, in response to the motion from my colleague regarding the acquisition of Stelco by U.S. Steel in 2007, under the Investment Canada Act, I rise today to speak to the importance of foreign investment to Canada's continued prosperity.
This motion implies that U.S. Steel's current situation is indicative of a flawed foreign investment policy. We disagree. Trade and investment, both into and out of Canada, provide the foundation for Canada's continued economic growth, wealth, and job creation. Foreign investors have recognized that Canada is open for business under the Conservative government and have been attracted to the opportunities provided by a strong, dynamic Canadian economy.
We have created a transparent, stable, and predictable economic climate that benefits both Canadian business and foreign investment. Our government is committed to creating the market conditions that will continue to attract international capital, technology, and innovative ways of doing business.
The benefits of foreign investment are well recognized. First and foremost, foreign investment creates high-paying jobs for Canadians that contribute to our overall economic productivity.
Second, foreign investment provides new capital, which Canadian firms need to fuel growth and make the investments needed to succeed in an increasingly competitive global economy. This includes introducing new technologies and innovative business practices to Canadian enterprises, which, as a result, can prove crucial to the expansion and development of important sectors of the Canadian economy. This is especially true for Canada's abundant natural resources sector and our domestic manufacturing base.
Third, foreign investment exposes Canadian businesses to the knowledge, capabilities, and management expertise of world-leading businesses. Such knowledge transfers can increase the productivity, efficiency, and competitiveness of Canadian firms. At the same time, Canadians benefit from lower prices that may result from these efficiencies and gain greater domestic access to innovative products and services.
Finally, foreign investment also provides Canadian businesses with valuable access to new markets. Canada is, and always has been, a trading nation, from our earliest days as a country. Foreign investment can play a valuable role in integrating Canadian firms into global value chains. In addition to expanding the capabilities of Canadian business here at home, foreign investment can provide an unparalleled opportunity to tap into the world's fastest growing economies and secure these markets for Canadian exports.
To reap the benefits of foreign investment, Canada must maintain the economic conditions necessary to attract foreign investment in the first place and foster a welcoming environment for such investments to thrive.
I would note that Canada's economic performance under our government has been very strong compared to our peer countries in the aftermath of the economic downturn of 2008. Since that time, Canada has achieved one of the best job creation rates and economic growth rates in the G7. This achievement is remarkable, given that it took place against the backdrop of global economic uncertainty and a slowdown in exports stemming from economic problems experienced by our key trading partners. Despite these economic headwinds, recent studies by the Bank of Canada and the International Monetary Fund note that Canada is poised to continue to be among the lead G7 countries in economic growth in the years ahead.
Canada's strong economic performance is due in large part to our government's commitment to economic fundamentals. In a global marketplace, with strong competition for foreign investment, it is crucial that Canada provide an economic climate in which Canadian and international companies can succeed and thrive. Our government has worked hard to create the necessary conditions for Canadian businesses and workers to succeed.
We have kept taxes low for Canadians and Canadian businesses to support job creation, growth, and investment in all sectors of the economy. Our government's economic action plan has resulted in significant investments to promote innovation and foster research and development. It has measures to ensure that Canadians are equipped with the skills and training they need to succeed in a globalized economy.
Businesses operating in Canada also benefit from the advantages provided by our sound financial institutions, our highly skilled labour force, and our world-leading capabilities in science and technology.
In addition to these measures, our government, through its trade agenda, is committed to open borders and free trade. History has shown that trade is the best way to create jobs and growth and boost our standard of living.
Our government has worked tirelessly to open new markets, increase exports of Canadian goods and services to global markets, and provide new and diverse opportunities for Canadian companies. Toward this end, since 2006, Canada has concluded free trade agreements with 38 countries and is pursuing trade agreements with many more, including large markets such as India and Japan.
The government will continue to bring the benefits of foreign investment to Canada by maintaining favourable economic conditions. At the same time, this government recognizes that not every foreign investment will be of benefit to Canada. The foreign investment review regime under the Investment Canada Act is a key part of Canada's economic framework. It promotes investment and ensures that Canadians reap the benefit of those investments.
Under the ICA regime, Canadian businesses can capitalize on international trade opportunities, tap into deeper pools of global capital, and obtain greater access to the resources and markets they need to expand, innovate, and create. Ultimately, foreign investment makes Canadian firms and workers more competitive in the global economy.
The foreign investments that have been reviewed and approved under the ICA have boosted Canada's productivity, created jobs, and enhanced research and development. They have also demonstrated to the world that Canada is open for business.
Our government has demonstrated its commitment to ensuring that Canadian businesses can compete in both domestic and international markets. In order to prosper, create jobs, and maintain a high standard of living for Canadians, it is important to adopt policies that encourage trade and investment. Failure to do so will harm our ability to compete worldwide and damage our prospects for economic growth and future prosperity.
Foreign investment is an important component of Canada's economic success in the present day and in the future. Our government, through its economic policies, its trade agenda, and the foreign investment review regime under the ICA, has acted to ensure that foreign investment will contribute to the economic well-being of all Canadians.
Under our government's policies, I am confident that Canada will continue to attract world-class companies with high-paying jobs, leading to the continued success, economic growth, and prosperity of our country.