Mike Lake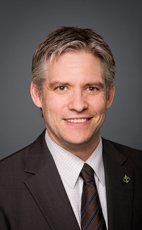 House of Commons photo
Track Mike
Your Say
Elsewhere
Crucial Fact
His

favourite word

is research.
Conservative
MP for Edmonton—Mill Woods—Beaumont (Alberta)
Won his last election, in 2011, with 61.00% of the vote.
Statements in the House
Consumer Protection November 24th, 2014
Mr. Speaker, I listened with interest as the hon. member pretended to stand up for the middle class. However, let us take a look at NDP policy. It would raise taxes by billions of dollars, as is stated in its 2011 election platform. Every single time we have cut taxes over the last four years that the member has been in the House, she has voted against that.
In the Canadian middle class, a typical family of four is now better off, to the tune of $3,400 more in their pockets every single year, than they were prior to the Conservative government being in power. That is because of the tax changes we have implemented.
I will quote Hillary Clinton, from down south. She had this to say:
Canadian middle class incomes are now higher than in the United States. They are working fewer hours for more pay, enjoying a stronger safety net, living longer on average, and facing less income inequality.
As we have taken the measures that have got us to that point, the member opposite has voted against them every time.
Consumer Protection November 24th, 2014
Mr. Speaker, I am happy to respond to the comments made earlier by the hon. member for Québec regarding our government's commitment to end pay-to-pay policies.
Let me begin by saying that this government understands that Canadian families work hard for their money and expect their government to work hard for them too, and it does.
In the 2013 Speech from the Throne, our government promised to end pay-to-pay policies so that consumers would not have to pay extra to receive their bills in paper form. It reinforced this promise in budget 2014. On October 23, 2014 our government tabled legislation to end these unfair billing practices in the telecommunications and broadcasting sectors. We could not be clearer. The legislation states that providers in these sectors shall not charge their subscribers for paper bills.
A report by the Public Interest Advocacy Centre, released in August 2014, found the cost of paper bills for Canadians to be between $495 million and $734 million annually. Canadians were clear that they found these additional charges to simply pay their bills unacceptable, and we have responded, putting the interests of Canadian consumers first.
We gave the industry the opportunity to eliminate these fees voluntarily, but it did not. Following the commitment in the Speech from the Throne and in budget 2014, we noted that our government would be following the proceedings on paper billing fees that were being undertaken by Canada's telecommunications regulator, the Canadian Radio-television and Telecommunications Commission. In late August 2014, the CRTC met with the industry to try to come to a voluntary industry-led solution to the problem of unfair fees for paper bills, but the industry could not agree to stop these charges, so we acted swiftly to table our legislation.
The legislation includes new enforcement mechanisms for the CRTC to promote compliance with the Telecommunications Act, including prohibiting telecommunications service providers from charging for paper bills and ensuring that those in violation face appropriate monetary penalties of up to $10 million for a first violation and up to $15 million for subsequent violations.
Canadians have made it clear that they expect lower prices and better service from their telecommunications providers. When consumers make decisions about how to spend their money, they deserve transparency and choice in a free marketplace.
Our government has taken action to achieve greater competition in the telecommunications sector, and Canadian families have seen lower prices and more choice. As a government, we will continue to stand up for consumer choice and competition and to promote policies that support hard-working Canadian consumers.
Science and Technology November 21st, 2014
Mr. Speaker, the assertions the member makes are absolutely not true.
Our government launched the Canada First Research Excellence Fund, a legacy investment, to ensure Canada's post-secondary institutions remain world leaders in the next decade. We provided the largest increase to the granting councils in a decade.
Again, more testament to that is that Stephen Toope, then president of UBC, said:
I applaud the federal government's decision to spur greater Canadian leadership in global research and innovation.
Amit Chakma, chair of the U15 Group of Canadian Research Universities, thanked the Government of Canada:
...on its 2014 budget and the significant investment of $1.5 billion....
Science and Technology November 21st, 2014
Mr. Speaker, here is what the experts in Canada have to say about our investments in research.
David Barnard, chair of the Association of Universities and Colleges of Canada, said that budget 2014:
...recognizes that a vibrant, innovative and competitive Canadian economy needs a world-class research system.
Paul Davidson, president of AUCC, said that with the investments in budget 2014:
...Canada is signalling to the leading research nations of the world that it intends to compete with the best....
Digital Privacy Act October 20th, 2014
Mr. Speaker, obviously, the hon. member oversimplifies the situation. We are talking about two different pieces of legislation. The government feels that this is the best way forward to get the most balanced result to the best benefit of Canadians possible.
My hon. colleague, across the way, has the opportunity to come before committee. As a member of the committee he can ask questions, move forward amendments and hopefully, we can work together to ensure that we have the soundest bill we can at the end.
Digital Privacy Act October 20th, 2014
Mr. Speaker, I am sure that while there may not be that many members taking part in the debate today, I am sure there are hundreds of thousands of Canadians watching this live on CPAC, riveted by the discussion.
Obviously, the entire process here is designed to ensure that we come up with the best piece of legislation possible. I look forward to the hon. member debating this at committee where she will have the opportunity to bring up any points that she sees are relevant.
I am glad to meet with her at any time to have a conversation on how to come up with the best piece of legislation possible.
Digital Privacy Act October 20th, 2014
Mr. Speaker, we have had the opportunity to discuss privacy issues in the past. As the member knows, the privacy legislation is very complex. By going down this road, we are giving parliamentarians and expert witnesses the opportunity to weigh-in on this important legislation before the committee process, which is open to the public, open to comment, and to have a dialogue on how to best protect the privacy of Canadians moving into the future.
It is a unique process, but one that is designed to ensure that we get the best possible outcome in this piece of legislation.
Digital Privacy Act October 20th, 2014
Mr. Speaker, I am pleased to rise today to speak to Bill S-4, the digital privacy act.
The purpose of the digital privacy act would be to strengthen our private sector privacy laws and to increase protection for Canadians when they surf the web and shop online.
The digital privacy act would provide a foundation on which the government would hold businesses to account on behalf of consumers. It would establish a new framework and new rules for how private businesses handle, use, and collect the personal information of Canadians.
This past April, the Minister of Industry launched Digital Canada 150, a comprehensive plan for Canada to take full advantage of the digital economy. It is a plan that has clear goals for Canada to be a competitive connected country by the time we celebrate our 150th anniversary in 2017.
Our government understands that when Canadians shop online or make purchases with their credit cards, they want their information to be safe. That is why we introduced the digital privacy act which would improve Canada's private sector privacy laws.
It is the unfortunate reality, in today's digital age, that we need to be more and more wary of hackers and electronic data theft.
Just this past year, businesses like Target, Home Depot and Kmart in the United States, had the credit card information of millions of people lost to hackers.
It is surprising, but under our current rules, it is not mandatory for companies to disclose the theft of this information to their clients.
Under the digital privacy act, companies would now be required to tell their clients when their personal information has been lost or stolen.
In addition, businesses would now need to report these harmful breaches to the Privacy Commissioner. Further to this, companies would need to keep a record of all privacy breaches that have occurred within their organization and the Privacy Commissioner would now have the ability to request information on any of these breaches.
The digital privacy act would also set out hefty penalties for companies that deliberately break the rules and try to cover up a data breach. Organizations would face fines of up to $100,000 per client they fail to notify that the data breach has occurred.
Let me now outline a few more ways the bill would help protect Canadians.
The digital privacy act would introduce stronger rules to protect vulnerable Canadians, like children and seniors, when they surf the web.
Many websites are focused on children, like educational online playgrounds or learning websites. Many times these websites, for marketing purposes, ask to collect personal information from the person using the website.
Under the digital privacy act, we would establish stronger rules and clarify that the wording that these companies use to request personal information needs to be simple enough that a child, or any target audience, can understand.
This means that if the consent required is too difficult for a child to understand, the consent would not be valid.
In addition, the digital privacy act would introduce limited and targeted exceptions where personal information could be shared without an individual's consent.
An unfortunate factor in our society is financial abuse. Currently, banks and financial institutions do not have the ability to alert the appropriate authorities when they suspect a senior is a victim of financial abuse.
The digital privacy act would now give an exception to banks and financial institutions to be able to alert law enforcement when they suspect someone is a victim of financial abuse.
Finally, the digital privacy act would give the Privacy Commissioner new powers to help enforce the law and make companies accountable when the rules are broken.
The Privacy Commissioner would now be able to negotiate compliance agreements with organizations that break the law. This would keep organizations accountable to their commitments to correct privacy issues.
In addition, the commissioner would now have one year, instead of 45 days, to take organizations to court if they do not play by the rules.
The digital privacy act would also give the commissioner a new ability to name and shame organizations that are not co-operating either with an investigation or with their commitments to fix their privacy issues. This would also allow Canadians to become more knowledgeable about issues that affect their privacy.
As technology and the marketplace evolve, we need to be more and more aware of how we can protect ourselves and our information.
The digital privacy act is common sense legislation that would help update our private sector privacy laws and would hold organizations to account when they lose personal information.
The Privacy Commissioner would now have increased power to help enforce the law and would also hold companies to account when they do not play by the rules.
I look forward to the continued debate in this House and to when the bill is referred to the Standing Committee on Industry, Science and Technology where we will hear from expert witnesses as we continue to discuss how to best protect Canadians in our digital world.
I hope all hon. members will join me in supporting Bill S-4.
Intergovernmental Affairs October 10th, 2014
Mr. Speaker, eliminating internal trade barriers will create jobs, boost economic growth and lead to more choices for Canadian consumers. While we are encouraged by the progress to date, there is still work to be done to strengthen our national economy and global competitiveness.
As Canada signs on to more international agreements, we must ensure that Canadian companies have the same opportunities right here at home.
Yesterday's announcement will support essential work to show how free trade within Canada will directly benefit Canadians and our families.
Regional Economic Development September 19th, 2014
Mr. Speaker, our Conservative government is focused on what matters to Canadians, creating jobs and economic growth throughout the country, including Ontario's north.
Since its creation, FedDev and FedNor Ontario have helped build a prosperous Ontario region by investing in community and economic development programs. This has helped increase business activity grow new economic opportunities and create new jobs.
Canada has the best job creation record among all G7 countries, and we will continue down that path. We hope the opposition parties will support us in that.