Mike Lake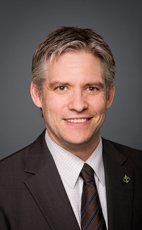 House of Commons photo
Track Mike
Your Say
Elsewhere
Crucial Fact
His

favourite word

is research.
Conservative
MP for Edmonton—Mill Woods—Beaumont (Alberta)
Won his last election, in 2011, with 61.00% of the vote.
Statements in the House
Questions Passed as Orders for Returns June 5th, 2014
Mr. Speaker, if a supplementary response to Question No. 425, originally tabled on May 14, 2014, as well as Question No. 472 could be made orders for returns, these returns would be tabled immediately.
Science and Technology May 30th, 2014
Mr. Speaker, the Prime Minister's Office apparently has some of the most qualified spin doctors in the world, because these are the top universities and researchers in Canada.
Amit Chakma, chair of the U15 Group of Canadian Research Universities, thanked "the Government of Canada on its 2014 budget and the significant investment of $1.5 billion over 10 years for the new Canada First Research Excellence Fund".
Raymond Laflamme, executive director of the Institute for Quantum Computing, apparently another PMO spin doctor, said, "As a result of the partnership established between the Government of Canada—
Science and Technology May 30th, 2014
Mr. Speaker, why do we not just let the experts comment on this?
Referring to our most recent budget, David Barnard, chair of the Association of Universities and Colleges of Canada, said that budget 2014 "recognizes that a vibrant, innovative and competitive Canadian economy needs a world-class research system".
Paul Davidson, president of the AUCC, said that with the investments in budget 2014 "Canada is signalling to the leading research nations of the world that it intends to compete with the best".
Stephen Toope, president and vice-chancellor of UBC, said, "I applaud the federal government's decision to spur greater Canadian leadership in global research and innovation".
Consumer Protection May 30th, 2014
Mr. Speaker, this government will continue to provide an economic climate that allows Canadian businesses to prosper. Furthermore, this government has acted to protect consumers at the pumps. We reduced the GST by 2%, we passed the Fairness at the Pumps Act, and we strengthened the powers of the Commissioner of Competition through substantial amendments to the Competition Act that make it illegal for competitors to conspire, arrange, or agree to fix prices, allocate customers, or restrict output of a product.
To further protect Canadians from price gouging, we increased Competition Act penalties upon conviction to jail terms of up to 14 years, fines of up to $25 million, or a combination of both. We have worked to protect consumers against anti-competitive behaviour, and the Competition Bureau will continue to enforce these measures whenever and wherever it finds evidence of behaviour that contravenes the Competition Act.
Consumer Protection May 30th, 2014
Mr. Speaker, I cannot say how excited I am to be here tonight at five minutes after midnight to respond to comments made earlier by the hon. member for Québec regarding gasoline prices.
Let me begin by saying that this government understands the importance of gasoline, both to Canadians' everyday lives and to the Canadian economy. Canadians work hard to make ends meet and expect their government to have their interests front of mind. That is why our government has taken action in light of rising energy and commodity prices by making retailers more accountable for the accuracy of their gas-pump scales and other measuring devices.
Specifically, we have passed the Fairness at the Pumps Act. It is designed to protect consumers from inaccurate measurement at the pumps by introducing mandatory inspection requirements.
We also made substantial amendments to the Competition Act in 2009 that strengthened the powers of the Commissioner of Competition to take action against anti-competitive behaviour, including price fixing. The new provisions make it illegal for competitors to conspire, agree, or arrange to fix prices, or restrict output of a product. They also increase the penalties upon conviction, including jail terms of up to 14 years, fines of up to $25 million, or a combination of both.
Enforcing the law in order to protect consumers and competition is the Competition Bureau's mandate. When the bureau finds evidence of behaviour that violates the Competition Act, it does not hesitate to take action to protect competition and consumers. We saw evidence of this when a gasoline price-fixing cartel was charged in Quebec in 2008, 2010, and again in 2012.
In June 2008, following a Competition Bureau investigation, 13 individuals and 11 companies were charged with fixing the price of gasoline at the pump in Victoriaville, Thetford Mines, Magog, and Sherbrooke. In July 2010, an additional 25 individuals and 3 companies were charged with fixing the price of gasoline at the pump in the same four local markets. Most recently, in September 2012, one additional individual and company were charged with fixing the price of gasoline in three of these markets. A total of 39 individuals and 15 companies are accused in this case. To date, 33 individuals and 7 companies have pleaded guilty. The resulting fines totalled over $3 million and six individuals have been sentenced to terms of imprisonment totalling 54 months.
In Ontario, charges of fixing the retail price of gasoline have resulted in four guilty pleas and the resulting fines have totalled over $2.5 million.
I would like to remind the hon. member that contrary to what some people may think, the federal government does not control the price of most goods and services sold in Canada, including gasoline. With the exception of a national emergency, only the provinces have the authority to regulate gasoline prices. That is why we will use the tools at our disposal to ensure that consumers are truly and effectively protected against these types of illegal activities. We will continue to stand up for consumers in this and all sectors of our economy.
Industry April 4th, 2014
Mr. Speaker, this morning the Minister of Industry announced digital Canada 150, which is focused on five key pillars: connecting Canadians, ensuring that Canadians have access to the latest wireless technologies; protecting Canadians, ensuring that their online privacy is protected; economic opportunities, ensuring Canadians have the skills and opportunities necessary to succeed in a digital economy; digital government, making Canada a global leader in using digital technologies and open data; and, Canadian content, including measures that celebrate our national story and what it means to be Canadian.
As we celebrate our nation's birthday—
World Autism Awareness Day April 2nd, 2014
Mr. Speaker, today is World Autism Awareness Day, and now 16 years since my big little boy Jaden was diagnosed with autism.
Having turned 18 in November, Jaden the adult is very much like the Jaden we have known from childhood—nonverbal and almost inconceivably innocent. For those who do not know him, Jaden is easy to underestimate. Yet, for those who invest the time to get to know him, Jaden's upside is immeasurable.
He is the friend who always believes the best, the worker who never wants his shift to end, and the student who makes all of the others better people. He is the brother who loves his sister and is not afraid to show it, and the son who every single day reminds his parents that there is incredible joy to be discovered in even life's most difficult circumstances.
Make no mistake; autism comes with profound challenges for individuals and families, too many to articulate in just 60 seconds, but as we earnestly work to address those challenges, our country will unearth a treasure of previously undiscovered unique talents and abilities. We just need to take the time to look for them.
Foreign Investment March 28th, 2014
Mr. Speaker, our government's first priority is creating high-quality jobs for Canadians and driving economic growth. Since 2005, when this government came to power, foreign direct investment is up in the following: agriculture, forestry, fishing and hunting, 46%; construction, 70%; manufacturing, 62%; retail trade, 96%; transportation and warehousing, 206%; finance and insurance, 52%; and, the hon. member might be interested to know, in mining, oil and gas, 86%.