Pat Martin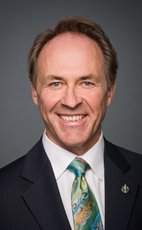 House of Commons photo
Track Pat
Your Say
Elsewhere
Crucial Fact
His

favourite word

is senate.
NDP
MP for Winnipeg Centre (Manitoba)
Won his last election, in 2011, with 53.70% of the vote.
Statements in the House
Questions on the Order Paper February 27th, 2015
With respect to electronic records and messages including, in particular, text messages, short message service (SMS), and BlackBerry Messenger (BBM), broken-down by government departments, institutions and agencies: (a) what are the departmental policies for storage and retention of these records and messages, broken-down by record type; (b) if these records and messages are stored and retained, what are the storage and retention periods; (c) is there any policy in place to protect records or messages that are of business value; and (d) are there any planned changes to these policies, and if so, what will be proposed?
Committees of the House February 19th, 2015
Yes, Mr. Speaker, I realize that I did inadvertently leave my seat briefly in the middle of debate. I can blame it on a sale that was held down at the Hudson's Bay. They had men's underwear on for half price. I bought a bunch that was clearly too small for me, and I find it difficult to sit for any length of time.
I apologize if it was necessary for me to leave my seat briefly, but I did not mean to forfeit my right to vote.
Louis Riel February 16th, 2015
Mr. Speaker, today is Louis Riel Day, and I call upon this 41st Parliament to finally set the history books straight and exonerate Louis Riel, reverse his conviction for high treason, and instead honour and commemorate his role as the founder of Manitoba, a father of Confederation and the champion of minority rights and the rights of the Métis people.
Louis Riel was a hero, not a traitor. It is now generally accepted that he was wrongly convicted and executed for high treason, murdered by the Crown in a sham trial in a case of both justice and mercy denied.
I am sure all of my colleagues in the House today will agree that it is consistent with history, justice and respect for the Métis people that this Parliament use its authority to reverse the conviction of Louis Riel and to formally recognize, honour and celebrate his true role in the building of this great nation.
Business of Supply January 29th, 2015
Mr. Speaker, I thank the House for this opportunity to recognize and pay tribute to my colleague from Sherbrooke for an enlightening speech. There is one thing on which I would like him to further comment.
In the early part of his speech he made some interesting remarks about the structure of our federation and the history. I had the opportunity to be one of the ordinary Canadians in the citizens' assembly regarding the Charlottetown accord in 1992. I remember learning a fact that the federations were the most difficult form of government to cobble together. They take nurturing.
In fact, in 1992 there were only 20 federations of all the world's countries and three of those were at risk of blowing themselves apart: the Soviet Union, which failed; Yugoslavia, which failed; and Canada, which was at risk. As my colleague from Sherbrooke points out, it is a fragile construct. The very notion of a federal state is the most difficult form of country to cobble together.
Would he comment further on the importance of robust federal-provincial negotiations to keep the fabric of a federation intact and therefore the importance of the resolution we are debating today?
Questions on the Order Paper January 26th, 2015
With regard to the government and the Canadian Wheat Board (CWB): (a) the 2011-12 Annual Report states that expenses were "offset by $177.3 million in government reimbursements", what is meant by this statement; (b) what expenses were the reimbursements made for; (c) what government reimbursements were made in fiscal years 2012-2013 and 2013-2014; (d) what total government revenues were paid to the CWB in each fiscal year and crop year between 2011 and 2014; (e) what was the objective of these government revenues; (f) on which dates and in which amounts were the $349 million, pledged by the Minister of Agriculture in June 2012, transferred to the CWB; (g) what studies were conducted by the Department of Agriculture and Agri-Food regarding the future of the CWB; (h) what public and private consultations were undertaken regarding the privatization of the CWB in 2012, 2013, and 2014, (i) who were those consultations with, (ii) on what dates; (i) what is the total outstanding amount owed to the government for credit sales undertaken by the CWB; (j) what foreign customers have outstanding credit sales; (k) what is the status of interest owed on outstanding credit sales; and (l) which body or government agency will receive the interest paid on credit sales?
Agriculture and Agri-Food December 4th, 2014
Them's the rules, Mr. Speaker.
His priority seems to be finding a cushy patronage job for none other than Sylvie Cloutier, a well-known Conservative organizer, whose previous claim to fame was helping the notorious Chuck Guité, of all people, finding the right ads to suit Conservative needs.
Would the minister start spending a little more time cleaning up the mess he has created on the Prairies and a little less time trying to find cushy patronage jobs for well-connected Conservatives?
Agriculture and Agri-Food December 4th, 2014
Mr. Speaker, I cannot believe the minister. His ideological crusade is wreaking havoc across the Prairies. The grain bins are still bursting at the seams. The quality control system has collapsed, and yet what is the minister's priority? It seems to be finding a cushy—
Agriculture and Agri-Food December 3rd, 2014
Mr. Speaker, allow me to rephrase a question from yesterday.
At first glance, we might think that it is completely crazy to give away all the significant assets of the Canadian Wheat Board to an American agrifood giant until we look at who is on the board of directors of that corporation. It is none other than the paper bag prince himself, Brian Mulroney, and then it starts to look like Conservative on Conservative shenanigans.
Now there are two options: either this monumental corporate giveaway is completely crazy or it is an unconscionable handout to a well-connected Conservative. Which is it?
Agriculture and Agri-food December 2nd, 2014
Mr. Speaker, let us see if I understand the Conservatives' business plan for the Canadian Wheat Board.
First, they take the largest and most successful grain marketing company in the world and then they give it away, free of charge, to an American agri-food giant which, until recently, was its greatest competitor.
My question is simple, and I ask it through you, Mr. Speaker.
Has the minister lost his freaking mind? Or is he that—