Paul Calandra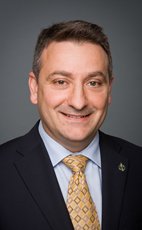 House of Commons photo
Track Paul
Your Say
Elsewhere
Crucial Fact
His

favourite word

is senate.
Conservative
MP for Oak Ridges—Markham (Ontario)
Won his last election, in 2011, with 51.10% of the vote.
Statements in the House
Committees of the House September 29th, 2014
Mr. Speaker, I will be more than happy to do that for the House, to reference those comments that were made by Democracy Watch and provide a copy to the member for Saanich—Gulf Islands and table that in the House tomorrow.
Committees of the House September 29th, 2014
Mr. Speaker, on a point of order, I would be more than happy to actually find the quote that I was referencing for the member for Saanich—Gulf Islands and table it in the House tomorrow. I would be happy to actually provide you with a copy of the quote. Before you rise in the House and impugn my reputation, you might want to take a look at what—
Committees of the House September 29th, 2014
Mr. Speaker, this is so that I can get a better understanding of what the NDP is suggesting in terms of amendments and some of the things the member talked about.
I believe the member was here in 2004. I wonder if he might talk about some of the historical context that brought about the need for an accountability act.
I do note in the House that quite often the members of the Liberal Party chastise the NDP for helping to eject the then Liberal minority government.
However, to help me better understand some of the things that the NDP are talking about in the amendments, I wonder if the member might just refresh some of us who were not here in 2004 on some of the things that were happening back then between 2004 and 2006, before this act was brought in.
Committees of the House September 29th, 2014
Mr. Speaker, the member highlighted Democracy Watch. In the last Parliament, I was on this committee and I remember asking I think it was Duff Conacher of Democracy Watch, "If you had some advice to give and somebody wanted an opinion and they said that they would give you $1,000 for that opinion, would that change your outlook?" He said, "No, absolutely not." I said, "How about $2,000?" He said no. I said, "What about $5,000?" "Well, at that point then I'd start to have to look at the opposite side of the equation." Therefore, forgive me if I do not take Democracy Watch as the lead when it comes to how an ethical government should operate.
We have a system in a place that is far better than the system that we had before. Is it perfect? Absolutely not. It is not going to be perfect. I do not think we will ever get to a place where we can say that everything that we do is perfect. However, it is fair. That also has to be one of the equations that we look at. Is the act that we brought forward fair to the people who it intends to cover? I think it is. Does it provide more information than the previous act did? Is it accountable to the people of Canada through their Parliament? I think it is. That is why I think this report and this act are good and the changes that are proposed would make the act better and stronger for all Canadians.
Committees of the House September 29th, 2014
Mr. Speaker, by and large what we have is a professional and honest public service. I do not for a second think that every single member of the public service would, at one point or at some time, be brought in front of the ethics commissioner for a conflict of interest investigation. That is not what this is about. Nor has every member of Parliament been brought in front of the ethics commissioner.
What the act is intended to do is to ensure that there are rules that have to be followed to ensure that the government and those who work with the government act in an ethical manner, that if that did not happen there would be someone who could investigate to see where the failing was, and if further action needed to be taken that would happen. That is what these recommendations highlight.
As the member said, it is something that came out of the years of corruption or mismanagement that we saw, especially highlighted throughout the sponsorship scandal and the final Gomery report.
Committees of the House September 29th, 2014
Mr. Speaker, over the last year, the member for Miramichi has spent a lot of time working on this at committee. The vice-chair of the committee, the member for Sarnia—Lambton, has been working on this committee for a long time and has truly become an expert on many of the things that have come before committee. Her input has been invaluable in helping to pursue some of the avenues that we are now attacking with respect to accountability in government since we were elected in 2006.
I would like to thank the member for Timmins—James Bay. He rightfully highlighted the fact that this government was elected in 2006 mainly on a promise of increasing accountability. It came after a time when Canadians were somewhat disappointed by the activities that they had seen from the Liberal Party beforehand with respect to the sponsorship scandal. Canadians work very hard day in and day out. They always want to make sure that the funds they send to us, that they entrust to their elected officials, are used wisely. They were rightfully outraged when information came out at the Gomery commission to show that was not the case.
In 2006, we ran on a platform of not only restoring Canada's economy and opening up new markets for our manufacturers, creating jobs and cutting taxes, but also on restoring balance in our justice system. A big part of that platform was about restoring people's trust and faith in the government and the institutions that support government. That is what brought the Federal Accountability Act forward.
The Federal Accountability Act was the first piece of legislation this government introduced after being elected. It was obviously very important. Members may recall at that time the conflict of interest commissioner, who I believe was appointed by Prime Minister Chrétien, reported only to the prime minister. He was not subject to Parliament and did not report to Parliament. He only reported to the prime minister. The prime minister at the time, I suppose, would accept reports and pass judgment on what he heard. We knew Canadians would not be confident with that mechanism.
As a result of the sponsorship scandal, we saw it was not working and that was why we passed the legislation in 2006, which subjected the Conflict of Interest and Ethics Commissioner to Parliament. Ms. Dawson, who is the commissioner right now, reports to Parliament. There was a provision in the act stating that it would have to be reviewed. It goes without saying that is something we would expect. As circumstances change, as our lives change as parliamentarians, and the tools that we use change, all pieces of legislation have to be updated. In this instance, all parliamentarians would agree that such an important act which highlights how government works in an accountable fashion, how it addresses accountability, needs to be reviewed. These things are top of mind to all Canadians. That review process is an important one.
The committee started its work in January 2013. I was not serving on the committee at that time. It took six months for the review and it finalized a report by June of that year. That report came back to committee in the fall of 2013.
The committee listened to hundreds of hours of testimony. It received recommendations from a number of individuals. By and large, we heard that people were happy with the act, but it contained some elements that needed to be addressed, some rules that needed to be clarified, and others that needed to be brought forward.
This would ensure that not just parliamentarians but the government as a whole and those who work within government, those who were entrusted to undertake the things that we have passed here in Parliament, would have that same level of accountability, because what we hear when we go back into our ridings, especially coming out of the sponsorship scandal, is that although parliamentarians are ultimately responsible for the decisions they make, what we saw in the sponsorship scandal was that parliamentarians enabled people down the line, people who work within the public service, to make decisions on their behalf, which then caused a lot of the trouble, as we saw in the sponsorship scandal.
We heard a lot of this through our consultations within our ridings and consultations at the committee. We heard that certain rules had to be tightened up and that certain people had to be brought within the scope of the Conflict of Interest Act. That is what we acted upon.
However, we also wanted to make sure that any changes reflected the fact that Canadians by and large, as well as those working under this act, could be confident that it was actually doing what it was designed to do: provide a set of rules for those of us who are elected, those of us who are ministers or parliamentary secretaries or ministers of state, to govern the way we act, the way we do our business, and to make sure that those activities are done in an honourable and ethical fashion.
I think what we have seen is that by and large, it is working. That does not mean that every single provision and every single thing that we have done with respect to improving accountability is perfect. Obviously that is why the five-year review was put in place: to ensure that we can improve on all of the things that we do.
One of the things that was highlighted, something that I think really underscores the differences between this act and what came before it, is the independence of the commissioner herself.
As I highlighted earlier in my discussion, the previous commissioner reported only to the Prime Minister. Under this act, the commissioner reports to Parliament. The commissioner can make investigations; those investigations are made public and are reported to Parliament. Parliamentarians can learn from the unfortunate mistakes that some of our colleagues might make. We can know what they did wrong or what they may have made a mistake with, and we, the rest of us, can learn from those mistakes.
Previously, that was not how it worked in this place, so that is a huge benefit over the previous system.
As I said, I reviewed a lot of the testimony, and what we heard from a lot of the testimony was very clear: we had to continue to do all we could to ensure that ethical practices were followed, that the act itself was working properly, and that this was not the time to throw out an act that was working well and completely start all over. However, some areas needed to be modified.
Recommendations came through the committee after almost a year of debate in committee. The report was finalized, if I am not mistaken, toward the end of October or early November. My colleague from Sarnia—Lambton can probably correct me if I am wrong on that. After almost a year of consideration, we came out with a report.
Obviously the opposition did not appreciate all of the recommendations that came through the majority of the committee members, but the process also allowed them to make a comment, and there was, of course, a minority report that was attached. It also becomes part of the public record for debate.
By and large, the committee actually did what it was supposed to do, what it was tasked to do. It looked at an act, an act that is a good act and that has fundamentally changed how public office holders work within government. It is transparent, it is open, and it gives clear indication to the Canadian people that their politicians, those they elect, are acting in an ethical manner, but it also says that as time moves on, we will make sure that we improve on it, and that is what we did. The committee worked in a very good fashion on this task. It took the time it needed, it listened to the witnesses that it needed to, and, after almost a year of study, it came up with these recommendations.
I think they are good recommendations. I commend the committee members, especially the member forMiramichi and the vice-chair, the member for Sarnia—Lambton, who did extraordinary work.
Points of Order September 26th, 2014
Mr. Speaker, I would like to unconditionally and unreservedly apologize to the House for my behaviour the other day. Clearly, I allowed the passion and the anger with something I read get in the way of appropriately answering the question by the Leader of the Opposition. For that I apologize to you, to the entire House, and to my constituents. I am fairly certain there will be other opportunities in the House where I will be answering other questions that you do not appreciate. I do not think it will be the last time that I will get up and answer a question that does not effectively respond to the question.
Despite what people think about kids in short pants, this was my response and I take full responsibility. I apologize to the Leader of the Opposition, to you, Mr. Speaker, and to all my colleagues.
International Development September 25th, 2014
Mr. Speaker, this week the Prime Minister has continued to galvanize global leaders and global attention to Canada's most important development initiative, that of saving the lives of children and mothers in the developing world. Both the Prime Minister and the Minister of International Development are in New York working to ensure this remains a global priority and to help build on the very successful summit, Saving Every Woman Every Child: Within Arm's Reach, which was held in Toronto.
Because of the leadership of the Canadian government, and because of the specific leadership of our Prime Minister, we are making serious achievements and helping to reach these millennium development goals.
Vasu Chanchlani September 24th, 2014
Mr. Speaker, I rise today on behalf of the Prime Minister and the Government of Canada to recognize a great Canadian, Mr. Vasu Chanchlani, who sadly passed away on September 7.
Born in India, Vasu immigrated to Canada in 1979. He soon established himself as a successful entrepreneur who directed much of his energy to philanthropy. Vasu provided generous support to university health and other research programs and helped to mentor young leaders in the Indo-Canadian community. He was a founding member of the Canada India Foundation and actively worked to strengthen bilateral relations between Canada and India. His work directly improved the lives of many people, earning him widespread respect.
We join with Vasu's family and many friends in mourning this great loss and express our profound gratitude for Vasu's contributions to our country. He represented the very best of Canada.
Parks Canada September 23rd, 2014
Mr. Speaker, as members know, Liberals both here and at Queen's Park have turned their backs on the Rouge Valley by supporting a proposal that would evict our local farmers and plant trees across 2,000 acres of class-one farm land.
We brought forward legislation that would protect the Rouge Valley and gave it the highest level of protection it ever had. We provided $140 million to make Canada's first national urban park.
By attacking our farmers and by not supporting the Rouge, those Liberals have shown that they are just like the Trudeau Liberals of the 1970s who initially evicted the same farmers from these lands.