Paul Calandra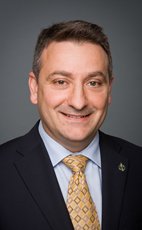 House of Commons photo
Track Paul
Your Say
Elsewhere
Crucial Fact
His

favourite word

is senate.
Conservative
MP for Oak Ridges—Markham (Ontario)
Won his last election, in 2011, with 51.10% of the vote.
Statements in the House
Rouge National Urban Park Act December 12th, 2014
Mr. Speaker, I am going to try again because I do not think the member or the NDP understands that the bill before us deals with, in essence, the 5,000 acres owned by the federal government. That land is owned by Transport Canada. It was reserved for an airport, as part of one of the largest land-grabs in the history of this country. That is what we are talking about. It has nothing to do with the provincial lands. If the provincial government does not want to transfer its lands, that is its business.
The bill before us here today would deal exclusively with those thousands of acres of land that the Trudeau Liberal government took away from our farmers 40 years ago, forcing the farmers into one-year leases. That is all the bill deals with. It would give these farmers long-term leases. The only objection is from those environmentalists, who want to take half of that 5,000 acres, evict the farmers, and plant trees. That is what we are talking about here.
Does the member actually support the NDP position, which would see half of this land reforested and those farmers who have been farming in this area for 400 years, some of them the very same farmers whose land was expropriated 40 years ago—
Rouge National Urban Park Act December 12th, 2014
Mr. Speaker, those are strange comments coming from a member whose riding, I believe, is close to Montreal. As members will recall, it was this government that returned land back to the farmers whose land was seized in order to create the Mirabel airport.
Across the Rouge, as members will recall, this is land that was seized from farmers 40 years ago. It was expropriated from them. They were turfed. They were given one-year leases.
Whether the member agrees with all parts of the bill or not, part of what is in the bill would return this land to the farmers through a Rouge national park and give them long-term leases so they could make investments. It would provide $140 million to upgrade certain parts of the park that are under provincial ownership. He talks about the province not wanting to bring those lands forward. That is fine. Even if he disagrees with that and even if the province does not bring forward its lands, what the bill would do is take 5,000 acres away from a potential airport in the east end, save it as farmland forever, and give it back to our farmers.
Surely on that basis alone—because that is the essence of the bill before us—and with the example of Mirabel, the member and his party should be able to support the bill.
Canada Elections Act December 5th, 2014
Mr. Speaker, I rise today on Bill C-524, an act to amend the Canada Elections Act, which was proposed by the previous speaker, the member for Winnipeg North.
The bill proposes to extend the regulation of advertising by parties, candidates, and third parties to periods between elections and to establish new advertising identification requirements for parties, candidates, and third parties.
The House should be aware that the Canada Elections Act already provides that parties, candidates, and third parties must identify themselves in their election advertising messages.
In my opinion, Bill C-524 is a solution in search of a problem. As a result, and due to the way the bill is drafted, I cannot support it.
I wish to identify four problems with the bill. In my view, the problems are serious and should give all members reason to oppose the bill.
The bill is too broad. The first problem with the bill is its long reach. In my view, it is overly broad. I will provide an example.
The bill targets not only partisan advertising but also issue advertising; that is, advertising on an issue with which a party or candidate is associated. Issue advertising can raise some difficult questions. All parties in this House have policies dealing with the various issues our country faces, and who is to say which party or candidate is uniquely associated with a particular issue?
Consider a fictitious organization that has as its mandate the elimination of the $2 coin. It has an advertising campaign in print media and has undertaken this campaign for some time. The question is this. How would one know if this becomes an issue associated with a party or a candidate? If a party leader in an interview said that the $2 coin was here to stay, would that be sufficient to make this an issue associated with the party? What if a senior member of the party said that eliminating the $2 coin was an idea worthy of consideration? It is not altogether clear, outside of an election period, when an issue becomes associated with a party such that the fictitious organization now becomes caught by Bill C-524. Once caught, the organization would have to comply with the new identification requirements in its advertising messages. Failure to do so would make it liable to prosecution and penalties.
These examples go to show that instead of bringing transparency, the way in which the bill is drafted risks bringing confusion and uncertainty to the regulation of third parties on matters that have nothing to do with a federal election.
The bill also would impose new costs on political expression. As mentioned earlier, the Canada Elections Act already provides that parties, candidates, and even third parties must identify themselves in their election advertising messages, yet Bill C-524 would add an American-style requirement that would impose additional costs on parties, candidates, and third parties. This would lead to less time by parties and candidates to get their messages across. Here is why.
One provision in the bill provides that, in the case of audiovisual messages, there must be an unobscured, full-screen view of the candidate, party leader, or authorized representative of the third party, as the case may be, who is making the statement. If the statement is made in a voice-over, it must be accompanied by a photographic image of the person making the statement. In addition, the statement must be clearly displayed in print form for at least four seconds at the end of the audiovisual message.
This is no small requirement. Four seconds of air time is potentially of great monetary value. That would be more than 10% of a 30-second television ad. For a 15-second spot, it represents more than 20% of the duration of the advertising. That means that a party, third party, or candidate looking to television advertisement would have to reduce the length of its already short message or may have to give up on this form of advertising altogether. The bill would unnecessarily restrict a party's freedom of speech in this regard, even when the leader already features prominently in the ad. It is a political party's choice whether to include its leader in advertising or not. There is no evidence that adopting the U.S. approach solves anything. Anyone watching U.S. political ads will immediately understand this.
Another problem with this is signage respecting electoral district associations. Even if we accept the goal of the bill at face value, the fact that it does not say anything about electoral district associations is a problem. Members will know that electoral district associations are prohibited from advertising during an election. Bill C-524 does not propose to extend this prohibition on advertising by electoral district associations outside of the election period. Instead, it proposes new regulations on parties, candidates, and third parties.
What about electoral district associations? There is a loophole that would allow them to avoid the new identification requirements proposed by the bill. A party could simply avoid the new rules by running ads through an electoral district association on the party's behalf. I am not sure that is what is intended by the bill, but it is nonetheless another way in which the bill fails to achieve the objectives of transparency and accountability that it sets out for itself.
I would like to take a moment before I close to highlight the successful record that our government has had as part of its democratic reform agenda. We have taken big money out of politics with the introduction of stricter contribution limits. We have also eliminated corporations and unions from making contributions to candidates and parties. All of this has increased the accountability of political actors in our political system.
In addition, transparency has been improved with the passage of the Fair Elections Act. We have banned the use of loans to evade donation limits. We created a voter contact registry to protect voters from rogue calls and impersonation. I was proud to have supported these measures.
I hope I have made it very clear as to why the House should not support Bill C-524. It is in part because of the many deficiencies, but primarily because it risks undermining the very goals it aims to realize.
Ethics December 3rd, 2014
Mr. Speaker, as I just said, if Elections Canada's investigation indicates that SNC-Lavalin donated illegally, then we, as we would expect the Liberals and the party of the Leader of the Opposition, will refund any of those monies.
With respect to the Charbonneau Commission, I would suggest she ask the Leader of the Opposition, the member for Outremont, who actually served as a cabinet minister in the government that is indicated in that Charbonneau Commission investigation. At the same time, I would ask her to refresh her memory, with respect to the Federal Accountability Act, which makes accepting union donations illegal.
We would also encourage the return of that $1.5 million the NDP has illegally taken from the Canadian taxpayers for satellite offices. There are areas where—
Ethics December 3rd, 2014
Mr. Speaker, I just answered that, and I just indicated that.
At the same time, I suggested that the Liberals, as well as the Leader of the Opposition's party, should do the exact same thing.
Let us remember that it was this party that brought in the Federal Accountability Act, which took out the influence of big unions and big money from the political process. Unfortunately, the NDP did not read that law because it immediately broke it by accepting some $300,000 worth of illegal union contributions. We have not even got to the $1.5 million that it still owes Canadians for illegal satellite offices.
Ethics December 3rd, 2014
Mr. Speaker, as we know, donations are limited to $1,200 a year, and those are personal donations. Our party certainly does not accept donations that do not respect the law.
At the same time, we support Elections Canada as it investigates SNC-Lavalin. If Elections Canada finds that SNC-Lavalin made illegal donations, then we, as we would expect the Liberals and the party of the Leader of the Opposition, will refund those monies.
National Defence December 2nd, 2014
Mr. Speaker, the hon. member opposite does not listen. It was actually the minister who asked the Auditor General to look at the program so that we could find better ways of providing our veterans with quicker and easier access to the programs they deserve, programs this government put in place after years of shameful mismanagement by the Liberals opposite.
When we came into office, we realized that there was a huge deficit with respect to honouring our veterans. That is why we increased funding to veterans services.
As I said, it was this minister who asked the Auditor General to come in. We identified some shortcomings and accepted the Auditor General's report, and we have made some changes.
There is better communication between the Department of National Defence and Veterans Affairs so that we can provide better and quicker access for our veterans. We are doing better. We have more work to do, and the minister is undertaking that work as we speak.
National Defence December 2nd, 2014
Mr. Speaker, I would like to point out that it was the Minister of Veterans Affairs who proactively asked the Auditor General to conduct a review of the existing mental health services and supports offered Canadian veterans by his department. I would also like to draw to the attention of the member opposite the fact that it was the minister who acted promptly and announced new and expanded mental health initiatives for veterans, still-serving members, and their families, which was a huge step forward.
The minister did not stop there. He also announced a mental health services for veterans action plan to further support these investments and to continue to be forward-thinking and proactive. We will provide more timely access to psychological assessments and treatments. Also, the new operational stress injury clinic in Halifax slated to open in 2015 in, I believe, the riding of the member opposite, as well as satellite clinics across Canada, will give veterans faster access to specialized mental health services. We will strengthen our outreach efforts, targeting the reserve force as well as families and family physicians.
We will invest in treatment and research and work with the Mental Health Commission of Canada to develop mental health first aid programs for veterans and their families. The expansion of the operational stress injury support program with 15 new peer support coordinators will also help veterans and their families seek treatment.
The member opposite highlighted a number of things. The Prime Minister today highlighted the fact that the announcement that we made recently was for $200 million. The Prime Minister also highlighted today that it would be over six years, while the member opposite talks about it being over 50 years. Here is a note to the member opposite: not all veterans' issues will be resolved in six years. It might take a little bit longer. That is why the life of this program will be longer than the six years that we announced.
He talks about funding for veterans services. This government has actually increased funding for veterans services to levels that have never before been seen in this country. When the member opposite and his party sat on this side of the House in government, they had the opportunity to respect veterans and chose to do just the opposite. That is why, when we came into office in 2006, we had to immediately set on a new course of respect with veterans. That is why we increased funding to veterans services, as I said, to record levels, and it is why we have opened up new clinics across this country. It is so that veterans have better access to services. That is why we are improving psychological services for veterans. All told, we have provided in excess of $5 billion more than the Liberals provided.
One thing we do every single year in this place is make sure that Veterans Affairs has all of the resources it needs to properly fund all of the services that Parliament has approved. We do that every single year. That is what we have done. We are very proud of the work that we have done in government, but, more importantly, we are proud of the work that our veterans and the Canadian Armed Forces have done. That is why on this side of the House we have continued to support them at record levels. We will continue to do that, not only this year but in the years to come.
Yes, the member is right. As long as we are on this side of the House, for the next 50 or 100 years we will continue to support the veterans who have made this country such a great place to live. The member is quite correct. As long as Conservatives are here, we will always stand up for veterans, whether it is 10 years, 20 years, 30 years, 40 years, or even 50 years, despite the objections of the members opposite.
Ethics December 2nd, 2014
Mr. Speaker, as I just said, there are strict personal donation limits that were brought in by this government under the accountability act. Corporate and union donations are not allowed. Anybody found in violation of that will be prosecuted to the fullest extent of the law. If SNC-Lavalin has done that, we would repay any of those funds, as we would expect of all parties.
At the same time, we were very disappointed when the NDP accepted $300,000 worth of illegal union donations, of course, in contravention of the law that we brought forward in 2006.
Ethics December 2nd, 2014
Mr. Speaker, as members know, there are strict personal donation limits of $1,200 a year. Of course, no corporate or union donations are allowed. That has been the case since 2006, when this government brought in the accountability act.
If SNC-Lavalin is found to have donated illegally, we would repay those funds, as we would expect of all parties.