Paul Calandra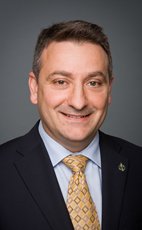 House of Commons photo
Track Paul
Your Say
Elsewhere
Crucial Fact
His

favourite word

is senate.
Conservative
MP for Oak Ridges—Markham (Ontario)
Won his last election, in 2011, with 51.10% of the vote.
Statements in the House
Geraldine Seely February 27th, 2015
Mr. Speaker, I rise to pay special tribute to Geraldine Seely, a close personal friend who recently lost her battle with cancer.
Gerri was a fighter. She fought and beat cancer once before. She overcame a kidney transplant. Even with the challenges she faced, she never lost her faith or love of life.
Gerri married Dennis in 1969, and to see them together was truly special. They were a great team who, until the end, were inseparable.
As much as we mourn her loss, we can also be inspired by her example. Gerri never stopped giving back to the community and despite the challenges she faced, always found time for others. Although only 67, she volunteered for over 45 years at our community's Markham Fair. She was a member of the church choir, a junior choir leader, hosted Bible studies at her home and facilitated others at her church.
A full day would not be enough to explain the many ways in which she touched the lives of the people around her. To her entire family, I give thanks for sharing Gerri with us. She will not soon be forgotten.
International Development February 25th, 2015
Mr. Speaker, today we are pleased to welcome to Ottawa one of our closest partners in the efforts to improve maternal, newborn, and child health, Bill Gates.
We are proud of the work our government has done with the Bill and Melinda Gates Foundation to keep these critical issues at the forefront of the global agenda and to put an end to the tragedy of women and children dying needlessly from causes that we know we can prevent.
Work by our government and the Gates foundation has contributed to the immunization of 26 million children in 46 countries since 2011 and will avert 500,000 future deaths. Our Government of Canada will continue to lead in saving the lives of mothers and children.
Government Contracts February 20th, 2015
Mr. Speaker, as I said the other day, that is just simply not true.
I suspect Canadians, and I know Ontarians, are quite nervous about the approaching Ontario Liberal budget, which, with the support of the Liberals here, will introduce a carbon tax that will cost all Canadians more money and a payroll tax that will kill business and job investment.
On the opposite token, we have a Minister of Finance who will introduce a budget very soon that will include a balanced budget, reconfirm the investments we have made in the armed forces and the fact that we have put more money into the pockets of every Canadian family. That is good news for families and good—
Captain Roy Brown February 19th, 2015
Mr. Speaker, I would like to draw the attention of the House to an incredible constituent of mine, Nadine Carter. Nadine is a sixth grade student in Stouffville who, through diligent and extensive research, has called upon the town to properly recognize World War I flying ace Captain Roy Brown.
Brown was born in Carleton Place, but after the war he moved his home in Whitchurch-Stouffville. In Brown's exemplary period of service, he never once lost a pilot under his command and was credited with shooting down Manfred von Richthofen, otherwise known as the Red Baron.
Since that time, his memory has sadly gone unrecognized in my home town, where he lived out his life. Now, thanks to Nadine, I am working with the town to ensure this oversight is corrected.
Members of this place, of course, know the importance of remembering our heritage and especially remembering those who risk their lives for our freedom. I ask all members to join with me in thanking Nadine Carter for her exemplary research and service to our community.
Reform Act, 2014 February 18th, 2015
Mr. Speaker, I am pleased to participate in the debate today on Bill C-586, Reform Act, 2014.
I, too, would like to echo the comments of previous speakers by acknowledging the member for Wellington—Halton Hills for the hard work, dedication and spirit of collaboration he has brought to this process on the bill. The spirit of collaboration is a major reason why we have reached this point today.
There have been a number of changes to the bill from its first iteration, Bill C-559, as amended, and is much different than the original version that was introduced.
I believe the changes that were made are extremely important because they recognize that parties must have the freedom to organize themselves as they see fit. What works well for one party may not work well for another. A one-size-fits-all approach does not work, which is why I fully support the bill as amended by the Standing Committee on Procedure and House Affairs.
With my time, I will focus on some international examples that are relevant to the content of the reform act, 2014.
It is clear that in developing this legislation the member for Wellington—Halton Hills looked at current practices in Canada and examples in other countries with a Westminster form of government.
On the review of party leadership issue, the hon. member referenced the existence of rules in other countries to empower caucuses. If we examine the international examples, it is quite remarkable to note the number of different rules that exist in different countries and among different parties. In fact, there are about as many different approaches to issues such as leadership review as there are political parties.
For example, in the United Kingdom, all of the major parties have different rules for leadership removal. For the United Kingdom Conservative Party, a vote by 15% of Tory MPs can trigger a leadership review and a leader can be dismissed upon a majority of those voting by secret ballot.
For the Labour Party, a leadership contest can be triggered if a challenger collects nominations from 20% of Labour MPs. The party leader is replaced if the challenger receives a majority of votes using an alternative vote system in an electoral college consisting of Labour MPs, members of the European Parliament, party members and members of affiliate organizations.
The Liberal Democrats take yet a different approach. A leadership contest can be triggered by a majority vote of Liberal Democratic MPs or if 75 local party organizations write to the party president calling for a leadership contest.
Political parties in Australia and New Zealand also have rules that set out thresholds for the review of party leaders. However, as is the case with the United Kingdom, the rules are different from party to party.
The rules of the Australian Labour Party, for example, require the support of 75% of caucus members to initiate a leadership review of a governing leader or 60% to initiate a review of a leader in opposition. These thresholds were increased in 2013 from the previous threshold of 30% because the party believed the threshold was too low and contributed to leadership instability.
To give an example from New Zealand, the rules of the New Zealand Labour Party provide that a leadership election is triggered upon a vote of 50% plus one of caucus members. The party also has an automatic leadership review by caucus after three months of a general election, where the votes of 60% of caucus members are required to endorse the leader.
The experiences in Australia and New Zealand, like the U.K., show that a one-size-fits-all solution does not work. It is important that parties have the flexibility to determine the rules that govern them.
Bill C-586, as amended by the Procedure and House Affairs Standing Committee, respects that important principle.
Mr. Speaker, I believe there are important lessons that can be taken from the international examples. First, there is the simple fact that while rules do exist in other Westminster systems, they differ quite a lot from party to party. The example of all parties in the U.K. shows us just how varied approaches can be to the same issue in the same country.
In some cases, the votes on leadership reviews are taken only amongst MPs, while in other cases parties involve the wider party membership in these decisions. There are also considerable differences in how those votes are conducted.
It is also important to note that the rules that govern the parties have changed over time and I suspect they will continue to evolve in the future. This is best exemplified by the dramatic differences in the threshold for party leader review made by the Australian Labour Party in 2013.
It is important that political parties have the freedom to make their decisions about what type of approach they would like to pursue. Bill C-586, as amended, would do this.
I would like to take a moment to turn to our government's strong, democratic reform record. We walk the walk when it comes to empowering members of Parliament to bring forward ideas and issues important to them and to their constituents. For instance, the Globe and Mail analyzed 162,000 votes over almost two years which showed that members on this side of the House were far more likely to vote independently from their party than were opposition MPs. As well, more backbench MPs have passed bills into law through this majority Conservative Parliament than in over 100 years, the time for which such records are available.
The bill of the member for Wellington—Halton Hills has precipitated important discussion and debate on matters that affect us all. I have listened carefully to the views of my colleagues on both sides of the House regarding the changes that have been made to the reform act, 2014. In my opinion, the changes that were made have improved the bill and take into account concerns that have been raised.
For this reason, I urge all my colleagues to support the bill.
Government Contracts February 18th, 2015
Mr. Speaker, let me just get this straight. It is 2:45. We are a number of months ahead of an election, and the best the Liberals have is they want to see a copy of a great speech, apparently, that the Minister of Natural Resources gave.
They do not want to talk about cutting taxes. They do not want to talk about the fact that we are giving parents, every single family in this country, more money in their pockets. They do not want to talk about the massive infrastructure program the Minister of Infrastructure, Communities and Intergovernmental Affairs has brought forward. They do not want to talk about the mission we are taking right now in Iraq.
The best they have is "Can you please send us a copy of a speech that was given by the Minister of Natural Resources?" I will take a look, and I will see what other great speeches he has delivered.
Government Contracts February 18th, 2015
Mr. Speaker, again, of course we expect all Treasury Board guidelines to be followed.
When it comes to giving speeches and being paid for those speeches, I suggest that the member actually ask the leader who sits in front of him, who we know accepted huge contracts, while being a member of Parliament, to speak at places like school boards, unions, and churches.
We are going to focus on what matters to Canadians: safety and security and the economy. Our plan has created over 1.2 million jobs. We are getting people back to work. We are cutting taxes. We are investing in infrastructure. We are going to continue to do that for a very long time to come.
Government Contracts February 18th, 2015
Mr. Speaker, we expect all Treasury Board guidelines to be followed. Having said that, we know that the Liberal Party still has some $40 million of taxpayer funds outstanding. Now that there is a new member over there, I wonder if she might help them search for that $40 million, maybe give them a bit of a leg up.
Health February 6th, 2015
Mr. Speaker, we understand how important these issues are, and that is why we have made significant investments with our provincial partners in mental health issues.
At the same time, one of the most important things we have done since taking office in 2006 is to reverse the decade of health care cuts that was a hallmark of the Liberal government. We have increased transfers to our provincial partners by about 6% a year. We are going to continue to do that in the future because we understand how important health care is to Canadians.
Taxation February 6th, 2015
Mr. Speaker, let me thank the member for Wild Rose for sticking up for Canadian families each and every day in the House.
We know that the NDP has long advocated a job-killing carbon tax, but recently we also learned that the Liberal leader not only supports a job-killing carbon tax, but is actually encouraging his provincial comrades to bring in the exact same scheme.
Our government is going to continue to focus on families. The changes that we have made and the investments we are making will give Canadian families an extra $1,200 in their pockets. Those are real benefits, that is real change. Canadians know that they can continue to count on us to provide more money in their pockets so they can invest in their priorities.