Paul Calandra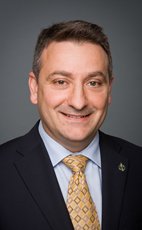 House of Commons photo
Track Paul
Your Say
Elsewhere
Crucial Fact
Conservative
MP for Oak Ridges—Markham (Ontario)
Won his last election, in 2011, with 51.10% of the vote.
Statements in the House
Port of Montreal April 9th, 2014
Mr. Speaker, the president of the Port of Montreal is appointed by the board, and it did not appoint Mr. Abdallah president.
Halvor Moorshead April 9th, 2014
Mr. Speaker, today I rise to honour and remember my dear friend Halvor Moorshead, who was a strong-spirited, community-minded man and a true friend to all. This past March, Stouffville lost a dedicated community leader and volunteer.
Halvor held a lifelong passion for genealogy and cutting-edge technology, which he was happy to share with anyone who was interested. Throughout his life, he was a dedicated magazine publisher in the fields of genealogy and technology. After a successful career as an editor and publisher, Halvor retired from publishing in 2008, and to Stouffville-ites, he came to be known as a voice of WhiStle Radio, where he served as chair of the board of directors and as a community host. Halvor had a great passion for our local community radio, and I was glad to have been able to share time with him both on and off the air.
Halvor will be sadly missed by all who knew him, but I am personally honoured to have called him a friend.
Telecommunications April 7th, 2014
Mr. Speaker, it is an honour to rise today to announce to the people of my hometown, Whitchurch-Stouffville, that the proposed nine-storey cell tower that was going to be built in our historic downtown will not be proceeding at this time.
I want to take a moment just to congratulate and thank Rogers, which has been a good partner on this issue. Rogers took the time to listen to the residents and took the time to meet with me. On the weekend, over 100 residents came to our local town to talk about both the need for improved infrastructure and the need to preserve our historic downtown.
I am very proud of the work that the entire community did. Again I want to congratulate and thank Rogers for taking the time not to proceed at this time and to work with us, to work with me, and to work with the community to find the appropriate location for this tower going forward.
Economic Action Plan 2014 Act, No. 1 April 4th, 2014
Mr. Speaker, it is always interesting to hear the member speak as an Ontario member of Parliament. I recall when the member was a minister in the Ontario NDP government that almost bankrupted the province of Ontario, that saw a million people on welfare, that saw millions of people lose their jobs and promise after promise broken.
This is a member who just criticized the fact that we are giving Canadians $100 extra every month. She criticized that. She criticizes the fact that we have increased funding for our veterans by $5 billion. She criticizes and votes against the good work done by the Minister of International Trade, who signs new free trade deals that tremendously benefit her region of the country. An incredible investment is being made. The deal that the minister signed recently will help manufacturers in her own riding, and she will stand to vote against that as well.
On every measure that counts when it comes to job creation, protecting the environment, protecting manufacturers, or enhancing the economy, the member votes against it. Her party has a record of destroying economies.
Health April 3rd, 2014
Mr. Speaker, I want to congratulate the member for Oakville for the incredible work he has done since 2008, helping to turn back the billions of dollars in health care cuts that were, of course, the hallmark of the Liberal time in office.
As members may know, I am the father of two beautiful young girls. As a father I try to make healthy food choices for my family.
Our Minister of Health has been doing some excellent work on this file. Part of that work has been hosting consultations with mothers and fathers across this country so that we can do our best to improve labelling. The minister's consultations will be a major part in meeting our throne speech commitment to making sure parents have the knowledge they need to make the right choices.
Business of Supply April 1st, 2014
Mr. Speaker, I seek unanimous consent to table, in both French and English, two pages of fares from WestJet indicating the actual costs. The member for Newton—North Delta just said that there were no such fares. There are some 12 fares.
I seek unanimous consent to do that so that I can provide the additional information that the member was just looking for.
Business of Supply April 1st, 2014
Mr. Speaker, yes. The Prime Minister is not supposed to just stay in Ottawa. The Prime Minister, like any other Canadian, is entitled to take time off. He is entitled to vacation. His job is not to sit at Sussex Drive like some kind of captive and not move, and God forbid he should actually take a flight somewhere else. He does not have the option to call up WestJet and book a flight. He does not have that option. He can only travel on secure government aircraft. He has no other option.
What the member is saying is passing ridiculous. She herself admitted that she had not researched any part of this issue. She had no idea of who was actually on the Challenger jets, yet she is coming before the House trying to waste an entire day on a topic she did not even research.
Business of Supply April 1st, 2014
Mr. Speaker, the Prime Minister of Canada can only travel on a secure government jet. He can only travel on the Airbus or the Challenger. He has no opportunity to travel on any other type of government aircraft.
Is the hon. gentleman suggesting that when the Prime Minister of our country travels on the Challenger jet, no one can travel with him? In essence, what the opposition is saying is no one can ever travel with the Prime Minister. He cannot have any friends, and if he does, it is not good enough just to pay what a commercial equivalent would be. One would have to pay thousands of dollars more, so no one would ever be allowed to be on that Challenger jet. That makes no sense.
I do not think Canadians would expect that type of standard. Canadians understand the job of a prime minister is a very difficult one. When they look at what we have done by reducing the use of the Challenger jet by some 75%, allowing us to actually sell four of the six jets, and when they look at the thousands of dollars the Prime Minister has personally repaid because he is forced to travel in this fashion, they know we are on the right side of Canadians. They look at this motion and see a silly NDP doing silly things to try to score cheap political points. That is why the NDP will always be on that side of the House.
Business of Supply April 1st, 2014
Mr. Speaker, this is a close personal friend of the Prime Minister. He has been a long-time close personal friend from long before he was actually elected Prime Minister, long before he was elected leader of our party, and long before he was elected leader of the Canadian Alliance Party before that. Is the NDP actually suggesting that once one becomes Prime Minister of our country, one is no longer entitled to have friends and that is all done? Does the Leader of the Opposition not have his friends over to Stornoway, the government-funded residence for the Leader of the Opposition? Does he not bring people in his taxpayer-funded limousine? I think he probably does. I do not think there is anything wrong with that.
The Leader of the Opposition himself indicated that it was five times over eight years. We are devoting one full day of debate in the House of Commons to discuss five occasions when a good friend of the Prime Minister was on a Challenger jet with the Prime Minister and actually repaid the cost of that flight. When Canadians take a look at this, they will understand and know full well why they can no longer trust the NDP. It is because they stand for nothing.
Business of Supply April 1st, 2014
Mr. Speaker, I too want to say a couple of words of congratulations to the member for Scarborough—Agincourt on his many years in this place. One thing is for certain, that his love and affection for his family is something that we have all known and something that, when I was first elected, he talked to me about. I congratulate the hon. member and wish him good luck.
I want to complete what I was talking about before question period, and that is how disappointed I am that a motion like this was brought forward in the House. An entire day has been devoted to talking about the fact, as the Leader of the Opposition in question period said, that in over eight years, somebody has joined the Prime Minister on the government Challenger jet five times.
Let us take a look at what the government has done with respect to the Challenger jets. This is a government that, when in opposition, campaigned on the fact that the use of the Challenger jet was out of control by the previous Liberal government. We campaigned on the fact that when we were elected, we would change how that is done and would significantly reduce the use of Challenger jets. The use of the Challenger jet by both the Prime Minister and members of cabinet has been reduced by some 75% since we become government. What that has enabled us to do is to sell four of the six Challenger jets because they are just not being used.
Moreover, this Prime Minister put in place something new, which was that when the Challenger was going to be used for non-governmental purposes, the equivalent cost of a commercial flight would be reimbursed to the Department of National Defence. That is why the Conservative Party has repaid thousands of dollars to the Department of National Defence and why, in instances where the Prime Minister has used the Challenger for personal reasons because he cannot fly any other way but through secure government aircraft, he also reimburses the taxpayers the equivalent cost.
We also heard during question period today the Leader of the Opposition say that he could not find any equivalent fares that were paid by some individuals. I have in my hand the fares of WestJet. It is a commercial airline. The opposition was unable to find fares. I found 12. I will stop at 12, but the list goes on. The fares are $282, $261, $266.10, $261.58, $266.10, and on and on.
Ultimately, with this motion New Democrats have clearly signified that they actually have nothing to talk about of any substance because they know, like all Canadians know, that when it comes to issues that actually matter to Canadians— balancing the budget, cutting taxes, supporting small, medium and large job creators—this government is on the right track.
Moreover, when we talk about the Canadian Armed Forces, Canadians know that it was this government which ended the decade of darkness we inherited from the Liberal Party and increased the budget for our armed forces by some 27%. We bought new aircraft, the Globemaster. We all remember the sad spectacle when there were international crises and Canada had to beg and borrow from our international allies to get our troops around the world. Those days are done and our allies know that they can always count on Canada.
The list goes on. It is this government and the leadership of this Prime Minister and this cabinet and the support, of course, of all members of Parliament on the Conservative side that have helped restore Canada, that have seen us through the global economic downturn. New Democrats are bringing silly motions like this forward because they know full well that on all the issues that matter to Canadians, this government is on the right side of Canadians and will continue to be.