Peggy Nash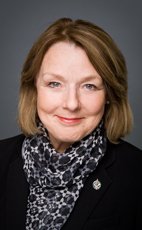 House of Commons photo
Track Peggy
Your Say
Elsewhere
Crucial Fact
Her

favourite word

is clause.
NDP
MP for Parkdale—High Park (Ontario)
Won her last election, in 2011, with 47.20% of the vote.
Statements in the House
Employment September 16th, 2014
Mr. Speaker, the NDP stands up for workers. That is why the first motion put forward by the NDP this session is to raise the minimum wage federally to $15 an hour. This will mean money in the pockets of many thousands of Canadians who work in industries like transport, banking and communications.
The Liberals removed the federal minimum wage in the 1990s and workers face continued uncertainty. As Jerry Dias, head of Unifor, said:
Too many workers today are forced into low-paid, part-time and precarious jobs. The kind of leadership [the Leader of the Opposition] is showing on this issue will help improve their situation.
The Prime Minister's only solution to this is just to shrug his shoulders, but this is a chance for the federal government to really show leadership and set an example by increasing standards for workers in all jurisdictions right across the country.
The time for leadership is now.
Business of Supply September 16th, 2014
Mr. Speaker, poverty has a huge cost to our society.
One of the other terrible things that the Liberals did was abolish our national housing strategy. The cost of housing has been a huge factor in the increase in poverty. It costs all of us.
Health care costs rise the more a society is unequal. Giving individuals and families the wherewithal to keep a roof over their heads and put healthy food on the table, does not just benefit those individuals, it benefits us all as a society.
We understand the social determinants of health, and we are determined that no Canadian should be left behind.
Business of Supply September 16th, 2014
Mr. Speaker, of course we have to create good quality jobs. Of course. We are completely, unanimously in support of creating good quality jobs. However, a good quality job also means a decent level of pay. It means not working for poverty level wages. Surely to goodness we can all agree on that.
We can quibble about how many workers are going to be affected by this. We happen to believe that in fact many tens of thousands of workers in the federal jurisdiction are now earning less than $15 an hour and would benefit from this change. There are lots of very low-paying jobs created in Canada today by companies that are making multi-million or sometimes billion-dollar profits. It is about sharing a bit of the prosperity, creating good jobs, and making sure that everybody benefits from that.
I will also say that the provinces have a key role to play. Most workers in Canada are under provincial jurisdiction. However, reinstating the federal minimum wage and setting it at a decent level will have the impact of spurring on the provinces. People will point to that and say that if the federal minimum wage is $15 an hour, something is wrong with my province. They will want to know why they cannot earn that wage in their part of the country.
This would be a good thing for all Canadians.
Business of Supply September 16th, 2014
Mr. Speaker, I will share my time with the hon. member for Beauport—Limoilou.
I am very happy to speak to this very important motion put forward by New Democrats on the minimum wage. What this motion would do, of course, is increase the minimum wage over time to $15 an hour as a measure to combat inequality and to boost the standards for workers in the federal jurisdiction. It is a very important motion we are debating here today, something that really gets to the heart of what so many Canadians are experiencing, which is growing poverty across the country and certainly a real squeeze on the middle class in Canada.
This motion would also correct the terrible injustice created by the Liberals in 1996 when they eliminated the federal minimum wage, much to their shame. However, even before that, for a decade, the minimum wage had been stagnating in Canada. It had been languishing at just $4 an hour. When they eliminated the minimum wage, some people actually benefited, because some provinces had a higher minimum wage, but that does not let them off the hook, because what they did was start a downward spiral. In fact, under their watch, inequality increased dramatically. More than 94% of the increase in inequality over the last 35 years has been not under Conservative governments but under Liberal governments. That is shocking. New Democrats are here to help correct that. We are here to reinstate a minimum wage.
The current government has not been a particular friend of working people. Back in 2006, the federal labour standards review recommended that the federal government reinstate a federal minimum wage and benchmark it to the Statistics Canada low-income cutoff. Of course, that was not done at the time. I introduced a private member's bill at that time calling for the reintroduction of a federal minimum wage but was not successful in getting the support of my colleagues.
I know something about the federal minimum wage. I began my working life in the federal jurisdiction, working for a crown corporation, and I was very fortunate as a young person starting out in the workforce. It is very different for many young people starting today. I went into a workplace that was a crown corporation represented by a union, so I was very privileged to start with a collective agreement, where everyone made the same wage. We had benefits. We had strong working conditions. That is not the case for far too many working people today. In fact, what we often see is that the global economy, in many cases, relies on low wages as a way to boost profits around the world.
We see far too many, young people especially, who are suffering because they are getting contract temporary work and work at low wages with no benefits. That is no way to start out in life, especially for young people who are getting into the workplace already saddled with high student debt because of the dramatic increase in tuition costs in post-secondary education. If we were to ask young people if they think they are going to have pension plans when they retire, overwhelmingly they are going to say no, because they are only temporary and they do not get any benefits, or the employer got rid of the pension plan, or it has become a defined contribution and not a defined benefit pension plan.
Far too many people are losing confidence in the ability of the marketplace to offer them a decent standard of living, and this is at a time when profits are rising, when the top 1%, thanks very much, is doing extremely well here in Canada and around the world. Yet the average family is being squeezed and too many people are living in poverty.
There is a constituent of mine in Toronto, Professor David Hulchanski, from the University of Toronto, who has written a report called "The 3 Cities within Toronto, Income Polarization". What he talks about in that report is that other cities, not just the city of Toronto, are increasingly becoming three cities. The people at the top are increasing their wealth and doing better. There is a shrinking number of people in the middle, and their incomes are pretty much stagnating. Then there is a growing number of people at the bottom who are losing their ability to make ends meet and who cannot keep their heads above poverty.
This House, back in 1989, voted to eliminate child poverty. I wonder if people here today know how many kids in Canada are living below the Statistics Canada level for low income. It is close to one million children in Canada. These children are poor because their parents are poor, and far too many of those parents are working. They are trying to make ends meet. They go to work every day, and they cannot get their heads above poverty.
Canada needs a pay increase. This particular motion would not do everything. It would not solve all of the problems, but it would be a very positive step. I salute my colleague who introduced this motion, and I salute the House for having this debate today. It is extremely important that we talk about the pay levels people are getting.
We talk about CEO paycheques and how they are spiralling out of control. They are getting many millions of dollars, sometimes for seeing the business they run decline. Sometimes we see huge payouts for people who work for a company for just a very short couple of years, yet we have a growing number of bankruptcies, where working people who have spent their lives building their company are then thrown out of work.
We need to send the signal that it is not right to pay people rock bottom wages. If people work full time and they contribute to the economy, they deserve to get a decent level of pay.
It is not just the labour movement that is supporting this kind of change, although I will quote from Jerry Dias, the president of Unifor, who said:
Minimum wage jobs are not only for the after-school crowd of kids looking for spending money, but also an entry into the workforce for immigrants, recent graduates and many others who can only find part-time work and need to hold down two or three jobs to survive.
He certainly supports an increase in the minimum wage.
I will also quote from the president of the United Food and Commercial Workers, Paul Meinema. He said that a $15 minimum wage would be a bold step towards establishing the principle that no full-time worker in Canada should live in poverty. He said that he was delighted to see the NDP taking a leadership role in advancing this important tool for combatting poverty and rising inequality.
This clearly makes sense for working people and for people who represent working people, but it is not just labour that supports this. Let me quote from a very recent editorial in the New York Times. They were commenting on the German increase in minimum wage, which is going up to $11.60, or 8.5 euros, next year. This is what the New York Times said:
In Germany, as in the United States, business lobbyists and some economists have warned that a robust minimum wage will lead to job losses and higher prices, but that has not been the historical experience. Rather, higher wages for low-wage workers are generally offset by lower labor turnover, while the boost in consumer spending from higher wages is good for the economy. Boosting consumer demand is especially important in Germany, whose economy is overly reliant on exports.
I submit that it is also essential here in Canada. I urge every one of my colleagues to support this call for a higher minimum wage. Let us get Canadians an increase. Let us give them a pay boost.
Questions on the Order Paper September 15th, 2014
With regard to gender-based analyses carried out by the Department of Finance: what are the titles, dates and authors of any reports or studies done by the department that provide a gender-based analysis of (i) income splitting, (ii) Tax-Free Savings Accounts, (iii) the Child Arts Tax Credit, (iv) the employee stock option deduction, (v) the Children's Fitness Tax Credit, (vi) pension income splitting, (vii) partial deduction of meals and entertainment expenses, (viii) partial inclusion of capital gains, (ix) the moving expense deduction, (x) the flow-through share deduction, (xi) cuts to program spending?
Cycling Infrastructure Strategy September 15th, 2014
Mr. Speaker, cycling is an affordable, emission-free mode of transportation that has the added benefit of encouraging physical fitness. Cities that support cycling benefit by reducing vehicle traffic, which improves air quality and eases gridlock, a problem that costs my home city of Toronto an estimated $6 billion a year.
Yesterday, I joined hundreds of Toronto cyclists at Bikestock. It was a ride to city hall to call for improved cycling infrastructure and better safety for cyclists and the motorists with whom they share the road. This is why today I have submitted a motion calling on the federal government to create a cycling infrastructure strategy and a plan to assist regions and communities.
It is time for the government to recognize the many benefits of cycling and to show national leadership. I urge all members to support this motion.
Infrastructure June 19th, 2014
Mr. Speaker, au contraire. Infrastructure is crumbling in Toronto, and all we get from this Conservative red tape brigade is more uncertainty and delay.
Thanks to the PBO, we finally do have some certainty on Conservative cuts to equalization payments. The Conservatives pulled the rug out from under Ontario. They changed the rules and are now shortchanging the province by $1.2 billion. These cuts will hurt Ontario families and will make us less competitive. Why is the minister undermining the fiscal stability of our biggest province?
Infrastructure June 19th, 2014
Mr. Speaker, the sad state of infrastructure and the road congestion in urban centres like Montreal, Toronto and Vancouver cost billions of dollars in economic losses.
It has been over a year since the Conservatives made their building Canada fund announcement, but the provinces and municipalities are saying that the process to apply for funds is still unclear.
How does the minister explain this lack of clarity and these delays?
Prohibiting Cluster Munitions Act June 19th, 2014
Mr. Speaker, I would like to thank the member for Surrey North for his very eloquent remarks about this bill on cluster munitions and the failure of the government to live up to the promise of many international treaties. Just today, I introduced a motion calling on the government to sign the Marrakesh treaty so that people who are visually impaired can get access to these documents.
Can the member comment on the importance of signing treaties like the Marrakesh treaty?
Petitions June 19th, 2014
Third, Mr. Speaker, I have a petition with many signatures. It calls for May 5 to be designated as the National Day of the Midwife in recognition of the tremendous contribution to maternal and newborn health that midwives make.