Peggy Nash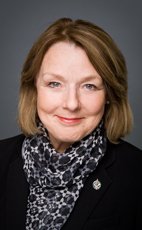 House of Commons photo
Track Peggy
Your Say
Elsewhere
Crucial Fact
Her

favourite word

is clause.
NDP
MP for Parkdale—High Park (Ontario)
Won her last election, in 2011, with 47.20% of the vote.
Statements in the House
Rail Transportation October 9th, 2014
Mr. Speaker, the minister's reaction to the report on Lac-Mégantic yesterday seemed to suggest that she thought it was only the result of a few bad apples, and that the systemic failures in her own department were not involved, despite the findings of the TSB.
Now the rail companies are fighting attempts to limit work and rest hours for engineers.
Will the minister stand firm against the rail companies and protect Canadians?
Rouge National Urban Park Act October 8th, 2014
There was a comment he made in 2012.
Mr. Speaker, through you, I think this is my time to speak and not a debate, so I would ask the member to hold his comments while I have the floor.
The importance of creating parkland is that there can be multiple uses. There could be an area for an ecological preserve, where we can preserve a purely natural environment. There could be walking paths. There could be other activities in the park. There could be a zoo. There could be many uses.
To say that by preserving the ecology of the park or insisting on woodlands in the park, somehow that would have to cover every square foot is simply not correct.
However, I do trust the people who have been active on this issue for 20 years or more who are saying they have concerns about the bill and that their work is not being listened to.
Rouge National Urban Park Act October 8th, 2014
Mr. Speaker, in my remarks I listed a number of reports and plans. The member is right that there are plans going back to 1994. However, the quote I just gave from the general manager of the Friends of the Rouge Watershed, Jim Robb, was from 2012.
Rouge National Urban Park Act October 8th, 2014
Mr. Speaker, I thank my colleague for London—Fanshawe for that important question.
A question that is very pressing in urban centres is this. How do we protect not just green space but the green canopy?
There are many Toronto city councillors, including ours in Parkdale—High Park, who have been very vocal and adamant about the need to increase the tree canopy in our area and in the city of Toronto generally. The last thing we want to have is a concrete or asphalt wasteland. We want to have all of the health, environmental and ecological benefits that the tree canopy brings.
I thank my colleague for London—Fanshawe for her work on this issue. It really speaks to the importance of this corridor and to preserving access to this wooded area and the tree canopy, not just for now but for generations to come.
Rouge National Urban Park Act October 8th, 2014
Mr. Speaker, as a Torontonian who has frequently visited the Toronto Zoo, and over the years my kids have come to love it along with generations of kids, it is something we want to protect in the public sphere.
In my comments, I spoke about kids and families who do not have cottages and do not get to travel or get out of the city. The zoo may be their only chance to see even domestic animals up close.
There was a tremendous campaign that our local community in Parkdale—High Park led to protect the zoo in High Park. The goal was to keep it public, accessible and open, and we were successful in that. I believe the City of Toronto will also be successful in keeping the Toronto Zoo open for all to have access to and not turn it over to private hands.
Rouge National Urban Park Act October 8th, 2014
Mr. Speaker, I certainly would not want to encourage people to try to capture deer or racoons or any other wildlife in the park, although, I dare say, I am sure that in spite of that, the odd flower may get picked in some cases.
I appreciate the member's comments on this and thank him for his work on it, but there are people who have been engaged in the development of the plans—and he may be as well, yes—but let me quote the general manager of Friends of the Rouge Watershed, Mr. Jim Robb, who said:
I have participated in almost all of these processes. The current Rouge Park concept deviates significantly from the existing plans. For example, in the new vision of the Rouge national park concept, there's no mention of the words "ecology" or "ecosystem". That's the primary vision of the existing Rouge Park, which has been approved multiple times over two decades. Another thing is the 600-metre wooded corridor. That's enshrined in provincial legislation through the green belt. It's in Rouge Park plans consistently. There's no mention of that 600-metre wooded ecological corridor within the Rouge Park concept. I could give you more examples.
These are people who have been involved in this for some time and I express their concerns.
Rouge National Urban Park Act October 8th, 2014
Mr. Speaker, it is interesting that as the member for Parkdale—High Park, I may well be the only member in the House who has the word "park" twice in the name of my riding, so I am very happy to stand to speak about parks.
Specifically today we are debating Bill C-40, An Act respecting the Rouge National Urban Park. Coming from an urban riding in downtown Toronto where the city is growing in its urban density, we are seeing increasing numbers of condos, high rises and growing stratification of people of different economic means. Some are doing extremely well by the economy, some are staying fairly stable, but then some are falling further and further behind. A University of Toronto professor from my riding, David Hulchanski, has talked about this idea of three cities, where we have three distinct populations living as one. I see that even within the area I represent.
Some people in our community are very well off, professionals, people who buy homes that are not just worth one million dollars, but multi-million dollars. They have a lot of choices about where they go and how they participate in recreational activities. They can choose to belong to a private club in the city. There is a waterfront club right in my riding. They can take a vacation in northern Ontario or anywhere else in the world. Then a growing number of people, and I see in my community, do not get to go anywhere. They stay in the city. They have never been to Muskoka or out on a boat. Their options are rather limited.
In our riding of Parkdale—High Park, we have High Park, which until now has been the largest park in the city. Through the visionary action of John and Jemima Howard many years ago, this park was bequeathed to the city with the understanding that it would always remain free and open for access to all. On a summer day, families, not just from the surrounding communities but from all over, come to the park. They have picnics, play sports and conduct a variety of activities in the park. It is a really wonderful thing to see. In fact, people from around the world come to see the cherry blossoms when they are in bloom, a gift from the Japanese government. It is a source of great enjoyment.
My kids played soccer there. There is skating and many activities, but it is also an area where there has been a great deal of work to protect the natural environment. There are old oak forests that are unique to the area and a great deal of work goes into protecting and preserving the natural ecology of that area. It is a great treasure of which we are all very proud.
The notion of creating the first national urban park is quite exciting. I see the same potential for communities to participate, to have a variety of activities or access to nature in a way that, frankly, a lot of people growing up in downtown Toronto in towers, whether condos or rentals, would otherwise not have the ability to do.
It is in fact a real treasure. It is something that one generation can pass on to the next for the enjoyment of people in the future. It is something that has to be done well. It has to be done right. The fact that this park would be created is something that we are very pleased about. As New Democrats, we will be supporting it. I do, however, want to raise some legitimate concerns about the creation of the park.
One thing I have come to really understand, with the creation of High Park and the legacy of John and Jemima Howard, is that they got it right when they bequeathed this park to the city. They got it absolutely right. In downtown Toronto, if this land were made available for development today, I cannot imagine how much money these acres of waterfront property in the centre of the city would be worth. However, this parkland has been protected for the present and future generations.
How this new Rouge Park is structured will be very important. The Rouge Valley is home to over 1,000 species of plants and animals, including a number of species at risk. It is made up of Carolinian and mixed wood forests. They are very rare forest areas. It is certainly an area worth preserving and protecting.
The fact that the federal government would create this national park was laid out in the first throne speech of the Conservative government. We applaud that. This would be the first urban national park in the country and one of the largest in the entire North American continent. The funding was laid out for this in the economic action plan of 2012. The 2012 budget said that there would be $143 million over 10 years for the development and interim operations of the park, and $7.6 million a year for continuing operations.
The main issue is the framework for the creation of this park and the protection of the environment within it. The park is currently protected under a whole range of existing action plans that were developed for this area. There has been incredible community engagement in the creation of this park. There have been management plans, greenbelt plans, watershed plans, heritage action plans, a variety of plans into which the community has poured a great deal of consultation, expertise and hope to get this right for the future.
Unfortunately, Bill C-40 does not embrace the strong foundation of conservation policy that is provided in the plans that I just mentioned, in addition to the laws that have been passed already. The concern is that the bill, if it passes unchanged, will undermine the ecological integrity and the health of the Rouge Valley.
Again, I would like to say that if we do not get it right from the beginning and if we do not set out the proper framework, the after-effects will be felt by generations.
We want to see a Rouge national urban park that incorporates the same legal protections as other national parks. That would really make sense. This is an idea that has broad support from environmental organizations, local community groups and residents. While we believe that the bill is a step in the right direction, we have concerns that, with the way it is drafted, it will undermine the ecological conservation of this land for the future.
New Democrats think that the legislation and management plan should adopt the long-standing Rouge Park vision, with its goals and objectives. We think the bill should strengthen and implement the existing environmental protection policy framework. We believe that more of the park should be dedicated to nature and public enjoyment and that we should be setting as a priority the ecological health and conservation of the Carolinian and mixed woodland plain forest.
There are a number of other points that others have raised. Again, I want to give the government credit for moving on this. I talked about High Park in my riding and another feature of my riding is the western boundary, which is Humber River. The Humber River is the only national urban heritage river in the country. It is the only heritage river that can be reached by subway. It is a very wonderful, historic place in the city.
There was great concern when, in one of the Conservative omnibus budget bills, the protection for this river was removed, except for the mouth of the river. Therefore, I thank my colleague from York South—Weston, who introduced a bill to once again resume the protection of the Humber River, because it is of tremendous heritage and environmental importance to our community, and we believe, as it is designated, to the country as well.
In closing, I want to urge my colleagues to really think through the content of the bill. Again, we salute its existence, but the detail of it, the specific measures of it, can and should be improved upon and we hope that all parties can work together in the House to make that happen.
Manufacturing Industry October 8th, 2014
Mr. Speaker, we have to love that voluntary compliance.
October is National Manufacturing Month. We would not know it from the minister's press release but Canada has lost 415,000 good manufacturing jobs under the Conservative government. The Conservatives still have no plan to boost investment and innovation and they have cut support for R and D.
Manufacturing creates high-wage, high-quality jobs. When will the Conservatives start defending the interests of the hundreds of thousands of Canadians who work in the manufacturing sector?
Transport October 8th, 2014
Mr. Speaker, it is government negligence that people are most concerned about.
Conservatives have also been failing Canadians when it comes to vehicle safety. The number of confirmed deaths due to faulty GM ignition switches has climbed to 24 but there are many more alleged to be linked to the defect. In spite of this, the Conservatives refuse to bring GM and departmental officials to committee to answer questions.
Canadians deserve answers. Can the minister at least tell us, so far, how much has GM been fined here in Canada?
Military Contribution Against ISIL October 7th, 2014
Mr. Speaker, let me clarify the amendment. We accept that a local force needs to be capable of defending itself in order to maintain international peace and security, so we have argued that we need to boost our aid to the humanitarian effort. We need to provide assistance for the investigation and prosecution of war crimes. We call on the government to not deploy Canadian Forces in combat. We call on the government to seek House approval for any extension of the mission, to report back the costs of the mission and to offer wholehearted support to the men and women of the Canadian Armed Forces. Our goal is not to engage in a military mission. We want that deleted from the motion.
It is unfortunate that our colleagues in the Liberal Party supported the initial involvement in a mission in Iraq, because that was the slippery slope that has led us to this point today. We are now facing a bombing mission in Iraq because of my colleagues in the Liberal Party.