Peggy Nash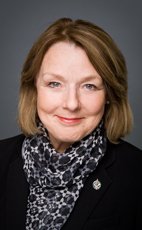 House of Commons photo
Track Peggy
Your Say
Elsewhere
Crucial Fact
Her

favourite word

is clause.
NDP
MP for Parkdale—High Park (Ontario)
Won her last election, in 2011, with 47.20% of the vote.
Statements in the House
Infrastructure December 12th, 2014
Mr. Speaker, the new Union-Pearson express will cost over $27 each way and is using dirty diesel trains. That is a pretty sorry excuse for public transit.
Gridlock is costing our city $6 billion a year. Infrastructure throughout the province is in desperate need of repair, but instead of working together in the interests of Ontarians, Conservatives and Liberals are waging a partisan war of words.
Why are the needs of Canadians taking a back seat to the Conservatives' childish battles with the provinces?
Rouge National Urban Park Act December 12th, 2014
Mr. Speaker, I would like to thank my colleague, who has asked a very important question.
In my riding, High Park, there is an outdoor school. It is very important for kids who live in the city. Often, people cannot afford to vacation in Muskoka because it is very expensive. For children, this outdoor school is a chance to learn about the importance of nature conservation.
I recently took part in a walk through a park to observe bats. It was so important and so interesting for the kids. It is very important that we protect the environment, not only for today, but also for the future of our children.
Rouge National Urban Park Act December 12th, 2014
Mr. Speaker, I thank my colleague from Kingston for his question. I agreed with most of his comments but not the part about the Liberals winning the next federal election. I did not agree with that particular piece.
When New Democrats form the next government, one of the things we will do is make the environment a priority. Our leader is a former environment minister. It is a key priority of our party, and we will ensure that our national parks are protected.
What we have laid out in the private member's bill is what we would introduce in government. We would adopt the Rouge Park vision, goals, and objectives. We would strengthen and implement the existing environmental protection policy framework. We would protect a healthy and sustainable 100-square-kilometre national Rouge park area and would restore a sustainable and integrated natural heritage system. There are other pieces in the private member's bill.
Suffice it to say, Canadians know where New Democrats stand when it comes to the environment. They can count on us to protect our national parks system.
Rouge National Urban Park Act December 12th, 2014
Mr. Speaker, I am very pleased to speak this morning on a very important subject, which is the creation of the Rouge national urban park. We are at third reading of Bill C-40, and I have to say that I am very saddened today that my colleagues and I will not be supporting this bill. While we believe that it is extremely important that we create this first national urban park, we are very distressed at how the Conservatives are doing it. We believe that they have fallen far short of what is expected and needed in the creation of this park.
Let me say that I am very proud to have in my riding of Parkdale—High Park the largest existing park in the city of Toronto, High Park. It was created by the very visionary John and Jemima Howard, who set out clear boundaries and responsibilities for this park. They were absolutely adamant that this park should exist for all time for the free use of the public and that the integrity, ecology, and environment of the park needed to be protected while recognizing that it would be an urban park and a multi-use park.
I want to publicly thank the Friends of High Park Nature Centre for its stewardship of this magnificent jewel on the waterfront of Toronto. All seasons of the year, this park is warmly treasured by people from Toronto and those who come from abroad, whether it is for the cherry trees blossoming in the spring or for skating on Grenadier Pond in the winter or other sports activities. It is a wonderful urban space.
I also want to recognize that the Humber River is the western border of the riding of Parkdale—High Park. It is the only federal urban heritage river. It is an important historic and ecological major waterway. The watershed of the Humber River stretches from the highlands far north of the city of Toronto. It is a very important waterway. Sadly, the federal government has undermined the protection of this river by changes it has made to environmental protection. Specifically, it has removed all of the Humber River, except the mouth of the river, from the Navigation Protection Act and federal environmental protection, which is very troubling.
I would like to thank my colleague from York South—Weston. He and I are working to have this river reinstated in the Navigation Protection Act because of its importance. We believe it is very shortsighted to remove the protections from the Humber River. We are working hard to try to get that reinstated.
I come from a perspective of someone who understands that when one is living in a city and has these treasures, one recognizes that they are a bit different from very remote parks and heritage areas because of their settings. People can get to the Humber River and High Park by subway in downtown Toronto, so they are very different from other protected areas.
The Rouge national urban park would certainly be the largest park in the city. It would be one of the largest parks in North America and the only national park that can be accessed by public transit. It is a unique situation. The government is still trying to assemble the land, but it is land that is already in use. There is farming. There are hydro rights-of-way. There are roads. There already are activities in this area.
Like High Park, in my neighbourhood, no one is expecting that this will be absolutely 100% pristine wilderness. It will not be. It will be special, because it will be an urban park.
We are strongly in favour of creating more parks, but we are most strongly in favour of protecting the ecological health of these national parks. We have to get this right. To do this, we need strong environmental legislation that recognizes that this is a multi-use urban park and that makes its ecology an absolute first priority.
The Rouge national urban park would be very rich. It has a diversity of ecosystems, including a rare Carolinian forest, numerous species at risk, and many agricultural and cultural heritage resources, including a national historic site and some of Canada's oldest known aboriginal historic sites and villages. It is a very special place.
This bill, because we are dealing with the first national urban park, would create a precedent. It would be a model for protecting other areas in urban settings. We need to get this right. This is a stand-alone bill that has been created just for this park. We have the opportunity, unlike with the grab bag of legislation that is thrown into omnibus bills, to study this bill in detail.
The result of Bill C-40, I am sad to say, would be to create weaker protections for Rouge Park than exist for all other national parks in Canada. They are weaker protections, in fact, than the provincial legislative framework that exists already for the park. Yes, it is an urban setting, but there is already a provincial framework that exists that should be improved rather than undermined.
In fact, the Ontario provincial government is refusing to transfer land to the federal government for the creation of this park. Why? It believes that the land would be jeopardized. To be included in the park, it wants to have stronger protections, not weaker protections, and it believes that the protection the province is offering will be stronger. That is why it is saying it is not going to transfer this land if it is going to undermine its ecological integrity.
I want to point out a key point here. The Canada National Parks Act already says:
Maintenance or restoration of ecological integrity, through the protection of natural resources and natural processes, shall be the first priority of the Minister when considering all aspects of the management of parks.
That exists in the existing parks legislation.
This bill would undermine it by saying that it must only "take into consideration" the ecosystems. There is nothing that gives it priority, that gives it precedence, over anything else.
We have tried to amend the bill. We proposed a number of changes. There was one key proposal that would have recognized that yes, there is farming, and yes, that farming would continue, but the ecological integrity would have to be respected. The Conservatives rejected all of this. We are very sad about this.
Because all of our amendments were rejected, we have been forced to create our own private member's bill that calls for the creation of a Rouge national park. It would incorporate the same national protections other parks have. It has broad support from environmental organizations, local community groups, and residents. I want to salute them, because they have worked and fought so hard to get this park created. They are heartbroken at what they see is this bill undermining the ecological integrity of this very prized piece of land.
We had to create our own bill that says that we support the Rouge Park vision, goals, and objectives and that we want to preserve the ecological integrity of this plan.
Sadly, my time is up, but I would be happy to answer questions.
Petitions December 10th, 2014
Mr. Speaker, the third petition is to support the electrification of the air-rail link in Toronto, rather than having dirty diesel trains; to support more frequent stops of the train; and to support affordable, accessible fares for the train.
Petitions December 10th, 2014
Mr. Speaker, I have three petitions today from my constituents in Parkdale—High Park. The first calls on the government to restore full environmental protection to the Humber River and to support Bill C-502.
The second petition calls on the House to support the NDP climate change accountability act to reduce greenhouse gas emissions and to hold the government accountable.
Infrastructure December 10th, 2014
Mr. Speaker, the truth hurts. It was $8 billion on P3s, and the Auditor General did not even get to the Pearson rail fares that will cost over $27 one way. The Conservatives have once again put ideology before evidence. Instead of letting municipalities make their own decisions, the Conservatives are forcing them to undergo a costly and time-consuming screening by PPP Canada. Long-overdue projects could be delayed for years.
The Ontario Liberals just wasted $8 billion on flawed P3s. How much do the Conservatives plan to blow on their scheme?
Infrastructure December 10th, 2014
Mr. Speaker, the federal Conservatives and the Ontario Liberals have more in common than they care to admit. Yesterday, the Auditor General's report revealed that the Liberal government wasted nearly $8 billion on the extra costs of public-private partnerships. That is no small change, yet in spite of this evidence, the Conservatives are forcing municipalities to go to public-private partnerships for local infrastructure, adding time and costs to badly needed construction projects.
Are the Conservatives really happy following the Liberal example of misspending billions on P3s?
Infrastructure December 10th, 2014
Maybe third time lucky.
Mr. Speaker, the federal Conservatives and the Ontario Liberals have more in common than they care to admit. Yesterday's Auditor General's—
Infrastructure December 10th, 2014
Mr. Speaker, the federal Conservatives and the Ontario Liberals have more in common than they care to admit. Yesterday—