Peggy Nash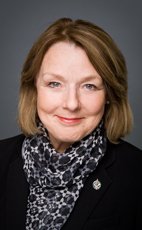 House of Commons photo
Track Peggy
Your Say
Elsewhere
Crucial Fact
NDP
MP for Parkdale—High Park (Ontario)
Won her last election, in 2011, with 47.20% of the vote.
Statements in the House
Business of Supply April 10th, 2014
Mr. Speaker, I thank my colleague for Burnaby—New Westminster for his very eloquent speech and for his fierce opposition to the government's time allocation motions. I thank him for speaking up on this issue today.
It is a shocking fact that the Conservatives have used time allocation and closure more than 60 times in this House since their election. Certainly that is what the motion we are speaking to is hoping to avoid.
However, can the member comment on why our Liberal colleagues would raise this issue when in fact Liberal governments have the same record of invoking time allocation on electoral bills? In fact, they invoked time allocation dozens and dozens of times when they were in government. It does not seem to make sense.
Petitions April 10th, 2014
Mr. Speaker, I am happy to present a petition on behalf of my constituents, who believe that the federal government has a responsibility to support economic growth, but also the lasting benefits to Canadians through a modernized greener infrastructure.
The petitioners are calling on the federal government to support clean, efficient, quiet, and modern rail transportation, through the electrification of the air-rail link in Toronto. It borders on my riding and many other ridings in the city of Toronto.
Petitions April 9th, 2014
Mr. Speaker, my second petition is on behalf of many members of my community concerned about rail safety.
The petitioners are calling for the DOT-111 cars to be labelled with exactly what is being transported, but they also want strategies and timelines for the phasing out of these railcars. They also want to have an emergency response plan in the community should there be a spill, explosion, car malfunction, or derailment.
My riding is bounded on three sides by rail lines. People are very concerned about their health and safety, and they are calling for immediate action.
Petitions April 9th, 2014
Mr. Speaker, I rise to present two petitions today. The first is on behalf of many members of my community who are asking the Minister of Foreign Affairs to call on China to immediately release the respected abbot Khenpo Kartse from prison.
Khenpo Kartse has been a tireless advocate of the Tibetan language and culture. He was imprisoned in December 2013. He is very ill with a serious liver condition and is not being allowed medical treatment.
The petitioners are calling for his release from prison and for Canada's ambassador to China to give an update on his visit to Tibet in September 2013.
Industry April 7th, 2014
Mr. Speaker, the fact is that the government's digital strategy was out of date the moment it was announced. Experts like OpenMedia's Steve Anderson said, it's a "digital strategy for the last five years, not for the five years ahead". The inadequate investment in broadband will not even come close to the CRTC's original targets, let alone the standard set by other countries. Why are the Conservatives content to be followers rather than leaders when it comes to the digital era?
Economic Action Plan 2014 Act, No. 1 April 7th, 2014
Mr. Speaker, there are all kinds of people who are just discovering that, in fact, they hold dual Canadian-American citizenship; and the member is quite right that even if they have never worked in the United States, the fact that they are American citizens because they hold dual citizenship scoops them into this net of FATCA.
My office has been deluged with calls from concerned citizens since this initiative by the U.S. was first announced. We do not believe that the government has effectively protected the interests of Canadians.
Economic Action Plan 2014 Act, No. 1 April 7th, 2014
Mr. Speaker, in fact that is exactly what is happening. Those Canadians who hold dual Canadian-American citizenship are in fact going to have their bank records turned over to a foreign country, which is the United States of America, which is treating Canada as though we are a tax haven.
New Democrats certainly want to go after legitimate tax havens where there are tens of billions of dollars being squirrelled away around the world. It was this party that fought for a study of tax havens at the finance committee, but it was the government that then subsequently laid off CRA staff who are the people who actually collect that money.
We would rather go after the real tax havens, the real tax evaders, than honest, hard-working Canadians who happen to hold Canadian-American dual citizenship.
Economic Action Plan 2014 Act, No. 1 April 7th, 2014
Mr. Speaker, health care remains the top priority of Canadians. Especially with an aging population, Canadians want to ensure that our publicly funded, publicly delivered, regulated health care system remains in place and is not eroded and does not face death by a thousand cuts.
Unfortunately, the government has not renewed the health accords with the provinces, and more than that, it will erode funding for health at a level of 6% less per year. That is going to create great hardship, and the provinces are going to have to manage that reduced amount of money they are receiving for health care. That cannot have any other impact but to affect the health care services Canadians want and need.
It is another great omission in this budget and this budget implementation bill that the Conservatives have not stepped up to the plate and provided security for health care funding that Canadians want.
Economic Action Plan 2014 Act, No. 1 April 7th, 2014
Mr. Speaker, I am glad to hear the enthusiasm of my colleagues across the way.
It is my honour to stand and bring the voices of my constituents in Parkdale—High Park, but I believe my remarks will also reflect the views of many Canadians across Canada. I have heard nothing but complaints from members of my community about the fact that the government is once again bringing in an omnibus bill, cramming all kinds of measures into one very large so-called budget bill, making significant changes that would fundamentally affect the lives of Canadians, and then, for more than the 60th time in the House, restricting the time available for Canadians to look at the bill and for parliamentarians to effectively debate the contents of it. This bill is over 300 pages in length and seeks to legislate many distinct areas of the lives of Canadians. It is not simply on the economy.
I have to say that I am also very concerned about what it is not in the bill. There is nothing in this bill that would address the growing number of part-time jobs without benefits that are replacing good-paying, full-time, secure jobs that Canadians are losing and have lost, both during and since the recession. There is nothing for a generation of young people unable to find stable work and start their lives without massive amounts of student debt. There is nothing to address the apparent use of EI funds to balance the budget, as opposed to giving the majority of unemployed Canadians access to benefits that would help them make the transition from one job to another without an economic calamity taking place in their lives. This is the case for far too many Canadians, and it is certainly affecting many in my community.
This is also a government unwilling to protect our environment, even with international governing organizations, such as the UN, calling on Canada to be a leader in reducing climate change. In fact, as parliamentarians and a growing number of Canadians well know, the government has used these omnibus budget bills to erode and attack environmental provisions that would protect our environment and reduce greenhouse gas emissions.
I want to speak about jobs. Good jobs have been lost under the current government, but year after year there is nothing to help Canadians get back to work. This bill fails to renew the NDP's tax credit for small businesses, a tax credit that we know creates jobs. It would also nullify the existing agreements that identify which jobs are essential and which will effectively disrupt bargaining that is already under way. Over 1.3 million Canadians are still unemployed, and the government has chosen to waste its time legislating measures that were never mentioned in the budget speech rather than taking real action to help Canadians get back to work.
The vast majority of jobs created by the government have been part time, including almost 70% of the jobs created in March alone. As a result, Canadians who were able to recover employment after the recession often find themselves working two or three part-time jobs to try to make ends meet instead of working the one job they used to be able to work in order to support themselves and their families.
It is no wonder that we are seeing growing levels of income and wealth inequality in this country. A report that came out just last week showed that the wealthiest 86 individuals in this country control the same amount of wealth as the poorest 11.4 million. If that is not inequality, I do not know what is. This bill fails to address that growing inequality and, frankly, Canadians deserve much better.
I am pleased that the government has finally accepted the NDP's proposal to cap the amount that wireless carriers can charge other suppliers.
However, this is too late for many Canadian start-ups. This delay has increased convergence in the wireless market. Consumers have few options, which results in price increases.
We hear this concern over extremely high rates for telecom services from Canadians across the country.
I also want to raise the issue of FATCA. This may be something the majority of Canadians do not know much about, but for Canadians who hold dual Canadian-American citizenship, the bill is very troubling. An entire bill about FATCA is enclosed in this omnibus budget bill. It would impose the Foreign Account Tax Compliance Act amid questions in the United States about the constitutionality of the act. However, the government does not seem to care if FATCA would be found to be unconstitutional because it is not bound by the U.S. Constitution. It is one of the only governments happy to give out the private details of its citizens' financials. In other words, Canadians' private banking information is to be made available to the U.S. for tax reasons to comply with—wait for it—American law. The bill would give the Minister of National Revenue the power to make any regulation necessary to carry out this highly controversial act.
It is entirely inappropriate for the government to present this legislation by burying it in an omnibus bill with time allocation so that we do not get adequate time to study and debate this bill within a bill. The government is just hoping Canadians will not notice, but I suggest that Canadians are taking notice and are very concerned about these tax changes.
I also want to speak a bit about rail safety and transparency. The government does not seem to care about keeping legislation transparent, but it also seems cavalier about Canadians' safety. For example, the bill would allow the government to change and repeal a wide variety of railway safety regulations without even informing the public. Any cabinet decisions that change the safety requirements for the transport of dangerous good would now become secret.
This includes changes to the classification of dangerous goods, the training and qualifications of inspectors, and rules regarding the importation and transport of dangerous goods. The public would have no way of knowing the government has weakened safety measures because it does not have to be made public. The bill would even prevent experts from advising the minister before the changes would come into effect.
So much for allowing big data to inform our government policies, as the hon. member for Port Moody—Westwood—Port Coquitlam promised yesterday.
As well, the bill demonstrates to Canadians that the government thinks that our parents and grandparents are a burden. It would make it more difficult for families to reunite in Canada, and new Canadians would have to live an extended period in Canada before receiving GIS or the OAS survivor's allowance. Not only would sponsors be financially responsible for new Canadians for a significantly longer period of time, but this measure would also clearly set a distinction between those Canadians who were born here and those who were not.
Employees in the private sector work hard, whereas those in the public sector twiddle their thumbs.
Apparently wealthy single-income families deserve $3 billion in tax breaks while the other 86% of Canadians do not. New Democrats believe the government has a responsibility to all Canadians, no matter what their income, where they work, or where they were born. That is why, despite the cherry-picked New Democrat policies included in the bill, my hon. colleagues and I cannot support it. We believe Canadians deserve better, and New Democrats are going to keep fighting every day to ensure Canadians get the better treatment they deserve, despite this government.
Economic Action Plan 2014 Act, No. 1 April 3rd, 2014
Mr. Speaker, if I understand the minister of state's argument, it is that the Conservatives are just like the former Liberal government, only on steroids. Is that his argument in defence of this action?
This omnibus budget implementation act, which follows a long series of similar bills, is over 350 pages and almost 500 clauses in length, and contains so many changes that have never been brought forward in a budget bill. I just want to highlight two that are of particular concern to so many of my constituents in Parkdale—High Park, and I am sure members are hearing this across the country.
First of all, with the changes around FATCA, a totally new bill is housed within Bill C-31 that would affect so many people who happen to hold Canadian-American citizenship, and is doing so without answering vital questions around privacy and what it would mean to people's private banking information. We need to have a thorough debate on that.
A second change is to rail safety. My riding is bounded by three railway lines, and people are very concerned about rail safety. When I read in the bill that the government would be able to change and repeal a wide variety of railway safety regulations without even telling the public, I think Canadians deserve a debate on that.
My question for the minister of state is how can he justify suppressing the democratic right to debate such fundamental changes the Conservative government would make?