Peggy Nash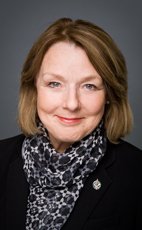 House of Commons photo
Track Peggy
Your Say
Elsewhere
Crucial Fact
NDP
MP for Parkdale—High Park (Ontario)
Won her last election, in 2011, with 47.20% of the vote.
Statements in the House
Petitions March 5th, 2014
Mr. Speaker, the second petition calls for the creation of a legislated ombudsman mechanism for responsible mining. The signatories are calling for more corporate social responsibility, and they want this ombudsman to be able to receive and investigate complaints and to assess compliance with corporate accountability standards based on international labour, environmental, and human rights norms.
Petitions March 5th, 2014
Mr. Speaker, I have two petitions to present.
The first is a Canadian interfaith call for leadership and action on climate change. Those who signed the petition are calling for collective action by Canada to sign and implement a binding international agreement, replacing the Kyoto protocol and committing nations to reduce carbon emissions and setting fair and clear targets to ensure that global average temperatures stay below a 2°C increase from pre-industrial levels.
Employment Insurance March 4th, 2014
Mr. Speaker, well, there is another Academy Award, for refusing to give a single answer on EI.
The purpose of these estimates is to show Canadians how their money is going to be spent. The government is providing us with a report on estimated spending with no details about the employment insurance operating account. This is a serious matter. It involves tens of billions of dollars.
I will ask again. Will the government now tell us exactly how much money will be spent on EI?
Privilege March 3rd, 2014
Mr. Speaker, given that we have gone around the world, to democracy in Ukraine, Russia, and various countries, I would think that we could talk about democracy here in Canada and the ability of Canadian voters to get to the polling stations. That is what this debate is about. It is about whether this member, through his so-called vivid memories of voter fraud, as he is calling it, were accurate, and whether his memories, which have now been proven to be untrue, were the justification for the changes that are being brought forward in the bill that will lead to voter suppression and the inability of voters to cast their ballots.
To me, that is a fundamental issue that his misleading has got us to. In my riding of Parkdale—High Park, there are many vulnerable people who are challenged in terms of getting their voter ID.
Mr. Speaker, I am out of time. I am very sorry about that. To me, this debate is not a waste of time. This debate is fundamental to our work in Parliament, and that is why the NDP is insisting that we have this debate. It is very important.
Privilege March 3rd, 2014
Mr. Speaker, with the remaining time that I have after the House adjourns today, I will be splitting my time when the debate resumes.
I would like to focus us back on what we are actually debating, which is the question of privilege. The motion we are debating that was introduced by the House leader for the opposition, the member for Skeena—Bulkley Valley, reads:
That the question of privilege related to the statements made in the House of Commons by the member for Mississauga—Streetsville be referred to the Standing Committee on Procedure and House Affairs.
I hear members opposite saying that this is trivial and not worth the time of debate, but I want to make the case in the very few minutes I have that we are fundamentally talking about questions that are very foundational to our democracy. That is the ability of members elected to speak in the House to speak with privilege. Privilege means that we have the trust of other parliamentarians, and in fact, of all Canadians, that when we speak we are speaking with honesty and with our best attempts to make statements that are accurate and true. Therefore, when we might occasionally make mistakes, we still have the privilege of immunity in the House.
The comments we are discussing today refer to the elections act bill. I heard it referred to by a member opposite as "awesome". I prefer to call it the voter suppression act. The comments of the member for Mississauga—Streetsville pertain to the vouching system. I want to read his comments about the vouching system and talk a bit about that. On February 6, he said:
Mr. Speaker, I want to talk...about this vouching system again. I know the minister represents an urban city. I am from a semi-urban area of Mississauga, where there are many high-rise apartment buildings. On mail delivery day when the voter cards are delivered to community mailboxes in apartment buildings, many of them are discarded in the garbage...or the blue box. I have actually witnessed...people picking up the voter cards, going to the campaign office of whatever candidate they support and handing out these voter cards to other individuals, who then walk into voting stations with friends who vouch for them with no ID.
This is not some random reference. This is very specific. One imagines a very vivid memory in the member's mind when he makes this statement. I should also say that he made this statement when the bill was under time allocation. In other words, the time for debate of the bill had been restricted by the government, for a record number of times, which itself challenges our democratic system. Then we had this statement by the member. It kind of defied belief in the sense that one would imagine the member opposite trotting after people who had picked up these random voter ID cards, following them to opposition campaign offices, and then seeing these distributed. One would wonder how the member himself would be able to do this. Nevertheless, we operate with this notion of trust, this notion of privilege, which the member is entitled to.
Then, lo and behold, a couple of weeks later, on February 24, he rose again in the House and said he was not exactly accurate. He said in fact he had not personally witnessed individuals retrieving the voter notification cards. He did not apologize for his statements.
The question here is whether he was deliberately misleading the House. I would argue that, yes, he was. Others, including our House leader, have outlined in detail how he deliberately misled the House.
He said himself that he had misled the House, and we believe that was deliberate. This was the rationale for one of the key changes to the voter suppression act, which would deny thousands of people the ability to vote because far too many voters need to have somebody to vouch for them at the polling station. There were 100,000 of such people in the last election, and Elections Canada had not determined that there was fraudulent activity.
There was activity that the government side was responsible for—
Petitions March 3rd, 2014
Mr. Speaker, I have the honour of presenting a petition on the electrification of the air-rail link from Union Station to Pearson airport, recognizing it is in the national interest of Canada to have clean, efficient, quiet, modern rail transportation for Toronto, between its major rail and air links.
The petitioners are calling on the federal government to urge the Government of Ontario and Metrolinx to alter their current plans and to express strong preference for full electrification of the service rather than running diesel trains from the beginning.
Employment Insurance March 3rd, 2014
Mr. Speaker, public accounts come out after all the spending is done, but the estimates are about providing oversight for the government's planned spending. Clearly the Conservatives hate fiscal accountability. They even forced the Parliamentary Budget Officer to take them to court over missing financial information. Now there is a hole in their estimates where EI should be.
Can the minister tell us how much will be paid out this year from the employment insurance operating account, and will it be more or less than $20 billion?
Ukraine March 3rd, 2014
Mr. Speaker, as the member of Parliament for Parkdale—High Park, I am very proud to represent many community members of Ukrainian origin. In recent weeks, they have expressed outrage at the actions of the Yanukovych regime, sadness at the terrible loss of life during the protests, and hope as Ukraine undergoes dramatic transitions and forms a new government.
As a three-time election observer in Ukraine, I know that what most Ukrainians aspire to is a normal democracy, free of corruption, where there is respect for human rights and the rule of law.
Today, that dream is at risk. New Democrats believe that all parties in Parliament should stand together in condemning the aggressive actions of the Russian Federation, which are in clear violation of international law. Canada must work with the international community toward a peaceful outcome to the current conflict and remain steadfast in its support of a free, independent, and democratic Ukraine.
Ukrainians deserve no less.
Ukraine February 26th, 2014
Mr. Chair, as vice-chair of the Canada-Ukraine Parliamentary Friendship Group, obviously, I would welcome the idea of this kind of exchange with our peers from Ukraine. I think that is a helpful suggestion.
It was in this same spirit that we suggested, initially, that a high-level delegation go to Ukraine to show the spirit of co-operation among parliamentarians, to show that, yes, we may disagree on a whole range of issues, but we can work together. We work together on committees and on these friendship committees, such as the Canada-Ukraine friendship committee. We put the interests of Ukraine first and we put our partisanship aside. It was in that spirit that we proposed, initially, that a high-level delegation go to Ukraine as quickly as possible to not only show by example but also to offer concrete solutions to our parliamentarian peers in Ukraine, given the current and recent tragedies that have taken place there.
I welcome his idea, and I would urge him to encourage his own government to embrace that spirit of co-operation and goodwill and support for democracy, in the hope that perhaps it will have a change of heart and put partisanship aside for the good of the larger issue of democracy and support for Ukraine.