Peggy Nash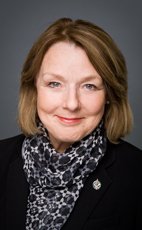 House of Commons photo
Track Peggy
Your Say
Elsewhere
Crucial Fact
Her

favourite word

is clause.
NDP
MP for Parkdale—High Park (Ontario)
Won her last election, in 2011, with 47.20% of the vote.
Statements in the House
Infrastructure June 19th, 2014
Mr. Speaker, au contraire. Infrastructure is crumbling in Toronto, and all we get from this Conservative red tape brigade is more uncertainty and delay.
Thanks to the PBO, we finally do have some certainty on Conservative cuts to equalization payments. The Conservatives pulled the rug out from under Ontario. They changed the rules and are now shortchanging the province by $1.2 billion. These cuts will hurt Ontario families and will make us less competitive. Why is the minister undermining the fiscal stability of our biggest province?
Infrastructure June 19th, 2014
Mr. Speaker, the sad state of infrastructure and the road congestion in urban centres like Montreal, Toronto and Vancouver cost billions of dollars in economic losses.
It has been over a year since the Conservatives made their building Canada fund announcement, but the provinces and municipalities are saying that the process to apply for funds is still unclear.
How does the minister explain this lack of clarity and these delays?
Prohibiting Cluster Munitions Act June 19th, 2014
Mr. Speaker, I would like to thank the member for Surrey North for his very eloquent remarks about this bill on cluster munitions and the failure of the government to live up to the promise of many international treaties. Just today, I introduced a motion calling on the government to sign the Marrakesh treaty so that people who are visually impaired can get access to these documents.
Can the member comment on the importance of signing treaties like the Marrakesh treaty?
Petitions June 19th, 2014
Third, Mr. Speaker, I have a petition with many signatures. It calls for May 5 to be designated as the National Day of the Midwife in recognition of the tremendous contribution to maternal and newborn health that midwives make.
Petitions June 19th, 2014
Second, Mr. Speaker, I have a petition signed by many members of my community who are calling for safer rail cars, especially the DOT-111 cars, in our community. The petitioners want to know what is being transported. They want these cars diverted from our area, if possible.
Petitions June 19th, 2014
Mr. Speaker, I have three petitions.
The first petition is signed by many members of our community on behalf of Jozsef Pusuma and his family. They were human rights activists in Hungary who, due to very poor legal representation, had their case mishandled. They are asking to stay in Canada until the Law Society of Upper Canada continues and finalizes an investigation into the conduct of their lawyer.
Prohibiting Cluster Munitions Act June 18th, 2014
Mr. Speaker, I thank my colleague from Ottawa Centre for his excellent presentation and for all of the work he does on foreign affairs. He is widely recognized as someone having a great deal of expertise, and we thank him for that.
On the bill at hand on cluster munitions, New Democrats support a treaty to ban cluster munitions. These are terrible weapons that overwhelmingly impact civilians, and especially children, as my colleague has so eloquently described. Yet, as he detailed, this Conservative legislation to implement the Convention on Cluster Munitions is widely recognized as the weakest and worst in the entire world. In other words, Canada has become an embarrassment when it comes to the issue of having effective legislation to implement the treaty on cluster munitions.
My question for my colleague is this. With this weaponry that overwhelmingly targets civilians, especially children, can he advise the House why the Conservatives, who say their government supports families and children, would want to undermine a treaty that would save the lives of children around the world?
Respect for Communities Act June 17th, 2014
Mr. Speaker, of course, we believe in community consultation. That is why, when there is some kind of new facility going into a community, there would normally be consultation with community leaders, law enforcement, and political leaders. The community would be involved.
What would not make sense is to have an opportunity for a fearmongering campaign to say, as a city councillor did in Toronto yesterday, that a community is full of pedophiles, so our children are going to be in danger. Here, we can imagine a campaign that would say that people who are addicted would be injecting drugs in front of our children when, in fact, the opposite is true.
With a very long drawn-out consultation period and tests and barriers so high, many organizations will probably not have the resources to even fulfill this long drawn-out process. It seems that the intent of the government is to prevent any such facilities from being established. The Conservatives may feel that makes more sense.
I do not doubt the member's sincerity in his question, but I ask him to consider that, if there are not safe sites where people can go when they are addicted to try to get what they need, and hopefully get some help and support, maybe they will be out in the community, truly putting kids at risk. For us, that is a greater risk.
Respect for Communities Act June 17th, 2014
Mr. Speaker, I thank my colleague for her question.
As she pointed out, in 2011, the Supreme Court of Canada ruled that InSite provided essential services and that it could stay open under the exemption provided for by section 56 of the Controlled Drugs and Substances Act.
The court held that the charter allowed users to access InSite's services and that similar facilities should also be allowed to operate under an exemption.
Apparently, the government thinks that it is not ruled by the charter, and that its own legal judgment is better than the Supreme Court's. That is mind-boggling. The charter underpins Canada's entire legal system. It is imperative that the government comply with the charter and with these rulings.
Respect for Communities Act June 17th, 2014
Mr. Speaker, I rise this evening to speak to Bill C-2, an act to amend the Controlled Drugs and Substances Act. I want to be clear from the outset that New Democrats oppose the bill at second reading.
Bill C-2 is a deeply flawed bill based on a deeply flawed premise. This premise, advanced by Conservatives, takes the position that I think goes back to the Reagan years in the United States. Members may remember Nancy Reagan's "just say no to drugs" position. It is a very simplistic appealing approach, but it has been proven in the United States that this anti-drug and abstinence approach on the issue of addiction has been a colossal failure.
The approach of New Democrats is one of promoting health and safety for those who, sadly, are suffering from addiction, but also promoting the safety of communities and neighbourhoods. Our approach is one of harm reduction. In other words, it would promote healthy outcomes and hopefully reduce the harm that those who suffer from addictions are exposed to.
The bill, in fact, is a thinly veiled attempt to stop safe injection sites from operating. At present, in Canada, there is only one safe injection site, InSite, which is operating in Vancouver. However, since the Conservatives took the provision of harm reduction out of the national drug strategy in 2007, they have been opposed to the operation of InSite. Finally, this issue was taken to court and there was a Supreme Court decision on this. I will get to that in more detail in a few minutes.
In essence, Bill C-2 is an attempt to lay out conditions that are so extensive, so arduous, with benchmarks so high that InSite or other potential sites would be unable to surmount these obstacles and thus unable to operate. We believe that, in fact, is the goal behind the proposed legislation. Thus, the "do no harm" approach or "harm reduction" approach would be thrown out the window.
Our belief on this side of the House among New Democrats is that decisions about programs must be based on whether or not there are benefits, which must be based on facts rather than ideology. However, we believe that those on the other side of the House are driven by ideology on the bill and are wilfully ignoring the facts in this case.
I mentioned the Supreme Court. In 2011, the Supreme Court ruled that InSite, this facility in Vancouver that provides a safe injection site for people with addictions, provided life-saving services and in fact should remain open. To do that, it required an exemption from the Controlled Drugs and Substances Act under section 56. This is an exemption under which InSite has been operating for a number of years. The court ruled that it was within the Charter of Rights and Freedoms for InSite users to access this service, not only in Vancouver, but at sites that operate elsewhere.
What is this scientific proof that I am talking about based on?
In fact, there have been over 30 peer-reviewed studies published in reputable, distinguished journals, such as The New England Journal of Medicine, The Lancet, and the British Medical Journal, which have described the beneficial impacts of InSite.
Furthermore, studies of more than 70 safe injection sites in other countries, in Europe and Australia, have shown similar benefits. InSite has been extremely beneficial for those who use it and should be allowed to continue to operate, but we would argue that it has been beneficial not only for those who use InSite but for the community in which it is located.
The Conservatives, with the launch of this bill, also immediately tried to rally their base and launched a campaign called "Keep heroin out of our backyards". I am sure they raised a lot of money with that campaign and generated a lot of data in preparation for the next federal election, but in fact, it is based on a false premise. This bill would actually put heroin back into people's backyards, because if there are no safe injection sites, people who are hopelessly addicted will resort increasingly to crime and to injecting in communities, on our streets, and in our neighbourhoods rather than in a safe injection site. Therefore, not only will people who have a serious health issue due to an addiction put themselves at greater risk, but they will also be putting communities at risk.
I come from a community that is, I believe, one of the finest communities anywhere. My riding of Parkdale—High Park is a very diverse community. There are people from all different socio-economic levels, and in spite of one of the local city councillors attacking the Parkdale community and trying to label, stigmatize, and stereotype people in the community, the people who live there do not feel that way. They believe that society as a whole includes people who have imperfect lives, people who have mental health challenges, family problems, and yes, sometimes suffer from addictions, regardless of what income level they happen to be in. There are certainly people at very high income levels who suffer from addictions and sometimes spend a lot of money supporting those addictions.
Therefore, my community includes a wide cross-section of people, but whether it is community agencies, neighbourhood organizations, police, or community helpers, people have come together with political representatives and said our goal has to be one of harm reduction. They say if people are suffering from poor mental health or addictions or whatever challenges they are facing, we should find a way to help them through this in as safe a way as possible and, hopefully, help them to recover and lead normal lives. One of the big advantages of a facility like InSite is that the people who use that facility can access health professionals, counselling, and support and, hopefully, transition through their addictions and come out the other end to lead normal lives. There are certainly many instances of that.
In conclusion, I want to say this is a deeply flawed bill. New Democrats believe it is in defiance of the Supreme Court ruling and, once again, pits the government against the judicial system. It will do far more harm than good and should be rejected by the House.