Peggy Nash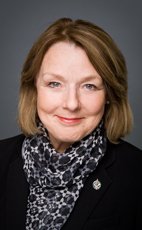 House of Commons photo
Track Peggy
Your Say
Elsewhere
Crucial Fact
Her

favourite word

is clause.
NDP
MP for Parkdale—High Park (Ontario)
Won her last election, in 2011, with 47.20% of the vote.
Statements in the House
Child Poverty January 30th, 2015
Mr. Speaker, I am very pleased to speak on the motion of my colleague from Scarborough—Rouge River. I want to thank her for all of her work on eliminating child poverty, the subject of the motion today.
Because this is the second hour of debate, I would like to refer to the text of the motion, which reads:
That, in the opinion of the House, the government should work in collaboration with the provinces, territories and First Nations, Inuit and Métis communities to eradicate child poverty in Canada by developing a national poverty reduction plan that includes: (a) making housing more affordable for lower income Canadians; (b) ensuring accessible and affordable child care; (c) addressing childhood nutrition; (d) improving economic security of families; (e) measures that specifically address the unique needs of First Nations, Inuit and Métis communities; and (f) measurable targets and time lines.
In other words, it is about accountability.
It has been 25 years since Ed Broadbent's motion aimed at ending child poverty was passed unanimously by the House, and yet successive Conservative and Liberal governments have failed to act on this promise. With almost one million children living in poverty, almost half of whom are indigenous, surely it is time to end child poverty.
Dr. David Hulchanski, a professor in Toronto and a constituent of mine, has documented very precisely what is happening with the declining middle class and the growing polarization in our city of Toronto. He calls it a "three city" situation, where some at the very top are getting more wealthy, an increasingly shrinking group is staying at about the same level, and a growing number of people are falling further and further behind.
Childhood poverty is costly not only for the children affected in terms of their childhood experience of inequality, but also in terms of lost potential and social costs.
I should point out that Canada ranks 23rd on child poverty among countries in the OECD, which is a shameful record. If we want to set records, surely this is not one. One out of seven children in Canada lives in poverty, but if one is born aboriginal, there is a two in five chance that one will live in poverty. These are shameful numbers.
UNICEF Canada has written a report and recommends creating a children's commissioner and making the UN convention on child poverty enforceable in court. Canada ratified this international agreement in 1991, but progress remains very slow and spotty.
The UNICEF report makes a number of recommendations worth noting. As I said, one is to make the convention enforceable in courts. It also recommends developing a national action plan aimed at bringing Canada into compliance with the UN convention; holding a parliamentary review on the recommendations of the UN committee on child rights and the recommendation of the Senate's report on children; and including in child protection legislation everyone under the age of 18; and developing a program to educate children and others on the convention rights.
I would like to speak specifically to the subelements of this motion.
First, there is an alarming situation now from the lack of affordable housing. There are 92,000 people in Toronto on the waiting list for housing. In my community of Parkdale—High Park, we see families who have to make the gut-wrenching decision to either pay the rent or put food on the table. They are going to keep a roof over their heads, and therefore we have community kitchens and food banks bursting at the seams. A number of children go to school hungry every day. This is shocking in a city as wealthy as Toronto.
I see families with two or three kids living in a one bedroom apartment because that is all they can afford. I see people living in Toronto community housing in substandard housing with serious maintenance problems with mould, water leakage, and appliances that do not work.
There are buildings in our community where the elevators do not work. We have serious problems.
We also have problems with the lack of effective rent control legislation, and companies get around the legislation. They get people out of the buildings and jack up the rent. The upshot is that people cannot afford to find a decent place to live. There is an explosion of new homes being built, but they are mainly private condos. Low-income people do not have the ability to buy these condos, and there is no affordable housing being built for them.
We also have a problem with co-ops that are finishing their housing agreements. These are not going to be renewed. We have people who were getting a subsidy, who were able to live in a decent place, a co-operative housing development, because they got a bit of a subsidy, and those subsidies have been lost. That is a huge dilemma for many in the city of Toronto.
Unfortunately, the Conservatives have abandoned their social housing responsibilities. One in four Canadian households, that is 1.5 million Canadians, families and individuals, spend more than a third of their income on housing. Canada is the only G8 country without a strategy for affordable housing. It was under the previous Liberal government that the national housing plan was abandoned. It is shocking that in a northern country, with such high needs, we do not have effective housing or even a plan to get to that housing.
When it comes to public spending on child care and early learning, Canada ranks last among developed and comparable countries. For years Liberal and Conservative governments have ignored this pressing need of Canadian families. There are over 900,000 kids in need of care in Canada, with no access to quality, affordable, child care spaces. The Conservatives promised 125,000 new spaces, but just like the Liberals, they did not create one single space.
In my community, child care spaces can run up to $2,000 per month, per child, which is clearly far out of the reach of most families. Noted economist Pierre Fortin has said that the Quebec model of child care, which is affordable, accessible, and high quality, has allowed more than 70,000 mothers to join the workforce and generate the return of $1.75 for every dollar spent on child care. That is clearly an important investment.
When it comes to indigenous children, they are the fastest growing demographic in our country. Investments made to reduce indigenous child poverty would have huge benefits for Canada. We have alarming rates of poverty and huge housing problems. Even Mike Holmes is saying that we have to build better quality houses for indigenous communities. It would be a better investment and more cost-effective. They also face huge food security issues, far more so than people do in the south.
I remember that noted Nobel Prize-winning economist Joseph Stiglitz, in answer to the question, "What is the best thing Canada can do to create innovation, boost our economy, and boost competitiveness and job creation?", said to invest in children. Invest in child care. Invest in post-secondary education. Invest in kids. That is the best bet for a strong, innovative economy.
We want the federal government to make the elimination of child poverty a priority. We need to develop an anti-poverty plan with timelines and measurable benchmarks that would include the key components of taking on the crisis of poverty for indigenous children, making housing more affordable for lower-income Canadians, creating an early childhood and childhood education program, addressing childhood nutrition, and improving the overall economic security of Canada. We owe Canadians no less. It is our duty as parliamentarians to act. We should all be supporting this important motion.
Protection of Canada from Terrorists Act January 30th, 2015
Mr. Speaker, my question is about the oversight of CSIS. Bill C-44 would give significant new powers to CSIS, yet significant new oversight is not proposed.
In fact, I remember that when I was finance critic, in one of the many omnibus budget bills the Conservative government brought forward, one of the provisions was to eliminate the position of inspector general, the person charged with full-time oversight of CSIS. We heard expert testimony—ironically at the finance committee, even though it was a national security issue—from the person who had been in charge of setting up the machinery of CSIS when it was first created. The witness warned the government not to remove that position because it was the government's eyes and ears on CSIS. The witness said it was the only way the government could prevent the people charged with securing and protecting the public, people who had unique powers, from not exceeding their powers.
Would the member comment on the lack of oversight of CSIS, especially now that the government wants to increase the powers of CSIS?
Employment January 30th, 2015
Mr. Speaker, that is why the Prime Minister is not at the first ministers meeting? That makes no sense.
In October, I wrote to the Minister of Industry urging him to seek commitments to protect Canadian jobs, but instead he signed off on a deal to fire 20% of the workers at Tim Hortons headquarters. This week, 350 employees lost their jobs, and the minister has the gall to claim somehow it is good news for Canada. He even makes up job numbers.
Why does the minister repeatedly fail to protect Canadian jobs?
Employment January 30th, 2015
Mr. Speaker, thousands of layoffs are being announced everywhere: at Suncor, Shell, Bombardier, Target, Mexx, Jacob, Tim Hortons, and just this morning at Jones New York. Even CIBC has just announced 500 layoffs. That is a sign that things are not going very well at all.
While the number of job losses and bankruptcies is growing, why is the Prime Minister not at the meeting of the Council of the Federation? What does he have to do that is more important?
An Act to amend the Statistics Act (appointment of Chief Statistician and long-form census) January 29th, 2015
Mr. Speaker, I am very pleased to rise on this bill today. Bill C-626 concerns the Statistics Act and Statistics Canada.
I am glad to follow on the heels of my colleague on the government side because, frankly, the government has such a sorry record of denying science, ignoring evidence and silencing experts with whom it disagrees. It is more prone to ideologically based decisions rather than evidence based decisions, and the evidence of it stifling science is just proof of that.
Many of my constituents in Parkdale—High Park have contacted me. They are very concerned about the impact on the quality of the statistics in Canada and their impact on the important social programs that we deliver in Canada. They include everything from immigration and refugee policy and labour statistics, right down to whether we will charge fees for certain programs in local communities across the country.
The bill we are debating today follows on the heels of bills from two NDP colleagues during the government's time, my colleagues from London—Fanshawe and Windsor West. They introduced similar bills. It really comes down to the fact that the New Democrats believe in good data. We believe it is essential to have good data to make government work. Having good data allows a government to effectively target and evaluate programs in order to improve service quality and lower the cost of the programs we deliver.
The NDP fought tooth and nail to prevent the Conservatives from eliminating the long-form census. The NDP believes that the long-form census must be restored in order to provide social scientists, governments and business with the data they need.
Here is a brief bit of history. The modern census was created in 1971. It was taken every fifth year until 2006, and it included some very short, basic questions, such as age and marital status, as well as some longer questions on housing and socio-economic factors. Response to the census was mandatory, and it carried penalties, including fines and possible imprisonment, for failing to respond or knowingly providing false information. This was to ensure the integrity of the data, so people filled it out completely and accurately.
In June, 2010, the Government of Canada quietly announced that it would be eliminating the long-form census without any consultation with stakeholders, the users, or even government agencies, and it replaced it with a voluntary survey, the national household survey. This created a huge uproar from municipalities, researchers and others, including the chief statistician, who ended up resigning when the long-form census was replaced.
In the past, these mandatory surveys typically had a response rate of about 94%. That is a very high response rate. In contrast, the voluntary survey has a response rate of 68%. That is a lot of missing data. We are finding that rural communities are especially under-represented. There are also certain parts of the country out west, east and north, as well as first nations communities, and some very low and high-income people not filling out the census.
Under the mandatory census—and I remind my Conservative colleague across the aisle about this—not one person has ever gone to jail for not filling out the mandatory census. This census had a 94% response rate. There are a couple of people who refused to fill out the form because they disagreed with certain government policies and it went to court, but they were not convicted. Someone else received mandatory community service as a result of not filling it out, but not one person ever went to jail.
The Conservatives eliminating the long form census to avoid mandatory prison sentences was completely irrelevant. It is a red herring.
It seems as though the intended consequence is that we would not have reliable statistics telling us that in fact inequality in Canada is rising. We do not know the level of labour force participation on first nation reserves. We cannot tell where social programs would be best implemented and be most effective because we cannot get proper, accurate, up-to-date data.
Other countries have tried to eliminate their long form census. None has replaced it with a voluntary census, as this government has done. That is a big waste of money right there. The U.S. tried it, but found the data so unreliable it went back to the mandatory census. What do they know that these guys are ignoring?
We are finding that not only are the data unreliable and the results poor, but it also costs more than a mandatory census did. That is unbelievable. These guys are such bad managers. The Auditor General has reported that the national household survey, their voluntary survey, cost $30 million more than the mandatory census, not including the $22 million that was spent to switch over to the new format. These guys are great at spending money, at losing money and wasting money for nothing. That money could have been more effectively invested in creating jobs, in reducing greenhouse gas emissions, in helping young people and taking people out of poverty. I do not know what makes these guys tick.
It is not just New Democrats who are criticizing the government on this. In the Report On Business in today's The Globe and Mail there is an article by Tavia Grant. She says:
The cancellation of the mandatory long-form census has damaged research in key areas, from how immigrants are doing in the labour market to how the middle class is faring, while making it more difficult for cities to ensure taxpayer dollars are being spent wisely, planners and researchers say.
She also references in the private sector the Canadian Chamber of Commerce, whose network represents 200,000 businesses across the country. It is publicly calling on the federal government to restore the mandatory long form census. We have been saying this all along.
She also goes on to say:
It's now tougher to know whether free programs, such as swimming lessons or skills training, are being offered in the most high-need communities. It's more difficult to plan subsidized child care. And there are now "huge gaps" in the ability to understand health trends in... [populations].
It is affecting city finances, because cities have to spend extra money to buy data privately, rather than having access to good-quality, more cost-effective public data. The government is downloading. It makes no sense.
Let me just conclude by saying that New Democrats believe that good data is essential to make government work. We also believe in science, unlike our counterparts across the aisle. We believe that good data allows government to effectively target and evaluate programs and thus improve the service quality while lowering costs.
We fought tooth and nail to prevent the Conservatives from eliminating the long form census. We believe the long form census must be restored to provide social scientists, governments, and businesses the data they need.
We also believe that the world is not flat. It is round, and we believe that greenhouse gas emissions are being created by the activity of people in the world. We know some really good scientists who could help our counterparts on the other side understand these things.
Employment January 29th, 2015
Mr. Speaker, except that none of this is working because we still have persistently high unemployment in the country.
The Conservatives have watched while over 400,000 manufacturing jobs have disappeared and middle-class families in southwestern Ontario are paying the price: 800 at John Deere in Welland; 2,000 at GM in Oshawa; 2,500 at Ford and Sterling in St. Thomas.
The tax writedown on new manufacturing equipment is expected to expire at the end of this year. How can manufacturers invest and create middle-class jobs when the finance minister is delaying the budget and leaving them in limbo?
Employment January 28th, 2015
Mr. Speaker, again the Conservatives are in denial, but the New Democrats have a plan to help Canadian families. The Conservatives' low-wage strategy has meant not only the loss of 400,000 good manufacturing jobs but lost opportunities to create thousands of new ones. Billions of dollars in new product-line investments have just passed us by.
The New Democrats have proposed a concrete plan to attract investments in innovation and create good jobs for Canadians. When will the Conservatives get on board, stop the decline, and invest in the next generation of good middle-class jobs?
Business of Supply January 27th, 2015
Mr. Speaker, I thank my colleague for her question.
Times are very tough for hundreds of thousands of unemployed workers from not only the manufacturing sector, but also many other sectors.
This government does not really have a plan to help these workers. It has made cuts to EI and it cut assistance to manufacturers. It said that the market will decide and will sort itself out, but during tough economic times like these ones we need the government to show some leadership, support the economy and employers, and create jobs.
Unemployed workers have no hope right now. Many families are suffering because of the lack of jobs and because of the layoffs we are seeing across the country.
Business of Supply January 27th, 2015
Thank you, Mr. Speaker. I was just going to say that workers in the manufacturing sector, whether it is in Ontario, in Quebec, or wherever in Canada, can certainly count on New Democrats to support their sector and not say or imply that somehow it is a sector of the past.
However, let me say more than that. When we are in difficult times, when finances appear to be different from what they were expected to be some months back, we need to look for ways of saving money. There are some pretty obvious ways. One, of course, would be for all parties to support the New Democrats' call to abolish the Senate. That would certainly save a significant amount of money.
However, I would also call the government's attention to the more than $100 million it has spent on government advertizing, which borders on partisanship, to support its approach to the economy, which, quite frankly, I think is offensive to so many Canadians.
Business of Supply January 27th, 2015
Mr. Speaker, I frankly agree with him that it was quite shocking to hear the leader of the Liberal Party say that Ontario should transition away from manufacturing. Clearly, the behaviour of the government in ignoring the manufacturing sector has meant that the number of manufacturing jobs has dropped. The percentage of manufacturing jobs in Ontario has dropped from 20% to below 15%. Therefore, the Liberals' neglect and their promise of neglect is really quite shocking.
Never mind: Ontario workers can count on New Democrats—