Peggy Nash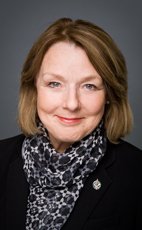 House of Commons photo
Track Peggy
Your Say
Elsewhere
Crucial Fact
Her

favourite word

is clause.
NDP
MP for Parkdale—High Park (Ontario)
Won her last election, in 2011, with 47.20% of the vote.
Statements in the House
Railway Safety Act November 5th, 2014
Mr. Speaker, it is a pleasure to stand in the House this evening and represent the constituents of my riding of Parkdale—High Park in Toronto on the very important issue of rail safety.
Tonight we are debating Bill C-627, a private member's bill. The focus of this bill is on the issue of railway level crossings. That certainly is a major issue. A number of people are injured or killed every year.
I would first like to salute the hard work of my colleague from Brossard—La Prairie for all his diligent work in holding the government to account on this very important issue of railway safety. Following the disastrous crash in Lac-Mégantic, Quebec, Canadians awoke to the very real concern that perhaps their safety was not being as diligently monitored as it should be by our federal government.
I want to speak a bit about my riding of Parkdale—High Park. The northeastern part of my riding is called the junction because it is an intersection of multiple rail lines that cross and become the northern and eastern boundaries of my riding. The southern part of the riding also has a rail line running through it. We are a riding of railways and the issue of rail safety is important to the people of Parkdale—High Park.
The disaster in Lac-Mégantic got the attention of people because those same runaway tank cars that crashed and exploded went right across the northern boundary of my riding. Our community was horrified to find out about the dramatic increase of tank car traffic in Canada.
In 2009, there were 500 tank cars. In 2013, there were 140,000 tank cars rumbling through our community so quite rightly people are concerned. Some of the people in Parkdale—High Park look out their bedroom window and see hundreds of these tank cars rolling by or children who are playing in a nearby parkette on Vine Avenue. Therefore, it is of great concern to the people in my riding.
We recently had a meeting on this issue of railway safety. We had a huge turnout. Many community members came out to discuss this issue. We were pleased that CP Rail sent a representative. While not everyone who attended the meeting was happy with the answers they received from the representative of CP Rail, they were pleased that a representative attended the meeting.
However, they were frustrated that the Minister of Transport refused to allow any officials from Transport Canada to attend the meeting and answer the questions of the people from my community. We found that shocking.
While I want to acknowledge that the federal government has made some moves forward and some strides on railway safety following the disaster at Lac-Mégantic, let us be clear that there remains a lot of work to do. People have questions and concerns. I find it shocking that the minister would refuse to allow officials from Transport Canada to hear the concerns of the people of my community, so I will bring those concerns here right now.
They want to know what the timetable is for phasing-out the DOT-111 cars. They want to know why the cars that will replace them are not the double-hulled cars, which are the safest, and have gas sensors in them to determine if there is a buildup of gas.
They want to know what the emergency safety procedures are in their community. At this meeting, one woman very poignantly said that her house backs right onto the railway lines. She wanted to know what to do if there was an explosion or a derailment: hide in her house, or run?
We had the head of the fire department for the City of Toronto at this meeting. He advised her to stay in her house, but he said that it depends on what the tank cars are carrying. It could be that there is a gas, and if she goes outside, she could be asphyxiated. However, it could be something very explosive, so staying in her house might be the worst thing to do. He recommended they stay there until they know what it is.
Frankly, we have no idea what the emergency procedures are. I think, most importantly, people have no idea what is being carried in these tank cars.
People wanted to know what is in the cars. They would also like to know if there have been any explorations of alternative routes that do not go through some of the most densely populated neighbourhoods anywhere in this country, because it would make a great deal of sense not to expose this massive number of people to potential tragedy.
It is not that Lac-Mégantic was an isolated example. We had a derailment in the junction a few years ago. Fortunately, the cars were carrying grain, not raw bitumen. That was very fortunate. We also had a huge derailment in Mississauga many years ago that resulted in the evacuation of the entire city of Mississauga.
Disasters happen. We need not only to be prepared; community members also need to know what the risks are and if they are being prepared.
The railway industry has been privatized and deregulated by previous Liberal governments, and then they proceeded, along with the Conservatives, to privatize and deregulate rail safety and rail enforcement. We saw that pointed out in the Lac-Mégantic inquiries as one of the major problems with the railway sector. That was something that was criticized very severely in the inquiry.
What we are debating tonight is a private member's bill that aims to make some improvements to safety at level crossings. My question to the government is this: why a private member's bill? Why is the government bringing this measure in through the back door? Why did it not spend the $3 million on level crossing safety that was in the budget last year? Why is that still sitting on the books? Why has the budget for railway safety been decreased by $5 million?
I see my time is up, but I just want to say this is a critically important issue. It is something that certainly affects the residents of Parkdale—High Park, but it also affects all Canadians.
There are some positive features in this private member's bill, and of course we will support anything that improves railway safety and level crossing safety. However, for goodness' sake, the government cannot shirk its duties. It must take full responsibility for railway safety. We need a thorough assessment of the state of railway safety in this country. We need action. If the government refuses to act, then it should get out of the way and let New Democrats take responsibility for railway safety, which we will do as the next government.
Questions on the Order Paper November 5th, 2014
With regard to the Advanced Manufacturing Fund for fiscal years 2013-2014 and 2014-2015 (year-to-date): (a) how many companies have applied for funding; (b) what is the total amount of funding that has been given out, broken down by (i) fiscal year, (ii) electoral riding, (iii) applications submitted by for-profit businesses, (iv) applications submitted by not-for-profit businesses; (c) how many companies have been rejected for funding, broken down by (i) fiscal year, (ii) electoral riding, (iii) applications submitted by for-profit businesses, (iv) applications submitted by not-for-profit businesses; (d) what is the success rate of funding applications, broken down by (i) fiscal year, (ii) electoral riding, (iii) applications submitted by for-profit businesses, (iv) applications submitted by not-for-profit businesses; and (e) what is the average amount of funding granted, broken down by (i) fiscal year, (ii) electoral riding, (iii) applications submitted by for-profit businesses, (iv) applications submitted by not-for-profit businesses?
Taxation November 5th, 2014
Mr. Speaker, the impact of child care on women's workforce participation is clear. Quebec's child care program allowed 70,000 women to return to the workforce, but the Conservatives' wasteful income-splitting plan would have the exact opposite effect and discourage women from working at a time when women's workforce participation is already sliding.
Why put up more barriers? Why are they so opposed to policies like child care, which help women enter and remain in the workforce?
Taxation November 5th, 2014
Mr. Speaker, a report from TD Bank shows that the female labour participation rate is at its lowest since 2002. This decrease could even jeopardize our economic growth. We proposed a plan for affordable day care, which would make it possible for thousands of women to return to the labour market. Why are the Conservatives introducing regressive measures like income splitting?
Poverty November 4th, 2014
We are talking about children, Mr. Speaker. No matter what the minister thinks, causing harm to small children is not a basic Canadian value. The government just does not get it on multiple fronts.
A new report today reveals that food bank use in Canada is shockingly high and almost 40% of food bank users are children. Meanwhile, the government has totally abandoned any attempt to create good jobs that would bring families out of poverty.
Why is the government ignoring the jobs crisis and leaving Canadians stuck at the food bank?
Protection of Canada from Terrorists Act November 4th, 2014
Mr. Speaker, I thank my colleague for raising those two other bills tangentially, but in my time allotted, I would like to focus on the bill that is before us today.
I would like to say that CSIS, our spy agency, is a body that is very important for the security of Canadians, but it is essential that there be adequate oversight.
Inquiry after inquiry has identified the need for better oversight, but the government, sadly, has moved in the opposite direction. It has taken the eyes and ears away from the minister responsible by cutting the oversight of our spy agency.
That is not the way to provide better safety and security for Canadians. I submit it is a way to keep the minister responsible blind and deaf, and that is not what we need. Canadians need to know that the vast and very important powers of CSIS staff are being monitored so that they are in compliance with the rules that have been set out for them in law.
There is no other body that can fulfill this requirement, and if Canadians truly want to be safe and assured that both their security and their civil liberties are protected, we need effective oversight. It is not happening. The government needs to get that done.
Protection of Canada from Terrorists Act November 4th, 2014
Mr. Speaker, I completely agree that this is penny wise, pound foolish, as my granny used to say. It really makes no sense.
In response, I want to quote from Mr. Kennedy's testimony. He said that the inspector general was "the eyes and ears". He said that "the minister is personally accountable for those intelligence officers", who have huge powers that Canadians really do not know anything about because it is in secret. He said, "That was the way the model was, because the the public can't be involved in it", but that the public has to be assured "that we have a responsible minister and he's on the hook for this, and he's informed and can do the job and deliver it for us."
It was set up that way. This is a covert intelligence agency, and there were vehicles put in place to allow the minister to control it. That was the inspector general. That position has now gone. Nothing has replaced it. Where is the accountability?
Protection of Canada from Terrorists Act November 4th, 2014
Mr. Speaker, I will be splitting my time with the member for Timmins—James Bay.
I am pleased to participate in this debate today on Bill C-44, an act to amend the Canadian Security Intelligence Service Act and other acts. I understand that it is a bill the government had on the books and was preparing to introduce, and it is doing so now, following the recent events here in the House and another tragedy in the province of Quebec.
In short, it makes three substantive changes to CSIS. It would clarify the legal authority of CSIS to conduct security intelligence operations abroad in response to threats to the security of Canada. It had run into some difficulties in the courts with respect to this, so it now wants clarification and changes because of that.
It also confirms the jurisdiction of the Federal Court to issue warrants that have effect outside Canada. It provides for the protection of the identify of CSIS human intelligence sources in judicial proceedings. It also amends the timeline for changes to the Citizenship Act with respect to the revocation of dual citizenship for dual citizens who are involved in terrorism or other serious offences. That bill was passed this past June.
I want to state that I join with all my colleagues in this House, and in fact all Canadians, in paying tribute to Corporal Nathan Cirillo and Warrant Officer Patrice Vincent. We joined many of our colleagues today at the cenotaph in Ottawa to lay wreaths. The veterans minister was there as well. It was a very moving time. I think Remembrance Day, in a few short days, will be a moving time for our country. My dad and my grandfather fought in the First and Second World Wars. I know how emotional, painful, and deep these experiences are for the entire Canadian psyche.
The violence that took place here in Canada a couple of weeks ago was something that certainly touched the hearts of Canadians and was something we need to take very seriously. I believe we will do that.
I have had a tremendous number of constituents contact my office and encourage us as parliamentarians to react in a measured, considered way and to not overreact to the events that took place, which indeed were terrible and terrifying. I am hopeful that as parliamentarians, we will do that, because we believe that defending both public safety and civil liberties is important. This is not a balancing act, where we shave off a little of one to gain some of the other. We believe, on this side of the House, that we can do both. We can move forward and ensure the safety and security of Canadians while guarding our shared values of freedom, tolerance, and an inclusive democracy. That is why we are all here as parliamentarians. It is because we value that democracy.
We must carefully review our laws in light of the tragic circumstances of the last two weeks and ensure that our laws and security measures are adequate and appropriate for the needs of our country while ensuring, at the same time, that our civil liberties are protected. We have to make sure that this work is done responsibly and with careful study based on the evidence we have at hand. Of course, we do not have all the evidence in yet, because investigations are ongoing.
On this particular legislation, details matter a great deal. We will support the bill going to committee, because we would like a thorough, rigorous, detailed study to take place.
I want to spend a bit of time on the notion of improved civilian oversight of CSIS. We are disappointed that the bill does not include that additional civilian oversight.
I had the great privilege of sitting on the finance committee in 2012, when under yet another budget implementation act, there was a debate about CSIS oversight. Members might well ask why the finance committee would be debating CSIS oversight, and that is a very good question. It was a measure included in the budget implementation act, 2012. The measure specifically included the elimination of the inspector general, a position I am sure most Canadians did not know we had, and if they did know, they were not sure what it did.
We had the terrific privilege of having as a witness at committee one of the key people responsible for setting up that position, Mr. Paul Kennedy. Mr. Kennedy has a long history of over 20 years in the public service. He has advised ministers. For a number of years, he was the senior assistant deputy minister of public safety responsible for national security activities. He spent five years as senior chief counsel to CSIS and four years as chair of the Commission for Public Complaints Against the RCMP. He was the senior general counsel of justice and coordinated all the legal advice among intelligence agencies. I am sure members would agree that he was an eminently qualified person to speak about CSIS and advise the committee.
I want to tell the House some of the facts he gave us. We had heard from officials that eliminating the position of inspector general would save $1 million of the public purse and that this was good value for money. We heard that SIRC would be able to take up the slack and take on the monitoring responsibilities.
Mr. Kennedy told the committee that we would save $1 million in a $7-billion public safety department budget but that ultimately, it could cost the government, and therefore Canadians, a great deal more when there were problems. He said there would inevitably be problems. For example, he said that the Arar inquiry, about the illegal arrest, imprisonment, and torture of Mr. Arar, was a $30-million inquiry, $10 million of which the government paid in compensation. It was tremendously expensive, and that $30 million did not include all the hours public servants spent on that inquiry.
There was the ongoing investigation of the Robert Dziekanski case at the Vancouver airport. There have been many other inquiries.
Mr. Kennedy pointed out that if we were talking about a consolidation of the responsibilities of this oversight position and SIRC, then we should have a transfer of staff and files and money to make that happen. None of that happened. In spite of many inquiries recommending greater oversight and more resources, that simply has not happened.
This is the direct responsibility of the Minister of Public Safety. The buck stops with the minister. Without the inspector general in place, who can keep an eye on the spies, Canadians have no guarantee that their public interests are protected.
We need that position. We need greater oversight. At committee, parliamentarians should make sure that this happens.
Canada Post November 3rd, 2014
Mr. Speaker, Canada Post is cutting home delivery to 5.1 million households. Mail delivery is a lifeline for many Canadians, especially seniors and people living with disabilities.
Even with these major cuts, Canada Post has found the money to launch a major advertising campaign, all the while taking away door-to-door service.
How much is Canada Post spending on this advertising campaign?
Economic Action Plan 2014 Act, No. 2 October 31st, 2014
Mr. Speaker, we have seen the Conservatives come out with a wasteful and ineffective income splitting program that will benefit only the most wealthy 15% of Canadians. The Conservatives will try to spin it that it is not what their income splitting program is, but anyone who examines it will know that.
Could the member describe the benefit of having a universal child care program? I know that people in my area are paying tens of thousands of dollars every year to get good quality care for their kids, if they can find it. The NDP will fix that. Could he describe how?