Peggy Nash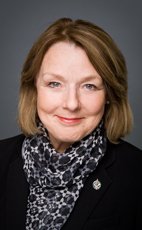 House of Commons photo
Track Peggy
Your Say
Elsewhere
Crucial Fact
Her

favourite word

is clause.
NDP
MP for Parkdale—High Park (Ontario)
Won her last election, in 2011, with 47.20% of the vote.
Statements in the House
Manufacturing Industry October 29th, 2014
Mr. Speaker, deregulating safety is working so well.
While the Conservatives allowed employers to bring in cheap labour to replace Canadian workers, they were also allowing good, high-paying Canadian jobs to disappear at an astonishing rate.
Over the last decade, Liberal and Conservative governments, under their watch, 600,000 manufacturing jobs have vanished. Far too many communities have been devastated by the government's unwillingness to act.
Where is the government strategy to create good manufacturing jobs here in Canada?
Canada-Korea Economic Growth and Prosperity Act October 28th, 2014
Mr. Speaker, we have been asked a number of questions by the Liberal Party during this debate. I find its position a little hard to understand, because its trade critic has already said it would sign absolutely any trade deal. Liberals are now asking questions about what they might have supported, given that they gave blind support. I also noticed that they have been willing to sign trade deals with countries with very bad human rights records, like Honduras, where civil liberties have been undermined and people have been killed.
I would like the member to reiterate the basis on which the New Democrats looked at this particular agreement and made a decision to support it, in contrast to the open-ended, frankly incomprehensible trade position of the Liberal Party.
Employment October 28th, 2014
Mr. Speaker, it is not just ships they have abandoned. Unfortunately, the Conservatives have also totally abandoned southwestern Ontario. As good high-quality manufacturing jobs disappear, the Conservatives are just twiddling their thumbs. Instead of helping to secure investments that would create jobs here, Canada has lost 400,000 good manufacturing jobs plus all the spinoff jobs those jobs would create. Their inaction is hurting Canadian families and communities.
Where is the government's plan to create good manufacturing jobs here in Canada?
Manufacturing Industry October 27th, 2014
Mr. Speaker, the minister should talk to unemployed workers in Windsor. That is what he ought to do.
Unfortunately, the Ford engine plant is just the latest in a series of disappointments for southern Ontario. More than 400,000 good manufacturing jobs have disappeared under the Conservatives' watch, and there goes another 1,000 jobs to Mexico.
When do the Conservatives plan to support creating good manufacturing jobs right here in Canada?
Manufacturing Industry October 27th, 2014
Mr. Speaker, the Conservatives' failure to support our auto sector has cost us another major investment.
The Ford Windsor engine line would have secured more than 1,000 good jobs for Canadians, but the failure of the federal and provincial governments to reach an agreement means that a $1.5 billion investment will go instead to Mexico.
Conservatives are standing on the sidelines while we lose jobs to international competition. Can the minister explain why the Conservatives fail to support these good jobs for Canadians?
Justice for Animals in Service Act (Quanto's Law) October 27th, 2014
Mr. Speaker, with crime in Canada at a 40-year low, why does the member think the federal government would spend hundreds of millions of our tax dollars building 2,700 new prison cells, which it clearly intends to fill with its so-called tough on crime agenda. This, at a time when its counterparts, the Republicans in the southern U.S., have come to see the light of day and have recognized that in fact this not only makes no sense when it comes to good criminal justice but in fact it is bad economics.
It undermines the ability of a society to rehabilitate people, to get them back and effectively working in society, rather than paying for their upkeep in the criminal justice system when probably the vast majority have no need to be there whatsoever.
Can the member explain why our government seems to be so wrong-headed in this regard?
Justice for Animals in Service Act (Quanto's Law) October 27th, 2014
Mr. Speaker, I remember a few years ago, in Toronto, when Brigadier, a beautiful Belgian cross horse, was struck and killed by someone fleeing in a getaway car. It shocked and outraged the entire community.
My community of Toronto was shocked and horrified just a couple of weeks ago when animal services announced that a black Lab puppy was in their care. It was the most severely abused animal they had ever seen. It had acid burns, broken bones and internal injuries. Clearly all protections for animals, especially service and companion animals, need to be improved, as the member for London—Fanshawe said. I put forward Bill C-232 to improve our animal cruelty laws, and we have not found support on the other side of the House.
Why does the member think that the government side would not support general laws to improve the welfare of animals and to improve the struggle against animal cruelty, but that it would overreact and in fact undermine the situation with some of the provisions in Bill C-35?
Justice for Animals in Service Act (Quanto's Law) October 27th, 2014
Mr. Speaker, I thank my colleague for his very thoughtful comments on this bill. I would like to ask him about mandatory minimum sentences, which are once again provided for in this Conservative bill. In a way, they undermine the goal of the bill, which is to ensure that there are adequate and serious penalties for people who harm service animals.
A recent documentary called State of Incarceration, which aired on CBC's Doc Zone and was produced by a constituent of mine, very graphically showed how mandatory minimum sentences and other kinds of supposedly tough-on-crime legislation in fact undermine the criminal justice system. They lead to overcrowding in our prisons and less support and assistance for criminals and people who are incarcerated to be rehabilitated, get back into the community, and ultimately become contributing and productive members of society.
My colleague may not have seen it, but can he comment on the intent of this video, which was to shine a light of this undermining of effective criminal justice systems? Even the U.S., which pioneered this tough-on-crime agenda, is turning back and going for rehabilitation as a more cost-effective measure to treat serious crime.
Dalai Lama October 23rd, 2014
Mr. Speaker, it is my honour to rise in the House today to welcome back a friend and honorary citizen of Canada, His Holiness the 14th Dalai Lama. In his long struggle for the Tibetan people, the Dalai Lama has consistently opposed the use of violence and teaches that all life is precious. That is an especially poignant message to Canadians today.
I stand to reaffirm Canada's support of His Holiness the Dalai Lama's unwavering commitment to non-violence and peace. I look forward to meeting him in Vancouver tomorrow with my colleagues from the Parliamentary Friends of Tibet, of which I am vice-chair.
I call on the government to continue to urge the Chinese government to re-enter into negotiations with the Dalai Lama's envoys and consider his request to make a pilgrimage to Wutai Shan in China.
Today I join with members of the House and all Canadians in wishing a heartfelt welcome to His Holiness the Dalai Lama.
Business of Supply October 21st, 2014
Mr. Speaker, my question is this. Are these the kinds of questions that the member for Vancouver East has been trying to get answers to that the member for Toronto perceives would be answered by getting the minister to the health committee?