Peggy Nash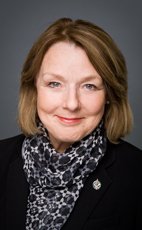 House of Commons photo
Track Peggy
Your Say
Elsewhere
Crucial Fact
Her

favourite word

is clause.
NDP
MP for Parkdale—High Park (Ontario)
Won her last election, in 2011, with 47.20% of the vote.
Statements in the House
Military Contribution Against ISIL October 7th, 2014
Mr. Speaker, as the member can wisely understand, I will not speculate on what could be or possibly might be an acceptable bombing mission or military intervention. Our hope is that we do not have to engage in a military mission.
There is something we know now. We have the facts. We do not have to speculate. Lives can be saved today with an even greater humanitarian intervention. We do not have to hypothesize about that. Millions of people are in misery today and their lives may be at risk because of the humanitarian crisis.
Rather than getting our mindset on what mission we might support, let us focus on the mission today, which is a humanitarian mission. Let us save lives today. That is what Canada should do.
Military Contribution Against ISIL October 7th, 2014
Mr. Speaker, I am very pleased to join the debate today on behalf of my constituents in Parkdale—High Park. I am splitting my time with the member for Davenport, a neighbouring riding in Toronto.
This is a very important debate. There is no more serious decision that can come before the House than a decision for military action, a decision to send Canada's children, our sons and daughters, our wives, our husbands and our parents to war. It is one of the most grave decisions that we have as parliamentarians.
There are many dangerous places in the world today. I have, like many here, been engaged in international work as a parliamentarian, but certainly for many years before my time in Parliament. I have worked with people from the Democratic Republic of Congo, where sexual violence has been a horrific tool of war, a place where it is estimated that even to this day, over 40,000 people a month are losing their lives, and many more lives are destroyed through displacement and violence of various kinds.
The Central African Republic is another place where, since December, it is estimated that more than 5,000 people have been killed.
Syria has been a very high profile area of conflict. It is estimated that close to 200,000 have lost their lives. This has evolved into a major humanitarian crisis, where many are in refugee camps or are seeking refuge in Lebanon, Syria and Iraq.
There are places that are just very violent. Saudi Arabia, for example, has capital punishment. One of the most common tools for execution is beheading. Just this past August, more than 20 people were executed by beheading.
There are many dangerous, violent places in the world, but certainly the actions of ISIL have particularly gripped the public media, the public debate, the consciousness of people around the world because of its violence, its tactics and its skilled use of social media as a tool to terrorize.
Many thousands have been killed. ISIL has been using horrible tactics such as conscripting of children and sexual violence to conduct its terror campaign. It has left many people displaced, more than 1.8 million civilians in Iraq alone. However, about 5.2 million are in need of humanitarian assistance.
Let us make no mistake. The actions of ISIL are reprehensible, horrific and deplorable, and there is no question that people being subjected to its terror campaign are looking for help.
Incredible humanitarian assistance is required. Certainly the UN has highlighted this. The Coordination of Humanitarian Affairs at the UN has said that humanitarian conditions in Iraq continue to deteriorate, and 5.2 million people are in need of humanitarian assistance. That assistance ranges from water, sanitation, hygiene, access to food and very basic needs like shelter. We are coming into the fall and it will soon be winter. People do not have adequate shelter.
Also, there are: Mobile health units, especially in hard to access areas; protection for minorities, because these are the people who have been especially affected by the fighting; gender-sensitive responses for women and children who are being targeted for sexual assault; women and children who are trafficked, abducted and forced into recruitment, fighting, marriages, and as I said, sexual-based violence. There are children who not only have basic humanitarian needs, but they also need education and counselling for this trauma.
The United Nations has declared the situation the highest level of emergency. If we want to save lives and provide immediate assistance, it is with humanitarian aid that Canada can best assist the people who are affected by ISIL.
The United Nations passed resolution 2178 on September 24, which did not advocate military intervention. It advocated for UN member states to ensure that people who financed or otherwise supported terrorist activity, including and specifically that of ISIL, would be held legally accountable and brought to justice. The resolution did not authorize military action.
Secretary-General Ban Ki-moon commented that, "Over the longer-term, the biggest threat to terrorists is not the power of missiles – it is the politics of inclusion". I would argue that military aid is not the biggest need; it is humanitarian aid.
The question the New Democrats ask is, will military aid help or hurt?
There has been some suggestion that the bombing missions by the United States have in fact prompted more recruits to join ISIL and become engaged in its struggle. Therefore, are we spreading the problem as these fighters disperse to avoid bombs, and they disperse among the civilian population? Are we creating a bigger problem than would otherwise have been?
In other words, would a bombing mission help or hurt? What is the plan? What is the goal? How do we know if we are succeeding? How do we know when we have succeeded? Will there be ground troops and what is the plan for that?
It is a little different to say to Canadians, or to any country, that we will be dropping bombs from a very high altitude and nobody on our side is going to get hurt. However, as we have seen in conflict after conflict, that becomes a slippery slope and quickly evolves into boots on the ground because there are always reasons, such as we have to finish the job, or we are not effective enough or there is more we could be doing.
We need to know what the plan is. What is the duration? Is it going to help or hurt? Are we dealing effectively with the humanitarian needs?
We have many questions that have not been adequately addressed in spite of the many passionate speeches from the other side of the House.
On behalf of my community in Parkdale—High Park, and I do not want to by any stretch of the imagination say that public opinion is unanimous, of the people who have contacted me by email, phone and those who have walked in the door, overwhelmingly the opinion is that people do not want us to engage in a bombing campaign against ISIL. They support humanitarian aid and whatever assistance we can provide. They understand the seriousness of this threat, but they do not want us to become engaged in what could be another long, open-ended war against what or who, wondering who would be allies and who knows when it will end or what the finish line even is.
I am proud of our leader, our critics on this file and our party. We will vote no to the motion when it comes to a vote.
Petitions October 3rd, 2014
Mr. Speaker, I rise to present petitions signed by hundreds of students in my riding who are concerned about the toxic litter of cigarette butts in their community. They have launched a campaign to clean up the neighbourhood to make it clear of cigarette litter.
The petitioners are calling on the Government of Canada to provide guidance and support for all other levels of government to establish funding for the mandatory installation of cigarette butt disposal bins in high traffic areas and to address the issue by establishing comprehensive guidelines and a strategy for both intervention and prevention of the litter's toxic impacts on our environment, such as finding an alternative environmentally friendly way of disposing of this litter.
Citizenship and Immigration October 3rd, 2014
Mr. Speaker, back to the topic at hand, we already know that the consequence of their appeal will be more kids being hospitalized for serious illnesses.
The Federal Court said that the impact of the government's policy on vulnerable and innocent children "shocks the conscience and outrages [Canadian] standards of decency".
Yet, the Conservatives have the gall to stand there and say it is about saving money. No Canadian parent thinks that saving money by making children suffer is a good thing.
Will the Conservatives instead do the right thing and withdraw their appeal?
Citizenship and Immigration October 3rd, 2014
Mr. Speaker, he should actually talk to some refugees, like people on this side of the House do.
It fell to the Federal Court to defend Canadian values, and the court found the Conservatives' policy with respect to refugees "cruel and unusual". Instead of respecting our shared values and instead of showing compassion for refugees, the government is appealing the decision.
It is unbelievable. The result of the government's intransigence is that desperate parents will put off help for their kids until they are very sick. Pregnant women will go without prenatal care.
Why will the government not show some humanity and drop the appeal?
Yom Kippur October 3rd, 2014
Mr. Speaker, tonight members of the Jewish faith in Canada and around the world will gather to observe Yom Kippur, the Day of Atonement.
I would like to recognize the Jewish people of my riding of Parkdale—High Park and all Jewish Canadians celebrating Yom Kippur beginning at sundown today.
Yom Kippur, the holiest day of the Jewish year, focuses on atonement and repentance. It is also a time for families to come together, to reconnect and reflect on the past year and the year to come. It is a time for prayer, for reflection and for family.
As Jewish families observe this solemn holiday, let us all commit to working together to build a better future.
Tzom Kal.
ClimateFast October 2nd, 2014
Mr. Speaker, today the closing ceremonies of the third annual ClimateFast action are happening here on Parliament Hill. Participants from across Canada have been fasting each Monday to draw attention to the urgent need for action on climate change and began a sustained fast on Sunday.
These dedicated activists are calling for an end to fossil fuel subsidies, a price on carbon, and support for the development of a renewable energy plan for Canada. New Democrats support these goals and have put forward the climate change accountability act to help us meet them. Sadly, governments past and present have utterly failed to address the challenge that climate change presents. Their negligence has put our country at serious risk and has kept us on the outside of the green economy of the 21st century.
I commend the ClimateFast participants for their ongoing work on climate justice, and I call on the other parties in the House to follow their courageous lead and help us build a prosperous and sustainable Canada.
Petitions October 1st, 2014
Mr. Speaker, I am pleased to rise today to present a petition on behalf of several Canadians. Some are from my riding, but some are from other provinces, such as Quebec and even Newfoundland.
These people are petitioning the House of Commons to issue a temporary residency permit for the Pusuma family, which is in sanctuary with their 5-year-old daughter. The family has been called to testify before the Law Society of Upper Canada, which has found that its lawyer may be guilty of professional misconduct. There is evidence that never was introduced in his case which could allow the family to stay in Canada. They are pleading for a temporary resident permit.
Corporate Social Responsibility of Extractive Corporations Outside Canada Act September 25th, 2014
Mr. Speaker, I am very pleased to speak in support of Bill C-584.
I am following on the heels of my colleague from Newmarket—Aurora, who has just told us some very positive stories based on her personal experience, and I have no doubt that there are positive stories and positive experiences with the extractive sector.
I am from the city of Toronto and our stock exchange, of course, is heavily invested in the extractive sector. I too have attended the Prospectors and Developers Association conference in Toronto for a few years now. It a huge, wonderful international gathering of representatives from the extractive sector. We were very proud to host that major international convention in our city of Toronto.
To begin with, let me say that there are very many positive role models and examples of companies in the extractive sector that we look to as leaders, both here in Canada and around the world. However, sadly, that is not the case for all companies in all parts of the world.
I will begin by citing an article from the CBC that was written last year, and it will speak for itself.
Tens of thousands of Colombians took to the streets of Bucaramanga, the country's sixth-largest city, last month to defend their water supply from a Canadian-owned gold-mining project.

The chief target of their protest was Vancouver-based Eco Oro Minerals Corp.

The company is exploring for gold and silver in a high-altitude, environmentally sensitive area that is the main source of water for Bucaramanga's one million inhabitants.

This was the fourth anti-gold-mining demonstration in the area since 2010, and one of the biggest.

But Eco Oro shouldn't feel singled out. It is only one in a string of Canadian mining and exploration companies that have drawn the ire of local communities around the world.

On March 12, for example, more than 10,000 Greeks protested in Thessaloniki against several gold mining projects owned by Vancouver-based Eldorado Gold.

Then on March 21, Catholic priests marched with 5,000 locals in Matagalpa, Nicaragua, against a project owned by Vancouver-based B2Gold Corp.

Canadian companies have also been targeted in Ecuador, Peru, Bolivia, Dominican Republic, Slovakia, Romania and Israel.

"Canada is very well represented in global mining conflicts because, in large part, Canada is the home of most of the junior mining companies of the world," says Ramsey Hart, the Canada program co-ordinator at Mining Watch, an Ottawa-based advocacy group.

The reason for this, he says, is that Canada has a favourable environment for high-risk, speculative investments, the kind that drives international mineral exploration.

Unlike the U.S. Alien Tort Statute, which allows foreign citizens to bring American companies to U.S. courts for abuses committed in a foreign country, there are no mechanisms to hold Canadian companies overseas accountable for their social and environmental policies. "We've just completely dropped that ball," Ramsey says.
The article continues:
The last attempt to impose minimum standards on Canadian companies was a bill sponsored by the opposition Liberals that would have set international standards for human rights and the environment for oil, gas and mining companies operating abroad, and would have made government political and financial support contingent on compliance.

Bill C-300, however, was defeated by six votes in a minority parliament two and a half years ago.
New Democrats joined and supported that vote. However, 17 Liberals were absent, which is unfortunate because they would have made enough to carry that vote and we would have had action on this file.
Thank goodness for the New Democrat member of Parliament for La Pointe-de-l'Île and her bill on corporate social responsibility in the extractive sector. What is being proposed in her bill is exactly what we need. It is a bill that would create a corporate social responsibility ombudsman for the extractive companies doing business in other countries, which is exactly what this news article was talking about.
It would also allow Canada to live up to the reputation that we want to have abroad. Canada is a country that believes in social justice, protecting the environment and defending human rights. This is the image that Canadians surely appreciate of our country. When we travel abroad, it is the image that we want to portray. Whether inadvertently or intentionally, we do not want companies that can be seen as ambassadors to let us down on any of these fronts.
The bill proposed by our colleague from La Pointe-de-l'Île would respect our commitments under international law and the international bill of rights by creating an office of the ombudsman. This would require corporations to report to the office on their extractive activities. It would give the ombudsman the responsibility for developing guidelines on best practices for the extractive activities and require the ombudsman to table an annual report on how companies around the world were doing to the House of Commons and therefore to the people of Canada. That is very important.
I began by saying that Canada was a world leader in the extractive sector. We are very proud of that. Close to 75% of the world's extractive companies are headquartered in Canada. However, many of the countries in which these companies operate sometimes have fragile democracies. They may not enforce human rights or environmental standards as well as Canadians or the citizens in those countries would like. Sometimes the mining companies, with their business endeavours, can create instability in these so-called host countries.
Sometimes these countries lack either the political will, the capacity or the ability to enforce protective measures that would actually defend the citizens they should represent. We believe Canadians do have some responsibility, and the measure that is being proposed in the bill is a measure that other countries around the world have taken.
I will give the government credit. It has taken some action. It created an extractive sector counsellor office. As the name suggests, it was really counselling businesses. It had no power to do anything. In essence, it turned the responsibility for corporate behaviour over to the very corporations that were responsible for the behaviour. That is a bit of a conflict of interest. It has not stopped the government when it comes to rail or food safety, or any other sector of the economy that ought to be regulated by the government, but that is what it has done here.
This counsellor has no ability to enforce anything or to do anything. The office has not been able to achieve anything. In fact, the only counsellor that the government appointed resigned in frustration with one year to go before the end of her term. That was last October, and the position today remains vacant. This is how seriously the Conservative government treats corporate social responsibility in the extractive sector. It clearly does not.
This is an important issue for Canadians. More than 600,000 Canadians have supported this campaign since 2006. The campaign has found friends in the corporate network for social accountability in groups like Amnesty International, Development and Peace and Mining Watch Canada. It has also found support in people like: Tony Andrews, the former executive director for the Prospectors and Developers Association of Canada; Pierre Gratton, president and CEO of the Mining Association of Canada; and Reg Manhas, senior manager, Corporate Responsibility and Government Affairs, Talisman Energy Inc.
This is clearly long overdue. It is something Canadians want. It is something the government should finally achieve. The House should vote in favour of Bill C-584.
Canada-Korea Economic Growth and Prosperity Act September 25th, 2014
Mr. Speaker, while Korea obviously has a much stronger democracy and human rights record than countries the government has signed agreements with, such as Honduras, New Democrats are still opposed to the investor state provisions in this agreement. However, unlike the Canada-China FIPA agreement, which ties the government's hands for 31 years, this agreement can be renegotiated or cancelled after six months. Therefore, we see that as a positive thing because we disagree with the investor rights provisions of this agreement.
My question for the member opposite is this. Considering that the Canadian government did not get the same protections that the U.S. was able to secure, what is the government going to do to ensure that Canada's auto industry can benefit from this agreement?