Peggy Nash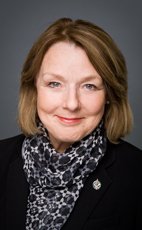 House of Commons photo
Track Peggy
Your Say
Elsewhere
Crucial Fact
Her

favourite word

is clause.
NDP
MP for Parkdale—High Park (Ontario)
Won her last election, in 2011, with 47.20% of the vote.
Statements in the House
Justice for Animals in Service Act (Quanto's Law) October 27th, 2014
Mr. Speaker, I thank my colleague for his very thoughtful comments on this bill. I would like to ask him about mandatory minimum sentences, which are once again provided for in this Conservative bill. In a way, they undermine the goal of the bill, which is to ensure that there are adequate and serious penalties for people who harm service animals.
A recent documentary called State of Incarceration, which aired on CBC's Doc Zone and was produced by a constituent of mine, very graphically showed how mandatory minimum sentences and other kinds of supposedly tough-on-crime legislation in fact undermine the criminal justice system. They lead to overcrowding in our prisons and less support and assistance for criminals and people who are incarcerated to be rehabilitated, get back into the community, and ultimately become contributing and productive members of society.
My colleague may not have seen it, but can he comment on the intent of this video, which was to shine a light of this undermining of effective criminal justice systems? Even the U.S., which pioneered this tough-on-crime agenda, is turning back and going for rehabilitation as a more cost-effective measure to treat serious crime.
Dalai Lama October 23rd, 2014
Mr. Speaker, it is my honour to rise in the House today to welcome back a friend and honorary citizen of Canada, His Holiness the 14th Dalai Lama. In his long struggle for the Tibetan people, the Dalai Lama has consistently opposed the use of violence and teaches that all life is precious. That is an especially poignant message to Canadians today.
I stand to reaffirm Canada's support of His Holiness the Dalai Lama's unwavering commitment to non-violence and peace. I look forward to meeting him in Vancouver tomorrow with my colleagues from the Parliamentary Friends of Tibet, of which I am vice-chair.
I call on the government to continue to urge the Chinese government to re-enter into negotiations with the Dalai Lama's envoys and consider his request to make a pilgrimage to Wutai Shan in China.
Today I join with members of the House and all Canadians in wishing a heartfelt welcome to His Holiness the Dalai Lama.
Business of Supply October 21st, 2014
Mr. Speaker, my question is this. Are these the kinds of questions that the member for Vancouver East has been trying to get answers to that the member for Toronto perceives would be answered by getting the minister to the health committee?
Business of Supply October 21st, 2014
Thank you, Mr. Speaker. There were just so many questions that remained unanswered.
Business of Supply October 21st, 2014
Mr. Speaker, I have to say that the way we deliver aid certainly is an area where Canada can improve greatly. It is something that I also have experience in and I share the concern about that.
I want to take a moment and thank both the leader of the official opposition and the member of Parliament for Vancouver East for all their work on this file. Specifically the member for Vancouver East has raised a number of very serious, specific, important questions that I think this motion is trying to get answers to. It was regarding Canada's emergency preparedness and I would like to cite from a letter that the member for Vancouver East has sent to the health minister and she asked a number of very practical questions that are still not answered.
Who is responsible for ensuring quarantine and treatment protocols for Canadians? What communications have been undertaken by the Public Health Agency to inform Canadians? What kinds of screening protocols are currently in use at ports of entry? What kinds of precautions will protect Canadians who are—
Business of Supply October 21st, 2014
Mr. Speaker, obviously the NDP believes that the Canadian public needs to be well informed when it comes to situations such as a health crisis. People want to know that they and their families are protected by the government. They need to have faith that the government and public health agencies are ensuring their safety and security in these situations.
I want to ask a question specifically about the vaccine.
The government was slow to get the vaccine to trials. With respect, the member opposite has said that we can ask a question of the minister, but the Leader of the Opposition has been asking this question and we have not been able to get the answer.
The government sold the rights to a made-in-Canada vaccine for Ebola for only $200,000. The Americans were able to get their vaccine to trials one month before Canada did, and the minister has done nothing to expedite the trials.
My question is this: what steps did the government take to get the vaccine to trials before September, and why did it fail to intervene and ensure that this vaccine was available?
Rail Transportation October 9th, 2014
Mr. Speaker, the minister's reaction to the report on Lac-Mégantic yesterday seemed to suggest that she thought it was only the result of a few bad apples, and that the systemic failures in her own department were not involved, despite the findings of the TSB.
Now the rail companies are fighting attempts to limit work and rest hours for engineers.
Will the minister stand firm against the rail companies and protect Canadians?
Rouge National Urban Park Act October 8th, 2014
There was a comment he made in 2012.
Mr. Speaker, through you, I think this is my time to speak and not a debate, so I would ask the member to hold his comments while I have the floor.
The importance of creating parkland is that there can be multiple uses. There could be an area for an ecological preserve, where we can preserve a purely natural environment. There could be walking paths. There could be other activities in the park. There could be a zoo. There could be many uses.
To say that by preserving the ecology of the park or insisting on woodlands in the park, somehow that would have to cover every square foot is simply not correct.
However, I do trust the people who have been active on this issue for 20 years or more who are saying they have concerns about the bill and that their work is not being listened to.
Rouge National Urban Park Act October 8th, 2014
Mr. Speaker, in my remarks I listed a number of reports and plans. The member is right that there are plans going back to 1994. However, the quote I just gave from the general manager of the Friends of the Rouge Watershed, Jim Robb, was from 2012.
Rouge National Urban Park Act October 8th, 2014
Mr. Speaker, I thank my colleague for London—Fanshawe for that important question.
A question that is very pressing in urban centres is this. How do we protect not just green space but the green canopy?
There are many Toronto city councillors, including ours in Parkdale—High Park, who have been very vocal and adamant about the need to increase the tree canopy in our area and in the city of Toronto generally. The last thing we want to have is a concrete or asphalt wasteland. We want to have all of the health, environmental and ecological benefits that the tree canopy brings.
I thank my colleague for London—Fanshawe for her work on this issue. It really speaks to the importance of this corridor and to preserving access to this wooded area and the tree canopy, not just for now but for generations to come.