Peggy Nash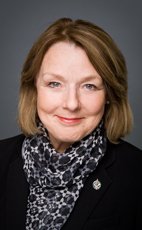 House of Commons photo
Track Peggy
Your Say
Elsewhere
Crucial Fact
NDP
MP for Parkdale—High Park (Ontario)
Won her last election, in 2011, with 47.20% of the vote.
Statements in the House
Economic Action Plan 2013 Act, No. 1 May 1st, 2013
Mr. Speaker, I find the member's comments a little surprising. I know he has a sense of humour, so perhaps he is saying that with his tongue in his cheek. I am not sure.
Again, I would encourage the member to check the record. The NDP has the best record for balanced budgets of any party in Canada.
One thing I do know is that we cannot austerity our way to prosperity. The more we cut, the more we slow the economy. In case he has not noticed, our economy is almost at a stalling point now, so the Conservatives putting their foot on the brake is not exactly what we need. We need prudent management, but we need strategic investments that create jobs.
We do not need to lose another $3 billion that the Conservatives cannot find. They have lost $3 billion of taxpayer money.
Economic Action Plan 2013 Act, No. 1 May 1st, 2013
Mr. Speaker, I appreciate my colleague's sincere passion about the environment. Clearly in the New Democratic Party we share that passion. We understand that in a 21st century economy we want to reduce greenhouse gas emissions and we understand that we need to leave our environment in better shape for our children and grandchildren than the situation in which we found it.
As in many other countries around the world, priorities for Canadians need to be energy efficiency, reducing greenhouse gas emissions and developing the new technology for the kinds of energy-efficient industries that will be needed around the world. Canada needs to be a leader, not a laggard as we are now under the Conservatives.
Economic Action Plan 2013 Act, No. 1 May 1st, 2013
Mr. Speaker, that is an excellent question. I would like to thank my colleague.
The austerity measures set out in budget 2013, like those in budget 2012, will make the economic situation worse and will slow down our economy. Instead of creating good jobs for Canadians who need them, these measures will increase unemployment and job insecurity throughout Canada.
We need the opposite of what this government is doing.
Economic Action Plan 2013 Act, No. 1 May 1st, 2013
Mr. Speaker, I will take this opportunity to point out that if we look at all provincial and federal budgets across the country, in fact we see that it is the New Democratic Party that has the best fiscal record and the best record of balancing budgets right across Canada. Members do not have to believe me. If they would like to do their homework, they can check the record.
I will tell members what we will not do. We will not be like the Conservative government and lose over $3 billion of taxpayer money, as the Auditor General pointed out this week. We will not increase taxes on thousands of consumer goods that will make life more difficult for Canadians right across the country. We will not slow the economy, increase unemployment and throw people into precarious, uncertain jobs. That is what we will not do.
Economic Action Plan 2013 Act, No. 1 May 1st, 2013
Mr. Speaker, let me clarify.
In my remarks, I did not reference whether anything in this bill had or had not been included in the budget bill, although those of us who were at the technical briefing found that in fact there are things that were not mentioned in the budget bill. What I said is that there are many things in this bill that should be studied by other committees: foreign affairs, industry, government operations. That is what I was talking about.
However, let me clarify. The Minister of Finance has been far wide of his economic projections. He has been off by 35%. Every time he says the measures he brings in are going to make things better, lo and behold, the economy slows down even further. That is the kind of economic management the government provides. If people in Canada want to see what better economic management is like, the New Democrats are ready to take office in 2015.
Economic Action Plan 2013 Act, No. 1 May 1st, 2013
Mr. Speaker, I rise today to speak on yet another Conservative omnibus budget bill.
Like its predecessors, Bill C-60 includes a wide variety of complex measures, such as changes to the temporary foreign worker program, changes to the Investment Canada Act and the merger of DFAIT and CIDA. Each of these alone is an important issue and an important measure that deserves thorough consideration and scrutiny, both here in Ottawa and in communities across the country. People would like to understand exactly what is being proposed.
This is the Conservatives' third attempt to evade parliamentary scrutiny on their job-killing agenda by packing the bill full of unrelated measures into one big bill and trying to push it through Parliament. That is no way to show leadership in a democracy.
I rise today to speak to yet another Conservative omnibus bill. Like its predecessors, Bill C-60 includes a large variety of complex measures—from changes to the temporary foreign worker program and the Investment Canada Act to the merger of DFAIT and CIDA. These are important issues that deserve thorough consideration and scrutiny, both here in Ottawa and in our communities from coast to coast to coast.
This is the Conservatives' third attempt to evade parliamentary scrutiny on their job-killing agenda by packing dozens of unrelated measures into one bill and ramming it through Parliament.
The Conservatives are trying to tell Canadians to move along because there is nothing to see in Bill C-60. In a way, they are right. It is true. There is no job creation strategy, nothing to make life more affordable and nothing to strengthen the services that Canadian families rely on.
Following the 2008 economic crisis, the Minister of Finance begrudgingly ramped up infrastructure investment. He was forced to do it by the opposition. Now he is cutting billions of dollars in infrastructure investments to communities across Canada. These cuts will cost tens of thousands of jobs in cities and communities right across this country. Cuts to services, coupled with tax hikes on thousands of products that Canadians need, will serve as a double whammy to Canadian families. These are families, certainly in my community, like communities across Canada, who are already far too stretched and struggling to make ends meet.
The Conservatives claim to be good fiscal managers—we will set aside the fact that they just lost over $3 billion of our tax dollars—but there are other facts that speak to the contrary. The Minister of Finance missed his economic growth target for 2012 by 35%. He has presided over a record $67 billion trade deficit, and now private sector economists are telling us that this year will be even worse.
It is clear the Conservative economic agenda is not what Canada needs. Perhaps the most ironic part of the Conservatives' reckless cutting is that the Parliamentary Budget Officer has clearly demonstrated that the cuts in budget 2013 are just not necessary for Canada to return to a structural budget surplus. In other words, all this pain is not needed.
The PBO has pointed out that what budget 2013 is really about is eliminating thousands of jobs, cutting direct program spending and weakening GDP growth. This is not what leadership looks like, and what a time for leadership to go missing in action here in Canada.
A recent article in The Economist, entitled "Canada's economy: On thinning ice" warns:
—consumers are showing signs of flagging. The economy is set to expand by a paltry 1.6% this year. So the authorities are casting around for another source of growth. The trouble is they cannot seem to find one.
The article in The Economist goes on to say:
Jim Flaherty, Canada's finance minister, has repeatedly warned of the threat household debt poses to the economy. Yet in his budget on March 21st, [the finance minister] did little to encourage business investment or exports to take the place of consumers in supporting growth. Rather, his focus was on eliminating the federal deficit—currently at 1.4% of GDP, low compared with most G7 economies—before the next general election in 2015. His plan, which relies on spending restraint and unusually high revenue growth, is seen by many as wishful thinking. So the Canadian consumer remains the main hope for the economy. It is an odd situation where both government and business have decided to be excessively prudent in their spending, but are hoping that consumers will not follow suit just yet.
Despite these risks to our economy, the Conservatives insist on pushing stubbornly ahead with their austerity agenda, and they are crossing their fingers that Canadians, who already have a record 167% household debt, are going to keep spending. It has become clear that the minister's timetable for deficit reduction has little to do with external reality. A growing number of bank economists, including Craig Alexander and Don Drummond, agree that the government is fixated on eliminating the deficit ahead of the next federal election, but that it is not needed; it could wait a year.
Following a pre-budget meeting with the finance minister, BMO's chief economist, Doug Porter, told reporters, "It probably would be unwise for the federal government to step on the brake further than it already has". In other words, there is no need for more austerity. There is growing consensus from the IMF to participants at the World Economic Forum in Davos that austerity is not the way to go. In fact, it is making problems worse.
In March, Carol Goar of the Toronto Star wrote of the finance minister's austerity agenda:
Since he began chopping programs and expenditures, the economy has drooped, the job market has sagged, consumers have pulled back and the corporate sector has hunkered down, sitting on its earnings. The same formula has delivered worse results in Europe.
In fact, an IMF report released in January estimated that in the European case, every dollar in government spending cuts would cost $1.50 in lost output. This past week, the hand-picked interim Parliamentary Budget Officer, put in place by the government, confirmed that the overall impact of budget 2012, fiscal update 2012 and budget 2013, will be a loss of 67,000 jobs by 2017 and a 0.7% reduction in GDP. This is at a time when our economy is only expected to grow by 1.5% annually. In other words, the economy is barely growing at all. This is an additional significant drag on our country's economic growth.
Despite what the Conservatives claim, their plan is actually holding back the Canadian economy, instead of accelerating it. What is worse is that they have failed to outline any contingency plan to deal with slowing growth and increasingly negative fiscal indicators. Instead, they are stubbornly moving ahead with austerity measures despite warnings from economists about the consequences.
Right now, at any given time, there are more than six Canadians looking for work for every job that is available. Statistics Canada figures recently released showed that the number of vacant jobs has fallen to the lowest level since record keeping began in March 2011. Our youth unemployment rate is double the national rate. TD Economics has said that the spike in youth unemployment from the recent recession will cost our economy $10.7 billion over the next years alone.
These are young people whose futures are on the line. They are people just starting out and trying to get a toehold in our economy. Young people should be full of optimism and willing to take chances at the beginning of their adult life. However, too often they are saddled with debt, they are saddled with very limited or no job prospects, and they are saddled with a tremendous amount of insecurity and huge costs.
Our aboriginal population is growing faster than any other group in Canada, yet this vibrant young population faces significant barriers to economic participation and development, including chronic underfunding of education at all levels.
Budget 2013 presented an important opportunity for the government to put forward real solutions. Unfortunately for Canadians, the only job creation strategy the Conservatives have is for temporary foreign workers and some parliamentary secretaries.
The Conservatives like to crow about their 900,000 net new jobs, but what kind of jobs and for whom? Too many are temporary. Too many are insecure. Too many are held by temporary foreign workers instead of Canadians.
Nearly 1.4 million Canadians are still unemployed. There are still 240,000 more young people unemployed today than before the recession. The Conservatives can clap on the other side about this situation, but it is a national tragedy that they are turning their backs on Canada's youth and all of Canada's unemployed.
At a time when families are struggling to make ends meet, hundreds of thousands of Canadians are in part-time and precarious work when they would rather have full-time permanent jobs. In fact, a recent report by the United Way in Toronto and McMaster University has shown that 50%, fully half, of the workers in the GTA and Hamilton regions are in this kind of precarious work. It means a day-to-day struggle against insecurity and uncertainty.
For those Canadians who do have employment, wages have stagnated. In fact, in the 25 years between 1981 and 2006, including one of the most prosperous periods since the 1950s, workers' wages across Canada fell sharply behind. While Canada's real GDP per capita grew by 51%, average real weekly earnings did not increase. In other words, workers are being left behind.
At the same time, the number of temporary foreign workers in Canada has doubled in the past six years and tripled in the last decade. As Gil McGowan, the president of the Alberta Federation of Labour, notes:
The bottom line is that Canadians are being displaced by temporary foreign workers, wages are being suppressed and employers are being allowed to abdicate their responsibility for training Canadians.
Professor Miles Corak of the University of Ottawa agrees:
Flooding the market with workers from elsewhere year in and year out—even during a major recession—is not about an acute labour shortage. It is nothing more than a wage subsidy to low-paying firms, a subsidy that stunts the reallocation of goods, capital and labour that is the basis for efficient markets.
What is the government's response?
Just yesterday Barrie McKenna of The Globe and Mail wrote: "... the federal government is now belatedly acknowledging that two of its signature workplace programs may be making the country's employment landscape worse, not better."
Belatedly, indeed. After years of mismanagement, the Conservatives are proposing to fix major flaws by giving the minister an override power when work permits and labour market opinions approved by government become political hot potatoes.
This is a band-aid solution that does not get to the heart of this government's mismanagement of the TFW program.
In the meantime, not only are the Conservatives failing to create jobs, but they are continuing their attacks on Canadian workers.
Bill C-60 gives the Treasury Board sweeping powers to interfere in free collective bargaining and impose employment conditions on non-union employees at crown corporations.
With an enduring jobs crisis and cash-strapped households, where do the Conservatives expect Canada's growth to come from?
In a National Post op ed, economist Armine Yalnizyan writes about household debt in Canada:
Yes, many goods are cheaper than they were a generation ago. But the list does not include higher education and home ownership, both of which lead to greater economic security.
For many people, these two items are increasingly out of reach.
Those costs have zoomed past most people's income growth. Increasingly, Canadians have been pursuing these two dreams with ever-growing piles of debt. You don't need to work at the Bank of Canada to know that current levels of household debt offer a precarious foundation for sustained growth.

No matter your political leanings, most people understand that endless concentration of income, wealth and power is bad for the economy. After all, businesses rely on rising purchasing power of the many, not the few, to deliver growth and profits.
In 2001, a study by the International Monetary Fund found that:
...when growth is looked at over the long term, the trade-off between efficiency and equality may not exist. In fact, equality appears to be an important ingredient in promoting and sustaining growth.
This comes at a time when inequality is rising in Canada.
Budget 2013 does nothing to address the record levels of household debt or the rise in inequality. Instead the Conservative government has remained focused on an austerity agenda that has made major cuts to the services families rely on.
Putting people to work is clearly the best way to reduce our deficit. There is no need to reinvent or to privatize public services, no need to trample on economic and labour rights, no need to sacrifice equality in the name of efficiency.
New Democrats know that investing in education and infrastructure, making life more affordable and supporting our small and medium-sized businesses in creating high-quality, high-paying jobs is the real solution to our deficit.
Canadians are counting on us to provide leadership and to bring forward ideas and proposals that put the public interest first. New Democrats have tried to make this point time and time again. The Conservatives just do not seem to be getting it, so let me be clear: we do not want a budget that pushes aside the concerns of first nations groups and pushes stubbornly ahead without real consultation.
We do not want a budget that attempts to balance the books by downloading costs onto struggling families, provinces and municipalities.
We do not want a budget that fails to account for the long term and leaves the next generation further behind than the last.
We do not want a budget that fails to move Canada forward in a 21st century economy and leaves a huge environmental debt for our children and grandchildren.
We do not want a budget that not only ignores the concerns of Canadians but will also actually make it harder for families to make ends meet.
New Democrats will continue to stand up and hold the government accountable in the interest of all Canadians. We do not support the Conservative budget of 2013 or its implementation bills unless they are revised to address the real priorities of Canadian families and unless the government starts providing real leadership for this country.
With that, I seek unanimous consent to move the following motion: that notwithstanding any order or usual practice of the House, that Bill C-60, an act to implement certain provisions of the budget tabled in Parliament on March 21, 2013 and other measures, be amended by removing the following clauses: (a) clauses 136 to 154, related to the Investment Canada Act; (b) clauses 161 to 166, related to the Immigration and Refugee Protection Act and the temporary foreign worker program; (c) clauses 174 to 199, related to the proposed department of foreign affairs, trade and development act; (d) clauses 213 to 224, related to the National Capital Act and the Department of Canadian Heritage Act; (e) clauses 228 to 232, related to the Financial Administration Act and collective bargaining between crown corporations and their employees;
that the clauses mentioned in section (a) of this motion do form Bill C-61; that Bill C-61 be deemed read a first time and be printed; that the order for second reading of the said bill provide for the referral to the Standing Committee on Industry, Science and Technology; that the clauses mentioned in section (b) of this motion do form Bill C-62; that Bill C-62 be deemed read a first time and be printed; that the order for second reading of the said bill provide for the referral to the Standing Committee on Human Resources, Skills and Social Development and the Status of Persons with Disabilities; that the clauses mentioned in section (c) of this motion do form Bill C-63; that Bill C-63 be deemed read a first time and be printed; that the order for second reading of the said bill provide for the referral to the Standing Committee on Foreign Affairs and International Development (FAAE);
that the clauses mentioned in section (d) of this motion do compose Bill C-64, that Bill C-64 be deemed read a first time and be printed, and that the order for second reading of the said bill provide for the referral to the Standing Committee on Heritage; that the clauses mentioned in section (e) of this motion do compose Bill C-65, that Bill C-65 be deemed read a first time and be printed, and that the order for the second reading of the said bill provide for the referral to the Standing Committee on Government Operations and Estimates; that Bill C-60 retain the status on the order paper that it had prior to the adoption of this order and that Bill C-60 be reprinted as amended; and that the law clerk and the parliamentary counsel be authorized to make any technical changes or corrections as may be necessary to give effect to this motion.
In proposing this motion, we are attempting to allow for proper study of some very complex clauses of this bill, rather than have them all merge together in one large bill for study at the finance committee. We believe that the sections that pertain to industry should be studied at the industry committee, which can invite witnesses and actually hear testimony, and similarly for the foreign affairs committee, et cetera.
That is the rationale for introducing this motion.
Economic Action Plan 2013 Act, No. 1 May 1st, 2013
Mr. Speaker, I thank my colleague opposite for her remarks. We sit together on the finance committee. She talked about the work of the finance committee, which I think spent about a dozen meetings looking at how to increase charitable giving.
Given that this omnibus budget implementation act will affect over 50 different laws in Canada, will she now commit that the finance committee will spend at least ten meetings fully examining the important provisions that she has outlined in the budget implementation act, Bill C-60?
Economic Action Plan 2013 Act, No. 1 May 1st, 2013
Mr. Speaker, most observers will agree that investing in young people is absolutely essential for the future of our society and for a healthy economy. The fastest-growing demographic of youth in Canada is aboriginal youth. I would like to know why the government has provided a mere pittance to address the 30% gap between what children of first nations on reserve get compared with kids in the rest of the country. Why the gap and why did the CEO of the Assembly of First Nations tell the finance committee yesterday that the government had no meaningful consultation with first nations about education or any other topic?
Employment April 30th, 2013
Mr. Speaker, Conservatives have once again tabled a budget that actually harms Canadians.
The Parliamentary Budget Officer reported yesterday that budget 2013 weakens Canada's GDP and cuts Canadian jobs. Now, omnibus 3.0 pushes ahead with tax hikes on credit unions and small businesses, and further reduces scrutiny on foreign takeovers.
Why are Conservatives pushing ahead with their job-killing agenda that harms Canadian families and businesses?
Parliamentary Budget Officer Act April 29th, 2013
Mr. Speaker, I am very pleased to speak once again about the position of the Parliamentary Budget Officer. I will just remind my colleagues and Canadians that this is a position created by the Conservative government. It was created in the wake of the Liberal sponsorship scandal, at a time when Canadians were incensed by the misappropriation of their tax dollars.
People feel squeezed; their incomes have not been rising. Canadians want to know that the government treats every dollar they send to Ottawa with respect, and they want to see what is happening with their tax dollars.
Therefore, the Federal Accountability Act was something championed by the Conservatives. They rode into Ottawa on their enthusiasm for accountability. They promised fixed election dates so that elections could not be fixed around a time when a particular party had the best advantage. They wanted public appointments to be more transparent, not just a political reward for friends, and they wanted transparency in budgeting.
We have seen what a failure all aspects of this Federal Accountability Act have been under the leadership of the Conservatives. Their fixed election dates have had some flexibility, shall we say, in recent history. The head of public appointments was a position that was announced, never created and subsequently abandoned, and we know why. It is because, of course, appointments have remained in the sphere of pure partisanship under the Conservative government. Lastly, the transparency promised through the Parliamentary Budget Officer, which we supported, has in fact given way to opacity and less transparency in budgeting, probably less transparency than we have ever seen before, and the position of the Parliamentary Budget Officer has been undermined and significantly reduced in scope from what the Conservatives had promised.
However, let us take a look at what the Parliamentary Budget Officer shone a light on in his time in existence. He was the first to begin to analyze the real long-term costs of Canada's involvement in the war in Afghanistan, and that significantly influenced the public debate here in this country.
He began to analyze, and shone a light on, the cost of the Conservatives' crime legislation and what that would mean not only for the federal government but for provincial governments across this country, the real cost of that crime legislation.
Regarding the F-35s, it was the Parliamentary Budget Officer who really added some hard numbers to the true cost of the F-35 procurement and showed that the numbers the government was putting forward were truly in the realm of fantasy, in that the true cost of the F-35s would be many times more than what the government was publicly announcing.
The PBO also highlighted that the changes to OAS announced by the current government would mean that Canadians would have to keep working two more years before accessing their old age security. The Prime Minister, with all the courage he could muster from his perch with billionaires surrounding him in Davos, announced and then implemented the changes through one of his obscure budget implementation acts, to the detriment of hard-working Canadians who will have to work two years longer to access their pension benefits for old age security. However, the Parliamentary Budget Officer showed that OAS was indeed tenable, that it was indeed sustainable and that these changes were completely unnecessary, which showed that Canada just felt it needed to be with other governments around the world that were delaying old age security benefits.
The Parliamentary Budget Officer also showed the terrible impact of the government's austerity measures, how the impact would be in fact a drag on our gross domestic product, how these measures were undermining growth, increasing unemployment, and damaging the services and programs Canadians relied on.
What was fascinating was that he was unable to even get the information necessary to do his analysis. As someone who was in a position created to guarantee transparency and budgeting for Canadians, even the Parliamentary Budget Officer was unable to get the data, the information he needed to do his analysis.
He provided incredible information to Canadians, nonetheless, for which he was personally attacked by the government, and his work was undermined. Frankly, it was embarrassing that the government would undermine a public position in this way, especially a position it had fought for and created.
I want to just take a moment and pay tribute to the past PBO, Kevin Page. I do believe Canadians recognized his courage and the importance of the work he has done for Canadians. He stood up to the government; he spoke truth to power. I believe he brings forward the best of the public service and the credibility of independent advice that the position must maintain. We thank him for it.
This position is not just about an individual. Of course it is about the bigger question of transparency and democratic accountability in our finances. What is fascinating is that the hand-picked interim PBO, who is now occupying this position on a part-time business, has just released a report in which she has reaffirmed many of the numbers and the analysis that the previous PBO had drawn Canadians' attention to.
She, once again, shows how the government's reckless cuts are not only undermining programs and services that Canadians need, but that these cuts are in fact the wrong medicine for our weak and struggling economy. They are undermining our employment. They are cutting thousands of jobs out of the Canadian economy. They are creating slack in our GDP and slowing our growth.
There is no stimulus in the budget to increase our exports or to spark private sector investment. In fact, budget 2013 is hinged on a wing and a prayer that consumers will somehow increase their debt even more to drag the economy along into growth, which is not what we need because Canadians are already more indebted than ever in our history.
Nevertheless, the economy is growing, although somewhat sluggishly. What the PBO also shows is that the government, just through growth in our economy, will get the books back to balance by 2015-16 without the austerity measures from these cuts.
The question we must ask is why would the government undermine programs and services Canadians need if it is unnecessary.
We are proposing in Bill C-476 that the Parliamentary Budget Officer be a separate and independent officer of Parliament, a position that can maintain its jurisdiction and not serve at the whim of the government and not be subservient to the Library of Parliament.
We believe that this position ought to be fully independent, like other similar positions, such as the Senate Ethics Officer, the Auditor General and the Conflict of Interest and Ethics Commissioner. These are positions that are established by an act of law that guarantees the independence and the resources to these positions so that they can fully carry out their work without the interference of any government, no matter which government is in power.
That is true democratic accountability. When we are talking about the finances of the country, surely there is no more important work that a government does and has the trust of Canadians to do, which is collecting their tax dollar, overseeing it wisely and spending it well.
I encourage all members of this House to support this important bill and make this a reality.