Peggy Nash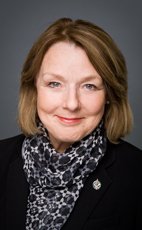 House of Commons photo
Track Peggy
Your Say
Elsewhere
Crucial Fact
Her

favourite word

is clause.
NDP
MP for Parkdale—High Park (Ontario)
Won her last election, in 2011, with 47.20% of the vote.
Statements in the House
Parliamentary Precinct Security February 16th, 2015
Mr. Speaker, I thank my colleague for the question. That is indeed the question of the day. Why does the government want to take this power when other countries are satisfied with the independence of the legislative branch?
I do not understand this desire to consolidate this power. It makes no sense. It is a good question for the government. Once again, I encourage the government to support the amendment to its motion in order to preserve the independence of Parliament.
Parliamentary Precinct Security February 16th, 2015
Mr. Speaker, I would like to know if the hon. member who just asked the question has evidence that the person who attacked Parliament was a terrorist. Let him prove it.
Parliamentary Precinct Security February 16th, 2015
Mr. Speaker, I will be sharing my time with the member for Trois-Rivières.
I am very pleased to stand in this House and debate the motion today on House security, and it does take me back to that day in October. I am sure that the time when this place was in lockdown is on all of our minds. I remember very vividly being quite near the shooter and being ushered into a room by House security. I was standing outside in a corridor. They ushered me into a room for my safety, and then, unarmed, the security personnel went back out into the hallway to confront we knew not what. None of us knew what was going on out there.
I want to add my voice to those of the others in this place who are thanking the brave men and women in the House and Senate security forces who risked their lives to keep us safe on that fateful day. I think we owe them a great debt of gratitude.
I want to say that when the shooter got into this place, he had made it past the RCMP, who guard the outside of the premises here, and it was House security, under the leadership of Kevin Vickers, that stopped the shooter and kept us safe that day.
If the intent of the motion should come to pass and all security for this House, the Senate, and the parliamentary precinct come under the purview of the RCMP, there is nothing in the motion that in any way proves that this place would be one bit safer than it was before or that it would have made any difference in stopping the shooter on that fateful day in October.
I must object to the word in the motion that the Conservatives use in saying that the shooter was a terrorist. There has been no evidence produced to us in this place or in the public to prove that this person was a terrorist. Was he just a lone person who, for whatever reason, got it into his mind that he would do this, or was he in fact connected to some terrorist group? The Conservatives have presented no proof of the latter.
As well, I want to say at the beginning of my remarks how strongly I oppose the government enacting yet again another debate-limiting closure motion on this motion.
This will be the 87th time that the government has enacted closure and limited debate. There has been a grand total of six hours of debate on this very important change. It is a fundamental change that goes back to a system we have had in place since Confederation, one whose roots lie deep in the history of parliamentary democracy. That is what the Conservatives want to change: the origin of the separation of powers between the legislative and executive branches of this place. This is what is impacted here.
I also want to make the point that we are not opposed to the integration of security forces. Several speakers—in fact, most speakers—have repeated that point. In fact, the integration of parliamentary security was already taking place. As this House well knows, the Speaker announced in a bulletin on November 25, 2014, that in fact the implementation of the integration of a unified security force was under way. That was happening.
I want to again reinforce that we support this integration. We are not opposed to the idea of having an integrated security force operating all over the parliamentary precinct. We think that does make a lot of sense.
We are, of course, in favour of improvements that work to keep parliamentarians, staff, and visitors safe in this place. What we are opposed to is that all of the security of both Houses and of the parliamentary precinct would ultimately be under the control of the RCMP, which does not report to this House, as security does today, through the Speaker. It would report to the government.
This House is not a creature of the government. It is in fact a creature of the people of Canada. Parliament is different from the government. Parliament is all of the representatives of the people of Canada, and that is a very important distinction. That is why security in this House has always been separate and independent and has reported to the Speaker and not to the RCMP, which reports directly to the government of the day. That is a very important distinction.
I also want to object to the wording of the motion, which says "as recommended by the Auditor General in his 2012 report". It kind of implies that this motion is acting on the AG's recommendation. I have read that AG's report, and the Auditor General, while recommending a unified and integrated security force, never once suggested that this should all come under the RCMP. That did not happen.
I would put forward to this House that this motion is misleading. It is taking advantage of a situation that demands action. We agree with action. Everyone agrees with action. However, it would take this action in a direction that would come under the complete control of the government. That is wrong. It is against our parliamentary tradition. It is against the independence of the Speaker and this House.
For that reason, we are not only opposing this motion. We want to support the intention of better security, better training, and better integration. It is for that reason that we have proposed an amendment. The amendment would be a strong improvement, because it would respect the powers of the respective Houses: the House of Commons and the Senate. It would respect those two Houses and the ultimate authority of the Speakers of the Senate and the House of Commons, who today have access and control over the security of Parliament, by ensuring the continued employment of our existing and respected parliamentary security staff. It is about the maintenance of the independent security staff. It is about the independence of the Speaker and his or her control over what happens in this House and therefore the control of the people of Canada over what happens in this House. Certainly, that can happen along with better integration, training, and coordination of those security forces.
We frankly do not see how this particular motion would, first, keep parliamentarians, senators, and Canadians any safer. Nothing is proven. Second, it seems that with its changes, it would be doing nothing more than transferring greater power to the government, rather than improving security for this place.
For these reasons, we believe that the amendment is a much stronger and much improved approach to security in this place. We urge all parliamentarians to support the amendment so that we can get on with the work of better security here, ultimately with the goal we all share of better representation for the Canadian people.
Employment February 5th, 2015
Sadly, that vampire is in charge of job creation and he is not doing the job today, Mr. Speaker. Maybe some vegetarians should get involved.
The Conservatives also have no plan to replace the more than 400,000 manufacturing jobs lost under their watch. That is 400,000 well-paid jobs that once put food on family tables and life in the communities.
The NDP has presented a plan to boost investments in manufacturing and create good middle-class jobs for generations to come.
Why do the Conservatives refuse to support action? Why do they refuse to create good jobs for Canadians?
Employment February 5th, 2015
Mr. Speaker, Target started liquidating its inventory today. It is liquidating everything: toys, clothes and 18,000 employees. Thousands of people will end up jobless, all because this government is incapable of diversifying the economy and protecting jobs.
Will this government face the facts, admit that its economic management has failed and adopt the NDP's plan to support the middle class and promote job creation?
Opposition Motion—Job Creation February 5th, 2015
Mr. Speaker, if the member believes that there is a trademark on the term "middle class" and that it somehow belongs to his party, I think the rest of the world is unaware of it.
Our leader genuinely comes from the middle class. He is a perfect example of someone who has worked hard all his life and has joined the middle class. That is why he is fighting so hard for the middle class.
If the member's comments indicate that he is going to be supporting our motion, I would really welcome that. It would be a welcome change, because I noted that when his leader was in London, Ontario, he urged that community to transition away from the manufacturing sector. If now he is in favour of the manufacturing sector, we think that is a positive step forward. Perhaps, then, we just need our colleagues across the aisle, in the Conservative Party, to join us, and we can pass the motion, get the Minister of Finance to bring in a budget, and finally get something done for Canadians here.
Opposition Motion—Job Creation February 5th, 2015
Mr. Speaker, I should first acknowledge that I regret using the proper name of our leader. It is just that he is such a great leader, I guess I got over-enthusiastic and got carried away. I thank my colleague for correcting that.
Let me address the question of the member opposite. Perhaps she misunderstood the point of my speech, which was that Canada has historically been a land of opportunity. People come to Canada, as my grandparents and parents did, from all over the world, because they believe that Canada is a land of opportunity where one can, through hard work, through study, and through effort, move up economically in the world. Sadly, as a result of the actions of her government, people are less and less able to make that move.
Let me just give her a couple of facts, because maybe she has been unaware of them. There are nearly 1.3 million Canadians today who are unemployed. Another 4,300 lost their jobs in December. Employment growth in 2014 was a mere 1%, which is almost nothing. Clearly, our economy is stalling, and employment growth is not even keeping up with our population growth.
Clearly, a lot of Canadians are struggling right now. We do not think that should be the case. We believe that Canadians ought to have opportunities and jobs and the ability to move into the middle class. We do not know what she would have against that.
Opposition Motion—Job Creation February 5th, 2015
moved:
That the House call on the government to take immediate action to build a balanced economy, support the middle class and encourage manufacturing and small business job creation by: (a) extending the accelerated capital cost allowance by two years; (b) reducing the small business income tax rate from 11% to 10% immediately, and then to 9% when finances permit; and (c) introducing an Innovation Tax Credit to support investment in machinery, equipment and property to further innovation and increase productivity.
Mr. Speaker, I will be sharing my time with the hon. member for Rimouski-Neigette—Témiscouata—Les Basques.
I am very pleased to begin the debate today on our motion, which calls on the government to take immediate action to build a balanced economy, support the middle class and encourage manufacturing and small business job creation.
A defining feature of Canada is a strong middle class. It is something we value, something we want our children to aspire to, and it is the most important economic asset we have in Canada.
Sadly, over the years of Conservative government, Canada has lost more than 400,000 good manufacturing jobs. These jobs have often been replaced by jobs in the service and retail industries, many of which have not paid nearly as well, and have been very precarious and insecure. Now many of these jobs are being lost.
What I see in my community, in Parkdale—High Park, and all over Toronto is families that are struggling to make everything work. They may have jobs, but they are spending so much on housing, whether it is rent or a mortgage, and they are spending so much on child care and everything else, that they do not have any savings or, worse, they have more debt than they have income.
Some families had good jobs with decent pensions and benefits, many in the manufacturing sector, but now they are working two or three jobs, none with benefits, never mind the pension.
More than 200,000 more Canadians are out of work now than before the recession, and job growth is not even keeping up with our population growth. The Conservatives have doled out big tax cuts to big business, and now they are proposing more tax cuts to the wealthiest 15% of Canadian families. What about the 85% of Canadian families? What about everybody else who is only just barely getting by?
That is why Tom Mulcair's NDP is fighting for the middle class and fighting for the majority of Canadians. That is who we are standing up for.
Today we are calling on the government to support the middle class with concrete actions instead of empty words and tax breaks for wealthy families.
We need to strengthen the traditional sectors, such as resource extraction and manufacturing, while taking advantage of new opportunities for innovation and growth. The NDP is calling for immediate action to support Canada's manufacturing base and is sending a message to investors that an NDP government will lead the Canadian manufacturing sector into a new era.
Today, our motion in Parliament is to take immediate action to build a balanced economy, support the middle class, and encourage manufacturing and small business job creation. Our practical plan would extend the accelerated capital cost allowance by two years and reduce the small business tax rate from 11% to 10% immediately, and down to 9% when finances permit. That is the prudent way.
We are calling for the introduction of an innovation tax credit to support investment in machinery and equipment and to help many to further innovate and increase productivity. All these measures would make a difference now to diversify the economy and encourage investment in the Canadian manufacturing sector.
Let us talk about small businesses. I make a point in my community of buying local whenever I can, everything from food to supplies for my house to clothing. I talk to small business owners who are always trying to find new ways to reach customers, to promote their products, to reach and expand into other neighbours.
Giving them a tax break, cutting back on their taxes, would put money into their pockets. It is something my friends across the aisle are always advocating, putting more money back into people's pockets. It would help small businesses expand and help them hire. That is the whole point. They are the job creators.
Government should support our motion today to help small businesses, which make up 98% of all the businesses in Canada. It should help them use their money to grow and expand. Small businesses create jobs and are invested in our communities. They enrich and diversify our communities.
Ninety percent of Canadian exporters are small businesses, and they help build our Canadian brand as high quality, highly innovative, and highly technical manufacturers in many cases.
Let us talk about manufacturing. Clearly the government has failed the manufacturing sector. What Canada needs is a government committed to cutting-edge, advanced manufacturing that looks to energy efficiency and sustainability in sectors where Canada is or could be a global leader; but sadly, it has failed.
There have been some measures that look good on paper, like the advanced manufacturing fund, until we see that actually it is slow moving and inflexible and has not released one single penny. That is some support for the manufacturing sector.
Meanwhile the Conservative government has cut hundreds of millions of dollars of support for business innovation while putting all its economic eggs in one basket, in the oil and gas sector. However, now oil prices are dropping, and most likely this sector will shed capital spending and cut jobs. Because the government has shown no interest in encouraging a diverse economy, our manufacturing sector cannot just pick up the slack.
After years of neglect, this sector has been left without the capacity it needs to increase production and take advantage of the low dollar to boost sales. We need a government committed to boosting the manufacturing sector, like most advanced countries around the world. Germany, South Korea, Brazil, and most advanced economies are fighting for their manufacturing sectors, standing up for small business. We need the government to finally wake up and start taking action.
Today is an important day. It is when members have the opportunity to stand up and be counted. Are members in the House going to stand up for Canada's middle class? Are they going to stand up for the manufacturing sector? Are they going to stand up for innovation and job creation? Are they going to stand up for small businesses in towns, cities, and communities right across this country? Every member has the chance to stand up and be counted. I urge every one of my colleagues to vote in favour of this important motion today.
Employment February 4th, 2015
Mr. Speaker, a lot of these workers are part-time, and they do not qualify for EI. That is the problem they have created.
Job losses are mounting, retail stores are closing, and the Conservatives have no plan and no budget. A hundred and thirty-three Target stores start liquidation tomorrow. Seventeen thousand, six hundred people are losing their jobs. Hundreds of other retail stores are closing, thousands more jobs will be lost, and the minister thinks if he just ignores it, it will go away. Well, it will not.
Canadians need a plan. Where is their plan?
Employment February 4th, 2015
Mr. Speaker, the retail sector has often served as a lifeline for workers in other sectors who lose their jobs. However, even these jobs are disappearing.
Furthermore, January and February are not good months to be looking for a job in the retail sector.
Where is the government's plan for all these people looking for work who must continue to pay their bills?