Peggy Nash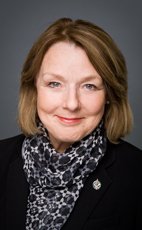 House of Commons photo
Track Peggy
Your Say
Elsewhere
Crucial Fact
NDP
MP for Parkdale—High Park (Ontario)
Won her last election, in 2011, with 47.20% of the vote.
Statements in the House
Ukraine February 26th, 2014
Mr. Chair, I would like to thank my colleague, especially for all the work she has done for the Ukrainian community. She has also visited Ukraine several times and demonstrated considerable solidarity with the Ukrainian people.
As I said earlier, the young interns from Ukraine who visited Canada and worked in our offices truly represent an important hope for the future of Ukraine, a future that includes democracy and respect for human rights.
The same can be said about young Ukrainian students. It is important to offer them opportunities to study in Canada. Access to education in Canada is very important. The member's idea is a very good one. It is an opportunity that the Government of Canada could give to Ukrainian youth that could help create a real democracy in that country.
Ukraine February 26th, 2014
Mr. Chair, I want to thank my colleague from Toronto Centre for her, I think, compliment on the work I have done with the Ukrainian community. It is true that not only have I been an election observer for three elections in Ukraine, but I have certainly participated in countless events with the Ukrainian community in Toronto, whether it is festivals and fairs or street festivals. The largest street festival in North America happens to be in Parkdale—High Park. Certainly when necessary, I have joined with the community in many rallies and demonstrations in support of democracy and human rights.
While there has been great concern about the role Russia has played and some of the decisions it has made with respect to Ukraine, again, I want to say that Ukraine is positioned in a unique situation: while it can be open to the west and take advantage of trade with the EU, it also has a long-time relationship with Russia. I do not know that it is helpful for Canadians to try to determine what that relationship is. Ukrainians will make their own decisions in the best interests of Ukraine, and surely that is as it should be.
Ukraine February 26th, 2014
Mr. Chair, I am not sure I heard the question correctly. Is the hon. member asking me if I think Ukraine should form a free trade agreement with the European Union? Surely that is up to Ukrainians to decide. It is not up to Canada to decide. I am confused by that question.
We would hope that a modern, free, democratic Ukraine would make the decisions that are in the best interests of its citizens. We would hope that those decisions mean it is open to economic relationships with the European Union, but surely we would not want to impose our views on Ukraine. Democracy is about the people in that country making their own decisions. In supporting democracy, we want them to be free to decide their future. Surely that is what this Parliament should support.
Ukraine February 26th, 2014
Mr. Chair, I am pleased to once again take part in this special debate on the situation in Ukraine.
Canada has a very special relationship with Ukraine, given that there are over 1.2 million Canadians who claim Ukrainian descent, that Canada was the first country to recognize newly independent Ukraine, and given our history of working with Ukraine to help it evolve into a democracy. I personally have served three times as an election observer in Ukraine.
I am not of Ukrainian descent, but I am very proud to have many folks of Ukrainian descent in my riding and many Ukrainian institutions. There are two different credit unions, seniors' services, and newcomers' services. People of Ukrainian descent have shaped the wonderful community that is the riding of Parkdale--High Park, which I am proud to serve.
Many people of Eastern European descent live in our community. There are people from the Balkans, Lithuanians, Latvians, and people of Polish descent. They are people who have travelled along the road to independence and have fought hard for their independence in what are today successful, thriving democracies.
I know from the many people who have contacted my office that they have agonized over the current situation in Ukraine. In my experience working with the community of Parkdale—High Park, and having been in Ukraine and met with many Ukrainians during my time as an election observer, I know how badly Ukrainians want a normal democracy. They want a democracy that respects the rule of law, that respects human rights, and that is free of corruption. They want a democracy where they can have business investments and where businesses know that the rule of law will be followed.
This has obviously been a rocky road for Ukrainians. They have impressed on me so many times how badly and how strongly they want to see a normal democracy in Ukraine.
The recent terrible tragic events have hit home especially hard for the people in Parkdale—High Park, and indeed right across this country and around the world.
There have been many rallies and gatherings in Toronto in solidarity with Ukrainians. Just last Sunday, hundreds of people were at Queen's Park, the Ontario legislature in Toronto, and it was a sombre and solemn moment when the long list of names of those who died in the recent events was read. They came from the Maidan, from Kyiv, the capital of Ukraine, and from other cities as well. This was a sad and tragic loss. From Canada's perspective, we have to do everything possible to help stabilize the situation and prevent further bloodshed.
There are many challenges on the road ahead. The temperature has been turned down, at least for now. A priority has to be that Canada do whatever is possible to help resolve the current situation with a political solution and that further violence not take place.
Our party and our foreign affairs critic have long called for sanctions. The government brought in sanctions.
I was at the foreign affairs committee today, and in questioning, government officials were vague about the travel sanctions that have been put in place. They could not tell us what form these travel sanctions were taking.
They have also put in abeyance the economic sanctions against those responsible for the violence and bloodshed in Ukraine. This is very concerning, because this transition period may well be the very time when they, through corruption, are trying to take vast sums out of Ukraine. Now is the time we should be ensuring that these economic sanctions have teeth. However, we heard directly from government officials that the economic sanctions have been put in abeyance. In fact, they are not being put into effect. I would like to hear from the government side about this, because this is very concerning.
I also have joined with my colleagues in advocating for a high-level parliamentary delegation on the ground in Ukraine, which our foreign affairs critic has long advocated, to keep the temperature down. They could do whatever is possible to help form a political solution and offer a model of democracy where parties with differing views can work together for a bigger issue. In this case, the bigger issue is democracy in Ukraine.
We were saddened and quite frustrated by the decision of the government to take that suggestion from our party but to exclude opposition parliamentarians. We think that is frankly a very sad decision, a very immature decision, on the part of the government. We need to be co-operating and working together to help Ukrainians do the same thing: co-operate and work together for the greater good, which is the success of Ukraine.
Constituents from Parkdale—High Park who have contacted me were frankly a bit saddened that partisanship would trump the more important question of democracy and human rights in Ukraine. We need to work together. We need to do everything possible to help Ukraine, under its current leadership, be as successful as possible.
Ukraine is in a unique situation. It could be open to the west and take advantage of the incredible success of the markets in the EU and democratize in a western fashion. Yet as a country that has long been close to Russia, it could maintain that close relationship with Russia and be a completely independent and modern democracy, which is what people in that country so badly want.
Our country has a special history of sending election observers and assisting with democratic development in Ukraine. We would like to see this continue. We should have a full observer mission to assist with the upcoming elections in Ukraine. We need to be doing whatever is possible to assist with having free, normal, democratic media and democratic institutions.
Young interns from Ukraine come to our offices on Parliament Hill. I have had several work in my office. The hope they represent is so impressive. If it were up to them alone, the future of Ukraine would be in excellent hands. They are truly inspirational, and we need to make sure that the hopes and dreams of those young Ukrainians are not in vain, that they can fulfill those hopes, and that Ukraine can succeed and play its full role as a modern democracy. All parliamentarians in this House need to do everything we can to make sure that such a future succeeds.
Taxation February 26th, 2014
Mr. Speaker, the Conservative government's plan for income splitting will cost the federal budget about $3 billion a year out of a painfully achieved surplus. It is a regressive and inefficient tax expenditure that simply does not benefit a staggering 86% of Canadian families. It also increases income and gender inequality. The CD Howe Institute has confirmed it will do more harm than good.
While the Conservatives may say they want to create jobs, its plan is a very strong disincentive for the lower-income spouse to work. Sadly, since women in Canada earn, on average, 19% less than men, the lower-income earner will usually be the woman. Conservatives, like the Liberals before them, are increasing inequality.
New Democrats are committed to all Canadian families, not just the richest among us.
Finance February 24th, 2014
Mr. Speaker, the government's own research confirms how Canada's middle-class has been in a long decline. Between 1993 and 2007, middle-class incomes grew at just one-quarter of the rate of high-income Canadians. By 2008, 40% of middle-class families were spending more than they earned.
Middle-class Canadians suffered badly under the Liberals, and the Conservatives have only made matters worse with their attacks on EI, collective bargaining, and retirement support.
Will the government finally take action to help middle-class Canadians get a raise?
The Budget February 13th, 2014
Mr. Speaker, clearly, this cabinet is divided and confused, and Canadians are being made to wait for help until the next election. No wonder the budget is being panned.
The Minister of Finance's budget also had nothing to say about climate change. We know the Conservatives' approach: it is to get marching orders from oil and gas lobbyists and then pit first nations, environmentalists, and concerned Canadians against resource companies.
Does the Minister of Finance really think that new snowmobile trails qualify as an environmental plan?
Intergovernmental Affairs February 13th, 2014
Mr. Speaker, we know that the finance minister and the employment minister are at odds over income-splitting. They are also at odds over working with the provinces. While the employment minister claims he is committed to negotiating a deal on job training, the finance minister is delivering threats and an ultimatum. He is uniting the provinces in opposition to this budget. The premiers of Ontario, Quebec, and even Saskatchewan are calling out the finance minister.
Will the finance minister start to listen to premiers like Brad Wall and maybe start working with the provinces?
The Budget February 12th, 2014
Mr. Speaker, I would like to ask my colleague on behalf of the people that we both represent in the city of Toronto, how he can stand in this place and talk about all of the wonderful things this budget would do when some of the most crying needs in our city are clearly ignored by the Conservative government and by this budget.
Specifically, I am talking about infrastructure needs. Our city is grinding to a gridlocked halt, and we do not see the federal government stepping up and doing its full share investing in infrastructure spending. Not only do we have transit needs, but we also have needs with respect to water, sewage, roads and bridges. The need is great. He just has to speak with the Board of Trade.
This is not to mention the fact that there is nothing for housing, and that so many young people are being abandoned by this budget. They cannot get a toehold in the job market.
How can the member support this budget when he is abandoning his own city?
The Budget February 12th, 2014
Mr. Speaker, I thank my colleague, who sits on the finance committee with me. I agree with his analysis that this is a do-nothing budget, but a budget that actually hurts people. Certainly, in this do-nothing budget, there is nothing for housing, for transit, nothing to help young people get a toehold in the job market, and nothing to help families with affordability. However, he made some points about how the government goes further and actually hurts people. He talked about veterans and others who are negatively affected.
The NDP approach to the budget has been that the Conservatives are playing politics and ignoring the real needs of Canadians. They are playing politics because it is a do-nothing budget until next year, when they can roll out some goodies right before an election. More than that, it seems that in the budget the government is playing politics by going after environmentalists, unions, and environmental groups. Could the member give me his view of whether the government is targeting or scapegoating certain groups for political benefit?