Peggy Nash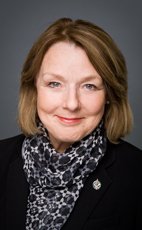 House of Commons photo
Track Peggy
Your Say
Elsewhere
Crucial Fact
Her

favourite word

is clause.
NDP
MP for Parkdale—High Park (Ontario)
Won her last election, in 2011, with 47.20% of the vote.
Statements in the House
Infrastructure December 10th, 2014
Mr. Speaker, it seems the federal Conservatives and the Ontario Liberals have more in common than they care to admit. Yesterday's Auditor General report—
Caregivers December 10th, 2014
Mr. Speaker, Parkdale—High Park, the riding that I represent, is home to many women who come to Canada through the live-in caregiver program.
They leave their families behind to come here and look after our children and our relatives, but this government does not care about their safety. Instead of addressing the vulnerability and precariousness caused by their status here, the government would rather keep these women from building a life by imposing caps on applications for permanent residency.
The government should address the real issues these women face, such as exploitation and unsafe working conditions that are the result of employer-tied work permits and high recruitment fees. Only then will caregivers be safe in Canada, something every person in this country deserves.
Motor Vehicle Safety Act December 9th, 2014
Mr. Speaker, I am pleased to support this legislation put forward by my colleague from Brossard—La Prairie. I want to thank him for his excellent work on cycling safety. This is an issue near and dear to my heart.
Bill C-603 would make side guards mandatory for heavy trucks manufactured in Canada or imported into Canada. As my colleague from Guelph has said, it is about encouraging people to cycle and about encouraging better cycling safety.
Canada should be looking at greater cycling infrastructure, so that we are encouraging people to cycle. I put forward a motion calling on the government to have a national strategy to encourage cycling infrastructure in communities across Canada.
People have to know that they can cycle safely, and installing side guards on heavy trucks would make cycling safer. It would save lives. Too many tragic accidents have taken place in communities across the country. In 2011, there was a tragic case in my own community. A mom was on her way to pick up her five-year old son from school. She was expecting a second child. She was making a right hand turn at a corner in our neighbourhood and a truck clipped her as it was turning that same corner. She fell under the back wheels of the truck as it turned right and suffered massive head injuries as a result. Whenever there is a collision between a truck and a cyclist, the cyclist will never win. Jenna Morrison was killed that day. Obviously, it was a terrible tragedy for Jenna's family and for our entire community.
We have been calling for mandatory side guards on heavy trucks for many years now. Our former colleague Olivia Chow from Trinity—Spadina worked tirelessly on this issue. There was a similar case in her riding involving a young cyclist who was making a right hand turn at Dundas and Spadina. She was clipped by a truck and suffered massive injuries as she fell under the rear wheels.
Side guards would push the cyclist away from the truck rather than allowing the individual to fall into the truck and be crushed by the rear wheels. A cyclist might be injured falling on the street, falling on a sidewalk, or falling into a parked car but would not be crushed to death by falling under the rear wheels of a truck.
For years, other countries have heeded the call for mandatory side guards because they have seen the totally unnecessary deaths of cyclists and pedestrians by heavy trucks. A study in the United Kingdom found that side guards reduced the number of deaths in accidents where cyclists were hit by the side of a truck by 61%. Two-thirds of the cycling deaths were reduced.
The Chief Coroner for Ontario has reaffirmed a 1998 recommendation to install side guards on trucks, believing it would have a positive effect on cycling safety. The coroner for Quebec published a report in 2014, which showed that cyclists would be prevented from being killed by rear truck tires. A 2010 report by the National Research Council of Canada called for side guards to be mandatory on trucks. They are already mandatory in the United Kingdom, the European Union, and Japan, and they have been adopted by several regions and municipalities throughout Canada.
The question is why this is not done nationally. Why not ensure that Canadians, cyclists and pedestrians right across Canada, are protected?
Why would the government not want to do the best for pedestrians and cyclists everywhere in our country? I have not heard a good argument from the other side.
A ministry of transport report said that it was inconclusive. Yet, surely, when so many jurisdictions have brought in this measure and are saying, demonstrably, that this has reduced cycling and pedestrian deaths, why we would not do that here is frankly unbelievable.
It is the government's responsibility to set safety standards for vehicles manufactured in Canada, but it should also bring in this measure for vehicles that are imported as well.
We know there are many validators of this position for mandatory truck side guards.
The Federation of Canadian Municipalities has said that FCM would like to reiterate its concern and stress the importance of countermeasures, such as side guards, to improve the safety of vulnerable road users; that would include pedestrians and cyclists.
As I said, the Chief Coroner for Ontario said that side guards should be made mandatory for heavy trucks in Canada. That is pretty clear-cut.
The Quebec coroner said that a lateral safety barrier would have prevented the head of Mathilde Blais, a young cyclist, from coming under the truck's internal tire. The conclusion was that it was a preventable accidental death.
The United States National Transportation Safety Board has recommended that both newly manufactured truck trailers and old trailers be equipped with side under ride protection systems to better protect people from fatalities and serious injuries.
Seriously, I do not understand why the government would not bring this in. It is no cost to the federal government. It is actually a low cost measure that trucking companies could bring in. It is a low cost measure that would practically save lives. It is a basic responsibility of government to ensure that it brings in protective measures to ensure the lives of Canadians are protected.
We have been calling for this for over eight years. In that time, we have seen the lives of far too many cyclists and pedestrians taken. We think that should stop.
We have seen that the number of cyclists is rising across the country. I know in my city the expectation is that the number of people who will bike to work on a daily basis is likely to increase from 1.7% to 5% by 2016. It means a lot more cyclists will be on the roads. We need to have the safest measures possible to ensure they are protected.
When other jurisdictions have already taken this on, as it is a proven measure that saves lives, it frankly is unbelievable that we would not take action here. It is a no-cost measure for the government. We have seen a total of 19% of cycling fatalities across the country involving heavy trucks. We have also seen that a number of cycling deaths, probably 50% or 60%, would be prevented by heavy truck side guards.
I mentioned cost earlier. The cost would be between $1,500 and $3,000 per truck. If we look at the total cost of a truck, it is a pretty small amount of money that would save so many lives. We know that truck guards save lives. I call upon my colleagues to join with us and let us get the bill to committee.
I leave them with a question. How many cyclists and how many pedestrians have to lose their lives before the House is willing to take action?
Aboriginal Affairs December 9th, 2014
Mr. Speaker, today the Assembly of First Nations honoured Rinelle Harper, a survivor of a horrific attack, who just a month ago was left for dead on a riverbank in Winnipeg. This courageous young woman shows strength and compassion by asking people to remember these words: love, kindness, respect, and forgiveness. She also asks for a national inquiry into missing and murdered indigenous women.
Will the government honour Rinelle Harper and call an inquiry?
Petitions December 8th, 2014
Mr. Speaker, I have several petitions from community members in my area who are concerned about rail safety.
Specifically, they want the Government of Canada to require CP and CN to identify and make public what the DOT-111 cars travelling through our neighbourhoods are carrying and how much; their timetables for phasing out these cars; their plans for re-routing the transportation of oil and other hazardous goods by rail; and their plans in the event of a disaster spill, explosion, car malfunction, or train derailment in our area.
National Defence December 8th, 2014
Mr. Speaker, just two months ago, the Conservatives brought a motion allowing for potential military operations in Syria. DND officials were working "feverishly" to clear away legal hurdles to combat in Syria. Now the minister has announced that Canada will not operate outside of Iraq at this time. It seems the legal case for intervention in Syria could not be made.
Will the minister confirm that this is the case and clarify whether Syria is off the table for good, or just for now?
Economic Action Plan 2014 Act, No. 2 December 5th, 2014
Mr. Speaker, it is a pressing need. If we want to create jobs in this country, why not go to work and do an energy retrofit of all of the high-rises in cities across the country? In Toronto, we have more high-rise apartments than any other city in the country. A lot of them were built in the 1960s and 1970s. They are not very energy efficient. Imagine the jobs that could be created.
Jack Layton had a system whereby we could invest in this energy efficiency and pay for it over time from the money we saved from reduced energy costs.
I just want to say one other thing about the pressing need for housing, because it really does take the federal government's involvement. We had a horrible tragedy in our city in the last week. A young mother and her kids were killed and subsequently her husband died. It seems that she went from a shelter, where she was trying to escape violence, to a private apartment. She could not afford it. There was no transition housing. She had to go back to that dangerous situation. Now she and her kids are dead. If that is not a crying argument for housing, I do not know what is.
Economic Action Plan 2014 Act, No. 2 December 5th, 2014
Mr. Speaker, it is flattering that the Liberal Party has been attracted to the measures the NDP is proposing. We did put forward a proposal to give a tax credit to small businesses to hire new people, especially youth. We think that is a positive measure. We would encourage the government to pick up on that.
Where we disagree with our Liberal colleagues is that we do not want to tap into the EI fund to pay employers to hire people. That is the difference. They may be trying to get to the same place, but we do not agree with how they are doing it.
The EI fund is paid for by employers and workers. Frankly, in the city of Toronto right now, only about 20% of unemployed workers are actually getting EI benefits. We want the money in the EI fund used to give unemployed workers the benefits they have paid for and are entitled to to help them transition to a new job, rather than have the money given back to employers. We do not think that is a useful thing.
Economic Action Plan 2014 Act, No. 2 December 5th, 2014
Mr. Speaker, I am very pleased to speak once again on this budget implementation bill, Bill C-43, on behalf of my city, Toronto, and on behalf of my community, the riding of Parkdale—High Park.
As we meet here in Ottawa, the city that I come from has been under considerable pressure for some time. It is a wonderful city. It is the biggest city in the country. It is one of the most multicultural cities in the world. It has so many strengths that it is just a wonderful place to live. However, I have to say that there are a great many challenges in our city that require action from the federal government. It is everything from the crushing lack of affordable housing to the gridlock in our city streets because of the lack of federal dollars coming in to boost our transit infrastructure.
I was born and raised in the city of Toronto and I remember it having, at one point, one of the best transportation systems in North America, if not the world. It had a great subway system, as well as streetcars and buses. While the population has grown in leaps and bounds and the city is much more sprawling geographically, the transportation system has not grown equally. As a result, public transit is a huge problem no matter where a person lives. A person living in a suburb of the city cannot get from one northern part of the city to another northern part without hours of waiting and sitting on buses, because the subway system has not kept pace. A person living in the centre of the city, where I live, often sees one subway car or streetcar after another go by because they are jam-packed. That is because the population has grown so much in the city, and the transit system has not kept pace. Transit is a huge issue.
I have to say that housing is a massive issue. I meet with people who live in public housing and Toronto Community Housing. Frankly, it would break members' hearts to see the conditions that some people live in. Seniors who worked all of their lives are living in apartments where the oven does not work, the elevator is often out of service, and there is mould on the walls. We see overcrowded apartments. I have seen families of five and six living in a bachelor apartment. We see people living in rental housing that is overpriced and often not well cared for. We have seen loopholes in the rent control system being exploited so that rents can be jacked up, and people are excluded from affordable accommodation as a result.
We have a crushing need for affordable rental housing, but we also have a great many families in the city of Toronto with mortgages. Toronto is not quite as expensive as Vancouver, but boy, it is expensive. The average three-bedroom home in the city core seems to be going for almost $1 million. We see young families with massive mortgages, and if they have a couple of kids, they are paying tens of thousands of dollars in child care fees at the same time—that is, if they can find quality child care.
We also see young people graduating from university with sometimes tens of thousands of dollars of student debt. Often they face a very bleak job market. I will talk about that more in just a minute.
There are many crushing problems, not to mention what I think is the most serious challenge globally, which is climate change. There is the pressing need for this country, which has once again just been called out by Ban Ki-moon of the UN for shirking its responsibilities, to address the pressing need of climate change. Surely to goodness we are all in this together. It is one earth. From space, it is one blue dot. Surely the countries and the leaders of the world can all agree that this is a pressing need that we need to deal with, yet the Conservative government seems to be on a one-track path, which is oil and gas.
We have these wonderful natural resources, but it is to the detriment of our investment in clean energy, energy efficiency, advanced manufacturing, and advanced innovative economic measures to get our economy moving into the 21st century. I raise these issues, but there are many other challenging issues that we face in our city and our country, and the budget implementation act before us does not address any of these issues. It does not deal with the concerns that I hear every day.
Rail safety is an example. During question period, we were debating the pressing need for better rail safety. We have hundreds and hundreds of tank cars carrying hazardous goods and who knows what is rolling through our neighbourhood. The citizens in my community not only do not have the right to know what is in those tank cars, but they also have no right to know if they are protected or if there are effective emergency measures in place. They have no right to know if their safety is being adequately protected by the experts and regulators in the government who are supposed to be doing that job. We saw at Lac-Mégantic they were not doing that job, and many people died.
The bill is yet another of these omnibus budget bills into which Conservatives love to cram all sorts of measures in a very undemocratic, unaccountable process that lacks transparency. There are many measures in the bill that were not introduced in the budget and that they do not want Canadians to even know about. They are counting on people not paying attention to them in a bill with 460 pages and 400 clauses.
However, there are a couple of things I want to highlight.
First, it is an outright attack on some of the vulnerable people in our society, refugee claimants.
There is also the implementation of a job credit that has been panned by experts. It would dip into the EI fund when, in fact, EI should be used to give unemployed workers adequate benefits so that they can keep their heads above water when they are faced with the catastrophe of losing a job. There is nothing in the bill to help the more than 300,000 unemployed Canadians or to help to replace the more than 400,000 good manufacturing jobs that have been lost.
Just today, new job numbers have come out, and in November Canada lost another 10,700 jobs. Most shockingly, 46,000 jobs were lost in the private sector. So much for being good economic managers.
Our economy is not recovering, and youth unemployment is now back up to 13%. We have over 1.2 million unemployed Canadians. What does that mean? It means that poverty is increasing.
Twenty-five years ago, we voted to eliminate child poverty. Well, guess what? One out of every five children is living in poverty in Canada today. The numbers are up from 25 years ago. Four out of ten indigenous kids are living in poverty. This is not only a tragedy for them, but a scar on Canadian society and the Canadian economy that we will have to deal with in the future.
Inequality is rising. The top 10% of Canadians have seen their net worth grow since 2005 by 42%, while those in the bottom 10% saw their net worth shrink by 150%. That is growing inequality. We are talking about joblessness and poverty, and the Conservatives are turning their backs, rewarding their friends, focusing only on the oil and gas sector, and to heck with the rest of the economy.
We are committed to a national child care program. We want to make sure that parents have a real choice in having quality, affordable, accessible child care. We want to make sure that we are defending our health care system and that we are investing in medicare, which is a program that was created and defended by the NDP. We are going to continue to defend health care. We also want to invest in transit. We want to get the job done, both on the economy and on the environment. That is what New Democrats will do in 2015.
We wish we could work with the government to get the job done now. We invite the government to join with us. We can make a difference for Canada now. We do not have to wait.
Rail Transportation December 5th, 2014
Well, there are still no answers for the residents of my city, Mr. Speaker.
The Transportation Safety Board said that rail companies should be required to look at alternate routes to avoid population centres when shipping hazardous goods, but because of the secretive process imposed by the minister, we cannot know if they actually have. Now the mayors of Toronto and Mississauga have called for greater transparency and for action to cut hazardous shipments.
Will the minister work with the mayors to reduce the amount of hazardous goods coming through our city?