Peggy Nash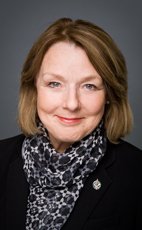 House of Commons photo
Track Peggy
Your Say
Elsewhere
Crucial Fact
Her

favourite word

is clause.
NDP
MP for Parkdale—High Park (Ontario)
Won her last election, in 2011, with 47.20% of the vote.
Statements in the House
Petitions June 19th, 2014
Second, Mr. Speaker, I have a petition signed by many members of my community who are calling for safer rail cars, especially the DOT-111 cars, in our community. The petitioners want to know what is being transported. They want these cars diverted from our area, if possible.
Petitions June 19th, 2014
Mr. Speaker, I have three petitions.
The first petition is signed by many members of our community on behalf of Jozsef Pusuma and his family. They were human rights activists in Hungary who, due to very poor legal representation, had their case mishandled. They are asking to stay in Canada until the Law Society of Upper Canada continues and finalizes an investigation into the conduct of their lawyer.
Prohibiting Cluster Munitions Act June 18th, 2014
Mr. Speaker, I thank my colleague from Ottawa Centre for his excellent presentation and for all of the work he does on foreign affairs. He is widely recognized as someone having a great deal of expertise, and we thank him for that.
On the bill at hand on cluster munitions, New Democrats support a treaty to ban cluster munitions. These are terrible weapons that overwhelmingly impact civilians, and especially children, as my colleague has so eloquently described. Yet, as he detailed, this Conservative legislation to implement the Convention on Cluster Munitions is widely recognized as the weakest and worst in the entire world. In other words, Canada has become an embarrassment when it comes to the issue of having effective legislation to implement the treaty on cluster munitions.
My question for my colleague is this. With this weaponry that overwhelmingly targets civilians, especially children, can he advise the House why the Conservatives, who say their government supports families and children, would want to undermine a treaty that would save the lives of children around the world?
Respect for Communities Act June 17th, 2014
Mr. Speaker, of course, we believe in community consultation. That is why, when there is some kind of new facility going into a community, there would normally be consultation with community leaders, law enforcement, and political leaders. The community would be involved.
What would not make sense is to have an opportunity for a fearmongering campaign to say, as a city councillor did in Toronto yesterday, that a community is full of pedophiles, so our children are going to be in danger. Here, we can imagine a campaign that would say that people who are addicted would be injecting drugs in front of our children when, in fact, the opposite is true.
With a very long drawn-out consultation period and tests and barriers so high, many organizations will probably not have the resources to even fulfill this long drawn-out process. It seems that the intent of the government is to prevent any such facilities from being established. The Conservatives may feel that makes more sense.
I do not doubt the member's sincerity in his question, but I ask him to consider that, if there are not safe sites where people can go when they are addicted to try to get what they need, and hopefully get some help and support, maybe they will be out in the community, truly putting kids at risk. For us, that is a greater risk.
Respect for Communities Act June 17th, 2014
Mr. Speaker, I thank my colleague for her question.
As she pointed out, in 2011, the Supreme Court of Canada ruled that InSite provided essential services and that it could stay open under the exemption provided for by section 56 of the Controlled Drugs and Substances Act.
The court held that the charter allowed users to access InSite's services and that similar facilities should also be allowed to operate under an exemption.
Apparently, the government thinks that it is not ruled by the charter, and that its own legal judgment is better than the Supreme Court's. That is mind-boggling. The charter underpins Canada's entire legal system. It is imperative that the government comply with the charter and with these rulings.
Respect for Communities Act June 17th, 2014
Mr. Speaker, I rise this evening to speak to Bill C-2, an act to amend the Controlled Drugs and Substances Act. I want to be clear from the outset that New Democrats oppose the bill at second reading.
Bill C-2 is a deeply flawed bill based on a deeply flawed premise. This premise, advanced by Conservatives, takes the position that I think goes back to the Reagan years in the United States. Members may remember Nancy Reagan's "just say no to drugs" position. It is a very simplistic appealing approach, but it has been proven in the United States that this anti-drug and abstinence approach on the issue of addiction has been a colossal failure.
The approach of New Democrats is one of promoting health and safety for those who, sadly, are suffering from addiction, but also promoting the safety of communities and neighbourhoods. Our approach is one of harm reduction. In other words, it would promote healthy outcomes and hopefully reduce the harm that those who suffer from addictions are exposed to.
The bill, in fact, is a thinly veiled attempt to stop safe injection sites from operating. At present, in Canada, there is only one safe injection site, InSite, which is operating in Vancouver. However, since the Conservatives took the provision of harm reduction out of the national drug strategy in 2007, they have been opposed to the operation of InSite. Finally, this issue was taken to court and there was a Supreme Court decision on this. I will get to that in more detail in a few minutes.
In essence, Bill C-2 is an attempt to lay out conditions that are so extensive, so arduous, with benchmarks so high that InSite or other potential sites would be unable to surmount these obstacles and thus unable to operate. We believe that, in fact, is the goal behind the proposed legislation. Thus, the "do no harm" approach or "harm reduction" approach would be thrown out the window.
Our belief on this side of the House among New Democrats is that decisions about programs must be based on whether or not there are benefits, which must be based on facts rather than ideology. However, we believe that those on the other side of the House are driven by ideology on the bill and are wilfully ignoring the facts in this case.
I mentioned the Supreme Court. In 2011, the Supreme Court ruled that InSite, this facility in Vancouver that provides a safe injection site for people with addictions, provided life-saving services and in fact should remain open. To do that, it required an exemption from the Controlled Drugs and Substances Act under section 56. This is an exemption under which InSite has been operating for a number of years. The court ruled that it was within the Charter of Rights and Freedoms for InSite users to access this service, not only in Vancouver, but at sites that operate elsewhere.
What is this scientific proof that I am talking about based on?
In fact, there have been over 30 peer-reviewed studies published in reputable, distinguished journals, such as The New England Journal of Medicine, The Lancet, and the British Medical Journal, which have described the beneficial impacts of InSite.
Furthermore, studies of more than 70 safe injection sites in other countries, in Europe and Australia, have shown similar benefits. InSite has been extremely beneficial for those who use it and should be allowed to continue to operate, but we would argue that it has been beneficial not only for those who use InSite but for the community in which it is located.
The Conservatives, with the launch of this bill, also immediately tried to rally their base and launched a campaign called "Keep heroin out of our backyards". I am sure they raised a lot of money with that campaign and generated a lot of data in preparation for the next federal election, but in fact, it is based on a false premise. This bill would actually put heroin back into people's backyards, because if there are no safe injection sites, people who are hopelessly addicted will resort increasingly to crime and to injecting in communities, on our streets, and in our neighbourhoods rather than in a safe injection site. Therefore, not only will people who have a serious health issue due to an addiction put themselves at greater risk, but they will also be putting communities at risk.
I come from a community that is, I believe, one of the finest communities anywhere. My riding of Parkdale—High Park is a very diverse community. There are people from all different socio-economic levels, and in spite of one of the local city councillors attacking the Parkdale community and trying to label, stigmatize, and stereotype people in the community, the people who live there do not feel that way. They believe that society as a whole includes people who have imperfect lives, people who have mental health challenges, family problems, and yes, sometimes suffer from addictions, regardless of what income level they happen to be in. There are certainly people at very high income levels who suffer from addictions and sometimes spend a lot of money supporting those addictions.
Therefore, my community includes a wide cross-section of people, but whether it is community agencies, neighbourhood organizations, police, or community helpers, people have come together with political representatives and said our goal has to be one of harm reduction. They say if people are suffering from poor mental health or addictions or whatever challenges they are facing, we should find a way to help them through this in as safe a way as possible and, hopefully, help them to recover and lead normal lives. One of the big advantages of a facility like InSite is that the people who use that facility can access health professionals, counselling, and support and, hopefully, transition through their addictions and come out the other end to lead normal lives. There are certainly many instances of that.
In conclusion, I want to say this is a deeply flawed bill. New Democrats believe it is in defiance of the Supreme Court ruling and, once again, pits the government against the judicial system. It will do far more harm than good and should be rejected by the House.
Copyright June 17th, 2014
Mr. Speaker, over 90% of published materials are simply not accessible to blind and visually impaired Canadians. The Marrakesh treaty on copyright seeks to fix this problem. Sixty-seven countries have signed on, including the EU, U.K., India, and China, but not Canada.
The Conservatives left these measures out of their proposed copyright changes. The treaty's deadline is June 27. Will the Conservatives do the right thing and sign this treaty so we can improve access for visually impaired Canadians?
Safeguarding Canada's Seas and Skies Act June 17th, 2014
Mr. Speaker, I do agree that we need to follow the money.
It is evident to those of us on this side of the House that the government's number one job seems to be to reduce the size of government. When it comes to public safety, that is not a good thing. Surely, a basic responsibility of government is to protect public safety. Whether it is our roads, our skies, our seas, or our rail, that is a fundamental responsibility of government.
My colleague referred to safety management systems. That jargon hides the fact that what they basically do is cut back on government inspectors, the people who go in and visit workplaces, and check up on the trucks on our roads and the trains on our rails. It turns much of the safety responsibility over to the employer. It is a competitive economy and people in business obviously want to make money and get business. They try to cut costs. Making businesses responsible for safety is a contradiction. We need independent government inspections.
I will just say one last thing. In my community of Parkdale—High Park, we are surrounded by railway lines, and we see hundreds of DOT-111 tank cars rolling through our community. People do not know what is in those cars. They do not know what precautions are in place. They do not know that safety inspections have taken place. They are kept in the dark. It is about time that we let some light in and increase public safety by letting Canadians know what is in these tank cars, and reassuring them that we have inspectors from the government who are going in and conducting the inspections to make sure that public safety is the number one priority.
Safeguarding Canada's Seas and Skies Act June 17th, 2014
Mr. Speaker, in starting my remarks, I would definitely like to thank my fabulous colleague from Scarborough—Rouge River for her remarks and for the great representation she provides for the constituents of Scarborough—Rouge River.
I am happy to participate in the debate on Bill C-3, An Act to enact the Aviation Industry Indemnity Act, to amend the Aeronautics Act, the Canada Marine Act, the Marine Liability Act and the Canada Shipping Act, 2001 and to make consequential amendments to other Acts.
As folks can well imagine, it does make a number of changes to a number of pieces of legislation. As my colleague has said, the NDP will be supporting this bill at third reading because it does make modest improvements to the existing legislation, although we did make some proposed amendments to the bill, which we thought would strengthen it significantly. Unfortunately, the government was not open to those amendments.
Let me just briefly describe what the bill proposes to do.
Part 1 would enact the Aviation Industry Indemnity Act to indemnify the aviation industry for the cost of damages in the event of what they call "interferences" for things like armed conflict or an attack, things that normally would be outside the normal operation of the aviation industry, a crisis of some kind.
Part 2 would amend the Aeronautics Act to provide the Airworthiness Investigative Authority with the powers to investigate aviation accidents or incidents involving civilians and aircraft or aeronautical installations operated by or on behalf of the Department of National Defence, the Canadian Forces or a visiting force.
Part 3 would amend the Canada Marine Act in relation to the effective day of the appointment of a director of the Port Authority.
Part 4 would amend the Marine Liability Act to implement, in Canada, the International Convention on Liability and Compensation for Damage in Connection with the Carriage of Hazardous and Noxious Substances by Sea. That is a 2010 convention which basically establishes a liability scheme to compensate victims in the event of a spill of hazardous or noxious substances. It puts a limit to that liability, which the act details.
Part 5 would introduce requirements for operators of oil handling facilities, including the requirement to notify the minister of their operations and to submit plans to the minister.
The NDP supports this bill, but we believe there should not be a limit to the liability. We do not believe Canadians should be on the hook for clean-up costs and damages following a spill of hazardous or noxious substances.
The Conservatives have even refused reasonable amendments that would increase the liability. Canadians would ultimately be on the hook if the damages exceeded that liability.
Basically, the New Democrats are committed to preventing spills on our coasts whatsoever. We want to ensure that we have an effective Coast Guard and that we have effective environmental precautions so our coasts are protected. We do question the government when it takes actions like closing down B.C.'s oil spill response centre. If we want to make the coasts safer, why would we close down the oil spill response centre? Shutting down the Kitsilano Coast Guard station and gutting environmental emergency response programs, these do not sound like the actions of a government that has the interests of the safety of Canadians as its priority.
However, as I said, there are some positive parts of this bill. The required pilotage and increased surveillance is a small step in the right direction, but the bill is very limited in its scope. New Democrats believe that the government needs to reverse the effects of the drastic cuts of last year's budget on tanker safety to really be effective.
If we are talking about tanker safety, let us take a look at some of the more recent statistics. Tanker traffic has increased dramatically and, therefore, has created an increased risk of an oil spill in Canadian waters. The federal government decreases marine communication traffic centres and environmental emergency programs even though estimates state that oil tanker traffic has already tripled between 2005 and 2010 and that oil tanker traffic is planned to triple again by 2016. Therefore, we are seeing dramatically increased oil tanker traffic, which would require stronger measures by the government.
Proposed pipeline expansion projects would increase crude deliveries from 300,000 to 700,000 barrels per day. We are seeing a tremendous increase in traffic and we should have the strongest precautionary measures possible. One of the precautionary measures is to ensure that the polluter pays, so that if there is a spill or a problem, which hopefully there is not and something we can prevent, the polluter pays for the damage caused.
We know what the government's record is when it comes to environmental protection. We have seen in omnibus budget bill after omnibus budget bill the extent of the cuts, such as the gutting of environmental protections and the changes to the Navigable Waters Protection Act. A major urban heritage river, the Humber River, runs through my riding of Parkdale—High Park. It is truly a national treasure, which is why it was deemed to be a heritage river. It has been delisted from the Navigable Waters Protection Act, all except the very mouth of the river. That is of great concern to conservationists, biologists, and the community at large. New Democrats are trying to get that river and many other rivers put back under the protection of the Navigable Waters Protection Act.
The government is also making changes in aviation safety, which is one of the issues addressed in this bill. In my riding of Parkdale—High Park it is home to many flight attendants and pilots, people who work in the aviation industry. One of the issues that is of great concern to them is the number of flight attendants on aircraft. We all remember, at least in Toronto we all remember, back in 2005 when Air France flight 358 crashed at Toronto Pearson International Airport. It was a horrific crash. When people first saw the smoke and fire, they wondered whether anyone would survive, but the full complement of cabin crew managed to evacuate all the passengers from that burning aircraft in less than 90 seconds. Talk about professionalism and dedication. They were exemplary.
We know from the history of aviation accidents that having more flight attendants positioned at emergency exits improves every passenger's chance of escaping and surviving in the event of an aircraft accident. We have seen the government previously attempt to reduce the number of flight attendants on aircraft. Right now, the ratio is 1:40. It is trying to reduce that by 25% and increase it to 1:50. I believe that is fundamentally wrong and it could be very dangerous for the travelling public.
While New Democrats support this bill, we have many other concerns about public safety and environmental protection. Frankly, the scope of the changes in this bill are very limited.
Petitions June 17th, 2014
Mr. Speaker, I am very proud today to present almost 18,000 petitions from people across Canada. Members might ask what the issue is that has generated such enthusiasm from Canadians. There is a desire to strengthen our laws to protect animals. These petitions are in support of two bills to strengthen our laws against animal cruelty.
Animals are not just property and they are not just working animals. Animals are sentient beings capable of thinking and feeling pain. They should not be treated as property and they should be better protected under our animal cruelty legislation. We need significant penalties and a greater likelihood of conviction in the case of an offence.
On behalf of the almost 18,000 people who have signed these petitions, and on behalf of the many other Canadians who support the well-being of Canada's companion animals and other animals, I do submit these petitions. I urge my colleagues on all sides of the House to support our bills to strengthen our animal cruelty legislation.