Peggy Nash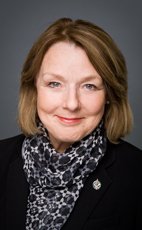 House of Commons photo
Track Peggy
Your Say
Elsewhere
Crucial Fact
NDP
MP for Parkdale—High Park (Ontario)
Won her last election, in 2011, with 47.20% of the vote.
Statements in the House
Energy Safety and Security Act March 25th, 2014
What we would not do, Mr. Speaker, is play fast and loose with coal-fired power plants for the purpose of winning votes in certain ridings in Ontario. We would not be doing that.
I spoke in my remarks about the importance of this industry and the safety of this industry. If the nuclear power industry is a mature industry, which it is, then surely it needs to pay for itself.
For goodness' sake, it is the 21st century, so if Canadians are to subsidize energy, let us put our subsidies into clean energy. Let us put subsidies into wind, solar, and bioenergy. Let us put our resources where we can get on the cutting edge of energy efficiency and renewable energy, and not focus strictly on the past with respect to energy, which, with all due respect, is what my colleague is doing.
I appreciate that he is a great fan of nostalgia and I appreciate the glory years of his party in the past, but let us look to the future. If Canadians want a future of energy efficiency, of renewable energy, of cutting-edge technology and protection for Canadians who end up footing the bills, then clearly the choice is the New Democratic Party.
Energy Safety and Security Act March 25th, 2014
Mr. Speaker, I thank my colleague for the question, but the issue at hand here is whether we are going to protect the safety of Canadians or whether we are going to limit liability of the nuclear and oil and gas industry to just $1 billion.
My colleague wants to cite facts. The fact is that there is an absolute liability regime of $12.6 billion in the U.S. That is more than ten times the liability here in Canada.
Let us look at other countries if she wants to cite facts. Germany, Japan, Sweden, Finland, Denmark, Austria, and Switzerland all have unlimited liability for nuclear power plants. Why did her government not consider this unlimited liability for Canada?
Energy Safety and Security Act March 25th, 2014
Thank you, Mr. Speaker. This gives me the opportunity to say that I will be splitting my time with the member for Windsor West.
Mr. Speaker, this is an important piece of legislation. As I said, it is the fifth time that the government has tried to get this right over the past nearly 40 years. It is long overdue. It is a chance for us to try to at least catch up with what other countries are doing around the world with similar forms of liability.
Our concern is that Bill C-22 does not offer Canadians the protection they need. The bill talks about the principle of polluter pay. It would have many reassurances for Canadians, and I will concede that it would make a step forward in terms of protecting Canadians from liability in the event of an accident in this sector. However, the bill's major shortcoming is that it would set the amount of liability at just $1 billion. What that would mean is that Canadians would be on the hook for any additional costs for the cleanup.
Now, $1 billion sounds like a lot of money. However, Canadians watching this should remember that any costs in addition to the $1 billion would come from the pockets of Canadians. All Canadians would share in the liability for any costs exceeding $1 billion.
I want to give some examples of what other countries are doing and the costs of some cleanups that have taken place.
Germany, for example, has unlimited absolute nuclear liability and financial security of $3.3 billion Canadian per power plant. This is not $1 billion overall; it is $1 billion per power plant. The United States has an absolute liability limit of $12.6 billion U.S. Other countries are moving to unlimited absolute liability.
The amount of $1 billion in liability for nuclear accidents would cover just a small fraction of the costs.
I want to say that our nuclear industry in Canada has been safe. We have been fortunate that we have not had accidents that other countries have experienced. There are many people who earn their livelihoods in the oil and gas industry and the nuclear industry, and this industry has had a positive safety record compared with other countries. I want to cite, for example, Japan's 2011 nuclear disaster at Fukushima. The Government of Japan estimates that the cost of the nuclear disaster at Fukushima could cost over $250 billion. Canada is talking about a $1 billion liability in the event, God forbid, that any disaster happened here.
We have had a good record. We plan to prevent disasters. However, that is the thing with disasters; they are often unexpected.
I would argue that the higher the liability for the industry itself, the greater the focus the industry will put on preventing accidents and maximizing the safety in our facilities. That, surely, is for the greatest good of all Canadians. If the industry believes, "Okay, it's $1 billion liability and we want our facilities to be safe, but anything that exceeds $1 billion is on the hook of Canadians", then I think that changes the thinking of those who are responsible for safety in these facilities.
Let us look at the oil and gas sector. We all remember the disastrous offshore BP oil spill of 2010 in the Gulf of Mexico. That spill is expected to cost as much as $42 billion in cleanup costs, criminal penalties, and civil claims against BP. The firm is reported to have already spent $25 billion on cleanup and compensation. In addition, it faces hundreds of new lawsuits that have been launched this spring, along with penalties under the Clean Water Act that could reach almost $17 billion. A billion dollars sounds like an enormous amount to Canadians, but they have to realize that we are talking about huge sums with the possibility of anything going wrong in this sector.
It is not just New Democrats who are speaking out on this issue and putting Canadians first, before the needs of the industry. Others as well are saying that the government needs to really keep pace with best global practices. Let me cite some other examples.
The Canadian Environmental Law Association has requested the federal government to undertake a meaningful public consultation on how the Nuclear Liability Act should be modernized and to learn from the Fukushima disaster. Natural Resources Canada has been privately consulting Canadian nuclear operators on how to revise this legislation, but these behind-door consultations with industry alone are simply unacceptable. The NLA transfers the financial risk from reactor operations from industry to Canadians. Therefore, it makes sense that Canadians should be consulted.
Martin von Mirback of the World Wildlife Fund says:
To put it bluntly, there is no oil spill response capacity to address a sizeable well blowout or large-scale spill in Arctic waters. ... In conclusion, there is currently insufficient knowledge and inadequate technology and infrastructure to safely carry out drilling in Canadian Arctic waters. More time is required to address these gaps, but this necessity can become a virtue if at the same time we collectively invest in the research, planning, infrastructure, and dialogue that are the key characteristics of responsible stewardship.
Responsible stewardship—that is what we are asking for here. Let us take advantage of this opportunity to modernize this legislation to show responsible stewardship.
Let me end with a well-known, progressive, leftist organization, the Fraser Institute, on nuclear liability caps. I quote Joel Wood, the senior research economist. He says:
Increasing the cap only decreases the subsidy [to the nuclear industry]; it does not eliminate it. The government of Canada should proceed with legislation that removes the liability cap [of $1 billion] entirely rather than legislation that maintains it, or increases it to be harmonious with other jurisdictions.
We have an opportunity that only comes around once every 40 years to protect Canadians, modernize our legislation, show that we are at least attempting to keep pace with the rest of the world, and protect the public good. Let us not fail to seize this opportunity.
Energy Safety and Security Act March 25th, 2014
Mr. Speaker, I am very pleased to speak on Bill C-22, an act respecting Canada's offshore oil and gas operations, enacting the nuclear liability and compensation act, repealing the Nuclear Liability Act and making consequential amendments to other acts.
This particular bill is a long time coming. It is the fifth attempt by governments to improve and modernize our legislation when it comes to liability in the case of nuclear accidents, and now in the case of accidents with the oil and gas sector.
Energy Safety and Security Act March 25th, 2014
Mr. Speaker, in Canada we often benchmark ourselves with the United States, which is our major trading partner. We share many common regulations and standards. We often partner with it in terms of research on public safety.
Many of our international partners have much better protection when it comes to nuclear liability than what the Conservatives are proposing. The U.S. has an absolute liability regime of $12.6 billion U.S.
My question is, why would the Conservatives not want at least the level of liability that the Americans have in this field? Why would we have such a puny liability level compared with our major trading partner?
Petitions March 25th, 2014
Mr. Speaker, I am pleased to present a petition supported by Canadians across the country, calling on Parliament to designate May 5 as the national day of the midwife. Midwives provide essential care during pregnancy, for the newborn, and throughout an infant's life. They definitely decrease infant mortality and morbidity across Canada, including in rural and remote communities. It is a very cost-effective way to provide this kind of essential care. A national day of the midwife would increase public awareness of the contribution of midwives to maternal, newborn, and infant care and welfare. Therefore, I am pleased to present this petition calling for Parliament to designate May 5 as the national day of the midwife.
Consumer Protection March 24th, 2014
Mr. Speaker, not only is household debt at crisis levels, but clearly the government is doing nothing. Canadians are further in debt, but they are paying some of the highest banking fees anywhere, especially at ATMs. No one should have to pay up to $6 to get access to their own money from an ATM.
Can the minister tell us if he has been briefed on banking fees and ATM charges, and will he commit right now to take immediate action to protect Canadian consumers?
Petitions March 5th, 2014
Mr. Speaker, the second petition calls for the creation of a legislated ombudsman mechanism for responsible mining. The signatories are calling for more corporate social responsibility, and they want this ombudsman to be able to receive and investigate complaints and to assess compliance with corporate accountability standards based on international labour, environmental, and human rights norms.
Petitions March 5th, 2014
Mr. Speaker, I have two petitions to present.
The first is a Canadian interfaith call for leadership and action on climate change. Those who signed the petition are calling for collective action by Canada to sign and implement a binding international agreement, replacing the Kyoto protocol and committing nations to reduce carbon emissions and setting fair and clear targets to ensure that global average temperatures stay below a 2°C increase from pre-industrial levels.