Peter Kent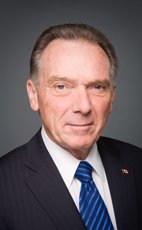 House of Commons photo
Track Peter
Your Say
Elsewhere
Crucial Fact
His

favourite word

is parks.
Conservative
MP for Thornhill (Ontario)
Won his last election, in 2011, with 61.40% of the vote.
Statements in the House
Hong Kong September 30th, 2014
Mr. Speaker, Canada is home to a large population of Canadians who were born in Hong Kong. I am proud to represent many in my riding of Thornhill and share their concerns regarding recent developments in Hong Kong.
Over the past several weeks, peaceful demonstrators have expressed their anxiety about the uncertain future of the one-country-two-systems policy. This past weekend, tensions in Hong Kong peaked, with police cracking down on these protesters.
Yesterday, our Minister of Foreign Affairs stated that "Aspirations of people of Hong Kong are clear. Canada supports continued freedom of speech and prosperity under the rule of law".
I know my constituents are grateful for Canada's consistent support of the basic law
I am proud to stand with the people of Hong Kong, and I am proud that Canada continues to be a principled global actor that promotes our values of freedom, democracy, human rights, and the rule of law.
Parks Canada September 23rd, 2014
Mr. Speaker, our Conservative government created the Rouge national urban park act, which will result in the first urban national park in our country.
Last year, Ontario's Liberal government signed an agreement with our government to transfer lands to Parks Canada to help establish the Rouge national urban park, but Ontario is now backtracking on its commitment.
Could the Parliamentary Secretary to the Prime Minister please inform the House on the status of that agreement?
HPV Vaccination Program September 15th, 2014
Mr. Speaker, I rise today to thank colleagues on both sides of this House for the kind words and prayers during my recent medical bout with cancer. I would also like to thank the physicians and staff of the Odette Cancer Centre of Toronto's Sunnybrook Hospital.
I am very grateful for a positive outcome, but I am grateful as well for insight provided by medical professionals on a crucial matter of public health.
Colleagues will recall that while vaccination programs are a primary responsibility of the provinces, our government provided funding in the 2007 budget for a national vaccination program to immunize adolescent girls against the human papillomavirus, HPV. My doctors advise that the program should now be extended to cover boys, that otherwise we can expect a spike in the incidence of HPV cancers in men in coming decades.
I am delighted to report that the Minister of Health has told me that she will take this matter under consideration.
The Budget February 12th, 2014
Mr. Speaker, productivity is a challenge, and that is why previous budgets and this budget address the assistance to our manufacturing sector to invest in technology, in equipment that will increase productivity. A great deal of our foreign trade balance has less to do with the steadily recovering Canadian economy than the inability of some of our traditional markets to buy our goods and our products.
However, again I would look to the Retail Council of Canada, which said, "All in all, this is a very good budget for Canadian retailers". The Association of Canadian Community Colleges said:
...this is an encouraging budget that helps support measures to address the gap in skills affecting so many sectors of the economy. The budget also recognizes the important role played by colleges and institutes in Canada's innovation system....
Again, it is an investment that will speak to future improvements in Canadian productivity.
The Budget February 12th, 2014
Mr. Speaker, I thank my hon. colleague for a question that partially addresses the reality of challenges facing Canada's metropolis—Toronto, the GTA—and other Canadian urban centres across the country.
However, I would disagree. Since 2006, but particularly in the depths of the global recession, we invested mightily in infrastructure that needed to be addressed over a much longer term but in the short term was addressed and continues to be addressed. Also, we have assurances from the minister and from the Prime Minister that as we achieve our objective of eliminating the deficit next year and move back into surplus, in fact we will be working with the municipalities, large and small, to address these infrastructure challenges.
However, I would just very briefly offer a couple compliments. For example, the Federation of Canadian Municipalities stated:
Rural businesses, communities and residents need sufficient bandwidth to participate in the economy...[the] announcement is good news for Canadians....
The Canadian Chamber of Commerce stated:
The government has acted.... The result will be a stronger economy and more jobs.
The Canadian Council of Chief Executives said:
Balancing the federal budget and maintaining discipline to pay down the debt are not only the right things to do, they are essential for Canada's global competitiveness.
The Budget February 12th, 2014
Mr. Speaker, I will be splitting my time with the member for Kitchener—Conestoga.
I am delighted to speak today in support of economic action plan 2014.
Yesterday I was honoured to sit in this House as the Minister of Finance tabled his 10th budget. This budget confirms our government is on track to have a balanced budget by 2015 while creating more jobs for Canadians. I am proud to highlight some of the key elements of the budget.
Our government is clearly on track to balance the budget while keeping taxes low and protecting the programs and services that Canadians count on. As the opening words in the budget document, "The Road to Balance: Creating Jobs and Opportunities", says, Canada's economic action plan is working.
The deficit is expected to decline to $2.9 billion in 2014-15, followed by a surplus of $6.4 billion in 2015-16, after taking into account $3 billion in annual adjustment for risk.
Since our government implemented Canada's economic action plan during the global recession, Canada has achieved the best job creation record of any of the G7 countries. It has the strongest income growth. As well, it has one of the best economic performances in the G7.
The Canadian economy has continued to create jobs with over one million more Canadians working today than during the worst of the recession. Canadian families in all income groups have seen increases of about 10% or more in their real, after-tax, after-transfer income since 2006.
Canadians at all income levels are benefiting from tax relief introduced by our government with low- and middle-income Canadians receiving proportionately greater relief. An average Canadian family of four now pays approximately $3,400 less in taxes than in 2006 due to the government's record of tax relief.
Canada is now one of only a handful of countries in the world that continues to earn a AAA credit rating with a stable outlook from all the major credit-rating agencies.
Economic action plan 2014 builds on this record of achievement with positive measures to grow the economy and to help create jobs.
Yesterday afternoon, after the finance minister tabled the budget, I was shocked by the first comment and characterization by the finance critic of the NDP, who said that there was absolutely nothing for young people or for jobs in this budget. I will just take a look at what exactly economic action plan 2014 will do with regard to jobs and growth.
It will implement the Canada job grant and job-matching service to help Canadians with available jobs. It will introduce, and this is no small matter, the new Canada apprentice loan to help registered apprentices in red seal trades with the costs of training.
Our government will invest to reform the on-reserve education system in partnership with first nations through the first nations control of first nations education act. An improvement of education on reserves and off will certainly improve and set up the graduates of secondary and post-secondary education programs, better suiting them for positions in a job market which is looking for appropriately trained graduates.
Economic action plan 2014 will invest in programs to help older workers and persons with disabilities across the labour market. It will create thousands of new paid internships for young Canadians entering the job market. It will make a major investment of $500 million in automotive sector support, investments in Canada's forestry and mining sectors, and so much more.
It will also provide $1.5 billion over the next decade for the Canada first research excellence fund for post-secondary education.
To support families and to support communities, this budget will stand up for consumers by encouraging competition and lower prices in the telecommunications market and introducing legislation to prohibit cross-border price discrimination. Certainly, this is front of mind for all Canadians living in proximity to our border.
Economic action plan 2014 will eliminate the practice of pay-to-pay billing. It will increase the adoption expense tax credit to help make adoption more affordable for Canadian families. It will expand tax relief for health care by exempting acupuncturists and naturopathic doctors' professional services from GST and HST. It will also strengthen food safety for Canadian families, with major new investments of $390 million. It will invest more than $300 million to bring faster broadband Internet to rural and northern Canada.
It will protect Canadians from the impact of natural disasters, with $200 million to establish a natural disaster mitigation program. It would create a new search and rescue volunteer tax credit to recognize the important role played by search and rescue volunteers who put themselves at risk while contributing to the safety and security of Canadians.
As we have already discussed several times in the House, it will expand the funeral and burial program so that modern-day veterans have access to dignified funerals and burials.
If I could reflect for just a moment on the benefits of economic action plan 2014 with regard to protection of our great natural places and spaces, it will provide funding for the sustainability of Canada's national parks, and the infrastructure, which has been neglected over the decades, in and around the national parks. It will double the funding for the recreational fisheries conservation partnership program, a program which has enjoyed resounding success and effectiveness in the first year of its application from budget 2013. It will also provide a way for Canadians with ecologically sensitive land to protect natural areas for future generations. It would expand tax support for green energy generation.
With regard to balancing the budget, unlike the Liberals who slashed health and social transfers to the provinces, economic action plan 2014 will advance our government's commitment to control direct program spending with proposals to ensure that overall public service employee compensation is reasonable and at the same time affordable. The government will work with crown corporations to implement fifty-fifty employee pension plan cost sharing, and to increase the retirement age for new hires.
Along with economic action plan 2014, our government issued a very important document yesterday, "Jobs Report: The State of the Canadian Labour Market", which examines recent developments in the labour market. There are challenges, again, coming out of the recession. "Jobs Report" is an important document for everyone in the House and beyond to consider and digest. There are very relevant charts, graphs and information which will affect the way our country continues on a steady course out of the economic downturn. It also outlines actions that our government has taken to support Canadians in upgrading their skills and in the creation of high-quality jobs.
In closing, I would invite my hon. colleagues on the opposite side of the House to abandon partisan criticism and partisan politics and to support economic action plan 2014.
Anti-Israel Boycott Campaign February 4th, 2014
Mr. Speaker, Sodastream, an Israeli company that employs some 900 Palestinians, has become one of the targets of a dishonest boycott, divestment, and sanctions campaign that would actually hurt those it claims to support, given that Sodastream pays employees four times the wages earned by the average Palestinian and ensures that all employees are treated equally.
It is disappointing that organizations such as Oxfam support this movement, which targets Israel, while turning a blind eye to the world's most cruel violators of human rights.
As the Prime Minister said in his historic address to the Israeli Knesset last month:
"...Israel represents values which our government takes as articles of faith...to drive our national life.

And therefore, through fire and water, Canada will stand with you.
I encourage members of the House to join me in standing up against this misguided and deceitful movement. Let us counter the boycott with a buy-cott.
Business of Supply February 4th, 2014
Mr. Speaker, I am not here to comment today on operational practices, methods, or capabilities. I am here to respond to the motion as put by my colleague from Malpeque.
I would just point out that, in the motion, he says that he has placed his motion on the order paper to "increase proper oversight of CSEC" and security agencies. The key word there is that the oversight is proper. It is in place. The government believes that the CSE commissioner, in the case of CSEC, represents a robust and reliable oversight that Canadians can rest assured is protecting their interests.
Business of Supply February 4th, 2014
Mr. Speaker, I would raise and counter the member's question with one of my own: Exactly what evidence does he think he is presenting in the House? Let us remember that we are here today and in this debate today because of a story by the CBC that is based on stolen intelligence material, purchased under the guise of hiring a freelance journalist, who by the way is a former purveyor of pornography.
CSEC issued a statement yesterday saying that the story reported by the CBC was both misleading and that it hurt Canadian interests. CSEC said:
The classified document in question is a technical presentation between specialists exploring mathematical models built on everyday scenarios to identify and locate foreign terrorist threats
The most important line in the statement from CSEC yesterday was:
The unauthorized disclosure of tradecraft puts our techniques at risk of being less effective when addressing threats to Canada and Canadians.
Business of Supply February 4th, 2014
Mr. Speaker, I will be sharing my time with the member for Pickering—Scarborough East.
I am very pleased to have this opportunity to discuss the valuable work of the Communications Security Establishment Canada, known as CSEC, including its work in protecting Canada against foreign cyber threats. What we need in order to have an informed and reasoned debate about the role of Canada's security and intelligence agencies are the facts. At the risk of repeating what my hon. colleagues have already said, here again are some key facts about CSEC, an agency which many Canadians may know little about.
For almost 70 years now, CSEC has provided legitimate, necessary, and valuable services to the Government of Canada and Canadians. CSEC's collection of foreign intelligence makes an invaluable contribution to the pursuit of Canada's international affairs, its defence and security interests. In concrete terms, CSEC's foreign intelligence activities have helped uncover terrorist plots. They have helped save Canadian lives and have protected Canadians from other foreign threats.
CSEC helps protect Government of Canada information and computer networks from cyber threats. CSEC helps federal law enforcement and security partners with technical assistance that is lawful under its mandate. CSEC is subject to all Canadian laws, including the National Defence Act, the Canadian Charter of Rights and Freedoms, the Criminal Code, and the Privacy Act. What CSEC can and cannot do is well defined in law.
Protecting the privacy of Canadians is the law and CSEC follows the letter and spirit of that law. CSEC's activities are subject to a comprehensive and detailed set of policies, procedures, and mechanisms that ensure that CSEC remains compliant with the law. All of CSEC's activities are reviewed by the CSE commissioner. This commissioner, as we have said many times today, is independent of the government and of CSEC, and does not take direction from any minister or from CSEC itself.
All CSE commissioners, past and present, have been long-serving judges, including several former justices of the Supreme Court, whose integrity, independence, impartiality, and judgment are beyond reproach. The conclusions of all past CSE commissioners, in each of their public annual reports, have been that CSEC has never been found to have acted unlawfully. These are key facts. If we are to have a public debate about the role of CSEC and the appropriate oversight and review mechanisms for it, then let us discuss it based on facts.
Before I move on, I want to remind my hon. colleagues that CSEC and its employees are required by law, specifically the Security of Information Act, to keep the government's intelligence capabilities and activities secret. These requirements are in place for a good reason: to prevent potential adversaries, such as terrorists or foreign states, from knowing our capabilities and taking countermeasures against them.
My hon. colleagues and Canadians should be aware of the valuable service that CSEC provides each and every day. Specifically, I would like to highlight how CSEC stands at the front line in the battle against foreign cyber threats that target Canadian computer systems and networks on a daily basis. It should be obvious to all just how important information technology and the networks and systems they connect to have become in our daily lives.
At virtually every member's desk in the House, one sees hon. colleagues with laptops, tablets, smart phones, and other devices. With these marvels of modern technology, we can communicate directly and instantly with constituents by email, or broadcast to the world with a tweet. Canada and its economy are increasingly dependent on cyberspace and all it provides. It underpins the fundamental functioning of our economy today, including how the government increasingly provides services to citizens, and the daily operation of Canada's critical infrastructure.
As individuals, we are also increasingly plugged in. In fact, 85% of Canadians are online. Canadians spend more time online than citizens of any other country. Undoubtedly, we as a country and an economy rely on all of the benefits that cyberspace provides.
However excited we get about the next new smart phone or the newest app, we are also increasingly aware of the threats that lurk in cyberspace. These are threats to our personal data, to the government's most sensitive information, and to the very functioning of the vital cybersystems we depend upon as a society.
We know that cyberthreat individuals or organizations can range from hacktivists trying to make a statement, to criminals trying to tap into the lucrative cybercrime market, to terrorists using the Internet to recruit, plan, network, and fundraise, and to nation states that have the motivations and the resources to conduct long-term cyberespionage campaigns for the collection of intelligence.
Recognizing the importance of cyberthreats, this government released Canada's cybersecurity strategy in 2010, which provides a strategic framework for government action to secure the government's own systems, to work with the private sector and with other levels of government protecting critical infrastructure, and to help Canadians be secure online.
CSEC plays a critical role in achieving the first objective, securing the government's own systems. CSEC also helps government departments, like Shared Services Canada, to detect and to discover cyberthreats that probe and attempt to compromise government computer networks on a nearly constant basis. In fact, government systems are probed, we are told, millions of times a day. In this role, CSEC helps to ensure government information, which ranges from sensitive intelligence to the personal information of Canadians, remains out of the hands of foreign cyberthreat actors.
In addition, as the government transforms its information technology infrastructure, CSEC is helping Shared Services Canada ensure that security is built in right from the start. Security considerations are being baked into the design and procurement of the government's new email system, for example. Through such advice, CSEC will help ensure that the government's future systems and the personal information potentially contained therein will be less vulnerable from cyberthreats.
CSEC's contribution to Canadian cybersecurity is also unique, and this is because CSEC, through its lawful foreign signals intelligence activities, is able to understand foreign cyberthreats before they can target Canadian systems. By collecting foreign signals intelligence, CSEC allows the government to recognize malware and viruses and other devices unknown to commercial cybersecurity services.
Of course, as with all of its activities, CSEC must conduct its cyberprotection mission with great care, with adherence to all Canadian laws, and in compliance with extensive internal policies, procedures, and mechanisms that are in place, including those to ensure the ever-important privacy of Canadians.
Again, protecting the privacy of Canadians is the law, and CSEC follows the letter and the spirit of that law.
I should also remind all hon. members of this important note: CSEC is prohibited from targeting the communications of persons in Canada or Canadians anywhere under its foreign intelligence and cyberprotection mandates.
To ensure full compliance, the independent CSE commissioner has free rein to review all of CSEC's activities for lawfulness, and he does so on a regular basis. In fact, the CSE commissioner has recently praised CSEC's chiefs who, "...have spared no effort to instill within CSEC a culture of respect for the law and for the privacy of Canadians". The commissioner writes, "I can say with pride and confidence that CSEC is truly being watched".
Let me close by reminding my hon. colleagues and all Canadians of the invaluable role that Canada's security and intelligence organizations like CSEC play in protecting Canadians and Canadian interests from threats such as those emanating from cyberspace.