Peter Kent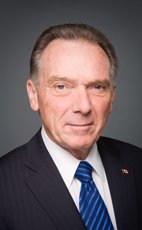 House of Commons photo
Track Peter
Your Say
Elsewhere
Crucial Fact
His

favourite word

is parks.
Conservative
MP for Thornhill (Ontario)
Won his last election, in 2011, with 61.40% of the vote.
Statements in the House
Pipeline Safety Act February 26th, 2015
Mr. Speaker, I would suggest that the member look more to the Toronto Raptors this year than the Maple Leafs, and so to a similar positive outcome for this legislation as it passes through the House.
I must say that I was left somewhat breathless by my colleague's wandering away from the topic at hand. It is quite clear that in the United States there is support in Congress. The labour movement in every state across which the Keystone XL pipeline would eventually cross is in favour of the pipeline. The problem is at the White House; it is the difference of opinion between a president and his state department and Congress.
When it comes to puffing out one's chest, this government is indeed proud that it is the first Canadian government in history to actually reduce greenhouse gases. I would remind the member of the commitment to Kyoto, which saw emissions rise to 35%.
Finally, the point I would like to make to reassure my colleague is that in questioning and raising the spectre of the Kalamazoo spill, he wondered about the cost. The cost is on the record. Enbridge says that it is $1 billion and running. However, Enbridge has taken responsibility there, as it would here if there were a similar spill, heaven forbid. With this legislation, the liability provided for and the coverages, Canadian taxpayers would not cover those costs. The polluter would pay. There are measures for the NEB to enforce better safety precautions, and this is probably the best pipeline safety legislation and liability coverage in the world.
Pipeline Safety Act February 26th, 2015
Mr. Speaker, I know my colleague for Winnipeg North knows the answer.
As the Prime Minister and the Minister of Natural Resources have said any number of times in recent weeks, and months for that matter, the problem the Keystone pipeline specifically faces is not with any disagreement by the American people or the American Congress with the concept. It is a disagreement between the President and the American people. Congress has demonstrated its support in very positive and supportive legislative action. The State Department has repeatedly assessed the Keystone pipeline as having minimal negative environmental impact and very tremendous positive economic impact. I think it is only a matter of time until it is approved.
In the meantime, we will continue to consult with all stakeholders, certainly in our country and abroad, to further the broadening of Canada's delivery of this immensely valuable resource to world markets.
Pipeline Safety Act February 26th, 2015
Mr. Speaker, I thank my hon. colleague for those tempered supportive remarks.
For the legislative process, we depend on the good will and consideration of all parties in the House. As this bill goes to committee, we would hope we would not see the obstructive tactics that the NDP have taken on other very important legislation before the House.
As with all of our responsible resource development legislation over the life of this Parliament, we can count on all parties opposite to support these very significant improvements in the area of pipeline safety. After all, I do not think there is an individual in the House who would disagree with the fact that the transportation of petroleum products by pipeline is by far and away the safest way to transport this immensely valuable product.
Pipeline Safety Act February 26th, 2015
Mr. Speaker, I will be splitting my time with the member for Nipissing—Timiskaming.
I am delighted to speak today to the pipeline safety act. When it comes to energy supply, few countries can match Canada's enormous potential. We are the world's fifth-largest producer of oil, with the third-largest proven reserves; and we are the fifth-largest producer of natural gas, with natural gas resources estimated at up to 1,300 trillion cubic feet. Canada is indeed fortunate to have abundant oil and gas resources. However, as hon. members of the House know full well, to reach our full potential we need more than supply. We need the energy infrastructure necessary to reach new markets. Here is the problem in a nutshell.
While Canada's endowment of petroleum resources is immense, we have only one major export customer: the United States. In fact, nearly all of our oil and gas exports are to the United States. Meanwhile, here in Canada, production from the oil sands is forecast to continue to grow, apart from a temporary slowdown today, from about 1.9 million barrels per day in 2013 to more than 5 million barrels per day by 2035. These two factors—increasing Canadian production and declining American demand—mean that Canada must develop new markets and the infrastructure to reach them, including pipelines.
At the same time, global energy demand is projected to increase by 33% between 2011 and 2035. Massive new markets in Asia are fuelling new energy demands. Non-OECD countries are forecast to account for 93% of energy demand growth, with China and India alone consuming almost half of it. Canada can capably meet that need, as Canadian oil and gas production is expected to grow dramatically over the same period. However, again, without pipelines to move our products to tidewater to reach world markets, Canada's oil and gas will continue to be stranded, and the opportunity will be lost.
That is why it is critical for Canada to build new pipelines to the west, the south, and the east to open up new markets and ensure that Canada is getting top dollar for its energy resources. That is why pipeline safety is also so important.
We recognize that we cannot expand into foreign markets if we don't have the backing of the public. We understand that public safety and environmental protection are necessary conditions for energy development to proceed. Right now, despite what we hear from the other side of this House on a regular basis, Canada's pipelines are among the safest in the world. For example, between 2008 and 2013, 99.999% of oil transported on federally regulated pipelines arrived safely. In fact, the rate of spills on federally regulated pipelines in Canada was 60% lower than in both Europe and the United States over the past decade. Even given these impressive safety statistics, our government believes that it is not the time to be complacent, but rather it is the time for action. It is crucial to keep improving the technology and increasing our efforts to improve safety around pipelines.
We believe that expanding market access and protecting our environment can go hand in hand. Time and again, we have promised that no pipeline project will proceed unless it is safe for Canadians and safe for the environment. With this proposed legislation, we would build on our impressive safety record to make Canada's robust pipeline safety system even stronger.
Strengthening the safety of Canada's pipeline systems focuses on three key areas: prevention, preparedness and response, and liability and compensation.
When it comes to prevention, our goal is simple: to take action to reduce risks and prevent accidents from happening in the first place. This legislation would build on previous pipeline safety measures that increased the number of inspections and audits, and that gave the National Energy Board the authority to levy administrative monetary penalties.
For the first time, we will enshrine the polluter pays principle in law, so that polluters, not Canadian taxpayers, will be held financially responsible for the costs and damages they cause. Pipeline operators will be held responsible for incidents, irrespective of fault, and the National Energy Board will have the tools to take control of a response to an incident if a pipeline operator is unable or unwilling to do so. These costs will be recovered from industry to ensure that taxpayers are protected against any potential costs of cleanup.
We will also ensure that companies operating pipelines are responsible for them throughout their lifetime, from their construction until they are abandoned, including any related costs. To ensure full transparency, documents concerning pipeline safety will be available to the Canadian public.
We are also moving ahead with important measures that will enhance the participation of aboriginal peoples in the development and operation of pipeline safety systems. With the participation of aboriginal people and the commitment to world-class pipeline safety, Canada can harness the tremendous economic opportunities before us.
Ultimately, all of these measures are about the same thing: protecting Canadians and the environment. Emphasizing prevention, responding quickly in the event of an incident and making sure that companies, not Canadians, are liable for any costs, these measures are strengthening our pipeline safety system and making it world-class. This legislation will send a strong signal to the world that Canada is a safe and responsible supplier of energy resources, and that Canada is indeed open for business
Right now, the scale and pace of resources development in Canada remains truly remarkable. Hundreds of major natural resource projects are under construction or planned over the next ten years. This represents a total investment of as much as $675 billion. Over the next 25 years, responsible development of Canada's energy resources is expected to generate literally trillions of dollars in economic activity and hundreds of thousands of jobs.
Huge markets in the Asia-Pacific region and in Europe are ripe for business. We must not let this opportunity pass us by. The bottom line is that opening new markets for our energy products will support our government's top priority, which is creating jobs, growth and long-term prosperity for Canadians.
Rise in anti-Semitism February 24th, 2015
Mr. Chair, I believe this comes back to eternal resistance of this most vile aspect of human nature. We have seen, for example, in the development and evolution of the annual Israel apartheid week on university campuses a hatred which in many cases is absolutely overt. There is no attempt to mask using the buzzwords of the hate-mongers to mask their intentions to the point that on several university campuses across the country, Concordia 10 years ago and the university across the street from my riding, York University in Toronto, have seen Jewish students refuse to take part in student activities, the normal part of university years, simply because they are intimidated. Some of them even have gone so far as to remove any vestiges that would reveal their Jewish identity.
In today's incidents that we saw in Montreal, again this is the more overt manifestation, the vile graffiti, the intimidating bullets. Again, we need to hear voices raised in the community in Montreal tomorrow, which denounce today's events.
Rise in anti-Semitism February 24th, 2015
Mr. Chair, my colleague has asked a very difficult question.
As we have seen over the centuries, and I referred to anti-Semitism as humankind's original hatred, it is a generational phenomenon that rises and falls. After the Holocaust, there was a renewed sensitivity and there was an attempt, certainly in Germany and across Europe, to recognize the extremes to which, as the member for Mount Royal said earlier, words were the first step toward the gas chambers.
As I said in my concluding remarks, just as eternal vigilance is the basic requirement for freedom, so too is eternal resistance of anti-Semitism, wherever it may be found.
Canada regularly speaks to this in international gatherings, almost annually at the United Nations, in the General Assembly and elsewhere. I think that is something that is one of the primary continuing missions of not only Canada's domestic policies but of our foreign affairs policies abroad.
Rise in anti-Semitism February 24th, 2015
Mr. Chair, I will be splitting my time with the member for Lanark—Frontenac—Lennox and Addington.
It is truly tragic that in 2015, the House finds that it must again recognize the pervasive existence of anti-Semitism in Canada and around the world. Despite the best efforts of parliamentarians and private citizens, and the vigilance of determination of organizations such as B'nai Brith Canada, the Jewish community's foremost human rights agency, which has been active in Canada since 1875, anti-Semitism, humankind's original hatred, remains alive and hatefully well in Canada and abroad.
B'nai Brith Canada's most recent annual audit of anti-Semitic incidents, from April 2014, revealed that Canada-wide incidents of vandalism and violence increased by 21.6% and 7.7% respectively over the previous year. Frank Dimant, who has just retired as the CEO of B'nai Brith Canada after 36 years, said of the audit:
The sustained level of antisemitism in Canada when taking a ten year view which shows a 49% jump should be of great concern to all Canadians.
However, Mr. Dimant feels that numbers are only part of the story. He said:
What we are hearing from callers is a growing sense of dread among Canadians...hatred of Jews has veered so far into normative discourse that it is no longer seen as wrong.
Canadians can remember brief periods in recent decades when we might have thought, wishful thinking, perhaps, that anti-Semitism was a vile phenomenon of the past, but then came a resurgence of both classic and hybrid hate. In my riding of Thornhill, there is anti-Semitic vandalism and graffiti, with swastikas over the Star of David. In Montreal, there have been firebombings of Jewish businesses and the desecration of Jewish cemeteries. Anti-Israel rallies during periods of Middle East tension have deteriorated into openly, and in some cases, violently anti-Semitic events in Calgary, Mississauga, and Toronto. Of course, on university campuses, not all but on far too many, there is Israel Apartheid Week.
Israel Apartheid Week and the boycott, divestment and sanctions movement represent hybrid anti-Semitism. Proponents and propaganda for IAW or BDS say that they are not anti-Semites and have nothing against the Jewish people but are merely against Israel, the Zionist state, the Zionist entity. "Zionist" has become the hate-mongers' code word for "Jew".
Our government has consistently supported Israel's right to defend itself. The only democracy in the Middle East is under constant threat and regular attack by terrorist entities and quasi states, not to mention the threats both tangible and bombastic from Iran.
Israel may not be perfect. Our government also recognizes the principle of fair criticism. However, as the Prime Minister has said:
...whatever Israel's shortcomings, neither its existence nor its policies are responsible for the pathologies present in that part of the world.
I was proud to be a member of the Canadian Parliamentary Coalition to Combat Antisemitism. I believe that members will hear in greater detail about this area from my colleague from Lanark—Frontenac—Lennox and Addington, but in closing, I would like to refer to a central conclusion of its inquiry panel report. It pointed out that criticism of Israel is not anti-Semitic in itself but that denying its right to exist or seeking its destruction can be considered anti-Semitic acts.
The panel also recommended that police forces across Canada be better trained to deal with anti-Semitism, that universities do more to counter Israel Apartheid Week, that education regarding human rights be a bigger part of welcoming programs for new Canadians, and finally, that the House foreign affairs committee study the United Nations':
... over-emphasis of alleged human rights abuses by Israel, while ignoring flagrant human rights abuses of other member states.
Just as I believe that vigilance is the price of freedom, so too is eternal resistance essential in the fight against anti-Semitism and in the defence of democracy, human rights, and the rule of law.
Natural Resources February 23rd, 2015
Mr. Speaker, our government is proud to support projects that create jobs, grow the economy, and protect the environment. That is why we have invested significantly more than the Liberals did in clean energy technology, and these investments are achieving results.
Can the Minister of Natural Resources tell the House about the actions we are taking to promote jobs and growth in the natural resources sector?
Canadian Flag February 19th, 2015
Mr. Speaker, in this week in which we have celebrated the 50th anniversary of our glorious Canadian flag, I rise today to recognize a constituent affectionately known as "the flag lady of Thornhill".
Marga van den Hogen is the founder of Flag Flyers, dedicated citizens who spread awareness of the maple leaf flag. Omnipresent, it sometimes seems, in various flamboyant dress combinations of red and white, Marga is known to solicit the residential and commercial owners of unadorned flag poles to acquire and proudly fly the flag, and to recommend the replacement of flags that are faded or frayed.
Raising the maple leaf to new heights this week, Marga's persuasive skills led to the electronic red and white wrapping and flapping on Toronto's CN Tower.
As we know, our government, in celebration of the flag's 50th anniversary, is giving commemorative gifts of this proud Canadian symbol to 50 outstanding Canadians. It will be an honour to present one of those mementos to Marga tomorrow in Thornhill.
Journey to Freedom Day Act February 5th, 2015
Mr. Speaker, I rise enthusiastically in the few minutes left in debate to support Bill S-219, the journey to freedom day act.
I spent a significant amount of time in Vietnam in my previous life as a journalist in the 1960s, 1970s, 1980s, and even into the 1990s. I had the dubious privilege of being in Saigon on that dark day, April 30, 1975, when I was lifted out of the American compound with the final Americans present, other third country nationals, and more than 7,000 South Vietnamese nationals. I watched with great concern during the dark years of re-education through the late 1970s and afterward, and followed with great concern the plight of those who were forced through circumstance to leave their country and seek a better life elsewhere.
I can reassure my colleagues who expressed concern, the members for Beauharnois—Salaberry and Winnipeg North, that this bill will be going to committee. The committee will hear witnesses across the spectrum, and I look forward to seeing the Vietnamese ambassador during this coming committee study.
I would say to him that this bill is not a condemnation of the present government. We have close and good ties with the current government. This portrays a particularly dark period and the journey to freedom of hundreds of thousands of people. Of these, 60,000 came to Canada. In fact, greater freedoms came to Vietnam not through war but through the pressures of capitalism, free enterprise, and the will of the people for better lives in Vietnam.
Just to conclude, the significance of the commemoration of journey to freedom day is really threefold. It would mark the tragic events following the fall of Saigon and the exodus of the Vietnamese refugees. It would also pay tribute to all of those Canadians who rose to the challenge, welcomed the traumatized refugees, and helped them adjust to a new and better life in a new and unfamiliar land. Finally, it would celebrate the incredible contributions that the Vietnamese refugees have made to the building of our great country.
This was demonstrated just last week at this year's Tet celebration in Toronto, where members will recall that the Prime Minister addressed a crowd of over 10,000 grateful Canadians of Vietnamese origin.
All Canadians should know the story of the Vietnamese refugees who were forced to flee their native land, of the vast humanitarian effort undertaken by Canadians from coast to coast to coast, and of the triumph over adversity that the vibrant Vietnamese community in Canada represents today.