Pierre Lemieux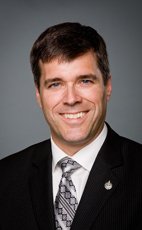 House of Commons photo
Track Pierre
Your Say
Elsewhere
Crucial Fact
His

favourite word

is farmers.
Conservative
MP for Glengarry—Prescott—Russell (Ontario)
Won his last election, in 2011, with 48.80% of the vote.
Statements in the House
Agricultural and Agri-Food November 24th, 2014
Mr. Speaker, I met with the industry just last week. When the Safe Food for Canadians Act was before Parliament, one of the top requests from this sector of agriculture was that there be put in place legislation to provide a single dispute resolution body. That was done. That came before Parliament and it was passed.
There are other possible solutions, and these were discussed at the meeting I had with industry representatives last week.
Agricultural and Agri-Food November 24th, 2014
Mr. Speaker, our government understands the importance of Canada's fresh produce industry and its contribution to our economy. That is why we have introduced clear legislation to provide a single dispute resolution body that would help reduce issues of non-payment faced by the fresh produce industry.
In addition, we are consulting widely on Canada's bankruptcy and insolvency laws, and these will come before Parliament in the near future.
Our government is committed to supporting Canadian producers and exporters, and we will continue to work on this issue.
Agricultural Growth Act November 24th, 2014
Mr. Speaker, I wish the member had been on agriculture committee when the bill was reviewed. As I have said, each and every amendment that was put forward by the opposition and by the government were given careful consideration. All the amendments were studied, debated and voted upon. What guided the committee's final decision was the testimony given by witnesses who came to committee and consultations that were held when the bill was tabled in Parliament. I only wish the member could have been there to hear the testimony rather than launching a grenade by saying that it did not work the way he wanted it to work when he was not even there.
Let me talk about the farmers' privilege. Again, the member is relying on one single stakeholder called the NFU, which has these fears. The vast majority of witnesses who came in front of committee said that they liked the provisions contained in the bill. I included many quotes in my speech from the agricultural sector to back up that position. They like the farmers' privilege and the way it is defined. They provided some feedback that was incorporated into an amendment, which was passed by committee and is now incorporated in the bill before the House.
Once again, I appeal to the member and to his colleagues to listen to farmers, review what was said at committee, look at the quotes I have provided in my speech and recognize that the farmers they represent, particularly those in Quebec, strongly support the bill and they do not appreciate the NDP not listening to them. They want NDP MPs to vote in favour of the agricultural growth act, Bill C-18.
Agricultural Growth Act November 24th, 2014
Mr. Speaker, let us talk about what the APP program is. The APP program is a financing option, backed by the government, offered to farmers. They can borrow up to $100,000 interest free and they can borrow up to a maximum of $400,000. Those are the limits that are in place, and they were raised under this government. We listened to industry and raised those limits just a few years ago.
I want to highlight that the APP is not meant to be the only financing option open to farmers. It is meant to be an option available to farmers and it is an important one. As we discussed in committee and as we discussed one-to-one, the statistics regarding the APP are telling and they are important. Let me just give a few statistics that explain why that amendment was not passed.
Only 2% of farmers who use the APP actually reached, or desired to reach, the $400,000 threshold. The member said that many farmers would want to borrow a lot more than $400,000, but only 2%, which is in the historical data, borrow up to $400,000. We do not see the need being there.
On the first $100,000, the interest portion, about 66% of farmers seek that first $100,000. That is clearly an important component of the program, and it is remaining intact.
Agricultural Growth Act November 24th, 2014
Mr. Speaker, there was a lot in that question. First, I was not telling the NDP what to think. I was telling the NDP what farmers and farm organizations are saying about the bill and what farmers in their very own ridings are saying about the bill. I provided numerous quotes, from both NDP MPs and the agriculture industry, showing what an important bill this is for the agriculture sector.
When it comes to the amendments, I want to assure the House that every single amendment was given careful consideration and debate within committee. The committee voted on each and every amendment based on both the debate that took place on that amendment and on the feedback we received from witnesses at committee and from other consultations we had.
He is right that as the government, we brought forward amendments to the bill. They were based on the consultations with the agriculture sector, which I recommend he and his NDP MPs have with the agriculture sector. If they do those consultations, they will hear once again the loud and clear support of farmers and the agriculture and agri-food sector for Bill C-18.
Agricultural Growth Act November 24th, 2014
Thank you, Mr. Speaker. Today, I am pleased to be speaking to Bill C-18, the agricultural growth act, which is now at third reading. Bill C-18 is a vital piece of legislation for Canada's agricultural sector. This bill contains amendments that make it clearer and more robust.
The Standing Committee on Agriculture and Agri-Food heard from more than 50 witnesses representing many areas of Canada's agricultural sector. I would like to thank those who came to testify and shared their experience, expertise and recommendations.
Agriculture is a sector of the economy that is growing throughout Canada and around the world. A recent report by Farm Credit Canada stated that the agricultural sector accounts for 30% of Canada's gross domestic product, and only one other sector contributes more to our country's economic growth.
In addition, thanks to our Conservative government policies, farmers have improved their situation and are prospering. According to Agriculture and Agri-Food Canada, net cash income for farmers is projected to total approximately $13 billion. That is the highest it has been in nearly 40 years. Average net worth per farm is expected to reach an all-time high of $2 million this year.
The fact that the Canadian economy has posted some of the best results among G7 countries following the global financial crisis, in terms of both production and job creation, is due in large part to agriculture.
Our Conservative government is clearly working very hard to support Canadian farmers. We are proposing legislation to strengthen the industry.
It is important to note that, last June, the Standing Senate Committee on Agriculture and Forestry issued a report entitled, "Innovation in Agriculture: The Key to Feeding a Growing Population". Recommendation 8 of that report states the following:
The Committee recommends that Agriculture and Agri-food Canada and the Canadian Food Inspection Agency bring the Plant Breeders' Rights Act...up to the standards of the 1991 Act of the International Convention for the Protection of New Varieties of Plants.
Bill C-18, with the amendments, supports this recommendation and will spur agricultural innovation within Canada. I would like to briefly mention the amendments that our government brought forward to strengthen Bill C-18, all of which were passed at the agricultural committee.
Based on discussions that the Minister of Agriculture and Agri-Food had with a number of stakeholders, we have amended the Agricultural Marketing Programs Act to provide clarity on key aspects of the bill. We have also amended some wording in translation to ensure clearer understanding of certain clauses in the bill.
However, I want to focus my remarks on the most important part of the bill, the plant breeders' rights.
Most of my comments are for the NDP, which has taken a clear stand against Bill C-18. What really bothers me is that farmers in NDP ridings in Quebec want their MPs to support the bill, but the NDP is refusing to do so.
I will have more to say about that later in my speech, but I just want to say that farmers, the organizations that represent them and various stakeholders across Canada strongly support our Agricultural Growth Act because it will stimulate investment in developing new crop varieties and innovation in the sector.
Ms. Patty Townsend, CEO, Canadian Seed Trade Association, said at committee:
....if farmers are going to save grain to use as seed on their farms, they need to store it, so we were really happy to hear the minister say that they are going to propose an amendment to clarify that.
This amendment ensures that seed variety breeders will see a return on their investment and includes, within the farmer's privilege, the right to store seed and to reserve harvested grain to use as seed for planting in subsequent seasons.
At second reading of Bill C-18, the NDP member for Chicoutimi—Le Fjord actually talked about that in the House. He said:
One of the benefits of this bill is that variety developers would be able to see a return on investment for their plant breeding research efforts, providing incentives for an important sector of Canadian agribusiness.
That is why I do not understand how that NDP MP and his colleagues can vote against this bill. The member did not even stop there. He went on to say that the bill would give farmers the right to save conditioned seed for use on their own farms. It would promote access for Canadian farmers to the results of private breeding research in Canada and other countries through more effective intellectual property rights.
Once again, it is clear that the NDP is turning its back on farmers and the party knows it.
During that same debate, the NDP MP for Notre-Dame-de-Grâce—Lachine said that changes to the Plant Breeders' Rights Act and Canada's decision to sign the 1991 UPOV convention were good.
When the committee studied Bill C-18, the member for Berthier—Maskinongé, who is the NDP's deputy agriculture critic, said that the official opposition agreed with several parts of this bill and, having consulted the industry, believed it was good.
While at committee, as I mentioned earlier, we heard from over 50 witnesses from across the agricultural sector. We heard almost unanimous support for Bill C-18, and based upon comments from the NDP, one would say that it agreed with these witnesses. Instead, the NDP has sadly relied upon its friends from the NFU to dictate NDP agricultural policy.
I have said it before, it is a shame when a political party does not listen to the farmers within the ridings and throughout Canada.
The agricultural growth act strengthens intellectual property rights for plant breeders so that Canada can finally adopt and implement UPOV '91. Among the witnesses, we heard from Mr. William Van Tassel, first vice-president of the Fédération des producteurs de cultures commerciales du Québec, who said that the federation is in favour of the changes through which the plant breeders' rights would comply with UPOV '91.
Canada's current legislation meets the requirements for UPOV '78. Since then, there have been several updates to the UPOV requirements for plant breeders' rights protections. Significant innovation in agriculture and in plant variety technology has happened since then. Today, Canada remains one of only two UPOV members from developed countries with legislation that does not comply with UPOV '91. This puts our Canadian breeders and farmers at a competitive disadvantage.
Agricultural industry, farmers across Canada, and plant breeders all agree that it is time to reinvigorate invesment, innovation, and growth in our agricultural sector.
Even the NDP member for Portneuf—Jacques-Cartier, who spoke to Bill C-18, told the House that all these important changes address the concerns raised by her constituents.
Unfortunately, when the House of Commons voted on agricultural innovation last week, that member and all of her NDP colleagues voted against the government, against farmers all across Canada and even against the member's own constituents, even though she said herself that the bill addresses the concerns of those constituents.
During the hearings of the Standing Committee on Agriculture and Agri-Food, Gary Stanford, a farmer and president of the Grain Growers of Canada, spoke in favour of Bill C-18. He echoed that sentiment in early November when he represented Canadian farmers at the global grain conference.
Gary Stanford wants farmers to know that Bill C-18 contains important and positive changes. He also wants to set the record straight about what UPOV '91 really means. In an article published in Real Agriculture, he said that Canada is one of only a handful of countries not covered under UPOV '91. Aligning our regulations will not only level the playing field for our producers, but it is also expected to encourage foreign breeders to release their varieties in Canada. This would give our farmers access to new varieties their competitors are already using. The bill also enshrines into law the farmers' right to save seed, as they do now.
Mr. Stanford's organization is part of a general industry group called Partners in Innovation that strongly supports Bill C-18. This group is a coalition of 20 agricultural organizations representing the majority of farmers in Canada, including the Fédération des producteurs de cultures commerciales du Québec, which can be found in all regions of Quebec and includes unions that represent over 10,000 farmers.
With Bill C-18, we are taking the necessary steps to align the Plant Breeders' Rights Act with UPOV '91. UPOV '91 allows countries to entrench the right of farmers to save, clean, store, and use seed for their own operations. Mr. Doug Chorney, president of Manitoba's Keystone Agricultural Producers, also offered his support at committee, stating:
The changes to the act will bring Canada into compliance with UPOV 91, the international agreement for protecting intellectual property of plant breeders. It is anticipated that this will pave the way for increased investment in crop variety development.
The member for Algoma—Manitoulin—Kapuskasing, the member for Sudbury, and the member for Timmins—James Bay all mentioned in this House, when speaking to Bill C-18, some of the benefits foreign research can have for Canadian farmers and plant breeders. Mr. Rick White, CEO of the Canadian Canola Growers Association, told the committee:
Additionally, Bill C-18 allows for the recognition of foreign data and reviews for new feed, seed, and fertilizer registrations. This should streamline the registration process, making it easier to bring new products to Canada while still maintaining high levels of safety.
Mr. White was not alone in supporting foreign data. Other witnesses spoke in favour of this.
If experts in the agricultural industries speak in favour of foreign data and information, and NDP members have said the same, why would they vote against Bill C-18? The New Democrats claim that they held consultations with stakeholders, but they clearly ignored the expert testimony of many agricultural stakeholders. The NDP stakeholder is the NFU. It always has been and it always will be. Farmers in Quebec and across Canada cannot trust their future livelihoods to the NDP because a clear majority of agriculture is not aligned with the NFU.
Farmers in NDP ridings in Quebec support Bill C-18, so how will the NDP explain to them that it ignored their opinion and voted against Bill C-18? It is a real shame to see a political party disregard the needs of its stakeholders and its voters.
Unlike the NDP, our government meets with all the stakeholders in the farming sector across Canada and holds consultations with them. The Minister of Agriculture had the opportunity to speak to stakeholders from Canada's farming sector about the many provisions of the bill, including those regarding compliance with UPOV '91.
We received some good ideas on how to make the bill clearer and improve the wording, and we followed through on those ideas. The farmers wanted Canada to adhere to UPOV '91, and that is what our government is working towards.
The Putting Farmers First report has been our guiding principle since the day we came to power. This bill's support for competitiveness is a significant and tangible way of showing our commitment.
Bill C-18 would give Canadian producers a competitive edge. This includes our innovative horticultural and fruit and vegetable growers. The horticulture industry is an incredibly diverse industry, with 120 different commodities. Statistics Canada is reporting that Canadian fruit and vegetable farmers sold $4.3 billion worth of produce in 2013. This is up 5.4% from 2012. The ornamental horticulture sector on its own represents over $14 billion in economic impact.
Mr. Victor Santacruz, executive director of the Canadian Nursery Landscape Association, said:
Our position is that we support the changes to the plant breeders' rights in the adoption of UPOV 91. Canada's ornamental horticulture sector was in a competitive disadvantage by being on UPOV 78, and we are pleased with the decision to move this forward. This will place our sector on a level playing field with our trading partners, such as the U.S., the U.K., Germany, and the Netherlands.

Access to new varieties and the ability to protect Canadian new varieties abroad is important to the competitiveness of our sector.
Bill C-18 is also good news for Canada's economy, which depends on the agriculture and food sector for over 8% of our GDP and for one in eight jobs. One of our government's main priorities is to promote agriculture within Canada and around the world.
During the many consultations with stakeholders our government had, we announced in 2013 an agreement on the Canada-EU free trade agreement. Last week, in this House, we debated the benefits the Canada-EU free trade agreement would have for Canada's agriculture industry. Once again, I worry that the NDP MPs will fail our farmers by voting against the adoption of the Canada-EU free trade agreement.
Our Conservative government listens to farmers across Canada. We make decisions, based on these consultations, that farmers want, such as increasing our strategic federal-provincial-territorial investments under Growing Forward 2 by 50% for market development, innovation, and competitiveness.
Farmers want to be competitive and use innovative technologies to improve their business. Bill C-18 deals in part with science, technology and innovation in the farming sector. Innovation is what the farming sector needs for a profitable and sustainable future.
In Canada in particular, an innovative farming and food industry is a powerful driver of our economy. In fact, it generates more than $54 billion in farm cash receipts; it employs 2.1 million people, which is the equivalent of one in eight jobs; and its exports are worth a record $43.6 billion.
In Canada, the fruit and vegetable industries and the potato industry contribute tremendously to economic growth. We want that growth to continue.
For that to happen, we must provide farmers with the tools they need to be competitive. We must continue to promote the strength of our farming industry and create favourable conditions for its continued growth. That is the goal of this bill.
Bill C-18 would strengthen intellectual property rights for plant breeders and would help increase investment in research and development for Canada's crop sector. That would help farmers remain competitive by providing them with access to the best new crop varieties, whether they are developed in Canada or abroad.
Without a doubt, our government has been working hard to level the playing field and to create new market opportunities for our producers. Bill C-18 could help the crop sector with a strong plant breeding program. Such a program could increase yields in crop varieties, improve their nutritional content and quality, enhance disease resistance, reduce the need for fertilizers and pesticides, and provide a wider selection of plant varieties. Supporting a modern system to make sure that plant breeders are compensated for their efforts and can continue to undertake further improvements is critical to the future of the agricultural sector.
As I have explained, adopting UPOV '91 in Bill C-18 would strengthen intellectual property rights for plant breeders and would help increase investment in research and development for Canada's crop sector.
Canada's farmers grow world-class food in a global marketplace that is ripe with opportunity. Bill C-18 is a key part of our strong agricultural agenda, and it would strengthen Canadian farming. We are ensuring that our legislation reinforces and takes full advantage of modern science and technology, innovation, and international practice in the agriculture industry.
Farmers cannot trust the NDP with the future of their agricultural livelihoods. The NDP simply does not listen to farmers across Canada. They repeatedly rely on the narrow interests of the NFU.
I encourage all MPs, especially the NDP, to vote in favour of Bill C-18. It is a great bill for farmers, a great bill for our agriculture sector, and a great bill for Canada.
Agriculture and Agri-Food November 21st, 2014
Mr. Speaker, as I just explained, the government is very aware of the contributions of the horticulture and fresh produce sector to Canada and to Canadians' economy. We are also well aware of the high-quality products they export to the United States.
My colleagues and I, particularly those on the agriculture committee, just met with producers and representatives from the horticulture industry this week. We offered a number of different solutions within the discussions.
We have done a number of things. One of the things we did was to introduce clear legislation, which the opposition voted against, that would put in place a single dispute resolution body to help with payment-type problems.
Agriculture and Agri-Food November 21st, 2014
Mr. Speaker, the government is aware of how vulnerable the fresh produce industry is and how much it contributes to the economy.
That is why we introduced clear legislation to provide a single dispute resolution body that would help reduce issues of non-payment faced by the fresh produce industry.
We are also consulting widely on Canada's bankruptcy and insolvency laws, and Parliament will be involved in that consultation.
Our government is committed to supporting Canadian producers and exporters. We are going to continue to look at this issue.
Agricultural Growth Act November 19th, 2014
Mr. Speaker, in my time in the House, I have noted that the New Democrats in particular will do anything to delay voting or the passage of legislation. It is in their best interest because they never have to vote on something in that case.
That is particularly true with this bill. I bring this up in terms of their Quebec MPs who represent Quebec farmers who want this bill to pass. The New Democrats have already indicated quite clearly that they will not vote in favour of this bill, so their position is already known.
I want to ask the minister about these delay and obstruct-type tactics being used by the NDP. Could he explain to the House and to farmers why it is important for the legislation to move forward in a reasonable time period?
Committees of the House November 18th, 2014
Mr. Speaker, I have a question, but let me just preface a few remarks before I ask the question. I want to remind the House and Canadians that CETA is good for Canadian farmers. We are talking about $1.5 billion for the Canadian agricultural sector that would come about because of CETA. That is a new opportunity.
I would also like to highlight the fact that the NDP represents farmers in some of their ridings, but particularly in Quebec. When I look at Quebec what I see is a very strong and vibrant pork industry, beef industry and crop industry. Just in pork and beef, we are talking about a billion dollars worth of access into Europe because of the free trade agreement.
Now I will get to my question, because I know Quebec pork farmers, and certainly beef and crop farmers will be asking this question themselves. Having listened to my colleague, I could not tell if the NDP is planning to vote for the CETA trade agreement or not. He was saying on the one hand and then on the other hand, but if we go in the middle and go back to the other hand.
We need some clarity, which is why I put the amendment in front of the House in the first place. Everyone wants clarity, particularly farmers. Therefore, could the member clarify this for the House. Will the NDP vote in favour of the Canada-European trade agreement?