Pierre Lemieux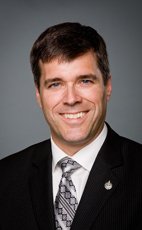 House of Commons photo
Track Pierre
Your Say
Elsewhere
Crucial Fact
His

favourite word

is farmers.
Conservative
MP for Glengarry—Prescott—Russell (Ontario)
Won his last election, in 2011, with 48.80% of the vote.
Statements in the House
Agriculture and Agri-Food December 8th, 2014
Mr. Speaker, the safety and security of Canada's food supply continues to be the Canadian Food Inspection Agency's top priority. Testing has confirmed H5N2 avian influenza. The CFIA is working closely with the province, industry, and producers to immediately place the farms under quarantine and to follow the proper international protocol to control avian influenza. The CFIA will continue to keep the public informed of developments.
Canadian Wheat Board December 5th, 2014
Mr. Speaker, the NDP want the public to know what is going on except when it comes to their NDP offices, which were run illegally.
However, back to the CWB, the NDP's first alarmist concern regarding the CWB was that ending the CWB monopoly would somehow cause the destruction of wheat farming in Canada, which is obviously not true. The NDP's second alarmist concern was that a voluntary wheat board would not be viable, which is obviously not true as well.
As I just mentioned, the CWB will assess all serious bidders and then submit a plan for commercialization to the government, as stated in legislation passed in December 2011.
Canadian Wheat Board December 5th, 2014
Mr. Speaker, the motivation behind this question is that the member and his party are ideologically opposed to offering western Canadian grain farmers the marketing freedom they deserve.
We promised western Canadian grain farmers marketing freedom. We delivered on that promise, and with great success. There is renewed optimism in grain farming, and farmers are prospering.
The CWB will assess all serious bidders and then submit a plan for commercialization to the government in accordance with the legislation passed in December 2011.
Taxation December 2nd, 2014
Mr. Speaker, 100% of families with children in Glengarry—Prescott—Russell and across Canada will be better off thanks to our new family tax cut.
As Conservatives, we are expanding and increasing the enhanced universal child care benefit so that every family in Canada, like families in my riding, will receive over $1,900 per year for each child under the age of six. Over six years, this will amount to more than $11,000 per child. A family that decides to have three children could benefit by more than $30,000. This new money will make a real difference for parents by allowing them to invest in their children's future.
However, the NDP has never met a tax it did not like, and the Liberals have never seen a tax that they would not hike. Both the Liberals and the NDP would reverse our tax cuts and force every Canadian to pay more. Only our Conservative government can be trusted to put more money back into the pockets of Canadians.
Justice for Animals in Service Act (Quanto's Law) November 28th, 2014
Mr. Speaker, I apologize for interrupting the debate, but I would ask for the unanimous consent of the House to revert to presentation of reports from committees, as I do have a report from the Standing Committee on Agriculture and Agri-Food.
Agriculture and Agri-Food November 28th, 2014
Mr. Speaker, Canada's dairy and poultry and egg producers know that they can continue to count on our government to stand up for their interests. We are ensuring that the three pillars of supply management remain intact in all trade agreements that our government implements, including the agreements with Europe and Korea.
Our government is taking practical measures to stop products such as pizza topping kits from being imported into Canada. Our government has always stood up for Canada's supply management system and will continue to do so.
Agricultural and Agri-Food November 24th, 2014
Mr. Speaker, I met with the industry just last week. When the Safe Food for Canadians Act was before Parliament, one of the top requests from this sector of agriculture was that there be put in place legislation to provide a single dispute resolution body. That was done. That came before Parliament and it was passed.
There are other possible solutions, and these were discussed at the meeting I had with industry representatives last week.
Agricultural and Agri-Food November 24th, 2014
Mr. Speaker, our government understands the importance of Canada's fresh produce industry and its contribution to our economy. That is why we have introduced clear legislation to provide a single dispute resolution body that would help reduce issues of non-payment faced by the fresh produce industry.
In addition, we are consulting widely on Canada's bankruptcy and insolvency laws, and these will come before Parliament in the near future.
Our government is committed to supporting Canadian producers and exporters, and we will continue to work on this issue.
Agricultural Growth Act November 24th, 2014
Mr. Speaker, I wish the member had been on agriculture committee when the bill was reviewed. As I have said, each and every amendment that was put forward by the opposition and by the government were given careful consideration. All the amendments were studied, debated and voted upon. What guided the committee's final decision was the testimony given by witnesses who came to committee and consultations that were held when the bill was tabled in Parliament. I only wish the member could have been there to hear the testimony rather than launching a grenade by saying that it did not work the way he wanted it to work when he was not even there.
Let me talk about the farmers' privilege. Again, the member is relying on one single stakeholder called the NFU, which has these fears. The vast majority of witnesses who came in front of committee said that they liked the provisions contained in the bill. I included many quotes in my speech from the agricultural sector to back up that position. They like the farmers' privilege and the way it is defined. They provided some feedback that was incorporated into an amendment, which was passed by committee and is now incorporated in the bill before the House.
Once again, I appeal to the member and to his colleagues to listen to farmers, review what was said at committee, look at the quotes I have provided in my speech and recognize that the farmers they represent, particularly those in Quebec, strongly support the bill and they do not appreciate the NDP not listening to them. They want NDP MPs to vote in favour of the agricultural growth act, Bill C-18.
Agricultural Growth Act November 24th, 2014
Mr. Speaker, let us talk about what the APP program is. The APP program is a financing option, backed by the government, offered to farmers. They can borrow up to $100,000 interest free and they can borrow up to a maximum of $400,000. Those are the limits that are in place, and they were raised under this government. We listened to industry and raised those limits just a few years ago.
I want to highlight that the APP is not meant to be the only financing option open to farmers. It is meant to be an option available to farmers and it is an important one. As we discussed in committee and as we discussed one-to-one, the statistics regarding the APP are telling and they are important. Let me just give a few statistics that explain why that amendment was not passed.
Only 2% of farmers who use the APP actually reached, or desired to reach, the $400,000 threshold. The member said that many farmers would want to borrow a lot more than $400,000, but only 2%, which is in the historical data, borrow up to $400,000. We do not see the need being there.
On the first $100,000, the interest portion, about 66% of farmers seek that first $100,000. That is clearly an important component of the program, and it is remaining intact.