Pierre Lemieux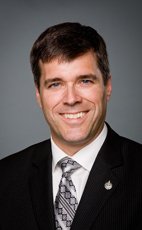 House of Commons photo
Track Pierre
Your Say
Elsewhere
Crucial Fact
His

favourite word

is industry.
Conservative
MP for Glengarry—Prescott—Russell (Ontario)
Won his last election, in 2011, with 48.80% of the vote.
Statements in the House
International Trade September 19th, 2014
Mr. Speaker, our government has always defended Canada's supply management system and with this agreement, we are continuing to do so. The three pillars of our national supply management system remain intact. We will monitor the potential impact of this historic agreement on dairy producers' income and, if the level of protection is adversely affected, we will help the producers financially.
We are holding consultations with leaders in the dairy sector.
Agriculture September 18th, 2014
Mr. Speaker, our government stands with western Canada's hard-working grain farmers and that is why the first monetary penalty under the Fair Rail for Grain Farmers Act will be imposed on CN Railway for failing to move a minimum amount of grain each week. This first monetary penalty is proof that we meant what we said when we passed the Fair Rail for Grain Farmers Act. Our government fully defends farmers and shippers.
We remain hopeful that CN and all members of the rail supply chain will choose to be part of the solution.
Agricultural Growth Act June 16th, 2014
Mr. Speaker, my colleague made a comment that no Conservatives have spoken to the bill. She must not be following the debate. The minister himself introduced the bill in Parliament and spoke to it. I, as the parliamentary secretary, stood in the House and spoke to it, as did a number of other Conservative MPs.
We are the biggest proponents of the bill. It is the NDP members who seem to be conflicted on the bill. They are weighing one side, weighing the other, and then trying to walk straight up the middle to please both sides of their base.
This is an important bill for agriculture. It is an important bill for farmers. I call on the NDP to support the bill, wholeheartedly and 100%.
Très-Sainte-Trinité de Rockland Parish June 13th, 2014
Mr. Speaker, it is my honour to congratulate the Très-Sainte-Trinité de Rockland parish on its 125th anniversary.
I am also lucky to be joining the clergy and the parishioners for a mass and consecration this weekend.
I also want to acknowledge the important historical presence of this community of believers in the Rockland region. Founded in 1889 as a francophone Catholic parish, the church is a spiritual home and an important gathering place for the region's faithful.
I know that generations of believers and clergy in Rockland have worked hard and made lots of sacrifices to build this sacred place. We are blessed to be able to see the fruits of their labour now, 125 years later.
Once again, I would like to congratulate the Très-Sainte-Trinité parishioners and their priest.
Trinity Western Law School June 12th, 2014
Mr. Speaker, Trinity Western University is a private Christian university in Langley, British Columbia. It is a place of rigorous scholarship that focuses on the preparation of graduates to practise law while emphasizing ethics, professionalism, and service to the community. Students join the school's Christian community and pledge to respect standards on the sacredness of marriage between a man and a woman. This is a choice they freely make.
It needs to be noted that Trinity Western's law school graduates are fully qualified to practise law. There is just one problem: their views are not acceptable to those who rule the Law Society of Upper Canada. Unless they abandon their views and accept the beliefs of those who rule the law society, these students will not be permitted to practise law in Ontario, as the graduates of other law schools can.
Its policy seems to be contrary to the Charter of Rights and Freedoms, section 2, which guarantees Canadians' right to freedom of conscience and religion and freedom of thought, belief, opinion, and expression.
I call on the Law Society of Upper Canada to reverse its discriminatory and intolerant decision regarding Trinity Western Law graduates.
Agriculture and Agri-Food June 9th, 2014
Mr. Speaker, let us look at Bill C-30. It was introduced into the House on an urgent basis and passed by the House on an urgent basis. It increases supply chain transparency, it strengthens contractual mechanisms between producers and shippers and it helps to ensure that the entire grain handling and transportation system is working at its capacity. It obligates the rail companies to move one million metric tonnes of grain a week.
This system is working and it is serving our western Canadian grain farmers.
Agriculture and Agri-Food June 9th, 2014
Mr. Speaker, the Prime Minister and the Minister of Agriculture showed tremendous leadership by tabling Bill C-30, the Fair Rail for Grain Farmers Act, to solve the serious grain transportation problems that were present in Canada. The bill was well received across Canada by stakeholders and right here in the House. It was a bill that was clear and unequivocal and it set ambitious but realistic goals.
The latest figures show that our government's efforts to get grain moving are working.
Agriculture and Agri-Food June 6th, 2014
Mr. Speaker, let us talk about farmers and how well they are doing in Canada with our government's policies.
Crop receipts have increased to over $30.5 billion because of our initiatives. Wheat receipts grew by 26%, which is a record. Livestock receipts have totalled $21.6 billion.
If he wants to talk about seed, I would encourage this member to support our Bill C-18, which would bring in agricultural technology to the benefit of our farmers.
Agriculture and Agri-Food June 6th, 2014
Mr. Speaker, I thank the member for this good question, but I also thank my colleagues, the members for Egmont and Tobique—Mactaquac, for working so hard to represent the concerns of the potato farmers on this important matter.
Canada's seed potato certification system is effective in maintaining Canada's reputation as a supplier of quality seed potatoes. That is why, working with the Canadian Horticultural Council, we have instructed the Canadian Food Inspection Agency to continue export-related inspections to maintain market access to the United States.
Although I am answering this question today in the House, I do want farmers to know that the CFIA wrote to the Canadian Horticultural Council on this earlier in the week.
Agricultural Growth Act June 4th, 2014
Mr. Speaker, my understanding of this bill is that it is strongly supported by the agricultural sector, except for the splinter group the minister spoke about, and that the agricultural sector wants us to move ahead quickly so that it can gain the competitive advantage this bill would bring it.
I wonder if the minister could comment on the support he has heard from the agricultural sector regarding this bill and why it needs to move forward quickly.