Pierre Lemieux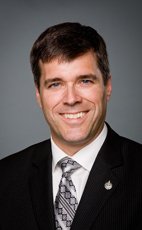 House of Commons photo
Track Pierre
Your Say
Elsewhere
Crucial Fact
His

favourite word

is farmers.
Conservative
MP for Glengarry—Prescott—Russell (Ontario)
Won his last election, in 2011, with 48.80% of the vote.
Statements in the House
Agriculture and Agri-Food November 21st, 2014
Mr. Speaker, as I just explained, the government is very aware of the contributions of the horticulture and fresh produce sector to Canada and to Canadians' economy. We are also well aware of the high-quality products they export to the United States.
My colleagues and I, particularly those on the agriculture committee, just met with producers and representatives from the horticulture industry this week. We offered a number of different solutions within the discussions.
We have done a number of things. One of the things we did was to introduce clear legislation, which the opposition voted against, that would put in place a single dispute resolution body to help with payment-type problems.
Agriculture and Agri-Food November 21st, 2014
Mr. Speaker, the government is aware of how vulnerable the fresh produce industry is and how much it contributes to the economy.
That is why we introduced clear legislation to provide a single dispute resolution body that would help reduce issues of non-payment faced by the fresh produce industry.
We are also consulting widely on Canada's bankruptcy and insolvency laws, and Parliament will be involved in that consultation.
Our government is committed to supporting Canadian producers and exporters. We are going to continue to look at this issue.
Agricultural Growth Act November 19th, 2014
Mr. Speaker, in my time in the House, I have noted that the New Democrats in particular will do anything to delay voting or the passage of legislation. It is in their best interest because they never have to vote on something in that case.
That is particularly true with this bill. I bring this up in terms of their Quebec MPs who represent Quebec farmers who want this bill to pass. The New Democrats have already indicated quite clearly that they will not vote in favour of this bill, so their position is already known.
I want to ask the minister about these delay and obstruct-type tactics being used by the NDP. Could he explain to the House and to farmers why it is important for the legislation to move forward in a reasonable time period?
Committees of the House November 18th, 2014
Mr. Speaker, I have a question, but let me just preface a few remarks before I ask the question. I want to remind the House and Canadians that CETA is good for Canadian farmers. We are talking about $1.5 billion for the Canadian agricultural sector that would come about because of CETA. That is a new opportunity.
I would also like to highlight the fact that the NDP represents farmers in some of their ridings, but particularly in Quebec. When I look at Quebec what I see is a very strong and vibrant pork industry, beef industry and crop industry. Just in pork and beef, we are talking about a billion dollars worth of access into Europe because of the free trade agreement.
Now I will get to my question, because I know Quebec pork farmers, and certainly beef and crop farmers will be asking this question themselves. Having listened to my colleague, I could not tell if the NDP is planning to vote for the CETA trade agreement or not. He was saying on the one hand and then on the other hand, but if we go in the middle and go back to the other hand.
We need some clarity, which is why I put the amendment in front of the House in the first place. Everyone wants clarity, particularly farmers. Therefore, could the member clarify this for the House. Will the NDP vote in favour of the Canada-European trade agreement?
Committees of the House November 18th, 2014
Mr. Speaker, with regard to supply management, our government strongly defends it, as I mentioned. I would remind the member that it was our Conservative government, not the past Liberal government, that brought in cheese compositional standards to the great benefit of both consumers and supply management farmers.
I would also remind the member that we recently closed a loophole on the border concerning pizza kits. This was a top concern of dairy farmers. Again, our government acted on that issue.
I do not know why the member has no confidence in our dairy farmers or cheese producers. I will read another quote from Wally Smith, the president of the Dairy Farmers of Canada.
He said:
We have some of the finest and best artisanal cheese in the world, without a doubt, and we can compete with anyone in the world....
Why does the member undermine our dairy producers and cheese producers by saying that they cannot compete?
The last thing that I will say is about the beef market. This is a tremendous opportunity for beef farmers and for our beef processing plants. We work very closely with our stakeholders. We consult very closely. Industry is also interested in making this work, and industry has guaranteed us that it will make this work. It asked for extra access; it is getting extra access. It is new, exciting access for this sector, and it is going to exploit it to its full capacity.
Committees of the House November 18th, 2014
Mr. Speaker, you have been very generous with the member, but unfortunately he was very confused in his question.
The motion is about sending the report back to committee and having the report acknowledge the fact that the text from the agreement has been finalized and is now public and that the House should support both the free trade agreement and supply management.
Why did I bring this up? I brought it up because the NDP continues to equivocate. Those members have only supported a single free trade agreement among all the free trade agreements we have brought forward. We are asking them if they support CETA and all the benefits it would bring to Canadian agriculture or not. Let us see how they vote on this motion and how they vote on the final report at committee when the committee looks at what the House is sending back to it, encouraging it to recognize the fact that the final text has been negotiated and has been made public, and that the agreement actually advances the best interests of Canada, including agriculture, and it protects supply management.
Committees of the House November 18th, 2014
Mr. Speaker, I am pleased to speak in favour of the report of the Standing Committee on Agriculture and Agri-Food.
I would like to begin by pointing out that the committee conducted a thorough study of the Canada-European Union comprehensive economic and trade agreement, as well as the very positive economic impact it will have on Canada's agricultural sector.
The Standing Committee on Agriculture and Agri-Food heard from many witnesses who painted a complete picture of agriculture in Canada and who said they welcome the Canada-European Union comprehensive economic and trade agreement, especially considering the new opportunities it will provide to our agriculture sector.
The committee presented the House with an exhaustive report on the Canada-European Union comprehensive economic and trade agreement that included five major recommendations.
My comments will touch on the second recommendation, which reads as follows:
...that the Government of Canada continue its strong defence of supply-management to promote sustained growth and profitability in the supply-managed sectors of the economy.
Canadian dairy and farm producers are innovative and supply consumers every day. These industries contribute over $30 billion to the Canadian economy, in both rural and urban areas.
These industries also create thousands of jobs in Canada and help keep the economy strong and stable.
Supply management is vital to thousands of family farms in Canada, and it has served the interests of Canadian farmers, processors and consumers very well for more than 40 years. That is why the government continues to support the current supply management system.
However, the NDP did not even mention the issue of supply management in its 2011 election campaign. In fact, the NDP does not seem to know that agriculture and farmers are the main engines of the Canadian economy.
Yesterday, the NDP announced that it would again vote against the fundamental interests of producers, especially those of the Quebec producers they represent, by voting against Bill C-18, the Agricultural Growth Act, and the access it will provide to seed technologies.
Our government supports supply management. We have always supported supply management, and we will continue to support supply management. At the same time, our government continues to pursue extensive international trade initiatives. This is vital to Canada's exporting farmers, who depend on trade and a strong Canadian economy.
Over the past nine years, we have concluded 10 free trade agreements that have facilitated trade with more than 40 countries. Our government has negotiated and signed these free trade agreements, all the while maintaining Canada's supply management system.
In fact in 2013, under our Conservative government, we reached over $50 billion in export trade deals with our agriculture and food industry. A recent Farm Credit Canada report highlighted Canada's agricultural exports as accounting for 30% of GDP, the second largest contributor to Canada's economic growth.
It is clear that our free trade negotiations and our upholding of supply management benefit the economy and strengthen our agricultural industry. The opposition, however, has opposed almost every initiative we have brought forward to strengthen trade and increase Canadian exports.
The NDP members have even said that, if given the chance, they promise to repeal international trade agreements to which Canada is a party. Of course, they will never be given that chance.
Farmers across the country, particularly those in the Quebec NDP ridings, support free trade because it is good for agriculture, good for Canada, and good for our economy.
The comprehensive economic and trade agreement is the most ambitious trade agreement since the North American Free Trade Agreement. With these two free trade agreements, Canada would be one of the few countries in the world to have preferential access to the world's two largest economies. These economies account for approximately 800 million of the world's most affluent customers.
The Canada-EU trade agreement would allow Canadian exports to benefit from duty-free access into the EU market. This would make Canadian products more competitive and provide our exporters with a significant advantage over their competitors.
The Canada-EU trade agreement trade agreement has been welcomed by many in the agricultural industry. Wally Smith, president of the Dairy Farmers of Canada said:
We have some of the finest and best artisanal cheese in the world, without a doubt, and we can compete with anyone in the world....
The Grain Farmers of Ontario said:
The Comprehensive Economic and Trade Agreement (CETA) will benefit Ontario, and Canadian, corn, soybean, and wheat farmers.
Canada's beef industry has also welcomed this agreement:
Once ratified and implemented, CETA will provide new duty-free access for 64,950 tonnes of Canadian beef - 50,000 tonnes of which is new quota - totally[sic] nearly $600 million annually.
The Canada-EU trade agreement is now signed, and stakeholders across Canada are delighted; yet the NDP still will not say if it agrees with stakeholders, even its own stakeholders, and supports this agreement as signed.
It is most regrettable, even shameful, when a political party does not even listen to its own stakeholders.
Mr. Jim Laws, executive director of the Canadian Meat Council, summed up the benefits best when he said:
CETA will result in higher incomes for farmers, increased competitiveness for processors, more job opportunities for workers, greater choice for consumers, and higher tax revenues for municipalities.
As a result of the government's consultations with many stakeholders across Canada, we know that farmers, dairy producers, provincial producers and associations, cheese producers and importers and the provincial governments may have concerns about the Canada-EU trade agreement.
The government will keep the promises it made to dairy farmers in the event that their productivity is negatively affected by the Canada-EU agreement.
As the Prime Minister said in October 2013, the federal government is firmly committed to closely monitoring the potential effects of the agreement. We could, if necessary, provide compensation if the agreement were detrimental to farmers.
Furthermore, under the terms of the Canada-EU trade agreement, Canada's supply management system will remain strong. The three pillars of the national supply management system—production control, import controls and price controls—are still in place and will remain in place.
Canadian farmers want to be competitive. Quebec farmers also want to be competitive. How would the NDP explain to the farmers in their ridings who are in favour of this agreement that they will not support the Canada-EU trade agreement?
Once again the NDP members are not listening to those they represent. They have pro-export and pro-trade stakeholders who want the NDP to support this agreement. The time is now for the NDP to listen to farmers, listen to their stakeholders, listen to their constituents, and vote in favour of the Canada-EU trade agreement.
Canadian farmers need a final answer from the NDP. Will it support the text of this trade agreement or not?
I have talked about how this agreement is supported by farmers and how supply management would remain intact with this agreement. We have discussed this at the agriculture committee and in this House, yet the NDP cannot make up its mind if it supports free trade and supply management.
I encourage all members of this House, particularly those of the NDP, to support this agreement and supply management.
That is why I move:
That the motion be amended by deleting all the words after the word "That" and substituting the following: "the First Report of the Standing Committee on Agriculture and Agri-Food, presented to the House on Thursday, March 27, 2014, be not now concurred in but that, in view of the subsequent conclusion of negotiations on the Comprehensive Economic and Trade Agreement and its final text having been published, the Report be referred back to the Standing Committee on Agriculture and Agri-Food with instruction that it amend the same so as to recommend that the Agreement represents an appropriate balance between creating opportunities for agricultural and food exporters and maintaining the system of supply management and, therefore, Canada's free trade agreement with the European Union should be implemented as negotiated.".
Agricultural Growth Act November 17th, 2014
Mr. Speaker, with respect to disregarding the amendments, this was a discussion that we had at committee. The member feels that the government must adopt an opposition amendment just because it feels it is their turn to have an opposition amendment adopted, as if one should be passed "just because". It does not work that way. Every single amendment proposed at committee was studied. There was reasoned debate on every amendment, and then there was a vote. Whether the amendment was put forward by a government member or an opposition member, it was given due process in terms of being fully considered by committee and then voted upon. It is not for the committee to decide to pass an amendment just because he was the individual putting it forward.
When it comes to small farmers versus big farmers, I do not know why the member is distinguishing between the two. We are talking about farmers, big and small. Small farmers would benefit from seed technology, as would organic farmers. The organic sector made this very clear during committee. Sometimes the opposition likes to gravitate to the position that seed technology immediately means GMO. It does not. There is a lot of seed technology that is not related to GMO at all. Organic farmers would benefit from seed technology within the organic sector. They themselves admitted this during committee, and that member was present. I do not understand the nature of his question.
Agricultural Growth Act November 17th, 2014
Mr. Speaker, I do not know where to start. The member clearly does not represent farmers across Canada. As I said, he has allowed a single agricultural organization to influence NDP agricultural policy to this extent, and this is very sad.
Farmers want to be competitive. To be competitive in today's world, they must have access to technology. I do not know what the member and his party have against technology, particularly seed technology that would benefit farmers by allowing them to have higher yields and lower losses and to be more competitive in the international market.
The committee heard from close to 50 witnesses. Almost every single witness fully supported the measures we are putting in Bill C-18. The member and his party must start listening to farmers, or it will be at their peril.
Agricultural Growth Act November 17th, 2014
Mr. Speaker, I am pleased to be speaking to Bill C-18 at this stage of the legislative process.
In its current form in the House of Commons, the bill has been amended to clarify and strengthen it. I am pleased to inform the House that we were able to engage in very useful discussions at the hearings of the Standing Committee on Agriculture and Agri-Food. The committee heard from more than 50 witnesses who represent many Canadian agricultural sectors. I would like to thank them for sharing their expertise and experience with the committee and for making recommendations.
I would first like to point out one of the most important aspects of this bill: the protection of plant breeders' rights. After hearing from stakeholders, the government proposed amendments to the Plant Breeders' Rights Act in order to encourage investment and innovation in the development of new varieties.
Patty Townsend, the chief executive officer of the Canadian Seed Trade Association said this to the committee:
Of course, if farmers are going to save grain to use as seed on their farms, they need to store it, so we were really happy to hear the minister say that they are going to propose an amendment to clarify that.
What we have done in this amendment is to strike an excellent balance between seed variety developers on the one hand and farmers on the other. This amendment ensures that seed variety breeders will see a return on their investment. Bill C-18 modifies the rights of plant breeders under the act, including their duration, scope, and conditions for protection.
However, in addition, the bill also clarifies that the right to store seed is specifically included in the farmers' privilege. The amendment allows a farmer to reserve harvested grain to use as seed for planting in subsequent seasons.
Mr. Réjean Bouchard, assistant director for policy and dairy production in the Dairy Farmers of Canada, made this point at the agriculture committee when he said:
"...the legislation strikes a good balance between plant breeders' investment in the development of new varieties and the farmers' ability to save, store, and condition seed for their own use."
Bill C-18, as amended, would also harmonize plant breeders' rights with those of our international partners and competitors, and would make it possible to implement UPOV 91.
Almost all the witnesses who appeared before the committee are interested in the section of the bill that deals with UPOV 1991.
Bill C-18 will encourage increased investment in plant breeding in Canada. It will also encourage foreign breeders to sell their varieties here in Canada.
Over the years, there have been several updates to the UPOV requirements for plant breeders' rights protection. Canada's current legislation meets the requirement of UPOV 1978; however, most UPOV members are already meeting UPOV '91 requirements, including many of our key trading partners, such as Australia, the European Union, Japan, South Korea, and the United States, but as it stands right now, Canada is not.
Mr. Dave Solverson, president of the Canadian Cattlemen's Association, spoke at committee on our amendment and on UPOV '91. He said:
The changes to the Plant Breeders' Rights Act are positive. Canadian cattle producers depend on innovation and improvements in feed grain and forages. We believe that the update to UPOV 91 will encourage investment in seed development in Canada. The protections this act confers are not just for companies, but also for institutions like universities and governments that develop new varieties of seeds. Two of our major competitors, the United States and Australia, have adopted UPOV 91, and we hope to keep pace with them.
With Bill C-18, we are taking the necessary steps to align the Plant Breeders' Rights Act with UPOV '91.
I also want to discuss some of the other amendments our government put forward to strengthen Bill C-18. Based on discussions the Minister of Agriculture and Agri-Food had with stakeholders, we have amended the Agricultural Marketing Programs Act to provide additional clarity.
Mr. Jaye Atkins, CEO, Agricultural Credit Corporation, said at committee:
I believe the act certainly allows us better clarification of some of the things that in administering the program today we find very difficult, things like better and clearer definitions around attribution rules, and...trying to ensure that the benefit of the first $100,000 interest-free money is not abused.
One of the many strengths of our Conservative government is that we work closely with agricultural stakeholders. Our stakeholders, like us on this side of the House, fully support Bill C-18 and fully support innovation and progress.
Finally, it is important to recognize that the main objective of committees is to foster meaningful discussion and debate with respect to major bills that affect Canadians. Unfortunately, as the result of a motion introduced by the opposition, there are presently more than 50 amendments on the order paper. This is an attempt to undermine the committee's work and to dismiss the testimony of many witnesses who support this bill.
This indicates to me that the opposition members did not do their job thoroughly at committee. In fact, the number of motions on the order paper is close to twice the number of amendments submitted by opposition members at the committee. How can this be? It would seem to me that the opposition is actually undermining the work of the committee. Much of the content of these motions has already been dealt with at committee, and what was not dealt with should have been.
The NDP, the Liberals, and the Green Party are attempting to delay and obstruct the proper passage of this important agricultural bill, and they do so to the detriment of farmers and our agricultural sector.
I urge the members of the opposition to stop playing politics. Farmers are the ones who suffer. These members heard from a number of witnesses and stakeholders during the committee's meetings. They know that Bill C-18 is very good for farmers. I urge my colleagues to support this bill. I know that farmers would urge them to do so as well.
Before I finish, let me highlight some of my remarks again in English. The New Democrats are finally stating openly that they are going to vote against the agricultural growth act, and in doing so they are failing farmers. Almost every witness in committee supported Bill C-18 and the positive benefits that this bill would deliver to farmers and the agricultural sector.
I exclude, of course, the National Farmers Union, one of the very few organizations that opposes Bill C-18. I think New Democrats have to explain to farmers how they have let a single agricultural organization like the NFU influence their agricultural policy to this extent.
I asked a question of my former colleague from the NDP, who spoke before me, about how she could possibly explain her opposition to Bill C-18 and the increased access that Bill C-18 would give farmers to current, meaningful, and important seed technology. Quebec farmers want to be competitive too. They look across the border to Ontario and see MPs like myself supporting farmer access to seed technology. They will look at home at their NDP MPs and will wonder why they are being failed by them.
The New Democrats are going to have to answer for that. I know that farmers will not tolerate the political games they are playing at the expense of farmers.