Ralph Goodale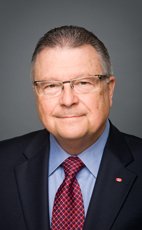 House of Commons photo
Track Ralph
Your Say
Elsewhere
Crucial Fact
His

favourite word

is shippers.
Liberal
MP for Wascana (Saskatchewan)
Won his last election, in 2011, with 40.80% of the vote.
Statements in the House
Employment Insurance September 18th, 2014
Mr. Speaker, the latest report from Statistics Canada revealed the loss of 112,000 private sector jobs. Through the past 12 months, only 15,000 full-time jobs have been generated in the whole country in a whole year. There are 230,000 more unemployed Canadians than before the recession. Therefore, if the government has $550 million to invest, why not provide an exemption from employment insurance payroll taxes for every Canadian employer who creates a net new job?
Questions Passed as Orders for Returns September 15th, 2014
With regard to regulations published in the Canada Gazette since the introduction of the "One-for-One" rule, broken down by year: (a) how many regulations have been published; (b) for how many did the rule not apply; (c) how many were carved out from the rule; and (d) how many resulted in an equivalent reduction in regulations due to the rule?
Questions Passed as Orders for Returns September 15th, 2014
With regard to the Major Infrastructure Component and the Communities Component of the Building Canada Fund announced in 2007: (a) are applications still being accepted; (b) how much of the funding has been allocated; (c) how much of the funding has been spent; (d) for completed projects, how much less was spent than was allocated; (e) how much of the amount referred to in (d), (i) has been reallocated to new projects, (ii) has not been reallocated to new projects; and (f) how much of each component's funding is forecast to lapse?
Questions on the Order Paper September 15th, 2014
With regard to railway grain transportation reporting requirements: for each week in the current crop year, starting August 1, 2013, how much grain was moved, as reported by each of CN Rail and CP Rail from prairie delivery points, (a) to a port for export, indicating (i) the type of grain, (ii) the port in each case; (b) out of country by rail, indicating (i) the type of grain, (ii) the destination in each case; and (c) to final domestic users, indicating the (i) type of grain, (ii) final domestic user in each case?
Questions on the Order Paper September 15th, 2014
With regard to federal non-refundable tax credits for public transit, children's fitness and children's arts: how many Canadians who submitted income tax returns did not have a high enough income to be able to use each in the 2011, 2012 and 2013 tax years?
Employment Insurance September 15th, 2014
Mr. Speaker, the last government in fact reduced EI premiums 12 consecutive years in a row.
Canadians need a break from the $5.4 billion in job-killing EI payroll tax increases imposed by the Conservative government.
The scheme announced last week totally misses the mark. There is no link to job creation and it is capped, going only to firms with up to a dozen employees. If they go over that, they lose $2,200. That is an incentive to fire people.
Will the government simply provide a full EI refund to every employer who creates a new Canadian job? That would generate—
Retirement Congratulations June 20th, 2014
Mr. Speaker, as MPs say our goodbyes to Parliament Hill today, we also say farewell, thanks, and good luck to one Parliament Hill personality who will not be returning in September. I am referring to House of Commons Constable Mike Buzzetti. After 30 years of service, Mike is about to begin a well-deserved retirement.
Originally from Montreal, he learned his craft as a security officer on the police force at Hampstead, and he was good at it. However, once he came to Parliament Hill, he saw his job in these buildings as more than a form of policing. He was a host, a guide and an educator. He took many VIPs on lengthy, personal excursions into every nook and cranny of the Centre Bloc, but what he liked best was the Peace Tower and the Memorial Chapel. He loved to explain the meaning of that solemn room and help visitors find the names of their loved ones inscribed in the Memorial Book.
Mike Buzzetti served us well. He served Canada well.
We thank him and we wish him, his wife Kim and their daughter Andrea every happiness in the years ahead.
Citizenship and Immigration June 12th, 2014
Mr. Speaker, the minister speaks far too recklessly about cheapened Canadian citizenship. He casts a slur across generations of newcomers since 1977, lumping them with traitors.
There is the cardiologist in Regina who came from Syria, the neurosurgeon from Nigeria, the university president from South Asia, the architect from the Philippines, and thousands more hard-working, tax-paying citizens. The minister must surely regret depicting these honest, loyal, decent Canadians as cheap. Are they not every bit as good as he is?
Questions on the Order Paper June 12th, 2014
With regard to applications to the New Building Canada Fund since April 1, 2014: (a) for what projects were applications received; and (b) for each application, (i) on what date (ii) from what organization, (iii) in what province, (iv) what is the type of the project, (v) what component and/or subcomponent of the fund was funding sought under, (vi) what is the total value of the project, (vii) what is the total value of the requested federal contribution, (viii) when is the targeted completion date, (ix) how much funding is available during that period under that component or subcomponent of the fund?
Economic Action Plan 2014 Act, No. 1 June 11th, 2014
Mr. Speaker, I know the hon. gentleman did not get to the part of his speech about disabilities, but still I would like to ask him a question about that. Would he agree that it would be a good and useful thing for the government to revise the threshold for people having access to the disability savings plan? It is a good plan. It can be improved, like any other plan.
To get into the plan now, people first have to qualify for the disability tax credit, which means they must be fully disabled today. People diagnosed with MS, for example, a long-term debilitating condition, may not be fully disabled today, but it would be a very good idea for them to be able to save today to deal with other eventualities down the road.
Would the government consider a different threshold for the disability savings plan so that people like those long-term sufferers of MS could have access to the plan at a time when they still have earning power and can make the most of it?