Ralph Goodale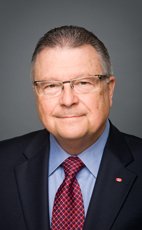 House of Commons photo
Track Ralph
Your Say
Elsewhere
Crucial Fact
Liberal
MP for Wascana (Saskatchewan)
Won his last election, in 2011, with 40.80% of the vote.
Statements in the House
Foreign Affairs March 4th, 2014
Mr. Speaker, the government also withdrew the Canadian ambassador from Moscow to have consultations. That is a move that was supported by members of this House yesterday in a resolution.
I wonder if the Prime Minister would indicate his present plans with respect to our embassy in Moscow, and what instructions, at least to this present time, he has been able to give to the Canadian ambassador.
Foreign Affairs March 4th, 2014
Mr. Speaker, all Canadians are obviously deeply concerned about the situation unfolding in Ukraine, and we stand in absolute solidarity with the Ukrainian people at this very difficult hour.
I wonder if the Prime Minister could advise the House of the present status of the Canadian embassy in Kiev. Some time ago that embassy was closed, and I wonder about the present operations of the embassy in Kiev. It may be useful for Canada to have some diplomatic facilities and tools at its disposal.
What is the government's plan with respect to the embassy and our ambassador?
Infrastructure March 3rd, 2014
Mr. Speaker, municipalities across Canada are concerned about arbitrary new rules imposed by the Conservative government on community infrastructure, and even more so, municipalities are worried about the deep cuts in the building Canada fund over the next five years. At the end of this month, the building Canada budget is being slashed by close to 90%, and federal funding is not due to be replenished, even to this year's levels, until 2019. That means an immediate and lasting gap in federal infrastructure support of some $4 billion. Why?
Foreign Affairs March 3rd, 2014
Mr. Speaker, Canadians are deeply worried about the worsening situation in Ukraine. We all stand in solidarity with Ukraine's thirst for freedom, democracy, human rights, and the civilized rule of law, both domestically and internationally.
Given Russian actions and threats in relation to Ukraine, which clearly violate specific treaty obligations and multiple principles of international law, what is the exact current status today of Russia within the G8 group of countries? Does a G8 actually exist at this time?
Agriculture and Agri-Food February 25th, 2014
Mr. Speaker, the colossal failure in grain handling and transportation is hitting farmers with billions of dollars in higher costs, lower prices, and lost sales. There is not enough capacity; no one is coordinating what capacity there is among grain companies, railways, terminals, and ships; and no one in the system puts farmers first.
The system is five million tonnes behind. Fifty ships are waiting. Japan is buying from the U.S., not Canada.
Will farmers get liquidated damages for the massive losses caused by the way the current government has designed this failing system?
Taxation February 24th, 2014
Mr. Speaker, the current government's first official act in office was to increase personal income tax rates. Then it taxed out of existence $25 billion in middle-income savings. It has imposed higher taxes on consumer products, on credit unions, and on small business owners. It is imposing $5.2 billion in excessive job-killing Conservative payroll taxes.
The Conservatives brag about tax cuts for so-called typical families, but 70% of Canadian families do not fit their definition of "typical". Why is the middle class on the Conservatives' enemies list?
The Economy February 24th, 2014
Mr. Speaker, a thriving middle class drives our whole economy, but today middle-class Canadians are just as likely to move down the income scale as move up. Their earnings are flat. Household debt is 166%. Three-quarters do not have a pension. Two-thirds worry that their kids will not do as well as they did.
Cutting excessive EI payroll taxes would help. Filling a $3 billion hole in the build Canada infrastructure fund would help. Clearing barriers to higher education would help.
Will the government do these sensible things to drive more economic growth for middle-class Canadians?
The Budget February 12th, 2014
Mr. Speaker, I do not mean to delay the debate here at all, but just for my own edification would the Chair confirm that we are now at the point in the debate of considering the subamendment proposed by the member for Kings—Hants?
Employment February 10th, 2014
Mr. Speaker, middle-class Canadians are worried about jobs and financial uncertainty. Their incomes are stagnant but household debt is away up. Most do not have retirement security. Most do not think they can afford post-secondary education for their kids. Their children may not have the opportunity to do as well as they did.
To relieve some of the pressure, will the Conservatives eliminate the tariff taxes it imposed last year on consumer goods, tariffs not paid by foreigners but by middle-class Canadians? Will they reduce their job-killing burden of higher EI payroll taxes?
Intergovernmental Relations February 10th, 2014
Mr. Speaker, Conservative job creation last year was the worst since the recession. There are nearly a quarter of a million more jobless Canadians today than when the recession began. Young Canadians have 262,000 fewer jobs. In the face of that crisis, will the government accept provincial offers to fix the nonexistent jobs grant? Will it improve access to all categories of post-secondary education and training? And will it fill the $3-billion hole it created in the build Canada fund for municipal infrastructure?