Ralph Goodale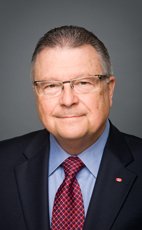 House of Commons photo
Track Ralph
Your Say
Elsewhere
Crucial Fact
His

favourite word

is shippers.
Liberal
MP for Wascana (Saskatchewan)
Won his last election, in 2011, with 40.80% of the vote.
Statements in the House
Infrastrucure November 20th, 2014
Mr. Speaker, $1 invested in new affordable housing grows the economy by $1.40. One dollar in roads, water, or transit brings $1.20 in new growth. A billion dollars in new infrastructure stimulates 16,000 person-years of employment. However, the Conservatives have chopped their infrastructure fund by $1.2 billion to pay for gimmicks that do nothing for jobs or growth. The PBO says their employment insurance scheme actually kills 10,000 jobs, and the late Jim Flaherty said income splitting was too expensive, unfair, and anti-growth. Why such bad choices?
Presence in Gallery November 17th, 2014
Mr. Speaker, I must note that I truly admire the way Mr. Flaherty had the courage to stand up against a whole variety of issues, including when he conscientiously believed his government had erred.
The Budget November 17th, 2014
My goodness, they are are testy, Mr. Speaker.
Mr. Flaherty warned that income splitting was too costly and unfair. He also worried about weak economic growth.
On page 43 of the government's fiscal update, the Conservatives confirm that the rate of Canadian economic growth will actually drop every single year through to 2019. Investments in public infrastructure could help turn that around, so says the Chamber of Commerce, the premiers, the Bank of Canada, the IMF, and the G20.
Will the government shift $2 billion from flawed income splitting to incremental infrastructure investment for greater growth?
The Budget November 17th, 2014
Mr. Speaker, all those transfers were in the budget of 2005.
Mr. Flaherty warned that income splitting would be too costly and unfair. He also—
The Budget November 17th, 2014
Mr. Speaker, to claim a surplus in 2015 the late Jim Flaherty raised taxes in each of the past four years: payroll taxes, tariff taxes, taxes on small business owners and credit unions—billions of dollars per year. He chopped services for returning veterans, forensic labs, immigration offices, national parks, the environment, food safety, and the list goes on.
Why did the government inflict all of that pain on ordinary Canadians for a deeply flawed income-splitting scheme that discriminates against 85% of Canadian households?
Taxation November 6th, 2014
Mr. Speaker, over 100 other countries in the world will grow faster than Canada next year.
The government's income-splitting scheme is riddled with discrepancies. That is why it will not give straight answers. A couple struggling to raise a family on a single $45,000 income will get just $150 from income splitting. That is a grand total of 40 cents a day, but if the salary is $160,000, like an MP's, for example, they will get $2,000. That is what Jim Flaherty warned against, and it has not been corrected.
It is expensive, unfair, and anti-growth. Why?
Taxation November 6th, 2014
Mr. Speaker, the latest figures on economic growth show that the Canadian economy actually shrank in August. The GDP is down.
The government has no growth agenda. Its sole reliance on the oil sector is wobbly. The dollar is down. The Governor of the Bank of Canada is telling 200,000 young people to work for nothing while they live in their parents' basement.
How can the government justify a $2 billion income-splitting giveaway that helps only 15% of households, disproportionately the wealthy, and discourages economic growth?
Questions Passed as Orders for Returns November 3rd, 2014
With regard to the former Environment Minister's intention stated on January 20, 2012, to "invest an additional $78.7 million over the next five years to further enhance weather and warning services across the country" and his intention stated on May 27, 2013, to invest "an additional $248 million over five years to further strengthen Canada's meteorological services": (a) in what manner have these commitments been fulfilled to date; (b) what plans exist to implement these commitments in the future; and (c) what are the details, in (a) and (b), of each project related to the commitments including (i) its title, (ii) a summary of the project, (iii) its location, (iv) its estimated cost, (v) its targeted start date, (vi) its estimated completion date?
Questions Passed as Orders for Returns November 3rd, 2014
With regard to public private partnerships financed by the government: (a) what are all the projects so financed; (b) how long did it take to design the bidding process; (c) what was the length of the bidding process from initial expression of interest to close; and (d) what was the cost of a bid for proponents?
Taxation November 3rd, 2014
Mr. Speaker, over the weekend, the social development minister said, "...the majority of single parents are low-income, and so income splitting would not benefit them."
However, it is actually worse. Whether they are low-income or high, single moms and dads get nothing, simply because they are single.
Canada today has over 1.5 million single-parent families. In the words of Jim Flaherty, why does the government think it benefits our society overall to make those who cannot split pay for the more privileged who can?