Ralph Goodale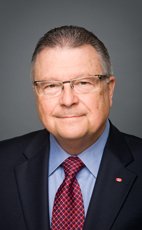 House of Commons photo
Track Ralph
Your Say
Elsewhere
Crucial Fact
His

favourite word

is shippers.
Liberal
MP for Wascana (Saskatchewan)
Won his last election, in 2011, with 40.80% of the vote.
Statements in the House
Citizenship and Immigration June 12th, 2014
Mr. Speaker, the minister speaks far too recklessly about cheapened Canadian citizenship. He casts a slur across generations of newcomers since 1977, lumping them with traitors.
There is the cardiologist in Regina who came from Syria, the neurosurgeon from Nigeria, the university president from South Asia, the architect from the Philippines, and thousands more hard-working, tax-paying citizens. The minister must surely regret depicting these honest, loyal, decent Canadians as cheap. Are they not every bit as good as he is?
Questions on the Order Paper June 12th, 2014
With regard to applications to the New Building Canada Fund since April 1, 2014: (a) for what projects were applications received; and (b) for each application, (i) on what date (ii) from what organization, (iii) in what province, (iv) what is the type of the project, (v) what component and/or subcomponent of the fund was funding sought under, (vi) what is the total value of the project, (vii) what is the total value of the requested federal contribution, (viii) when is the targeted completion date, (ix) how much funding is available during that period under that component or subcomponent of the fund?
Economic Action Plan 2014 Act, No. 1 June 11th, 2014
Mr. Speaker, I know the hon. gentleman did not get to the part of his speech about disabilities, but still I would like to ask him a question about that. Would he agree that it would be a good and useful thing for the government to revise the threshold for people having access to the disability savings plan? It is a good plan. It can be improved, like any other plan.
To get into the plan now, people first have to qualify for the disability tax credit, which means they must be fully disabled today. People diagnosed with MS, for example, a long-term debilitating condition, may not be fully disabled today, but it would be a very good idea for them to be able to save today to deal with other eventualities down the road.
Would the government consider a different threshold for the disability savings plan so that people like those long-term sufferers of MS could have access to the plan at a time when they still have earning power and can make the most of it?
The Economy June 10th, 2014
Mr. Speaker, compared to just before the recession, Canada's employment rate today is down, while the unemployment rate is up. There are 230,000 more jobless Canadians looking for work and another 200,000 who have just given up.
The Bank of Montreal calls the Canadian job market "anemic" and "lacklustre".
Outside of one province, the rest of the country's growth in jobs this past year is a mere rounding error at 0.1%, and add to that sluggish wages, soft working hours, questionable job quality.
Does the government even care that this is a problem for middle-class Canadians?
The Economy June 10th, 2014
Mr. Speaker, the government's economic policy is a full-throated celebration of mediocrity. At 1.2%, its economic growth record continues to be the worst since R.B. Bennett.
A hundred and forty other countries are projected to grow faster this year than will Canada, including thirteen in the OECD, and at least the U.S. and the U.K. in the G7. The trade balance is in deficit. The current account balance is in deficit. Full-time jobs are being shredded.
Does the government have anything to offer Canadians beyond its mediocre, repetitive talking points?
Shootings in Moncton June 10th, 2014
Mr. Speaker, all Canadians are united in grief today as we pay our final respects to Fabrice Gevaudan, Douglas Larche, and Dave Ross, three courageous members of the Royal Canadian Mounted Police who gave their lives in the line of duty last week in Moncton. We think of their loved ones, their families, and friends. We think of Constables Darlene Goguen and Eric Dubois, who were also injured. We think of all their contemporaries who trained with them, as all Mounties have done since 1885, at "Depot" Division in Regina. As they say, it is the place where Mounties are born, and they are born into a force, a tradition, and a police family of remarkable character and calibre that is uniquely and distinctly Canadian.
The RCMP is integral to how this country defines itself. When a member is taken, we all share the loss. We all send our heartfelt sympathies. A grateful nation, together, says thank you and God speed.
Infrastructure June 9th, 2014
Mr. Speaker, that means no relief from higher Conservative payroll taxes.
What about infrastructure? It is the most cost-effective way to drive jobs, growth, and productivity. For the next five years, the Building Canada fund has been eviscerated and 70% of all new Building Canada funding is delayed until after 2019. This year is already two months into the construction season, and applications still are not available. Municipalities now have to compete with universities for the same pool of Building Canada funds. Why has this program been cut, delayed, convoluted, and compromised?
The Economy June 9th, 2014
Mr. Speaker, last week began with Canadian economic growth sputtering down to a meagre 1.2%. At mid-week we heard of another trade deficit, this one of $640 million. Then, at week's end, the latest job numbers showed 29,000 full-time jobs lost and new jobs being only part-time.
Canada urgently needs a growth agenda. The government could start by rolling back some of the $5.4 billion in higher EI premiums that the Conservatives themselves have imposed. Will they do that obvious thing?
The Economy June 4th, 2014
Mr. Speaker, the Conservative government has the worst record on economic growth since R.B. Bennett. It is now just 1.2%. Globally, 140 other countries are growing faster. Growth is not coming from consumers, because they are deep in debt; it is not coming from exports, because our trade balance is in deficit; it is not coming from business, because it lacks investor confidence, and in the public sector, the government has slashed its infrastructure fund by 90%, harming jobs, growth, and productivity.
Why do the Conservatives have this anti-growth agenda?
Petitions June 2nd, 2014
Mr. Speaker, I have a petition to file today from a number of people in Regina and across Saskatchewan who are concerned about Bill C-18, which is presently before Parliament.
The petitioners are concerned that it would restrict farmers' rights and add to farmers' costs. They specifically call on Parliament to enshrine in legislation the inalienable rights of farmers and other Canadians to save, reuse, select, exchange, and sell seeds.