Ralph Goodale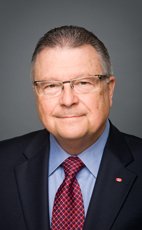 House of Commons photo
Track Ralph
Your Say
Elsewhere
Crucial Fact
His

favourite word

is grain.
Liberal
MP for Wascana (Saskatchewan)
Won his last election, in 2011, with 40.80% of the vote.
Statements in the House
The Economy February 2nd, 2015
Mr. Speaker, Canada's latest GDP numbers show that the economy is not just slow, it is actually shrinking.
This Prime Minister has the worst economic growth record since the dirty 30s. Job creation figures for 2014 have been slashed by one-third. Now, with energy investments, exports, and jobs all down, the Bank of Canada says the situation is unambiguously negative.
Instead of spending $12 billion on a tax break for the wealthy, which is expensive and unfair, as Jim Flaherty said, will the government devote that funding to community infrastructure for new jobs and growth?
Intergovernmental Affairs January 29th, 2015
Mr. Speaker, snubbing the premiers only underscores the dysfunctional relationship. The critical thing they should be doing together is accelerating infrastructure, but this government missed most of last summer's construction season. It punched a $1.5 billion hole into the building Canada fund, and 75% of new funding is punted beyond 2019, but it is not too late. Cancel income splitting for the wealthy, put that $10 billion into infrastructure, call the premiers over to dinner tonight, and get infrastructure going before spring.
Intergovernmental Affairs January 29th, 2015
Mr. Speaker, when the Governor of the Bank of Canada says the collapsing energy sector is unambiguously negative, when investment, exports, jobs, and growth are all slumping, when the Conference Board projects the risk of a recession in Alberta, and the Parliamentary Budget Officer says federal revenue will drop by $8 billion this year, why is the Prime Minister not working with the premiers this week on a truly national effort to cope with issues seemingly so serious that they caused his budget to be delayed into the next fiscal year? Why is he snubbing the premiers?
Rail Transportation January 27th, 2015
Mr. Speaker, my question is for the Minister of Transport. We are all glad to see she is in such good health.
A group of agricultural shippers released a report yesterday showing that the railways were again some 12,000 cars behind in meeting orders to ship grain, and there is still no equity among corridors. North-south shipments, especially, are suffering and that particularly hurts Saskatchewan.
Since the farm groups will be updating their report every week, could the minister confirm that their figures are accurate? How will the minister respond if the railways continue to fall short for the rest of this crop year?
Questions Passed as Orders for Returns January 26th, 2015
With regard to federal taxes, including tariffs, service charges and fees: since 2005, (a) in which instance was there an increase, a new imposition or the elimination of a credit or benefit, broken down by (i) the particular tax, tariff, charge, fee or credit, (ii) the rate or amount, (iii) the date it took effect, (iv) the revenue it has generated, (v) the department that made the change; and (b) what is the annual total of revenue generated by each of the changes in (a), broken down by year?
Questions Passed as Orders for Returns January 26th, 2015
With regard to "nudge" policies discussed in Policy Horizons Canada, March 2012, ISBN number: PH4-134/2012E-PDF, 978-1-100-21668-3: (a) has the government communicated about nudge policies with other countries that use such policies and, if so, which countries; (b) has the government produced any analysis of them and, if so, what is the (i) title, (ii) date, (iii) department, (iv) author, (v) record number of those documents; (c) has the government implemented or tested these policies and, if so, (i) how, (ii) where, (iii) by whom, (iv) what were the results; and (d) if the government has not implemented or tested these policies, what was the rationale for that decision?
Questions Passed as Orders for Returns January 26th, 2015
With regard to the Prime Minister's announcement of $5.8 billion in new infrastructure investments on November 24, 2014, in London, Ontario, and each of the commitments detailed in the accompanying backgrounder: (a) what department and program does each commitment fall under; (b) how much will be spent on each commitment in each of the next five fiscal years; (c) were these funds in the fiscal framework in Budget 2014; (d) do any of these commitments constitute an increase in planned spending and, if so, (i) which, (ii) by how much; (e) on each of these programs for capital and infrastructure investments in each fiscal year since 2004-2005, what was (i) allocated, (ii) spent, (iii) lapsed; and (f) was the expenditure of these funds already accounted for in the economic forecasts used by the Finance Department?
Questions Passed as Orders for Returns January 26th, 2015
With regard to Public Private Partnerships involving Infrastructure Canada or PPP Canada: since January 1, 2006, for each such project, what are (a) the details of the project; (b) the time taken to design the bidding process; (c) the length of the bidding process from the initial expression of interest to the close; and (d) the cost to proponents of preparing a bid?
Petitions January 26th, 2015
Mr. Speaker, I have the honour to table a petition today, signed by many people in Regina and elsewhere across Canada, expressing their concern about the rights and interests of small-scale farmers, both in Canada and around the world. They call upon the Canadian government to adopt policies and programs that would protect the rights of small family farms to preserve, use, and freely exchange seeds.
Petitions December 12th, 2014
Mr. Speaker, I have a petition to table, signed by a number of people in Regina, across Saskatchewan, and from other locations in the country, expressing concern about changes to the Seeds Act and issues related to plant breeders' rights. They call upon Parliament to enshrine in legislation the inalienable rights of farmers and other Canadians to save, reuse, select, exchange, and sell seeds.