Ralph Goodale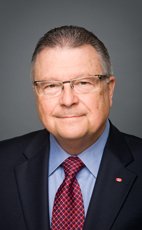 House of Commons photo
Track Ralph
Your Say
Elsewhere
Crucial Fact
His

favourite word

is shippers.
Liberal
MP for Wascana (Saskatchewan)
Won his last election, in 2011, with 40.80% of the vote.
Statements in the House
National Defence October 2nd, 2014
Mr. Speaker, Mr. Chrétien had enormous support.
Canadians need to know whether the government has thought through the combat mission that it is launching.
In rooting out the evil of ISIL, how have the Conservatives calculated that the highest and best use of Canadian resources is a small fleet of CF-18s? What about those other alternatives: strategic airlift, training, signals intelligence, reconnaissance, medical support as well as the massive humanitarian relief that is required?
The cost of the air strikes will crowd out all those other things in which Canadians excel. Therefore, what is the rationale for the choice that is being made to the exclusion of everything else?
National Defence October 2nd, 2014
Mr. Speaker, consensus requires clear, honest, complete and factual answers. It would appear that the prime ministers of the United Kingdom and Australia worked really hard at building trust and common ground in their countries, but that has not happened, at least not yet, in Canada.
In making its case, why does the government think it is better to drive wedges of division and keep Canadians in the dark?
National Defence October 2nd, 2014
Mr. Speaker, these are life and death issues. Canadians are going to war. It is not good enough for the government to say "just get on board". Consensus requires clear, honest, complete and factual—
National Defence October 2nd, 2014
Mr. Speaker, on Saturday, Canada's initial 30-day non-combat mission in Iraq in the struggle against the evil of ISIL will end.
Tomorrow, the Prime Minister will announce that he is sending Canadians into combat. The lives of CF-18 fighter pilots will be on the line. They, their families and all Canadians need to understand the government's calculation.
To start with, what were the Prime Minister's objectives in that first 30-day non-combat mission? Were those objectives accomplished and how?
Employment September 25th, 2014
Mr. Speaker, my, they are a titch sensitive.
For young Canadians, the job market is dismal. Their unemployment is stuck at over 13%. There are 240,000 fewer jobs for young Canadians today than before the recession. Families worry about not affording post-secondary education. In 40% of empty-nester families, their adult kids have moved back home because they cannot afford to make a go of it on their own, and the Conference Board of Canada has now said that this younger generation may not do as well as their parents.
Does the government even get it that there is a problem?
Employment September 25th, 2014
Mr. Speaker, the Prime Minister's story on jobs got demolished yesterday by The Wall Street Journal. In fact, only 99,000 new Canadian jobs were created in all of 2013, just 5% of them full time, and through the last 12 months only 15,000 new full-time jobs were created in this whole country.
According to the OECD, Canada is not first on jobs but 16th, behind the U.S., the U.K., and 13 others, so why not try to help by eliminating EI taxes on new Canadian jobs? Why not—
Points of Order September 24th, 2014
Mr. Speaker, if Mr. Gordon holds those views, I am happy to accommodate him, but I would also point out that his views are also contradicting Jack Layton's platform from 2011.
Employment Insurance September 23rd, 2014
Mr. Speaker, the CFIB and economists like Mintz, Moffatt, and Gordon all support the jobs approach of my colleague, the member for Papineau.
At a time when there are 230,000 more unemployed Canadians than before the recession, and 240,000 fewer jobs for young people, the country needs a relentless focus on new and incremental jobs. The government's plan does not do that. It caps employment, and it even incents layoffs, but for that exact same money, such failings can be fixed. So why not?
Infrastructure September 22nd, 2014
Mr. Speaker, at the G20, Canada praises infrastructure, but here at home the Building Canada fund is slashed by 90%. In this entire construction season, the whole thing, the government has made fewer than 10 new infrastructure commitments. The provinces, municipalities, chambers of commerce, the Canadian Council of Chief Executives, C.D. Howe, the Canada West Foundation, the engineers, the Canadian Construction Association, urban transit, the Insurance Bureau of Canada, Statistics Canada, David Dodge, and now the G20 all say Canada should do much better.
Why is the government so excruciatingly mediocre?