Ralph Goodale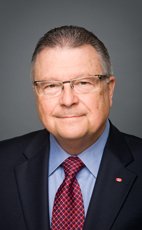 House of Commons photo
Track Ralph
Your Say
Elsewhere
Crucial Fact
His

favourite word

is saskatchewan.
Liberal
MP for Wascana (Saskatchewan)
Won his last election, in 2011, with 40.80% of the vote.
Statements in the House
Petitions June 2nd, 2014
Mr. Speaker, I have a petition to file today from a number of people in Regina and across Saskatchewan who are concerned about Bill C-18, which is presently before Parliament.
The petitioners are concerned that it would restrict farmers' rights and add to farmers' costs. They specifically call on Parliament to enshrine in legislation the inalienable rights of farmers and other Canadians to save, reuse, select, exchange, and sell seeds.
Infrastructure May 29th, 2014
Mr. Speaker, as Canada's municipalities meet this weekend, there is more dissatisfaction with the building Canada infrastructure funding. It is two months late. The construction season is slipping away. Most local communities still cannot even apply. Some of their priorities, like local roads, have been thrown out. They do not like the feds' arbitrary P3 screen. They are forced to compete for funds against universities. For the next two years, those funds have been chopped by 87%. All of this hurts municipalities, stymies growth, costs jobs, and drains productivity. Why?
Petitions May 28th, 2014
Mr. Speaker, I have the honour to present today a petition signed by a number of people from various parts of the city of Regina, expressing their very strong support for the millennium development goals and calling upon Canada to meet its commitment of directing 0.7% of the nation's gross national product toward official development assistance every year, and to reach that goal by 2015.
Questions Passed as Orders for Returns May 16th, 2014
With regard to duty remission on ships, boats and other vessels imported into Canada since January 1, 2006: (a) what requests for duty remission have been received (i) on what date, (ii) from who, (iii) from what address; and (b) which requests were granted and, for each, (i) what is the value of the request, (ii) what was the value of the remission granted, (iii) what was the vessel's length, class, port of registry, and registration number, (iv) when was the decision rendered, (v) who authorized the duty remission?
Questions Passed as Orders for Returns May 15th, 2014
With regard to contracts under $10,000 granted by Agriculture and Agri-Food Canada since January 1, 2013: what are the (a) vendors' names; (b) contracts' reference numbers; (c) dates of the contracts; (d) descriptions of the services provided; (e) delivery dates; (f) original contracts' values; and (g) final contracts' values if different from the original contracts' values?
Business of Supply May 14th, 2014
Mr. Chair, so there is no answer on the registered disability savings plan.
One final question. In its last financial statements, the government indicated that, before it gets to the point of a prospective balance sometime in the next year or so, it will have accumulated $163 billion in new federal debt under this government. That works out to approximately $20,000 in new Conservative debt for every Canadian family.
Does the minister take satisfaction in that debt number? Why, in arriving at that sorry position, did his government put our country into deficit again, before the recession occurred? It was not because of the recession. It was before the recession. That is when they blew the fiscal framework.
Business of Supply May 14th, 2014
Mr. Chair, the minister appears to have no explanation for why the government considers children in low-income families less deserving than children in high-income families. That is the problem. It is unfair. It is discriminatory. Availability of tax credit should not depend upon one's level of income.
I have another question. I would like to ask the minister about the registered disability savings plan. It is a plan that I think is broadly supported in the House. It is a good idea as a matter of policy principle and an idea upon which some improvements have been made in recent budgets. That is all to the good.
However, there is still a key flaw in the design of the registered disability savings plan, which is the exclusion of those with certain impending disabilities, like multiple sclerosis, for example, where a person may be diagnosed with that debilitating disease. They do not have any symptoms at the moment, but inevitably, at some point down the line, they will begin to suffer from those symptoms. The requirement of the registered disability savings plan is that to be eligible, one must qualify fully for the disability tax credit. That means one must be fully disabled before one can apply for the plan.
That means if people with MS, who knows what their long-term prognosis is likely to be, wants to set up a plan now, they are ineligible because they are not fully disabled now. It is a simple problem to solve for the government. Does the government have the intention, in the next budget, of bringing this correction into place so that those who are diagnosed but not yet fully disabled can begin to save when they still have some earning power and can still be gainfully employed and therefore take maximum advantage of this good idea?
It is a good idea. The government could make it better. Will it do that?
Business of Supply May 14th, 2014
Mr. Chair, thank you for the rest of the time we have available in this slot. I would point out that by the minister's last two answers, he has managed to contradict both himself when he appeared before the finance committee and his predecessor in the portfolio of minister of finance.
I would like to draw his attention to a couple of very specific taxation issues and the design in particular of the family tax credits that the government has introduced for children in sports programs, for example, for children in arts programs, for volunteer firefighters, and for some others. The eligibility for those tax credits is based on level of income. Above a certain level of income, people are able to claim the tax credit. Below a certain level of income, they are not eligible.
Why would children in higher income families be more worthy of sports programs and arts programs than children from lower income families? Why would it not be appropriate to make those tax credits refundable and therefore available to all Canadians regardless of income level?
Business of Supply May 7th, 2014
Mr. Chair, I assume that the regulations in all cases will be prepared well in advance of the beginning of the next crop year, on August 1, so farmers will be sure to know what they are.
Under Bill C-30, the section that empowers the Canadian Grain Commission to create regulations specifically contemplates penalties for performance failures, but the section in Bill C-30 that empowers the CTA to create regulations does not specifically refer to reciprocal penalties. Why is there a difference in the language? Does the government in fact plan that the regulations with respect to the railways not have that crucial power of reciprocal penalties? Will they be there or not?