Ron Cannan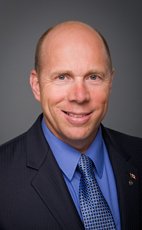 House of Commons photo
Track Ron
Your Say
Elsewhere
Crucial Fact
His

favourite word

is opportunities.
Conservative
MP for Kelowna—Lake Country (B.C.)
Won his last election, in 2011, with 57.40% of the vote.
Statements in the House
National Volunteer Week April 10th, 2014
Mr. Speaker, it gives me great pleasure to welcome the B.C. Wildlife Federation to the great city of Kelowna this week as it holds its 58th annual general meeting and convention.
The federation is British Columbia's largest and oldest province-wide, volunteer-driven conservation organization. Its mission is to protect, enhance, and promote the responsible use of the environment and to build a legacy of conservation for generations to come.
As this is National Volunteer Week, I would like to acknowledge my constituent, Bill Bosch, the hard-working president of the B.C. Wildlife Federation, and his team and all the volunteers who support our local organizations and improve the quality of life in Kelowna—Lake Country.
As a member of the Rotary Club of Kelowna Sunrise, I have also seen the positive difference volunteers make throughout the world by supporting global projects such as helping to eradicate polio, in partnership with the Government of Canada.
Volunteerism is a tangible example of the power of action over words, and Canadians continue to be the beneficiaries of those efforts.
Points of Order April 9th, 2014
Mr. Speaker, I want to also clarify for the record that I did go and speak to the NDP House leader, the member for Burnaby—New Westminster, a fellow British Columbia member of Parliament, whom I know. I told him that the member of Parliament for Scarborough Southwest should apologize to the hon. member or be prepared to make the allegation outside. Members of Parliament, as the member for Scarborough Southwest knows, are protected by parliamentary privilege inside the House of Commons, meaning that we have parliamentary immunity. If anything else is being inferred, it is completely incorrect. I apologize if there were any other inferences from that.
Canada-Honduras Economic Growth and Prosperity Act January 29th, 2014
Mr. Speaker, I would like to welcome my hon. colleague from Prince Albert to the trade committee.
I appreciate the fact that we have a rules-based, stable, predictable agreement. One of the keys to helping a community and a country grow is development.
I know that tourism is a big economic pillar and driver for Honduras. I have a constituent who has been going there for the last few years. In July he is going back there to get married, because he loves it so much.
Would my hon. colleague share with the House what Canada is doing as far as investment and security and the development of capacity-building? My rotary president just left this week to volunteer in an orphanage. Maybe the member could expand a little bit as far as some of those partnerships that Canada and Honduras are working on.
Canada-Honduras Economic Growth and Prosperity Act January 29th, 2014
Mr. Speaker, trade has expanded, as the member mentioned. It has steadily grown, reaching nearly $257 million in 2012, an increase of almost 9.3%. It is great in that respect.
Our exports to Honduras continue to grow, up by 17.4%. Positive numbers include agriculture, machinery, wood and a variety of products that we are exporting; that provides jobs for Canadians.
There are almost 40 trade agreements that we have signed since 2006. I have been on the trade committee for almost eight years now. I believe middle-class Canadians are in the best position, as we have had more than 160 different tax cuts and the GST went from 7% to 6% to 5%, saving the average family of four approximately $3,400.
The fact is that with the increase in growth, we can have a growing economy, which allows the opportunity to lower taxes and provide more jobs, growth and prosperity for Canadians.
Canada-Honduras Economic Growth and Prosperity Act January 29th, 2014
Mr. Speaker, the member for St. John's East would obviously know about rising boats, being from the coast, and would appreciate sharing the analogy.
It is an analogy that means we need to look at helping others who need a hand up. I believe in providing hope for others. The analogy we use in that respect is believing in engagement rather than isolation. If one looks around and sees other people wanting to better themselves and their country, I believe it is our responsibility as Canadians, as humans, to help others.
I have had the opportunity to meet with the Honduran ambassador to Canada on several occasions. I know there has been positive movement. Our colleague, the Minister of State, Foreign Affairs and Consular was there last week, working with the Hondurans and trying to help initiate positive movement.
I would just like to close with the fact that in 2008 when I was on the trade committee we went to Colombia and it was a similar situation. We met with people in the shanty town there. They were basically destitute. Connie Watson, who was a reporter for CBC, asked at the time if a free trade deal would help the situation. The answer was yes. They said that investment would be welcome, especially on roads, schools and jobs and for these displaced people, 40% of whom cannot find work in their city. There is a similar situation in Honduras. That is why we are supportive.
Canada-Honduras Economic Growth and Prosperity Act January 29th, 2014
Mr. Speaker, I will be sharing my time with my colleague from Prince Albert.
I would first like to add my voice to the chorus of introduction and welcome to the hon. member for Toronto Centre to the international trade file. I look forward to working with her and all of our colleagues to foster job opportunities, growth and prosperity for Canadians from coast to coast to coast.
It is a pleasure to rise in the House to speak in regard to our Conservative government's commitment to protecting and strengthening the long-term financial security of hard-working Canadians. That is why on November 5, 2013, my hon. colleague, the Minister of International Trade, signed the Canada-Honduras free trade agreement.
Trade has long been a powerful engine for Canada's economy, as we have heard from previous speakers. It is even more so in what remain challenging times for the global economy. With this agreement, we can celebrate yet another milestone in the achievement of our government's vision for engagement in the Americas.
The Canada-Honduras free trade agreement is an important part of Canada's commitment to the Americas. For Canada to remain competitive, our government is pursuing new strategic partnerships with emerging economies, especially those in the Americas.
Honduras has its own active program of bilateral and regional trade and investment agreements. Specifically, it is a signatory to active free trade agreements with eight partners, including the United States and the European Union.
Our government is helping Canadian exporters and investors compete on a level playing field. As we know, the United States, our biggest trading partner, has a trade agreement and so has a trade advantage, and the signing of this free trade agreement and its coming into effect would help level the playing field.
Economically, Canada and Honduras have a bilateral trade and investment relationship that has potential for long-term growth, as we heard earlier from our colleague across the way from Winnipeg North. We already have a healthy and growing commercial relationship with Honduras.
According to Statistics Canada, two-way merchandise trade between Canada and Honduras has been steadily growing, which is very encouraging, reaching nearly $257.2 million in 2012, an increase of almost 9.3% compared to 2011. In 2012, Canadian exports to Honduras totalled $38.6 million and Canadian imports from Honduras totalled $218.6 million, up 17.4% from 2011.
How will that growth happen and what does this free trade agreement with Honduras entail specifically for Canada? For Canadian firms and communities that depend on continued and growing business activities for their livelihood, it is an excellent question. I know from my constituents of Kelowna—Lake Country that one in five jobs are based on trade.
I want to expand a little more over the next few minutes on some of the concrete benefits of this free trade agreement with Honduras. We have signed this FTA, which includes provisions for market access for goods and cross-border trade in services, investment and government procurement.
On goods market access, once the free trade agreement is in place, Honduras would immediately eliminate tariffs on almost 70% of its tariff lines in respect to goods from Canada. Most of the remaining tariffs would be phased out over periods of five to fifteen years. The range of products that would benefit from enhanced market access opportunities is wide and includes agriculture and agrifood products, forestry products, plastics, chemical products, vehicles and auto parts, and industrial machinery, just to name a few.
For Canada and Honduras, a free trade agreement would play an integral part in strengthening and growing our economic relations and lead to growing economic opportunities and prosperity in both countries.
One example is in our agriculture and agrifood sector. My colleague from Prince Albert, who will be following me, is no stranger to the agricultural file in Saskatchewan and will expand on the benefits for agriculture. However, one of the big aspects is restored access for beef and pork, which is estimated by industry experts to have a combined market value of approximately $5 million to $7 million annually with the majority of exports expected to be pork. We know that pork producers need all the help they can get. It is a difficult industry and in expanding I know they would welcome this new market as well.
This access would open up new opportunities for Canadian farmers, especially those producing pork and beef products, and thus contribute to the continued maintenance of Canada's agriculture sector as a strong driver of the Canadian economy and Canadian exports.
Under this free trade agreement, Canadian companies in diverse sectors would benefit, not only from the elimination of tariffs and from better and more secure access to service markets but also from the greater certainty provided by the investment rules contained within it. As we all know, certainty, stability and predictability are characteristics that our Canadian businesses are always requesting, especially that these trade agreements provide that stability and predictability.
Some Canadian companies have already demonstrated an interest in Honduras as an investment destination. Clothing and textile manufacturer Gildan Activewear of Montreal, for example, is the largest private-sector employer in Honduras with over 20,000 employees. That is amazing: 20,000 employees employed by a Montreal-based company, and that being the largest private-sector employer in Honduras. The Ottawa-based Canadian Bank Note Company, one of the world's foremost security printing companies, has met success in selling its electronic lottery system to Honduras. Aura Minerals of Toronto, a mid-tier gold and copper mining company, operates a gold mine in Honduras.
These companies, in order to ensure the sustainability and effectiveness of their investments abroad, are making real contributions to the communities in which they operate, thus fostering more diversified and sustainable economic co-operation and development in Honduras. That is CSR, as we heard before, corporate social responsibility in working together for Canadians and Hondurans.
Moreover, there is our government's commitment to ensuring that the responsible business practices of our firms operating abroad, particularly in the extractive sector, go beyond words. In the specific case of Honduras, for example, our government, through its development co-operation program, has provided assistance to that country under the democratic development initiative, to improve governance in the Honduran mining sector. An important part of this initiative includes the provision of technical assistance and thus local training in capacity building in their sector. We heard before that a rising tide lifts all boats. We are using Canadian technology and training to increase their capacity building so they can help grow their economy as well.
As a country of focus for Canada's development assistance, Honduras benefits from initiatives that promote sustainable economic growth, food security and access to social services. These initiatives are designed to create a sound, predictable and safe environment for its citizens and for businesses. Indeed, in its commitment to helping Canadians compete and succeed in the global economy, this government has adopted a comprehensive approach to free trade agreements that often includes provisions for investment, trade in services, intellectual property, government procurement, technical barriers to trade, and temporary entry. They are also accompanied by parallel agreements setting out obligations on the environment and labour, which are very important because our Conservative government firmly believes that trade liberalization goes hand in hand with workers' rights and sound environmental practices.
Now more than ever, Honduras, a small and growing market for Canada, can be a valuable trade and investment partner for Canada. Going forward, the Canada-Honduras free trade agreement is a firm commitment from both sides to grow and expand this important strategic relationship. It is also emblematic of our government's confidence in and support of continued democratic, social and economic development in Honduras. As we have heard from previous speakers, this is consistent with Canada's objective of building dynamic economies and promoting responsible investment and open markets to create new opportunities in jobs in the Americas. The twin engines of growth, investment and trade, are the keys to sustainable prosperity; so investment and trade are the two pillars and foundation we need to help grow our economy.
As part of our Conservative government's ambitious pro-trade plan for jobs and growth, we have been proactive in fostering increased integration of Canadian firms and global value chains, and engaging with a greater number and wider variety of international trade and investment partners. We have been doing so to foster Canada's competitiveness in the global market and to ensure that our firms are on a level playing field in as many arenas as possible, so that they and the communities from which they stem, which we all represent, can stay competitive, innovative and prosperous.
In closing, I therefore urge all hon. members of the House to support this free trade agreement as part of our collective efforts to help Canada thrive in the world economy.
Situation in Ukraine January 27th, 2014
Mr. Speaker, I too would like to voice my opposition to the actions of the Ukrainian government in treating its people with a lack of respect for human rights and human dignity.
This is a very high priority for our government. I thank the Prime Minister for all of us for allowing this debate to take place, because I believe this is a non-partisan issue.
More than 1.2 million Ukrainians came here. My papa came from Ukraine. Both my mother-in-law and father-in-law have a Ukrainian background. We just had a great Malanka festival celebration, a New Year's party, to remember the joy and hope for those who have come from Ukraine to make Canada their home for 2014. However, the sad reality is that the people back in Ukraine are being beaten and tortured and treated like animals. The fact is that its government needs to respect human rights and human dignity.
At the end of the night, would the hon. member agree that consensus should be from all parties in the House that we send a clear message to the government of Ukraine to quit beating up the people of Ukraine and allow Ukrainian folks to be part of Europe if that is their wish?
Citizen of Kelown-Lake Country December 9th, 2013
Mr. Speaker, it is a privilege and honour to stand in the House today to offer my sincere congratulations to constituent Amanda Clancy. Amanda graduated on December 4, 2013 from CFB Borden as a logistician, receiving the Most Distinguished Award as top of her class.
Instituted to promote teamwork and leadership among students, this award is given to the student who demonstrates exceptional personal commitment to the support and assistance of fellow students. The recipient is chosen by his or her peers without input from the instructional staff.
Amanda enlisted in the navy in 2012 and is being posted to CFB Petawawa. She has been assigned to the 450 Tactical Helicopter Squadron, which when fully deployed will consist of 400 personnel.
Amanda's family and community are very proud of her accomplishments, and we wish her a wonderful career. Once again, we congratulate her and thank her for her service to our country. God bless and good health.
Petitions December 4th, 2013
Mr. Speaker, I am proud to rise on behalf of a constituent by the name of Alda De Rosa. I met with Alda, and she presented a petition asking for the creation of a legislative ombudsman mechanism for responsible mining.