Ron Cannan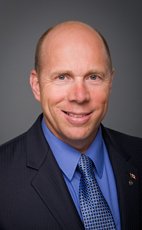 House of Commons photo
Track Ron
Your Say
Elsewhere
Crucial Fact
His

favourite word

is opportunities.
Conservative
MP for Kelowna—Lake Country (B.C.)
Won his last election, in 2011, with 57.40% of the vote.
Statements in the House
Public Safety June 11th, 2014
Mr. Speaker, yesterday there was another senseless shooting, this time in Vancouver. Shots rang out in a midday gun battle in busy Yaletown, steps from the False Creek seawall. I am pleased to see that the victim, an innocent bystander and pillar of the community, is now in stable condition, and that the police officer who was injured while defending the people of Vancouver has been released from the hospital.
Our government is committed to keeping our streets and communities safe, by ensuring that those people who engage in evil and depraved actions will be put behind bars where they belong, and where they cannot harm innocent Canadians who are going about their daily lives. I look forward to the individual responsible for this crime facing the full force of the justice system.
Business of Supply June 10th, 2014
Mr. Speaker, the member mentioned she was opposed to income splitting. With regard to families, I have a question with regard to policies this government implemented for income splitting for seniors. Does she believe that is a good policy and if she does not, would the Liberals actually reverse that policy if they formed government?
Business of Supply June 10th, 2014
Mr. Speaker, it is the home of some of the international award-winning wine, so I appreciate the opportunity to ask a question of my hon. colleague from British Columbia, from North Vancouver, another beautiful part of our province and our country.
I thank him for the great work he has been doing. I know he had worked closely with our former colleague, Minister Flaherty, who had a memorial service in the other House yesterday. I think about the great foundation he laid to help our seniors, low-income people, middle-income people, and persons with disabilities, as well as his passion for his registered disability savings plan.
I have been working on another issue for eight and a half years. I have been working on the trade committee, and we have this historic 21st century trade agreement that we signed with the European Union in the fall.
I wonder if my hon. colleague could share with the House some of the positive effects for low- and medium-income families and individual Canadians, as well as the economic opportunities for average Canadian families that this comprehensive economic trade agreement with the European Union will provide.
Petitions June 10th, 2014
Mr. Speaker, the two other petitions have to do with the leniency of Canada's impaired driving laws; and in the interests of public safety, the petitioners are asking that the government seek tougher laws and the implementation of new mandatory minimum sentencing for those persons convicted of impaired driving causing death.
Petitions June 10th, 2014
Mr. Speaker, I rise to table a couple of petitions. The first one is from constituents asking the government to refrain from making changes to the Seeds Act and the Plant Breeders' Rights Act through Bill C-18, an act to amend certain acts relating to agriculture and agri-food.
Canada-Honduras Economic Growth and Prosperity Act June 3rd, 2014
Mr. Speaker, I have had a chance to speak in the House already on the importance of the Canada-Honduras free trade agreement for Canadians and also for Honduras. I have been on the trade committee for about eight and a half years and have had the opportunity to travel recently to South America. I was in Peru. I met with our Canadians officials on the ground and the corporate social responsible leadership of Canadian companies and talked about the integration of Honduras.
We have had several witnesses at the committee. One of the witnesses, a gentleman by the name of Vincent Taddeo, who is the vice-president international from Cavendish Farms, said:
Whenever...you create jobs, people tend to move away from the negatives, from the drug trade, from the stealing, from whatever is negative in that society. Whenever we do this, we see an improvement in the lives of the people on the ground.
I know the hon. colleague would like to live in a perfect world, in Utopia, and have a trade agreement that would be perfect. The reality is we live in an imperfect world. One of the aspects from our Conservative government, we believe, in this engaging country is to give them hope and opportunity. I was in Colombia in 2008, and we see the improvement in the middle class in Colombia now that jobs and hope and opportunities are created.
My question, through you, Mr. Speaker, for the hon. colleague is this: why would he not engage and provide hope and opportunity for individuals in Honduras, or would he rather just leave them on the sidelines and allow this murderous society continue?
Intergovernmental Affairs May 29th, 2014
Mr. Speaker, Canadian consumers, employers, businessmen, and tradespeople are all part of a national economy and a united country, but for certain sectors, it can be easier to move products or labour overseas than from province to province. For instance, it is well documented that it is easier for Ontario consumers to directly purchase wine from California than from British Columbia.
Internal trade barriers are inefficient. They hurt Canadian federalism and prevent companies from growing. Can the hard-working Minister of Industry please inform the House of what our government is doing to address these costly, inefficient trade barriers?
TD Scholarship for Community Leadership May 29th, 2014
Mr. Speaker, it is my pleasure to congratulate Miss Freya Kellet, a scholar from Okanagan Mission Secondary School in my riding of Kelowna—Lake Country, who this week in Ottawa was awarded a national TD scholarship for community leadership.
TD scholarships for community leadership are awarded to students in their final year of high school who demonstrate consistent and outstanding dedication to making their communities a better place.
Freya's passion for food security and environmental issues, raising awareness about cyberbullying and social media, along with her commitment to volunteerism and to helping disabled children, all helped to not only make our community a better place but also motivated others to get involved.
Freya is an inspiration. We wish her all the best of success as she pursues her educational goals in corporate social responsibility and international development law. She has made her family and friends very proud and is no doubt destined to be a true leader. Our congratulations to Freya. We wish her all the best in her future.
Bullying Awareness May 14th, 2014
Mr. Speaker, beginning in April 2014, in St. John's, Newfoundland, Ralph Morrison, of Kelowna, British Columbia, began a cross-Canada road trip to raise awareness of the effects of bullying. It is my pleasure to welcome him to Parliament Hill today.
At the age of 52, through his book, The Fear Inside, Ralph found the courage to tell his story about bullying and how he overcame his fear to speak out. As he journeys across the country, Ralph is reaching out to communities, boys and girls clubs, and especially troubled teens in the hope that his experience will help those who suffer in silence to find the courage to speak out and begin to heal.
On behalf of the constituents of Kelowna—Lake Country, I want to wish Ralph Morrison safe travels as he continues his journey to his destination of Victoria, British Columbia. We thank Ralph for his courage, for reaching out to young people to encourage them to stand up and to speak out against bullying, and for sharing the message that the fear inside can be healed.