Ron Cannan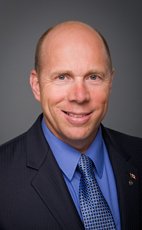 House of Commons photo
Track Ron
Your Say
Elsewhere
Crucial Fact
Conservative
MP for Kelowna—Lake Country (B.C.)
Won his last election, in 2011, with 57.40% of the vote.
Statements in the House
Economic Development November 7th, 2013
Mr. Speaker, our government recognizes that supporting innovation in the private sector is key to our continued economic success. While the Liberals and NDP spread fear and uncertainty, we have been encouraging the growth of our entrepreneurs and business leaders with the launch of the western innovation initiative, otherwise known as WINN.
Could the hard-working, intelligent Minister of State (Western Economic Diversification) please outline how our government is creating new economic opportunities in the west?
BUSINESS OF THE HOUSE AND ITS COMMITTEES October 21st, 2013
Mr. Speaker, I rise on a point of order. In terms of decorum, I would like to bring to your attention to page 150 of Beauchesne's Parliamentary Rules and Forms related to appropriate language.
We all want to have decorum and respectful debate in the House of Commons. The hon. member from the NDP used the words "verbal diarrhea" with regard to the government. It was totally inappropriate in this situation. We want to respect one another. I would ask you to ask the hon. member to rescind her comments and to respect the House.
International Trade October 21st, 2013
Mr. Speaker, a key part of our government's economic agenda is to open new markets around the world to increase Canadian-made exports.
I am pleased to announce the plan has achieved real success. In less than seven years, Canada has concluded new free trade agreements with nine countries. We are continuing to pursue new agreements with the largest and most dynamic markets in the world.
Can the Minister of International Trade please update the House about the latest success on the trade front?
Petitions June 18th, 2013
Mr. Speaker, it is an honour to rise on behalf of numerous British Columbians who are calling upon the government to implement the new mandatory minimum sentencing for those persons convicted of impaired driving causing death and get tougher on impaired drivers.
The petitioners request that the Criminal Code be changed to redefine the offence of impaired driving causing death to vehicular manslaughter.
Also, as the summer is upon us, I would like to remind all Canadians to drink responsibly and to not drink and drive.
Petitions June 13th, 2013
Mr. Speaker, it is an honour to rise on behalf of my constituents in the beautiful riding of Kelowna—Lake Country. I have to two petitions.
The first calls upon Parliament to condemn discrimination against girls through sex selection.
The second is from another part of the beautiful province of British Columbia. Folks in Kamloops are supporting Motion No. 408 condemning sex selection.
Safer Witnesses Act May 30th, 2013
Mr. Speaker, first, I think all of us here in the chamber give great gratitude for our hon. colleague. She is not only serving as a member of Parliament, but she served many years protecting men and women in the community in Winnipeg. That deserves a round of applause as well.
The bill has had numerous consultations with the provinces and stakeholders. As the Minister of Public Safety alluded to earlier, the police association president, Mr. Tom Stamatakis had clearly shown great support at committee. He said:
Further on that point, the specific changes in this legislation that exempt a person from any liability or punishment for stating that they do not provide or assist in providing protection to witnesses will be a direct benefit to the law enforcement community in Canada that is tasked with these particular responsibilities.
As I alluded to earlier, we had Minister Bond from British Columbia. We also had Chief William Blair from the Toronto police. He said:
In Toronto, we have seen the fear caused by intimidation and the threat of retaliation in gang investigations. Witnesses with valuable information are deterred from coming forward. We support the government's initiative as a valuable step in protecting public safety.
Safer Witnesses Act May 30th, 2013
Mr. Speaker, I thank my colleague from Avalon, a beautiful part of the country. I had a chance to visit there a few years ago with my wonderful wife.
He raises a great point. In fact, my neighbour has been an RCMP officer for about 27 years. He is an outstanding individual and works day in and day out providing safety and security. He works in an integrated force. There is a very high level court case going on right now in my community that he is involved in.
The fact is, we have to protect these men and women, our front-line officers who were exempt from the previous act. That is the biggest change and advantage of the bill. It not only protects witnesses who come forth from the community, but also protects the front-line officers.
Safer Witnesses Act May 30th, 2013
Mr. Speaker, I appreciate my hon. colleague's support for this. I had the chance to sit in on one of the committee meetings. My understanding is the NDP did not actually bring forward any amendments to the bill. We have been trying to push the bill through for a long time and the NDP had forced votes and delays. I am hoping that we can agree that the safer witness protection act is important not only for our witnesses, but for the men and women who are serving, protecting our communities.
Assistant Commissioner Todd Shean, who works in federal and international operations with the Royal Canadian Mounted Police, was a witness at committee and was very supportive. The RCMP has waited for the changes the bill brings. It is comfortable that we have the resources within our existing resources to run an effective witness protection program and it welcomes the changes.
Safer Witnesses Act May 30th, 2013
Mr. Speaker, it is a privilege and honour to rise in the House this afternoon to share the speaking time with my hon. colleague from Edmonton Centre, my birthplace. I know it is well looked after by the hon. member, with his 30-plus years with the air force, and now serving this constituency as a member of Parliament.
It is a pleasure to speak specifically to Bill C-51, An Act to amend the Witness Protection Program Act and to make a consequential amendment to another Act, something that I know is vitally important for effective law enforcement right across Canada. It is of great interest to my constituents of Kelowna—Lake Country and many, if not all, members' constituents. They understand the bill's important role in helping to combat organized crime.
I suspect there are few individuals who have not at least heard of "witness protection", whether it is a favourite CSI television show, or through high-profile court cases in which someone is offered protection in exchange for his or her testimony. We do not normally hear many details about how the program operates or about the people who are admitted into it. That is how it is supposed to work. Nonetheless, I believe all Canadians understand how important it is to have effective witness protection programs to combat organized crime.
Therefore, I appreciate this opportunity to join in the debate on our government's legislation, which would help to modernize and strengthen the federal witness protection program in Canada, while also making it more effective and secure.
The current Witness Protection Program Act, which we have heard from previous speakers, and my hon. colleague from Edmonton Centre, is about 17 years old and has not been substantially modified since it came into force. That does not mean we need to have a radical overhaul or alter the act in a major way, but we need to make some changes to modernize it. It is important that we have the proper tools in place to help us build safe neighbourhoods across Canada by keeping up with the changing nature of crime and criminal or terrorist organizations.
As members know, organized crime groups were certainly prevalent in 1996 when the current act took effect. However, their operations, their tactics and their make-up have changed significantly, and I think we would all agree on that.
Globalization has facilitated the diversification of organized crime groups and in many ways has allowed them to become involved in many more types of activities, serious activities that they are scheming together on across our country and around the world. The Internet has allowed many of these criminal organizations to avoid capture and detection in ways that seemed unimaginable when the Witness Protection Program Act came into force.
The Internet also provides organized crime groups with more ways to find people than before. This is certainly a big concern for individuals in witness protection, as well as for those who administer these programs. Looking after the safety of our witnesses is a key. All these changes make witness protection both more urgent and more difficult to perform. Reforms are therefore needed.
I would like to note that the changes proposed under Bill C-51 are the result of extensive consultations with the provinces, and we believe we are on the right track. I have the privilege of serving the great constituency of Kelowna—Lake Country in the province of British Columbia. The Hon. Shirley Bond is the minister of justice and attorney general of British Columbia. We do not know what her portfolio will be after the recent May 14 election. However, when she was the minister she said:
In the fight against crime, protecting witnesses effectively is essential. We look forward to reviewing the amendments and working constructively with our Federal counterparts to ensure that any changes minimize the risk to witnesses.
As members can see, we have consulted with our partners in the provinces and we believe that we are on the right track.
We were very pleased to see support from provincial attorneys general and from police officers from across the country, including the head of the Canadian Police Association, who said in a recent news article:
The Canadian Police Association strongly believes that this proposed legislation will enhance the safety and security of front-line law enforcement personnel who are engaged in protective duties...
Bill C-51 would first and foremost improve the interaction of the federal witness protection program with provincial witness protection programs. We are working in partnership to complement each other. At the moment, someone in a provincial program can only obtain a secure identity change if he or she is temporarily admitted into the federal witness protection program. This can result in delays in obtaining a new identity. It can also result in a number of issues for the RCMP, which administers the federal program.
Bill C-51 proposes to remedy this situation by establishing a process whereby provincial programs can become designated witness protection programs. Once again, the provincial programs would work together with the federal program and become a designated witness protection program.
A province would request this designation from the Minister of Public Safety, at which time the provincial authority would provide assurances of the program's capacity to protect both its witnesses and its information. It is important that it protects both the information and the witnesses. Once the program is established and designated upon the request of that program, the RCMP would be obliged to help in obtaining federal identity documents for a provincial witness without any need for him or her to be transferred temporarily into the federal program. That is one of the big changes.
In addition to being easier, the new system is also designed to be more efficient and more secure. Security and efficiency are other complementary assets of the new reform program. Under the designation regime proposed by Bill C-51, requests for federal identity change documents would be submitted by a provincial official from a designated provincial witness protection program to the RCMP, thereby limiting the number of individuals involved in the process and making the system more secure.
Bill C-51 also proposes to enhance the security of witness protection regimes in Canada by both enhancing and extending the current prohibitions against the disclosure of information concerning an individual in a designated witness protection program. The current federal Witness Protection Act prohibits the disclosure of information by individuals within the federal program. Section 11(1) of the act says "no person shall knowingly disclose, directly or indirectly, information about the location or a change of identity of a protectee or former protectee".
Bill C-51 would strengthen this prohibition in a number of important ways. Let me expand a bit on that.
Bill C-51 would not only prohibit the disclosure of information about individuals in the federal program, it would also prohibit the disclosure of information about how the program itself operates, as well as about those individuals who provide or assist in providing protection for witnesses. Both of these prohibitions would also extend to individuals in designated provincial programs. Such prohibitions against the disclosure of information currently exist only within the legislation of the particular provincial jurisdiction, not across jurisdictions. That is another big contributing factor to enhancing the existing legislation.
As we can see, Bill C-51 would also clarify the prohibition with respect to what and how information is being disclosed. Clarity is very important. As I mentioned earlier, Section 11(1) of the current act contains the phrase "no person shall knowingly disclose, directly or indirectly, information about the location or a change of identity of a protectee or former protectee". The phrase "directly or indirectly" was considered to be unclear. Bill C-51 proposes amendments to ensure that the prohibitions will clearly apply to cases where a person discloses information in a range of ways.
Let me share a few examples. It would include telling someone what a protected person's name is, leaving information about the protected person unguarded, telling someone where a protected person lives and revealing unique characteristics about the person that could, for example, identify a specific housing market that results in someone deducing the city to which the person has been relocated. Bill C-51 would prohibit all of the above disclosures by specifying that no one could disclose any information, either directly or indirectly, that would reveal the location or change of identity of a protected person or the information from which the location or change of identity could be inferred.
Finally, among other improvements, Bill C-51 would expand referrals for admissions to the federal witness protection program to sources assisting federal security, national defence or public safety organizations, such as the Department of National Defence and the Canadian Security Intelligence Service. By extending referrals to this category of witnesses, we are also addressing one of the commitments under the Government of Canada's Air India inquiry action plan released in 2010.
The act has not been substantially changed since it came into force, despite the constantly changing nature of organized crime and calls for reform. The safer witness act would help to strengthen the current federal witness protection program, a program that, as I mentioned, is often vital to effectively combat crime, particularly organized crime.
Like my colleague from Edmonton Centre, I encourage all hon. members in the House to follow the example I would encourage on our side. I know that there was support at committee. Hopefully the House will support Bill C-51 and see it move forward to provide the tools for our men and women serving across the country and our witnesses as well.
Petitions May 30th, 2013
Mr. Speaker, I am honoured to rise this morning to table a series of petitions from Canadians across this great country who are calling on the House to condemn discrimination against females occurring through sex selective pregnancy termination.