Ron Cannan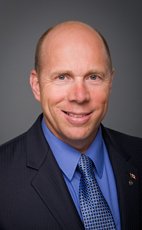 House of Commons photo
Track Ron
Your Say
Elsewhere
Crucial Fact
His

favourite word

is opportunities.
Conservative
MP for Kelowna—Lake Country (B.C.)
Won his last election, in 2011, with 57.40% of the vote.
Statements in the House
International Development October 27th, 2014
Mr. Speaker, as a member of the Kelowna Sunrise Rotary Club, I have heard first-hand from my constituents that they are concerned with the living conditions of those in the developing world. I am so pleased to learn of our government's announcement of a continued partnership with Rotary and how Rotary International recognized the Prime Minister with the organization's polio eradication champion award for his efforts to support a polio-free world.
Could the hard-working minister who attended our rotary club meeting last year please update the House on our recent commitment of $1.1 million over one year to support vulnerable people in Honduras and Guatemala in partnership with the Canadian Rotary?
Business of Supply October 21st, 2014
Mr. Speaker, I thank my colleague across the way for his comments on this very important issue. Like the member and all Canadians, we are very concerned about the Ebola outbreak in Africa. We have the assurance of the public health officer of the Public Health Agency of Canada that they are working very closely with our provincial and territorial ministers and the World Health Organization. We have been at the leading front. I know the Minister of Health, the Minister of Public Safety, the Minister of Foreign Affairs and other officials have been working closely as well with their colleagues to ensure that we do everything we can to help contain the outbreak of this disease as quickly as possible.
My question for my colleague across the way is this. Does he think it is the best use of our public health officials' time to be forced to come to listen to these public meetings and spend time on Parliament Hill when they should be focusing on working on a resolution, helping Canadians, disseminating the information through national press conferences and working with our provincial and territorial partners? Does he think that is the best use of their time?
Canada-Korea Economic Growth and Prosperity Act September 30th, 2014
Mr. Speaker, I would like to thank my hon. colleague for the question and for his hard work for his constituents in his riding of Kitchener—Conestoga, another innovation centre in our country.
This agreement is very important for agriculture in British Columbia specifically. My riding has vineyards, orchards, and a variety of different crops. There would be a reduction of up to 45% in tariffs for blueberries and cherries, for example. I know that the vice-president of the BC Cherry Growers' Association was very excited about this development. The Minister of International Trade is also the member for Abbotsford, which is the blueberry capital of Canada. He is also very excited.
In agriculture and agri-foods, there is a 10% tariff to be removed on frozen rays, skate, whitefish, sole, flounder, salmon, frozen crab, and seafood. We are looking at other agricultural products throughout Alberta, such as wheat. The pork and beef industries are going to be big winners. Of course, the Canada-U.S. agreement took a lot of that market away, so we are going to get our market share back to our customers through this bilateral agreement with South Korea.
Agriculture is a big component, as is seafood from both the Pacific and the Atlantic.
Another winner will be the forest sector. I have Tolko mills in my riding, so it is a win-win all around the country.
Canada-Korea Economic Growth and Prosperity Act September 30th, 2014
Mr. Speaker, aerospace is something that is near and dear to my riding of Kelowna—Lake Country. Kelowna Flightcraft is the largest private employer in my riding. Aerospace and aviation, with their innovation and technology, are sectors that are very important to Canadian communities across the country.
Canadian companies are leading the way. Jim Quick, the president and CEO of the Aerospace Industries Association of Canada, said:
Our industry depends on exports and access to international markets to remain competitive and continue creating jobs and revenues here at home. This agreement is imperative to restoring a level playing field for Canadian firms in the South Korean market, which is especially important given the considerable growth the aerospace industry will see in the Asia-Pacific region in coming years. We congratulate the Government of Canada on this achievement, and thank its representatives for their ongoing commitment to boosting Canadian competitiveness in international markets.
As we can see, the aerospace industry is very supportive of this agreement. It would benefit all of us across Canada.
Canada-Korea Economic Growth and Prosperity Act September 30th, 2014
Mr. Speaker, it is always a privilege and honour to rise in the House. This morning I rise to speak on this historic free trade agreement between Canada and Korea.
I am delighted to be sharing my time with my hon. colleague, the Parliamentary Secretary to the Minister of National Revenue and for the Atlantic Canada Opportunities Agency, and member for South Shore—St. Margaret's, with whom I have had the opportunity to be on the trade committee for the last eight and a half years. He used to be the parliamentary secretary to the trade committee as well, and so we have a good working relationship. He also has a thorough understanding of the importance of this agreement for not only his constituents but all Canadians.
I want to touch on some of the aspects of this free trade agreement and how it would strengthen our trade and investment ties across the Pacific.
This agreement would increase the prosperity of both countries and result in job creation and enhanced opportunities for Canadian and Korean businesses, particularly small and medium-sized enterprises, as well as investors, workers, and consumers.
I do not think members will find any government or any prime minister in Canadian history who better understands the importance of trade to our economy. Trade represents one in five jobs and accounts for approximately 60% of our country's annual income. We also understand that Canada's prosperity requires expansion beyond our borders into new markets for economic opportunities that serve to grow Canada's exports and investments.
As I said, no government in Canada's history has been more committed to the creation of new jobs and prosperity for Canadian businesses, workers, and their families. Deepening Canada's trading relationships in dynamic and high-growth markets around the world is key to these efforts.
I would also like to thank the opposition parties for their understanding and support of why it is important to ratify this agreement quickly and have it implemented by January 1, 2015.
I worked together with my honourable colleague across the aisle, the member for Vancouver Kingsway and the NDP official trade critic, who stated last week in this House that:
This agreement offers the opportunity for Canadian producers and exporters to increase trade with a modern democratic country with a high-income complementary economy.
He went on to say that:
It will level the playing field for Canadian exporters, who can compete with the best in the world....
Finally, he said:
There is no doubt that Korea is both a significant and a strategic economic partner for Canada.
I could not agree more, and in that regard I would like to highlight the key elements of our trade strategy for Asia and South Korea.
The economic potential of Asia is immense, with a constantly evolving political transformation and a monumental demographic shift. Asia is important to Canada because it offers new opportunities to expand Canada's economic prosperity.
The importance of this agreement is that it would be the gateway to the Asia-Pacific, which has a population of 50 million-plus. This agreement would open the doors. That is why our government has taken such a rigorous and strategic approach to trade with Asia.
My hon. colleague, the Minister of International Trade, has travelled numerous times to various parts of Asia, including the conclusion of this agreement with South Korea and the pursuit of agreements with India and Japan. He will be leading a delegation to India next month. These agreements would lead to increased trade and investment, enhancing Canadian prosperity for generations to come.
Investment is a key driving force for economic growth and competitiveness in Canada. Canadian companies that invest overseas can expand their client base significantly and bring capital back into Canada, which can create jobs. Foreign companies that invest in Canada create jobs as well, boost our economy, and contribute to economic growth that benefits all Canadians.
While Canada and South Korea enjoy a strong investment relationship, ample scope remains for further growth in both directions.
South Korea's direct investments into Canada have risen from $397 million in 2005 up to $4.9 billion by the end of 2013. South Korea is the twelfth-largest investor country in Canada and the fourth from Asia.
South Korea is one of the world's great science and technology powerhouses. I am very interested in innovation and technology, and I had a chance to visit Taiwan a couple of times, as well as Korea, earlier this year.
South Korea has one of the highest expenditures on research and development, R & D, as a share of GDP among OECD countries, spending 4% of GDP. While most private sector R & D takes place domestically, South Korean companies have begun investing in research centres overseas, including Samsung in my home province of British Columbia. Others are becoming more active in utilizing overseas R & D staff and resources.
With this agreement's investment-related provisions and Canada's world-leading, cost-effective R & D environment, Canada would become an even more attractive destination for South Korean R & D investment.
Other examples of South Korean companies' continued interest in Canada are not hard to find. KOGAS, South Korea's national gas company, has already invested heavily in a Canadian LNG project.
My colleague across the way will be interested in knowing that Green Cross, a South Korean biopharmaceutical company, will be opening a new company, a manufacturing facility in Montreal, as it breaks into the North American market. For these companies and many more, Canada is the destination of choice.
Something that is near and dear to the constituents in my riding of Kelowna—Lake Country and to wine lovers across Canada is also something that is very appealing to the palate of the people of South Korea, and that is our great Canadian icewine.
As I alluded to, I had the opportunity and the honour of travelling with the Prime Minister and the Minister of International Trade on March 11 to Seoul, Korea, for the signing of the free trade agreement with President Park. It was an historic moment and an incredible experience. At Blue House, President Park's house, we were able to enjoy a toast of Canadian icewine, which was the icing on the cake.
A champion of the Canadian wine institute is the president, hard-working Dan Paszkowski, who indicated:
The Canadian wine industry is pleased to support the Government of Canada in its work to finalize negotiations for the Canada-Korea Free Trade Agreement. South Korea is an important market for Canadian wine producers, as evidenced by the significant growth in the value of Canadian icewine exports, which increased nearly 25 percent between 2012 and 2013. With a successful FTA, the Canadian wine industry anticipates even stronger export growth in the coming years.
I recently spoke with Dan, who said that about 95% of the market right now is the export of icewine to South Korea, but there is a huge potential for other products once the South Korean community starts to taste our product. Something of interest is that the highest price point for red wine is South Korea. These are great things to raise our glasses and cheer about in the future with this agreement.
In other investments abroad, Canadian direct investment in South Korea has fluctuated over the years. We have seen an upward trend in recent years. Specifically, at the end of 2013, Canadian investment stock in South Korea was at $534 million, up from $390 million in 2012.
Canadian companies continue to show increased interest in investing in South Korea. Major Canadian companies such as Magna International, Bombardier—whose facility in South Korea and we had an opportunity to tour with the Prime Minister—and Pharmascience have already invested in South Korea, and more investments and partnerships are on the horizon. Just this past May, the clothing brand Joe Fresh announced it would open its first store outside of North America in Seoul, with plans to open nine more retail outlets in the South Korean capital by the end of the year.
This agreement will level the playing field for Canadian companies in the South Korean market, which we all agree is important. Canadian businesses can compete with the world when they are on a level playing field.
The agreement sets out transparent and predictable rules, something also very important for businesses. They want stability, predictability, and transparency.
The agreement will ensure that Canadian businesses in South Korea will be treated no less favourably than South Korean businesses. It will protect Canadian businesses from discriminatory treatment and provides access to an independent international investor state dispute settlement mechanism. The same rules will apply to South Koreans investing in Canada, further increasing the attractiveness of Canada as an investment destination. I do not think anybody would disagree with each country being treated the same way, respectfully and with the same rules. These rules have been a standard feature of Canada's comprehensive free trade agreements since NAFTA and have been shown time and time again to be in our national interest.
For Canadian companies that invest abroad, there is no substitute for being on site where their clients are. Canadian companies that invest in South Korea will now find it easier to have their professionals on site in South Korea. The agreement will provide new preferential access for professionals from both Canada and South Korea and will facilitate greater transparency and predictability for the movement of businesspersons between the two countries.
Our Conservative government is committed to protecting and strengthening the long-term financial security of hard-working Canadians. Thanks to these actions under our government's free trade leadership, Canadian workers, businesses, and exporters now have preferred access and a real competitive edge in more markets around the world than at any other time in our history.
The global market is shifting. More companies are looking to Asia for growth. The South Korean market provides a landmark opportunity for growth in neighbouring markets in Asia, Japan, and China. This agreement will provide fair access to the whole South Korean market and ensure continued growth for Canada.
Trade has long been a powerful engine for Canada's economy, and it is even more so in what remain challenging times for the global economy. By continuing to actively pursue broader market access and new investment opportunities, we are providing Canadian businesses and exporters with access on preferred terms to the largest, most dynamic, and fastest-growing regions around the world.
I would ask for a quick ratification of this agreement by all parties.
Petitions September 30th, 2014
Mr. Speaker, it is always an honour to rise in the House. This morning I would like to table a petition on behalf of numerous constituents. They are requesting that the House condemn discrimination against females occurring through sex selection pregnancy termination.
Petitions September 29th, 2014
Mr. Speaker, the second petition calls on the House to condemn discrimination against females through sex-selected pregnancy termination.
Public Safety June 11th, 2014
Mr. Speaker, yesterday there was another senseless shooting, this time in Vancouver. Shots rang out in a midday gun battle in busy Yaletown, steps from the False Creek seawall. I am pleased to see that the victim, an innocent bystander and pillar of the community, is now in stable condition, and that the police officer who was injured while defending the people of Vancouver has been released from the hospital.
Our government is committed to keeping our streets and communities safe, by ensuring that those people who engage in evil and depraved actions will be put behind bars where they belong, and where they cannot harm innocent Canadians who are going about their daily lives. I look forward to the individual responsible for this crime facing the full force of the justice system.
Business of Supply June 10th, 2014
Mr. Speaker, the member mentioned she was opposed to income splitting. With regard to families, I have a question with regard to policies this government implemented for income splitting for seniors. Does she believe that is a good policy and if she does not, would the Liberals actually reverse that policy if they formed government?