Steven Blaney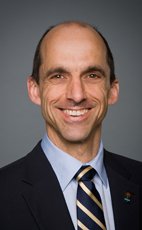 House of Commons photo
Track Steven
Your Say
Elsewhere
Crucial Fact
Conservative
MP for Lévis—Bellechasse (Québec)
Won his last election, in 2011, with 43.90% of the vote.
Statements in the House
Public Safety April 8th, 2014
Mr. Speaker, the member should know well that this government has committed, with the provinces, for years, working hard on the economy of policing. He can get a crash course if he wants to.
We believe that we can provide Canadian society with better services by improving the efficiency of our police services, streamlining our justice system, and finding ways so that policemen are not behind desks working with red tape but are serving our people.
Citizenship and Immigration April 2nd, 2014
Mr. Speaker, we have one of the most generous immigration systems in the world. Every year, this country welcomes more than 250,000 new immigrants. This level is unprecedented.
When a person is here illegally, that person has many recourses. However, once those are exhausted, CBSA, the Canada Border Services Agency, must and does apply the law of the land.
Public Safety April 2nd, 2014
Mr. Speaker, as I just stated, the RCMP took action immediately as of yesterday afternoon and is investigating this completely unacceptable incident. Like my colleague, all members of the House and all Canadians, we expect the RCMP to treat those they deal with in their day-to-day operations with the utmost respect.
I have been assured by Commissioner Paulson that, as the facts show, steps had previously been taken to ensure that these situations never happen again, and this situation in particular will be thoroughly investigated.
Public Safety April 2nd, 2014
Mr. Speaker, I understand that the member is referring to what happened in Nova Scotia.
Like all Canadians, I expect all members of the RCMP to conduct themselves with professionalism and respect at all times. I have raised this serious issue with Commissioner Paulson and have been assured that steps have been taken to investigate this situation.
I completely agree with Staff Sargeant Gary Fournier of the Nova Scotia RCMP, who said: "The comments brought to our attention today are totally unprofessional. They're unacceptable.... They certainly don't represent the views of the RCMP or the members of the district or members across the province who respond to calls for service each day".
Public Safety March 31st, 2014
Mr. Speaker, I thank the hon. member for his question.
It allows me to highlight the excellent work being done by the Canada Border Services Agency. Indeed, over the past year, border services officers have seized nearly $300 million worth of drugs. That represents a 4% increase over the previous year. This demonstrates the remarkable job that the agency has done, and above all, it proves that our government's investment of 26% is getting results. Now if only the Liberals would get on board.
Public Safety March 27th, 2014
Mr. Speaker, in life it is important to understand what our responsibilities are. If my colleague wants to address this issue, I invite him to consult the provinces because that is clearly their responsibility.
Public Safety March 27th, 2014
Mr. Speaker, I am proud to inform the member that we have indeed increased the number of border service officers so they can provide better service and make sure that our frontier is open for trade and commerce and closed for any illegal activities.
I will be happy to get back to the member on that particular point.
Privacy March 26th, 2014
Mr. Speaker, I just answered that question, but I would like to repeat that Canada has some of the toughest privacy legislation in the world. Our government takes this matter very seriously on behalf of honest Canadians.
As I said, the Canada Border Services Agency complies with current Canadian legislation, in regard to the issue raised and all requests for information.
Privacy March 26th, 2014
Mr. Speaker, when it comes to privacy, Canada has some of the toughest legislation of any country in the world. On the point that the hon. member raised, I would like to reassure him. This is a common practice, and one that is within the law. In these matters, we expect all agencies to obey the law, and that is exactly the case in the example given by the member.
Public Safety March 25th, 2014
Mr. Speaker, like the member for Medicine Hat, I am appalled to see these types of comments from someone who educates young people.
Front-line police officers selflessly put themselves in harm's way to protect fellow Canadians and deserve our unending gratitude. Attacking a tribute to a heroic policeman such as 35-year-old Sergeant Ryan Russell, who was hit hard by a snowplow and killed while trying to protect people from a dangerous individual, is shockingly disrespectful and despicable.
I can assure the House that the government will continue to support its law enforcement agencies and will pay its respects to those who make Canada one of the safest places in the world.