Steven Blaney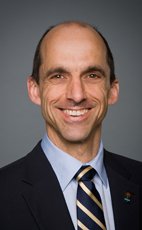 House of Commons photo
Track Steven
Your Say
Elsewhere
Crucial Fact
His

favourite word

is victims.
Conservative
MP for Lévis—Bellechasse (Québec)
Won his last election, in 2011, with 43.90% of the vote.
Statements in the House
Public Safety October 21st, 2014
Mr. Speaker, the majority of emergencies in Canada are local in nature and are managed by local or provincial governments. The original objective of the joint emergency preparedness program was met. It was to enhance local emergency preparedness.
We will continue to invest in programs such as the $200 million to prepare communities to tackle natural disasters.
Public Safety October 10th, 2014
Mr. Speaker, why try to defend the indefensible? We are talking here about political leaders who condone terrorist acts. The public safety critic had the opportunity to ask this question in committee and he got his answers.
The policy that we have put in place to combat terrorism is working because the RCMP is conducting investigations. Charges are pending against over 100 individuals.
Why are these individuals under investigation? Because our government fulfilled its responsibilities by implementing laws to protect our country.
Public Safety October 10th, 2014
Mr. Speaker, I am proud to rely on our national security intelligence and the great work of our law enforcement agency.
Let me quote the director of CSIS, Michel Coulombe, who said to Parliament, to the people of Canada, this very Wednesday, "The threat is real", but not imminent.
I invite the member and all parliamentarians to support this government in moving forward to provide tools to our law enforcement agency, to our national security intelligence, so they can do their work, track the terrorists and keep our country safe.
Public Safety October 10th, 2014
Mr. Speaker, we take terrorist threats very seriously in Canada. That is why we brought in the Combating Terrorism Act, which allows us to lay criminal charges against individuals who travel to commit terrorist attacks. Why did the member and his party oppose this law, which is essential to protecting the safety of Canadians?
Public Safety October 9th, 2014
Mr. Speaker, I thank the chair of the public safety and national security committee for this important question. He has done great work on this issue.
Our national security agencies are constantly reviewing the threat to our country and taking action to keep Canadians safe.
Although I cannot comment on issues related to national security, it is clear that the Islamist terrorist threat is serious and that we need to remain vigilant.
That is why I count on the support of all parties when our Conservative government brings action to provide tools so that law enforcement and national security agencies can keep our country safe.
Public Safety October 9th, 2014
Mr. Speaker, there is a four-part plan to combat terrorism.
It is chilling to hear the kinds of comments being made here. There is no room in Canada for giving in to terrorism and barbarism. If a politician hears such comments, he should avoid associating with that person and use some common sense.
Public Safety October 9th, 2014
Mr. Speaker, I thank the member for Dauphin—Swan River—Marquette for his outstanding work and support with his team for wildlife, sports, and outdoor activities.
Of course, our priority is public safety. That is why there is mandatory training. That is why individuals who engage in domestic violence will lose their licences.
That is why we will cut red tape and make sure our country can restore dignity to those who are law-abiding citizens.
Public Safety October 9th, 2014
Mr. Speaker, what is really hurting the safety of Canadians is when politicians engage in partisanship and do not stand up to make this country more safe.
What is making this country safe is that this government has tabled a counterterrorism strategy with the combat terrorism act. We would revoke citizenship. We would revoke passports.
We are acting on terrorism, and members opposite vote against those measures.
Public Safety October 9th, 2014
Mr. Speaker, I would remind the hon. member that our government increased the number of front-line border officers by 26%. That is what we did.
I would also remind my colleague that, despite objections from the Liberals and the NDP, we passed legislative measures that allow us to revoke the Canadian citizenship of dual-nationalists who commit crimes, including acts of terrorism. We also passed an anti-terrorism law, which included a strategy.
What did the NDP do? They voted against it.
Public Safety October 9th, 2014
Mr. Speaker, as I have said, we welcome the recommendations of the Correctional Investigator.
However, we will not do what the New Democrats want to do and give inmates pensions. We see no sense in that.
We are going to continue to ensure that the Correctional Service of Canada works to keep criminals behind bars and we are going to ensure that those with mental health problems are dealt with appropriately.
I have implemented a strategy precisely in order to improve the services provided to inmates with mental health problems, and I look forward to seeing Correctional Services' report in response to the report on the investigation conducted by the Ontario coroner.