Steven Blaney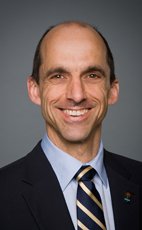 House of Commons photo
Track Steven
Your Say
Elsewhere
Crucial Fact
His

favourite word

is victims.
Conservative
MP for Lévis—Bellechasse (Québec)
Won his last election, in 2011, with 43.90% of the vote.
Statements in the House
Human Rights June 18th, 2014
Mr. Speaker, I thank my colleague for her question.
Millions of passengers cross our borders every year. Border Services officers have a duty to welcome them with the utmost respect.
I can obviously assure my colleague that our Border Services Agency will treat people with great dignity. If an incident arises, there are mechanisms in place to deal with it.
Public Safety June 12th, 2014
Mr. Speaker, I picked up the phone this morning, I can assure my colleague. Our exchange was very good, because the government in Quebec City is concerned about public safety and is proud that Quebec is part of Canada. I am sure that my colleague will agree with me. The Quebec government is a government like ours that is committed to keeping criminals behind bars, and that is what we will continue to do.
Transport June 12th, 2014
Mr. Speaker, I have answered that question. If the previous separatist government was in such a hurry to do something about this, then why did it wait seven months to send a letter to the Canadian government?
That being said, we will continue to work closely with the current government. However, we have to realize that an imaginary line is not necessarily going to keep seasoned criminals from breaking the law. We will continue to enforce the law and track down criminals.
If the hon. member or anyone else has any information, they should notify the police.
Transport June 12th, 2014
Mr. Speaker, I thank my colleague for her question. I had the opportunity to speak to Minister Thériault today about how we can improve penitentiary security. I can assure her that action is being taken with respect to federal penitentiaries.
As for what happened at the provincial prison in Quebec City, we are offering our assistance to the Quebec government. It is important to recognize that a no-fly zone is a limited method that criminals can disregard to get what they want. However, we will continue to work with the Government of Quebec.
Protection of Communities and Exploited Persons Act June 12th, 2014
Mr. Speaker, I feel privileged to ask a question of the member for Kildonan—St. Paul, who is a model and a source of inspiration for our government in its fight against human trafficking and for the victims of prostitution.
I want to commend the remarkable work of our colleague. We are very proud to stand with her in this party. She has been a great source of inspiration. She met this morning with people who have been victims of prostitution and have been able to exit. I would like to hear this from the member. Is it important for our government to put exit strategies in place for those victims of prostitution? What is the profile of those individuals? Who is the typical person this bill is aimed at supporting and helping?
Transport June 11th, 2014
Mr. Speaker, I would like to reassure my colleague. We all know that three criminals are on the loose. We are supporting the Government of Quebec's efforts to catch these dangerous individuals. If the member or anyone else has information, they can contact Canadian or Quebec authorities.
Public Safety June 11th, 2014
Mr. Speaker, a whole nation came together yesterday to mourn our three fallen heroes: RCMP Constables Larche, Gevaudan, and Ross.
Our thoughts and prayers are with the families of these young officers, who were taken in the prime of their lives.
We would like to express our gratitude to the law enforcement community and emergency response services for their remarkable conduct during those tragic hours as well as to the courageous people of Moncton who were so useful.
We will remember them.
Privacy June 4th, 2014
Mr. Speaker, our country has robust organizations to oversee the agencies that enforce our country's laws, such as the Canadian Security Intelligence Service. Its review committee includes former NDP members of Parliament and members of other political parties. Furthermore, the current Premier of Quebec was formerly a member.
It is important to have external organizations overseeing our agencies, and our country has some very good organizations.
Tougher Penalties for Child Predators Act June 2nd, 2014
Mr. Speaker, I would simply like to repeat that the local authorities are the ones who will notify the public about sexual predators. The registry will include high-risk sexual predators.
I think that a mother is in a good position to know what information she would make use of, keeping in mind the need to be careful. We always need to be prudent and remain vigilant, making sure that we take precautions, as was said earlier. We want to avoid hare-brained initiatives. We will create a reliable process so that parents can get the information.
Tougher Penalties for Child Predators Act June 2nd, 2014
Mr. Speaker, the member for Yukon is doing outstanding work. I had a chance to visit him. He is a former police officer. He has a long experience in the correctional services. He is a well-respected member and is also an athlete.
That being said, to get back to the core of his question, it is all about the victims. I am proud to stand in a government that is standing up for victims.
I come from Quebec. I sit in the Quebec caucus with members like Senator Pierre-Hugues Boisvenu who has experienced the tragic loss of his daughter. That is why I am so proud to work with the Minister of Justice to bring forward legislation that is bringing a voice for victims into our justice system, and that is making sure that when we are making decisions and taking those inmates out of prison, we take into account the concern of the victims.