Tony Clement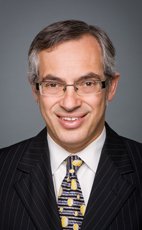 House of Commons photo
Track Tony
Your Say
Elsewhere
Crucial Fact
His

favourite word

is spending.
Conservative
MP for Parry Sound—Muskoka (Ontario)
Won his last election, in 2011, with 55.70% of the vote.
Statements in the House
Small Business September 18th, 2014
Mr. Speaker, as you know, there is actually a bill before this House to legislate the one-for-one rule, which means that any regulatory agency in the Government of Canada that puts in a new regulation that affects small business has to take at least one of a similar magnitude out. We have already had this rule in place informally, and it has meant savings for small businesses of over $22 million and a reduction of over 290,000 hours in time spent filling out paperwork.
On this side of the House, we are in favour of small business and we support small business. On the other side of the House, they do not.
Government Advertising September 18th, 2014
Mr. Speaker, the government is responsible for informing Canadians about the programs and services available to them. Advertising is of course an essential means of informing Canadians about important issues, such as stimulus measures, tax credits and public health issues.
Questions on the Order Paper September 15th, 2014
Mr. Speaker, with regard to (a), (b) and (c) iii, (v), (vii), and (viii), information can be found at http://www.tpsgc-pwgsc.gc.ca/pub-adv/annuel-annual-eng.html.
With regard to (c)(i), (ii), (iv), and (vi), the Government of Canada does not disclose information about the specific amounts paid for individual ad placements or the amounts paid to specific media outlets with which it has negotiated rates. This information can be considered third-party business sensitive information, and may be protected under the Access to Information Act.
Government Accountability June 5th, 2014
Mr. Speaker, as I already said, of the total number of access to information requests that have been replied to since 1983, 50% of them have been replied to by this government. We have replied to more access to information requests than the Trudeau, Mulroney, Turner, Campbell, Chrétien, and Martin governments combined. That is our record on access to information and we are darn proud of it.
Government Accountability June 5th, 2014
Mr. Speaker, I can say that this government has been responsible for processing over 50% of all access to information requests submitted since the law was enacted in 1983. Every year since we have been in power, the number of access to information requests has gone up.
We are acting. We have over 200,000 datasets online for complete information for the Canadian public as well. Our record is second to none when it comes to access to information.
Government Appointments June 5th, 2014
Mr. Speaker, again, Mr. Therrien is the best candidate for this position. Yesterday, the NDP said that the Privacy Commissioner is not the best candidate, and then they turned around and said that we have to listen to the commissioner. That is a hypocritical position.
Government Appointments June 5th, 2014
Mr. Speaker, the Privacy Commissioner is a person with over 30 years' experience in legal and privacy matters. He comes from a field of highly qualified candidates, and he was the best candidate.
It will be interesting to see, as question period progresses, whether NDP members will repeat what they did yesterday when they had one round of questions decrying the selection of the Privacy Commissioner and another round of questions asking why we did not listen to the Privacy Commissioner. I would like to see what sort of mail-outs they are going to have on that one.
Privacy June 4th, 2014
Mr. Speaker, I say no such thing. What I have said repeatedly is that we have a nominee who is well versed on legal matters and privacy matters. He has over 30 years of experience working for the Canadian public. He is an exceptional candidate. That is why I was proud to recommend him to the Prime Minister and the Prime Minister to this Parliament.
For this member to drag him through the mud without any regard for his service to this country is, quite frankly, shameful.
Privacy June 4th, 2014
Mr. Speaker, allow me the opportunity to repeat that this individual has over 30 years of experience on legal matters, as well as privacy matters, as a public servant, a person who has served our country. Indeed, that is why there is not just a privacy commissioner; there is a privacy commission. There are individuals who well trained to deal with all matters dealing with privacy, and I am sure in any instance where the privacy commissioner cannot act, the office can still act.