Roy H. Bailey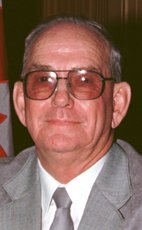 House of Commons photo
Elsewhere
Crucial Fact
His

favourite word

was saskatchewan.
Last in Parliament May 2004, as

Canadian Alliance
MP for Souris—Moose Mountain (Saskatchewan)
Won his last election, in 2000, with 63% of the vote.
Statements in the House
Open Government Act April 26th, 2004
Mr. Speaker, I am pleased to support my colleague's bill, Bill C-462, an act to amend the Access to Information Act and to make amendments to other acts.
I would like to begin by posing a question. Has there ever been a time in our history since Confederation in 1867 that we needed more timely and quicker access to information than we presently have today? If we were to put that question out there, not only to the House but to the public in general, I think they would say that we need this act very badly.
That is why we in this party will be supporting the bill in principle. When we take a look at the amount of information and what a government does today and compare it to even one generation ago, the business, the budget and everything else, we need that information and Canadians need that information. I am saying that the bill is very important mainly because of the democratic deficit that we are facing in this country.
I want to tell a little story about accountability and access to information. It goes back many years ago when I was principal of a school. My office was at one end of the building and my youngest daughter was in a classroom at the extreme other end of the building. When she would drop into my office to say hello I would ask her what she was doing at this end of the building. She would say that she had come to use the washroom. I would tell her to go back and use her own washroom and back she would go.
I received some information about six or seven years later concerning my daughter. She told me that during those times she had been sent down by her teacher to see the principal and to tell him that she had been misbehaving in class. When she went back to her classroom the teacher would ask if she had spoken to her father and she would say "yes".
I tell that story because it compares very much to what happens when someone puts in a request for access to information. They want the story. They want everything. Sometimes we get asked, if nothing else, to rewrite the question. The questions in many cases do not need rewriting. It is the answers that are rewritten so as we and Canadians do not get the total information.
For instance, suppose I were to ask questions through access to information about the Saskatchewan junior hockey league at the present time, which receives no salaries, and asked why the only pure amateur hockey league in Canada was subjected to an audit when no other pure junior hockey league in Canada was. Would I get an answer? No, I would not get an answer because there is no excuse for that happening. We need to correct problems like that and I believe Bill C-462 would correct a great deal of that.
The bill proposes 37 different amendments. What we find in those amendments is that Canadians, through their members of Parliament, would be able to get information that otherwise they would not be able to get as individuals.
I will give a case in point. At one of my border crossings, a huge building has been constructed, apparently by the government. The building has now been sold. Was it legally tendered? Nobody out there knows. How many private offers were received? Nobody knows. What did the building sell for? Nobody knows. How much was paid for the building? Nobody knows. That type of information is not doing anything to knock down the democratic deficit, not one little bit.
This bill reflects the work of an all party committee formed two years ago. For two years they have worked on this bill and I think that the two years' work done by this committee deserves the proper attention of this House. I think it deserves the support of every member of this House. Albeit it is a private member's bill, but every member should support this bill so that we can go to the people--it is much more timely now, with an election coming up--and say that we now have an access to information bill through which they can, through their member of Parliament, get the information they want and should have.
I know, and every member of this House knows, that there are certain bits of information that are private. There are certain bits of information that should not be divulged, such as when courts are in session and all the rest of it, but at the same time, the government can manufacture more excuses for not providing Canadians with the information they need.
As I said at the outset, and I will repeat it again, there has never been a time in the history of this country like this, when Canadians need to get that information and they need to get it quickly. Canadians have a right to know what is going on in government.
At the present time, the committee on public accounts cannot even get the information it wants from the people who could and should be giving them that information. This is what is upsetting Canadians today. This information is guarded, it is secret and it is locked away. That has created in this country a democratic deficiency like we have never had before. These 37 amendments would do a whole lot to prevent the government from acting and working in secrecy.
For instance, back in the 1930s, the Prairie Farm Rehabilitation Act was passed to help rejuvenate the three prairie provinces, mainly with pastures, water, dugouts, dams and so on. Do members know that if a farmer puts in a requisition for a deep well, a dugout or a dam at the present time, there is a two year waiting list? In other words, this portion of that act simply does not exist.
We need to know and they need to know why there is such a long waiting list. Is it the funding? What is wrong with this? Why is it not working? The simple answer from a minister that government is putting its money in other places does not really tell the whole story. And this is just one area.
As I said at the beginning, never in the history of this country have we needed information more than we do right now. I want to close by asking a question, not only of the House but of this country. Can any nation that declares itself a democratic nation ever have too much accountability in regard to the operation of government? I do not believe it can.
That is why I am asking all members of this House to take a look at my colleague's bill. It will do a whole lot for democracy in Canada. Let us not turn it down. There is too much good in this bill.
Income Tax April 20th, 2004
Mr. Speaker:
Sit down my friend and just relax It's time to pay your income tax. For whether we are great or small They call us one, they tax us all. They tax the collar on the dog And tax the nose-ring on the hog. They tax the wing badge on the hen And tax the feeder in her pen. They tax the baby in his crib They tax his shirt and tax his bib. They tax the diaper on his seat They tax the bootees on his feet. They tax the mattress in his bed They tax the bonnet on his head. Thank God he cannot comprehend That they have taxed him end to end. They tax the coffin where you sleep Enough to make the angels weep. They tax the grave where you are laid And make darn sure the tax is paid. They tax the flowers friends sent for you Because they need the revenue. They tax you all the way through life When you are gone they tax your wife. To all taxmen I wish you well May each of you wind up in--well. Down there no doubt you can relax For the devil needs no income tax.
The Budget March 29th, 2004
Mr. Speaker, it is about time somebody opposite gave a little credit to the people in Canada. Let us take a look at the workers and the employers who have been overtaxed through EI by $48 billion. No question about it, but no thanks.
Is that the way the government keeps its house in order? When health care has dropped from 50% down to 14%, is that the way a government keeps its fiscal house in order?
Finally, we have a military that is the laughing stock of the world, not the military itself, but the funding for it and their equipment is the laughing stock of the world? How can anyone possibly stand and say that the government has done a great job financially when it has done it on the backs of Canadians and our military forces?
The Budget March 29th, 2004
Mr. Speaker, last week a program was announced that would put some money into the cattle herds in western Canada, but it fell far short of what is required.
A person with 200 head of cattle who kept back 20 replacement heifers was paid $56 for that exercise, and ended up getting $1,120. I told the Chambers of Commerce where I live that no money was flowing down the street from this government. The announcement that was made was slightly less than what farmers anticipated. As far as the individual cattle producer was concerned, he got little, if anything. I would like my colleague to comment on this situation.
Older Adult Justice Act March 29th, 2004
Mr. Speaker, I am pleased to say a few words to a bill that recognizes the fundamental fact that older adults are often vulnerable to exploitation, abuse and neglect. In each case, if it is just once it is too often.
With Canada's growing population and the growing percentage of older people, it is a good thing a bill such as this is before the House. I want to question some things in the bill but, in general, if it wakes up the public to the vulnerability of older people, our seniors, it is a good bill.
The principles of the bill include the prevention and treatment of the problems out there, and I know there are problems. Having looked after my own parents and members of my wife's family, I am very well aware of the problems. I am not talking about my age. I am talking about their age. I want to point out that we have to be very vigilant that older people are not being mistreated or are vulnerable to exploitation.
The bill also includes in sentencing the vulnerability of the adult victim as an aggravating circumstance under the Criminal Code. I like that very much. We often sidestep this issue mainly because people are older and they are not about to complain as much.
The principles in the bill are generally sound and generally worthy of support. We on this side, and particularly my colleague, the member for Wild Rose, have been very vociferous about the protection of children under the law.
We have the opposite ends of the spectrum here. How quickly we become worked up and emotional when children become victimized. We should also be worked up and caring under the law when it is the other end of the spectrum, the seniors.
I have one concern about this, and I would like to look at it more. Would the new agency, which the bill would establish, mean another government bureaucracy? Would infringe on provincial rights as they now are? However, the overall objective of the bill is certainly worth supporting.
Not too long ago, I think it was on CTV, we saw the treatment of our seniors in some of our homes. It was a terrible account to witness. That kind of treatment should have never have taken place. On the other hand, I have to admit that members in my family have been placed in institutions like that, and I have nothing but admiration for the care they have received. It goes to the opposite end of the spectrum.
I have been watching elections since 1948 and one of the worst cases of exploitations has been political. While no money is involved, I know it has happened. Even in recent elections an ordinary paper was pushed under the doors of senior saying that if they voted a certain way, their rent would go up or if they voted a certain way, they could lose a portion of their old age pension. There is no way of knowing who put that paper there.
That is pure political exploitation, and it comes under the Elections Act. Yet I have never seen or heard of anyone being charged. It is a terrible thing to go visit these people and have them show me what they received under their door. That should be punishable as a huge crime.
What about the ads on television? They are bordering on the vulnerability of older people. The one ad I see more often than any is the one on home real estate. That one I question because I do not think it is really necessary.
The other issue is the soft, sweet-talking charities that phone. We all have them call, and seniors are most vulnerable to it, particularly when it deals with children. We should take a look at the bill. Should charities be phoning people of this age, in particular when they are living by themselves with no help?
I do not object to charities because I think most of us in the House agree they need to be supplied with financial assistance. The question then becomes, how will we approach this? How will we set this up? What new agency will be there? Do we really need a new agency or do we need to work with the province to establish more federal support? I do not know the answer to that, but I do know this. The feeling we have in our hearts about people who have abused children should be taken with the same context as those who would deliberately abuse the vulnerability of age. There is no difference in my thinking, none whatsoever.
As I said, I have seen a great deal of this in my time. I have seen it even within families. It is the responsibility of every Canadian to be cognizant that this abuse occurs. If nothing else, if the bill were to alert Canadians from coast to coast to coast that older people, particularly those living alone, are the most vulnerable, then the bill in itself would be worthwhile. Each of us should take it upon ourselves to talk to these people about how they are approached and how they have too often become victims financially. That ought not to happen.
We on this side of the House like what we see in this bill. We like what we have proposed and hammered away about the protection of children, as they are vulnerable. We like how the bill addresses the issues of exploitation, abuse and neglect of our seniors, particularly when it comes to groups of people organizing to prey upon seniors. That happens in our larger cities.
In conclusion, we will support the bill, but we want to look further at what is the best way to move it forward and what is the best way to alert Canadians of this. Perhaps we could put a good ad on television. Most seniors are great television watchers. We could hit them at the right time, not too late in the evening. It would be great to come forward with this.
My colleagues on this side of the House will indeed support the bill.
The Budget March 25th, 2004
Mr. Speaker, I want to mention an item in the budget with which most Canadians agree, and that is the item that falls under the athlete assistance program. There will be a slight increase in that and I think Canadians in every province agree with that. Certainly, I know it is true in the Province of Saskatchewan.
I note that the government is spending roughly $1.75 million or maybe a little more now in monthly living and training allowances for these people because they are amateurs. We agree with that too. One thing that hits back home in my province is that a senior card member being trained gets an allowance of $1,100 a month for living and training expenses, and a junior gets $500 a month. The amateurs who play in the Saskatchewan junior amateur hockey league get zippo, but the federal government charges them. It charges these people who have no salary EI, CPP or other deductions. It is totally unfair and done only in Saskatchewan.
I would like to ask my friend from Cambridge, does he figure that this is an equality thing that is happening with Saskatchewan paying this price while amateur athletes chosen by the federal government get exemptions?
Customs Tariff March 23rd, 2004
Of course, Mr. Speaker, every individual, particularly in the opposition but also on the government side, has many personal things that he or she would like to get to. The member who has just spoken has things he would like to get to.
For instance, I have some quarrels with the minister in charge of amateur sports. I would dearly love to get at that because I have an issue that very much affects my province. We should be able to get these things out of the way and bring in new legislation. This would be meaningful legislation, particularly with the playoffs going on in the Saskatchewan Junior Hockey League. I would love to stand and debate that particular issue, but it looks like I will not ever have that opportunity.
This bill is the type of legislation that I would prefer not to see at this time. I would prefer new legislation for which people have been waiting for over a year.
Customs Tariff March 23rd, 2004
Mr. Speaker, I truly hope that the bill is not before us at the present time as what we might call a "time filler", something that is just putting in time until something else comes along. Today we will have the budget speech. I hope this bill is not here for any purpose other than that of having the members on both sides examine the bill and having them able to truly say that we want to look further at the bill. Then the members on that committee will have a better idea of what the House is talking about today.
I hope this bill is not being used as a filler. If it is, I would be very disappointed in the government for its exercise of that tactic at this time.
Customs Tariff March 23rd, 2004
Mr. Speaker, it has been interesting to sit and listen to the comments on this topic. One would think, from listening to people and from what we often hear on television, that globalization is an evil thing that will destroy our world, create poverty in every nation, destroy our health system, and it goes on and on.
We cannot return to the isolation and we cannot return to the trade barriers. The world is not geared for that today. I am not just talking about trade. When I walked into the lounge yesterday I saw our Prime Minister, the Deputy Prime Minister and the Minister of Agriculture and Agri-Food speaking to us live from Lethbridge, Alberta. I came into the House last night for the votes and they were before us.
Not only has globalization increased in every field, but we live in a world where globalization is part of us and we will never return because of what we have attained over the last 50 years. I remember as a young person saying that one can take a pole and stick it in the wheels of a buggy to try to slow it down but it will never stop because we continue to move ahead.
In moving ahead, we see all kinds of imperfections. We see all kinds of things that go wrong. If we go back a century ago, the Wright brothers had some real problems. They did not fly very high, but in 100 years, Mr. Speaker, look what we have done in that field. Through that, we have a society that is a truly globalized society.
When I was a boy and my MP returned home from Ottawa, it was three days travel on the train. Today it takes a few hours. No one would want to go back to those conditions.
I walked into the General Motors dealer the other day, not to buy a new car but to look at some new models that had been perfected in an agreement with General Motors and were now being made in Korea. The ideas of joint ownership, joint manufacturing and sharing joint information is part of this new globalization. Heaven forbid if we were to ever put up barriers to stop the free flow of ideas, inventions and so on.
I am presently involved in a bit of a misunderstanding that has been brought to my attention by Rotary International, which has a yearly exchange of young entrepreneurs. These people, who are professionals in business, have exchanges with rotary clubs here in Canada. It is a wonderful experience. It has been going on for over 25 years and we would not want to stop it.
We often hear things about globalization and how it will ruin our society. Well, very few people will go home tonight and not turn on the TV. When one thinks of what we are able to do now and how quickly information can spread across countries and between our neighbours, we would not dare go back. The world in which we now live is a global world, not just because of trade but because of communication, language and telecommunication. It is a world of trade in areas other than just the things we manufacture.
We will never have a perfect trade system. We never had it in the past and we will never have it in the future. One of the things that I, as a western Canadian, constantly face are the barriers put up by countries in the way of subsidies. Those are the things that hurt our province badly. We have lived with that and have suffered because of it but it has only been recently that our standard of living has gone down because of it.
Before World War II, the United States declared itself self-sufficient; that it would live within itself. That was a disaster. Regardless of how small a nation is or what continent a nation is on, no nation in today's world can live as an island to itself. I have great fears when I hear people say that we must restrict this or that because Canada is a world trading nation. To have any nation, including our nation, move into a position where that trade would be restricted would be extremely dangerous.
Some people say that globalization will ruin our culture. At the same time, the same people say that the importation of people into Canada makes it a multinational and that we are enriched by that, but yet when it comes to trade, it is somehow an evil effect.
In Canada, we often hear that on CBC and we often hear that coming from the rulings of the CRTC. I am not too sure that in this world of communications that we have today that globalization would really protect us very much. Those countries that have isolated themselves and have thrown trade barriers around themselves will eventually involve themselves in civil wars of all kinds. Isolation today simply will not work.
We have world patents in medicine. North America and Europe have been able to supply to the world, through globalization, many of the medicines that help stem epidemics.
The bill does not and did not intend to address the difficulties we as a nation have with the world trading organization. We are often hurt very badly by the slowness in settling disputes. We also have a lumber industry in Saskatchewan and we, too, were hurt by the United States on the softwood lumber agreement.
I think most Canadians would agree that the number one danger of these trade agreements is that the problem takes too long to resolve. I know the bill does not deal with that in particular, but we need to take some time at a later time to see what we can do to bring disputes to fruition and to an end so that nobody gets hurt for any long period of time.
Some day I would like to see a world where everything trades as freely as possible. I would like to see a lot of the barriers lifted. I do not think the living standards around the world would be hindered in any way if we were to extend free trade, lift the barriers and the taxations and so on which prevent the goods flowing back and forth.
We will support the bill. We think it is a good bill. I do not particularly like the differences in labelling certain countries. I do not think that will serve as too much value if you want to look down the road in 10 years, and we do need to look at trading and sharing our information and accepting their information. My colleague from North Vancouver did a magnificent job in explaining that world trade and sharing these ideas is bound to follow the trade, as it does in transportation, as it does in communication and so on.
We are not totally satisfied with the bill. I personally have some disagreements with it, but the bill is a good bill in principle and my party will be supporting it.
Customs Tariff March 23rd, 2004
Mr. Speaker, my colleague and the hon. member from Winnipeg mentioned fabrics in some detail. I believe one was denim. I am particularly interested in the fact that in Canada we do not grow cotton which, throughout the world where it grows, has great competition from synthetic fibres.
However, we are doing something in Canada and within my own constituency. We are developing a hemp plant, an amazing plant that can be grown best in western Canada, albeit it has to be licensed. I have seen some of the products made from it. Talking about denim, as my colleague was, we could produce denim here that would be equal to or greater in wearability than that which we import. Not only that, there are many other uses.
In looking at this bill, we see that we are going to spend $60 million, as my colleague has mentioned. I am not saying that this money should come out of this bill, but I suggest that in order to balance it we could sell raw material as well as produce textiles here. I have seen jackets similar to this in the experimental stage. They can be made here. Not only could we produce raw material for other countries, but we could lessen our dependency on some of the imports.
Here is what I want to ask my hon. colleague. Would it upset this bill if we took some innovative money from other sources opposite us here, from western development and so on, and worked in earnest on developing a type of plant and product that not only would serve the textile industry in our own country but would have various other uses? Much would have to be produced. For instance, we could make tarpaulins and certain types of rope, et cetera. We can make them all here, but we are reluctant to do so and I am reluctant to say we should. I do not know enough about why it cannot be done. I would like to ask my hon. colleague if he would not encourage this type of thing, which is all part of the balance of trade options.