Bob Dechert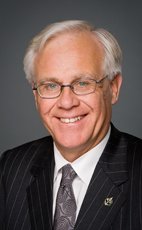 House of Commons photo
Track Bob
Your Say
Elsewhere
Crucial Fact
Conservative
MP for Mississauga—Erindale (Ontario)
Won his last election, in 2011, with 47.00% of the vote.
Statements in the House
National Capital Act March 7th, 2014
Mr. Speaker, I listened to the hon. member's speech. She went on at some length about the protection of animals and plant species in the park that are very special. That all sounded very good to me. I have had the opportunity to visit the park many times. I think it is a wonderful place, and I encourage all Canadians to visit it when they are in the national capital region.
One thing that concerns me though is that in proposed paragraph 10.1(1)(e) of the bill, it appears to allow hunting and fishing in this great treasure of the national capital. That seems very dangerous to me. There are thousands of Canadians, many young schoolchildren, that go there. I believe there are camps there in the summer, and throughout the year, children's classes go there on hiking expeditions and that sort of thing. Now, she is suggesting that people be allowed to hunt there.
My question is, given the limited enforcement powers of the National Capital Commission and its officers, how would she suggest that hunting be regulated in the park, to keep visitors safe, and how much would that cost?
An Act to amend the Access to Information Act (transparency and duty to document) March 5th, 2014
Mr. Speaker, I rise at this time to comment on Bill C-567, an act to amend the Access to Information Act, transparency and duty to document. This private member's bill by the hon. member for Winnipeg Centre would make a number of amendments to the Access to Information Act.
I do not know if members of this House are aware that the NDP member for Winnipeg Centre introduced his first private member's bill to amend the Access to Information Act in May 2008. Bill C-554 was at the time entitled "An Act to amend the Access to Information Act (open government)".
I will say that the proposals contained in that bill were not new. The member of Parliament was essentially introducing proposals developed by Information Commissioner John Reid in 2005. Some of these proposals were even endorsed by Justice John Gomery in his 2006 report for the commission of inquiry into the sponsorship program. The proposals are overall the same: expanded coverage of the act, duty to create records, repealing the exclusion for cabinet confidences, et cetera. Bill C-554 died on the order paper with the dissolution of Parliament in 2008.
The member for Winnipeg Centre reintroduced his bill in the 40th Parliament in February 2009. It was then numbered Bill C-326, and it was also called "open government". The bill did not progress after first reading.
The same proposals were reintroduced by the member for Winnipeg Centre in September 2011 in Bill C-301 under the same title. The bill did not go further than the first reading.
Here we are today with Bill C-567, an act to amend the Access to Information Act. Bill C-567 is subtitled "transparency and duty to document" instead of "open government", but it is essentially the same as the previous bills.
We can all agree that strong access to information legislation is essential to a properly functioning democracy. It is true that an effective system of democracy requires the government to be accountable for its policies and their administration. We all recognize that access to information legislation acts as a check on government activity.
In one of its first judgments regarding the act, the Supreme Court of Canada clearly stated that for a country to have access to information legislation is an integral part of democracy. Our government wholeheartedly agreed with this view.
Let me turn now to all the steps our government has already taken to promote open government, transparency, and accountability.
In April 2006, our government introduced the Federal Accountability Act and action plan. Through the Federal Accountability Act and action plan, the Government of Canada brought forward specific measures to help strengthen accountability and increase transparency and oversight in government operations. The comprehensive action plan includes the Federal Accountability Act as well as supporting policy and other non-legislative measures.
The Federal Accountability Act amended the Access to Information Act in important areas. It focused on openness and accountability by expanding the coverage of the act to include a number of officers of Parliament and all Crown corporations, as well as various foundations created under federal statute. It also facilitated openness by creating a duty for government institutions to assist requesters without regard to their identity, and to make reasonable efforts to respond accurately and completely to their requests, in the format requested.
However, the federal accountability action plan did not just amend the Access to Information Act to improve transparency, openness, and accountability of government; it also amended other specific legislation and strengthened the policy framework to improve accountability.
I will give a short list of the main things that were achieved through the action plan, which all translate into more openness, transparency, and accountability of government.
We cleaned up the procurement process for government contracts by enshrining in a law a commitment to fairness, transparency, and openness in the process and by appointing an independent procurement auditor to provide additional oversight. That is a major achievement toward transparency.
We did more.
We strengthened the power of the Auditor General by expanding the reach and scope of the Auditor General's investigative powers to help Parliament hold the government to account.
We strengthened auditing and accountability requirements within departments by clarifying the managerial responsibilities of deputy heads within the framework of ministerial responsibility, and by bolstering the internal audit function within departments and Crown corporations. This translates into a requirement to document decisions and actions in a variety of areas.
I stress once more that our government has already done a lot in the area of transparency, openness, and accountability, and we continue to find ways to do more.
For example, my hon. colleague, the President of the Treasury Board, who shares with the Minister of Justice the responsibility for the Access to Information Act, is currently modernizing the policies regarding the act and examining ways to simplify the process for access requesters.
Last June, the President of the Treasury Board launched the Government of Canada's next generation open data portal, providing unprecedented access to government data and information, and demonstrating Canada's international commitment to transparency and open government. The open data portal contains datasets compiled by over 20 departments and agencies, covering a broad range of topics, from housing to health and environmental data. By accessing the portal, people have the opportunity to explore local census or crime statistics, immigration data, air quality data, coast-to-coast mapping data, and much more.
In January of this year, the President of the Treasury Board launched an initiative where access requesters can make their demands online via the access to information and privacy online request tool. More federal organizations are now a part of this initiative. In the first 10 months since the tool was launched, almost 21,000 requests have been submitted using this option.
Let us not forget the open government initiative, which Canada is a part of. This international movement has translated into key achievements for Canadians, such as their capacity now to browse online through summaries of completed access to information requests from key federal institutions, their capacity to search the Government of Canada's expenditure database for detailed departmental spending information, and the proactive disclosure of financial and human resources related information of federal government departments.
What our government has realized is that there is no one single vehicle to improve transparency and accountability and to achieve openness of government. Transparency and accountability can and must be achieved through a variety of measures and instruments. The Access to Information Act is not the only vehicle by which to achieve transparency.
The purpose of the Access to Information Act is quite clear. It is to extend the present laws of Canada to provide a right of access to information in records under the control of a government institution, in accordance with the principles that government information should be made available to the public and that necessary exceptions to the right of access should be limited.
Thirty-one years ago, when it enacted the Access to Information Act after many studies, Parliament recognized that a balance was needed between transparency and secrecy, that not every government document should be made available to the public and that certain interests deserved to be protected.
The Access to Information Act is, by its nature, all about a complex balancing of openness, transparency, and accessibility to Canadians, and accountability. The Access to Information Act is a powerful piece of legislation that works. It works because it reveals what needs to be revealed, and equally importantly, through its exemptions, it protects information that must be protected for a properly functioning democracy.
Although we are prepared to examine the proposals in the bill, we also need to keep in mind everything that we have done to achieve transparency and accountability in this government.
Privilege March 4th, 2014
Mr. Speaker, again, I believe that the member for Mississauga—Streetsville did not have the intention of misleading the House. When he realized that there was a question about the veracity of what he had said, he quickly came forward and voluntarily corrected the record, so there is no doubt about what he did or did not see.
That is exactly what we want to encourage, and I see no purpose in continuing this debate any longer.
Privilege March 4th, 2014
Mr. Speaker, I think the member for Mississauga—Streetsville was quite clear. He corrected the record about what he did or did not see happen. He did that voluntarily. That is exactly the kind of thing we want to encourage.
My point is simply that in my view, the opposition party is using this as a matter of partisan advantage to delay debate on the fair elections act. The opposition members know what the answer to the question is. They know that there are no more facts to be brought out here. This is simply being done to delay the debate on the main legislation. I think that is a disservice to the people of Canada.
Privilege March 4th, 2014
Mr. Speaker, in my view, there is nothing for the committee to study. All the facts are known.
In fact, what this motion does is penalize people for doing the right thing. This member realized that the record was not correct. He voluntarily came to this place. He stood here in front of all of his colleagues and said that he had made a mistake, that he was apologizing, and that he was correcting the record.
If we cannot accept that as fair-minded people, then I guess none of us knows very well the golden rule my parents taught me. I think we have to look at the facts and realize that this member did the right thing. If we persist with this kind of a motion, we will force or encourage people to not come forward and do the right thing in the future. That would be a really poor result.
Again, in my view, the point has been made, and I think it is time for this House to get back to the business of the people, which is making sure that their election laws are fair and that they have jobs, growth, and prosperity.
Privilege March 4th, 2014
Mr. Speaker, the answer is quite clear. This member actually voluntarily apologized and corrected the record. There are many who have done otherwise. I have known this member for more than 15 years. I know him to be an honest, hard-working person. He has done the right thing and should be recognized for having done the right thing. If we take this opportunity to recognize that this member has done the right thing, I think we will set a good precedent for others in the future.
Privilege March 4th, 2014
Mr. Speaker, I rise today to bring a different perspective to the debate before us. Today's discussion has focused on a mistake made by a member of this place. However, as we have also heard from others in this chamber, the hon. member has apologized and voluntarily corrected the record.
It is not surprising that the member has proactively corrected his statement. I am pleased to say that I have known the hon. member for Mississauga—Streetsville for more than 15 years. I know him to be reliable, trustworthy, and a dedicated member of this place.
The member for Mississauga—Streetsville works hard to serve the people he has been elected to represent. In fact, he is one of the most community-focused members of this place. There are countless examples of this. From his annual seniors forums and constituent round tables, to his recent job forum, yearly tax clinic, and creation of a volunteer medal, this member is dedicated to serving the community which he represents. He regularly holds town hall forums in Mississauga—Streetsville on virtually every issue, to inform and solicit input from his constituents. This member of Parliament was elected in 2011, but even before his election he was an active resident of the city of Mississauga.
He was born in Ottawa, in 1967, and his family returned to Mississauga the next year, where he has lived ever since.
The member has a keen interest in community volunteerism and public service. Having served on more than two dozen boards and committees in Mississauga, including for seven years on the Mississauga Committee of Adjustment, he gives back to Mississauga each and every day. He has an interest in working with organizations, including the Mississauga Food Bank, safe streets Mississauga, the Mississauga Sports Council, the Peel children's aid society and foundation, the Mississauga Arts Council, and the Mississauga Public Library Board.
His outreach work does not end there. The member for Mississauga—Streetsville has built a professional career, advocating for the rental housing community and affordable housing initiatives, as president and CEO of the Greater Toronto Apartment Association, a position he held from May 1999 until he was elected to Parliament in May of 2011. He regularly interacted with public officials and all orders of government throughout the greater Toronto area. His direct input into housing issues has had a major effect on public policy in Canada.
For years he hosted a widely acclaimed public affairs television program on Rogers Television in Mississauga. I watched it many times and learned a great deal about public affairs issues. He interacted with many of the leaders of the political world in Canada, and the business and arts community, and through that program enlightened and informed the people of Mississauga.
In Ottawa, he is hard at work for the constituents he represents. He serves as a member of the Standing Committee on Human Resources, Skills and Social Development and the Status of Persons with Disabilities; and the Standing Committee on Procedure and House Affairs. These committees have dealt with a number of important topics, including opportunities for older persons in the workforce, the Centennial Flame Research Award for persons with disabilities, and opportunities for aboriginals in the workplace.
I would like to use my time today to highlight some of the important accomplishments made by the member for Mississauga—Streetsville over the past three years. I would like to demonstrate to this place that we must not let today's debate overshadow the hard work and many accomplishments of this hon. member.
I can say with confidence that this member is one of the most hard-working, community-focused members who sit in this place. He has participated in countless outreach activities each and every year, which have had a positive impact on the people he represents. The hon. member hosts a yearly job forum to provide information on the services that are available to constituents in assisting with a job search. This forum provides an opportunity to connect residents and local organizations, in the hopes of broadening their job search and helping them seek out new tools for employment opportunities.
The job forum brought out many Mississauga—Streetsville residents and employment organizations. It included a presentation from a wide variety of local organizations. Because of this forum, constituents of Mississauga—Streetsville were made aware of the wide variety of free services available to them when searching for employment. That is much appreciated in a city like Mississauga, where we have unemployment that is higher than the national average, for a number of reasons, including that we have many new Canadians who find they have to spend extra time looking for that first new job in Canada. This member takes that task seriously and does everything he can to help new Canadians integrate well into our economy.
The member also hosts an annual seniors forum, which focuses on how we can assure a secure and dignified retirement for our seniors that reflects the contributions they have made to this great country. At these forums, the member has highlighted our government's action on several files, including enhancements to the guaranteed income supplement for low-income seniors, providing an annual top-up amount that will benefit more than 680,000 seniors; and increased funding for the new horizons for seniors program, which ensures that seniors can benefit from active living and participation in their communities. The member works to eliminate mandatory retirement, allowing Canadians to choose how long they wish to remain active in Canada's workforce. He supported a pooled retirement pension plan, which is a low-cost pension option to provide additional help to seniors who are saving for retirement. This member is focused on taking strong action to support our seniors. We should not let today's debate overshadow these accomplishments.
The member for Mississauga—Streetsville has also introduced a very popular award, with the establishment of the Timothy Street Medal of Honour, for residents of Mississauga—Streetsville. Timothy Street was the founder of the Town of Streetsville, and this medal of honour was devised by the member for Mississauga—Streetsville in his honour. This award recognizes leaders in our community for their selfless dedication to making Canada a better place through volunteerism. Following the very successful Queen's Diamond Jubilee Medal, the hon. member decided that his community should have an annual medal to celebrate the great volunteers in the city of Mississauga who have made a difference to our community. Each year, in January, the member presents 10 medals to residents who have been nominated from the community for their exemplary volunteer service.
Furthermore, the member can be seen at activities throughout the community each week. I see him at these events, and I am always impressed with the time he spends connecting with the people of Mississauga. Here are some examples. He recently welcomed the Minister of Status of Women for a round table at Mary Kay cosmetics, on Meadowvale. He attended a groundbreaking ceremony at the GO Transit terminal in Streetsville, with the Minister of Transport, for the Mississauga transitway project. Later that same night, he attended the World AIDS Day event, hosted by the Peel HIV/AIDS Network; and the Indo-Canada Chamber of Commerce winter gala. The list goes on.
Last month, the member for Mississauga—Streetsville attended the Vietnamese Association of Toronto new year's Tet Festival, and later that night, he attended the Shen Yun performance at the Living Arts Centre of Mississauga. He recently visited Streetsville Leisureworld to present World War II veteran Art Lett with a valentine for a vet, and to thank him for his great sacrifice for Canada. He also attended the National Council of Canadian Tamils' dinner in Richmond Hill. He joined the Minister of State for Sport as an honorary coach for the Mississauga Winter Classic between the Streetsville and Applewood hockey teams, and he attended the third annual Vianney Academy of Learning's family fun day and skate at the Vic Johntson Community Centre.
I could spend the remainder of my time today listing the many important activities that the member for Mississauga—Streetsville participates in each and every week. However, I would also like to take this opportunity to discuss some of the government programs that the member has advocated for while working hard for his constituents here in Ottawa. The member has played an important role in securing funding for central projects in Mississauga—Streetsville. The member was able to announce the new horizons for seniors funding for the people of Mississauga—Streetsville. Seniors in the riding will have new opportunities to volunteer, mentor younger generations, and help raise awareness of elder abuse, thanks to funding through the new horizons for seniors program. Four organizations in Mississauga—Streetsville have received funding through this program. They include the Peel Multicultural Council, the Canadian Coptic Centre, the Hindu Heritage Centre, and the Toronto–Sri Lankan Ex-Tamil Police Officers' Club.
However, the support does not stop there. The member knows that world-class infrastructure is the backbone of our country's economic productivity. It helps to get goods to the marketplace more efficiently, and connects Canadians and our businesses to the world, generating jobs and growth. It also has the added benefit of reducing commuting times so that families can spend more time together.
For these reasons, the member for Mississauga—Streetsville has tirelessly advocated for investments in infrastructure. The constituents of Mississauga—Streetsville have benefited from the recent investments in infrastructure funding. In fact, over $4.5 billion was invested in greater Toronto area infrastructure projects by this government between February 2006 and January 2014.
The City of Mississauga has received $250 million toward GO Transit, and the Mississauga bus rapid transitway has received an investment of $83 million. In addition, the City of Mississauga has now received a whopping $131,823,271 from the gas tax fund. This money will provide the city with the funds it needs to expand public infrastructure projects. These are just some of the many ways the constituents of Mississauga—Streetsville benefit from the representation of this hard-working member.
I would like to conclude today by reviewing the main points that are central to this debate. The hon. member has apologized and has voluntarily corrected the record. There is nothing for a committee to study. All of the facts are known.
We do not want to create an environment in which hon. members are punished for doing the right thing, and that is exactly what a continuation of this debate would perpetuate. Instead, we should continue with the business that should be before us, business that focuses on the reasons Canadians elected us. Canadians can count on our government to continue to focus on what matters to them: jobs, growth, and long-term prosperity. That is what we should be debating today.
Once again, I return to the point that we must not let today's debate cloud what the hon. member has accomplished for the people of Mississauga—Streetsville. He is a member who works hard for the people he represents. He is a community-focused member who promotes countless programs that benefit the people of Mississauga. From his annual seniors forums and constituent round tables to his recent job forum, a yearly tax clinic, and the creation of a volunteer medal, this member is dedicated to serving the community he represents. He has advocated for a world-class infrastructure system that helps people across the city and has advocated for record best investments in that regard.
These are just some of the many programs the constituents of Mississauga—Streetsville benefit from, and I look forward to continuing to work with the hon. member to increase these important investments for our city.
Ukraine February 26th, 2014
Mr. Chair, just briefly, the idea of sanctions is something that is definitely worth considering.
The Minister of Foreign Affairs has indicated that all those options are on the table. The purpose of the sanctions that were suggested by the government about a week ago was to put pressure on the Yanukovych government to release political prisoners and to stop using violence against peaceful protestors in the Maidan.
The government has changed now, so I think what we have to do now is work with our international allies and partners to bring about a coordinated effort using the appropriate kinds of sanctions against the appropriate individuals to support Ukraine's transition to a new government and to a new, democratic, and brighter economic future.
Ukraine February 26th, 2014
Mr. Chair, the member and I had the opportunity, as she pointed out, to travel to Ukraine with the parliamentary foreign affairs committee in May 2012.
Although we could not have predicted exactly how things would play out in Ukraine, I think we saw the seeds of what has happened in the last few months, while we were there. We saw the deterioration of rule of law. We saw the deterioration of press freedom. We saw manipulations with the democratic process. All of those things built pressure to bring down the Yanukovych government and bring the results we have seen in the last few days.
The member mentioned other organizations. We took the time while we were there to go to Kharkiv in the east and Lviv in the west. We met with members of civil society, non-governmental organizations. There are a number of those that Canada supports through the international development agency.
When I was parliamentary secretary to the Minister of Foreign Affairs, I had occasion to meet with a number of them. I was very encouraged to see that those same NGOs that were providing support for democracy in the parliamentary elections last year were also on the Maidan participating in a protest. Many of them are still there today, and some of them are actually even becoming members of the new transition government.
Canada has played a big role in supporting the development of democracy in Ukraine, and it will be able to continue to do so. I hope it will continue to do so in the future.
Ukraine February 26th, 2014
Mr. Chair, when we last met in debate on this subject on January 27, I do not believe any of us could have imagined the events that would transpire over the ensuing weeks. I can only describe them as stunning in their ferocity and violence and in the swift outcome of recent days, with the fall of the Yanukovych regime and its replacement with a new transitional government.
I would also like to join with my colleague from Edmonton East in expressing sympathy and condolences to all the victims of violence in the protests on the Maidan and elsewhere in Ukraine. Our thoughts and prayers are with the families and friends of those killed in those protests.
We all stand united here in support of the courageous peaceful protestors who stood up for democracy and are continuing to do so in Ukraine. We call on the relevant authorities to bring all those responsible for violence and death to justice as soon as possible. We support the Ukrainian people in their ongoing quest for democracy and human rights, including press freedom, and we were pleased to see the release of Yulia Tymoshenko and all political prisoners.
We look forward to new presidential elections now that Yanukovych and his government have been deposed, and we call on all nations, including all the neighbours of Ukraine, Russia included, to respect the borders of Ukraine and the self-determination of the Ukrainian people. We also call on President Putin to recognize the new transitional Ukrainian government. I would also like to suggest that we support the IMF and the international community in their efforts to assist Ukraine in stabilizing the Ukrainian economy. Members will know that Canada is a major contributor to the IMF.
Canada should and will support Ukrainian democracy by sending a large election observation mission to the new presidential election in May, and I am quite confident that we will get good advice from both CANADEM and the Ukrainian Canadian Congress on how that mission should be structured. The Ukrainian people must be allowed to choose their own economic and democratic future, and all nations, including Russia, must respect the democratic choices of the Ukrainian people.
Canada welcomes the presidential transition in Ukraine. We stand ready to support the efforts toward a stable, democratic, and united Ukraine. As Ukraine enters a phase of de-escalation and the transition faces many challenges and difficult times ahead, the situation remains extremely fragile.
In December 2012, I had the honour of attending the OSCE meeting in Dublin and learning about the OSCE and what it can do in supporting democracy and media freedom and other human rights throughout this region. Through its multidimensional approach to security that includes politico-military, economic, environmental, and human rights, the Organization for Security and Co-operation in Europe, or OSCE as it is commonly referred to, is one tool that can be used to assist Ukraine. This organization, which includes all the players involved in brokering the February 21 agreement, including France, Poland, Germany, and the Russian Federation as well as Ukraine, has invaluable experience in helping participating states successfully overcome political turmoil by building transparency and confidence.
Throughout the crisis, Canada's mission to the OSCE in Vienna delivered statements every week, calling on all sides to refrain from violence and to resolve the crisis through dialogue and political means and respect for human rights. Canada's ambassador to the OSCE also expressed support for the OSCE's involvement in defusing the situation and continuously encouraged the then Ukrainian government to accept the Swiss OSCE chair's offer of assistance. I would like to bring to the attention of all of my colleagues the role the OSCE can and should play in the stabilization of Ukraine over the next few weeks and months.
Having said that, I would like to say for all of my friends in Ukraine and the Ukrainian Canadian community here in Canada, Slava Ukraini. Slava Canada.