Bob Dechert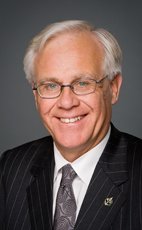 House of Commons photo
Track Bob
Your Say
Elsewhere
Crucial Fact
His

favourite word

is mentioned.
Conservative
MP for Mississauga—Erindale (Ontario)
Won his last election, in 2011, with 47.00% of the vote.
Statements in the House
Criminal Code June 18th, 2014
Mr. Speaker, I am pleased to speak to Bill C-590, an act to amend the Criminal Code with respect to blood alcohol content.
I would first like to congratulate my hon. friend, the member for Prince Albert, for bringing this important bill forward. People should know that the member for Prince Albert has served on the agriculture committee, the international trade committee, the finance committee, and many other of the most important committees of this place. He is a great advocate of the Canadian agrifood industry, which he has a great deal of personal experience in. He has represented Canada on the international trade committee and in the travels with the international trade committee around the world, and does a great service to our country in promoting the trade of all the goods and services that Canada produces around the world. He has been, since 2011, president of ParlAmericas, which is a very important organization that represents legislators from all of the countries of North and South and Central America. He has travelled extensively in the United States, Mexico, Central America, and South America on behalf of Canada over the last several years, promoting our trade interests. For that alone, he is to be commended.
I believe that combatting impaired driving is an issue that unites all members in this House, as impaired driving kills and injures more Canadians than any other crime. Every day across Canada, families are devastated by the death or serious injury of a loved one. The pain and suffering caused by this crime makes it essential that we do whatever we can to reduce the incidence of impaired driving. Beyond the obvious social consequences of impaired driving, there is also a substantial financial cost on Canadian society. I note that the Standing Committee on Justice and Human Rights, in a 2009 report entitled "Ending Alcohol-Impaired Driving: A Common Approach", stated:
The average cost of impaired driving crashes in Canada from 1999 to 2006 has been calculated using the Real Dollar Estimate as approximately $1.9 billion per year. This figure is based on money spent, without considering any social costs. The average cost using the Willingness to Pay model is approximately $11.2 billion per year. This model includes money spent and a broad range of social-related costs.
Bill C-590 aims to deter the most dangerous drivers on the road, those with a blood alcohol concentration, or BAC, of 0.160 or more. Indeed, the standing committee, in its report, noted:
A study of alcohol use among fatally injured drivers, however, indicates that the bulk of the impaired driving problem lies with those drivers having a BAC over the current Criminal Code BAC limit of 0.08. Among the tested drivers in Canada, 62.9% showed no evidence of alcohol — 37.1% had been drinking, 4.3% had BACs below 0.05, 2.6% had BACs from 0.05 to 0.08, 9.4% had BACs from 0.081 to 0.160 and 20.8% had BACs over 0.160. In other words, 81.5% of fatally injured drinking drivers had BACs over the current limit of 0.08. High-BAC drivers (i.e. those with BACs over 160 mg/100 ml of blood) represent a disproportionate number of fatally injured drinking drivers.
I will repeat that last statistic because it really is quite important: 20.8%, or one in five, of all fatally injured drivers had a blood alcohol concentration of 0.160 or more. Anyone who has such a high BAC has consumed a very significant amount of alcohol. Although it is only an estimate, a BAC calculator on Quebec's Éduc'alcool website says that a 180-pound man has to drink eight bottles of beer in an hour to have a BAC of 0.166.
Accordingly, the standing committee concluded:
Section 255.1 of the Criminal Code states that if an impaired driving offence is committed by someone whose BAC exceeded 0.16 at the time [of] the offence..., this will be an aggravating factor on sentencing. This reflects the fact that driving with a high level of impairment (over 0.16 BAC or double the current legal limit) is generally indicative of serious problems. Even if a driver with this level of impairment is being detected for the first time, it is likely that this is a hard-core impaired driver. This is due to the fact that it is rarely the first time they have driven while impaired by alcohol — it is simply the first time they have been [caught]....
Bill C-590 would take dead aim at those high BAC drivers. The bill would create a new straight indictable offence of driving with a BAC exceeding 0.160, punishable by a maximum of 10 years' imprisonment and a mandatory minimum payment on a first offence of $2,000 plus 60 days' imprisonment, and on a second offence 240 days of imprisonment.
Such high mandatory minimum penalties should cause drivers to give a second thought to how much they are drinking before they get behind the wheel of a car.
Therefore, I urge all members to support higher mandatory minimum penalties for drivers with a blood alcohol concentration over 0.160. Members of the standing committee will, I am sure, want to hear from law enforcement, Mothers Against Drunk Driving Canada, and others regarding whether the proposed new offence and higher mandatory minimum penalties could be made more effective. In particular, there may be an advantage to the over 0.160 offence being a hybrid with penalties on summary conviction that are lower than the penalties on indictment. It is possible that prosecutors will be reluctant to proceed on the over 0.160 charge because of the more onerous procedures on indictment.
Bill C-590 also proposes higher mandatory minimum penalties for an impaired driver who causes bodily harm or death. Currently, subsection 255(3.3) of the Criminal Code provides:
For greater certainty, everyone who is liable to the punishment described in any of subsections (2) to (3.2) is also liable to the minimum punishment described in paragraph (1)(a).
What that means is that the mandatory minimum penalties that apply where there is no death or bodily harm with an offence of impaired driving, driving with a blood alcohol concentration exceeding 0.80, or refusing to provide a breath or blood sample also apply to these offences when there is a death or bodily harm. There is a minimum fine of $1,000 for a first offence, 30 days' imprisonment for a second offence, and 120 days for a third offence.
It is obvious that these mandatory minimum penalties are unacceptable in these most serious cases. I understand that the courts do not give out fines in death and bodily injury cases. The purpose of these mandatory minimum penalties, when they were originally adopted, was to prevent the courts from imposing a conditional sentence of imprisonment.
As a result of amendments made in the Safe Streets and Communities Act, conditional sentences are not available where the offence has a maximum of 10 years and resulted in bodily harm. Still, it is theoretically possible for a court to impose a fine or a short period of imprisonment when the offence involves bodily harm or death.
I believe it is appropriate that Parliament indicates to the courts what the starting point should be, but I also believe that these proposed mandatory minimum penalties may not be appropriate in all cases.
Where the bodily harm is relatively minor, for example a broken wrist, 120 days for a first offender is, in my opinion, appropriate. However, there is a danger that we would send the courts the wrong message if we had the same mandatory minimum penalties for both bodily harm and death offences. The courts could conclude that Parliament considers 120 days' imprisonment sufficient for a death. Clearly it is not.
I do not have a view at this time as to what the appropriate minimum should be, but I wish to flag this concern for consideration at the justice committee. I urge all members to support Bill C-590 at second reading. Higher penalties for these offences are long overdue. The standing committee can consider whether improvements on the proposals can be made that the member for Prince Albert has brought forward. He has indicated his willingness to consider those amendments.
For the record, I want to add that there is another reason for a mandatory minimum penalty and that is that justice must not only be done, but it must be seen to be done. The people of Canada need to know that the justice system is working for them. When they see serious criminal offenders walk away from the courtroom and not go to prison, they lose faith in our justice system. When they lose faith in our justice system, then the justice system does not fulfill the purposes that the Canadian people wish it to. For all those reasons, I urge members in the House to support the bill.
Memorial to Victims of Communism June 18th, 2014
Mr. Speaker, our government promised in the throne speech to remember the millions who suffered, and continue to suffer, under the tyranny of Communism by building a national memorial remembering its victims right here in our nation's capital.
Earlier today, on behalf of the eight million Canadians who are descendants of countries that lived through Communist terror, our government took the next step in fulfilling this promise and financing the six finalists.
These world-class teams will spend the coming weeks developing their concepts, which will be presented to a jury this August.
I join my Conservative colleagues in encouraging all Canadians to support this important initiative and applaud Tribute to Liberty for their hard work and dedication.
The Environment June 18th, 2014
Mr. Speaker, as my hon. friend will know, our government has put more money into transportation infrastructure across Canada, especially in the GTA, than any government in Canadian history, and quite a bit more than the former Liberal government that his party was part of. In fact, in the GTA, the government has put over $500 million into GO Transit, which moves millions of people every day in the GTA. We put $83 million into the Mississauga Bus Rapid Transit Project, which is under construction and about to be completed. We put $660 million into the Toronto Transit Commission in building new subways. We put money into the flow transit system in York region.
We are getting the job done for Canadians: taking cars off the roads and reducing greenhouse emissions and pollutants in our air.
The Environment June 18th, 2014
Mr. Speaker, my hon. friend mentioned traffic congestion in Toronto. I am from the Toronto area and I certainly understand the problem. It is probably the number one problem facing the community. Every day we all spend far too much time sitting in traffic. One of the things it does is create a lot of air pollution. There is a contribution to climate change, of course, and I would like to tell my friend what our government is doing about climate change.
Internationally, Canada is a constructive participant in the United Nations negotiations toward a fair and effective post-2020 climate change agreement. Canada is also playing a leadership role on a number of collaborative international climate change initiatives outside of the United Nations. For instance, our government is working with international partners through our chairmanship of the Arctic Council and the Climate and Clean Air Coalition to address short-lived climate pollutants, such as black carbon and methane.
Domestically, our government is implementing a sector-by-sector regulatory approach to reduce greenhouse gas emissions while maintaining economic competitiveness. We have started with the electricity and transportation sectors, two of the largest emitting sectors of the Canadian economy.
In the electricity generating sector, Canada already has one of the cleanest systems in the world, with 77% of our electricity supply emitting no greenhouse gases. In 2012, we took steps to make it even cleaner. Our government introduced tough new regulatory performance standards for coal-fired electricity generation that make Canada the first major coal user to ban construction of traditional coal-fired electricity generation units. These regulations will help contribute to reductions of 46% in this sector over 2005 levels by 2030.
In the transportation sector, our government collaborated with the United States to develop standards for regulating greenhouse gases produced by passenger automobiles and light trucks. We have done the same for heavy-duty vehicles. As a result of the Government of Canada's actions, it is projected that by 2025, light-duty vehicles will consume up to 50% less fuel and produce about 50% less greenhouse gas emissions than 2008 model year vehicles. For heavy-duty vehicles, greenhouse gas emissions from 2018 model year vehicles will be reduced by up to 23% compared to vehicles manufactured prior to that regulatory period.
Our approach is generating results. It is estimated that as a result of the combined actions of all levels of governments, businesses, and consumers, Canada's greenhouse gas emissions in 2020 will be 734 megatonnes. That is 128 megatonnes lower than where emissions would have been in 2020 if no action had been taken since 2005.
Our government is working to ensure that we achieve results for Canadians and the environment. Our approach will result in real emission reductions, while maintaining Canada's economic competitiveness and supporting job creation opportunities for Canadians.
Justice June 13th, 2014
Mr. Speaker, through Bill C-36, the government is balancing the interests of protecting vulnerable Canadians and minors and our communities. Bill C-36 shows compassion toward those trapped in this awful practice. It would also crack down on those responsible for exploiting the persons who are trapped in this industry. That is what Canadians want us to do, and that is what Bill C-36 would do.
Intergovernmental Relations June 13th, 2014
Mr. Speaker, as the member will know, Parliament dealt with exactly that issue four years ago. It was defeated with votes from members of all parties in this House. The government has no intention of reopening that issue in this session of Parliament.
Privacy June 13th, 2014
Mr. Speaker, we always respect the work of the Supreme Court, and we will take the opportunity to review the decision.
However, what parents have told us, what victims have told us, what victims organizations have told us, and what all Canadians have told us, is that they want legislation that will protect Canadians from online criminals, and that is what we will do.
Privacy June 13th, 2014
Mr. Speaker, Canadians want us to protect children. They want us to protect all people who use the Internet and could be abused by cyberbullies who hide behind the anonymity of the Internet.
We will review the decision of the Supreme Court and determine the best course of action. In the meantime, we will continue to protect Canadians against online criminals.
Privacy June 13th, 2014
Mr. Speaker, Bill C-13 has been extensively studied, as the member will know, both in committee and in the House of Commons. We have had 12 hours of debate in the House of Commons and 22 hours of study and extensive evidence from all witnesses and all experts on all sides of the issue.
We respect the work of the court, but we will continue to crack down on cyberbullies and online criminals to protect children and all Canadians.