Brent Rathgeber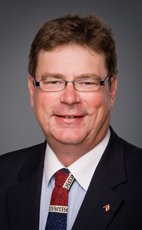 House of Commons photo
Track Brent
Your Say
Elsewhere
Crucial Fact
Independent
MP for Edmonton—St. Albert (Alberta)
Won his last election, in 2011, with 63.50% of the vote.
Statements in the House
Public Safety March 4th, 2014
Mr. Speaker, last week, the RCMP made the unilateral decision to reclassify the Swiss Arms Classic Green carbine rifle as prohibited, extinguishing the liberties of thousands of law-abiding Canadians. This decision lacked both judicial and civilian oversight, yet it is unclear to me that it was offside our current legislation.
The Minister of Public Safety has announced amnesty to individuals affected, and the government has mused about compensation for forfeiture. While these are positive steps, they fail to address the cause of the problem. The cause is the blatant legislative deficiency.
To the Minister of Public Safety, when are we going to see specific definitions of prohibited firearms and variants thereof? When are we going to see clear regulations in place to protect law-abiding gun owners from arbitrary bureaucratic—
The Budget February 28th, 2014
Mr. Speaker, last fall's Speech from the Throne made a vague reference to the government's commitment to balanced budget legislation.
On October 22, the Minister of Finance assured me and this House that the government intended to introduce balanced budget legislation, although his explanation as to what that might look like was somewhat perplexing.
On Wednesday I supported budget 2014, and I congratulate the government on its commitment to balancing the budget. However, I remain concerned about future budgets and future governments.
Why is there no mention of balanced budget legislation in the government's budget plan?
Government Advertising February 27th, 2014
Mr. Speaker, I would like to congratulate the government, specifically Employment and Social Development Canada on winning yet another prestigious Teddy Waste Award yesterday. The Canadian Taxpayers Federation holds this annual black-tie event to celebrate the best of the worst in government waste.
Employment and Social Development Canada was awarded the federal Teddy for its $2.5 million wasted during the 2013 Stanley Cup playoffs, advertising its non-existent Canada jobs grant. If it is going to advertise a non-existent government program, why not do so during the most expensive advertising time that taxpayers' money can buy?
Despite assurances of progress from the Minister of Employment and Social Development, the Canada jobs grant program still does not exist, and I eagerly await the 2014 hockey playoffs to see if this Teddy will be successfully defended.
Seriously, I would like to thank the Canadian Taxpayers Federation for its commitment to protecting hard-working taxpayers, an important function that the Conservative government abandoned long ago.
CBC and Public Service Disclosure and Transparency Act February 26th, 2014
Mr. Speaker, as Motions Nos. 1 to 8 have all failed, the bill in its current form bears no resemblance to the original Bill C-461 and represents neither public service disclosure nor transparency as the now misnomer title would suggest. Accordingly, the sponsor of the bill does not move concurrence.
Petitions February 14th, 2014
Mr. Speaker, the second petition is signed by 28 individuals from northern Alberta and British Columbia, calling on tougher and stronger impaired driving laws, including the establishment of a specific offence for vehicular homicide in the unfortunate circumstance when an impaired driver causes the death of an individual.
Petitions February 14th, 2014
Mr. Speaker, I have two petitions to table today. The first is from 126 constituents in Edmonton—St. Albert, calling on the government to establish an extractive sector ombudsman to investigate complaints against mining companies operating internationally, and to ensure compliance with labour, environmental, and human rights standards.
Democratic Reform February 10th, 2014
Mr. Speaker, 98% of Canadians choose not to join political parties, yet political parties have the exclusive right to raise money and issue generous tax credit receipts outside of an election period. Moreover, a candidate aligned with a party can transfer an electoral surplus to a riding association and is eligible for a 50% reimbursement for all qualified election expenses. These are all advantages that are statutorily not available to independent candidates.
Does the Minister of State for Democratic Reform not believe that the fair elections act should contain some actual fairness for the 98% of Canadians not associated with a political party?
Canada-U.S. Relations February 5th, 2014
Mr. Speaker, we are less than five months away from the implementation of the U.S. Foreign Account Tax Compliance Act. This law will compromise Canadian privacy laws and cost all Canadians, as banks will bear significant compliance costs. Meanwhile, dual citizens, even accidental dual citizens, will have their registered disability and registered educational savings plans and their tax-free savings accounts deemed offshore trusts and subject to U.S. capital gains taxes.
What is the government doing to protect Canadians and their assets from the cash-starved Obama administration?
Air Transportation February 3rd, 2014
Mr. Speaker, last September an 18-year-old man attempted to board an international flight out of the Edmonton International Airport with a homemade explosive device. The device was discovered and was suspected to contain narcotics, but when the drug tests came back negative, CATSA actually attempted to return the bomb to the passenger, who did not want it.
The RCMP was not informed of this event for several days, and the Minister of Transport was not made aware until several months later. Can the Minister of Transport please explain to the House what remedial actions have been taken and what additional training has been provided to her Keystone security cops to ensure the safety of the air travelling public?
Telecommunications December 6th, 2013
Mr. Speaker, as offensive as the $548 million spent on blatant partisan advertising by the government was, much of it for policies that do not exist, such as the Canada job grant, a new limbo bar has been lowered. That is the $9 million spent on TV and print ads targeting and, might I say, attacking Canadian cellphone companies. These ads offer no real information and mention no policy whatsoever.
How does the government defend attacking a Canadian industry that employs 300,000 Canadians? Is this really a good use of taxpayer dollars?