Claude Gravelle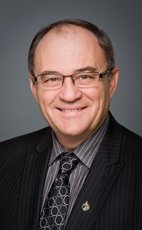 House of Commons photo
Track Claude
Your Say
Elsewhere
Crucial Fact
NDP
MP for Nickel Belt (Ontario)
Won his last election, in 2011, with 55.00% of the vote.
Statements in the House
Employees' Voting Rights Act April 8th, 2014
Mr. Speaker, I would just like to comment on what my colleague said. One of the things she said was that the government is going to support this bill, which just goes to prove what my other colleagues have been saying about this bill. It is a private members' bill coming in through the back door. That is pretty obvious.
When he was giving his speech, the sponsor of this bill mentioned Castro and Stalin. What I thought of right away was the Prime Minister. Why did I think of him? It was because of what he is trying to do with the unfair elections act. He is trying to turn Canada into countries like Castro's and Stalin's. That is really shameful.
Let me tell the House a little bit about why I want to speak on this bill. I am going to tell members a little of my personal story. I started working at 18-years of age in a mine called Frood Mine. It was not the place where I really wanted to work. I wanted to get closer to home and go to Levack Mine.
I started as an apprentice machinist at 18. Because I started as an apprentice, it was not a job that paid very well. It was as low as it could go. Back in 1968, that was pretty low, so thank God for the union leadership.
The reason I am mentioning this is that when I had been at Frood Mine for about two years, it was scheduled to close. So I said to the guys I was working with that I was going to try to go to Levack. It was closer to my place. The guys said that I did not want to go there. When I asked why, they said that the supervisor there was a supervisor from hell and that I would get fired. I could not believe it.
Eventually, six months later, I ended up in Levack Mine. True enough, I ran into the supervisor from hell. I say that because he treated people in a very special manner. Back then, I was 20 years old. I had quite a bit more hair than I do now, but it was not very long. It was just a little bit long, like it was back in the 1960s. It was not shoulder length. As soon as I ran into this guy, the first minute I met him, he asked where I had been. He said he had been waiting for me all morning. Of course, I was in the first aid room getting my locker, and people were showing me around, where I had to go and what I had to do.
He asked where I had been and said that he had been waiting for me all morning. It surprised me, but I knew that he was the supervisor from hell. He said that my hair was pretty long and that I had to get a haircut if I wanted to work there. I did not think that my hair was very long, but he said to come back the next day with a haircut.
Back in those days, a person could be fired on Friday and be working on Monday. It did not really matter. I said okay. I finished my shift, went home, and went back the next day. I did not have a haircut. I went home that night and washed my hair. I combed everything really nicely because I wanted to impress him.
He said that I had not cut my hair. I said no, so he said I would have to and see the superintendent. I went to see the superintendent. I walked into his office and he asked what I wanted. What was I there for? I told him that my supervisor had sent me because I did not get a haircut and he thought my hair was too long. The superintendent looked at me and said there was nothing wrong with my hair, that I was to go back to work and tell my supervisor to see him.
I went back to the shop and told my supervisor that the superintendent wanted to see him. He was gone for several minutes. From the reports that I got back from the people who worked in that office, it was not pretty.
When he came back to the shop, where I was told to wait for him, if members think our member for Acadie—Bathurst is red when he speaks, they should have seen this guy. He was red. He just could not believe that he had been raked over the coals by the superintendent because of an apprentice. If I did not have a union back then, I would have been fired probably on the first day.
However, this bill is trying to prevent unions from organizing. I belong to the United Steelworkers, local 6500, a great union. It is the same union as the president of the international steelworkers, Leo Gerard, belongs to. He and I grew up in that union. We are just about the same age, and we were stewards together and committee men together. He became the president of the United Steelworkers international. He is a great guy. He gets to work with other steelworkers and unionized people. I became the MP for Nickel Belt, and I have to work with the current government. I cannot believe how lucky that man got.
Union workers do have well-paying jobs and they do contribute to the communities. For example, in Sudbury, if it had not been for the steelworkers, the CAW, and all the good unions, we would not have a cancer centre. It was because of the desire and drive of the union movement that we have a cancer centre in Sudbury. Everybody can use that cancer centre; it is not just for union people. It is just that the union workers helped pay for it. The union workers also support the food bank. Every year, they collect thousands and thousands of dollars for the food bank. They can do that because they have well-paying union jobs.
The goal of the current Conservative government is to drive all the wages as low as possible, to the lowest denominator, so we can all have Walmart salaries and the companies can profit more.
I just want to reiterate the importance of unions. They supply well-paying jobs. They spend their money in the community. They buy in the community. They help people in need. Why would we want to drive their wages down? It just does not make sense. We should encourage more unions in this country, not discourage them. People discouraged unions in the place where Castro was president, and Stalin certainly did not encourage unions.
As the previous member said, the Conservatives are going to support this bill, obviously. It is a private member's bill and they have already decided they are going to support it. So it is just a back-door way of bringing this bill to the House of Commons.
I am going to stop right there. I am not going to support this bill, obviously. I am really proud to be a steelworker and a union member.
Mining Industry April 8th, 2014
Mr. Speaker, Sudbury, Nickel Belt, and northern Ontario are in mourning today because of the death of another miner from our community.
Paul Rochette was killed on the job on Sunday, while working in the casting and crushing plant at Vale's Copper Cliff smelter. He was 36 years old. Paul leaves behind his partner, two young children, family, friends, and co-workers. We offer our condolences, and grieve with all of them here today.
It is a stark reminder of how dangerous mining and mineral processing is and how important workplace safety is. We will let the police, the company, and the union investigate.
This is the fourth death in three years in our region. I welcome the comments of the chair of the Ontario Ministry of Labour on an ongoing review of mining health and safety. He said:
The death of a 36-year-old industrial mechanic at Vale's Copper Cliff smelter Sunday reinforces the need for a comprehensive review of the health, safety and prevention issues related to the mining industry. We must work together to...ensure mine workers go home safe and sound at the end of every shift.
Economic Action Plan 2014 Act, No. 1 April 7th, 2014
Mr. Speaker, that is an excellent question, and the member is right. It is our kids and our grandchildren who are going to pay later.
However, there are some tax cuts in this budget. He is right again. The big banks and the big profitable corporations that do not need any help get tax cuts from these governments, but ordinary hard-working Canadians have to pay more and more every day that the current government is in power.
Economic Action Plan 2014 Act, No. 1 April 7th, 2014
Mr. Speaker, the current government has never really helped all of the provinces equally. It picks spots where it will help certain people, especially if the help will bring Conservative votes. For example, the new undemocratic elections act targets seniors, students, and first nations, the people who do not generally vote for the Conservatives. That is the kind of undemocratic government we have.
Economic Action Plan 2014 Act, No. 1 April 7th, 2014
Mr. Speaker, we would first like to help pensioners with their CPP. We would certainly like to help first nations by supplying them with fresh water, for one thing. I would have liked to see something done for the seniors under health care, especially for dementia. As I said in my speech, it is like a tsunami is coming on the health care side of the Canada health accord. It will cost us $300 billion over the next few years, so unless we start to do something now, and this budget would have been a good time to do it, it will be too late.
Economic Action Plan 2014 Act, No. 1 April 7th, 2014
Mr. Speaker, before I start, I just want to tell the House that this is not a protest speech, even though I am a member of the NDP. If the member for Calgary Centre wants to see a protest, she should go outside on the front lawn. That is a protest.
I am happy to rise to speak to the latest federal budget. There are few subjects as important to an MP as a government budget. After all, the budget is the document that best expresses the government's true priorities and ideology.
Like all budgets, this one is about choices. In this budget, the government makes it clear that its one and only priority is getting re-elected next year instead of delivering now on the urgent needs of Canadians.
Tim Harper of the Toronto Star put it best. With the Olympics still on, he said that the Conservatives would get a gold medal for illusion in this budget. It is a David Copperfield budget, magically making the government appear to care and appear to act on decisive national issues.
In 2015, the NDP will make the Conservative government disappear for real. We plan to make the Senate disappear as well. A New Democratic government will put an end to the many scandals the Conservative government has been caught up in, including Bev Oda, Mike Duffy, Nigel Wright, Patrick Brazeau, Pamela Wallin, and the MP for Peterborough. The list goes on and on.
Until that time, we have budget implementation acts like this to talk about. The proof of the gold medal for illusion is in the fine print, when we do the math and realize the fact the Conservative government has punted incredibly important decisions to 2015, the election year. One would think it would be smart for a government to go to the voters next year with a real record of accomplishment rather than with a list of promises of what it intends to do. One would think that a government would go to the voters with real accounting on balanced books and not with this shell game, with figures on when it will actually balance the books.
This is another omnibus budget bill designed to ram through hundreds of changes with little study or oversight. Worst of all, there is nothing in the budget to get the almost 300,000 more unemployed Canadians than before the recession back to work or to help replace the 400,000 manufacturing jobs lost under the Conservative government.
There are some good measures in this bill to recognize. They are the ones the NDP promoted. The bill would reverse the government's move to make Canadians pay taxes on parking at hospitals while visiting their loved ones. Boy, did my office hear from folks on this cash grab.
The bill would adopt our party's call to cap wireless roaming fees.
During my time today, I will refer to my own national caucus's responsibilities in the mining sector and to my campaign for a national dementia strategy to demonstrate what an illusion this budget is.
I also want to talk about how this budget fails the people of Nickel Belt. First, though, I would like to say a word about the extreme politics of this budget.
In all my years as an elected official, first on the Rayside-Balfour municipal council and, as of 2008, in Parliament, I have always believed that the work of public elected officials is about one thing and one thing only: serving the public good and constituents. Still, since a budget is about choices, let us look at the choices this government has made.
New Democrats know that there would be money in the federal coffers if we put an end to government's spending scandals, absurd advertising extravaganza and tax breaks for its rich corporate friends.
I was happy at first to see recognition for the dementia health care crisis looming in Canada. The budget quotes the Minister of Health's comments at the U.K. G8 summit last December. By 2031, in just one more generation, the number of Canadians suffering from Alzheimer's or dementia disease will double to 1.4 million. The bill for Canada then will be at $300 billion, so we might conclude that the government is recognizing the problem and might also act on a solution.
The Conservatives try to pull the wool over Canadians' eyes by noting they will now flow the research money that had already been announced last year.
Then, there appears to be a bit of a shell game on brain research money, which begs the question of whether this is new money or money moved from another envelope. I know that the research is important and that funding for it is a good thing. However, Canada is lagging behind its major economic partners in not having a national dementia strategy.
The bill that I introduced in this Parliament would implement a national plan involving research, early diagnosis, training for caregivers, help for beleaguered caregivers, and leadership from Ottawa in partnership with the provinces, territories and municipalities.
Dozens of petitions calling for a national plan are being tabled in the House. Some 200 municipalities have passed resolutions in support of Bill C-356 and the development of a national strategy. Those cities are on the ground, where the crisis is evident. Sadly, this budget could not even find the modest $3 million dollars requested by the Alzheimer Society of Canada to launch a national plan.
However, the Conservatives put a nice box in the budget report with a quote from the minister and are playing the reannounce funding game to make it appear as though they are doing something. This government is doing nothing when it comes to the dementia tsunami in Canada.
I am the chair of a 20-MP NDP mining caucus, the only such caucus in any party here. We knew that, in these tough economic times, the junior mining companies would be happy to see the flow-through share credit extended. That is a good move we can applaud from here. Capital and other financing challenges can block important projects in the boom and bust cycle of mining.
However, like many of my colleagues from Ontario and northern Canada, I had great hopes that the government would take action on the mega Ring of Fire project in the James Bay lowlands.
However, once again, this government is all illusion and neglect, blaming Ontario or economic conditions for its failed leadership on this issue, after briefly announcing last spring the appointment of the President of the Treasury Board as the minister responsible for the Ring of Fire. That minister promised to reopen talks on the Ring of Fire. He was the new quarterback in town. Well, the quarterback got sacked and the Ring of Fire went nowhere under his leadership.
A few weeks ago, I led an NDP delegation of six MPs to the Ring of Fire, where we visited both the Matawa Tribal Council in Thunder Bay and Eabametoong First Nation, as well as the mining companies exploring at Koper Lake.
Despite the disappointing news that Cliffs was suspending operations, there appears to be progress in both Noront and KWG mining camps, continuing evidence of the wealth in the ground, and the support of First Nations communities if genuine partnerships are established.
Ring of Fire would be much further ahead if the NDP's sustainable development policy had been adopted. Our policy addresses current and future concerns with regard to the economy, the environment, first nations and social responsibility. The Governments of Ontario and Canada should have been working together and leading the way.
In this budget we needed to hear about infrastructure and roads, and measures to help the local communities deal with enormous challenges in health, social services, water, and education.
This budget makes it perfectly clear that any concern this government has for the north and our communities is just an illusion. The budget makes no mention of the Ring of Fire. This government has continued an alarming trend initiated by the previous Liberal government to cut government offices and services in the north.
Economic Action Plan 2014 Act, No. 1 April 3rd, 2014
Mr. Speaker, I would like to congratulate my colleague and those who elected him to Parliament. He does an exceptional job.
I would like him to comment for us on the tax credit that has not been renewed in the Bill C-31. This is the tax credit the NDP proposed in 2011 that stimulates job creation by helping small business with hiring. As the Conservatives should know, when small businesses in Canada do well, Canada does well.
Can my colleague tell us the consequences for small business if this tax credit is not renewed?
Petitions March 31st, 2014
Mr. Speaker, I am proud to rise in the House today to present petitions from dozens of people from Sudbury, Garson, Falconbridge, Noelville, Alban, and French River.
These petitioners call on the Minister of Health and the House of Commons to pass Bill C-356, An Act respecting a National Strategy for Dementia. As members might be aware, Canada is one of the only G8 countries that does not have a national dementia strategy. It is time the Canadian government stood up for dementia patients, caregivers, and doctors.
Questions Passed as Orders for Returns March 28th, 2014
With regard to government funding, what is the total amount allocated for fiscal year 2012-2013 within the constituency of Nickel Belt, specifying each department, agency, initiative and amount?
Petitions March 28th, 2014
Mr. Speaker, in my second petition, petitioners are calling on the Government of Canada to reinstate the federal funding allowed for the operation of the Algoma Central Railway.
What is unique about this petition is that not only do I have names from Sault Ste. Marie, Bruce Mines, Sudbury, and Dowling, but I also have names from people from Chicago, Connecticut, and Ohio. Even the Americans are more concerned about our railroad system than the Conservative government is.