Claude Gravelle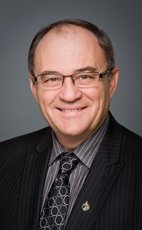 House of Commons photo
Track Claude
Your Say
Elsewhere
Crucial Fact
His

favourite word

is conservatives.
NDP
MP for Nickel Belt (Ontario)
Won his last election, in 2011, with 55.00% of the vote.
Statements in the House
Citizen Consultation Preceding Natural Resource Development November 21st, 2014
Mr. Speaker, I am very happy today to stand in the House to speak to the motion by my hon. colleague from Manicouagan. The people of his riding can be proud of his passionate representation on their behalf. Along with our colleague from Abitibi—Baie-James—Nunavik—Eeyou, the member is an outstanding champion for his own Inuit and first nations communities.
I am on my second term as MP for Nickel Belt, but it was in this Parliament, with the election in 2011 under our former leader, Jack Layton, that our party saw the election of so many new young and gifted members from Quebec. This motion today is his commitment to put people and their communities and their rights first and foremost when it comes to natural resources projects.
I come from Nickel Belt and Greater Sudbury, home of the largest nickel basin in the world. I worked for 34 years for Inco, a mining company. I have seen the good and the bad that mining can do in a region. I absolutely support public consultation and real efforts to get public support for these projects. I will address that shortly.
First, as chair of the 20-MP NDP mining caucus, I will say a few words about our strong support for mining when it is done right. My party and I recognize the importance of mining in our communities. In 2013, over 380,000 jobs were in mineral extraction, smelting, fabrication and manufacturing in our country. Mining is an economic and investment driver for Canada, paying $71 billion in taxes and royalties to Canadian governments in the past decade. I am told the mining sector is the largest employer of aboriginal people.
My region of Greater Sudbury is now being called "Canada's mining superstore", given all of the technology, research and innovation in the Greater Sudbury region. The Mining Association of Canada estimates that upwards of $160 billion in mining projects are presently proposed in Canada, including multi-billion dollar investments in Nunavut; Northwest Territories; B.C.; Alberta, Saskatchewan; Manitoba; Ontario, especially with the Ring of Fire; Quebec; and Newfoundland and Labrador. That underlines the importance of the motion before the House today.
The member speaks often of social licence for those natural resources projects. In plain language, we want people and their communities to have current and future generation concerns addressed before they say yes to these projects. They want to see that the mining companies are taking seriously their responsibilities and understanding all of the implications of mining or other exploration. These holes in the ground, the blasting and the excavation also have consequences for drinking water, our health, our noise, our pollution and much more that touches on the daily lives of citizens. When companies move into a community with their well-paying jobs, they are welcome.
There can be other social and health consequences that are not so good. More and more, I hear mining companies talking about corporate social responsibility, making progress in this regard. That is a good thing. My leader met with the Mining Association of Canada representatives this week. We urged the companies to continue to work on social licence and to continue to work on this corporate social responsibility. We know from news stories about bad behaviour abroad from some Canadian companies. We also have to be vigilant that here at home we hold our companies to higher standards too.
Cases in point are Osisko's Malartic mine, the tensions triggered by the prospect of uranium mining on the north shore in Quebec; the controversial oil pipeline and tanker port projects in British Columbia and Quebec, including the one in Cacouna; and the Mine Arnaud project in Sept-îles, which dealt a blow to the local social climate. I meet with mining company officials, and I hear more and more of their work and their commitment to this responsibility.
Advance public consultation is a positive and innovative measure because it makes it possible for three things to happen.
First, it puts the public at the heart of the decision-making process. Civil society stakeholders have long called for real, direct public consultation and for the public's wishes to be considered in natural resource development projects. This motion would put the public at the heart of the decision-making process as opposed to the public being told about it after the fact.
Second, advance public consultation helps ensure that the federal government's historic commitments to members of the first nations are fulfilled. The federal government must respect first nations' rights on traditional territories and must submit development initiatives to members of the communities affected.
Third, consultation would ensure that economic development is in sync with the public's vision for the land. If the public's wishes are respected, it will help appease the communities that are struggling to make decisions about contested economic development projects, which would thus create a good environment for investment and for promoting better projects that protect the environment and the communities.
The motion fits well with the NDP's basic position on the environment:
Protecting the environment as a common good by creating a legal framework to ensure that people have the right to live in a healthy environment with access to natural spaces.
We say here today that we want what Canadians want in their communities on these projects: transparency, consultation, and consent.
I have introduced a number of private member's bills regarding foreign ownership transactions, the kind my region of Sudbury has experienced. My bills call for this same transparency and public consultation.
I want to say something about consultation.
I am following very closely the Ring of Fire project in northwestern Ontario. There has been nothing more than a back-and-forth blame game going on between the Conservative government here in Ottawa and the Liberal government in the province of Ontario. Northerners are fed up.
Our first nation communities are reminding those governments, yet again, what the duty to consult actually means. It is more than providing information. It is more than giving an hour's notice of big announcements coming out. It is what the NDP and our leader have articulated clearly: a constitutional responsibility to do full, real, and meaningful consultation.
That is why we support a nation-to-nation approach. At the Prospectors and Developers Association of Canada's mega-convention earlier this year in Toronto, my leader made it clear that he supports the Ring of Fire project, if done this way.
Our leader said:
The Ring of Fire project is an important development for families in Northern Ontario today and for generations to come. Unfortunately, Conservative policies have undermined the government's ability to oversee that all social and environmental regulations are being fully understood and addressed.
Citing his cabinet experience in Quebec, he told the mining companies that the Ring of Fire project can only move forward when public confidence and real partnerships with first nation communities are secured. He also underscored the long-standing NDP commitment to deal nation to nation with first nation governments to build relationships that benefit people, business, and the land.
This not a playing of the economy over and against the environment, as we see the current government do. It is finding a way to be both for the economy and for the environment. This is a win-win situation, especially for first nations and other communities. It makes smart business sense, too, as more mining companies are discovering.
The purpose of the motion is to make it mandatory for the government to consult Canadian citizens and first nation members before implementing a natural resource development project on their territory or in their living environment. Public willingness should be a criterion in obtaining a development permit to the same degree as impacts on human health, ecosystem maintenance, employment, and economic development.
Natural Resources November 21st, 2014
Mr. Speaker, northern Ontarians are looking for leadership to rescue the Ring of Fire, but all the Conservative minister does is point fingers and say it is someone else's problem.
Thousands of jobs and billions of dollars in investments for my region are on the line, and still the Conservatives fail to act. The CEO of Cliffs Natural Resources called the Ring of Fire "beyond the point of no return."
Does the minister agree? Has he given up, or will he invest in northern Ontario to secure our economic growth?
Hockey November 21st, 2014
Mr. Speaker, like many northern Ontarians, I have been a Montreal Canadiens fan my whole life. Watching our "Glorieux" on French TV is part of our religion.
We had Richard, Béliveau and Geoffrion, and now we have Price, Subban and Desharnais. Just imagine how mad people got this fall when they found out that the new contract prohibited television coverage on RDS and that the National Hockey League declared that northern Ontario was part of the Toronto market. That is misconduct, Mr. Bettman. Getting a Toronto Maple Leafs jersey on Christmas morning—what a dumb idea.
Lots of people called and emailed me about this, so I called the National Hockey League, RDS, the CRTC, Eastlink and other cable networks. I am very proud to say that we now have an agreement with Rogers, Bell, Eastlink and the National Hockey League. Regional French broadcasting of Habs games is back. The people of Sturgeon Falls and the rest of Ontario are very grateful.
Montreal Canadiens fans are passionate. We shoot, we score.
Petitions November 19th, 2014
Mr. Speaker, it is a pleasure to rise in the House to present a petition from dozens of people from my community in Nickel Belt.
The petitioners wish to bring to the attention of the House of Commons the fact that multinational seed companies are threatening the ability of small family farmers to produce the food required to feed their families and their communities.
On November 12, I had a round table with about 40 farmers in Verner. These farmers are very concerned about the way the Conservative government is operating with these seed companies and the petitioners want to prevent that.
Infrastructure November 19th, 2014
Mr. Speaker, despite their claims, the Conservatives do not support the Ring of Fire. Their actions speak louder than their words.
The minister has flatly refused to invest in the infrastructure required to unlock the jobs and economic potential of our region, saying that we must fight for scraps of a fund the Conservatives already slashed by billions of dollars.
Why do the Conservatives continue to nickel and dime northern Ontarians and play the blame game with the province?
Where is the federal leadership this project so badly needs?
Regional Economic Development October 30th, 2014
Mr. Speaker, the new CEO of Cliffs Natural Resources sees zero hope of developing the Ring of Fire in the next 50 years. He cites no plan, no infrastructure, no leadership. This means no jobs, no investments for northern Ontario and no benefits to Ontario's broader mining, finance and technology sectors. Almost all of the government's Ring of Fire announcements failed to materialize.
When will the government show the leadership it promised over a year ago and work with Ontario to make the Ring of Fire happen?
Economic Action Plan 2014 Act, No. 2 October 30th, 2014
Mr. Speaker, I congratulate my colleague from LaSalle—Émard for her very good speech.
She spoke a lot about credit unions and co-operatives. Last week, the manager of the Caisse populaire de Verner, which is in my riding, visited my Ottawa office. He was very concerned about the government's plans to tie the hands of credit unions. Could my colleague tell us more about how the government is preventing credit unions from doing what credit unions do?
Digital Privacy Act October 20th, 2014
Mr. Speaker, this young gentleman is so far behind me that he will never catch up in seniority. However, I would like to ask him the same question I asked the member for Renfrew—Nipissing—Pembroke: if this is such a good bill, why is it coming through the back door? Why was it not presented by the government?
Digital Privacy Act October 20th, 2014
Mr. Speaker, with regard to the comments of the previous speaker that New Democrats want to be senators, as I guess is what she said, and that we are envious of senators, could the member elaborate on how many New Democrats he knows who want to be senators?
I do not know any myself. I have been around for a lot longer than you have and I have never met any, so could you tell us if you know of any?