Claude Gravelle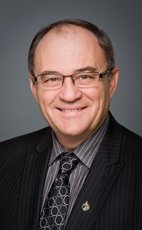 House of Commons photo
Track Claude
Your Say
Elsewhere
Crucial Fact
His

favourite word

is conservatives.
NDP
MP for Nickel Belt (Ontario)
Won his last election, in 2011, with 55.00% of the vote.
Statements in the House
Digital Privacy Act October 20th, 2014
Mr. Speaker, this young gentleman is so far behind me that he will never catch up in seniority. However, I would like to ask him the same question I asked the member for Renfrew—Nipissing—Pembroke: if this is such a good bill, why is it coming through the back door? Why was it not presented by the government?
Digital Privacy Act October 20th, 2014
Mr. Speaker, with regard to the comments of the previous speaker that New Democrats want to be senators, as I guess is what she said, and that we are envious of senators, could the member elaborate on how many New Democrats he knows who want to be senators?
I do not know any myself. I have been around for a lot longer than you have and I have never met any, so could you tell us if you know of any?
Digital Privacy Act October 20th, 2014
Mr. Speaker, if the hon. member thinks that this legislation is so important, and I know nobody likes to be hacked, why is the bill coming from the Senate and not the government? Why are Conservatives bringing this bill to the House of Commons through the back door?
Petitions October 7th, 2014
Mr. Speaker, today I am pleased to present a petition signed by people in a number of communities in the riding of Nickel Belt, including Alban, Crystal Falls, Field, Verner, and Sturgeon Falls.
These people would like to draw the Minister of Health's attention to the fact that the government needs a national strategy for dementia and health care for people with Alzheimer's disease.
Rail Transportation October 3rd, 2014
Mr. Speaker, freight trains roll through my riding of Nickel Belt day and night. Residents want to know that their safety is put first when it comes to the shipment of hazardous materials.
The Transportation Safety Board's report condemns the Conservatives' failure to monitor and enforce safety practices of railway companies.
How will the minister fix these serious gaps and ensure the safety of northern Ontario residents?
Petitions October 1st, 2014
Mr. Speaker, I would like to present a petition from various communities in my riding, from Blezard Valley, Hanmer, Val Caron, Val Therese and Capreol.
The petitioners ask the minister to present legislation on behalf of the Government of Canada to protect consumers from price gouging by gasoline retailers.
In my riding of Nickel Belt, prices vary by as much as 10¢ per litre, and that is price gouging.
Health October 1st, 2014
Mr. Speaker, the Parliamentary Budget Officer has confirmed that the provinces cannot shoulder the burden of the many challenges posed by our ageing population all by themselves. Dementia-related diseases cost the Canadian economy $33 billion. The federal government must do its part.
Will the minister respond to the concerns of Canadians and the provinces who are meeting in Banff, and also support my national dementia strategy that Canadians are calling for?
Regional Economic Development September 19th, 2014
Mr. Speaker, I think this time the parliamentary secretary should listen to the question.
Northern Ontarians are tired of empty talk that is not backed up by any action. Unlocking the vast potential of the Ring of Fire will require a nation-to-nation approach and real engagement from the federal government. Northern communities should not be forced to pay the price for the government's inaction.
We are talking about good, value-added jobs and economic development that would transform our region. How can the Conservatives explain their inaction to northern Ontarians?
Regional Economic Development September 19th, 2014
Mr. Speaker, the Ring of Fire in Ontario's north holds vast potential for economic growth and regional development, but this week we learned that the company is preparing to walk.
Northerners are fed up. Instead of a real plan from the Liberals of Ontario, there is real trouble. Start-up is delayed; the smelter is on hold. Thousands of potential jobs are in jeopardy, but we see no leadership from the Conservatives.
What will the Conservatives do now to get the Ring of Fire file moving?