Claude Gravelle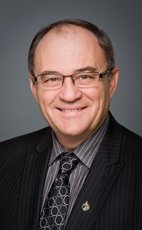 House of Commons photo
Track Claude
Your Say
Elsewhere
Crucial Fact
NDP
MP for Nickel Belt (Ontario)
Won his last election, in 2011, with 55.00% of the vote.
Statements in the House
Natural Resources February 28th, 2014
Mr. Speaker, this is one of the coldest winters in years, and families in northern Ontario are getting burned by the massive hikes in propane prices. The cost of propane has almost doubled this year. One family I talked to recently is reporting heating bills of $800 to $900 per month.
When will the government stand up for Canadians, like Kathy and Arthur, and support the NDP's call for an oil and gas ombudsman?
Support for Volunteer Firefighters Act February 25th, 2014
Mr. Speaker, I would like to begin by thanking the hon. member for Abitibi—Témiscamingue for her leadership on Bill C-504. She is a real MP who shows leadership for Abitibi—Témiscamingue and for Canada as a whole.
My riding of Nickel Belt comprises mostly small communities. There are some full-time firefighters in Sturgeon Falls and some in Valley East. They are supplemented by volunteer firefighters.
I cannot believe what I am hearing from members on the government side and members of the third party about this piece of legislation. Bill C-504 is about federal leadership.
Let me talk a bit about Nickel Belt. I have a big riding that starts in the north in Foleyet, which is serviced by volunteer firefighters, and it goes to Mattagami and Gogama. I will stop at Gogama right now.
I received an email today from a firefighter from Gogama. I just wanted to know roughly how many calls those firefighters had per year. Gogama is a very small community of a couple of hundred people. The firefighters get 60 to 70 calls per year involving motor vehicle accidents, extrications, fires, medical calls, and all kinds of calls that volunteer firefighters would respond to.
There are even smaller communities in my riding, like Cartier, Onaping, and Levack. I will stop at Levack for now.
Levack has always been served by volunteer firefighters. Levack-Onaping is a special case because there are several mines in the area that are serviced by volunteer firefighters. They have been called to these mines to put out some fires. Those mines employ hundreds of people. I want members to imagine what would happen if one of those mines was burning and the firefighters could not show up. What if the place was to burn down? What would happen then?
I heard a Conservative member talking about the economic action plan. I am talking about a bill for firefighters, and he was talking about the economic action plan.
I am not going to be like the member for Mississauga—Streetsville and tell members I saw this, because I really did not see it, but I can just imagine how many bonfires were started because of the economic action plan, by people sitting around throwing books about the economic action plan into the fire just to warm up. That is just about all those books are good for, especially the last one because there is nothing in it. It is just an imaginary budget.
I am going to move on to Killarney, which is another town in my community served by volunteer firefighters. I have skipped over several communities to get to Killarney because it had a special cause not too long ago. Killarney is a tourist area. People work in the summer there and are on EI during the winter. As a result of government changes to EI, the volunteer firefighters did not want to volunteer anymore because they felt they were being punished.
As I only have a minute left, I want to read an email I received from another community in Nickel Belt:
The only thing I can add at this time is that many of our members, including myself, have been told under no circumstances can we respond to a fire emergency while on shift at work. This at times is a perilous situation.
Can members imagine that? If they have kids or grandkids—they must have some family—I want them to imagine their house burning down and volunteer firefighters being unable to respond to the call.
I say the same thing to the Conservative and Liberal members. I ask them to imagine having a car accident and needing to be extricated, except volunteer firefighters cannot help because they cannot leave their place of employment. What a real shame it would be to lose lives because employees could not leave their job sites to save lives or extinguish fires. What a real shame that would be.
Health February 13th, 2014
Mr. Speaker, sadly, Canadians are seeing that the government gets the gold medal for illusions in the budget.
They recognize the dementia health care crisis facing Canada: by 2031, there will be 1.4 million Canadians with dementia, at a cost of $300 billion, but the government said no to a modest $3 million to kick-start a national plan. All we see is research money that was previously announced.
Research is necessary, but a real plan means early diagnosis, integration of care, training of the dementia workforce, help for caregivers, and partnerships with the provinces and cities.
Canada is lagging behind other countries, with no leadership. Hundreds of cities inspired by my Bill C-356 are passing resolutions. Dozens of petitions are being tabled.
Let us put politics aside and agree to a national strategy for dementia.
The Budget February 12th, 2014
Mr. Speaker, yesterday's budget did nothing to move the Ring of Fire project forward. Communities we met are still waiting for the federal government to make this a priority.
The President of the Treasury Board once promised that this project would improve the quality of life for this region. Why did the Minister of Finance fail to act? Where is the federal government leadership? Where is their plan to work with our communities and move this project forward?
Fair Elections Act February 10th, 2014
Mr. Speaker, I have several questions for the member, one in particular.
The Conservatives have a track record of breaking election rules. I will just remind the member of a few.
I have a whole book of election frauds by the Conservatives, for example, the member for Peterborough; the member for Saint Boniface; the member for Selkirk—Interlake; and there was Peter Penashue, remember him; and there were robocalls, and there was Mount Royal, and in-and-out scandals, and the list goes on.
I would like the hon. member for Hamilton Centre to tell the House if the Conservatives are changing the rules of the election law to make it easier for them to get away with this?
Business of Supply February 3rd, 2014
Mr. Speaker, I am happy to take that very good question from a very good MP from Quebec who represents a rural community like mine.
He is dealing with the same problems in his riding as I am in mine. In the small rural communities, banks have been replaced by ATMs. The banks' profits keep going up, while services keep going down. This motion can put an end to that today if we get the support of the Conservatives and the Liberals.
Business of Supply February 3rd, 2014
Mr. Speaker, I would like to remind my colleagues in this House that the hon. member happens to be best MP that Sudbury has ever had, bar none.
Going back to my colleague's question, it is not only less service and fewer banks; it is also more profits for the bank. The banks are closing branches in remote areas. They are installing ATM machines and making huge profits, as demonstrated by their financial reports for 2013.
Business of Supply February 3rd, 2014
Mr. Speaker, I might remind the hon. member that each ATM transaction costs the bank 36¢. If we cap the cost at 50¢, the banks would still make enough money for it to be profitable.
I would also remind the member that in the most rural areas the banks have shut their doors and installed ATM machines, which makes them even more profitable. At 50¢ a transaction, that is a lot of money.
Business of Supply February 3rd, 2014
Mr. Speaker, I am happy today to lend the support of Nickel Belt and my constituents to this opposition day motion that would cap the banks' ATM fees.
First, I want to congratulate my Sudbury colleague for introducing this motion. His work on behalf of consumers is a reminder of why the good people of Greater Sudbury elected New Democrats in both the Sudbury and Nickel Belt ridings in 2008.
The Sudbury Star editorial last month noted the change in colours in the region from red to orange. The editorial stated:
The NDP influence is gradually sweeping over the city, with [my] taking the federal riding of Nickel Belt, succeeding [a] Liberal...and [my colleague in Sudbury] knocking off [a] long-time Liberal...in 2008. What was once a city of Liberals and New Democrats, is becoming a city of New Democrats and some Liberals.
I believe this happens when people see their MPs actually working for them. They want representation that stands up for northern Ontario, representation that stands up for consumers.
Today we do it again, dealing with this question of how more and more people find life so unaffordable. Affordability is a real issue for Nickel Belt. It is a question for Canadians at the kitchen table as bills pile up. It is a question for Main Street, not Bay Street, something our former late leader, Jack Layton, noticed in 2007 when he went to bat for folks against the banks and these fees. Our current leader has returned from a tour that confirms how big an issue this still is with Canadians.
Let us do the math here. On the one hand, some members over there in government, or down the aisle here, might simply shrug at a couple of dollars here or there in people's budgets. What could be so wrong with throwing a toonie at a bank? Well, the banks' own figures tell us how wrong it is. The estimated real cost of this transaction has been put at 36¢. Charging $2 or $2.50 or more to give people back their money becomes a 600% or 700% profit margin. It is not fair and adds to the nickel and diming of people struggling to get by. We need the banks and credit unions. We need private enterprise. There is nothing wrong with that. However, we also need fairness and limitations on run-away profits when and if, as they often are, they are gained on the backs of people who increasingly find they are taking one step ahead only to fall three steps back.
I want to address this broader question of helping average Canadians deal with these mounting bills so that little is left behind. The Conservatives love to tell Canadians to save, to use their RSP and other investment vehicles. They offer breaks for corporations or those people who are well off. However, they too seldom create opportunities for real savings, when we have to pay these fees to the banks or rising gasoline prices at the pumps. Again, New Democrats offer a sensible solution there, wanting an ombudsman and some reasonable regulation of these gas prices that all magically go up simultaneously from all the companies just before a long weekend.
New Democrats are committed to making life more affordable for Canadians. This motion to cap fees is one such example, and it is finding support across the country. Just seeing all the media attention this weekend and today on the NDP motion reminds me of how popular our campaign is.
On the other hand, the government opposite and its Prime Minister and Minister of Finance believe in a trickle-down economy. Generate wealth at the top and the theory says it trickles down to the rest of Canadians. This is utter nonsense. Canadians do not see the wealth in their bank accounts. They do not see the wealth given to their Conservative friends reach them anytime soon. What is trickling down is disdain from most politicians. The Conservatives take care of their own and a handful of people on Bay Street and former cabinet ministers. Their wealth, along with the growing income gap, is a testament to how little actually trickles down. It would take decades for people in the middle class or those living below the poverty level to share in any generation of the wealth meant for a few vested interests.
In truth, the government that prides itself on being a good economic manager blows money hand over fist. The current government is more interested in self-congratulatory billboards and ads for fictitious programs than in helping Canadians.
Susan Delacourt's new book, Shopping For Votes, demonstrates this well, noting that we now have Canada's first marketing prime minister. As we know, there has been an avalanche of ads trumpeting supposed achievements that are not there. We have recently learned about the government spending $2.5 million to plug a job action program that does not exist. We learned that the government, with its sorry record on actually helping soldiers and vets, now has officials looking for vets who have good news stories on what the government has done. Good luck on that one. One would think that with the Minister of Veterans Affairs and all the bad news that the government would use the time of civil servants to fix the problems.
The government passed reasonable regulations that protected Canadian banks during the financial crisis. The problem is that it refused to do anything to protect Canadian consumers.
Today, the big banks are making record profits. Last year, they made $29.4 billion. There is no reason banks should be allowed to keep exploiting consumers by charging unfair fees. That simply does not make sense. Low-income Canadians do not deserve to be punished because the banks close branches in their neighbourhoods.
Hearing about the motion to cap bank ATM fees, one gentleman named Andy told me this on social media:
Any type of fees from the banks are outrageous. They profit in the billions and all we get in return for interest is nickels and dimes. The matter was brought up by the NDP and [all the Prime Minister] said was "instead, focus on the economy". With an answer like that, he wants the banks to get richer, and we get poorer.
It is time for the government to stop the fiction on the great job plans and actually focus on the real economy.
In more competitive banking markets, like the United Kingdom, ATM fees are very small or have been waived. Ireland has no fees. Other European countries regulate them. However, in Canada, in less competitive markets, Canadians can be charged $2 or $3 to access their own money. These fees are a double whammy for low-income Canadians and many people in my large and partly rural districts.
Canadians are punished as bank branches are closed down in their neighbourhoods. There are fewer banks and fewer bank branches, forcing them to use ATMs and pay those fees. One would think that with more and more ATMs, this might have led to some competition and lower fees. However, prices have increased. The nickel and diming of Canadians, with $2 and $3 fees, adds up in this weak economy. Incomes of middle-class Canadians are simply not growing. The cost of living goes up each year, but income for a typical Canadian family has fallen by 7% in the last 35 years.
Listening to the Conservative finance minister in 2007, one would think there would have been some action on these fees. In 2007, in response to the NDP campaign to ban ATM fees, the Minister of Finance told the House of Commons finance committee, "We agreed that the banks ought to do something in terms of consumers with respect to ATM [fees]". However, the government has done nothing and the banks continue on their merry way.
Our motion, and other measures in the NDP affordability campaign, would help address the alarming concerns about growing household debt. Former Bank of Canada governor, Mark Carney, said that household debt now represents perhaps our greatest and most immediate threat to Canada's economy. Household debt is at a record high of 166% of disposable income, and evidence suggests that consumers may have reached their limit. Canadian household debt now stands near the same level as U.S. household debt just before the financial crisis in 2008. It makes real economic sense to reduce the household debt so we can stimulate the economy in other ways.
Let us help Canadian seniors, people with disabilities, and other people with limited mobility. They too should not face huge fees for using the limited number of ATMs that are accessible to them. I invite the government and all parties today to stand with Canadians who support a cap on ATM fees.
Together, we can put an end to banks ripping off consumers. With this government, we have already put an end to unfair payday lending practices and fees for paper billing. Now we have to do something about excessive bank fees.
Income Tax Act January 30th, 2014
Mr. Speaker, I am happy to rise today to speak to this bill amending the Income Tax Act to deal with travel and accommodation deductions for tradespersons.
It is no surprise that this legislation comes from my colleague and friend, the member for Hamilton Mountain. Nickel Belt and Hamilton have much in common besides their good sense in electing New Democrats to the House of Commons.
My colleague has been tireless in her support and advocacy for working men and women. Like her, I understand the extraordinary contributions made by tradespeople for our economy and our communities. People in Hamilton and Nickel Belt get this.
Like her, I know the extraordinary contributions unions make in the fight for justice, fair wages, pension protection of workers, and so much more. Examples are the Edgar Burton food drive in Sudbury, led by local 6500 USW, and the building of the cancer treatment centre in Sudbury, which was driven by all union members in Sudbury and Nickel Belt.
Unlike the government opposite, we on this side respect the union movement and the role unions play in building our communities and our country. The Conservatives proved last night, by supporting Bill C-525, how they feel about unions.
This is a reasonable proposal before the House today. It would allow tradespersons and apprentices to deduct travel and accommodation expenses from their taxable incomes so that they could secure and maintain employment at a construction site that is more than 80 kilometres away from their homes.
I worked for a mining company for 34 years as a tradesman. I know the importance of the trades and the need, from time to time, for those skilled labourers to travel great distances to projects in other parts of the province or country.
Sitting these past two years on the natural resources committee, I understand the demand for skills in these major oil and mining projects and the likelihood of our workers travelling great distances to secure these jobs. This is an issue that is going to become increasingly important in our country.
This bill will help our working people and their families. The Canadian building and construction trades have been asking for this legislation for over 30 years. They got a lot of words from successive Liberal and Conservative governments, but no action.
Let us think about taking this reasonable small step in helping these tradespeople and our economy.
Construction workers cannot claim their travel or accommodation expenses when they accept jobs in other parts of the province or country. Building and trades officials report that the average expenses to relocate can be about $3,500. Some cannot afford to pay those expenses knowing that they cannot get a tax credit for them.
The member for Hamilton Mountain has done her homework on making this a win-win situation for everyone. It would solve the challenges in our regions where one area suffers from high unemployment while another suffers from temporary skilled labour shortages. Let us help the skilled workers get to where they need to be.
This legislation is even revenue neutral, given the savings that would happen in employment insurance benefits. The government has trouble figuring this out.
I have a response to a petition I submitted last month that was in favour of Bill C-201. The government calls this bill costly and flawed. The government insults workers, claiming that this tax relief could be open to much abuse, with moves done for lifestyle decisions rather than for work.
Any tax credit is, of course, open to abuse and requires safeguards and monitoring, which the Canada Revenue Agency is supposed to provide. It is not that difficult to confirm that a move has been made to take a skilled job that has not been filled.
The government response also alleges that certain individuals might receive a windfall gain and would have incurred ineligible travel and accommodation expenses in any case. I do not know who they were thinking about when they made these comments. It was probably Duffy, Wallin, Brazeau, Harb, and Lavigne. These people I named are not tradesmen. They are professional fraudsters. They are senators.
It is not difficult to make clear what an eligible expense is and who qualifies.
The CRA is also there to investigate any double-dipping.
This is also a win-win for the employers, giving them access to much larger pools of qualified workers. We need to act when we look at this country's demographics, including the baby boom generation, the numbers to retire in the next 10 years, and the statistics on shortage of skilled workers.
This bill has been introduced in every parliamentary session since 2006. It was part of the NDP's election platforms in 2008 and 2011. What we want is simple. The bill would allow tradespersons and apprentices to deduct travel and accommodation expenses from their taxable income so that they can secure and maintain employment at a construction site that is more than 80 kilometres away from their home.
These mobile workers across Canada continue to have to worry about maintaining a residence and their family, while spending their own money to travel in order to find work. The tax credit would cover the cost of travel, meals and accommodation and reduce the amounts paid by employers for the same things. The 2008 budget offered a similar break to truck drivers in order to reduce problems associated with mobility in that industry.
I remember what the AFL-CIO's Building and Construction Trades Department director, Robert Blakely, said at the 2012 pre-budget consultations:
We have spaces for nearly 2,500 people to enter the construction industry in the next five years, and another 163,000 people in the five years after that. It's an industry that is going to change. If we have trained people all across the country, we need to be able to move them.
There are an estimated 1.6 million construction workers in Canada. An estimated 10% of them travel each year. This legislation is even revenue neutral, given the savings that would happen in employment insurance payments.
The government has trouble figuring this out. The government needs to do the real math, not the nonsense of estimating the cost of the bill at $60 million per year.