David McGuinty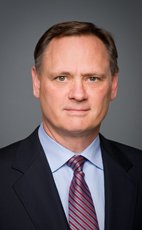 House of Commons photo
Track David
Your Say
Elsewhere
Crucial Fact
His

favourite word

is transport.
Liberal
MP for Ottawa South (Ontario)
Won his last election, in 2011, with 44.00% of the vote.
Statements in the House
Petitions December 12th, 2014
Mr. Speaker, pursuant to Standing Order 36, I rise today to table a petition regarding the rights of small-scale family farmers to preserve, exchange, and use seeds. The signatures were collected by Development and Peace, an organization that continues the important mission of promoting social justice. I am very pleased and honoured to present this petition on behalf of concerned Canadians, and I look forward to the government's response.
Petitions December 10th, 2014
Mr. Speaker, pursuant to Standing Order 36, I rise today to table a petition regarding VIA Rail service in Canada. I am pleased to table this petition on behalf of concerned Canadians. I look forward to the government's response.
Respect for Communities Act December 1st, 2014
Mr. Speaker, the more I hear the Conservatives speak about this, the more I know they are hoisted on their own petard.
The parliamentary secretary got up earlier and said she had had the courage to visit InSite. I am very happy to hear that. I wonder if she took a picture and disseminated it to her constituents to explain just how positive InSite's work is. It has dramatically lowered HIV infection rates. It has dramatically lowered hepatitis C infection rates.
The Conservatives are trying to hide behind this notion of consultation, but they really are hoisted on their petard, because there were over 60 amendments moved by opposition parties. None passed. There were amendments by the Province of B.C., the chief public health officer of B.C., and the City of Vancouver. None passed. The Vancouver Police Department supports InSite. It goes on and on.
The only marginalized, completely ostracized group left that does not support moving forward on the safe injection sites is the federal Conservative caucus.
Respect for Communities Act December 1st, 2014
Mr. Speaker, I listened intently to the member's speech as he read it. I want to come back to something that he repeated several times. He said that the government was open to co-operating.
If the government is so open to co-operating, then here are a couple of questions. Why, despite the bill being tabled by the Minister of Health, was it given to an enforcement department and committee, namely public safety and security? Is this not evidence that the government's view of addiction is that it is a criminal act?
Second, at committee, many witnesses came forward for three meetings. Many expressed concern that the bill would effectively shut down the current site in Vancouver and make it impossible to create future sites. Amendments were provided by the Province of British Columbia, the chief public health officer of B.C., and the City of Vancouver. All were denied. There were 60 amendments moved by opposition parties. All were denied by the government.
Finally, he talks about addiction. Many years ago, someone taught me that addiction is the antithesis of being free. When people are addicted to something they are actually addicted, so their freedom to choose is severely compromised because they are addicted. Could he help us understand why the government would not be facilitating or helping, particularly in the case, as he mentioned, of hepatitis C or HIV infections? For every HIV infection in our country, it costs half a million dollars in health care costs.
Respect for Communities Act December 1st, 2014
Mr. Speaker, when the Liberal government gave the exemption to Vancouver's safe consumption site, InSite, we consulted very broadly. We worked in conjunction with the provincial and municipal governments, public health authorities, business associations, and the public widely, and we managed to achieve what I would describe as a form of co-operative federalism wherein local, provincial, and federal authorities came together to create this organization.
Now we learn that in Vancouver, with all of the success that has accrued to InSite and all of the help that it has provided, that despite all the former police officers in that caucus on the other side, the Vancouver police strongly support InSite. The City of Vancouver supports it. The Province of British Columbia supports. It goes on and on. The only voice that is in denial is the federal Conservative caucus. Even members of Conservative parties around the country at the provincial level are supportive.
Could the member help us understand what could possess the current federal regime to act so contrary to science and experience?
Respect for Communities Act December 1st, 2014
Mr. Speaker, it is really hard to know where to begin because of the very unfortunate approach taken by the government on this extremely important public health issue.
The hon. member for Kootenay—Columbia is a former peace officer. He knows all too well that we have so many connections between crime and substance abuse in this country that it is not funny.
Here are some facts around InSite usage in Vancouver in the Downtown Eastside. We know that there were 20,000 referrals to health services in 2008-09, over 50% of which were for detox; that InSite users are 30% more likely to engage in addiction treatment than non-InSite users; and that 3 out of 10 injection drug users in Downtown Eastside are HIV positive and that there were 30 new HIV cases in the Downtown Eastside compared to 2,100 in 1996. We know, for an apparently fiscally responsible government on the other side, that every time we prevent one new case of HIV infection we save $500,000 in health care costs and treatment.
This bill flies in the face of a Supreme Court of Canada decision. It is a bill that, unfortunately, is being torqued and spun by political handlers in the Conservative Party because they want to fundraise and frighten people. I think it is very unfortunate that in 2014 Canadians are subjected to this kind of nonsense.
Business of Supply November 27th, 2014
Mr. Speaker, I thank my colleague for his remarks, and I thank the NDP for putting forward such a thoughtful motion today. It is deserving of the House's attention and is extremely important, because it speaks to our notion of what a civilized society is. We look out for each other. I am always reminded of my parents' maxim to their 10 children, that if we pulled apart, we would feel like 5, but if we pulled together, we would feel like 20. I think today we are pulling together and feeling like 20.
Maybe the member could expand a bit on some of the remarks he made about why we have this special responsibility to the 95 Canadians who are living today with severe disabilities due to exposure to a drug, thalidomide, taken by their mothers during pregnancy, which at the time was endorsed by Canada's government.
Rouge National Urban Park Act November 25th, 2014
Mr. Speaker, I would like to thank my colleague. I want to talk about the same thing she did, namely partnership.
More and more in the House, we are seeing that this federal government is refusing to work closely with the provinces, particularly Ontario. At a dinner yesterday evening here in Ottawa, Premier Wynne gave a speech in which she clearly indicated that she was still waiting for an answer from the Prime Minister of Canada so that they can begin working together on a number of files, including the Rouge national urban park.
Can the member help us understand how a federal government can continue to act this way? The two levels of government should have finished the work and should be ready to sign an agreement, yet there is no consensus or partnership. The federal government is not co-operating when it comes to the mines in northern Ontario.
Regional Economic Development November 21st, 2014
Mr. Speaker, according to Ontario's Lieutenant Governor, the Ring of Fire is the most promising mining opportunity in Canada in a century. Here is what the Conservatives are putting at risk: 5,500 full-time jobs, $60 billion of mineral reserves, $25 billion in economic activity, and $6.7 billion in government revenues.
When will the Prime Minister meet with Ontario's Premier to help secure this enormous opportunity for Canada?
Government Advertising November 21st, 2014
Mr. Speaker, investments in public transit reduce commute times and help families to spend more time together. They reduce gridlock, enhance productivity, and drive up business efficiency. Instead, the Conservatives are touting a $2-billion income splitting plan, all from borrowed money that excludes 85% of Canadian households. They do not hesitate to spend $750 million on self-serving advertising.
Why all of this, instead of investing in critical infrastructure that creates jobs, drives growth, and benefits all Canadians?