David McGuinty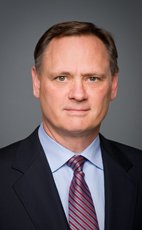 House of Commons photo
Track David
Your Say
Elsewhere
Crucial Fact
His

favourite word

is transport.
Liberal
MP for Ottawa South (Ontario)
Won his last election, in 2011, with 44.00% of the vote.
Statements in the House
Pipeline Safety Act February 26th, 2015
Mr. Speaker, I thank my colleague for his speech. We worked together previously in the Standing Committee on Natural Resources.
I have a question that relates to this bill and the whole question of pipeline safety, because it is impossible to distinguish pipeline safety from the transportation of oil by rail. As the member knows, as chair of the natural resources committee, on present courses, if all of the pipelines that we are contemplating building are built—one to the west, one to the south, which appears to be on permanent hold, and one to the east—in nine years from now, based on the plans to continue exploiting fossil fuels from our oil sands, we will have 1 million barrels a day in excess oil capacity that will not be transported by pipeline.
Can the member help us understand how the government sees this question of pipeline safety and this incredible risk of longer trains carrying many more cars with oil? We saw what happened at Lac-Mégantic. We saw another explosion last week in the United States.
Tougher Penalties for Child Predators Act February 25th, 2015
Mr. Speaker, I commend my colleague for his speech, once again. He shows the distinction in his background as a career lawyer. However, I want to go back to the notion of mandatory minimum sentences.
My colleague now knows this. In the United States, there is a bipartisan effort among Republicans and Democrats to do away with mandatory minimum sentences, because the Americans have decided in Congress that they are not working. Whether it is in Texas, California, or New Jersey, there is a movement to do away with them, because they are extremely expensive. As the Americans like to say now, mandatory minimum sentences are all about being dumb on crime and tough on taxpayers.
I would like to ask my colleague to comment a bit more on the fact that these mandatory minimums the government is shoving down the throats of judges are not working. Also, could he just help us understand why it is that the director of criminal law policy at Justice Canada, Mr. David Daubney, who was a Conservative member of Parliament before moving on to that distinguished career, held a press conference just before his retirement two years ago and slammed the Conservatives for not listening to the evidence or the good work being provided by the criminal law policy unit at Justice Canada?
Business of Supply February 24th, 2015
Mr. Speaker, if there is any rationale for actually passing the motion today and moving on this important study, it is the speech that was just given by the member. What we just heard from the member was some important insight as to what was happening comparatively on this subject in both the United States and Europe. That is exactly and precisely the kind of information, front-line experience that should be brought to bear in a special committee.
A special committee, by the way, which O'Brien and Bosc contemplates especially this kind of study, is:
Every special committee is established by an order of reference of the House. The motion usually defines its mandate and may include other provisions covering its powers...
It goes on to say:
Unlike legislative committees...they are not usually charged with the study of a bill...but rather with inquiring into a matter to which the House attaches particular importance.
That is why the motion has been brought here.
For the life of me and for the hundreds of thousands of Canadians right now who are touched with this issue, I think people are asking why the government cannot come to its senses and see that we need to get started on this, particularly, because we have a 12-month window within which to bring forward a proper legislative response, which would build upon our own personal and professional experiences.
VIA Rail Canada Act February 20th, 2015
Mr. Speaker, it is only the parliamentary secretary who does not understand the connection between the transportation of fossil fuels and passenger rail in Canada. What is he talking about? This is exactly the problem we are facing in Canada, a denial by Conservatives that we have a problem on the ground in the competition for the use of rail between passenger rail and other forms of rail use. What does he not understand about that?
The problem is that by 2024 we are going to be producing one million barrels a day of excess capacity of oil, and it is going to be shoved onto the railway system. The problem is that the government does not want to have an adult conversation about that and the fact that it is having a spillover effect. The parliamentary secretary hoots and hollers and continues to yell from his side because he does not want to have a real conversation about what is really happening on the ground.
We have a logjam. Our farmers in the Canadian prairies lost $3 billion in revenue as ships were sitting off the coast of B.C., because the Conservative government could not get that grain to market.
This bill is important. An adult discussion about passenger rail is very important in the context of the choices we are going to make as a country.
As I said earlier, some of the measures in the bill are highly prescriptive. For example, it mentions only the Canadian Tourism Commission and the Federation of Canadian Municipalities as sources of directors for the corporate board. I do not think that is comprehensive or perhaps realistic. I think the member might have his own views in that regard as well.
As for stipulating that track use by VIA Rail should take precedence over all other forms of rail use, I would like to hear more about that from our private sector operators and urban transit systems to see what the distributive effects of such a measure, if implemented, would have on an already bottlenecked system.
I think the bill is a good contribution to a much larger question about where we are going in this country for the next century, and not for the next six months, which is what the Conservatives would have us do. They are fixated on October 19, not on solving longer-term problems. Their fixation on this election is actually leading to poor public policy outcomes.
We need to have a discussion here on where we are going with rail for the next century, and the bill would help us have it. This is an important conversation for us to have. It is our responsibility as legislators, on behalf of all Canadians, to treat this issue responsibly over a longer term. Again, I think the bill goes some distance in raising questions.
The member has done a good job as well with the idea of having specific legislation that would govern VIA Rail. Let us begin by beginning, and it is a good beginning to have a legislative framework that actually embraces VIA Rail. There is the question of whether VIA should be coming back to this House in terms of its internal management systems, such as winding up with a route here or cutting back in staff there or changing the frequency of train service, and that is a discussion I think we should have at committee.
We will be supporting sending the bill to committee to have a more extensive discussion.
VIA Rail Canada Act February 20th, 2015
Mr. Speaker, I want to begin by commending my colleague from the NDP for bringing forward this bill. It is a welcome contribution to the very large and comprehensive problem of our rail system in its fullest context, that is to say, the passenger, freight, and commuter rail service systems. I believe the whole question of our rail system in Canada is very much at play.
I am pleased to follow up on the remarks of my colleague, the parliamentary secretary to the minister. Indeed, after watching the government for nine years, and many of its front-line ministers for a decade previously while they served in another right-wing government, when it comes to the question of VIA Rail and its future, I have concluded that it is the government's intention to attempt to privatize VIA Rail in due course.
When I began speaking this way several years ago with respect to Atomic Energy of Canada Limited, the Conservative members scoffed. They dismissed it. They said that I was an alarmist and that it was an attempt to frighten people. However, we know that the government followed the regular pattern it does when it wants to divest itself of a crown asset. That is how it goes about it, and that is what it did with Atomic Energy of Canada Limited. As far as I am concerned, that is what the government is now beginning to do with VIA Rail.
In the context of atomic energy, the Prime Minister dispatched his then director of communications to make a series of public remarks about the state of that crown corporation. It was very disturbing to the thousands and thousands of Canadians who had helped build AECL and had, after 58 years, made it into one of the world's leading global nuclear research, nuclear power plant, and medical isotope-producing companies. The Conservatives began their pattern of running down an asset, called it a sinkhole and, of course, then sold it at a fireside price. That was 58 years of global tradition and Canadian leadership they sold for $100 million to SNC-Lavalin. That is what they do.
Therefore, I am having this conversation today and making these remarks in the context of my conclusion that if re-elected, the government fully intends to divest itself of VIA Rail and to move in the same direction with respect to Canada Post. We see the same techniques and actions being taken and have just heard similar remarks by the Parliamentary Secretary to the Minister of Transport. It is unfortunate because Canadians have come to depend on passenger rail as part of their tradition, as part of what they need, as part of their economy. Whether it is the use of passenger trains for hunting and other ecotourism opportunities in northern Quebec, or for passenger use in and around Sarnia or, as my colleague mentioned, for use on Vancouver Island, there is a present demand for passenger rail in this country.
My colleague has gone a certain distance in his bill to make some recommendations for change. I commend him for stepping up to the plate and recommending anything that might improve VIA Rail. I do not agree with all of the measures. I think there is an element of it that is perhaps too prescriptive, which may or may not fit more readily in the tradition of the NDP's view of how to manage a crown corporation. I commend him for making some positive recommendations for change. However, there are larger questions looming that I want to come back to, such as what I mentioned just a minute ago.
Right now the Canadian rail system is basically bottle-necked. This bill was deposited here on the floor today in the context of a major problem. We have too many demands on the rail system as it is presently constructed.
Given the existing rail capacity and the existing status of our railways—that is, the rail itself—and given the fact that we built our cities around the railways, which we never contemplated when we tried to unite this country a century or more ago by using rail, what we have is a bottleneck situation. It is being made worse by a massive 1,500% increase in the transportation of oil and fossil fuels by rail just over the last two or three years.
As I like to remind my colleagues regularly, even if we build every pipeline that the government has been contemplating now for a decade—a pipeline south, a pipeline west, and a pipeline east—and those three pipelines all carried fossil fuel, we would still be having—
Justice February 20th, 2015
Except that is not true, Mr. Speaker.
The facts do not back up the Conservatives' claims that they take crime seriously. They cut the RCMP's funding to combat child pornography by $10 million. On the other hand, since coming to power, they have spent $750 million on partisan advertising. Their ministers spent more than $2.3 million on photos of themselves. It is obscene.
When will this government make it a priority to protect our children?
The Economy February 20th, 2015
Mr. Speaker, experts' forecasts regarding GDP growth are dropping every month. Job creation is stagnating, and we have two provinces that are headed towards a recession.
The Conservatives respond by cutting the infrastructure program by 90%, even though that program guarantees job creation and future prosperity. Worse still, the minister is postponing the budget until May and says that no immediate action is needed.
Why are the Conservatives being so irresponsible with our economy?
Government Contracts February 18th, 2015
Mr. Speaker, Treasury Board rules were broken in order to give an after-the-fact contract to the Prime Minister's former chief of staff.
The office of the then minister of natural resources even insisted that the payment be made in the fiscal year-end panic. Even worse, the department cannot find a copy of the discussion and does not even know what it is about.
How can the minister find this to be acceptable?
Government Contracts February 18th, 2015
Mr. Speaker, government documents make it clear that this procurement was "inappropriately actioned". The amount charged was conveniently just under the $10,000 public disclosure limit, but what is really distressing is that the department has no copy of the speech or any record of whether or where it was actually delivered.
Can the minister immediately produce a copy of this speech, and can he advise why taxpayers paid for it if the department has no record of its very existence?
Government Contracts February 18th, 2015
Mr. Speaker, Treasury Board contracting rules are in place to prevent corruption and political favouritism. Yet documents show that in March 2013, the office of the then minister of natural resources, now the Minister of Finance, ordered his department to approve a $9,200 payment that, according to his own department, "contravenes...Treasury Board...Contracting Policies".
This was an after-the-fact speech-writing contract for the minister. Who was the money for? It was for none other than Guy Giorno, the Prime Minister's former chief of staff.
Why were proper contracting rules violated?