David McGuinty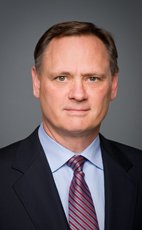 House of Commons photo
Track David
Your Say
Elsewhere
Crucial Fact
His

favourite word

is transport.
Liberal
MP for Ottawa South (Ontario)
Won his last election, in 2011, with 44.00% of the vote.
Statements in the House
Questions Passed as Orders for Returns September 15th, 2014
With regard to the National Capital Commission (NCC): (a) what were the costs and details of expenditures related to the relocation of the NCC's Capital Infocentre, located at 90 Wellington Street, Ottawa, Ontario, to the World Exchange Plaza, located at 45 O'Connor Street, Ottawa, Ontario, in 2011; and (b) what are the costs and details of expenditures, or the anticipated costs and details of expenditures, related to the anticipated relocation of the Infocentre from the World Exchange Plaza to its former location at 90 Wellington Street?
Questions on the Order Paper September 15th, 2014
With regard to the telephone survey of nearly 3,000 Canadians conducted by the Reid Group regarding prostitution and delivered to the Department of Justice on February 10, 2014: (a) why is the Department refusing to disclose the information it contains; (b) did the Minister of Justice take the findings of this survey into account in the drafting of the new bill; (c) why did the Minister of Justice not see fit to publish the survey results; and (d) what organizations inside or outside government have received a copy of the survey results?
Questions on the Order Paper September 15th, 2014
With regard to the inventory of protests or demonstrations maintained by the Government Operations Centre: (a) which government departments or agencies are involved in the surveillance of public demonstrations; (b) when did the surveillance measures begin; (c) what government resources are employed in the surveillance; (d) for each department or agency, how many staff members have participated in the surveillance reporting system in each fiscal year since surveillance began; (e) what have been all the costs of implementing the surveillance; (f) how long are these surveillance measures intended to last; (g) which government department or agency maintains the data on the protests; (h) how long is such data retained; (i) who are the partners with whom it is shared; and (j) under what authority is it shared?
Infrastructure June 19th, 2014
Mr. Speaker, the most efficient way to create jobs is through infrastructure investment. David Dodge, the World Economic Forum, the Australians, and the British, they all get this.
The FCM says the building Canada fund is rife with red tape. It will cost property taxpayers way more money.
Now provincial ministers of finance are unanimous, blasting the minister for confusion, delays, and misinformation. No contribution agreements have been signed, not one. No shovels are in the ground. Projects are delayed.
It is June 19. Jobs are on the line. What are the Conservatives waiting for?
Petitions June 19th, 2014
Mr. Speaker, pursuant to Standing Order 36, I rise today to table yet another petition regarding the devastating cuts in service and the huge price increases at Canada Post.
I am pleased to table this petition on behalf of many concerned Canadians.
I look forward to the government's response.
Instruction to the Standing Committee on Veterans Affairs June 19th, 2014
Mr. Speaker, the government knows it has let go, either through attrition or outright dismissal, some 47,000 employees from the public service of Canada. Conservatives know that there is a freeze in hiring right now in the federal public service. They know that their existing bill does not meet the same criteria as the bill in the United States, which allows for more preparation and training not just for public service jobs but for private sector opportunities, where so much of the growth is in Canada.
Can the member help Canadians understand why the government would persist in putting forward what is clearly an incomplete bill?
Prohibiting Cluster Munitions Act June 17th, 2014
Mr. Speaker, I am looking for unanimous consent this afternoon to table three documents.
The first is the budget document from Australia, which tables building Australia's infrastructure—
Infrastructure June 17th, 2014
Mr. Speaker, the government continues to ignore major structural problems plaguing the Canadian economy. Our decline in competitiveness has hurt our exports. Highly indebted households will not sustain past levels of domestic demand. David Dodge tells us to invest much more in infrastructure that will stimulate demand and increase our competitiveness, especially at a time when low interest rates make infrastructure investment more affordable than ever.
Instead of cutting infrastructure investment by 90%, why is the government not acting?
Safeguarding Canada's Seas and Skies Act June 17th, 2014
Mr. Speaker, I spoke to this bill at an earlier stage. It is clear that, in many respects, this bill has a piecemeal or what we might even describe as an incoherent approach to transportation safety policy in Canada.
At the transportation committee, of which I am vice-chair, we are seized right now, for example, with the whole question of safety management systems, rail safety, and other important foundational issues. We could describe this bill as a technical amendment bill, as it would amend so many statutes.
Underlying all of these, if we look at the public accounts, the important thing for Canadians to remember is the money, because they are wise and they know that they should follow the money. When we look at the money, which underpins transportation safety in Canada, the last set of public accounts that were rendered public are conclusive in that they are all being cut. The only area that is not being cut, with a marginal increase, is rail safety. However, road safety is being cut, marine safety is being cut, and air safety is being cut.
Could the member help us understand how the government can, frankly, have the audacity to describe this as the safeguarding Canada's seas and skies act when, if we look at the money that underpins the audits, the inspection, the enforcement, and the follow-up, everything but rail safety is actually being cut?
Georgian Bay Channel to Lock 45 – Port Severn June 16th, 2014
Mr. Speaker, I would like to thank the member for Simcoe North for bringing forward this important motion. It is one that we will be supporting.
It is a local issue about which his community clearly cares. The member for Simcoe North has kindly shared with me support letters from arenas and other businesses, as well as property owners in his riding. As he rightly points out, this about is $24 billion worth of property, 160 dams, 50,000 residences and property owners, and more.
By way of background for those who are not as familiar with Ontario as I and the member, we are talking about the channel that links the Trent-Severn Waterway to Georgian Bay. It is a winding, narrow passage chiselled from the rock floor of Georgian Bay, immediately south of Lock 45 in Port Severn, Ontario. It is a hazard for recreational vessels because it is, first, rock-faced. Second, it requires fairly sharp turns. Third, it is not wide enough for larger vessels to pass each other. Finally, it suffers from unexpected swift currents from the release of water from the locks.
The channel becomes even more difficult to navigate safely during low water level conditions on Georgian Bay, a condition that has now prevailed since 1999. The bay is currently 35 centimetres below its long-term average for this time of year. The hazardous nature of the channel has deterred boaters from using it, resulting in lost business for services, arenas, retail sector, food services and more on Georgian Bay.
As an environmental lawyer, I fully understand that water resources support Canada's social fabric, underpin our biodiversity and are central to our economic prosperity.
Now, while I support the motion, I also think the government has a responsibility to take action when environmental challenges pose threats to our environment and our economy. This is a perfect demonstration project or case of how we should hand the realities we will face over the next 50 to 100 years.
For the past 20 years, I have been calling for a detailed national climate change strategy for Canada, a strategy to both mitigate and help adapt to climate change.
Just last weekend, the Intergovernmental Panel on Climate Change released some numbers showing that the concentration of CO2 in the atmosphere was now well over 400 parts per million and holding. Why is that important? It is important because we are trying to maintain the projected temperature increases to 2°C going forward. If we continue to climb in the concentration of carbon dioxide in the atmosphere, it will be very difficult to contemplate holding that temperature increase to 2°C.
Why is this so important? It is important because we now know that the Great Lakes are in long-term decline because we have seen an ever-increasing temperature increase in them for a few reasons, mostly evaporation because of temperature increases.
We have also the effects of the dredging of the St. Clair River, and we have seen other effects of climate change right across Canadian society: storms, flooding, and the frequency and severity of these are going to continue.
If we had a national climate change strategy for Canada, it would help address the low water levels. It would help many waterways in Canada become safer and easier to navigate, without having to pay hundreds of thousands of dollars a piece for dredging.
That makes it all the more difficult to understand why the Prime Minister, last week, with the Prime Minister of Australia, once again, positioned the economy and the environment in isolation from each other, saying that we could not afford to address the climate change challenge. He could not be more wrong.
Last year, Lake Huron and Lake Michigan hit their lowest January water levels since record-keeping began in 1918, following more than a decade of below normal rain and snowfall, and higher temperatures that increased evaporation.
Furthermore, at a time when we need more and better science, one would think we would want to know, for the 50,000 property owners along this waterway, what might be coming.
At that very time, we found out that the Conservative government was cutting funding for environmental science. It has cut funding to the International Joint Commission, leading to Lana Pollack, the U.S. co-chair of the IJC, commenting, "We have always depended on good collaboration with agencies in both the governments. When those agencies get cut, we feel it, the lakes feel it".
For the Conservative members who might want to listen, in the report on plans and priorities over the next two years, the government plans to decrease Environment Canada's budget by one-third, 30%. That is $300 million cut from a $1 billion budget.
In 2014-15, again in the report on plans and priorities, climate change and clean air programs are being cut 70% between now and 2017. I would think the member, in this important motion, would want to work internally in his own caucus to remind the Prime Minister that we need to help these property owners. We need to help companies in the private sector to adjust to these new realities.
Instead of embracing the economic opportunities that are inherent in the adaptation mitigation that is to come, the government continues to divide the two. International climate change and clean air funding will be cut 45% and staffing level will be cut by over 80% by 2017. That hardly sounds like a country getting ready to adjust to the realities of climate change and all of the economic opportunities that are inherent in addressing climate change going forward.
We will continue to put pressure on the government to also drive forward on a national water resources strategy, a comprehensive water strategy, working with the provinces, municipalities, territories and beyond, and, when necessary, with the government of the United States. Our waterways are interconnected, our land masses are connected, our oceans are contiguous. We are going to have to work together.
Finally, this is a wonderful opportunity, a wonderful case, where if the government had not eliminated the national round table on the environment and the economy, the national round table could have worked with the member, with private businesses, with aboriginal groups, with environmental NGOs and with orders of government to come together with a better, more comprehensive approach to deal with the watershed management challenge.
It is unfortunate, but it is an important moment for the government to stop, drop the rhetoric, drop the partisanship, drop the ideology on climate change, and understand that we can, as one person once said, do a lot of damage to the planet by running down its capital. Imagine how much more money we could make by actually replenishing it.