Denis Lebel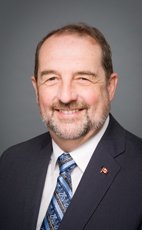 House of Commons photo
Track Denis
Your Say
Elsewhere
Crucial Fact
Conservative
MP for Roberval—Lac-Saint-Jean (Québec)
Won his last election, in 2011, with 45.70% of the vote.
Statements in the House
Infrastructure March 6th, 2014
Mr. Speaker, as I have said, he has to look at the 10-year plan. It is a 10-year plan.
We have indexed the gas tax fund. We have doubled it. That is now permanent in the law; 71% of this plan is going straight to the municipalities of the country, and FCM is supporting that plan.
Infrastructure March 6th, 2014
Mr. Speaker, our government has nearly tripled average annual infrastructure investments since 2006.
The economic action plan 2013 announced $70 billion over 10 years, a decade. We have to look at all 10 years, including the $53 billion for provincial, territorial, and municipal infrastructure.
Questions on the Order Paper March 6th, 2014
Mr. Speaker, with regard to part (a), final project costs will be determined by the end of the competitive procurement process for the public private partnership, PPP, after the project agreement has been signed. Very preliminary estimates suggest the cost of the project could be between $3 billion to $5 billion. This would include design and construction costs for the whole project, which, in addition to the replacement of the Champlain Bridge, includes the alignment with A-10; highway works on île des Sœurs; the replacement of the île des Sœurs bridge; as well as the widening and reconstruction of the federal portion of A-15.
With regard to part (b), it is too early to say what the toll rate will be. Additional studies will be completed and discussions will be held prior to the establishment of the toll rate. Several toll scenarios are being examined that are consistent with tolls in effect in the Montreal region and will be made public at a later date.
Infrastructure March 5th, 2014
Mr. Speaker, I thank my hon. colleague for her excellent question. Unlike the Liberal leader, we are familiar with the numbers and we know that budgets do not balance themselves.
The new building Canada plan is the longest and most generous plan in Canada's history. Over the next 10 years, we will invest $70 billion in infrastructure in every region of Canada. This is a record amount that is unparalleled in the history of this beautiful country.
Infrastructure March 5th, 2014
Mr. Speaker, these investments in infrastructure are of $70 billion over 10 years. We know for the Liberals, the budget balances by itself. That is what we are doing. We are continuing to invest in infrastructure and balancing the books.
Infrastructure March 5th, 2014
Mr. Speaker, our government has proudly made unprecedented investments in Canada's infrastructure since 2006. Economic action plan 2013 announced a new building Canada plan, which provides $53.5 billion in new-investment funding over 10 years, beginning in 2014–15 for Canada's infrastructure. That is unprecedented.
Champlain Bridge March 3rd, 2014
Mr. Speaker, as I said earlier, the business plan was presented in mid-January. The member has it all wrong.
The business plan contains privileged information. We will hold a competition on a multi-billion-dollar project. I understand that when people do not have a budget to manage, they can disclose privileged information and make costs go up. That is not how this government works.
We will continue to carefully manage the project to build a new bridge over the St. Lawrence and we will disclose information at the appropriate time.
Champlain Bridge March 3rd, 2014
Mr. Speaker, we announced the business plan on January 15. This morning, contrary to what my colleague is saying, we announced that we would move forward with the process and that on March 17, we would issue requests for qualifications so that companies could apply to build the bridge. While the members opposite keep talking and telling us what to do, we will be building a bridge and not imposing a $21-billion carbon tax.
Champlain Bridge March 3rd, 2014
Mr. Speaker, my colleague is two months behind. The business plan was tabled on January 15. My colleague should be congratulating us because the matter—
Infrastructure March 3rd, 2014
Mr. Speaker, that question is based on completely false premises. On November 5, the provinces and territories received the gas tax fund renewal agreement. We doubled the gas tax funding, made it a permanent feature of the act and indexed it. I invite all of the provinces and territories to move swiftly to sign this agreement because cities have many projects to pursue.