Denis Lebel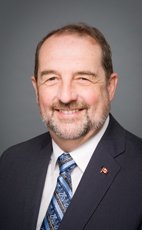 House of Commons photo
Track Denis
Your Say
Elsewhere
Crucial Fact
His

favourite word

is bridge.
Conservative
MP for Roberval—Lac-Saint-Jean (Québec)
Won his last election, in 2011, with 45.70% of the vote.
Statements in the House
Infrastructure December 1st, 2014
Mr. Speaker, as my colleague knows very well, we just introduced the biggest and most long-term infrastructure plan in our country's history. Wastewater treatment is covered by the excise tax on the gasoline sector and the provincial-territorial transfers.
I remind my colleague that in Quebec—and I repeat this for the members opposite who have been here for more than three years—the provincial government, and not the federal government, is responsible for prioritizing municipal issues.
Quebec Bridge December 1st, 2014
Mr. Speaker, how interesting it is to hear the member say that things were moving along thanks to him, then to see him turn around and ask others for even more when one partner refuses to move ahead. That shows just how powerless he is.
What has always been clear is that the bridge belongs to Canadian National. With our partners, the City of Quebec, the City of Lévis and the Government of Quebec, we will continue to work on this on our end and put pressure on CN to repaint its bridge.
Champlain Bridge December 1st, 2014
Mr. Speaker, as I said recently, the NDP believes that just because it thinks it is going to snow this winter, they can take the credit for it. Nothing changes.
He says that we backed down on something that was never announced, on a decision that had not been made. If I were in the NDP's shoes, I would certainly take whatever credit I could. The Conservatives will continue to build a new bridge, which will be completed on schedule in 2018.
Infrastructure November 27th, 2014
Mr. Speaker, that is completely wrong.
Last summer everybody in the country was saying that there was too much work on the streets and the roads of this country, that we have problems with the traffic because there was work on the roads everywhere.
That is completely false. The money is already available. For the gas tax fund, we are working with all provinces and territories. We have already invested more than $600 million this year for projects, and there is a lot to come.
That is completely wrong. Our government is delivering—
Infrastructure November 27th, 2014
Mr. Speaker, our government has invested more in public transit infrastructure than any other government in this country's history.
Transit corporations across the country recognize that, and we have done it with due regard for jurisdiction. Cities and provinces are responsible for public transit.
The Liberals want to centralize everything in Ottawa, and so does the NDP. We are doing our job with due regard for our partners' jurisdiction.
Infrastructure November 27th, 2014
Mr. Speaker, I would like to thank my colleague for his work and support on this important matter.
Last week, the Prime Minister announced a significant investment in federal infrastructure. This investment adds up to our government's unprecedented and historic investment to ensure Canada's future economic growth for years to come—investments in national historic sites, Canadian Armed Forces facilities, research centres, small-craft harbours, and the Canadian Coast Guard, just to name a few—and we have done that while balancing the budget.
Quebec Bridge November 26th, 2014
Mr. Speaker, as we have already said, a legal process is underway and a ruling was recently handed down.
We will continue to have discussions with the different partners in this matter. The New Democrats believe that just because they think it is going to snow this winter, they can take credit for it.
They definitely cannot take the credit for the current talks being held.
Infrastructure November 26th, 2014
Mr. Speaker, the premise of this question is completely wrong. We already invested a lot last year in municipalities, and we will continue to do so. It is under the leadership of this Prime Minister that, finally, municipalities of this country have received money. It was not received when the Liberals were in government. We are doing our job.
Infrastrucure November 20th, 2014
Mr. Speaker, I would like to remind my colleague that as a former minister of finance, if he believes so much in infrastructure, he should have done much more back then.
As a former mayor, I remember the poor Liberals pretty well. They did nothing. Actually, they did something. They kicked the problem to the provinces at that time. Now we are fixing the problem. We are working with municipalities and provinces.
Infrastructure November 19th, 2014
Mr. Speaker, the preamble to this question is totally false. On the gas tax fund, all municipalities in the country already have the money available, which was announced all across the country and municipalities know it. We will continue to support the development of our economy in supporting the development of infrastructure all across the country in core support and to help the economy of this country.