Greg Kerr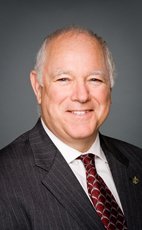 House of Commons photo
Track Greg
Your Say
Elsewhere
Crucial Fact
His

favourite word

is lot.
Conservative
MP for West Nova (Nova Scotia)
Won his last election, in 2011, with 47.00% of the vote.
Statements in the House
Care for Veterans November 25th, 2014
Mr. Speaker, I am delighted to enter the discussion this evening in support of the motion put forward by my colleague from Edmonton Centre.
I will start off by pointing out that, as chair of the veterans affairs committee, I certainly was pleased that we had unanimous consent and support from all members of the committee to proceed with the report. One of the important recommendations within the report is one that my colleague and friend has been promoting for some time. I think we have all been promoting it.
We sometimes get a little carried away in this place, and I was pleased that did not happen at committee stage. We focused on improving services to veterans and picking up on some of the gaps. We committed ourselves to moving forward. All of us on the committee agreed that there are a lot of great services available to our veterans, as there should be. Are there opportunities to improve? Absolutely. Are there challenges? Of course, there are. We have to focus on where we are going.
To unnecessarily upset veterans is unfortunate, but it does happen, and I realize that this is the political climate. I would like to focus on where we are and where we are going moving forward. We will never get everything done that we think should be done, but that is the nature of the kind of services that we need to provide to our veterans.
The motion refers to one of the things that we have seen and heard for some time is a challenge, and that is the fact that many veterans have slipped through the cracks in getting service in a timely manner. I have heard members from all sides refer to this as incredibly important, and it was the committee's number one recommendation.
Veterans are often transitioned out of DND, and they end up in Veterans Affairs. There can be gaps of time in getting the appropriate services that they deserve. We all agree that is an important challenge to face. We do not know what these two departments do together or how united they become in the end result, but we are absolutely committed to making sure that when somebody leaves DND and enters veterans services that they are entering a seamless and absolutely supportive system. We are committed to making sure that they do not have to spend months waiting to go from one department to another, one bureaucracy to another bureaucracy.
I spoke to one lady during the committee process who had gone through the system. She was a medical person, and even with her knowledge she waited for over 12 months to be transitioned from DND to Veterans Affairs.
Part of the problem that these individuals face is the interpretation of the degree of the problem, or the medical challenge that they face, the recognition by Veterans Affairs that if they left DND with some serious challenges, they should automatically be accepted by Veterans Affairs. Unfortunately, for some reason that has become a problem for many of our veterans.
People with medical challenges who have done their service feel that they are alone, that there are not enough services available to them, even though there are all kinds of terrific services. The problem they face is accessing those services. That is the critical entry point. My friend and colleague's motion says that we should keep the pressure on, that we need to keep focusing on where we are going.
There were 14 major recommendations that the committee felt the government should focus on. Most of the organizations and groups agreed that these recommendations are the timely and important ones. The ombudsman said they are important, and he wants to make sure that we continue to be focused on them. The government has accepted some of the recommendations up front, and it continues to add its support and acceptance of the recommendations. As we continue down this road, our job is to make sure that all of the recommendations are enacted and supported. Our veterans deserve that. We all agree that it is the right thing to do.
It is important, as well, that we do not unnecessarily confuse or alarm our veterans. Many veterans get great service, and they are happy to get it. However, there is no question that there are those who are going to be difficult. There are also those who will probably never be happy with what we do, but that should never stop us or get us off course in doing what is right for our veterans.
Doing what is right for our veterans is consulting with them, listening to them and then acting in the best possible way on behalf of them and the taxpayers to deliver services that look after their needs for many years to come.
I know that when we finished the committee report, and when we presented it to the government, there was a great feeling that it was a huge step forward. For those who are asking why are they not done, some of these things require us to go back and consult with the veterans' organizations on implementation. We cannot force them. For instance, the family resource centres are being looked at. How do we engage them more? We cannot go out and tell a separate organization that this is what it is going to do. We are here to help, we want to help and organizations should let us know the best way to proceed.
In some cases these things happen quickly and in some cases it takes months of discussion, always with the sense that we must do it, we must complete it, we must get there together to benefit all our veterans. We are absolutely convinced that that is under way and will happen.
For those who are impatient, I would just ask them to look deeper than the lines that are being thrown out here. They should talk to veterans and ask them if they want it done correctly or quickly. They will tell people that of course they would like to have it quickly and correctly, but correctly is far more important. The veterans want long-term support and long-term delivery, and we want to ensure we do it in the right manner to benefit them.
I would also point out that it is important, as we carry through, we keep the dialogue going with the veterans to ask them how we are making out. There are a lot of organizations out there, perhaps there are too many organizations. It is one of those things we have to discuss with them to ensure we hear clear messages as to progress and results. That will continue to happen.
I am delighted that Walt Natynczyk is now the new deputy minister of Veterans Affairs. He was the former chief of the defence staff. He was the head honcho there. For him to be in Veterans Affairs, I really believe the motion that our colleague has raised will becomes a reality even more efficiently and more quickly, perhaps because he gets it. He understands this issues of appropriate transitions, appropriate delivery of service and appropriate follow-up for the veterans.
He has now seen both sides of the table, and he will help the progress along a great deal. It was a good move on behalf of the government to appoint him as the deputy minister of Veterans Affairs.
I do not think anybody from any party would question the logic of having him as the deputy minister in this transition period. He will understand the departments, the veterans and he will help us on this course as we move down the road.
It has been frustrating for many of us when we get into this discussion, but I really believe all members, regardless of party, care about and are concerned about veterans. There is no doubt in my mind. Sometimes we get caught up in some misinformation, occasionally. It is not a deliberate thing to misinform, but sometimes that happens. We must be careful that we are unnecessarily confusing the veterans or giving them the wrong information, and I am talking about all sides, all parties.
I am glad my colleague raised the motion. It reminds us there is work to be done. It reminds us that veterans are a top priority. It reminds us that we are making progress. It also reminds us that we must stay vigilant, focused and committed to ensuring we deliver the very best service we can to our veterans.
Committees of the House October 30th, 2014
Mr. Speaker, I have the honour to present, in both official languages, the fourth report of the Standing Committee on Veterans Affairs in relation to Bill C-27, an act to amend the Public Service Employment Act, enhancing hiring opportunities for certain serving and former members of the Canadian Forces.
The committee has studied the bill and decided to report the bill back to the House with amendments.
National Defence October 28th, 2014
Mr. Speaker, when we were first elected, our government significantly increased the budget for the Canadian Armed Forces. This allowed the military to undertake some major capital acquisitions, including the purchase of 4 C-17 Globemaster strategic airlift craft, 17 C-130J Hercules tactical transport aircraft, and the Aurora modernization project.
Could the Minister of Justice please update the House on the contribution our modern CP-140 Auroras and CF Greenwood will be making to Operation Impact in the fight against ISIL?
Committees of the House June 3rd, 2014
Mr. Speaker, I have the honour to present, in both official languages, the third report of the Standing Committee on Veterans Affairs in relation to a study on the Enhanced New Veterans Charter Act, statutory review of the Act.
We are delighted that this is a unanimous report of all the members involved and in the House. I certainly want to thank them for their co-operation, which is a very positive thing. I also want to point out that the analysts did a terrific job in their supporting effort. We are very pleased that this report is in the House right now.
Veterans Hiring Act June 2nd, 2014
Mr. Speaker, actually, I liked your answer on the topic very much.
In this study that we just finished, which we will hear more about tomorrow, we heard from some 55 or so witnesses who came before us. There were a variety of differences in opinion on the programs, and some would disagree with each other on occasion, and so on. We were careful not to go into why they were there or if they were from a particular organization or group, unless they registered that they were with an organization such as Wounded Warriors, et cetera.
The safe answer would be that we have heard from many different individuals, as veterans, with many different ideas. We tried to listen to them all.
Veterans Hiring Act June 2nd, 2014
Mr. Speaker, certainly I know as a veteran the member understands that it is a good thing we are hearing from the veterans. It is called democracy. We believe it is important we hear what they are saying first hand. Even if we do not agree, or do not necessarily like what is being said everyday, it is important that we hear it. This is part of the progress of saying that an initiative may have not worked a hundred per cent and that maybe we have to review it.
However, it never means that we start with a premise that nothing is being done for the veterans. That is just absolutely wrong. There is a lot of good stuff and let us not leave that sense of fear among veterans that there are no good programs and services. What we have to do is ask how we improve on them. How do we ensure that this initiative really does work for the veterans? That is our challenge and I believe if we work together, it will work and it will be very successful.
Veterans Hiring Act June 2nd, 2014
Mr. Speaker, I want to point out that a very productive member of the committee has just asked the question. I cannot talk about what amendments may or may not take place. It will be given a very thorough review.
I agree that one of the problems we face has caused a lot of distress for veterans, and that is the gap between when they leave the military and when Veterans Affairs picks up. We have to realize, with great commitment, that the benefit of the doubt has to be given to the veterans. Sometimes that seems to get lost in the process.
Whether veterans are recognized immediately is a challenge we should never let go of because if they are medically discharged from the military, we have to respect the fact that they are leaving their military career, not by choice, but because of the result of something that happened. They therefore should get full consideration when they are looked at in these types of programs.
Veterans Hiring Act June 2nd, 2014
Mr. Speaker, it seems everyone is in tune with the topic this evening, so I will try to continue.
We are talking about Bill C-27, and a lot has been covered on the bill itself. I look at it as one step toward what we are trying to do for veterans, together. There are probably a lot more steps that we have to take, and we realize that.
I will not go into details about the bill itself. That has been covered quite a bit. However, I would like to go into some of the background of what we have been attempting, together, members, private sector and veterans, to try to improve the lot of veterans and the opportunities for veterans.
For us in the House, it basically started with the new veterans charter. The whole idea was to move from an era where veterans were simply pensioned off rather to concentrating on getting veterans back into society. Those leaving the military should be given opportunities to get upgraded, to get skills and to find opportunities to transition into a full life within their communities.
I think every member of the House shares that wish and ambition. I do not think this is a political issue per se, although we do tend to get a little fixed sometimes on the difference of opinions. The reality is that our country expects us to honour these veterans. Our country expects us to invest in our veterans.
We know that taxpayers in fact have invested a lot in initiatives that take place right across the country. To quote a former veterans affairs minister, Hon. Greg Thompson, "Can you ever do enough for veterans?" We all know the answer is no. It is always a work in progress. There is always a lot that has to be done. Tonight is an example of one small step in the direction of trying to answer some of the questions they have, such as training opportunities, transition opportunities and certainly job opportunities. Not that government alone is ever going to fix it, but government has to set its own. Government has to work with the private sector. It has to work with the veterans groups.
Do we always agree? Absolutely not, whether it is members in a committee or whether it is people from various veterans groups themselves.
At the end of the day, we have to realize that over the years many military members have successfully retired into Canadian society and have not needed veterans affairs services. They are not clients of veterans affairs. They have successfully transitioned, in many cases on their own. With their wonderful training and mental outlook they have on life, they have become very productive members of society in a second career.
There are those who need our help. There are those who are really challenged either by mental or physical difficulties, some in active duty and some maybe in training exercises, but the kind of pressure and incidents they have run into means we have to pay attention to their needs.
What I have observed around the country, and in my particular riding, is there are those who are doing things and it is not government. One example I think of with great pride is Maple Grove Education Centre in Yarmouth, Nova Scotia. It has a memorial club, all students, all volunteers. They built a monument to the Afghan soldiers who passed away. They did it with their own fundraising. It is an amazing memorial to those people who they believe, as young Canadians, sacrificed for the future and the betterment of our country, and did their bit in the world because they were asked to.
Surely, if young people can get that message, we can all understand the opportunities out there. We do have to listen. We will disagree. We will never totally be on the same page as to what is right and wrong, but we have to continue to make progress. We owe that to the military and to the veterans in our country.
I know most of us went through the Day of Honour not long ago. Next to the Greenwood air base in the Annapolis Valley, Nova Scotia, in the village called Kingston, there was a big turnout of veterans, military and interested community citizens.
Some time ago I was fortunate to be on a special committee of the House, looking at Afghanistan. We had a lot of witnesses and heard a lot of stories. The one that struck me was from a very brave woman from Afghanistan who said to us that we should remember that Canadians would get impatient with the progress that was taking place, but that we were making a difference. Our military had made a huge difference. There were now water supplies where there had not been before. Thousands of young girls were being educated and it was now over seven million. She asked us to understand that it was not her husband's view as a male about women that would make a difference, it was her son's view. It was a generational change and that was what the military had done in helping a foreign country, in helping people they did not even know because they knew it was the right thing to do.
Our job is to look after those who are coming home. Our job is to provide opportunity. Our job collectively as parliamentarians is to understand and honour these people who have done so much for us. Tonight we are looking at one step, one piece of the progress we are going to make on this long road. We get frustrated sometimes in thinking about what could be or what should be. We have to remember, as we get in an animated conversation, there are a lot of good initiatives in place. A lot of good things are happening. A lot of progress is being made. Certainly a lot of people are gaining because we all have ensured they get the services and support they need. It is not the end of the story. It is not the end of the road. There is a long way to go and we have to keep at it.
I know we get quite worked up sometimes as parliamentarians. We get exercised over issues and details, but at the end of the day, I believe every member in the House believes and supports the military and supports the veterans. Whether we agree or disagree, at the end of the day we have an obligation to ensure initiatives take place that will support and help our veterans. They are watching us and measuring what we are doing. It is not about whether we agree or disagree. It is whether we together make progress where in a few years down the road we can look back and say that we supported the charter when it came in. It is supposed to be a living document. It is supposed to help veterans make the transition. All parties agreed when it first came in that it was the right way to go. We have to keep working to ensure it is the right initiative and the right document with the right results. We owe that to our veterans.
I will not go on any longer except I certainly hope we will support this initiative, not because it is the end of the progress and the end of the road we are travelling, but it is one step we can measure and put forward that offers more opportunity. Whether it is enough or not enough, we can debate that on and on. I expect there will always be a debate about whether we can do more. I believe we always will find that yes, we can, but let us do it together.
Marine Mammal Regulations May 15th, 2014
Mr. Speaker, I would like to start by thanking my colleagues from around the House for understanding the importance of this bill and showing their support for it. We know there are many industries in the world that are perhaps not universally supported, yet we recognize that different areas have different priorities in the different job-creating industries.
The seal hunt in Canada is an extremely important industry for certain parts of the country. That is why it is important we recognize it as a legitimate, long-standing, and now today a very humane and protected industry. It is one that supports a lot of communities and provides a lot of income to very important family circumstances, and it is one on which many people depend. The fact that it is done humanely and that it has got to be done safely is a concern of our government, of course.
Bill C-555 is a modest bill. I am sure there will be more adjustments down the road, but the real purpose in providing this larger, kilometre-wide area of protection is simply to ensure the safety of the seal hunters and those who observe the seal industry.
Those who do it legitimately and those who have concerns or questions, as long as they are registered, are fine. They have the right to express their opinion. However, there are those who would disrupt the industry, and it has happened before. What the bill says is not only to protect the sealers but the Coast Guard and the rescue and policing efforts as well. It has to be very clear that anybody who gets closer than that kilometre distance is in fact creating a serious danger to all concerned, and they will be dealt with accordingly.
I will not repeat the many very good points made by several members here. However, we have the obligation to ensure that legitimate industries and businesses and people engaged in legitimate activities deserve our full support and recognition. That is why this bill, in a modest way, moves to add to that protection and ensure the industry stays viable, stays sustainable, and stays an important part of our Canadian landscape and economic activity going forward.
I would like to thank everybody for their participation. I look forward to the bill passing.
Battle of the Atlantic May 1st, 2014
Mr. Speaker, today I am honoured to pay tribute to the longest military engagement of the Second World War: the Battle of the Atlantic, a true Canadian triumph.
Through the courage and efforts of the Royal Canadian Navy, the Canadian Merchant Navy and the Royal Canadian Air Force, Canada played a key role in helping maintain the allies' crucial supply routes through the North Atlantic. With the outbreak of the Second World War, the Germans quickly asserted their strength on the high seas, blocking the supply chains from North America to Britain.
This was a hard-fought victory that came with a heavy price for Canada. More than 4,600 courageous men and women died at sea during six years of relentless enemy attacks and some of the most severe conditions imaginable.
We proudly remember with everlasting gratitude the remarkable memory of those who made the ultimate sacrifice defending our great country.
Lest we Forget.