Harold Albrecht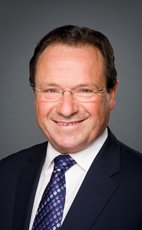 House of Commons photo
Track Harold
Your Say
Elsewhere
Crucial Fact
His

favourite word

is colleague.
Conservative
MP for Kitchener—Conestoga (Ontario)
Won his last election, in 2011, with 54.10% of the vote.
Statements in the House
Petitions November 21st, 2014
Mr. Speaker, I have the honour to present a petition signed by many residents of Ontario.
The petitioners call upon members of Parliament to condemn discrimination against girls occurring through sex-selective pregnancy termination.
Republic of Moldova November 21st, 2014
Mr. Speaker, if you seek it, I believe you would find unanimous consent for the following motion. I move:
That this House reiterates Canada's continued support for freedom, democracy, human rights and the rule of law around the world; reaffirms Canada's support for the sovereignty, independence, and territorial integrity of the Republic of Moldova and the inviolability of its borders; encourages the efforts of the Republic of Moldova to further their advancement of democratic reforms; affirms the Republic of Moldova's sovereign right to determine its own partnerships free of external coercion and pressure; notes the Republic of Moldova's signature of an Association Agreement and Deep and Comprehensive Free trade area with the European Union on June 27, 2014, and the ratification of the agreement on July 2, 2014; and welcomes the Republic of Moldova's choice to pursue the path of European integration.
Suicide Prevention November 21st, 2014
Mr. Speaker, today, on Survivors of Suicide Loss Day, I am honoured to rise to pay tribute to a friend, an advocate, and a hero: Tana Nash. Tana was honoured this week with the president's award from the Canadian Association for Suicide Prevention, Canada's national collaborative to prevent suicide. Tana is executive director of the Waterloo Region Suicide Prevention Council and has worked for years to save the lives of vulnerable people in our community.
While many credit me with introducing the federal framework for suicide prevention, I have always credited our mental health community for providing the template and the motivation. Tana was at the forefront of that. When she shared with me that three local students, in the space of just one week, had died by suicide in unrelated incidents, that was the tipping point for me.
Tana is one of Waterloo region's gems, and I know I speak for the whole community when I say how proud we all are of her and how grateful we are for her efforts. Tana, God bless.
Committees of the House November 20th, 2014
Mr. Speaker, I have the honour to present, in both official languages, the sixth report of the Standing Committee on Environment and Sustainable Development in relation to Bill S-5, an act to amend the Canada National Parks Act, Nááts'ihch'oh national park reserve of Canada.
The committee has studied the bill and has decided to report the bill back to the House without amendment.
Mental Health Services November 18th, 2014
Mr. Speaker, with this Friday being Survivors of Suicide Loss Day, I would like to highlight an innovation that I believe will result in fewer deaths by suicide.
My home of Waterloo region is known for innovations in the high tech and agricultural sectors, but today I highlight an innovation in mental health. Here 24/7 is the work of 12 local agencies. It serves as a concierge service for people experiencing mental health challenges or suicidal ideation. They take care of the process, leaving the patient free to focus on healing.
The first program of its kind in Ontario, Here 24/7 was launched on April 1 and expected to handle 31,000 cases over the year. Instead, it handled 37,000 cases in just its first six months.
Here 24/7's story is typical for mental health across Canada: non-profits on shoestring budgets perform heroics to meet a demand that is overwhelming. I challenge our community to support their work.
Committees of the House November 6th, 2014
Mr. Speaker, I have the honour to present, in both official languages, the fifth report of the Standing Committee on Environment and Sustainable Development in relation to Bill C-40, an act respecting the Rouge national urban park. The committee has studied the bill and has decided to report the bill back to the House without amendment.
Economic Action Plan 2014 Act, No. 2 October 30th, 2014
Mr. Speaker, there are a couple of key points.
As relates to the agriculture sector, in my almost nine years of being an MP, I have never had a period of time when the farmers in my riding have been happier about the policies of this government. In my riding of Kitchener—Conestoga we have Conestoga Meat Packers, which is a hog farmer cooperative. It has never been doing better. As it relates to grain farmers, our grain farmers are happy.
However, when it comes to talking about the deficit and balancing the budget, I do not know how this member can stand and with a straight face talk about balancing the budget when his previous Liberal government balanced it on the backs of the provinces, with $25 billion taken out of health care and education and $52 billion out of the EI fund. Also, I wonder if my colleague can answer where the $40 million is.
Economic Action Plan 2014 Act, No. 2 October 30th, 2014
Mr. Speaker, it is my understanding that it does include banks. However, I would have to double-check that.
However, I would like to highlight what I said during the moments I had for my speech.
We have to focus on the real issues that are part of this bill, especially for my riding of Kitchener—Conestoga, which is a rural-urban riding, and the farmers there. Allowing farmers to increase the tax exemption on capital gains is important to us as we try to help farmers maintain their farms within the family context. We know that, if farms are in the family context, some of these farmers produce the best quality food in the world. I am certainly committed to continuing that process.
Economic Action Plan 2014 Act, No. 2 October 30th, 2014
Mr. Speaker, when I rose earlier this year to speak to the budget, I began by thanking our friend Jim Flaherty for his work, on behalf of the people of Kitchener—Conestoga whom I remain privileged to represent. He managed one of the toughest portfolios in government through some of the worst challenging times in recent history. Looking back, I am very glad that I took that opportunity to pay tribute to Jim. Canadians are, indeed, indebted to him for his prudent fiscal leadership.
Looking forward, Bill C-43, the second budget implementation bill, would continue to move Canada forward along the road to balance, creating jobs and opportunities for Canadians. I am grateful to our new Minister of Finance, the member for Eglinton—Lawrence, for his commitment to Canada's ongoing prosperity.
Contrary to a belief held by the third party in the House, budgets do not simply balance themselves. The previous Liberal government had to slash transfer payments to the provinces—much-needed funds for health care, post-secondary education, and social assistance—in order to balance the books. The current Liberal leader seems to feel the previous Liberal government cut support for health care just for fun, if he really believes that budgets will balance themselves. This government would bring the budget back into balance without taking such draconian measures. I think most Canadians would agree it is a commendable objective.
However, we are accomplishing so much more than just a balanced budget. We are building the foundation for Canada's long-term prosperity. My home of Waterloo region has seen world-class post-secondary facilities like Sir Wilfrid Laurier University, the University of Waterloo, and Conestoga College all greatly increase their capacity for both teaching and research, all thanks to our federal government.
Our government has fostered entrepreneurship by supporting programs like the University of Waterloo's velocity program, which provides an entrepreneurial education. We invested in the Communitech Hub, a hotbed of high-tech entrepreneurial activity. We made it easier for business to access the expertise of Conestoga College to improve internal processes and designs. Both parties opposite refused to support any of these worthwhile activities.
Our drinking water is safer, our air is cleaner, our communities are more livable, our greenhouse gas emissions have dropped, and our competitive position in the global economy is now improved thanks to federal investments proposed in budgets that were opposed by the Liberals and the NDP. However, I am not here to review our past successes as a country, community, or government. I am here to highlight some of the measures in this bill of which I am particularly proud.
I was born on a farm just outside of Kitchener, Ontario. I have owned a farm most my adult life. Most importantly, though, agriculture remains one of the most important economic engines for Waterloo region. This bill would extend the lifetime capital gains exemption of farm property. That is a very technical amendment. Let me state it plainly. The family farmers of Waterloo region and elsewhere in Canada would find it easier to pass their farms on to the next generation, thanks to this government. On this side of the House, we stand in support of those families who provide the best quality food in the world. I invite the opposition to join us.
When our government created the agricultural flexibility fund to improve our agricultural sector's competitiveness, the Liberals and NDP refused to support our farmers. When we offered support to hog farmers to restructure their debt, the Liberals and NDP refused to support our farmers. When we allowed grain farmers to enjoy market freedom, the Liberals and NDP refused to support our farmers. With this bill, the opposition finally has the opportunity to turn the page, to look Canada's family farmers in the eye and say, "We support you; we want you to be able to keep your farms in your families". Canada's family farmers would welcome their support, for once, just once.
This bill would also protect consumers. On this side of the House, we think it is wrong for big banks and credit card companies to charge pensioners and single parents for the so-called privilege of receiving a bill, and we are taking action to prevent it. Once again, I invite members opposite to take this opportunity to join us in standing with consumers just this once. Please support our measures to ban pay to pay policies on credit card statements.
Too often I have heard the NDP members accuse us of favouring the big banks. They like to present banks as the enemy of everyday Canadians. This is their opportunity to match their voice to their rhetoric or to demonstrate that their rhetoric is nothing more than empty words without commitment. I believe many of my colleagues in the NDP are very honourable people. I hope they will not let partisanship prevent them from voting on their principles.
Moving on, I am particularly pleased that the bill would enable charitable fundraising to enter the computer age. While we want as few Canadians as possible to depend on charities, we also want charities to thrive. I cannot believe we actually need to do this, but the bill would make it legal for charities to use computers to track their sales in certain fundraising activities. Right now it all needs to be done manually, which just makes no sense.
On this side of the House, we want as much as possible of every dollar donated to charity to be used for its intended goal and as little as possible lost to administrivia. I do not see any reason why members opposite could possibly be against this. Once again, I invite them to join us in support of Canada's charitable sector. This is only the latest action our government has taken to support charities in Canada.
We have already provided an exemption from capital gains when publicly listed securities or ecologically sensitive lands are donated to charities. Again, the Liberals and NDP opposed this. We reduced the administrative burden on charities allowing them to focus on charitable activities. It makes sense to the people I speak to across Waterloo region. The Liberals and NDP, again, are opposed to this as well.
We have encouraged Canadians to begin donating to charities by creating the first-time donor super credit on donations to charity. I must credit my friend, the hon. member for Kitchener—Waterloo, for bringing this common-sense idea to the table, another common-sense idea that the NDP and Liberals opposed.
The bill would also double the amount that parents can claim for the children's fitness tax credit. More importantly, it would make this tax credit refundable, making it a much stronger benefit for low-income Canadian families. As a parent of three children and grandparent to nine beautiful grandchildren, I understand how important it is for children to establish healthy lifestyles. Sedentary children grow up to become sedentary adults. Encouraging a healthy lifestyle in today's children will pay dividends in reduced health costs for years to come. I am especially pleased to see that this credit would now be refundable. We are making life more affordable for low-income Canadians. I hope the opposition will find it in their hearts to stand with us in supporting low-income Canadians.
Our Conservative government remains focused on what matters most to Canadians: jobs, growth, and long-term prosperity. We weathered the global recession better than our peers, and even through the recovery, we continued to chart one of the world's best economic performances. In fact, since we took office, we focused on five priorities to ensure Canada's continuing prosperity: a tax advantage, reducing taxes for all Canadians and establishing the lowest tax rate on new business investment in the G7; the fiscal advantage, eliminating our net government debt within a generation; an entrepreneurial advantage, reducing unnecessary regulation and red tape, and increasing competition in the Canadian marketplace; a knowledge advantage, creating the best-educated and most skilled and flexible workforce in the world; and an infrastructure advantage, building the modern infrastructure we need to compete abroad and enjoy liveable communities at home.
Economic action plan 2014 continues this focus on positive initiatives to support job creation and economic growth. It continues to connect Canadians with available jobs. It continues to improve support for families and communities, and it continues our difficult road to balancing our budget. It provides good news to the families of Waterloo region as well as farmers and small businesses.
I ask the members opposite to put aside their partisan interests and look at the bill for what it truly represents, modest steps forward on the priorities of Canadians. I invite them to join me in supporting this important legislation.
Economic Action Plan 2014 Act, No. 2 October 30th, 2014
Mr. Speaker, my colleague just started to explain the benefits of the increased tax credit for children, but I would like her to briefly highlight the aspect of not only doubling it but making it refundable. That is a key point for low-income Canadians.
I wonder if she would expand on that aspect for 30 seconds.