Harold Albrecht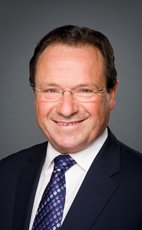 House of Commons photo
Track Harold
Your Say
Elsewhere
Crucial Fact
His

favourite word

is colleague.
Conservative
MP for Kitchener—Conestoga (Ontario)
Won his last election, in 2011, with 54.10% of the vote.
Statements in the House
Suicide Prevention September 19th, 2014
Mr. Speaker, this past spring I encouraged hon. members to participate in the Mental Health Commission of Canada's program, 308 conversations about suicide prevention. I have been heartened by feedback from my colleagues saying how much they learned.
In Waterloo Region, all four members of Parliament united in conversation with teachers, coaches, first responders, funeral directors, members of the faith community and those with lived experience. More than 80 people devoted an entire morning to discussion of how we could do a better job preventing deaths by suicide.
That afternoon, I joined 29 others for training in safeTALK, enabling me to better identify vulnerable individuals experiencing thoughts of suicide and to connect them with appropriate resources. We spent the morning discussing the challenges and the afternoon learning solutions.
Thankfully, many Canadians are being trained in first aid techniques. We now need to go that extra mile and become trained in safeTALK. Together, we can deliver hope.
Respect for Communities Act June 17th, 2014
Mr. Speaker, it is important for people listening to this debate tonight to remember what we are debating. The bill is called the respect for communities act. Many of the comments that have been made by opposition colleagues have not focused on what the bill intends to do.
The bill asks for the community in which a proposed site is being considered to have a say in that decision. One of the criteria in the bill is that the groups seeking to develop a centre like this have to provide scientific evidence that it is warranted.
My bigger concern is why my colleagues would not agree that the community itself—the law enforcement people, the community groups, the school groups in that community—should not have a say in whether or not one of these facilities is parked in their backyard. Is that not a reasonable assumption, or does the member think that Ottawa knows best and that Ottawa should decide where these sites should be, regardless of what the community would prefer?
Dairy Producers June 17th, 2014
Mr. Speaker, I am pleased to stand and express our government's strong support for Canada's dairy industry. Canadians look to our dairy farmers for the high quality, nutritious milk and cheese products to which they have become accustomed. Our hard-working farmers consistently deliver.
My riding of Kitchener—Conestoga is home to some of the most innovative and productive farmers in all of Canada. Whether it is on Huron Road or Pinehill Road in Wilmot township, Gerber Road in Wellesley township, or Floradale Road in Woolwich township, all through the beautiful riding of Kitchener—Conestoga, we will find well-managed and well-kept dairy farms that are producing high quality milk and cheese products. That is why when it comes to promoting Canadian agriculture at home and around the world, we ensure that the interests of our dairy farmers and their families remain at the top of mind.
Our government is proud to put farmers first, to defend our supply managed industries, and to promote the competitiveness of the dairy sector. This support extends to our international trade negotiations, including the Canada-EU free trade agreement. We are committed to the completion of this historic deal.
With the exception of a new tariff rate quota for cheese and the elimination of the milk protein substance tariff, Canada has not provided any additional access to the EU on any of Canada's supply management products. In addition, the three pillars of Canada's supply management system remain in place: production, border controls and pricing.
That said, we understand the concerns of the cheese and dairy industry. This is why our government has pledged to monitor the impacts from the implementation of the Canada-EU trade agreement on dairy producers' income, and to provide compensation to address such impacts if they materialize. It is a big "if". I am very confident of the ability of our dairy farmers and the dairy sector to compete, and I am confident that there will be no negative impacts. In fact, I see great potential for positive impacts through the Canada-EU trade agreement for our dairy farmers.
We have been consulting with industry on this issue over the past five months and we continue to do so.
As members know, Canadians love cheese. They especially love Canadian cheese. In fact, demand for our great Canadian cheese made from our high quality Canadian milk has been on the rise in the past few years. In my riding, on the very road where my farm is located and where I have lived for over 60 years, I just recently visited Mountainoak Cheese. I tasted the cheese, and I am very confident that this cheese producer, which is producing cheese for a niche market, can compete with any cheese made anywhere in the world.
Across Canada, we have our classic cheeses, Monforte Toscano, Avonlea Clothbound cheddar, Grey Owl, Oka, and Mont-Jacob, which deliver exactly what we expect: mouth-watering flavour and great textures. Our cheeses are recognized globally for their taste and quality, and for very good reason.
This past December, at the 86th annual British Empire Cheese Show, the St-Albert Cheese Co-operative from eastern Ontario was crowned Grand Champion and received two prestigious awards for its aged cheddar. In addition, in October, Glengarry Cheesemaking, just north of Lancaster, Ontario, walked away with the Supreme Global Champion award at the Global Cheese Awards in Somerset, England. Its Lankaaster cheese was crowned the winner among 167 categories in Somerset, England, which is the birthplace of cheddar. This stuff is now flying off of the shelves in Ontario.
In fact, one cheesemaker told the standing committee meeting that she believed that there is an opportunity for Canadian cheese in world markets, including the European market, provided that exporters had the tools they needed to take the leap.
Beyond our award-winning cheese, there is a lot of good news on the horizon for Canadian dairy producers. Our government has boosted innovation investments and initiatives under Canada's new agricultural policy framework, Growing Forward 2. Growing Forward 2 is about helping farmers capture new opportunities, while building a strong agriculture sector for the future.
Under the previous Growing Forward framework, we invested in research clusters, including $7 million in the dairy research cluster. This cluster brought together industry experts, scientists and universities to focus on enhancing this industry's competitiveness.
Whether it is about the pork industry or the dairy industry, I am repeatedly hearing from farmers that they would rather see our government invest in research and marketing opportunities than go to their mailboxes for their cheques that come from the government. I am convinced we are on the right track.
Previous research found new practices to help improve the health of dairy cattle and the safety and quality of our milk. The Dairy Farmers of Canada did a great job in leading this initiative.
We followed up this great work by increasing our original investment under Growing Forward in the dairy sector by investing $12 million for a dairy cluster under Growing Forward 2. This investment will help to continue the cluster's great work over the next five years.
Overall, research in a new cluster is focusing on nutrition, sustainable milk production, as well as dairy genetics and genomics. In collaboration with our world-class scientists at Agriculture and Agri-Food Canada, this leading edge research will make our dairy sector more competitive.
Genetic improvement for dairy cattle will boost productivity and profitability on the farm through greater health and feed efficiency. Canada is world famous for its dairy genetics, and the results of research and our strong dairy cattle improvement programs have helped to significantly improve milk production per cow over the last 30 years. We have opened markets in the Middle East, the Pacific Rim and South America, with exports of over $90 million in dairy genetics last year.
We appreciate the valuable role of the numerous organizations working alongside Dairy Farmers of Canada and our scientists who advance the work of the cluster, including the Canadian Dairy Network. I am proud that our government is supporting what industry has identified as the highest priority research by the best experts in the field.
Overall, through Growing Forward 2, we are boosting innovation spending to roughly $700 million at the federal level. With proactive investments of $3 billion by federal, provincial and territorial governments over five years, Growing Forward 2, as it is called, is driving sector growth and productivity. We are helping to achieve these goals by increasing our focus on strategic investments and innovation, markets and competitiveness. As we know, the dairy industry is a key economic driver, creating thousands of jobs across Canada.
Our government is committed to keeping this sector strong and profitable and helping all producers stay on the cutting edge. This is just part of the government's broader commitment to growth, to jobs, and to long-term prosperity, not just for the agricultural sector but for Canadians everywhere.
This is why our government will be supporting Motion No. 496. In fact, we have already taken action on a number of the initiatives that are described in this motion. Through the new dairy research cluster and Growing Forward 2, we can all look forward to continued growth and prosperity in this great industry in our rural communities and for our hard-working Canadian farmers.
I am thankful for the time that I have been given to express my support for the dairy industry, which has really been the backbone of the agricultural sector in the riding of Kitchener—Conestoga. I am very proud to represent the farmers there. I have had many opportunities to exchange ideas with them. Just recently, I hosted a round table with the dairy farmers and we were able to dialogue about some of the challenges that this presented. However, it would also provide to them with the opportunities that would be given to dairy farmers as they could benefit from the Canada-EU free trade agreement.
Business of Supply June 10th, 2014
Mr. Speaker, I was interested in hearing how gloomy things were back in the 1960s and 1970s when my colleague was growing up and how bad the family structure was back then. However, he spent most of his time pointing out all of the Canadians who would not benefit from this tax proposal. I wonder if my colleague would point out how many Canadians did not benefit from the investment of taxpayer dollars into the satellite offices that my colleague and his friends set up. How many Canadians did not benefit from those mailings that went out in franked envelopes paid for by the taxpayers, which had NDP partisan material inserted in them?
It is important to realize that those tax dollars could have easily helped to reduce the tax burden on Canadians across Canada, including those who are trying to raise children under 18, who this policy would definitely benefit. It would help them with clothing allowances, education, sports and the things that all of us in the House think are important for young families to give to their children.
Could he point out the big savings that would have occurred if the members of the NDP would not have spent those millions of dollars on those partisan activities?
Petitions June 10th, 2014
Mr. Speaker, I have the honour to present two petitions from citizens of Canada pointing out that the current impaired driving laws are too lenient. The petitioners want to see tougher laws and the implementation of new mandatory minimum sentencing for those persons convicted of impaired driving causing death.
Ducks Unlimited Canada June 5th, 2014
Mr. Speaker, today volunteers from Ducks Unlimited are meeting with members of Parliament.
For those who do not know, Ducks Unlimited Canada is national non-profit organization committed to conserving and restoring Canada's wetlands.
For 76 years, Ducks Unlimited Canada has conducted research, educated the public, informed public policy, and preserved 6.4 million acres of wetlands. As a farmer who understands the value of these wetlands, I would like to take this opportunity to thank it for its work.
We lose up to 80 acres of wetland every day in Canada. Aside from their recreational value, wetlands filter water, provide essential habitat for species at risk, reduce drought and erosion, and are essential in flood prevention.
Ducks Unlimited has a long history of working with the federal government, and I ask all honourable members to join me in thanking Ducks Unlimited Canada and their 6,200 volunteers for their work to preserve Canada's natural spaces.
The Environment June 4th, 2014
Mr. Speaker, today is Clean Air Day. Canadians should be able to breathe clean, fresh, and healthy air today, tomorrow, and beyond.
We need to take action to avoid hospitalizations and emergency room visits, asthma episodes, and missed work and school days. Could the Minister of the Environment please tell the House what our government is doing to clean up the air pollution in Canada?
Petitions June 3rd, 2014
Mr. Speaker, I have three sets of petitions to present today signed by citizens from across Canada.
The petitioners point out that the current impaired driving laws are too lenient and they want to see tougher laws and the implementation of new mandatory minimum sentencing for those persons convicted of impaired driving causing death.
Petitions June 2nd, 2014
Mr. Speaker, I have four different petitions that I am presenting today on behalf of citizens of Canada. They are pointing out that the current impaired driving laws are too lenient and they are asking Parliament to enact tougher laws and implement new mandatory minimum sentencing for those persons convicted of impaired driving causing death.
Committees of the House June 2nd, 2014
Mr. Speaker, I have the honour to present, in both official languages, the fourth report of the Standing Committee on Environment and Sustainable Development in relation to the main estimates 2014-15.
I also have the privilege and honour to present, in both official languages, the third report of the Standing Committee on Environment and Sustainable Development entitled "Study on Great Lakes Water Quality".
Pursuant to Standing Order 109, the committee requests that the government table a comprehensive response to this report.