Harold Albrecht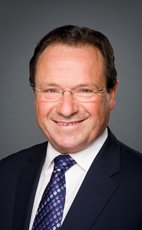 House of Commons photo
Track Harold
Your Say
Elsewhere
Crucial Fact
Conservative
MP for Kitchener—Conestoga (Ontario)
Won his last election, in 2011, with 54.10% of the vote.
Statements in the House
Journey of Recovery March 7th, 2014
Mr. Speaker, I rise today to celebrate a journey of recovery. On May 17, 2012, 13-year-old Lydia Herrle was struck by a garbage truck near her home in Wilmot township. The next month, I spoke in this house, asking all Canadians to pray for her recovery. Our prayers were answered. Lydia's recovery is a miracle.
A few months later, Lydia said, "I will be able to tie my shoes all by myself when I am fourteen. My hand will be steadier when I am fourteen. I'll be able to feed myself—even soup!"
Lydia is so grateful for the support she has received. She would like, foremost, to thank God for his steadfast presence with her, as well as her therapists and teachers for their compassion and expertise; her family, friends, and community for their love; and all Canadians who have prayed for her or encouraged her in her journey of recovery.
Tomorrow Lydia turns 15. We can only imagine the things she will be able to do when she is 15. Happy birthday, Lydia.
Canada-Honduras Economic Growth and Prosperity Act March 6th, 2014
Mr. Speaker, I listened with interest to my colleague's comments about the importance of signing this free trade agreement with Honduras.
I would like to put on the record, again, that many of the New Democrats, in fact all of them, are against trade. Specifically, the member for Dartmouth—Cole Harbour said that trade agreements are job destroying, and the NDP member for British Columbia Southern Interior has written that free trade agreements threaten the very existence of our nation.
I think it is important to note that the NDP does not understand how trade can lift people out of poverty and promote human rights and provide security.
I wonder if my colleague would comment on how he feels this free trade agreement would improve investment, increase job creation in Honduras, and here, as well as lifting the Honduran people out of some of the difficulties they are currently experiencing.
Canada-Honduras Economic Growth and Prosperity Act March 6th, 2014
Mr. Speaker, I would like to thank my colleague for his emphasis on opportunity, job creation, growth, and trade.
I have had the opportunity to visit Honduras on a number of occasions and do dentistry in some of the remote parts of Honduras, seeing the kinds of efforts that the Honduran people make to increase the standard of living in their country. I certainly applaud all of those efforts.
As my colleague has a bit of time left, I wonder if he would outline some of the positive effects that increased investment and increased trade with Honduras would bring to the Honduran people, who are asking for this. If he could just give me a couple of examples, that would be great.
Health March 6th, 2014
Mr. Speaker, I have always been a huge proponent of palliative care supports in Canada and I am pleased to see the level of investment that our government has made in this area to help Canadians receive the compassionate end-of-life care they need.
Can the Minister of Health please update the House on some of the investments that our government has made recently in this area?
Qalipu Mi'kmaq First Nation Act March 6th, 2014
Mr. Speaker, it is confusing to me when time and again opposition members ask for more time to discuss, debate, and study various bills and then use all of that time either filibustering at committee or wasting time here in the House of Commons talking about process. They do not want to discuss the issues.
I had the honour of serving on the aboriginal affairs and northern development committee when I first arrived here a number of years ago. I am proud of the advancements our government has made on many initiatives that have helped our first nations people address the terrible situations in the lives.
In the last number of years, I have not had the privilege of serving on that committee, so I have not studied this bill as much as I would have liked. I have a question for the minister regarding the liability clause. Would the minister address why it is important to restore the integrity of the Qalipu Mi'kmaq first nation? If he could address that, it would help me a lot.
Petitions March 6th, 2014
Mr. Speaker, I have the honour to present seven different groupings of petitions. They are all dealing with the same subject matter.
The petitioners are asking that in the interest of public safety, they want to see tougher laws and implementation of new mandatory minimum sentencing for those persons convicted of impaired driving causing death.
The Budget February 25th, 2014
Mr. Speaker, one of my colleagues asked a question earlier of a colleague of that member about today's Stats Canada report. Stats Canada today reports that the net worth of Canadian families is 44.5% higher today than it was in 2005. Certainly this has largely been due to the low-tax plan our government has implemented.
My colleague's leader has, at different times, commented that the budget will simply balance itself. I am wondering if my colleague would agree with that in the context of these last numbers I just quoted, showing clearly that the low-tax plan our government has had in place for the last eight years is working. It has been working not only for ordinary citizens but also especially for the group the member mentioned, seniors, many of whom have been removed from our tax rolls altogether. I wonder if the member would comment on those positive moves.
Business of Supply February 24th, 2014
Mr. Speaker, it was great to work with the member on the procedure and House affairs committee for a number of years. She always did her homework and is someone who can speak to the issues intelligently.
Considering the fact that so many of the recommendations that the Chief Electoral Officer placed before the committee are actually incorporated in this bill, and that it is important that the committee get on with the job of studying the bill and hearing from Canadians and witnesses, would the member urge her colleague, the member for Hamilton Centre, to stop his filibustering and actually allow some of the committee members to ask questions of witnesses to further understand the bill and members possibly to offer amendments to improve the bill?
Would the member urge her colleague to get on with the business of having witnesses appear before the committee so that the work can get done?
Petitions February 24th, 2014
Mr. Speaker, I have the honour to present petitions signed by a number of Canadians who want to see tougher laws and the implementation of new mandatory minimum sentencing for those persons convicted of impaired driving causing death.