Harold Albrecht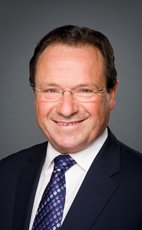 House of Commons photo
Track Harold
Your Say
Elsewhere
Crucial Fact
His

favourite word

is colleague.
Conservative
MP for Kitchener—Conestoga (Ontario)
Won his last election, in 2011, with 54.10% of the vote.
Statements in the House
Nááts'ihch'oh National Park Reserve Act December 11th, 2014
Mr. Speaker, I want to acknowledge the good wishes for a merry Christmas. I thank you for that. I certainly extend them back to you, as well as to my colleagues in the House.
However, there is one area of miscommunication, and it is with respect to environmental protection.
The member talked about making promises and not keeping them. Under the previous government there was a promise to cut our greenhouse gas emissions; during that period of time, those greenhouse gas emissions rose by over 30%. During the time that this government has been in power, it has reduced greenhouse gas emissions by over 5%, and this at a time when the economy grew by over 10%.
It is one thing to make promises and have photo ops, but this government has followed through with action. We have seen action on reducing pollutants in our air and water and on reducing greenhouse gas emissions. Therefore, in the spirit of Christmas, I would ask my colleague to at least acknowledge the great work this government has done on increasing the level of protection for our environment, not just by having photo ops but by taking action that has improved our environment on every score.
Nááts'ihch'oh National Park Reserve Act December 11th, 2014
Mr. Speaker, I want to thank my colleague for his support of the bill, but there was a comment he made that just cannot go unaddressed.
He implied that it was the government that created those spaces for mining. I recall very clearly, as chair of the committee, that when those questions were asked of people from that area, they were very eager to have mining preserved in those areas. Let us face it, this committee is called the committee on environment and sustainable development. Our northern people are eager to have development to provide jobs and opportunity for them as well.
I hope my colleague would correct the record on the implication that it was the government that insisted on those parts being left out.
Nááts'ihch'oh National Park Reserve Act December 11th, 2014
Mr. Speaker, we are approaching the Christmas season, and a number of times during my colleague's speech he has referred to "you" as not doing something. It is important that he acknowledges the good work that you have done. We appreciate the work that you do.
Moldova December 8th, 2014
Mr. Speaker, one week ago today I was on a flight home from Moldova after having the honour of serving as an OSCE observer for the parliamentary elections.
Moldova became an independent state in 1991 in the aftermath of a Soviet attempt at a coup d'état, and many Moldovans fear Putin's renewed imperialism. With their proximity to Ukraine, their fears are both real and top of mind. With a democracy less than two decades old and as the poorest country in Europe, Moldova is especially vulnerable to Russian efforts to destabilize their country.
The longer a democracy exists, the stronger its roots become. I was especially pleased when this House unanimously supported Moldova's path toward European integration. The professional, efficient, fair, and free elections I observed demonstrated that our trust was well placed. The election's winners favour continued democracy and closer ties to the European Union.
I know this House joins me in wishing Moldova well on its path to continuing freedom and increasing prosperity.
Economic Action Plan 2014 Act, No. 2 December 4th, 2014
Mr. Speaker, members will know that I have the honour of representing the riding of Kitchener—Conestoga, which is both an urban and a rural riding. I have many farmers in the riding. I am really proud of the work that our government has done in support of farmers. In the past, we have introduced the agricultural flexibility fund, we have offered support to hog farmers to restructure their debt, and we have allowed grain farmers to have marketing freedom. In every one of those cases, the New Democrats and the Liberals have opposed those measures.
This particular bill has a technical amendment in it that would extend the lifetime capital gains exemption of farm property. Basically, this would make it easier for farmers to pass their farms on to the next generation.
I know my colleague, the Minister of State for Finance, has done a lot of consultation over this period. I wonder if he has been able to figure out in his consultations why the New Democrats and the Liberals oppose measures that would improve the chances of our farmers to succeed in this country and produce some of the best-quality food in the world.
Petitions December 4th, 2014
Mr. Speaker, I have the honour to present a petition signed by many Canadians pointing out that gendercide has created a global crisis of gender imbalance, resulting in violence and the human trafficking of girls. The petitioners are calling upon members of Parliament to condemn the discrimination of girls that is occurring through sex-selective pregnancy termination.
Taxation December 2nd, 2014
Mr. Speaker, the constituents in my riding of Kitchener—Conestoga believe that mothers and fathers should be able to make the most important decisions that affect their own children. That is why our new family tax cut and enhanced universal child care benefit will give 100% of families with kids an average of more than $1,100 per year to spend on their priorities. The majority of benefits flow to low- and middle-income families.
Our government trusts parents to invest in their children, but the opposition is against putting money in the pockets of hard-working families. They would rather take that money away and give it to bureaucrats here in Ottawa.
On this side of the House, we will not hike taxes, as proposed by the Liberals and the NDP. Rather, we are proud to be putting money back into the pockets of Canadians, where it belongs.
Petitions November 21st, 2014
Mr. Speaker, I have the honour to present a petition signed by many residents of Ontario.
The petitioners call upon members of Parliament to condemn discrimination against girls occurring through sex-selective pregnancy termination.
Republic of Moldova November 21st, 2014
Mr. Speaker, if you seek it, I believe you would find unanimous consent for the following motion. I move:
That this House reiterates Canada's continued support for freedom, democracy, human rights and the rule of law around the world; reaffirms Canada's support for the sovereignty, independence, and territorial integrity of the Republic of Moldova and the inviolability of its borders; encourages the efforts of the Republic of Moldova to further their advancement of democratic reforms; affirms the Republic of Moldova's sovereign right to determine its own partnerships free of external coercion and pressure; notes the Republic of Moldova's signature of an Association Agreement and Deep and Comprehensive Free trade area with the European Union on June 27, 2014, and the ratification of the agreement on July 2, 2014; and welcomes the Republic of Moldova's choice to pursue the path of European integration.
Suicide Prevention November 21st, 2014
Mr. Speaker, today, on Survivors of Suicide Loss Day, I am honoured to rise to pay tribute to a friend, an advocate, and a hero: Tana Nash. Tana was honoured this week with the president's award from the Canadian Association for Suicide Prevention, Canada's national collaborative to prevent suicide. Tana is executive director of the Waterloo Region Suicide Prevention Council and has worked for years to save the lives of vulnerable people in our community.
While many credit me with introducing the federal framework for suicide prevention, I have always credited our mental health community for providing the template and the motivation. Tana was at the forefront of that. When she shared with me that three local students, in the space of just one week, had died by suicide in unrelated incidents, that was the tipping point for me.
Tana is one of Waterloo region's gems, and I know I speak for the whole community when I say how proud we all are of her and how grateful we are for her efforts. Tana, God bless.