Harold Albrecht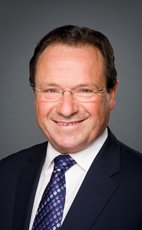 House of Commons photo
Track Harold
Your Say
Elsewhere
Crucial Fact
Conservative
MP for Kitchener—Conestoga (Ontario)
Won his last election, in 2011, with 54.10% of the vote.
Statements in the House
Mental Health May 6th, 2013
Mr. Speaker, with today marking the beginning of Mental Health Week, Canadians and veterans alike welcome the research and effort that our government has made to assist those who are facing this challenge.
Would the Minister of Veterans Affairs please update the House on how we are helping veterans win their battle for mental health?
Economic Action Plan 2013 Act, No. 1 May 2nd, 2013
Mr. Speaker, it may have been a translation issue, but I just want to clarify. I thought I heard my colleague say that the deficit continues to grow with the 2013-14 budget. On page 12 of the budget, it is clear that the deficit in 2012-13 is $25.9 billion and in 2013-14 it is $18.7 billion. My math indicates that this is a clear reduction.
I wonder if my colleague would clarify what her intent was in saying that the deficit is growing, when in fact, the deficit is going down dramatically.
Business of Supply April 25th, 2013
Mr. Speaker, I find myself in total agreement with my colleague on the first part of his comments. We comment on the total ineffectiveness of the Kyoto protocol administered under the previous Liberal government when it proposed to reduce greenhouse gas emissions by 20%, and in fact, they went up by 30%.
Why would my colleague not acknowledge the fact that between 2005 and 2010, when the economy grew by 6.3%, our greenhouse gas emissions in Canada were reduced by 6.5% in that same period of time?
It is clear that the economic growth did not impact our greenhouse gas emissions negatively. Why would my colleague not acknowledge the truth of what has happened and the action that has been taken by this government between 2005 and now, rather than attempt to mislead the Canadian public into thinking that no action has been taken?
Business of Supply April 25th, 2013
Mr. Speaker, I am pleased to rise to discuss the motion of the opposition. Under part (b), it condemns the lack of effective action by successive federal governments since 1998 to address emissions and meet our Kyoto commitments. If the opposition were informed as to what actions our government has taken, it would know that since 2005, when the economy grew by 6.3%, greenhouse gas emissions decreased by 48 megatonnes, or a 6.5% reduction. Why would our colleagues opposite not inform Canadians of the truth of the action that this government has taken in the last six years?
Armenia April 24th, 2013
Mr. Speaker, George Santayana said, "Those who cannot remember the past are condemned to repeat it."
That is why I rise today and ask Canadians to join with me in remembering the first genocide of the 20th century when 1.5 million Armenians died at the hands of the Ottoman Empire. We remember. And in remembrance we recommit ourselves to the promise that never again will we stand idle in the face of such inhumanity.
Today hundreds of thousands of Armenians will gather in Yerevan to commemorate the lives lost between 1915 and 1923. As chair of the Canada–Armenia Parliamentary Friendship Group, I have been honoured to travel to Armenia and witness the prosperous democracy that has emerged. I have also had the privilege to meet Canadians of Armenian descent, who contribute so much to my home community of Waterloo Region and to this great country.
On this, the 98th anniversary of the Armenian genocide, I ask all Canadians to remember.
Committees of the House April 19th, 2013
Mr. Speaker, I have the honour to present, in both official languages, the 7th report of the Standing Committee on Environment and Sustainable Development entitled "Urban Conservation Practices in Canada".
Pursuant to Standing Order 109 of the House of Commons, the committee requests that the government table a comprehensive response to the report.
Suicide Prevention April 19th, 2013
Mr. Speaker, once again, I thank the House for passing Bill C-300, my legislation on suicide prevention. The situation in Neskantaga only reinforces the need for a federal framework, the need to overcome the stigma that prevents conversation about suicide.
Over the past year, there have been 7 deaths by suicide and 20 attempts in this community of only 421. Our government has sent additional nursing and counselling assistance, but more needs to be done at Neskantaga and right across Canada. Suicide prevention programs must be delivered by more than just nurses and counsellors. It takes people who are able to recognize the warning signs, people brave enough to engage in conversations.
Teachers, coaches, paramedics, pastors and police officers, even members of Parliament, we all must do our part as members of a caring community. Do not be afraid to start the conversation. It will shine light and expose hidden fears that can finally be addressed. A simple conversation can bring hope, the oxygen of the human spirit.
The Budget March 25th, 2013
Mr. Speaker, I am rather surprised at my colleague's attitude today. I find him normally to be a very positive guy, but today he is a little bit negative on many of the things in this budget.
He certainly missed the boat on the issue of infrastructure and public transit, because both the Federation of Canadian Municipalities and the Canadian Urban Transit Association applauded our budget. The Federation of Canadian Municipalities said:
Today's budget delivers significant gains for Canada's cities and communities. We applaud the government for choosing to continue moving our communities forward even as it meets its immediate fiscal challenges.... This is also a budget that delivers real gains for Canadians. ...it will spur growth and job creation....
The Canadian Urban Transit Association said it applauded the federal government's building Canada plan as a major step for planning and development of public transit in Canadian communities. It goes on to say:
Never before has a federal government invested so much in public transit. This budget provides a solid framework to ensure this will continue.
I would like my colleague to respond to those positive comments from two organizations that represent those two major sectors.
The Budget March 25th, 2013
Mr. Speaker, I want to thank my colleague for the great speech.
She was going through page numbers, but she did not have enough time because I am sure would have gone to page 223 where it outlines our great palliative care program and the investing of $3 million in community projects.
My question relates to infrastructure. This past weekend I visited with many municipal partners in my riding. They are thrilled with the investment we are making in infrastructure with the long-term sustainable gas tax fund. Not only is it permanent, it is now going to be indexed to allow the communities to do the great infrastructure projects that are on their plates.
The Budget March 25th, 2013
Mr. Speaker, I thank my colleague for highlighting some of the great initiatives of this budget. One of the things he commented on was the building Canada fund.
Over the weekend, I had the opportunity to visit my riding, as many of us did, and I spoke to a number of municipal politicians and bureaucrats there. To a person, they were thrilled with the investment our government was making in infrastructure. The thing that primarily excited them was the fact that not only had the gas tax been made permanent a number of years back, but this year we committed to indexing those gas tax dollars and, in addition to that, large dollars for major infrastructure programs within their municipalities and across Canada.
Would my colleague care to comment on the kind of feedback he must be getting from his riding?