Harold Albrecht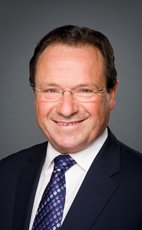 House of Commons photo
Track Harold
Your Say
Elsewhere
Crucial Fact
His

favourite word

is colleague.
Conservative
MP for Kitchener—Conestoga (Ontario)
Won his last election, in 2011, with 54.10% of the vote.
Statements in the House
Economic Action Plan 2014 Act, No. 2 October 30th, 2014
Mr. Speaker, there are a couple of key points.
As relates to the agriculture sector, in my almost nine years of being an MP, I have never had a period of time when the farmers in my riding have been happier about the policies of this government. In my riding of Kitchener—Conestoga we have Conestoga Meat Packers, which is a hog farmer cooperative. It has never been doing better. As it relates to grain farmers, our grain farmers are happy.
However, when it comes to talking about the deficit and balancing the budget, I do not know how this member can stand and with a straight face talk about balancing the budget when his previous Liberal government balanced it on the backs of the provinces, with $25 billion taken out of health care and education and $52 billion out of the EI fund. Also, I wonder if my colleague can answer where the $40 million is.
Economic Action Plan 2014 Act, No. 2 October 30th, 2014
Mr. Speaker, it is my understanding that it does include banks. However, I would have to double-check that.
However, I would like to highlight what I said during the moments I had for my speech.
We have to focus on the real issues that are part of this bill, especially for my riding of Kitchener—Conestoga, which is a rural-urban riding, and the farmers there. Allowing farmers to increase the tax exemption on capital gains is important to us as we try to help farmers maintain their farms within the family context. We know that, if farms are in the family context, some of these farmers produce the best quality food in the world. I am certainly committed to continuing that process.
Economic Action Plan 2014 Act, No. 2 October 30th, 2014
Mr. Speaker, when I rose earlier this year to speak to the budget, I began by thanking our friend Jim Flaherty for his work, on behalf of the people of Kitchener—Conestoga whom I remain privileged to represent. He managed one of the toughest portfolios in government through some of the worst challenging times in recent history. Looking back, I am very glad that I took that opportunity to pay tribute to Jim. Canadians are, indeed, indebted to him for his prudent fiscal leadership.
Looking forward, Bill C-43, the second budget implementation bill, would continue to move Canada forward along the road to balance, creating jobs and opportunities for Canadians. I am grateful to our new Minister of Finance, the member for Eglinton—Lawrence, for his commitment to Canada's ongoing prosperity.
Contrary to a belief held by the third party in the House, budgets do not simply balance themselves. The previous Liberal government had to slash transfer payments to the provinces—much-needed funds for health care, post-secondary education, and social assistance—in order to balance the books. The current Liberal leader seems to feel the previous Liberal government cut support for health care just for fun, if he really believes that budgets will balance themselves. This government would bring the budget back into balance without taking such draconian measures. I think most Canadians would agree it is a commendable objective.
However, we are accomplishing so much more than just a balanced budget. We are building the foundation for Canada's long-term prosperity. My home of Waterloo region has seen world-class post-secondary facilities like Sir Wilfrid Laurier University, the University of Waterloo, and Conestoga College all greatly increase their capacity for both teaching and research, all thanks to our federal government.
Our government has fostered entrepreneurship by supporting programs like the University of Waterloo's velocity program, which provides an entrepreneurial education. We invested in the Communitech Hub, a hotbed of high-tech entrepreneurial activity. We made it easier for business to access the expertise of Conestoga College to improve internal processes and designs. Both parties opposite refused to support any of these worthwhile activities.
Our drinking water is safer, our air is cleaner, our communities are more livable, our greenhouse gas emissions have dropped, and our competitive position in the global economy is now improved thanks to federal investments proposed in budgets that were opposed by the Liberals and the NDP. However, I am not here to review our past successes as a country, community, or government. I am here to highlight some of the measures in this bill of which I am particularly proud.
I was born on a farm just outside of Kitchener, Ontario. I have owned a farm most my adult life. Most importantly, though, agriculture remains one of the most important economic engines for Waterloo region. This bill would extend the lifetime capital gains exemption of farm property. That is a very technical amendment. Let me state it plainly. The family farmers of Waterloo region and elsewhere in Canada would find it easier to pass their farms on to the next generation, thanks to this government. On this side of the House, we stand in support of those families who provide the best quality food in the world. I invite the opposition to join us.
When our government created the agricultural flexibility fund to improve our agricultural sector's competitiveness, the Liberals and NDP refused to support our farmers. When we offered support to hog farmers to restructure their debt, the Liberals and NDP refused to support our farmers. When we allowed grain farmers to enjoy market freedom, the Liberals and NDP refused to support our farmers. With this bill, the opposition finally has the opportunity to turn the page, to look Canada's family farmers in the eye and say, "We support you; we want you to be able to keep your farms in your families". Canada's family farmers would welcome their support, for once, just once.
This bill would also protect consumers. On this side of the House, we think it is wrong for big banks and credit card companies to charge pensioners and single parents for the so-called privilege of receiving a bill, and we are taking action to prevent it. Once again, I invite members opposite to take this opportunity to join us in standing with consumers just this once. Please support our measures to ban pay to pay policies on credit card statements.
Too often I have heard the NDP members accuse us of favouring the big banks. They like to present banks as the enemy of everyday Canadians. This is their opportunity to match their voice to their rhetoric or to demonstrate that their rhetoric is nothing more than empty words without commitment. I believe many of my colleagues in the NDP are very honourable people. I hope they will not let partisanship prevent them from voting on their principles.
Moving on, I am particularly pleased that the bill would enable charitable fundraising to enter the computer age. While we want as few Canadians as possible to depend on charities, we also want charities to thrive. I cannot believe we actually need to do this, but the bill would make it legal for charities to use computers to track their sales in certain fundraising activities. Right now it all needs to be done manually, which just makes no sense.
On this side of the House, we want as much as possible of every dollar donated to charity to be used for its intended goal and as little as possible lost to administrivia. I do not see any reason why members opposite could possibly be against this. Once again, I invite them to join us in support of Canada's charitable sector. This is only the latest action our government has taken to support charities in Canada.
We have already provided an exemption from capital gains when publicly listed securities or ecologically sensitive lands are donated to charities. Again, the Liberals and NDP opposed this. We reduced the administrative burden on charities allowing them to focus on charitable activities. It makes sense to the people I speak to across Waterloo region. The Liberals and NDP, again, are opposed to this as well.
We have encouraged Canadians to begin donating to charities by creating the first-time donor super credit on donations to charity. I must credit my friend, the hon. member for Kitchener—Waterloo, for bringing this common-sense idea to the table, another common-sense idea that the NDP and Liberals opposed.
The bill would also double the amount that parents can claim for the children's fitness tax credit. More importantly, it would make this tax credit refundable, making it a much stronger benefit for low-income Canadian families. As a parent of three children and grandparent to nine beautiful grandchildren, I understand how important it is for children to establish healthy lifestyles. Sedentary children grow up to become sedentary adults. Encouraging a healthy lifestyle in today's children will pay dividends in reduced health costs for years to come. I am especially pleased to see that this credit would now be refundable. We are making life more affordable for low-income Canadians. I hope the opposition will find it in their hearts to stand with us in supporting low-income Canadians.
Our Conservative government remains focused on what matters most to Canadians: jobs, growth, and long-term prosperity. We weathered the global recession better than our peers, and even through the recovery, we continued to chart one of the world's best economic performances. In fact, since we took office, we focused on five priorities to ensure Canada's continuing prosperity: a tax advantage, reducing taxes for all Canadians and establishing the lowest tax rate on new business investment in the G7; the fiscal advantage, eliminating our net government debt within a generation; an entrepreneurial advantage, reducing unnecessary regulation and red tape, and increasing competition in the Canadian marketplace; a knowledge advantage, creating the best-educated and most skilled and flexible workforce in the world; and an infrastructure advantage, building the modern infrastructure we need to compete abroad and enjoy liveable communities at home.
Economic action plan 2014 continues this focus on positive initiatives to support job creation and economic growth. It continues to connect Canadians with available jobs. It continues to improve support for families and communities, and it continues our difficult road to balancing our budget. It provides good news to the families of Waterloo region as well as farmers and small businesses.
I ask the members opposite to put aside their partisan interests and look at the bill for what it truly represents, modest steps forward on the priorities of Canadians. I invite them to join me in supporting this important legislation.
Economic Action Plan 2014 Act, No. 2 October 30th, 2014
Mr. Speaker, my colleague just started to explain the benefits of the increased tax credit for children, but I would like her to briefly highlight the aspect of not only doubling it but making it refundable. That is a key point for low-income Canadians.
I wonder if she would expand on that aspect for 30 seconds.
Economic Action Plan 2014 Act, No. 2 October 30th, 2014
Mr. Speaker, I want to thank my colleague for his speech outlining many of the positive initiatives in this budget implementation bill. He drew attention to the one that relates to the doubling of the amount that parents could claim for the children's fitness tax credit. As the father of three children and the grandfather of nine grandchildren, I am very concerned that our next generation continue to stay active and involved in community sports and things like that.
I wonder if my colleague could comment on the fact that not only would this be doubled but we would also make it refundable. That is a point that is often lost on the part of Canadians.
Economic Action Plan 2014 Act, No. 2 October 30th, 2014
Mr. Speaker, my colleague indicated that on this side of the House we have not taken time to look through the bill. I wonder if my colleague understands that Bill C-43 has a very technical amendment in it that would extend the capital gains exemption for farm property.
In my riding, my farmers are a part of the prosperity of my area; not only the primary producers but the food processing that goes on in Waterloo county is very important. This measure would make it easier for family farms to be passed on to the next generation. This is an important aspect of our food security in Canada.
It is too bad that the NDP in the past has not stood up for the protection of family farms. This time, NDP members have chance to stand up for the protection of family farms and to ensure the good produce that our farmers produce year to year by passing this measure in the bill.
Canada-Korea Economic Growth and Prosperity Act October 28th, 2014
Mr. Speaker, this gives me a great opportunity to set the record straight, because my colleague may remember that he is quoting statistics from 1990. Between that time and the time that our government took office, there were 13 years of Liberal inaction on climate change. The Liberals signed agreements but under those agreements the greenhouse gas emissions rose by 30%.
Since we took office, greenhouse gas emissions have dropped by over 5% during a time when the economy grew by over 10%. Therefore, I think members see that there is definite improvement on the environmental front under this government.
I could go on about many of the other environmental initiatives that our government is working on, and my colleague often serves on the environment committee so he would be aware of them. In our national conservation plan we are partnering with partners on the ground who are already actively doing work to protect our environment, and this would have the synergistic effect of doubling or tripling the effect to be had from investments we make.
I am proud of our government's record on the environmental protection standards that we have implemented.
Canada-Korea Economic Growth and Prosperity Act October 28th, 2014
Mr. Speaker, if I did say kill the bill, I misspoke. I certainly did not intend to say that. I do not believe I said that. I may have said to gut the bill because I believe very strongly in the important provision of investor protection. If we are to encourage Canadians to invest in Korea, it is important that we have these mechanisms in place to protect the equity Canadians would like to invest.
To acknowledge my colleague and her concern, I want to thank the New Democrats for their intention of supporting the bill. It is a great move forward. To finally see some support for responsible initiatives that would be good for Canadian families and businesses is a change that we welcome on this side.
Canada-Korea Economic Growth and Prosperity Act October 28th, 2014
Mr. Speaker, before I begin my remarks on the Canada-Korea free trade agreement, I am sure I speak for all of my colleagues when I say that our hearts and prayers are with the family and friends of Corporal Nathan Cirillo in the final ceremonies honouring his life today.
I am very thankful to the RCMP, our security staff on the Hill and especially Sergeant-at-Arms Kevin Vickers for their great work last Wednesday. I am certain that in those first few moments last Wednesday, there were many thousands of prayers offered by Canadians. I want to thank God for his protection that the tragedy of last Wednesday was not much worse than it was.
I am pleased to rise today to speak about the historic Canada-Korea free trade agreement. I will be sharing my time with the hon. member for Willowdale.
It is only our Conservative government that is focused on what matters to Canadians: jobs, growth and long-term prosperity. By pursuing an ambitious trade agenda, our Conservative government has provided Canadian businesses with access to new opportunities in dynamic markets around the globe.
The Canada-Korea free trade agreement is a landmark achievement that will restore a level playing field for Canadian companies competing in the South Korean market. It is also Canada's first agreement with an Asian country. This is an important point to keep in mind.
As chair of the Standing Committee on Environment and Sustainable Development, I would like to focus some of my remarks on the environmental provisions contained in the agreement. I am proud of our government's action to protect our environment.
Both Canada and South Korea have committed to ensuring that trade does not come at the expense of the environment by negotiating robust and ambitious environmental obligations into the environment chapter in this free trade agreement.
While Canada has traditionally included strong, legally binding commitments to protect our environment in parallel environment agreements, we have in these negotiations moved those provisions within the free trade agreement itself. This is the same approach we pursued in the Canada-European Union trade agreement negotiations and reflects the importance that Canada places on ensuring that free and open trade and environmental protection are prominent and mutually supportive in our agreements.
Canada and South Korea have committed to promote sustainable development and to undertake their commitments in a manner that is consistent with environmental protection and conservation.
This environment chapter obliges both countries to maintain high levels of environmental protection, as we intensify our trade relationship. It commits us to effectively enforce our environmental laws and to ensure that we do not weaken them in order to encourage trade or investment.
In addition, we have agreed to obligations that address accountability and transparency, public awareness and engagement, all fundamental Canadian values.
This builds on a tradition of transparency and public engagement enshrined in all of our trade agreements beginning with our first environmental agreement, the North American Agreement On Environmental Cooperation.
We have a strong record of achievement in implementing our first and most comprehensive environment agreement with our North American partners. In fact, this year we celebrated the 20th anniversary of the North American Agreement On Environmental Cooperation. The Minister of the Environment had the privilege of hosting her American and Mexican counterparts in Canada's north this past July.
In Yellowknife, our three countries agreed to focus on three priority areas for the organization's next strategic plan: climate change, green growth and sustainable communities and ecosystems.
The environmental chapter also requires that each party provide appropriate and effective sanctions or remedies in the case of domestic law violations. Ensuring that our citizens have access to strong and robust legal systems is a priority for this government. In this regard, our government has enhanced enforcement of federal environmental legislation through the Environmental Enforcement Act.
Once fully implemented, existing environmental laws will be further strengthened through the establishment of minimum fines and increasing maximum fines which will more accurately reflect the severity of environmental offences.
Recognizing the value of international co-operation in addressing environmental challenges, we are affirming our commitment to implement the multi-lateral environmental agreements that we have already ratified. This includes such agreements as the convention on biological diversity.
We also look forward to sharing Canada's achievements under the national conservation plan. Through this plan, Canada will invest $252 million over five years, with a focus on conserving our lands and waters, restoring our ecosystems, and connecting Canadians to nature.
The environment chapter of the Canada-Korea free trade agreement will also provide for potential future co-operation to support the objectives of the agreement. Both Canada and Korea recognize the value of sharing expertise and best practices to help advance our shared commitment to sustainable development and environmental responsibility.
Distinct dispute resolution mechanisms are also included in this chapter to ensure that the obligations are respected. If a matter comes up, we would seek to resolve it through consultations and co-operation, including at the ministerial level. If the issue remains unresolved, we would seek advice from a panel of experts and work together to implement the panel's recommendations.
Beyond the environmental chapter, the free trade agreement itself includes important trade-related environment provisions. These include provisions stipulating that nothing in this agreement shall prevent Canada and South Korea from taking measures necessary to protect the environment.
The agreement also includes commitments for both governments to encourage their respective enterprises operating abroad to observe internationally recognized standards of responsible business conduct, including respect to environment.
We stand with Canadians incredibly disappointed that the NDP tried to completely gut the bill at the trade committee. It tabled amendments to remove the investor protection provisions that are cornerstones of modern trade and investment agreements.
This is just as harmful as the neglect of international trade under the Liberals. For 13 long years, they took Canada out of trade negotiations, putting Canadian workers and businesses at severe risk of falling behind in this era of global markets.
Canada and South Korea have demonstrated through this agreement our commitment to protecting the environment. From Canada's perspective, it is a commitment that we see reflected across our agenda. For example, Canada is taking action on climate change both domestically and internationally. On the international stage, we continue to work with our international partners to reduce greenhouse gas emissions and to address climate change globally.
Canada continues to play an active role in the United Nations framework convention on climate change and is fully committed to establishing a fair and effective climate change agreement that includes all major emitters.
We are also a founding partner and a major financial contributor, as well as an active participant, in the climate change and clean air coalition to marshal global efforts to tackle short-lived climate pollutants. This is in addition to action we are taking domestically through a strategic and pragmatic sector-by-sector regulatory approach.
We have already taken action on some of the largest sources of emissions in our country, the transportation and electricity generation sectors. As we announced last week at the United Nations climate change summit, we will build on our record by taking pre-emptive action to reduce and limit harmful hydrofluorocarbon, or HFC, emissions before they actually increase.
We are proud that Canada's economy has grown substantially, while our greenhouse gas emissions have decreased, with per capita emissions now at their lowest level since we started recording in 1990. We have demonstrated that we can protect the environment, while supporting a strong and robust economy.
Our government values high-quality economic growth and is committed to sustainable development as we continue to cultivate new opportunities for Canadian businesses abroad. We believe that trade and environment can go hand-in-hand, and this agreement proves it.
No government in Canada's history has been more committed to the creation of jobs and prosperity for Canadian businesses, workers and their families.
The farmers, food processors and manufacturers of Waterloo region are supportive of this agreement and are excited that they will reap the fruits of our labours.
On this side of the House, we recognize that Canadian business can compete and excel around the world, given a level playing field. I do not understand why the opposition seems to be against our attempts to put Canadians on equal footing with our international competitors.
I call for the speedy implementation of the Canada-Korea free trade agreement.