Irene Mathyssen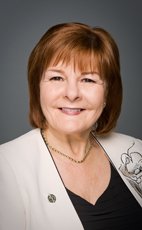 House of Commons photo
Track Irene
Your Say
Elsewhere
Crucial Fact
Her

favourite word

is conservatives.
NDP
MP for London—Fanshawe (Ontario)
Won her last election, in 2011, with 50.90% of the vote.
Statements in the House
Veterans Affairs December 10th, 2014
Mr. Speaker, nobody believes that stuff anymore. Conservatives are failing veterans and refusing to take responsibility, veterans like Richard Brown, injured on duty and unable to hold down full-time work due to mental injuries. He was given a single payment of just $64,000. Jordie Yeo suffered broken bones and PTSD after being ambushed by a sniper, but initially was refused compensation altogether.
When will the minister finally admit that it is wrong and disgraceful to treat our veterans this way?
Petitions December 9th, 2014
Mr. Speaker, I have a petition addressed to the Minister of Health and the House of Commons in regard to the need for a federal strategy in regard to Alzheimer's and other dementia-related diseases. The petitioners would like the minister and the government to initiate discussion, develop specific national objectives, provide an annual report in regard to Canada's progress, establish a standing round table, encourage greater investment in research on the disease, and strengthen our capacity to care for persons with dementia.
Veterans December 8th, 2014
Mr. Speaker, the Conservatives have closed nine regional veterans offices, gutted the department and fired front-line staff that helped veterans access disability, health and pension services. To make matters worse, the Conservatives doled out bonuses to senior officials for making those devastating cuts. Unbelievably, the minister stands in this place and says that he is proud of the cuts.
Our veterans deserve better. Will the Prime Minister stop making excuses, respect our veterans and fire that minister?
Veterans December 4th, 2014
Mr. Speaker, too little too late. The Conservatives pedal their weak and petty excuses in this place, but the truth is they are going to court to fight disabled veterans injured in Afghanistan.
While lying in a hospital bed, Major Mark Campbell, who lost both his legs above the knee in a Taliban ambush, found out that the government had stripped him of his military pension. He is one of seven veterans who has gone to court to gain access to compensation that was promised.
Why is the government going to court to break those promises and the hearts of our veterans?
Veterans December 4th, 2014
Mr. Speaker, the Conservatives are failing veterans right across the board. They stand in the House and dismiss the crisis that they created when they gutted departments and fired the staff who helped veterans access the services they so desperately need.
Nine regional offices are now closed and one in four employees has been fired. The Prime Minister has the audacity to call people helping injured soldiers in those regional offices "backroom bureaucrats".
Instead of making excuses for that failed minister, will the Prime Minister finally just show him the door?
Economic Action Plan 2014 Act, No. 2 December 2nd, 2014
Mr. Speaker, it comes down to the fact that the government fails to understand investment. It talks about tax cuts and all the things it does to reduce the amount of money available to government to do good things in the community, but it never talks about investment.
It never talks about investment in workers and families when they are in need, as with the employment insurance fund. It certainly never talks about investment in small business, or at least the kind of investment needed. In fact, it has cut the tax credits for small business.
The New Democrats would restore hiring tax credits. We would reduce those taxes to small businesses. We saw that in Manitoba already with an NDP government. We would crack down on hidden credit card transaction fees. Imagine the boost to small businesses if they did not have these terrible credit card transaction fees taking away from their ability to deliver to their customers and to generate more business.
We can grow business in our country and in our communities, but not with the Conservative government. The New Democrats would do that.
Economic Action Plan 2014 Act, No. 2 December 2nd, 2014
Mr. Speaker, supporting the trades and youth is critical. When I taught in London, Ontario, one of the travesties of the situation that I encountered was this undermining of the trades, or this sense they were somehow of lesser value to the economy. We know that is not the case.
I have not seen a great deal of positives from the Conservative government, or from the previous government. It very much seems that in cutting their transfers for post-secondary education, they were more interested in balancing budgets or doing whatever it was they thought they were doing.
This gives me an opportunity to do a little bragging. Fanshawe College is my riding. Right now, it is developing programs in conjunction with local businesses to support the development of the region and job creation. They are using the expertise of the college and its staff to have an impact on student and regional jobs, and technologies. Will the government support that? I am waiting.
Economic Action Plan 2014 Act, No. 2 December 2nd, 2014
Mr. Speaker, here we are again standing in the House and talking about another omnibus budget bill designed to ram through hundreds of changes with little study or oversight, and without consultation and, I would say, without the consent of Canadians. Canadians do not trust the Conservative government any more, thanks to draconian bills, secret cabinet meetings, the muzzling of scientists, and the continual stifling of our democracy.
These policies are anything but transparent, as the Conservatives had promised when they were first elected. I am sure that we remember the first Conservative bill, the Federal Accountability Act. Accountability is dead because we have before us Bill C-43, another long bill, in this case consisting 460 pages, with 400 clauses, and dozens of amendments to acts that include a variety of measures that were never mentioned in the budget speech.
The point of electing MPs from across the country and from a variety of political parties is to ensure that there is oversight and democratic governance. These omnibus budget bills mock the very principles that Canadians hold dear. It behooves the government to allow MPs to take the time to study the bill to ensure that due diligence and oversight are respected. After all, does oversight not remain the cornerstone of our democratic system?
It is not just New Democrats calling for oversight. In 2002, the OECD report entitled, "Best Practices for Budget Transparency", stated that draft budgets should be submitted to Parliament no less than three months prior to the start of the fiscal year. It also noted that budgets should include a detailed commentary on each revenue and expenditure program, comparative information on actual revenue and expenditure during the past year, and an updated forecast for the current year should also be provided for each program. None of these practices are currently followed in Canada. If these guidelines were followed, I believe we would have a much more democratic process, one that we could all be proud of and follow with security.
Sadly, as I have said, I am afraid democracy will once again get the short end of the stick and this bill will be rammed through the House. The government has the numbers and has consistently rejected NDP amendments and failed to listen to Canadians. The quick passing of omnibus bills is problematic. There are many issues in this particular bill that absolutely must be addressed and weighed by parliamentarians. Tragically, the bill in front of us is an overt and outright attack on some of the most vulnerable people in our society, particularly unemployed Canadians, who will not be helped by the implementation of the so-called job credit.
This proposal has already been panned by experts like the Parliamentary Budget Officer, who called it wasteful and extraordinarily expensive. Mike Moffatt from the Ivey school of business at the University of Western Ontario said that "the proposed 'Small Business Job Credit' has major structural flaws that, in many cases, give firms an incentive to fire workers and cut salaries". He went on to say:
The way this...system is designed is that the maximum benefit a company can receive from firing a worker and going under the $15,000 threshold far exceeds the maximum benefit a small business can receive from hiring an additional workers.
As we know, this measure will take $550 million from the EI fund. It should have been subjected to serious scrutiny by the government, but, as we have come to expect, the Conservatives ignored analysis by the Parliamentary Budget Officer and never sought detailed analysis of the real job impacts from the Department of Finance. The Parliamentary Budget Officer estimates that the program would create about 800 jobs, maximum, despite its enormous price. As I mentioned, economists such as Mike Moffatt have written that the proposal actually gives employers a greater incentive to fire workers than hire them.
I cannot in good conscience support a bill that would actually give employers a reason to fire employees instead of permanently hire them. That is exactly what Bill C-43 would do. Quite literally, it attacks the unemployed and the very vulnerable people that this country has promised to protect.
The provisions in this budget implementation act would allow provinces to impose residency requirements on people without permanent status and would deny refugee claimants and those without permanent status in Canada the ability to obtain the most basic social assistance. After the Conservative cuts to refugee health, which are just beyond the pale, the current government continues to attack some of the most vulnerable people in Canada in the name of saving a few dollars. It is absolutely unconscionable.
Let us not forget that the Conservatives are promising a false balanced budget. To get to their so-called balance, they are cutting provincial health transfers by $36 billion. That smacks of the missing EI funds that we saw not very long ago, and all of this would have a very negative impact on Canadians.
This bill also includes an amendment to the Aeronautics Act that would allow the Minister of Transport to prohibit any development of or change to an aerodrome in Canada that he or she feels is not in the public interest. That means that any airport of any size anywhere in Canada would be subject to a veto by the Minister of Transport. I must say that I do not have a great deal of faith in these ministers. I have constituents who are very angry about this and rightly so. This is yet another attempt by the Conservatives to centralize more power in the hands of the Prime Minister and cabinet, and it is the absolute antithesis of democracy.
I am happy to say that there are a few aspects of the bill that have some positive implications.
It is good, for example, to see that the NDP's long-standing proposal to end pay-to-pay billing by telecommunications and broadcasting companies is in the bill. We will have to see if it actually goes anywhere. I have heard many complaints from seniors from across the country about this unfair charge to receive a paper bill, and I am pleased that the change was included. However, the change falls short and fails to live up to the promise the Conservatives made to end unfair gouging by the banks. Like so much the current government does, it is just another half measure.
The bill also includes measures to address a major appeals backlog at the Social Security Tribunal by allowing for more tribunal members. I am pleased to see this. The backlog is absolutely unacceptable. It has hurt a lot of very vulnerable people—I have heard the stories—and I am hopeful that the backlog will be tackled. However, there would not have been a backlog if the government had not decimated the tribunal in the first place.
I wish I had more positive things to say about Bill C-43, but I am afraid I do not.
There are a lot of good things that the government could have done with this bill, things that would have helped Canadians find jobs and make life more affordable. Those are things like a pan-Canadian childcare program that would ensure that families had access to quality childcare at $15 a day. That is the kind of thing that boosts a community, helps families, and sparks the economy.
The government could also develop a strategy to deal with persistent youth unemployment. It could implement a youth hiring and training credit. The Conservatives did not do it, and unfortunately the youth of this country are going to suffer as a result.
They could have phased out the billion-dollar subsidies for the oil and gas sector. Imagine having a billion dollars to invest in the security of our seniors and in job creation for our youth. Imagine that money redirected into health care.
I am very sorry to say that none of those things have been addressed by the government. The Conservatives could have done some good, finally. They chose not to, and I am very sorry about that.
Veterans November 27th, 2014
Mr. Speaker, when our veterans were asked to serve, they did not hesitate. Why will this minister not honour that service?
Nearly one in six full-time members of the Canadian Forces experienced symptoms of mental health or alcohol-related disorders in the last year. Many of those members will soon be leaving the Canadian Forces and looking for assistance from Veterans Affairs.
Does the minister have a plan in place for these veterans so that they are not left waiting?