Irene Mathyssen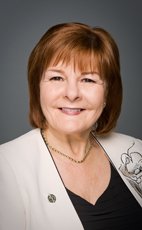 House of Commons photo
Track Irene
Your Say
Elsewhere
Crucial Fact
Her

favourite word

is regard.
NDP
MP for London—Fanshawe (Ontario)
Won her last election, in 2011, with 50.90% of the vote.
Statements in the House
Business of Supply September 16th, 2014
Mr. Speaker, I want to thank my colleague for her very instructive discussion here today. It is important for all members of the House to hear what is happening out in the communities.
One of the things my colleague mentioned was this quibbling about numbers. There has been a lot of quibbling and a lack of looking at the big picture.
I am the critic for seniors issues. In my dialogue with the community, I have discovered that not only is there a quarter of a million seniors living below the poverty level, but that poverty began because of low-paying jobs and a lack of opportunity. If we are going to address the reality of senior poverty and health in the future, as well as the health of the entire community, we have to start looking at the minimum wage.
My concern has to do with the cost of poverty to the economy. I have heard a figure as high as $30 billion in terms of health care costs and children going without. I wonder if my colleague would care to comment on that.
Conflict Minerals Act June 19th, 2014
Mr. Speaker, I would like to thank my colleague from Hamilton East—Stoney Creek for a very balanced and thoughtful presentation. I also wish to thank my colleague from Ottawa Centre for the work he does for his constituents, the incredible work he does in his capacity as critic for international affairs, and the very steady, compassionate, and solution-oriented work he has done with regard to conflict minerals and the impact the struggle to finance war, insurgency, and militia groups has on vulnerable, innocent victims and communities.
This debate and this bill are about human beings, human beings who are trapped and terrorized by those who wreak havoc in many regions of the world. This afternoon I am going to speak about the violence in places like the Great Lakes region of Africa; the victims, many of whom are women and children; and the purpose and possibility of Bill C-486, standing in the name of my colleague from the New Democratic Party. It is a very important discussion.
Briefly, the illegal exploitation and trade in minerals in the Great Lakes region of Africa is, as has been said, funding and fuelling a brutal and deadly armed conflict. This is a war that had its origins in the 1994 Rwandan genocide. Refugees from that horrific slaughter flooded into the eastern area of the Democratic Republic of Congo, an area formerly known as Zaire. During the Congo wars from 1996-1997, and later from 1998-2003, the conflict involved nine countries and more than 40 rebel groups.
At the present time, there are about three main armed groups operating in eastern Congo, all of them competing for the resources they need to continue fighting by exploiting the illegal trade of minerals in this region. We have to remember how very lucrative the minerals are. They include cassiterite, coltan, wolframite, tin, tantalum, and tungsten. The profits from these illegally traded minerals are estimated at between $140 million and $225 million, and as has been said, they provide up to 95% of the money that keeps these armed groups going.
The human cost has been horrific. More than 5.4 million deaths are directly attributable to this trade, and the devastation goes beyond death and murder at the hands of combatants. That devastation comes in the form of sexual and gender-based violence. It has become a weapon of war, and it is used as such in the Democratic Republic of Congo. There are at least 40,000 survivors of sexual and gender-based violence in the DRC. No one knows how many women and girls have died at the hands of their tormentors, these armed men who rape.
All of this violence, all of it, is to instill fear in communities and is used as a form of vengeance. Women and children are the stable base of society, and in this case, they are specifically targeted by these militia to undermine the very fabric of that society to destabilize communities and make it easier to pillage them for those valuable minerals we have been talking about. The result is traumatized women who are often marginalized because they are forced to bear the children of the enemy. These women, some as young as 13 or 14, are rejected by their communities, and so are their children. No one is safe. Women are raped and men are subjected to torture and humiliation. The victims include children as young as four and adults as old as 65.
For many, the injuries never heal. The survivors suffer from a number of health problems, including damaged reproductive organs; fistulas, in the case of women; sexually transmitted diseases; and HIV-AIDS. Many survivors have also been robbed of their possessions or can no longer work as a result of their injuries, and they cannot afford medical care. The DRC is one of the most dangerous places in the world, particularly for women.
Locals in mining communities are forced to take part in the illicit mining economy. Money earned from the sale of these minerals, as I have said, is used to further the violence. Minerals are smuggled out of the Congo through neighbouring countries and are shipped to smelters around the world for refinement.
Once minerals are processed in this way, it is really difficult to trace their origin. Conflict minerals easily make their way through the United States to Canada and to consumers in our countries. This underscores the purpose and the importance of Bill C-486.
It is supported by a wide range of Canadian and international civil society and corporate organizations. Consultations were a part of the drafting of this legislation. My colleague has done many consultations, including with representatives from Partnership Africa Canada, BlackBerry, KAIROS, the Prospectors and Developers Association of Canada, the Organisation for Economic Co-operation and Development, the Enough Project, and Global Witness.
Bill C-486, quite simply, requires Canadian companies using minerals from the Great Lakes Region of Africa to practise due public diligence to ensure that no armed groups engaged in illegal activities benefit from the extraction, processing, or use of those minerals
The bill would allow Canadians to know whether minerals in products they purchased may have contributed to the funding and fuelling of conflict and to the horrific crimes against human beings. It would also empower Canadian consumers to make more informed choices.
The New Democrats have long supported transparency and accountability by Canadian corporations overseas, including those in the extractive sector. The bill complements other legislation and efforts made by the New Democrats to encourage responsible, sustainable, and transparent management practices in all sectors, including the extractive sector.
Bill C-486 is part of an international trend toward due diligence and corporate accountability. Enforced regulations—and it is important that they be enforced regulations—will create a level playing field for all Canadian companies while ensuring environmental, labour, and human rights, the protections of which we can be proud.
As we know, there is a vast trade in these minerals. They support electronics and jewellery companies. We simply have to know that the products we are buying are not financing atrocities. We, as Canadians, deserve to know that.
It is critical to build a clean mineral trade in the Congo so the people who live there and the miners who work there can have decent living conditions and know that their region is a place where they can eventually build safe communities, conflict free, where people can survive and live in harmony.
Unfortunately, as we have heard, the government is primarily focused on voluntary industry and government initiatives in regard to the extractive industry. That is unfortunate. It is also unfortunate that we have seen opposition to bills like Bill C-300 that would require Canadian extractive companies to behave as they do in Canada when they work abroad.
Canadians want to choose products that do not fund war and human rights violations. Canadians need to know that companies that provide electronic products and jewellery are not funding those wars, that there is corporate transparency, and that Canadians can absolutely rely on the products that we have in our homes and know that they are not causing undue harm and terror for those people living in areas like East Africa.
Veterans June 19th, 2014
Mr. Speaker, the Minister of Veterans Affairs is once again insulting Canada's veterans. As Sean Bruyea said, he is now making our wounded veterans out to be greedy whiners and complainers. It is just despicable. The minister bragged they get up to $10,000 per month, but no one knows where that number comes from or how anyone would qualify for it.
Why does the minister insist on disrespecting our veterans? Will he at least now, finally, apologize?
Prohibiting Cluster Munitions Act June 16th, 2014
Mr. Speaker, I am sure that I can speculate about why the change is here, but I am afraid the government has to answer for that. Unfortunately, it has refused to do so. It is not putting up speakers; it is not explaining its rationale.
All I can say, and all I can see, is the advice from experts, who are very concerned about the lack of solid and worthwhile language in Bill C-6.
We can change this. We can fix this. It is not too late. We can go back and work through the legislation and make it what it needs to be, for all of our sakes.
Prohibiting Cluster Munitions Act June 16th, 2014
Mr. Speaker, I would like to point out that the Conservatives have had no speakers. They have had no one stand up to provide anything but an across-the-House volley of interruptions and non sequiturs. I am afraid that does not constitute debate. There should be a give and take. There should be a clear and logical analysis of Bill C-6 and the rationale behind clause 11. From our perspective, it is extremely problematic.
He said that we have been in theatres with those who use objectionable weapons. We are better than that. We signed this Oslo Convention, in 2008. We signed it, I assume in good faith, with the intention of ratifying it, with the intention of showing the world that we could set aside these kinds of weapons. Yet here we are, with clause 11 in the bill, making excuses, undermining, deluding, and not living up to who we are.
Prohibiting Cluster Munitions Act June 16th, 2014
Mr. Speaker, I have to confess that some of what I have heard tonight from the government during this debate makes me very uneasy. Here we are in the safety of Canada, talking about instruments of war, which quite simply are devastating. In some ways, the debate feels surreal.
As a nation, we took a position, in December 2008. We said, along with 113 other countries, that it was time to end the brutal legacy of cluster munitions and to launch a process to prohibit these weapons, to remove them from the face of the earth. They cause unacceptable harm to armed forces personnel and unspeakable harm to civilians. The reason I say this has to do with the impact of these weapons on human beings.
I began by saying how uneasy I felt and how surreal this discussion is, when it is academic, here in the safe comfort of this House, and when members of this House say we have to be prepared to accept the necessary evil of cluster munitions because our American allies have stockpiled them. However, before we rationalize the position taken by the Conservative government in Bill C-6, I think it is essential to understand what cluster munitions are and what they do.
We are talking about an imprecise weapon that is designed to strike a greater surface area than many other conventional weapons by dispersing smaller but still very lethal submunitions. They are scattered around the ground, and these submunitions create an incredibly large footprint. Within that footprint, they kill and injure both military personnel and civilians.
Up to one quarter of these submunitions fail to explode on impact, but that does not make them any less dangerous. In Lebanon, during the 2006-07 conflict, there were at least 555 recorded cluster munitions casualties in Lebanon, of whom 122 were killed and 433 injured. Children made up 24% of the casualties, most of them young boys, and many of them under the age of 18.
These recorded totals do not include up to 175 unconfirmed cluster munition casualties during or shortly after the conflict. The unexploded ordinance continued to kill. For several months after the conflict, people could not go back into their homes because of these failed submunitions. They littered their homes and littered the area. In the longer term, a larger percent of casualties occurred to farmers while they were trying to farm, herd animals, or carry out other livelihood activities.
In addition to the loss of life and the economic damage, cluster munitions exact a high psychosocial and educational cost. Populations suffer psychological trauma long after the initial event.
However, Lebanon is not the only place where these weapons have been used. Cluster munitions are a worldwide generational problem. They have been used in 24 countries in areas, and their use is suspected in at least a dozen more. Cluster munitions have been deployed in Syria, Iraq, Israel, and are thought to have been used in Afghanistan.
Again, the victims are children who are playing outdoors, pedestrians walking down the street, workers pressing olive oil, and even families in their homes. These weapons kill indiscriminately. Casualties and deaths are estimated to be in the hundreds of thousands since 2006. We also know that 22 Canadian Forces members were killed and 112 wounded, as a result of land mines, cluster bombs, and other explosive devices.
These are the weapons that pull human beings apart. In response to this, the Norwegian government invited 48 states, as well as the UN and civil society groups, to Oslo, to start a process towards an international ban. At the end of the meeting, 46 governments supported a declaration for a new international treaty, and a ban by 2008.
That declaration stated that a legally binding international instrument would be agreed upon by 2008, and it would "prohibit the use, production, transfer and stockpiling of cluster munitions that cause unacceptable harm to civilians".
In 2008, Canada signed that convention, and the current government tabled that agreement in the House of Commons, in December 2012. That brings me to the debate tonight.
Canada, at this moment, has the opportunity to show leadership on the world stage by showing a real commitment to the Oslo Convention. Unfortunately, the sticking point revolves around clause 11 of Bill C-6. This clause relates to the issue of interoperability which, as part of the original convention, allows countries like Canada that do not manufacture, stockpile, or use cluster munitions to be in a theatre of war with nations that have not signed the convention, such as China, Russia, and the United States.
Unfortunately, Bill C-6 goes beyond even the interoperability allowed in the convention. Clause 11 establishes an extremely broad list of exceptions. The fear expressed by some who opposed the language in clause 11 was that this article permits direct complicity in the use of banned weapons. Imagine Canada being complicit in the use of banned weapons?
In other words, clause 11 allows Canadian Armed Forces to be in a theatre where cluster munitions are used. That goes against what we did in the landmines treaty. If we were in the theatre with any country that had not signed on to the Ottawa treaty, we would not be in joint operations with them while they were using those particular armaments.
The bill before us is void in that respect. There is a loophole, which basically says that we can be in joint operations in the theatre where one of our allies is using these munitions. This works against the whole notion and spirit of the convention.
As my colleagues on this side of the House have indicated, experts have expressed reservations. On the other side, members are not hearing; they are not listening. They are not, for all intents and purposes, even participating, except for the odd heckle and outburst.
On this side of the House, we have listened to the experts who have reservations. Dr. Walter Dorn, of the Royal Military College, said:
Who would want Canadians to use cluster munitions, aid and abet, direct or request their use, or conspire with another person to use these indiscriminate weapons? Yet this wording is in the legislation itself to allow the so-called cooperation with a non-party, which we know to be aimed at the possible cooperation with the United States.
As I said, it is against the spirit of the treaty and the letter of the treaty.
Dr. Marc Drolet, of Handicap International, said:
Bill C-6 should be strengthened to ensure that everything possible is done to promote the spirit and achieve the purpose of the Oslo Convention. [...] As currently drafted, the bill could, paradoxically, very well contribute to the continued use of cluster munitions rather than their elimination as intended.
As I said at the outset, cluster munitions are weapons that are designed to tear human beings apart. This Conservative legislation to implement the convention on cluster munitions is widely recognized as the weakest and the worst in the world. It undermines everything that we should be standing to implement.
We are going to push the Conservatives to further amend Bill C-6 and ensure Canada's humanitarian reputation is not tarnished by this weak legislation. Canadians should not ever be complicit in the continued use of these horrific weapons.
We are better than that. This nation is better than that. I implore the government to understand that Canadians want to be seen as those who understand the Oslo Convention, who understand that we have a place, a possibility, an obligation, to make this convention work. It will not be with Bill C-6 and clause 11, but here in this House, through listening and co-operation, we can do it.
Social Development June 16th, 2014
Mr. Speaker, that minister should hang her head in shame. A woman in London suffering from a terminal medical condition requested an urgent hearing, in December 2012. A year and a half went by with no reply. She finally did hear back, but the tribunal will not see her before next fall.
Thousands of Canadians are being put in similar precarious situations. Why are the Conservatives refusing to fix the mess that they created with the Social Security Tribunal?
Protection of Communities and Exploited Persons Act June 12th, 2014
Mr. Speaker, I thank my colleague for a very thoughtful and analytical discussion. The government cut funding to the Status of Women, closed 12 of 16 regional offices, defunded the National Association for Women and the Law, CRIAW, undermined pay equity, changed EI, and jeopardized women in low-income and part-time work, provided no national child care program, no housing, said no to an inquiry into the murder of 1,200 aboriginal women. It now purports to care about women?
Conservatives have made it very clear over the last eight years that they have no regard and they are not interested at all in the welfare of women. How can we possibly trust them to look after the most vulnerable of women?
Petitions June 12th, 2014
Mr. Speaker, the second petition is with respect to Bill C-24, the amendment to the Citizenship Act. These petitioners are concerned that it treats Canadian permanent residents who came to Canada as temporary workers and international students who have spent a considerable amount of time here and wish to have that time counted toward their citizenship unfairly. They are of great economic benefit and the petitioners want the government to amend the Citizenship Act to recognize the contribution that these citizens make.
Petitions June 12th, 2014
Mr. Speaker, I have two petitions.
The first petition is from concerned citizens of Oshawa who are worried about the FarmTech Energy plan to build an ethanol-producing facility at the Oshawa harbourfront. The petitioners want the federal government to halt the construction of the plant, instruct that public hearings be held, and complete an environmental assessment on the site and surrounding areas.