Irene Mathyssen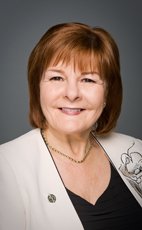 House of Commons photo
Track Irene
Your Say
Elsewhere
Crucial Fact
NDP
MP for London—Fanshawe (Ontario)
Won her last election, in 2011, with 50.90% of the vote.
Statements in the House
Questions on the Order Paper March 7th, 2014
With regard to the Wolseley Barracks: (a) what was the reason for the 2013 demolition of the three buildings at the Barracks; (b) why has said work been called to a halt; (c) how much is the demolition predicted to cost; (d) how much money was spent on repairs to the three buildings between 2008 and 2013; (e) how much is the demolition supposed to save in the long run; and (f) how will those receiving training at Wolseley Barracks be housed once all the designated buildings are gone?
Questions on the Order Paper March 6th, 2014
With regards to the indoor fish farming facility in Thames Centre, Middlesex County: (a) how much funding was issued; (b) was the funding a result of the promise of job creation; and (c) what verifications were made to ensure funding was spent appropriately?
Petitions March 3rd, 2014
Mr. Speaker, I have a petition from Londoners who are very concerned about a recent tragedy in London, Ontario, that involved the deaths of three members of the same family. Their concern is with regard to the government's practices around citizenship and immigration. They would like the Government of Canada to ensure that CIC is properly staffed in order to ensure that fair and appropriate decisions are reached in a timely fashion with regard to applicants, and that in all of the decisions, humanitarian and compassionate grounds are considered in the applications that are presented.
Democratic Reform March 3rd, 2014
Mr. Speaker, the Conservatives are having a hard time selling their radical and unfair changes to the Elections Act. Canadians just are not buying it, and now even their own friends are questioning it.
This weekend, Preston Manning added his name to the growing list of Canadians deeply troubled by this unfair act. He said Conservatives should be "...strengthening rather than reducing the role of...the Chief Electoral Officer with respect to promotional and educational activities...".
Then there is Harry Neufeld, B.C.'s former elections chief, who drafted a report on problems following the 2011 election. He warned that the unfair elections act is going to make things even worse. He said changes on how polling supervisors are selected are "...completely inappropriate in a democracy".
Canadians are tired of the Conservative government rewriting rules to benefit itself. Canadians want a government that will listen to their concerns and strengthen democracy, not undermine it.
Democratic Reform February 27th, 2014
Mr. Speaker, the minister is apparently having trouble understanding what the word "causal" means.
Let us see if he can better explain his bizarre comment about fake voter ID. Could the Minister of Democratic Reform table actual examples of the use of fake voter IDs? We are looking for real examples here, not ones performed for a satirical news show. Does the minister have any?
Democratic Reform February 27th, 2014
Mr. Speaker, the Minister of State for Democratic Reform keeps making the bizarre claim that Elections Canada's efforts to engage voters have actually caused voter turnout to decline, yet he has failed to provide a single shred of evidence to defend this outlandish claim.
Will the minister now table proof, real proof, of the causal link he claims exists between Elections Canada's voter information programs and declining voter turnout?
Petitions February 26th, 2014
Mr. Speaker, the second petition is from concerned Londoners who want the Canada Post plan for reduced services to be rejected by the government. They want the government to ensure that the 6,000 to 8,000 jobs that would be lost are preserved. They want the government to fulfill its promise to protect consumers and to explore other options to update the crown corporation's business plan.
Petitions February 26th, 2014
Mr. Speaker, I have two petitions. The first is from concerned Londoners in response to a terrible tragedy in London, Ontario, regarding a family. These petitioners want the Government of Canada, and particularly the Department of Citizenship and Immigration Canada, to make sure that offices are properly staffed so that wait times can be reduced and to ensure that immigration officers consider all factors in regard to an individual's application for status, including humanitarian and compassionate grounds.
Business of Supply February 24th, 2014
Mr. Speaker, it is interesting when one comes to this place and discovers what happens in the backrooms, in the recesses of this place. When we first heard about voter fraud, robocalls, and all of those things, the promise was made to bring forward legislation that would change the reality of elections and make them more fair and honest. I naively expected that there would be something to prohibit robocalls and to make sure that Elections Canada has the personnel and financing to get to the bottom of what happened. I do not see it in the bill.
I would like to ask my hon. colleague what he thinks is going on. Why do we not see real and genuine reform of the elections act?
Canada Post February 24th, 2014
Mr. Speaker, perhaps the member is confused. We do not need the Canada Post implementation plan. Now senior citizens in Kanata, Winnipeg, and Calgary are learning that they also will be among the first to lose home mail delivery. Can the minister explain to them why all other G7 governments can provide mail delivery for their seniors and small businesses but Conservatives cannot?