Joe Oliver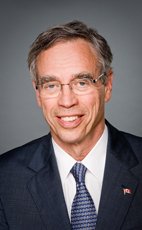 House of Commons photo
Track Joe
Your Say
Elsewhere
Crucial Fact
His

favourite word

is chair.
Conservative
MP for Eglinton—Lawrence (Ontario)
Won his last election, in 2011, with 46.80% of the vote.
Statements in the House
Taxation June 17th, 2014
Mr. Speaker, KPMG concluded that Canada remains the most tax competitive country in its study, with total taxes more than 46% lower than in the United States. Thanks to our low-tax plan, more businesses are investing in Canada. We have over one million new jobs since the recession.
In contrast, the opposition wants to increase taxes on business, which would hurt the Canadian economy, kill jobs, and undermine our competitiveness.
Employment June 9th, 2014
Mr. Speaker, it is rich for the NDP to be criticizing our government's record on job creation. New Democrats voted against every job-creating measure that our government has put forward, including freezing EI rates, providing certainty and flexibility to employers and employees, tax cuts for manufacturers to purchase new equipment and expand their operations, and $70 billion in stable and predictable job-creating infrastructure.
The NDP would instead introduce crippling new taxes on Canadian businesses and put a carbon tax on everything.
Employment June 9th, 2014
Mr. Speaker, once again, the member opposite is misinformed. One of the reasons the unemployment rate went from 6.9% to 7% was that more people were entering into looking for jobs. It is the exact opposite of what the member opposite asserted.
The fact is that we have an excellent job record. Individual months will vary, but the trend is clear. We are on the road to achieving our budgetary surplus. Our forecast for increased growth is continuing, and employment will continue to increase.
Employment June 9th, 2014
Mr. Speaker, as I have said many times, our government has achieved more in terms of job creation than other G7 countries. We lost 600,000 jobs, compared to eight million in the United States; we have recovered that and added more than 400,000 more, to a net total of more than one million.
We are doing better than most other countries. We are very proud of that performance, which is based on the sound fiscal policies of this government.
The Economy June 9th, 2014
Mr. Speaker, our government is on track to achieve a budgetary surplus. We have created more than one million jobs. Our debt is half that of the average of the G7, and we will continue to responsibly advocate for tax cuts for Canadian families and for hard-working Canadian workers. We will also be responsible, as we have promised, to freeze EI payments.
Consumer Protection June 4th, 2014
Mr. Speaker, I actually didn't expect to be quoted at length by the New Democrats, but I am pleased to hear that they are listening to my words. I wish they would listen to many of the things that I have already said in the House about economic growth and about low taxes.
The fact is the banking system has an ombudsman, an independent ombudsman. The banks themselves have their own ombudsperson as well to protect investors. Then of course there is recourse to the courts. Canadian bank customers, including the seven million who are getting free banking, are going to be well protected.
Consumer Protection June 4th, 2014
Mr. Speaker, we have a robust ombudsman for banking and financial services in place. It is objective, it is less costly, it is less contentious, and it works. In fact, it works in the vast majority of cases. It is a system that is the envy of the world, and it protects banking customers and investments.
The Economy June 4th, 2014
Mr. Speaker, it is quite remarkable to hear that come from the Liberal Party.
Our party has a low-tax plan for jobs and growth. We have created over one million jobs. Our economy is doing better than most countries in the G7 and our debt is one-half the average of the G7.
We are working toward a budgetary surplus, which we will convert into lower taxes for hard-working Canadians.
Small Business May 29th, 2014
Mr. Speaker, the hiring credit, which the NDP voted against, was always designed to be temporary assistance for small businesses.
As for credit cards, we have heard the concerns of small businesses and we introduced a code of conduct. This code was welcomed by consumers and industry groups, in particular by small businesses.
We are always listening to small businesses.
Small Business May 29th, 2014
Mr. Speaker, the member opposite seems to have forgotten that the NDP voted against the hiring credit.
This credit was always meant to be temporary. It helped small businesses that were struggling during the worst economic recession since the Great Depression.
We recognize the vital role that small business plays in the economy and job creation, which is why we have frozen EI premiums for three years, putting $660 million into the pockets of job creators and workers last year alone.