Joe Oliver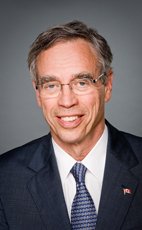 House of Commons photo
Track Joe
Your Say
Elsewhere
Crucial Fact
Conservative
MP for Eglinton—Lawrence (Ontario)
Won his last election, in 2011, with 46.80% of the vote.
Statements in the House
Natural Resources March 6th, 2014
Mr. Speaker, our government will thoroughly review the joint panel report and consult with first nations who are potentially impacted by the Northern Gateway proposal. We will complete the consultations and then we will make a decision.
Our government will only allow projects to go ahead if they are safe for Canadians and safe for the environment.
Natural Resources February 27th, 2014
Mr. Speaker, an independent regulatory board will make a decision regarding this pipeline project and we will obviously respect the outcome of this regulatory process.
The Budget February 25th, 2014
Mr. Speaker, again, I am rather surprised that someone who voted against it wants to see the program reinstated. I did not hear from the member opposite or his party that they were in favour of this program.
As far as the deficit is concerned, again, the Liberals very much wanted this government to spend a great deal more than it did. If we had, our deficit would have been considerably higher. We would not be in the situation of being able to declare a surplus next year. We would not have a triple-A credit rating, and interest payments would be higher. There would be less money available for social programs, and we would have to cut those programs right now.
The Budget February 25th, 2014
Mr. Speaker, I must say that I am quite amused, a little astounded perhaps, that the member opposite would raise the issue of the eco-energy program for homes, which the NDP has voted against consistently. It keeps voting against it, and then when it completed its mission, the NDP criticized it for not being extended. In fact, almost $1 billion was invested in this program and many millions of Canadian families have benefited from it. It has been a success.
It was always intended to be a limited program. Unfortunately, the NDP voted against it, and I guess it is sorry that it did.
We have no intention of introducing a $22 billion carbon tax. The United States government does not intend to do it either, contrary to what the member opposite has said.
Our government is interested in keeping taxes low and generating employment for Canadians. We are not in the business of increasing the deficit.
The deficit resulted from an international financial crisis, and the NDP was right there, asking us to spend much more. Had we done that, the deficit would have been considerably higher right now, and we would have had to take draconian steps to cut social services.
The Budget February 25th, 2014
Mr. Speaker, I will be sharing my time with the member for Lambton—Kent—Middlesex.
It is my pleasure to rise today to speak about economic action plan 2014. This budget is focused on what matters to Canadians, keeping taxes low and growing the economy, a concept the opposition simply does not understand or refuses to acknowledge.
Economic action plan 2014 fulfills our commitment to balance the budget by 2015. While the leader of the Liberal Party thinks that budgets just balance themselves, on this side of the House we know that achieving this requires prudent fiscal management.
It is no coincidence that Canada's economy has witnessed the best economic performance among all G7 countries, both in job creation and income growth. Since the end of the recession, over one million high-paying, net new jobs have been created in Canada. Not only that, but we are also the only G7 country to have more than fully recovered businesses lost during the recession.
The IMF and the OECD both predict that our economic growth will remain the strongest in the G7 in the years ahead. For the sixth year in a row, the World Economic Forum has ranked Canada's banking system the soundest in the world.
Nevertheless, we know that Canada is not immune to worldwide economic difficulties that arise beyond its borders, which is why we continued to support job creation and economic growth.
To the dismay of the Liberal economic advisers, this budget does not say amen to taxes; rather, the opposite. Our government believes in letting families, not big government, decide how to spend their hard-earned dollars. The facts speak for themselves. Since 2006, we have cut taxes nearly 160 times and reduced the overall tax burden to its lowest level in 50 years.
The economic action plan 2014 continues to deliver on our promise not to increase the tax burden. We are introducing a tax credit for volunteers taking part in search and rescue activities to emphasize the valuable contribution they make nationally. We are eliminating the sales tax on more healthcare products and services, and increasing the tax credit for medical expenses.
Our strong performance with respect to tax relief has led to savings of almost $3,400 for a typical family of four, and more than 1 million low-income Canadians have been taken off the tax rolls.
Economic action plan 2014 is about creating jobs for Canadians. Through the Canada job grant, Canadians will be able to access the skills training they need to get jobs that are in demand. The Canada apprentice loan program would provide apprentices in Red Seal trades access to over $100 million in interest-free loans each year. Too many jobs go unfilled because of a lack of people with the right skills. We are taking action to address this problem by providing Canadians the training they need to pursue well-paying jobs that are in high demand.
Canadians deserve to be the first in line for jobs, which is why we have launched an enhanced job-matching service to connect job seekers and employers. We are focused on connecting young people with jobs by investing $55 million to create paid internships for recent graduates in small and medium-size businesses in high-demand fields. Our budget also invests $75 million to support senior workers who want to participate in the job market but require skills training.
To continue reducing taxes and improving the quality of life for Canadians, we have to take advantage of the enormous potential offered by our natural resources. That sector accounts for almost a fifth of our economy, over half our exports and some 1.8 million jobs, which means one Canadian worker in 10. The future is promising. Hundreds of major resource projects are anticipated over the next 10 years, for a total investment of $650 billion.
For Canadians to continue to benefit from the abundance of natural resources, we must transport our resources to tidewater. However, we will not jeopardize the safety of Canadians or the environment as we look towards this important priority. That is why the economic action plan provides the National Energy Board the tools to continue conducting thorough science-based independent regulatory reviews for proposed pipeline projects. This investment builds on our government's responsible resource development plan to reduce unnecessary duplication and provide timely, predictable reviews for resource projects.
Mining workers in communities can count on our government's support of the mining sector, a vital engine of economic growth that provides over 400,000 jobs for Canadians. That is why we are extending the 15% mineral exploration tax credit to encourage investment and continue to promote Canadian mining companies abroad.
Our government is also focused on creating jobs and economic growth for forestry communities across Canada.
That is why we continue to offer support to these large communities of workers. Our investments in forest industry transformation program plays an essential role in providing industry with the tools it needs to effect the transition from traditional uses of forest products to the adoption of innovation-based technologies.
My constituents in Eglinton—Lawrence understand that our Conservative government will stand up for Ontarians. Our province will benefit from significant support, with major federal transfers in the 2014-15 period totalling $19.2 billion, an increase of 76% compared to the previous Liberal government. While the Liberals drastically slashed transfer payments to provinces, Ontarians can count on our government to ensure that there is funding for health care, education, and other social services that families rely on.
Budget 2014 recognizes the importance of Ontario as an economic driver for the Canadian economy. That is why we are investing to advance the construction of the Windsor Detroit international crossing, an important infrastructure project, to improve the commercial relationship with our largest trading partner and neighbour.
Through the building Canada fund, we have supported over 12,000 infrastructure projects from coast to coast to coast. This is the largest investment in Canada's job-creating infrastructure in our nation's history.
This year we are expanding our government support for important infrastructure by investing to enhance broadband service to up to 280,000 Canadians. We doubled the gas tax fund and indexed it to provide predictable investments directly to Canadian municipalities. This fund has directly benefited Toronto, with significant investments in our transit system.
Before the worldwide recession struck, our Conservative government had reduced Canada's debt to its lowest level in 25 years. This example of our sense of responsibility in financial matters put Canada in the best possible position to weather the recession.
We know what the NDP and Liberals support: reckless spending and higher taxes. That may be what they want, but we know what Canadians want: good jobs, low taxes, and a balanced budget. That is exactly what this budget delivers.
Consumer Protection February 24th, 2014
Mr. Speaker, I want to thank the hon. member for his very important question.
Last Friday, I had the pleasure to announce that we are updating vehicle fuel consumption labels. We will take into account differences in driving styles during cold weather and the use of air conditioning. That is how we are putting consumers first, by helping families make the right choice when they make such a significant purchase.
Foreign Investment February 11th, 2014
Mr. Speaker, we rely on our regulatory authorities to determine what projects should go ahead.
Projects only go ahead if they are safe for Canadians and safe for the environment. The party opposite should stop making decisions before it has independent scientific advice.
Natural Resources February 6th, 2014
Mr. Speaker, again, our government cannot comment on this report and will not until we make a final decision.
Natural Resources February 6th, 2014
Mr. Speaker, as the member opposite should know, the Government of Canada has six months from the time the favourable joint review panel gave its report, and we will not comment until then.
Natural Resources February 4th, 2014
Mr. Speaker, the member for Peace River is absolutely correct. The State Department's final report concluded that if Keystone were not built, the result would be 28% to 42% higher GHG emissions. So, opposing the project would not only block job creation, it would exacerbate the problem of climate change.
It is far past the time for the NDP to get on the side of workers and the environment, apologize to Canadians, and support Keystone XL.