Joe Preston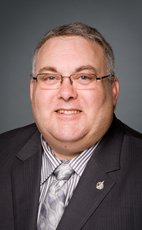 House of Commons photo
Track Joe
Your Say
Elsewhere
Crucial Fact
Conservative
MP for Elgin—Middlesex—London (Ontario)
Won his last election, in 2011, with 57.50% of the vote.
Statements in the House
Qalipu Mi'kmaq First Nation Act March 7th, 2014
Mr. Speaker, that question fits well with what we are trying to decide here today.
A large amount of applications happened at the end of the process. Some decisions had already been made, but for the most part this is a process concerning the whole Qalipu Mi'kmaq nation. All of the applicants will be reviewed and studied in the same way, going back to those who were already there. It is only fair to look at all applicants in the same light rather than rushing because there were so many applications at the end of the process.
It is also clear that there is a need for us to get to it. Bill C-25 should pass so that we can finish this process and work on establishing the Qalipu Mi'kmaq nation and who rightfully belongs to it.
Qalipu Mi'kmaq First Nation Act March 7th, 2014
Mr. Speaker, I thought that the minutes I had spent speaking in the House would probably answer most of those questions, but I will try to go at them again.
The review includes a reassessment of applications of those whose names currently appear on the schedule to the order that legally created the first nations. They have become members of the Qalipu Mi'kmaq first nations and are entitled to registration under the Indian Act. It is expected that the review process will last until the summer of 2015 and be followed by an appeal period. Once the process is completed, the schedule to the order that legally created the band, and which contains the list of names of the founding members of the Qalipu Mi'kmaq first nation, will be amended. We are looking at between now and then for the review of the rest of the applications and completion of the process.
Qalipu Mi'kmaq First Nation Act March 7th, 2014
Mr. Speaker, I cannot give the member an exact answer, but I can tell him the importance of this piece of legislation. Bill C-25, although technical in nature, would enable the Governor in Council to amend the schedule for the Qalipu Mi'kmaq First Nation Band order to ensure that only eligible individuals, in accordance with the enrolment criteria outlined in the 2008 agreement, are granted Indian status and the membership of the first nations.
It is important that we get this piece passed. To answer the member's question, it could be used as a model in the future. However, let us worry right now about Bill C-25, getting it done right, and, because of the timeline that has already taken place, getting it done as quickly as possible.
Qalipu Mi'kmaq First Nation Act March 7th, 2014
Mr. Speaker, I certainly hope that for the last hour and a bit everyone has been held in suspense waiting for the final seven minutes, notwithstanding the excitement of question period.
I was talking about how we came to where we are today and the 2008 agreement and the eligibility process. To be eligible for membership in the Qalipu Mi'kmaq First Nation Band, the 2008 agreement stipulated that individuals must be of Canadian Indian ancestry, be a member or a descendant of a member of a pre-Confederation Mi'kmaq community, self-identify as a member of a Mi'kmaq group of Indians of Newfoundland, and be accepted by the Mi'kmaq group of Indians of Newfoundland based on a demonstrated or substantial cultural connection.
When the application process began in 2008, Mi'kmaq leaders and Canada expected that somewhere between 8,700 and 12,000 people would be entitled to band membership. This range seemed realistic given that there were roughly 10,500 members of the Federation of Newfoundland Indians at the time. Imagine the surprise when over 101,000 applications were submitted by the time the enrolment period ended in November 2012. Almost half of these applications, roughly 46,000, were received in the final three months before the deadline of that four-year process. Most of the applications received were from people living outside of Newfoundland.
As Chief Brendan Sheppard has stated: "It was neither reasonable nor credible to expect such a huge number of individuals to become members of the Qalipu Mi'kmaq First Nation...". Not surprisingly, the Federation of Newfoundland Indians and Mi'kmaq residents of the province were worried about the credibility of the enrolment process and the integrity of the first nation. They wanted to be sure that the objectives of the 2008 agreement would be respected.
The intent of the 2008 agreement and the desire of the Mi'kmaq group of Indians of Newfoundland was that membership in the Qalipu Mi'kmaq first nation would be granted primarily to the people living in or around the province's Mi'kmaq communities named in the agreement. While individuals living outside these communities could also become members, the goal of the original signatories was that non-residents would be required to have a strong cultural connection to the Newfoundland Mi'kmaq community. This includes a sustained and active involvement in the community despite their absence.
By the fall of 2012, all parties agreed that additional steps were needed to clarify the document's requirements for the enrolment process. In response, a chief federal negotiator was appointed to explore the measures to address issues connected to the enrolment process. Fred Caron, a lawyer and former assistant deputy minister at the Department of Aboriginal Affairs and Northern Development, collaborated closely with the chief and council of the Qalipu Mi'kmaq first nation and the Federation of Newfoundland Indians.
They jointly agreed on the need for improvements. On July 4, 2013, the Government of Canada and the Federation of Newfoundland Indians announced a supplemental agreement, which resolves the issues that emerged in the implementing of the 2008 agreement.
For instance, the 2013 supplemental agreement extends the timelines to review applications, ensuring that all previously unprocessed applications will be thoroughly reviewed and also ensuring that all applicants will be treated fairly and equitably.
It ensures that all applications received during all phases of the enrolment process will be assessed or reassessed, except those previously rejected. This guarantees that all applicants, no matter when they applied in the process, will be treated in a manner that ensures that their application is considered to the fullest extent required to determine membership.
Especially important, the 2013 supplemental agreement guaranteed that anyone whose application is reviewed will be sent written notification and that those who have submitted a valid application will be given the opportunity to provide additional documentation if required.
It also clarifies how an applicant's self-identification as a member of the Mi'kmaq group of Indians of Newfoundland is assessed. It provides guidance related to an individual's acceptance to the Mi'kmaq group of Indians of Newfoundland. This information is particularly relevant to individuals not residing in Newfoundland Mi'kmaq communities.
This reasonable approach is the only way to ensure the integrity of the enrolment process and that the rules of eligibility for memberships are fairly applied so that all applicants are treated equitably. That is what Mi'kmaq residents of Newfoundland demand and what all Canadians expect.
I would remind members that status brings with it a range of important social and economic benefits, something that cannot and should not be taken lightly. For these reasons, determination of the eligibility of applicants is being made by the enrolment committee, which includes two federal representatives, two Mi'kmaq representatives, and one independent chair.
In the meantime, all current members will retain their status cards. They will continue to be eligible for benefits that are conferred on registered Indians until such time as their status might change, based on the determination of the enrolment committee.
Acquiring first nations status will help the Mi'kmaq of Newfoundland create and maintain a strong foundation of Mi'kmaq culture, growth, and development. This will lead to a better future for today's generation and all those who follow. This is something that generations of Mi'kmaq residents of the province have fought long and hard for, since the 1970s. It is time to resolve this complex and long-running matter, so that those who belong to the Qalipu Mi'kmaq first nation can finally realize this potential.
Some Liberal members are suggesting that the supplemental agreement signed by our government and the Federation of Newfoundland Indians, which is essential for the establishment of the fairness and equitability of all applicants, stands for nothing. These assertions speak to members putting their own personal motives ahead of the interests of those they claim to represent. Our government asserts that the integrity and credibility of the band should be upheld above all else.
These interests are what make Bill C-25 so important. Once the review process is over, the schedule to the order in council that legally created the first nation in 2011 will need to be amended. This is to reflect the fact that some of the names will likely be removed and others will be added to the list of the names of the founding members of the Qalipu Mi'kmaq first nation.
I call on all parties to join us in passing Bill C-25. Let us take these important steps in the process for the Mi'kmaq people of Newfoundland, so they can finally settle these issues and move on to enjoy the benefits of being a first nation.
Qalipu Mi'kmaq First Nation Act March 7th, 2014
Mr. Speaker, first of all, I would like to point out that I will be splitting my time with the fantastic member for Calgary—Nose Hill. Members can stay tuned for her speech, which will be after mine.
I am pleased to rise today to speak to Bill C-25, Qalipu Mi'kmaq first nation act.
I have listened to the debate here today, and I want to take this opportunity to reinforce the government's commitment to the Qalipu Mi'kmaq first nation and to the official recognition of its members as status Indians.
I would like to expand on some of the points other speakers have raised. I especially want to focus on our approach for resolving this long-standing matter; an approach designed to treat everyone fairly and equitably. To do so, a brief historical overview of the complex issue is required.
As members know, this story dates back decades. It began in 1949 when Newfoundland first joined Confederation. At the time, there was no agreement between the province and Canada about if, how, or when the Indian Act would apply to the Mi'kmaq of Newfoundland. In the absence of such an agreement, the Indian Act was never applied.
By the 1970s and 1980s, the Mi'kmaq groups in Newfoundland began calling for recognition. Various groups were led by the Federation of Newfoundland Indians, also known as the FNI, who commenced legal action against Canada in 1989.
Formal talks to settle the litigation and to correct the situation began in 2003. These talks led, in 2007, to an agreement in principle between the Government of Canada and the Federation of Newfoundland Indians to create the Qalipu Mi'kmaq first nation, which resulted in a final agreement a year later, in 2008.
The 2008 agreement for the recognition of the Qalipu Mi'kmaq band provided for the establishment of an Indian Act landless band for members of the current day Qalipu Mi'kmaq group of Indians of Newfoundland, who resided in different Newfoundland Mi'kmaq communities prior to 1949 or are descended from residents of such a Newfoundland pre-Confederation Mi'kmaq community. These members would gain access to specific benefits confirmed by Indian status. The agreement included specific criteria for the enrolment process of founding members.
I will stop here and pick up right after question period.
Canada-Honduras Economic Growth and Prosperity Act March 6th, 2014
Mr. Speaker, I would like to thank the member for Kitchener—Conestoga for his hard work, now and in the past, in Honduras.
As a small businessman, an entrepreneur my whole life, it has been about trying to create economic opportunities. I think we raise the standard of living and the approach of any entity, whether it is my riding currently, trying to create jobs, or doing trade with Honduras and offering them a greater opportunity to trade with Canada and thus create jobs and some financial wherewithal.
Improving the standard of living helps us around the world, wherever we have done trade agreements. Some might say, "Well, it is Honduras. We are talking about millions, not billions or trillions". Well, the millions mean something to somebody. It means something to an entrepreneur in Honduras. He or she can reach out to some 35 million more customers in Canada because there has been a free trade agreement. It gives them the opportunity to do better with their family, with employment, and to hire more people in their own community too.
Canada-Honduras Economic Growth and Prosperity Act March 6th, 2014
Mr. Speaker, I was reminded earlier that yesterday was the trade deadline in the NHL. New Democrats are so much against trade that they wanted to cancel that day too.
I cannot speak specifically to the member's riding; I can tell him what it means to Elgin—Middlesex—London, my riding. I am certain that if that is the case, it would help all places across Canada, but certainly it would benefit in the area of agricultural goods and the movement of beef and pork, as I mentioned in my speech.
Ours is an area of southern Ontario that drastically needs the trade that fell off from the United States during the economic downturn. It would benefit the manufacturing equipment that we make, and the chemicals that Canada can sell around the world.
I mentioned industrial machinery. Vehicles and auto parts are another sector. All of these things currently have very high trade tariff levels in Honduras, up to 15%, and they would disappear with a free trade agreement. That would certainly mean that manufacturers, small businesses, and small machine shops in my own riding could have work through free trade with Honduras.
Canada-Honduras Economic Growth and Prosperity Act March 6th, 2014
Mr. Speaker, I will be sharing my time with the great and hard-working member for Huron—Bruce. His speech follows mine.
I would like to join my colleagues in voicing support for the implementation of the Canada-Honduras free trade agreement. On November 27, 2013, our Conservative government unveiled the global markets action plan. This strategy is part of our ongoing efforts to create jobs, growth, and prosperity for Canadians. The global market action plan will focus on 80 countries that have been identified as target markets for Canadian business. The plan aims to grow our exports, which are vital to Canada as a trading nation. For example, the plan foresees increasing the percentage of Canadian small and medium-sized enterprises that are active in emerging markets from 29% to 50% by 2018.
However, we will not focus only on traditional areas, such as exports. Canadian companies need to innovate to survive. Businesses that make science, innovation, and research and development a core part of their strategy are creating the kinds of skilled, well-paying jobs that we want here in Canada, so the plan will also work to stimulate new innovation partnerships.
Gaining preferential market access is also an important role of the government's strategy. We cannot afford to hold back while our competitors are securing important trade deals. We need to be sure that we can compete and that we can deliver on the expectations of Canada's exporters, investors, and service providers. They have made it clear that we need to help them open doors so that they can generate jobs and growth in their communities. This is precisely why bolstering Canada's commercial relationships in rapidly growing markets around the world, such as Honduras, is an important part of our long-term prosperity plan.
Our Conservative government is currently pursuing an ambitious trade and investment agenda. Last fall the Prime Minister announced that an agreement in principle had been reached with the European Union. Once the Canada-EU comprehensive economic and trade agreement is implemented, it will secure access to 28 diverse markets and more than 500 million consumers. There would be 500 million new customers for Canadian businesses. The agreement will cover virtually all aspects of our trade with Europe, such as goods and services, labour mobility, investment, and procurement, including sub-national procurement, to name just a few of the areas. Canada stands to benefit from access to the world's biggest market, with a $17 trillion GDP. This is a landmark achievement for Canada and Canadian companies.
While the agreement with the EU will bring important benefits for Canadian companies, it would be short-sighted to focus exclusively on one area of the world. In October 2012, Canada joined the negotiations for the multilateral trans-Pacific partnership, the TPP. This group includes 12 Asia-Pacific countries, and when we look at all of the current TPP countries together, we see they represent over 39% of the world's economy, with a combined GDP of $28.1 trillion. It is absolutely critical that we take advantage of this chance to favourably position Canadian companies in the Asia-Pacific market.
Looking beyond the TPP, talks are also well under way with Japan and Korea.
I would also like to highlight our Conservative government's most recent international trade announcement, the launch of modernization and expansion negotiations with Israel. During his first official visit to the region, the Prime Minister confirmed that we will modernize existing chapters in the Canada-Israel free trade agreement in the areas of market access for goods, rules of origin, institutional provisions, and dispute settlements. In addition to updating key areas, Canada will also seek to negotiate new chapters in the areas of trade facilitation, sanitary and phytosanitary measures, technical barriers to trade, intellectual property, electronic commerce, labour, and environment. This undertaking will enhance the bilateral commercial flows by reducing technical barriers, enhancing co-operation, increasing transparency in regulatory matters, and reducing the transaction costs for businesses.
The updated Canada-Israel Free Trade Agreement is yet another aspect of our broad international trade agenda. Modernization of free trade agreements, like the one we are undertaking with Israel, are about keeping Canadian companies competitive.
The issue of competitiveness is also at the heart of why we need to implement our free trade agreement with Honduras. The U.S. and EU already have free trade agreements with Honduras. How can we give our companies an edge if we cannot ensure they are getting comparable treatment? Keeping pace with Canada's main competitors is just one reason that we need to move forward with this deal.
There are other benefits to the free trade agreement as well, which I would like to reiterate. First, the agreement would help Canadian producers and exporters by eliminating tariffs. That is what free trade does. This will help a variety of Canadian companies and sectors, such as chemical products, wood, pulp, pulp and paper products, vehicles, auto parts, as well as fish and seafood. It will also be advantageous to Canadian agriculture producers in areas such as beef, pork, and processed potato products. Canada's service providers would enjoy enhanced commitments in sectors of export interest to Canada, such as natural resources, professional services, information and communication technologies.
Moreover, Canadian investors would be protected by the agreement's legally binding obligations to ensure they will be treated in a non-discriminatory manner and have the ability to access transparent, impartial, and binding dispute settlements.
As part of Canada's 21st century approach to trade agreements, Canada has also included language on corporate social responsibility, as we heard from my colleague earlier in this free trade agreement. This acknowledges Canada's expectations that our companies observe internationally recognized standards of responsible business conduct, both at home and abroad.
Our commitment to supporting good corporate governance does not end there. Along with the free trade agreement, we are also ratifying parallel agreements between Canada and Honduras on labour co-operation and environmental co-operation. This is part of our commitment to make sure that labour and environmental practices do not suffer at the hands of increased trade.
With such a comprehensive approach to free trade agreement negotiations, it is no surprise that the resulting Canada-Honduras free trade agreement is a high-quality agreement. Its benefits, and those of the government's and other international trade initiatives, should be clear to all hon. members. That is why I am urging that this House adopt this agreement.
Committees of the House February 26th, 2014
Mr. Speaker, if the House gives it consent, I move that the eighth report of the Standing Committee on Procedure and House Affairs presented to the House earlier today be concurred in.
Committees of the House February 26th, 2014
Mr. Speaker, pursuant to Standing Orders 104 and 114 I have the honour to present, in both official languages, the eighth report of the Standing Committee on Procedure and House Affairs regarding membership of committees of the House. If the House gives its consent, I intend to move concurrence in the eighth report later this day.