Joe Preston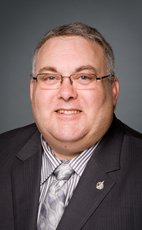 House of Commons photo
Track Joe
Your Say
Elsewhere
Crucial Fact
His

favourite word

is report.
Conservative
MP for Elgin—Middlesex—London (Ontario)
Won his last election, in 2011, with 57.50% of the vote.
Statements in the House
Removal of Imprisonment in Relation to Mandatory Surveys Act February 27th, 2015
Mr. Speaker, I want to thank the constituents of Elgin—Middlesex—London for helping me come up with this idea for a private member's bill, the member for Chatham-Kent—Essex for seconding it today, and members of all parties who have suggested they are in favour of it, some reading a lot more into it than there is. I would like to thank them all.
It would be good that Canadians could no longer go to jail for not filling out census forms.
Removal of Imprisonment in Relation to Mandatory Surveys Act February 27th, 2015
Mr. Speaker, I thank the member for his kind comments about some of the better legislation that our government has been able to bring forward; some of it has been very large in structure. I thank him for suggesting that we can put anything we want in any of those pieces of legislation. I would be happy to quote him the next time somebody from his party gets up and talks about omnibus bills.
I ran in 2011, and I ran in three elections before that, but this was an issue in the 2011 election with many of the members in my riding. I made a promise that we would get rid of it. As the member knows, we use a lottery system to pick when private members' bills come forward. It is my time. It is my topic. It is what we need to do.
Removal of Imprisonment in Relation to Mandatory Surveys Act February 27th, 2015
Mr. Speaker, the member started off by saying she is confused, and I can hopefully help with that just a little.
This bill, as I have said more than once, would remove jail time and the chance that anyone could ever go to jail for not filling out a survey for Statistics Canada. She may be right that it is not an oft-enforced piece of legislation, so it should not be hard for us to collectively decide to remove it. A great compassionate government like the one that Canada currently enjoys would of course never use that legislation, but why leave it in place to provide an opportunity for bad governments that might follow in the far distant future?
On top of the other statistical data that she asked about that comes from the long form census, the short form census, and the other pieces of information collected by Statistics Canada, we currently have the household survey, a volunteer form, that complements the short form census. Ridings like Elgin—Middlesex—London, where I come from—and many members in the House have ridings exactly like it—run on volunteerism, on people being able to voluntarily help their government by supplying information or doing other things in their communities that are voluntarily driven. The national household survey would continue in that long practice.
Removal of Imprisonment in Relation to Mandatory Surveys Act February 27th, 2015
moved that Bill C-625, An Act to amend the Statistics Act (removal of imprisonment), be read the second time and referred to a committee.
Mr. Speaker, today, I have the privilege of rising in the House and speaking for the first time to private members' bill, Bill C-625, an act to amend the Statistics Act.
The bill would amend the existing law and address two very important issues. First, it would eliminate the threat of jail time for those who refused to complete the census and all mandatory surveys. Second, it would ensure that historians would have the access to census related records, where permission had been granted, 92 years after the information is collected.
Our government recognizes the importance of collecting quality statistical data. Census data serves as a key resource for government departments and agencies when designing their programs and services. It is also important information for businesses in the private sector when planning ahead for future growth and success.
However, Canadians should not be threatened with jail time in order to take part in this important civic exercise. Back in 2010, our government committed to removing the penalty for jail time for anyone who refused to complete the census or any mandatory survey administered by Statistics Canada.
With this bill, I am proud to say that our government is again delivering on its commitments. My bill would remove the jail time provision from under two sections of the Statistics Act, sections 31 and 32. First, we would remove jail time for those who personally refuse to complete the census and mandatory surveys by failing to provide Statistics Canada with their personal information. Second, it would remove jail time for anyone who denies access to any administrative records that Statistics Canada may require. It would also eliminate the threat of jail time for those failing to pay a fine under those two sections.
The threat of jail time in these scenarios is simply inappropriate and it must be removed. Our government has a strong record of being tough on crime and standing up for victims. We have taken decisive action in pursuing measures that combat serious crime and ensuring that penalties and sentences reflect the gravity of the crime committed.
Our record since 2006 includes establishing the youth gang prevention fund, which provides support for successful community programs that assist youth at risk.
We have introduced mandatory prison sentences for serious gun and organized drug crimes. We have implemented mandatory prison sentences for drive-by or reckless shootings. We have toughened bail provisions and penalties for crimes that are committed with guns and linked to organized crime. We have passed new offences to target auto theft and the trafficking of property obtained by crime. We have cracked down on street racing and drug-impaired driving.
We have also announced that we are taking action so that a life sentence will truly mean life behind bars for the worst of the worst criminals.
We have established the anti-drug strategy to help prevent illicit drug use and support access to treatment for those with drug dependencies.
We have included the tougher penalties in the child predator act, which will ensure that those convicted of multiple child sexual offences serve their sentences consecutively.
We have strengthened the National Sex Offender Registry and the National DNA Data Bank to better protect our children and our communities from sexual predators.
We have established the Federal Ombudsman for Victims of Crime to provide information on victims' rights and the services for victims. We have strengthened the sentencing and monitoring of dangerous, high-risk offenders. We have introduced the Canadian victims bill of rights, giving victims of a crime a more effective voice in the criminal justice system.
Jail time is a punishment for the most serious and heinous offences. We should reserve jail time for those who truly deserve it. It is meant for real criminals, terrorists, child predators and murderers, not for Canadians who fail to complete mandatory surveys. When Canadians are asked to provide their personal information and to participate in any survey, they should be able to do so without threat of imprisonment.
Our government is committed to re-establishing Canada as a country where those who break the law are held accountable for their crimes, where punishments are proportionate to the crime committed and where we defend the rights of our most vulnerable citizens.
The changes in my bill would ensure that Statistics Canada's programs reflect an appropriate balance between the collection of useful information and guaranteeing that the privacy rights of Canadians are upheld.
With that said, I come to the second purpose of the bill. The second major change to the act that I am proposing in Bill C-625 would deliver on another government commitment. An amendment would ask Canadians for their consent to release their personal information in statistical records. Once their consent is given, 92 years following the collection, Canadian information would be released to Library and Archives Canada. It is important to leave a record of present-day Canada for future generations, researchers, historians, and genealogists. The information from today will be valuable for our children and grandchildren, who will contribute to the future growth and prosperity of our great nation.
This change mirrors a 2005 decision that was debated and passed into law by the House to release census records after 92 years. My bill before the House today would simply extend this provision so that it applies to all surveys related to the census of population.
However, I will reiterate that this would not change the consent provision. It would ensure that Canadians continue to have the right to privacy and are able to decide whether their private information should be made available. With this amendment to the Statistics Act, we would be giving Canadians a choice.
In closing, I will say that this bill is good old-fashioned common sense legislation. I would encourage my colleagues from all parties to join me and our government in showing Canadians the respect and confidence they deserve. By removing jail times and maintaining records for future generations, our government would be fulfilling its commitment to continue to collect reliable statistical data while maintaining the privacy of everyday Canadians.
I hope all members will support this piece of legislation.
Committees of the House February 26th, 2015
Mr. Speaker, I have the honour to present, in both official languages, the 33rd report of the Standing Committee on Procedure and House Affairs entitled "M-428, Electronic Petitions".
Committees of the House February 17th, 2015
Mr. Speaker, if the House gives its consent, I move that the 32nd report of the Standing Committee on Procedure and House Affairs, presented to the House earlier today, be concurred in.
Committees of the House February 17th, 2015
Mr. Speaker, pursuant to Standing Orders 104 and 114, I have the honour to present, in both official languages, the 32nd report of the Standing Committee on Procedure and House Affairs regarding membership of the committee, and if the House gives its consent, I intend to move concurrence in the 32nd report later today.
Committees of the House February 4th, 2015
Mr. Speaker, if the House gives its consent, I move that the 28th report of the Standing Committee on Procedure and House Affairs presented on December 8, 2014, concerning the Standing Orders of the House, be concurred in.
Reform Act, 2014 February 3rd, 2015
Mr. Speaker, I am so pleased to stand today and speak on my friend's bill, Bill C-586.
Before I get to my specific comments, I want to thank the member for Wellington—Halton Hills for his hard work. I know that this has not been easy to do, and sometimes it was a case of friend against friend discussing the bill. However, he brought dedication, spirit, and collaboration to the endeavour, which is not always shown in this place. When we do take the time to listen to the views of others, we sometimes get it right, or, as the member has said, it is perhaps not perfect, but we do take steps to get there. The hon. member has shown an extraordinary openness to discuss and, some might say, compromise, but at least he worked together with others here in the House. That certainly helped the bill make it through committee.
I will begin my comments with a brief outline of how we have arrived at this point.
The first iteration of the bill was introduced late 2013. After consultation with colleagues and many discussions among ourselves, and not even with the member sometimes, the member for Wellington—Halton Hills introduced a modified version of the bill in the spring of 2014.
Since April, many in the House have reviewed, considered, and discussed the revised bill. In its original form, the bill would have made substantial changes to the Westminster system of governance, which needed to be carefully considered. I personally spent a lot of time talking to the member for Wellington—Halton Hills and others. We talked about proposed changes, and through the summer I realized that while I might not like the bill entirely, boy there was some good stuff in it, as the member said, and so we had to work to get it here.
My colleague, the member for Wellington—Halton Hills, worked with members on both sides of the House to improve the bill, and in September he announced further changes. It was also announced that political parties would remain in charge of their own nomination rules and have freedom to choose who approves candidates, which is such a large step. I do not think members recognize how large a step that is. This would allow caucuses to determine whether they wanted to opt in or opt out of some of these processes.
I think there may be some initial fears about some of the changes that have been suggested, but as the member has said, we cannot reach for the stars without taking a couple of steps forward, which is exactly how this would happen. We cannot have it all at once, but we will never finish the trip if we do not take the first steps.
I was pleased to see some of the further changes. I listened intently to the debate in the House at second reading, and then the bill came to committee. It is the changes that were made at the procedure and House affairs committee that I will focus the rest of my comments on.
As the chair of the committee, I have been there a long time, and the rules of this place, as the member for Bonavista—Gander—Grand Falls—Windsor said, sometimes get in the way. People do not understand why a rule is there and why a member cannot just stand up and do something about it.
I thank the member for Toronto—Danforth for his great help at committee on this, but as he said, the procedures are what run this place, and if we write the right rules the place will run better, and if we write bad rules it will not. The member for Wellington—Halton Hills has it somewhere nearer to right, I might chance to say. However, as the chair of the committee, I must take a non-partisan role throughout all of the points I have discussed so far. When the bill gets to committee, I must help the committee move it as we can. Personally, I had some great thoughts as to what could be done, but we had to let it get there, and I thank the member for the kind comments about the work the committee did.
I will talk about some of the rules in the bill.
Regarding the role of the party leader to endorse candidates, as I said, it is a huge step forward when we can designate the person who would do that. If we take out of the law the provision that it is the party leader who endorses candidates, will that be a great change? We will see. As each party grows into the system, we will find out.
As I said, section 67(4)(c) of the Canada Elections Act currently requires candidates to have the signed approval of their party leader. That could now change, and we expressed that we hope it will.
A number of commentators have pointed out that the nomination contests represent the most fundamental element of our democratic system; that is, the people back home choose who is going to run to represent them back home. It is important that sometimes the party stays out of the way on that. This bill would help do that.
The original version of Bill C-586 would have amended the Canada Elections Act to dictate a more elaborate process, but we have now got it to where each party can choose its own and, through a democratic procedure, make that happen. I think it is important that we have that freedom.
This led to an important debate in the House about how to uphold the independence of parties and their right to decide how to function as private organizations and, in fact, function differently from other parties. I think the internal workings of parties need to have that type of flexibility.
As amended by the procedure and House affairs committee, the requirement for the party leader's signature would be replaced with a more open requirement of the signature of a person or persons authorized by the political party to endorse prospective candidates.
Those are just words on a piece of paper, but I find them to be extremely significant in this place. When we can change the rules to make the place work better, change party rules to make parties work better, we have accomplished something.
It would also remove the presumption that only the party leader has the ultimate power to endorse candidates while, at the same time, recognizing the right of parties to tailor their process to meet the unique needs of that party. Large, small, national in scope, or not national in scope, all of these things can now be taken into consideration. We would have that flexibility when we pass this bill that we did not have the moment before.
At committee, we also discussed caucus members and party leaders. The other key aspects of Bill C-586 are the provisions for the removal and the re-admission of caucus members and the removal of party leaders. These were discussions and parts of the bill.
Unlike the role the party leader plays in endorsing prospective candidates, the rules and procedures of party caucuses have never been set out in standard. There is not something we could point to and say, "That is what they are".
In fact, we are ploughing some new ground here, certainly, in this Parliament, giving those options for a caucus to meet immediately after election and decide what rules it would be run by in the election of caucus leaders and the election of how to admit caucus members or dismiss caucus members.
Again, having spent some time in this place, I know these are extremely large decisions. We may look back on this day and say, "I remember when we allowed ourselves to have the freedom to do exactly that".
Parties must have the freedom to organize themselves as they see fit. Again, what works for one party may not always work well for the other. However, the bill from the member for Wellington—Halton Hills would allow that freedom between those parties.
I believe there are important changes in the reform act.
I have spent a great deal of time working with a great group of people at the procedure and House affairs committee, moving things forward that are hard to do, but sometimes they are not as rewarding as I find the bill today from the member for Wellington—Halton Hills is, and would be, going forward. We have accomplished something here and I am proud to be able to do it. I am proud, now, to able to stand in the House, remove my non-partisan hat that I have to wear at committee in order to make things happen functionally, and say that I will be standing to support this bill and I hope all other members will.
Committees of the House January 29th, 2015
Mr. Speaker, if the House gives its consent, I move that the 30th report of the Standing Committee on Procedure and House Affairs presented to the House earlier today be concurred in.