Judy Sgro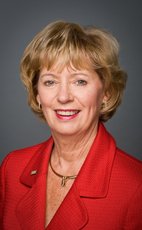 House of Commons photo
Track Judy
Your Say
Elsewhere
Crucial Fact
Liberal
MP for York West (Ontario)
Won her last election, in 2011, with 47.00% of the vote.
Statements in the House
Infrastructure April 9th, 2014
Mr. Speaker, municipalities across Ontario face mounting infrastructure costs and are begging for federal help. They cannot even effectively apply to the building Canada fund since agreements will not be ready in time for this year's construction season.
The Conservatives have clearly been foot-dragging on the paperwork since they pickpocketed the program funding to the tune of over 87%.
Why are the Conservatives punishing taxpayers for their government's waste, delays, and economic incompetence?
Employees' Voting Rights Act April 8th, 2014
Mr. Speaker, I am very happy to be able to speak briefly to Bill C-525.
I have to say that if the mover of the private member's bill believes that this is so important and is worthwhile, then why does the government not introduce legislation to do what is clearly trying to be done through the backdoor? It is because the government does not have the courage to take its own action and clearly stand up to introduce legislation if it wants to see changes.
Previously we had Bill C-377. Now we have Bill C-525. If government members have some concerns and think that changes need to happen, they should do it the proper way and introduce legislation as a government.
I am happy to have a chance to speak to a bill that according to the government's sponsors is to help empower workers.
Specifically, Bill C-525 would amend the Canada Labour Code, the Parliamentary Employment and Staff Relations Act, and the Public Service Labour Relations Act to provide that the certification and decertification of a bargaining agent under these acts must be achieved by a vote-based majority through a secret ballot.
Members will forgive my apprehension, but as this bill does come on the heels of the government's last union-busting bill, Bill C-377, I have to wonder again about the real motivations behind it.
Bill C-525 would affect more than 1.2 million employees working as public servants or for an employer under federal jurisdiction. This would include everyone from my own staff to their own staff to the local postmaster to the teller at my local bank or credit union. This means we need to ensure that we get this right, because the bill would impact on real people every day.
The Conservatives have made it clear from the beginning of their term that they are prepared to smash unions at all costs, even when the cost would hurt middle-class workers. Liberals see this as unacceptable. We will be casting our votes in favour of middle-class workers and their families and in favour of fairness and full consultation. If the Conservatives want to change the Labour Code or anything in it, then they should sit down with the partners and discuss those things and make the changes.
My first concern with Bill C-525 is that it proposes to fundamentally change how a union can be formed and dissolved in the federal jurisdiction, yet the evidence shows there is no need, and the major stakeholders have neither asked for this change nor even agreed with it.
Despite the fact that the federal labour relations system is respected and supported by both labour and employers as a result of a genuine and proven consultative and consensus process that has been followed for decades for amending the Labour Code, the bill clearly ignores all the good work that has been done over the years through discussions between labour and the employer as to what changes need to be made. It seems Bill C-525 is again rooted in ideology rather than in sound policy based upon need.
There has been no proven need for the legislation. Those supporting the bill suggest that the rationale for Bill C-525 was a mountain of complaints regarding union coercion of workers. However, according to the Canada Industrial Relations Board, there have only been two founded complaints against unions out of 4,000 decisions in 10 years, so all of this is about just two serious complaints. Even the chairperson of CIRB stated in committee testimony, "It's not a huge problem".
For labour relations legislation to be effective, it must be developed and implemented by the stakeholders through pre-legislative consultation based upon evidence, not by backdoor government manoeuvring of private members' bills that are, again, based solely upon ideology. This is not the first time we have seen bills that are clearly based upon the ideology of the Conservatives rather than upon substance or science.
Bill C-525 ignores long-established processes and like its sister legislation, Bill C-377, would impose radical changes that are not supported by the stakeholders or by the facts. The result of the legislation would not be labour harmony or efficiency; it would be an upsetting of the balance and stability in labour relations in Canada. This may be what the government is attempting to spark, but it is not in the best interests of employers, workers, or the Canadian economy in the long term.
However, I am not here just to poke holes today. In fact, as someone who has a strong union base in my own constituency, I have seen the positive contributions made to my communities by organized labour over many years. Indeed, this kind of social benevolence is something that has long underscored the labour movement in Canada, and those of us in the Liberal caucus continue to support these middle-class workers and their families very proudly.
Kicking labour around is tantamount to an attack on our communities, and the government should be ashamed of the approach it is taking. Bill C-377 was bad enough, and now Bill C-525 has appeared on the scene. When will it stop?
The bill is neither about union democracy, nor balanced labour relations. Bill C-525 fundamentally changes the way that workers can unionize, without any consultation or support of the stakeholders, and based on zero evidence for its need.
Rather than this kind of knee-jerk approach, the Liberal Party has called for a certification process that, one, allows workers to make free and informed decisions about whether they want to join a union or not, and, two, that has been created through a fair and balanced consensus tripartite process that is based on fact, whereby the changes to be made come from the stakeholders themselves.
Bill C-525 is yet another example of the Conservative government abusing the private members' bill process as backdoor government legislation to promote its ideology, not the views and wishes of the stakeholders or their constituents that would be affected or when the facts at hand show it is not needed.
What are the Conservatives so afraid of? When they tried this very same thing with Bill C-377, their own senators admonished them for doing it. They stymie debate, curtail committee study, and act like their fingerprints are not all over the document.
For example, the human resources committee only studied this for two and a half hours, and almost every witness, including government witnesses, spoke out against the bill. Somehow it sounds a bit like Bill C-23. Specifically, the witnesses that were heard expressed concern over the bill.
George Smith, a labour relations expert, said:
...we are dealing with a private member's bill to amend a significant section of the Canada Labour Code without any view of how this change will impact overall labour relations policy in the federal sector, without any of the necessary due process and public consultation to examine the intended and unintended consequences to such amendments.
Dick Heinen, executive director, Christian Labour Association of Canada, a union that is often viewed as employer friendly, said this about the current card-check system, "It has worked, and I don't know what the problem is. I don't know why we need to change that".
Elizabeth MacPherson, chair of the Canada Industrial Relations Board, with respect to the effectiveness of the current card-check system, said, "In our opinion, it is working well. With the board having the discretion to decide when a vote must be held, it works". Why do we need to change it? Why is the government refusing to listen? Is it anything else but clear ideology?
Conservative abuse of this process has been so terrible in the past that the Conservative member for Edmonton—St. Albert resigned from the caucus in disgust. I see that they have learned nothing from the past.
It has already been said that power over a person's wallet is power over their will. That is what Bill C-525 is really all about. As just one example, research has clearly shown that moving from a card-check-based system to a mandatory vote system reduces unionization rates. This is the true motivation behind the bill. Bill C-525 proposes to abolish the card-check model in favour of a mandatory representation vote in all certification applications. It is no more complex than that.
Labour unions have been defenders of employee rights, and they have a long-standing track record of helping our communities in many ways. Of course, unions are not perfect, and there have been many occasions when I have differed with them. However, I do believe in due process. Bill C-525, like its sister bill, Bill C-377, is a partisan attack on middle-class workers and their families. It is wrong, and as the Liberal industry critic, I will be voting for workers and against this sneaky backdoor legislation.
Economic Action Plan 2014 Act, No. 1 April 7th, 2014
Mr. Speaker, the whole issue of income splitting has been of huge benefit for seniors, but it really benefits those who have very high incomes. When the government talks about having income splitting for everyone as part of its next election platform, that will only benefit those in the very top elements. Those with very high incomes are the ones who will benefit. The rest of Canada will not.
The $3,400 the government likes to tout, the $3,400 people have saved in taxes, again is for a very small pocket of people who are very rich. They are the ones eligible for the various programs that split income and reduce their taxation level. The average Canadian is not entitled to any of those benefits at all.
Economic Action Plan 2014 Act, No. 1 April 7th, 2014
Mr. Speaker, looking at the so-called bill and the content in this book, it is a pretty intimidating document. There is absolutely no way people will be able to stay on top of all the things in there.
I have to also say that on the issue of jobs and investing in infrastructure, there was an 87% cut in infrastructure. The urban task force recommended the gas tax to Paul Martin. The gas tax is not enough. We need big investments in infrastructure. The government knows that. The cities have been here knocking on its doors on a continuous basis. Cutting 87% of the infrastructure budget is clearly unacceptable.
When we are looking at the $5.2 million in surplus in EI, why not take that money and invest it in job creation? Even when we invest in infrastructure, it is also social infrastructure that creates jobs and helps people have better lives.
There are a lot of opportunities for investment out there. Clearly, if jobs and moving the economy forward were the priorities of the government, those investments would be done.
Economic Action Plan 2014 Act, No. 1 April 7th, 2014
Mr. Speaker, I am glad to have an opportunity to speak to this budget bill.
For those who are watching, it is well over 400 pages. It is quite a book. It certainly is too much for anybody, without 10 people, to analyze it individually and pick out the things that are problematic. I suspect that there is a variety of items that will go unnoticed, until Canadians feel the impact and then call us, as legislators, to ask if we knew whether it was in the budget.
Try as we might, we cannot cover all the things that are in there. Given the fact that we have time closure, there is a limited amount of time to speak to the bill. I am fortunate to be one of the few people on the Liberal side who has the chance to actually speak to the budget. I would have preferred to have much more opportunity, so that all of us could have spoken to it. However, time allocation renders that next to impossible.
As I said, I am pleased to be here to talk about the budget issue today, particularly because it is my hope that Canada will soon set aside many of the years of Conservative fiscal mismanagement in favour of something better. That could be this fall or it could be next spring, but it certainly should not be any later than next fall. We have to weather another 18 months or so of these kinds of budget bills coming in, which are so huge that people do not know a lot of what is in them.
The day before the budget was released, the Liberal caucus released what we would have hoped the budget would contain. We said that we thought the federal budget must focus on generating the kind of economic growth that would finally help struggling middle-class families, including people in York West, in Toronto.
Many are struggling with the high cost of living in apartments. They are trying to find housing, lack affordable housing, and have all of the pressures that drive many people to join the steady line at food banks every weekend. It is quite appalling for a country as wealthy as we are, and in a city as large and successful as what Toronto has been. I am sad to say that there is nothing in this budget that is going to help the residents of York West and Toronto, or there is very little, if anything.
The reality is that our economic growth rate has not been this poor since the days of R. B. Bennett. The government should have used this budget to invest in infrastructure, education, and other areas that would help to get Canada on track and help to create jobs, and to invest in making our country stronger and more effective.
Instead, this budget provides little more, again, than smoke and mirrors. It provides even less for the average middle-class family in this country.
Budget 2014 speaks directly to the government's priorities, which is why it is good to be clear about the government's priorities versus our priorities as the Liberal Party of Canada. There is nothing in here for seniors who are struggling with limited increases in their pensions while they struggle to pay for more prescription drugs that continue to become more and more expensive.
There is nothing for the many students going to York University, in my riding, and to other universities and colleges across Canada, to deal with the high tuition fees. There is nothing as far as jobs when students graduate. They may get through school with a big debt, but then they will not have jobs at the end of the day. Those are serious problems that governments need to look at and try to find solutions for.
There is nothing to address the fact that the only thing keeping pace with the GDP growth over the past 10 years has been household debt. We know, from all of our analysts, that the amount of debt that all Canadian families are carrying continues to increase every year.
What about veterans? There is nothing to help veterans make ends meet any easier.
There is nothing to deal with the fact that the Canadian middle class has not had a decent raise in over 30 years.
Indeed, those are the government's priorities, and that is its choice. Our job is to point those things out and to plan for the future and the kind of budget we would introduce ourselves, which I expect will try to meet the needs of middle-class Canadians and all Canadians, whether young or old, with their struggles.
That is enough of generalities, I want to look at the budget in a more specific way now.
The government would have us believe that it has set aside money to help veterans. However, in reality what are we hearing? We are hearing that veterans have been left out in the cold again, with $6 million for veteran funerals and $2 million to improve Veterans Affairs.
Now, in order to get access to this tiny bit of money, a veteran would have to be below the poverty line, which means that to get money to help offset a veteran's funeral cost, one has to be bringing in an income of less than $12,000. We do not want people living on less than $12,000. However, in order to be able to apply for help to pay for a veteran's funeral, one has to be down to that kind of a pocket, which means that very few people would be able to qualify to apply for it.
What about the veterans who are struggling with PTSD, physical injuries, and resettlement issues? There is a lot of talk, but the rubber hits the road when it is in the budget. The amount of money that should be in the budget to help with PTSD cannot be just talk; it has to be in the budget.
However, it is not just veterans who have been left out of this Conservative brand of so-called economic prosperity; rural Canadians have been ignored as well.
Budget 2014 allocates what amounts to be about $6.75 per rural man, woman, and child for rural broadband. That is right: after slashing the Liberal program to connect every rural and remote community in Canada to the Internet, the government is hoping that a paltry $6.75 will be enough to connect rural broadband with the rest of the country. It does not work that way.
However, we are glad to see that the government has finally put some money into connecting rural and remote Canada to the Internet. It is a lifeline, a railroad, that will help all Canadians have access to the Internet. We were disappointed when the Liberal programs had been slashed, but pleased that the Conservatives finally adopted the previous Liberal plan. They are now going ahead and realizing just how important that is.
Remember, the budget looks very similar to another example of financial planning on the fly. Phony ad campaigns and one-off cash injections did not bring prosperity when the minister was selling Ontario down the river in the 1990s. Clearly, it is not going to work here either.
In 2012, the government made ill-advised changes to environmental regulations and immigration laws. Then, in 2013, it reversed those changes. Am I shocked that the 2014 budget made more reversals? No, it is just how these guys appear to roll: one step forward and two steps back.
Worst of all, let us keep in mind that this is all just in time for an election. It begs the question: are the Conservatives minding the best interests of Canadians or their own best interests?
Of course, seniors are happy that they have been left out of the budget because recent history tells us that when they are included in the Conservative budget it usually means pain, such as moving the age of retirement to 67, the beginning of taxing income trusts, and increasing the income tax rate for low-income Canadians. The good thing is that seniors were ignored this time. They cannot take much more of the Prime Minister's kind of prosperity that they have in the past.
Now, that does not take into account the fact that the government appears to be reversing itself again on previous commitments to seniors, rural Canadians, and middle-class Canadians.
Remember the Conservative's income-splitting promise? Remember their promise to cut the excise tax on diesel in half? What has happened with those things? This is 2014, and that was a commitment from 2011. Three years later, we have not seen that happen at all.
Remember when the Prime Minister said that taxing income trusts was raiding the best nest eggs of our seniors? Well, budget 2014 has verified a full reversal on all of those commitments.
All of this is just as a leaked government report shows that middle-class Canadians, students, seniors, farmers, truckers, and nearly every other person who works for a living, are falling behind. I did not invent these things. These are facts that come from Statistics Canada, or our public policy forums, which certainly confirm this. Household bills are growing, but incomes are stagnant throughout Canada.
People in York West, who I meet with every day, are struggling to find jobs, looking to take anything. I met a fellow last night who was pumping gas. He said he has three jobs and that is the only way he can stay on top of things.
Things are tough out there. The government's role is to make it better. The Liberals are going to do that.
Economic Action Plan 2014 Act, No. 1 April 7th, 2014
Mr. Speaker, following up on that, it is one thing to have a bill of 50 or 60 pages that are all primarily aimed at budgetary issues because it is a budget bill, but it is impossible to think that anybody can pick up a so-called budget bill of 400 pages or so, analyze the items in it, ask questions, and seek amendments to improve it. That is why it is introduced in the House.
Has the hon. member read all 400 or so pages in this bill? Can he tell me how many pieces of legislation are being changed as a result of Bill C-31?
Canada Post April 7th, 2014
Mr. Speaker, small businesses rely on regular, consistent mail delivery. Rampmaster, a small business in my community, now receives mail intermittently. They have to wait for incoming payments, something that disrupts cash flow and interrupts planning. This Canada Post service cut, made without any consultation, is hurting companies like Rampmaster and its nine employees.
Will the Conservatives finally start to take action, or are they going to continue to allow Canada Post to damage small businesses, the backbone of our economy? Rampmaster needs an answer.
Economic Action Plan 2014 Act, No. 1 April 3rd, 2014
Mr. Speaker, it was with absolute astonishment that I saw the head of the Conservative Party stand up and move time allocation on something so big and so complicated as a bill that would have such an enormous impact on this country of ours as we move forward. Does the member have any shame at all that his party can sit back and allow this to go forward without having proper debate?
I would ask the member this. How many different bills are in the bill we are talking about? There must be 50 or 60, if not more, changes of significance to major things that are going on in our country. Does he not have any shame or concern about the impact that would have on Canadians?
World Autism Awareness Day April 2nd, 2014
Mr. Speaker, today is World Autism Awareness Day, and the on behalf of the Liberal caucus, I rise to help elevate the conversation, and the education, on developmental disorders. We need to show our solidarity with people with autism spectrum disorder and help those with ASD truly realize their full potential. However, today is intended to do more than just raise awareness; it is a call to arms.
Reports show a 30% jump among eight-year-olds diagnosed with ASD, which is the equivalent of one in every 68 children. Put another way, ASD touches us all. More must be done to give those afflicted, their parents, caregivers, and professionals the support and resources needed to tackle autism. It costs a family an average of $60,000 a year to care for a child with autism. However, when we consider the lost potential caused by inaction, it costs Canada far more.
Today is World Autism Awareness Day, and my call to government is this: Let us make 2014 the year we unveil a national strategy on autism.
Questions Passed as Orders for Returns March 6th, 2014
With regard to government communications since October 23, 2013: (a) for each press release containing the phrase "Harper government" issued by any government department, agency, office, Crown corporation, or other government body, what is the (i) headline or subject line, (ii) date, (iii) file or code-number, (iv) subject-matter; (b) for each such press release, was it distributed (i) on the web site of the issuing department, agency, office, Crown corporation, or other government body, (ii) on Marketwire, (iii) on Canada Newswire, (iv) on any other commercial wire or distribution service, specifying which service; and (c) for each press release distributed by a commercial wire or distribution service mentioned in (b)(ii) through (b)(iv), what was the cost of using the service?