Judy Sgro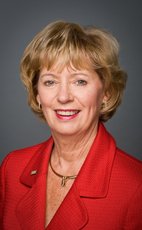 House of Commons photo
Track Judy
Your Say
Elsewhere
Crucial Fact
Liberal
MP for York West (Ontario)
Won her last election, in 2011, with 47.00% of the vote.
Statements in the House
Questions Passed as Orders for Returns March 6th, 2014
With regard to government communications since October 23, 2013: (a) for each press release containing the phrase "Harper government" issued by any government department, agency, office, Crown corporation, or other government body, what is the (i) headline or subject line, (ii) date, (iii) file or code-number, (iv) subject-matter; (b) for each such press release, was it distributed (i) on the web site of the issuing department, agency, office, Crown corporation, or other government body, (ii) on Marketwire, (iii) on Canada Newswire, (iv) on any other commercial wire or distribution service, specifying which service; and (c) for each press release distributed by a commercial wire or distribution service mentioned in (b)(ii) through (b)(iv), what was the cost of using the service?
Petitions March 3rd, 2014
Mr. Speaker, in the next petition, the petitioners are calling on the House to condemn discrimination against females occurring through sex selective pregnancy termination.
Petitions March 3rd, 2014
Mr. Speaker, I am pleased to present several petitions today.
In the first two petitions, the petitioners acknowledge that the current impaired driving laws are too lenient and call for stiffer penalties.
Manufacturing Industry March 3rd, 2014
Mr. Speaker, manufacturing employees are still bearing the brunt of the recession, in spite of what the parliamentary secretary says. Sales dropped more than $2.9 billion last year alone, and that is down from the year before that and the year before that.
From Caterpillar and Kellogg's to Heinz and Wescast, jobs are being lost, yet the long-promised government strategy is missing in action. Four years ago today, the government promised a digital economy strategy, and Canadians are still waiting.
Will the minister acknowledge that his lack of action has failed Canada's manufacturing sector?
Finance February 27th, 2014
Mr. Speaker, Conservative broken promises are piling up but Canadians are not going to be duped any more. They remember phony Conservative promises to cut diesel taxes in half and to deliver income splitting. What about the government's failed greenhouse gas plan or its wait time strategy? What about its promise to renew infrastructure that resulted in a 90% funding cut to our cities and our communities?
How can anyone trust a government that continually breaks its biggest promises?
Petitions February 26th, 2014
Mr. Speaker, recently the CBC revealed that ultrasounds are being used in Canada to tell the sex of an unborn child so that expectant parents can chose to terminate the pregnancy if the unborn child is a girl.
The petitioners call upon all members of Parliament to condemn discrimination against females occurring through sex-selective pregnancy termination.
Taxation February 25th, 2014
Mr. Speaker, the Prime Minister once believed and I quote, "There is no greater fraud than a promise not kept". In 2008, his single biggest promise was cutting the diesel tax in half. But, like income splitting, once the votes were cast, he simply pretended it never happened. How can Canadians possibly trust the Conservatives when in the last three elections they broke every single one of their biggest promises?
The Budget February 25th, 2014
Mr. Speaker, tourism is or was one of the major things we celebrated in Canada, with people coming. I recently had a meeting with the tourism associations, and tourist numbers are way down. Canada has dropped so far down below the line because of that lack of investment both in promoting Canada and, second to that, in closing off beautiful places in northern Ontario and in other parts of Canada because of the lack of investment in the infrastructure that is needed in our transportation.
What is going to happen to all of those people who will lose their jobs because they do not have tourism and because of the change that will be there? Rather than investing in our infrastructure and things as important as our transportation and opening up other parts of our country, as a result of this budget there are going to be more people unemployed. We need to be investing in infrastructure. We need to be investing in post-secondary education, and we need to provide opportunities for our children to grow and be the best they can be, and invest in our country. That will provide jobs.
The Budget February 25th, 2014
Mr. Speaker, I am sure when we have had a chance to delve into those numbers, we will find they are like the $3,400 of tax cuts that benefit thousands of Canadians, but 70% of Canadians do not benefit from those $3,400 in tax cuts. Only 30% of Canadians benefited. We are talking about all Canadians benefiting, not just the wealthy or not just particular pockets.
The issue is that there are challenges out there. The Conservatives continue to break their promises one at a time, and I suspect they will keep doing that in order to beef up their piggy banks so they have more money to throw away next year when trying to buy all the votes of the people who will forget very quickly what the Conservatives did not deliver, and they hope people will be deaf to all the other promises.
The Budget February 25th, 2014
Mr. Speaker, they can get out the history books. I would not say it if it were not true. It is easily proven. In fact, maybe I will go and run it off and deliver it, so they know that everything I am saying is true.
The prosperity that the Conservatives celebrate is not being felt around the kitchen tables of the nation. Economic success must be felt by everyone to be effective, and there is nothing in the budget that would make a serious difference for middle class Canadians.
The Conservative government stumbles from crisis to crisis, and these crises are often of the government's own making. Conservatives have dropped the fiscal management ball, and they are sticking our grandchildren with the bill for their fiscal incompetence.
In 2013, the Conservatives lowered taxes on yachts and summer homes, but hit working class families with new taxes on essentials such as household heaters, baby carriages, and school supplies. Even blankets were hit with an extra 5% tax. Now, just in time for an election, the Conservatives have seen the light. They have reversed their taxes on families and expect us all to stand here and applaud.
I cannot help but wonder if the government is again minding the interests of Canadians and our country, or just its own.
Cutting the deficit by gutting our investments in innovation and education is like lightening an overloaded airplane by removing its engine. It may make us feel like we are flying high at first, but it will not take long before we feel the impact. Middle class Canadians are feeling the impact, and I for one will not be voting for that.