Judy Sgro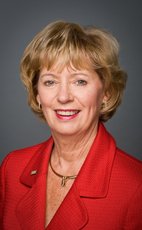 House of Commons photo
Track Judy
Your Say
Elsewhere
Crucial Fact
Her

favourite word

is going.
Liberal
MP for York West (Ontario)
Won her last election, in 2011, with 47.00% of the vote.
Statements in the House
Tourism June 17th, 2014
Mr. Speaker, every dollar invested to support travel and tourism yields $56 in return. This is easy math, even for a mediocre economist.
Global travel is increasing, but Conservative cuts have knocked Canada from 7th to 16th place as a destination, making us one of just five countries to experience a drop in visitors. Instead of selling Canada as a destination point, Conservatives would rather sell Canada out by slashing the Canadian Tourism Commission by over 20%.
When are the Conservatives going to start promoting Canada instead of just promoting themselves?
Petitions June 11th, 2014
Mr. Speaker, I am pleased to present many petitions here on the issue of the current impaired driving laws. The petitioners are calling on the government to implement new mandatory minimum sentencing for those persons convicted of impaired driving causing death.
Main Estimates, 2014-15 June 10th, 2014
Mr. Speaker, I share my colleague's satisfaction with his own bill when it comes to being able to transport wine from one province of Canada to another. However, I have to say that when it comes to the issue of the Senate, certainly the Prime Minister was very vocal about his concern about change in the Senate. Yet after eight years of Conservative rule, the government has brought no changes at all to the Senate. It was our leader, actually, who made more significant change in one morning in the Senate than we have seen from the Prime Minister himself, other than appointing 54 senators since he came to office.
If my colleague feels that we need to have some improvements in the Senate, is he encouraging his government to take a stand for the changes that he thinks need to happen in the Senate?
Downsview Park June 9th, 2014
Mr. Speaker, Downsview Park is 77,572 acres of green space, boasting a lake, 60,000 trees, and walking paths, all between Keele, Sheppard, and Allen roads and Wilson Avenue. Put another way, Downsview Park is a one-of-a-kind jewel within Toronto. Despite this, I rise to sound the alarm on what appears to be a Canada Lands Company plan to transform Canada's largest urban park into a paradise for developers.
Will the minister, today, commit that Downsview will remain green, and that the government will preserve Downsview Park green for our children and our grandchildren?
Petitions June 6th, 2014
Mr. Speaker, I am proud today to present a petition from several citizens of Canada.
The petitioners want to see tougher laws and the implementation of new mandatory minimum sentencing for those persons convicted of impaired driving causing death.
Infrastructure June 6th, 2014
Mr. Speaker, the money will arrive in 2019.
Over the past 12 months, the government has not created a single net full-time job, and the so-called jobs minister seems proud that middle-class salaries are barely keeping pace with inflation.
Infrastructure investments not only create large amounts of economic activity but actually improve productivity, raise standards of living, and increase quality of life. Instead of making excuses and heckling in the House for their own economic failures, why do the Conservatives not actually do something for a change to help working families?
For starters, why do they not reverse the 90% cut to the infrastructure fund?
Infrastructure June 6th, 2014
Mr. Speaker, the C.D. Howe Institute estimates that traffic gridlock costs Toronto's economy up to $11 billion each and every year. Commute times in ridings like Trinity--Spadina and Scarborough--Agincourt are getting longer and longer, reducing the valuable time workers can spend with their families. Meanwhile, the Conservatives refuse to commit to a national transit strategy and have virtually turned off the tap to the building Canada fund until, of course, the election cycle starts again.
Why is the government continuing to turn its back on our important cities?
Strengthening Canadian Citizenship Act June 6th, 2014
Mr. Speaker, I congratulate my hon. colleague for a wonderful few minutes of explanation about the bill so that all Canadians can get a better understanding of just how these kinds of changes in bill C-24 would impact future Canadians.
I would like to hear more from my colleague. Every new Canadian I speak to is very anxious to get citizenship. Would Bill C-24 make that more difficult for newcomers to Canada?
Economic Action Plan 2014 Act, No. 1 June 5th, 2014
Mr. Speaker, the member has explained that there are some good things in the bill that all of us would have liked to support, but there are so many other things that we disagree with and that should have been open to a thorough debate.
We want to see our companies doing well, because when the companies are doing well, they are paying taxes, hiring people, and growing and expanding. Those are the kinds of things we want to see happening.
Unfortunately, the temporary foreign worker program has doubled the amount that used to be allowed, number one. Number two is that the program is not being managed properly. Programs can be good, but if they are not well-managed, they can get out of control, which has happened with the temporary foreign worker program.
There are far too many people coming in and getting into positions with LMOs that are not thoroughly analyzed and vetted the way they should be.
Economic Action Plan 2014 Act, No. 1 June 5th, 2014
Mr. Speaker, I am pleased to acknowledge that the removal of interprovincial barriers throughout the country is an important thing. We can then share the benefits throughout the country.
No one has said that there is nothing good in the budget. The problem is there is 360 pages here of all kinds of things in it. Maybe if it were put properly in a 80-page or 100-page budget, there would be a chance to appreciate some of the better things in it. There could also be more emphasis on the things that were not in it.
There is enough stuff in this bill to cover all kinds of things that have nothing to do with a budget bill. Unfortunately that is the way the government chooses to do it. The government is hiding a lot of things that should be profiled in a positive way. It is also hiding a whole lot of other things.