Judy Sgro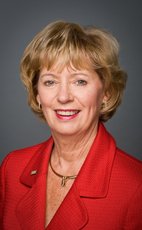 House of Commons photo
Track Judy
Your Say
Elsewhere
Crucial Fact
Liberal
MP for York West (Ontario)
Won her last election, in 2011, with 47.00% of the vote.
Statements in the House
Pensions May 7th, 2013
Mr. Speaker, despite their $1 billion ad campaign to the contrary, Conservatives have no plan for prosperity for the middle class. Instead, they repeatedly punish the middle class. Conservatives taxed income trusts, wiping out billions of dollars in retirement savings. They made old age security harder to get, and the Conservative PRPP scheme is nothing other than a joke. Seventy per cent of Canadians have no pension, yet Conservative incompetence is making it harder to retire with dignity.
Why does the Prime Minister want poverty to be part of retirement for the middle class?
Economic Action Plan 2013 Act, No. 1 May 7th, 2013
Mr. Speaker, when the Liberals were elected in 1993, we had an over $42 billion deficit left to us by the Conservative government. We were at a point where we were being chastised by third world countries about what had happened to Canada. There was no choice but to take very hard, swift action to try to get Canada back into the zone where it was supposed to be.
Paul Martin and Jean Chrétien had the courage to make the kinds of cuts that had to be made to bring everything into line, and for two or three years everybody had to suffer a little bit. However, where were we 13 years later? We ended up with a $14 billion surplus, investments going into health care, a 10-year health accord, Kyoto, the Kelowna agreement, all kinds of things moving our country forward in the way it was supposed to.
That was a tough decision to make, but the Liberals clearly had the foresight and the courage to do that. I really question the kind of budgeting there would have been if we would have had the NDP in charge at that time.
Economic Action Plan 2013 Act, No. 1 May 7th, 2013
Mr. Speaker, it is important to attempt to clarify what my hon. colleague means by the bail-in regime so that Canadians do not get concerned and pull out all of their money. There is a $100,000 guarantee in protection and all of that, but I do think it is important because it is in the budget. He should make sure it is very clear to Canadians exactly what he means on that point so we do not have Canadians panicking.
I have to say that my hon. colleague, for whom I have the utmost respect, truly believes everything he writes and says, and his ideology fits right into it. The issue is that we have had many economists say how wonderful every one of those budgets has been, and every one of them has failed to meet the point. The Conservatives have never met their budget. They project and project.
We can always find people who believe in our pie-in-the-sky dreams and hope it will go that way, but the reality is that the Conservatives have never met any of their targets yet.
Economic Action Plan 2013 Act, No. 1 May 7th, 2013
Mr. Speaker, if we would just let loose a bit, we could really have quite an interesting debate on the budget in this House. We could really talk back and forth with one another about what we think should be in there versus all the fantasy comments being made.
It is a very convincing argument, if somebody on the other side is actually listening to it and believing it. Again, that is what governments do. I have been there. We stand up and promote our budgets and say that they are the best thing since sliced bread. We all do it. However, our job on this side at the moment is to ensure that we show its flaws.
I am happy to be standing here and speaking. This will be the 10th budget I have been asked to evaluate and vote on since I was elected to the House, so I have been around long enough to have seen them from all sides. In that time, I have seen both good and bad fiscal plans. Again, I have to say that I think budget 2013 is probably the most disappointing because of the federal fiscal strategy we are being asked to consider. It is not a strategy I think Canadians would really want us to support.
Let us have a bit of history. In 2006, the Conservative government came to power by making outlandish guarantees, and the Canadian public, or 39% of it anyway, bought those outlandish guarantees. In fact, the Conservatives promised to leave any notion of Conservative fiscal tendencies buried in a sea of red ink. At the time, the Prime Minister made the absurd commitment that he would somehow reduce taxes while also making radical spending increases, and we all know that this does not work. Of course, what did the Prime Minister do? He increased spending, a move that erased the $14-billion surplus the Conservatives inherited from the Liberals when they came into power. What did they do with that? They immediately turned around and invested it. Some people would say that they used that $14 billion of taxpayer money to buy the votes for the next election. Whatever happened, they got $14 billion and spent it very quickly. I can only imagine that Brian Mulroney would have loved to have had something like $14 billion to spend on all the things he wanted to try to achieve with a majority government.
Unfortunately, once the Prime Minister had recklessly spent the cupboard bare, he started increasing income taxes, payroll taxes. Then the Conservatives found new and creative ways to levy hefty fees and tariffs on everyday essentials, such as cancer wigs, household appliances, home heating oil and even blankets. Then, of course, what came? It was a severe rollback of vital income supports and social systems that low-income Canadians rely on each day for survival. The current government slashed support for seniors; attacked middle-class families; and advanced policies that all but slam the door on anyone who is sick, elderly, underemployed or generally working class.
However, this is not the first time Canada's finances have been run into the ground at the hands of the so-called Conservative Party. The last time a Conservative government actually balanced a federal budget in Canada was 101 years ago, in 1912. I know that the Conservatives would like to rewrite history, but they cannot erase everything. That is clearly in the history books. The last time any Conservative government ever balanced a budget was 101 years ago. When we hear all this wonderful pie-in-the-sky stuff, we have to keep that in mind. That Prime Minister was Robert Borden. He too inherited a surplus from a good Liberal predecessor, Sir Wilfrid Laurier. Just as the current government did, Borden managed to maintain it for only one year before dropping into deficit. It sounds as if our current Prime Minister is following the Borden example through excessive spending and reckless budgeting.
Between 2006 and 2008, the Conservatives put Canada back into the red, well before, not after, there was any recession. Well before, we were already in debt. Despite their rolling promises of restraint and prudence, they have not balanced the books since.
Now in budget 2013, the Conservatives promise that they will eliminate the deficit by 2015. Of course, they have made that promise before, and they just cannot seem to hit their targets. So far, the Conservatives have missed every target, but they expect us to believe that on the eve of the next federal election, somehow they are going to have fixed up the mess and will have balanced the budget.
I think a closer look at the financial plan would provide every reason for all of us as parliamentarians, and all of us as taxpayers, to be very suspicious of the pie-in-the-sky numbers that the Conservatives are talking about.
It has been said by my colleague from Wascana that the Conservative playbook contains seven simple tricks.
They inflate revenues by basing their fiscal planning on optimistic projections of economic growth. They ignore the reality, as they have before, that their numbers have never been correct. Time and time again their forecasts have been proven to be wrong, as both the IMF and the Bank of Canada have done once again in the past month.
They also create the illusion of financial flexibility. Conservatives have lowballed the reserves that should be in place to serve as fiscal shock absorbers against future economic setbacks. They have no contingency plan other than spending on the national credit card.
When a government department does not use all of its budget, the excess money lapses back to the treasury. The Conservatives are counting on very large lapses over the next several years. In other words, they are making big announcements, hoping that everything will go the way they want it to go.
While cracking down on those who do not pay their taxes is an absolute necessity, and for that we give them two points of credit, the Conservatives claim of a balanced budget depends heavily upon quickly collecting billions in unpaid taxes. That seems highly improbable, given that they are also chopping millions of dollars from the same agency that is supposed to be going after the cheaters.
For big programs like infrastructure, the government claims to be increasing investments. We talked about that a bit earlier. However, any increases are actually years away, and our cities and FCM know that. It is a trick called "back-end loading". In reality, the build Canada infrastructure budget has been slashed, not increased by $1.5 billion, in each of the next two years.
Despite false claims to the contrary, the government is increasing taxes in dozens of nefarious ways, on everything from hospital parking fees to blankets. The two biggest types of Conservative tax hikes are higher tariffs on imported goods and higher employment insurance payroll taxes. Again, this would hurt our small businesses in Canada that we need to be promoting.
Then there is the one that they are forever planning: using all these tricks to concoct the false illusion of a balanced budget by 2015. The Conservatives will claim to have met their fiscal objective just before an election, and before proof to the contrary can become available we will be back into another election.
We all know that people struggle with their day-to-day expenses, from diapers to Kleenex, to formula and healthy food. The cost of raising a family is growing in Canada. We all know seniors who rely upon that monthly OAS/GIS cheque to keep their lights on and food on the table. This is in our rich Canada. We all know of someone who is desperately looking for work so they can keep their family in their home. These are the people who budget 2013 has forgotten: working-class Canadians who do not fit into the Conservative plan.
The Conservatives are trying to trick Canadians into thinking they have the experience necessary to champion the economy, but in reality they are little more than professional grifters with a billion-dollar publicly funded advertising budget that is constantly telling us how well we are doing with the economic action plan that is paid for by them. It might be time for the Prime Minister to admit that while there are solutions, he is not thinking of them.
The budget includes a bail-in regime that would allow banks to generate capital by dipping into the savings of their account holders. The budget increases taxes and tariffs on middle-income Canadians and businesses, and the budget abdicates federal responsibility for a range of important scientific, social and economic programs.
I think budget 2013 betrays the trust of Canadians and shows just how devoid of compassion and trust they are.
Economic Action Plan 2013 Act, No. 1 May 7th, 2013
Mr. Speaker, I could not help but comment on all the smoke-and-mirrors talk about what the future is going to be. I would hope that things were just as rosy as the picture the government is painting, but the reality tells us that it is not the way previous commitments and suggestions have been.
On infrastructure, as far as what cities require, they had no way to say anything else, because if they had said anything else, FCM and the cities would have been muzzled, the same way our scientists, researchers and many anti-poverty groups have been muzzled. As far as what FCM said in response, what else would Conservatives expect them to say?
Seniors May 6th, 2013
Mr. Speaker, the Conservatives are not only raising taxes on middle-class families to fight the deficit, of course, that they created; they are also cutting important government services and programs. By making OAS harder to get, Conservatives have lifted $30,000 from the pockets of Canada's lowest income seniors.
Yet, of course, this is not a new tack, coming from the same group that went back on its word and taxed income trusts. Do members remember that?
Just tell me, why is it that you have it in for the seniors? Why are you making Canada's seniors—
Taxation April 29th, 2013
Mr. Speaker, we know the Conservatives are nickel and diming middle-class families, but the Prime Minister also continues to target the pockets of seniors. This all started when he announced that seniors will have to wait longer to get their OAS, a move that will cost pensioners approximately $12,000 each. Now tariffs have been added to this burden, as if they did not have enough, forcing seniors to pay even more for everything from blankets to home heating oil to food and housewares.
The Prime Minister has lowered seniors' already stressed incomes while increasing their daily expenses. Enough is enough. Could the Prime Minister please show some compassion—
Strengthening Military Justice in the Defence of Canada Act April 29th, 2013
Mr. Speaker, that is one of the shortcomings of the current government. The Conservative government is focused on our own boundaries, as if we live in a world by ourselves.
Canada has brought forward model legislation in many areas. We learn from things that happen in other countries. I want to quote Justice Létourneau who said so eloquently:
We as a society have forgotten, with harsh consequences for the members of the armed forces, that a soldier is before all a Canadian citizen, a Canadian citizen in uniform. So is a police officer; he is a Canadian citizen in uniform, but he's not deprived of his right to a jury trial. Is that what we mean by "equality of all before the law"? Is not the soldier who risks his life for us entitled to at least the same rights and equality before the law as his fellow citizens when he is facing criminal prosecutions?
Justice Létourneau and the others are clearly very experienced people. Colonel Drapeau indicated similar concerns. It means we should take a step back and see how we can improve this legislation so it would achieve for all what is necessary as true Canadians and encourage people to join the military and continue with a great career.
Strengthening Military Justice in the Defence of Canada Act April 29th, 2013
Thirteen long years, Mr. Speaker, and I am looking forward to being back in government for another 13 years. We will make sure that we have a lot of time to undo all of the miscarriages that the Conservatives have produced.
I want to go back to the minister's comments on Friday about my colleagues and I continuing to work on issues like the RCMP and justice in general. I really and truly am very worried about the road that we are heading on where there will be no justice any longer. We are going to end up like those very countries that we are so critical of when it comes to people being able to speak out. The government has been muzzling RCMP officers and its own members, but it is not going to muzzle any of us.
Strengthening Military Justice in the Defence of Canada Act April 29th, 2013
Mr. Speaker, I am pleased to get up and to follow my colleague today in raising some of the concerns we have with Bill C-15.
It seems the longer we are here in the House, the more we see a variety of things happening. My colleague from Malpeque mentioned that now, in order to speak to members of the RCMP, MPs must have permission from the minister. I have had many conversations with the RCMP on the issue of sexual assault and harassment in the RCMP in the last year or so. That announcement just helps to bring forward more of these issues about a balance of justice and fairness in the system for everybody, whether they are in the military or a private citizen. We all need to be very much concerned when the politics get too far into the issues of policing or justice. Hence, the reason that I am on my feet and commenting on Bill C-15, which is an act to amend the National Defence Act.
I will read a bit of the information, so that we and anybody who is watching will know why we are raising some issues on something that we are not 100% against and at one point we may have even supported. It will put this in the context of so many other things that seem to be heading in a direction where we are going to politicize the police force the same way that everything that the Government of Canada puts its hands on is politicized. We need to flag these issues, so that we all are thinking them through very carefully. Therefore, I offer a bit of a summary on Bill C-15 and what it is about.
Bill C-15 would "(a) provide for security of tenure for military judges until [they reach the age of 60];...", which is the retirement age for military judges, contrary to all other Canadian citizens who would have to wait until they are 67 to get their pensions. They could be removed for cause on the recommendations of an inquiry committee, or through resignation. It would also "(b) [allow for] the appointment of part-time military judges;" and outlining sentencing "...objectives and principles;".... The bill would "(d) provide for [new] sentencing options, including absolute discharges, intermittent sentences and restitution [orders];...".
As my colleague across the hall mentioned, there are some things in here that are supportable. Unfortunately, the question is whether there would be a true balance of justice in all aspects of it. Like many things that are introduced into this House, it does not necessarily qualify on many avenues. There are some parts of it that would be good, but there are always so many other parts in legislation brought forward by the government that are not good. We do not just adapt something because, while it has three good parts in it, the rest of it is no good. Because of that we have to support it? No. If it is not good in the overall 10 points that need to be examined, then we should not be supporting it.
Bill C-15 would look "...at amending composition of a court martial panel [selections] according to the rank of the accused...", and it would change "...the name of the Canadian Forces Grievance Board to the Military Grievances External Review Committee".
That raises another issue. In the RCMP or the military, when the members have a serious grievance, where do they go? In the RCMP, from what we have heard in the sexual harassment hearings, they have to go to their own supervisors. Many times that is the person causing the problem. Or they go to another person above that person, but it is always within the same confines of that same family. For the RCMP in particular, there needs to be an external review board that is 100 yards away from anything to do with the RCMP, that is truly independent and can hear a grievance from anyone who is working for the RCMP. Similarly for the military, there needs to be an arm's-length grievance committee, or a place where members can go and truly get a hearing on their issue. Complaining to their supervisor's friend who is going to keep everything within the same confines, and is not going to want to see anybody pay too big a price for a grievance, really jeopardizes justice in this country. Certainly, from what I have heard from the hearings, there is a need for a union to represent many of the officers.
If they want to do things right, then there has to be an arm's-length committee, as many of the police services across Canada have. It is an external body, where people can go with a serious complaint and get a true hearing. It is not just "passing the buck" from one to another; then people end up not getting true justice. One of the things that we hear a lot about in the Liberal Party, as I think all elected members of Parliament do, is justice. Justice does not only need to be done, it needs to be seen to be done. The perception out there is that is not way it is necessarily happening.
As Liberals, we understand the need to reform the Canadian court martial system to ensure that it remains effective, fair and transparent. Canada has been the leader in so many areas when it comes to human rights, when it comes to the charter, and when it comes to issues of fairness, of ensuring that what we do in Canada is balanced and fair and respectful of everybody's rights. More and more we are having to question whether that is exactly what is happening or not. We believe, as Canadian citizens and as Liberals, that people who decide to join the Canadian Forces should not thereby lose part of their rights before the courts.
Again, we are back into that system. We want to attract more and more young people to a career in the military. We see the men and women who are out there fighting for us and representing us, and we are grateful that they have the courage and the commitment to do this. We want to make sure that they are treated fairly.
Bill C-15 does not answer all those questions. It leaves a lot of questions unanswered. Before we pass Bill C-15, we should make sure we have perfected the bill so that those in the military are not losing their opportunities for a fair and just trial.
The Liberal Party also understands that rights and equality are universal. We talk a lot about that. That really means that it is for everybody. It does not matter who a person is, where they come from or what job they are doing, we would like to think that everybody in Canada is treated fairly and equitably. Without an effective means for an appeal and no recorded proceedings, the current summary trial system is unbalanced and does not represent the basic rights of a Canadian Forces member.
We also do not believe that introducing a criminal record for Canadian Forces members for certain offences is fair and just as a means for pardoning offences, which has recently been removed by the Conservatives. Again, we go back to trying to be fair and balanced, and treating people with respect, making sure that everybody has their role and that they do not violate that.
We also find it problematic that the VCDS can intervene and give direction in military police investigations. The VCDS is also subject to the code of service discipline.
Bill C-15 is in keeping with a lot of Bill C-42 and a lot of other things that continually try to give other people more power rather than making sure that we really have an equitable system that is going to be there to represent everyone, that we are not going to discourage people from joining the service, that we are not going to have people join the military and then leave, speaking very negatively about their experience.
Shifting the power around to different people rather than having an independent body do the review makes us question where we are going with this issue. I met yesterday with a group of people from Venezuela who were upset about the recent election. They were talking about how the government of the day controls everything. These things keep being raised.
I am really concerned that little by little we are losing the things that we value the most here in our own country, that there is an eroding of the power of parliamentarians, and that a real miscarriage of justice is happening.