Marc Garneau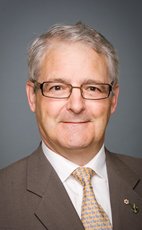 House of Commons photo
Track Marc
Your Say
Elsewhere
Crucial Fact
His

favourite word

is colleague.
Liberal
MP for Westmount—Ville-Marie (Québec)
Won his last election, in 2011, with 37.20% of the vote.
Statements in the House
Employment February 26th, 2015
Mr. Speaker, the recession ended six years ago. However, there are 140,000 more jobless Canadians now than there were in 2008. Last year, the government boasted that it had created 186,000 jobs, but it had to revise that figure to 120,000. The Bank of Canada says that 200,000 young Canadians are underemployed and live with their parents.
Does the government believe that it has done enough to help Canadians and create jobs?
Respect for Communities Act February 26th, 2015
Mr. Speaker, I have to ask the hon. minister how she can say with a straight face that there is great urgency in passing the bill, given that it was taken off the table for such a long period of time.
Now it absolutely has to pass in record time. The Supreme Court is waiting. All of these arguments are being brought forward. However, if all of the arguments she has presented are compelling in terms of speed, why did the bill suddenly disappear off the face of the earth for a very long time?
Foreign Affairs February 24th, 2015
Mr. Speaker, Mohamed Fahmy's struggles continue. He just learned that his new trial has been delayed. The possibility of returning to prison weighs heavily on him. He already spent over 400 days in prison in atrocious conditions.
Why does the Prime Minister not pick up the phone and call President el-Sisi to ask that Mr. Fahmy be returned to Canada as soon as possible?
Foreign Affairs February 19th, 2015
Mr. Speaker, for three years, the former minister of foreign affairs quietly postponed the approved plan to invest in embassy security. It is disturbing to learn that improvements to ensure the security of official residences in Islamabad, Kabul and Port-au-Prince were not made, thus endangering our diplomatic staff. It looks like that spending was postponed to help the government show a budget surplus for this election year.
Why is the government jeopardizing the security of our Canadian diplomats?
Drug-Free Prisons Act February 17th, 2015
Mr. Speaker, it seems to me that the core of all this is the refusal by the government to accept scientific evidence.
We all witnessed, over the years, how the current government got rid of the long form census, despite the fact that hundreds of organizations have said this census provides useful scientific evidence upon which to base policy. We have seen how the current government muzzles scientists when they may say something the government does not want to listen to. We have seen the current government get rid of its responsibility with respect to the Experimental Lakes Area. We have seen the current government get rid of the PEARL facility in the high Arctic, which is responsible for doing research, among other things, on the depleting ozone layer above our country.
In the case of this particular bill, we are talking about the fact that the current government, because of its ideology, does not want to recognize that treating the addiction while the person is serving his or her sentence is an essential element in trying to reduce the incidence of drug addiction.
I would like to hear my colleague on that particular subject.
Foreign Affairs February 16th, 2015
I will take that as a no, Mr. Speaker.
The Australian prime minister spoke directly to President el-Sisi on three occasions in an effort to secure the release of Peter Greste, efforts which ultimately proved successful. Our own Prime Minister appears to have made no such effort in the case of Mr. Fahmy, arguing that Mr. Fahmy's dual citizenship complicated matters.
As far as we know, Mr. Fahmy is no longer an Egyptian citizen. Why is the Prime Minister not doing all he can to secure the release of Mr. Fahmy?
Foreign Affairs February 16th, 2015
Mr. Speaker, the government assured us many times that the Prime Minister had been in communication with the highest authorities in the Egyptian government regarding Mohamed Fahmy's case.
My question is very simple: did the Prime Minister communicate directly, in person, with President el-Sisi, and if so, when?
Foreign Affairs February 16th, 2015
Mr. Speaker, I rise in the House today to express our deepest sympathy to the Coptic community in Canada and around the world for the senseless murder of 21 Coptic Christians in Libya over the weekend.
This is just the latest attack in a long series of horrific killings by Daesh, a genocidal group that perverts the very religion it purports to uphold and that has directed violence against other religious minorities living in the regions, such as the Assyrians, Chaldeans, Syriac and Armenian Christians, Yazidis, Druze, Shabaks and Mandeans as well as Shia Mulisms.
As a religious minority, Coptic Christians have frequently been subject to persecution, but they have lived alongside their Muslim neighbours for centuries. They will survive these atrocities. Such acts will only strengthen the resolve of those combatting the Islamic State.
I want members of the Coptic community to know that we mourn with them and that we stand with them during this difficult time.
Foreign Affairs February 5th, 2015
Mr. Speaker, Bashir Makhtal, a Canadian citizen, was arrested in 2006 at the Kenya-Somalia border and transferred to Ethiopia. He was denied access to Canadian consular services for a year and a half. Serious questions have been raised about the validity of his trial and the possibility of torture and of a forced confession. He has been serving a life sentence since 2007. His family has concerns about his health.
It appears that our consular officials have exhausted all avenues to help Mr. Makhtal. Will the Prime Minister consider intervening in this case?
Resignation of Minister February 3rd, 2015
Mr. Speaker, I will not repeat everything that my colleague from Ottawa Centre said about the minister. I agree with all of it. On behalf of the Liberal Party, I thank the minister for his two decades of service to Canada.
I thank him for his important contribution to Canada. I also thank him for serving the people of his riding, Ottawa West—Nepean.
As parliamentarians, we develop a bit of an instinct to know when some of our colleagues, perhaps, one day, lose the sacred fire, and the passion begins to wane. This is a very demanding profession.
However, I think this is why we were all so surprised to find out last night that the member was leaving us. If there is one person in this chamber whose passion never seems to have abated for one second, who always had fire in his eyes and who still has fire in his eyes, it is surely he. I think we were all completely taken aback to find out last night that he had made the decision to leave us.
The public knows the member to be ultra-partisan, having sometimes been called a bullhorn. He has done that job very well. I have had the privilege of also discovering the member whom the public knows less well.
The minister is approachable. We have conversed about a variety of subjects. He has always found the time to listen, and he has listened sincerely. I believe that particular trait is what I will remember about the minister for years to come.
I thank him for inviting the member for Ottawa Centre and me to join him last September to go to Iraq. That was a very important moment in foreign policy, and to have allowed us to join him demonstrated what is often lacking in this place, and that is putting down the gloves in the national interests and putting away partisanship.
The member for Ottawa Centre knows the member better, but this trip allowed me to know him in a way I did not know him before. It is one thing to operate in this chamber, where there is always the requirement for a certain formality and, let us face it, we are on different sides of the House.
When we went to Iraq together, I saw I side of his personality that I did not know very well before. Frankly, when one is on the front line, with the Kurdish army on one side and the Islamic State on the other, when one is talking to a family of refugees in a refugee camp, one behaves differently, and aspects of one's personality come out that do not usually come out in the House.
I thank the member for allowing me to see that side of him. Again, I am still trying to understand why he is leaving, but he has a bright future ahead of him and all of us wish him the very best because I think there are also still some great things that he will accomplish in his life.
I thank him for his service to this country, on behalf of the Liberal Party of Canada.