Marc Garneau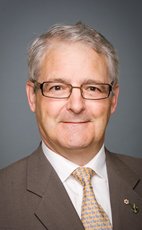 House of Commons photo
Track Marc
Your Say
Elsewhere
Crucial Fact
His

favourite word

is colleague.
Liberal
MP for Westmount—Ville-Marie (Québec)
Won his last election, in 2011, with 37.20% of the vote.
Statements in the House
Veterans Affairs November 21st, 2014
Mr. Speaker, our veterans had every reason to be furious when the government announced that it was closing nine service centres in order to save a few million dollars.
Now we have learned that Veterans Affairs has returned over $1 billion in unspent funding to the public treasury since 2006. What is the government doing with that money? It is spending $743 million on ads to get re-elected.
If the government really wants to save money, why not make cuts to propaganda instead of veterans' service centres?
Tougher Penalties for Child Predators Act November 21st, 2014
Mr. Speaker, I would like to thank my colleague for her comments.
Everyone in this chamber agrees that sexual crimes are among the most horrible crimes in our society and that we definitely have to tackle this problem.
The government is constantly telling us that we also have to protect victims' rights. We all agree on that point, but I would like to ask my colleague if she discovered any measures in this bill that focus on victims' rights.
Tougher Penalties for Child Predators Act November 20th, 2014
Mr. Speaker, I think we can all agree that some of the most despicable crimes in our society are committed by sex offenders.
The government speaks a great deal about victims' rights being extremely important, and we agree. I would like to ask my colleague whether she has identified within this proposed bill any explicit provisions addressing victims' rights.
Veterans Affairs November 20th, 2014
Mr. Speaker, despite our soldiers' pleas, the government closed nine veterans' service centres to save a few million dollars.
We have learned that Veterans Affairs Canada has returned over a billion dollars in unspent money to the Treasury since the Conservatives took office in 2006. During that same period, the government spent $743 million in advertising.
Can the government explain why it places a higher priority on advertising to get re-elected than it does on taking care of our veterans?
Children's Rights November 20th, 2014
Mr. Speaker, I rise to recognize the 25th anniversary of the UN Convention on the Rights of the Child. Canada played an important role in drafting the convention and was one of the first nations to sign and ratify.
Canada has made progress in the intervening years but we still have much to do. Today, the well-being of our children is average among the world's affluent nations. UNICEF's index of child well-being shows that the health of our children is not what we would expect it to be, given the knowledge and resources we have. There is a widening inequity of opportunity among children living in urban, rural, and northern communities.
As elected members, we represent all Canadians, including children.
The government still has no focal point for children or policies and programs aimed specifically at all Canadian children, but most importantly for those at risk. We must do more as their future and the vitality of our country depend on improving their opportunities and well-being.
Protection of Canada from Terrorists Act November 18th, 2014
Mr. Speaker, my question is aimed at trying to understand something here.
My hon. colleague spoke about the need in some cases to protect informants or sources. I can understand that intuitively, and the reasons he brought forward are logical, but at the same time I would like to better understand exactly what is involved.
I am not a lawyer, but if somebody is accused of an act of terrorism, for example, I assume there is some sort of proceeding in a court. Is it as simple as the prosecution saying that it has information from a source that the accused did this or that? Is that the way it would actually happen, where the informant's identity is hidden and what is put out by the prosecution is taken as fact? Is that the way it works?
Questions Passed as Orders for Returns November 7th, 2014
With regard to government funding, for each fiscal year since 2007-2008 inclusive: (a) what are the details of all grants, contributions, and loans to any organization, body, or group in the electoral district of Westmount—Ville-Marie, providing for each (i) the name of the recipient, (ii) the location of the recipient, indicating the municipality, (iii) the date, (iv) the amount, (v) the department or agency providing it, (vi) the program under which the grant, contribution, or loan was made, (vii) the nature or purpose; and (b) for each grant, contribution and loan identified in (a), was a press release issued to announce it and, if so, what is the (i) date, (ii) headline, (iii) file number of the press release?
Taxation November 3rd, 2014
Mr. Speaker, this weekend a Canadian citizen told the skills minister that he would prefer investments in health care over the Conservative tax cut. The minister told him that if he wants to see health care investments, he should donate to his local hospital.
Does the minister think that it is the job of government to provide tax breaks to about 15% of Canadians and then hope that all Canadians will donate to the health care system?
Taxation November 3rd, 2014
Mr. Speaker, parents with two children in university experience quite a bit of stress. They are helping their children pay for tuition, trying to save for their own retirement and, often, caring for their aging parents.
However, since their children are over the age of 18, these parents do not benefit in any way from the Conservatives' income splitting scheme.
Why has the government completely abandoned these parents?
Warrant Officer Patrice Vincent November 3rd, 2014
Mr. Speaker, Warrant Officer Patrice Vincent put his country above himself every day during his 28 years in the Canadian Armed Forces. He served as a firefighter on bases and on ships.
Patrice Vincent is remembered by his colleagues as never having sought praise, as someone who was always more than willing to help behind the scenes in any way he could. His family will remember him as a hero. Canada will remember him as one of our fallen sons.
He was mercilessly run down for no other reason than the uniform he wore proudly, a uniform that stands for duty and valour to all those who wear it.
His sister Louise said, "Patrice's message is to go home tonight, look at those who contribute to your happiness, to your life, and have gratitude for the love they give you, for the help they give you."
A whole nation is grateful to Warrant Officer Patrice Vincent. He did his duty, and he did it well.