Marc Garneau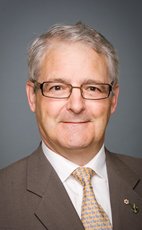 House of Commons photo
Track Marc
Your Say
Elsewhere
Crucial Fact
His

favourite word

is colleague.
Liberal
MP for Westmount—Ville-Marie (Québec)
Won his last election, in 2011, with 37.20% of the vote.
Statements in the House
Health October 20th, 2014
Mr. Speaker, the facts are clear. The World Health Organization asked Canada to provide personal protective equipment a full month before the government finally cut off the sale.
Why sell this equipment in the first place? Why the delay in stopping its sale for a month? When will the government get its act together on Ebola?
Health October 20th, 2014
Mr. Speaker, while Ebola is ravaging West Africa, the Ambassador of Sierra Leone to the United States and aid agencies are calling for personal protective equipment for health workers fighting this disease.
Despite this request, the Public Health Agency of Canada auctioned off $1.5 million worth of equipment for $30,000. Why did the government sell this equipment at a discount instead of sending it to the people who desperately need it?
Public Safety October 9th, 2014
Mr. Speaker, yesterday, at the Standing Committee on Public Safety and National Security meeting, the minister confirmed that the government is aware that 80 individuals have returned from overseas after participating in terrorism-related activities. The minister told us that those individuals pose a threat to our society, that they have broken Canadian law, and that they all should be put behind bars.
What is he waiting for? What exactly is it going to take for those individuals to be put in jail?
National Defence October 7th, 2014
Mr. Speaker, the Prime Minister told us that he will re-examine our combat mission in six months to determine whether the Islamic State has been sufficiently degraded. In light of that, I have an important question.
In concrete terms, how does the Prime Minister plan to measure the degradation of the Islamic State to the point where we can say "mission accomplished"?
Royal 22nd Regiment October 7th, 2014
Mr. Speaker, this year we celebrate the 100th anniversary of the Royal 22nd Regiment, a regiment that has served Canada with pride and great distinction.
I have a very personal connection to the regiment as my father served with them for most of his career, having commanded the 3rd Battalion, and his father Gérard served with the Royal 22nd Battalion, the predecessor to the regiment, during World War I.
The Royal 22nd Regiment has served with distinction in every major Canadian military engagement, including both world wars, Korea, Afghanistan and multiple peacekeeping missions.
Championed by Wilfred Laurier, the Royal 22nd Regiment, a French-speaking regiment, served in many of World War I's major engagements.
I am sure all Canadians join me in paying tribute to the Royal 22nd Regiment, our famous Van Doos.
Military Contribution Against ISIL October 6th, 2014
Mr. Speaker, I listened to the minister talk about how he is mystified about what the Liberals have done and how the Conservatives have always been ready to jump in feet first to help wherever needed in the world. Does the minister regret the fact that Canada did not go into Iraq in 2003? It seems to fit into what his government would have thought at the time. That is a rhetorical question.
This is my real question. The minister talked at length about the horror of ISIL and the darkness that has descended on the land. I agree with him. Everyone does. He spoke of the absolute need to help, and we agree with that. Does this mean that the Conservative Party is going to stay in a combat role for as long as it takes to defeat ISIL and until the light comes back to the land?
Military Contribution Against ISIL October 6th, 2014
Mr. Speaker, the Liberal Party is prepared to make military contributions to this conflict in Iraq in a non-combat role. There are a number of other ways for us to contribute. I find the NDP amendment interesting. They mentioned the possibility of transporting weapons for a period of up to three months.
Is that the only role involving our soldiers that the NDP is prepared to consider?
Military Contribution Against ISIL October 6th, 2014
Mr. Speaker, this morning a colleague in the NDP asked the Minister of Foreign Affairs what the situation would be whereby Canadian CF-18s would go into Syria. The minister said "I can't really answer that. You should ask the minister of defence". I asked the Minister of National Defence during question period, and again just now, but he did not answer my question.
I will try it with my hon. colleague across the way.
Would Canada send CF-18s into Syria after asking permission to go in from Bashar al-Assad, or would we wait for him to call and give his permission and say he would like Canada to come in and do this?
Military Contribution Against ISIL October 6th, 2014
Mr. Speaker, I tried to get an answer during question period to this question about the possible involvement of our CF-18s, if they go over there, in Syria. It was not clear to me from the Prime Minister's remarks last Friday whether Canada would be, if I could call it "passive" in the sense of if Bashar al-Assad asked Canada to come in, or whether Canada would proactively, if it decided it wanted to go into Syria, make the request to Bashar al-Assad. I wonder if the Minister of National Defence could shed some light on that.
National Defence October 6th, 2014
Mr. Speaker, the Prime Minister told this House on Friday that Canada would take part in air strikes against the Islamic State only in countries where the government has given us permission to do so, such as Iraq. He also said that if it were to become the case in Syria, then Canada would participate in air strikes in that country too.
Under what circumstances does the Prime Minister plan to negotiate with Bashar al-Assad?