Marc Garneau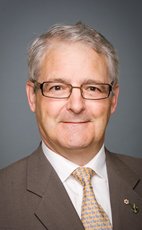 House of Commons photo
Track Marc
Your Say
Elsewhere
Crucial Fact
His

favourite word

is colleague.
Liberal
MP for Westmount—Ville-Marie (Québec)
Won his last election, in 2011, with 37.20% of the vote.
Statements in the House
Citizenship and Immigration December 12th, 2014
Mr. Speaker, the government has clearly failed to live up to its promise to bring in 1,300 government-assisted and privately sponsored Syrian refugees by the end of this year. Today there is a report suggesting that the religion of refugees may be a factor in their selection and that Canada will only accept religious minorities, which would exclude, for example, Sunni Muslims.
This is the government that created the position of ambassador for freedom of religion. Is the Government of Canada now denying refugee status based on religion?
Veterans December 11th, 2014
Mr. Speaker, two years ago, the Auditor General informed us that the Conservatives were underestimating veterans' needs and that demand would probably go up.
What did the minister do? He cut 1,000 jobs, and the biggest cuts were made to front-line programs for health, financial and transition services. The minister is not only incompetent; he is also mean.
Why is the Prime Minister putting up with this? When will he show this incompetent and insensitive minister the door?
Veterans December 10th, 2014
Mr. Speaker, the Minister of Veterans Affairs misled veterans when he said that his cuts would affect administrative services only.
In fact, he increased his office staff by 400% and eliminated 1,000 front-line positions from his department. Now we learn that his department is scrambling to hire new front-line workers as soon as possible, which is a very clear admission that the minister mismanaged this file.
When will the Prime Minister remove this minister?
Economic Action Plan 2014 Act, No. 2 December 9th, 2014
Mr. Speaker, I thank my hon. colleague for his clearly heartfelt comments about the DNA database for missing persons.
One of the very few advantages of debating an omnibus bill is that we in the opposition can ask almost any question. In fact, I am sure I could ask a question about kitchen sinks, because there is probably something about kitchen sinks in the omnibus bill.
However, I would like to talk about income splitting. Clearly, the experts have said the $50,000 transfer on income splitting is only going to benefit about 15% of Canadians, experts including the late Jim Flaherty, who said the same thing. The government was clearly aware of this, so it surrounded it with other tax benefits for children.
My question for my hon. colleague is this. Does he think it is fair to be giving $2 billion to 15% of the population?
Veterans Affairs December 9th, 2014
Mr. Speaker, over the past three weeks, we have learned that Veterans Affairs Canada has clawed back over $1 billion, that it has laid off one-quarter of its staff, that veterans are waiting for months or years for mental health services, that the minister misled us regarding the funding of $200 million that is really going to be spread over 50 years, and that the so-called cuts to administrative services are really going to affect front-line services and employees.
When will the Prime Minister remove this incompetent and insensitive minister?
International Trade December 8th, 2014
Mr. Speaker, we are still waiting for the final signature of the Canada-European Union economic agreement. The longer it takes to finalize the agreement, the greater the chances that detractors could cause it to fail. That is what the NDP leader tried to do this weekend at a conference in Paris.
The government seems incapable of finalizing the agreement. Why the paralysis?
Housing December 8th, 2014
Mr. Speaker, I rise to draw attention to the services for our homeless that will soon be withdrawn if promised federal funding is not soon released to approved projects. Unacceptable delays and layers of red tape are impeding the work of organizations serving the homeless.
There is great need. More than 20,000 households in Montreal are waiting for social housing. Just 2,000 to 3,000 units become available every year.
Since Quebec launched Chez Soi, the federal government has decided to adopt the Housing First approach to address homelessness. Not to criticize the program, but I think we need to take a broader approach, one that recognizes the other essential elements of the homelessness partnering strategy. A disproportionate emphasis on Housing First is jeopardizing existing homelessness prevention services. We need a more balanced and less bureaucratic approach to helping the homeless. This is urgent.
Veterans December 4th, 2014
Mr. Speaker, the Conservatives made cuts to funding and to the staff who maintain the graves of our Canadian heros. They did this following an audit that pointed to the deplorable state of these graves.
Today, we learned that half the money for research on veterans that the minister claimed was new funding comes from existing programs. We are talking about a very small amount. How many more reasons does the Prime Minister need to dismiss his incompetent minister?
Foreign Affairs December 2nd, 2014
Mr. Speaker, when we debatted the cluster munitions bill in committee, the government suggested that investing in companies that produce cluster munitions would be considered aiding and abetting the production of these devastating weapons.
Is the government aware of a recent report by a Dutch organization called PAX, which lists two prominent Canadian financial institutions that appear to have made investments in companies producing cluster munitions? What is it prepared to do if this report is true?
Public Safety December 2nd, 2014
Mr. Speaker, this Saturday will mark the 25th anniversary of the tragic events at École Polytechnique and this government is not welcome.
In fact, according to one of the survivors, the government "does not share our values. It ignores the advice of experts, police, and women's groups fighting domestic violence."
The survivors' group opposes the Conservatives' Bill C-42 . Can the minister tell us how he will explain this bill to Quebeckers and Canadians?