Mark Eyking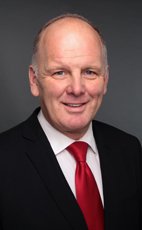 House of Commons photo
Track Mark
Your Say
Elsewhere
Crucial Fact
His

favourite word

is going.
Liberal
MP for Sydney—Victoria (Nova Scotia)
Won his last election, in 2011, with 39.90% of the vote.
Statements in the House
Dairy Farming June 19th, 2014
Mr. Speaker, today, I rise to recognize the importance of our dairy farmers. Our 12,000 dairy farms produce wholesome and affordable products and create hundreds of thousands of jobs for Canadians. One of the reasons they are successful is our supply management system. Canadian dairy farmers sell almost eight billion litres of milk annually through processors and contribute over $16 billion to our GDP.
Many of my colleagues in the House know me as a vegetable farmer, but I can milk a cow. Last summer the Cape Breton farmers exhibition featured the dairy industry and held a milking competition, which I participated in. The MacIntyre Farm in my riding helped me improve my skills.
Members of the House, and all Canadians, should visit a dairy farm this summer and see not only how milk is produced but also the love and care provided to the cows that produce the milk. Most importantly, we should keep the fridge full of milk, yogourt, and cheese, and of course enjoy the best treat of summer with some real Canadian ice cream.
Petitions June 17th, 2014
Mr. Speaker, the second petition calls upon the government to withdraw its support and endorsement for the construction of the Never Forgotten memorial monument in Green Cove, Nova Scotia.
Petitions June 17th, 2014
Mr. Speaker, I have two petitions to present.
The first petition calls upon the government to reverse its recent cuts to Canada Post services and look instead for ways to innovate in areas such as postal banking.
Veterans June 16th, 2014
Mr. Speaker, I rise today to recognize five veterans in my riding.
Stanley Stepaniak, Joseph Meagher, Joseph Petrie, Marshall Desveaux, and Horace Lovell were recently awarded the highest medal of honour by the French government in commemoration of the 70th anniversary of D-Day and the Battle of Normandy. This honour is bestowed upon all those who helped liberate France in World War II between June 6 and August 31, 1944.
I had the honour of attending the D-Day celebrations in Normandy earlier this month and witnessed first-hand the outpouring of support from French citizens. I also took part in the ceremony on Juno beach where French schoolchildren gave us sand to take back home to this Parliament.
Many of those killed in that invasion were Cape Breton Highlanders.
As Canadians and Cape Bretoners, we are very proud of what these young men did for us and our country.
I ask the House to join me in giving thanks to all those who served. We will be forever grateful to them.
Rail Transportation June 12th, 2014
Mr. Speaker, it was recently announced that a very important rail service in Cape Breton may be discontinued. The Minister of Transport has been involved in rail issues elsewhere in Canada. Will the minister work with the Nova Scotia government to save this vital rail service in Cape Breton?
Petitions June 10th, 2014
Mr. Speaker, I rise to present a petition signed by nearly 60 residents from across Ontario who call on the government to refrain from making any changes to the Seeds Act or the Plant Breeders' Rights Act through Bill C-18, the agricultural growth act. The proposed change would further restrict farmers' rights and add to farmers' costs. The group calls on Parliament to create legislation that will maintain the rights of farmers and other Canadians to save, reuse, select, exchange, and sell seeds.
Infrastructure May 30th, 2014
Mr. Speaker, Cape Breton Regional Municipality, like many other municipalities across the country, is faced with an environmental deadline for the waste water treatment and other critical infrastructure needs, but to complete these processes, the Conservative government has not brought any money to the table.
We are well aware that we are into the construction season right now, and the Building Canada fund does not even have an application process in place. Why is the Conservative government letting down municipalities right across this country?
Retirement Congratulations May 30th, 2014
Mr. Speaker, I rise today to recognize two astounding retirees from Cape Breton: Bruce Reardon and Brent Denny.
Bruce worked tirelessly for 31 years with the Sydney Service Canada Centre. Bruce was a dedicated employee in helping many residents of Cape Breton access important programs and providing tools to enter the workforce, thus contributing greatly to our community.
Brent Denny is a member of the Cape Breton Regional Municipality Fire and Emergency Services and began volunteering with the Sydney River Volunteer Fire Department in 1974, eventually taking over the role as chief from 1985 to 2005. Brent also has been an active member of the Fire Service Association of Nova Scotia, serving in many executive positions, including a two-year term as president.
Both of these men exemplify a strong work ethic that has brought great pride not only to their families and friends but to Cape Breton and the community at large. I ask my colleagues to join me in congratulating them both for their contributions and wishing them the best and a great retirement.
Prohibiting Cluster Munitions Act May 29th, 2014
Mr. Speaker, for Canadians watching tonight, I am sure they wonder what we are talking about here. We are talking about a treaty. The Conservatives are doing a half measure here, whereby they are saying we do not believe in cluster munitions but if they are happening we have to agree with them.
My colleague is well adapted to being in the military, and he says the Americans have not used them and are not planning on using them. Can he explain what other NATO countries are doing? Compared to us, are all the other NATO countries in the same position as we are? What do they think of our treaty? How do they stand when they are going to go into a theatre of war, and how are they going to treat the cluster munitions? How are they going to deal with this? Do we look as if we are kind of playing a half measure, and is that what Canadians think we are doing here, that we are really not standing against these terrible bombs that are being produced and being used in a theatre of war?
Committees of the House May 29th, 2014
Mr. Speaker, that is another good question from the member.
He talked about looking at Brazil, which is a beautiful country. I have been there a couple of times. We were there when I was on the trade committee. However, as a farmer, I think it is terrible that Brazil is burning the forest down. Not only that, the soil in Brazil is very shallow, so it is a matter of just two or three years until that soil is depleted. Very old trees are being cut down, and for what? Is it for the sake of some crops for a couple of years? No nutrition is being put back in, and it is being left bare.
As a result, there are multiple effects. Not only are a lot of emissions going into the air with the smoke, but the soil is also being ruined. The river is being ruined. We can probably see all the mud going into it from space.
These trade agreements are important. Yes, we had a big debate in the House when were doing the Colombian trade agreement, and yes, it might not have been perfect, but when we do trade agreements and we put stipulations into them, it helps us to put forth our ideals and values to another country. If we are going to be buying products, we expect them to be produced in an environmentally friendly way or in a way that respects human rights. It is very important that we continue to have these trade agreements, but it is also important to include stipulations in them.
The environment was mentioned. It is important that the OAS has a bit of a role to play in the environment, but it does not say it here. It says:
...return the organization's focus to its core areas of work, namely democratic governance, human rights, security, and development;
Let us look at the environment and human rights. If somebody is depleting a forest inhabited by an indigenous people, there is a human rights violation. In terms of security, if the environment is not cared for, the security of a country is in jeopardy. Many times the environment can play a role in the key areas that the OAS intends to return to.
Not only is it important for the environment to be part of the mandate of the OAS within the context of this statement, but when we are doing these trade agreements, we also have to make sure that our values are instilled in the products that we are going to be buying from these countries.