Mark Eyking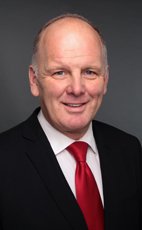 House of Commons photo
Track Mark
Your Say
Elsewhere
Crucial Fact
Liberal
MP for Sydney—Victoria (Nova Scotia)
Won his last election, in 2011, with 39.90% of the vote.
Statements in the House
Agriculture and Agri-Food April 2nd, 2014
Mr. Speaker, the grain handling and transportation system is seriously broken. Testimony at the agriculture committee is painful. The railways, grain companies, shippers, and farmers are at each other's throats. There is no planning. There is no transparency, no coordination, and no accountability.
The system was designed by the current government; it is its responsibility, and this year it is an $8-billion disaster. To help clear the air and follow the money, will the government agree to a full cost reviewing system to find out who is performing and who is not?
Agriculture and Agri-Food March 28th, 2014
Mr. Speaker, the last time legislation was put before the House to deal with the grain transportation issue, the government ignored all the good advice it got from farmers. It voted down every single amendment that farm groups proposed, and because of that it has this $8 billion grain crisis on its hands now.
When farmers, provincial governments, and even its own parliamentary secretary are saying that Bill C-30 is not good enough, is the government finally going to listen? Will it protect short lines and producer cars?
Promotion of Local Foods Act March 27th, 2014
I know Conservative members are getting a little wound up, Mr. Speaker, but maybe you could get them to quiet down a bit. Maybe they are surprised that I am supporting an NDP private member's bill, but when a bill is good, we have to support it. I am surprised at the members over there. I know they know it is a good bill. This must have come out of the PMO. I do not know where it came from, but let us not get into that.
What does the bill ask for? It asks for improving access to high-quality and fresh products and reducing greenhouse gas emissions. I do not know if the Conservatives are for that, but that is what is in it. The bill recommends a pan-Canadian local food strategy to constitute a local food program, and also wants local foods bought at institutions.
That being said, let us talk about the institutions. As a farmer, I have sold to them before, and if this bill is going to be successful, the government has to help farmers develop products with the right sized packaging, labelling, and distribution system. It would take quite a bit to pull this off and it is very important that the government work with the provinces to make this happen, especially if local products would be going into federal institutions of any sort.
Another great avenue that is taking off, not only in our country but in New Zealand and Australia, are farm markets. I have a brochure from Farmers' Markets Canada, which talks about $3 billion of revenue. It says:
Farmers' Markets Canada is a...national organization dedicated to furthering the viability, growth and prosperity for Canadian farmers' markets....

In 2008, FMC commissioned a national study with the help of Agriculture and Agri-Food Canada to take the pulse of the farmers' market industry in all 10 provinces and measure its importance to Canadians and the Canadian economy.

One of the most important findings was the value consumers place on being able to buy food directly from the farmer who produced it. While 92% of shoppers rated it as important, a full 62% rated it as "extremely important".
As many know, it is hard for farmers markets to stay open year-round, and I would like to talk a bit about the one in Cape Breton.
The one in Cape Breton is called the Cape Breton Farmers' Market. It is a non-profit co-operative that has been in operation for almost 30 years. It started as an outdoor seasonal market and now it is indoors, a market that attracts thousands of visitors weekly from all over the island.
I am proud to say that my dad and I were some of the first vendors 30 years ago. We sold eggs and chicken and fresh produce there. Now look at it.
While I am bringing attention to our own farmers' market, there are thousands across this country. This private member's bill would help those farmers' markets. We need to have more resources for those small farmers if they are making jams or jellies. If they are making value-added products, they are going to need some sort of help. That could stem from Bill C-539.
We talk about oil security but food security is so important. Canada is a big country. We just need to look at this year alone and how the delivery of propane was disrupted by rail and how grain shipments were disrupted.
It is important to have more local food. We do not expect to have the same food year-round locally. We like to have berries this time of year, which might come from Chile or wherever. It is important that when we have local foods, farmers have the opportunity to sell them locally and stores have the opportunity to buy them.
Twenty-eight million shoppers visit farmers' markets. The average purchase price per shopper at a vendor's stall is $32. The average small farmer at these farm markets generates one to five jobs. The numbers are pretty big when we look at those farmers' markets.
I mentioned before that we also have to look at the grocery store business. Recently I visited a store called Bread & Circus Whole Foods Market in Boston. I picked up a bag of carrots and swiped it and the screen not only told me the price but it also told me exactly who the farmer was that grew them, the people working on the farm, and how the carrots were distributed. It was the same with cauliflower. We should be encouraging our own stores to do this. Young people like to know exactly where products are from. This provides them with an advantage, as it does the farmer and the grocery stores themselves.
Bill C-539 is only a start. We need a Canadian approach. The Conservatives get squirrelly when we talk about a national strategy about anything; they do not want national strategies. This is an issue that we should be looking at in the agriculture committee.
Every member in the House must have a local farmers' market in their own community. Think of all the products that are available. Think of being in the Okanagan Valley. It is not just fresh produce I am talking about. I am also talking about wine. I am talking about the new types of wines at the farmers' market in Annapolis Valley, which are available in liquor stores now. It is more than just food that is being sold. Think of the wine industry. Think of the potential if grocery stores and liquor stores have these labelled right.
This legislation is for more than about just farmers. It could also help people who sell fish. I am from the east coast and it has delicious fish. We have to look at how far away "local" means. We have people visiting us in Cape Breton from right across this country, many of them members, even some Conservatives, and they do not want to leave for various reasons. Whether it is at a restaurant or a farmers' market, people want to taste the local food, whether it is produce, fish, or so on.
We have to do more than just have this legislation. We need to have resources for farmers to be able to produce the right type of products for the grocery stores.
Safety is also important. A lot of small farms cannot afford all the tools needed for biosecurity and food safety. We have to help these farmers, because they will in turn expand and produce more food.
I commend the member for her bill. I wish the Conservatives would come to their senses. When the time comes to vote, I urge them to vote for this legislation. It is important for farmers.
Promotion of Local Foods Act March 27th, 2014
Mr. Speaker, I guess I am not shocked that the Conservatives are against this bill. Well, I am shocked, because what better bill could there be for farmers and consumers in this country? I am not saying that some of the initiatives the government has for local produce are not good, but we cannot be cherry-picking certain areas. What we are looking at in this bill, if I can repeat what the hon. member over here said, is more of a Canadian strategy in working with the provinces.
What gets me is when the Conservatives say other countries might get angry with us or call it a bit of a barrier. I have some articles here out of the U.S., and here are some of the programs the United States has. One initiative is called "Know Your Farmer, Know Your Food". This is right out of the United States, one of the trade partners that is going to have a big problem with our promoting local food. It states:
In 2009, USDA launched the "Know Your Farmer, Know Your Food" initiative, an agency wide effort to create new economic opportunities by better connecting consumers with local producers. As part of the initiative, several funding efforts and programs were announced to assist farmers, help consumer's access nutritional foods, and support rural community development.
The Americans are going to be really mad at us on this one.
Here is another program that the USDA has in the United States. It is called the agricultural marketing service program. It states:
USDA's Agricultural Marketing Service administers several grant programs supporting local food initiatives across the country. The Federal State Marketing Improvement Program (FSMIP) provides matching funds to State agencies to assist in exploring new market opportunities for food and agricultural products, and encourage research to improve the performance of the food marketing system. In 2009, 8 out of 23 grants awarded went to projects supporting local foods, such as funding to improve the effectiveness of Colorado MarketMaker.
Promotion of Local Foods Act March 27th, 2014
Mr. Speaker, I really appreciate the member coming forward with this bill. As a farmer and a big proponent of local produce, I think it is a very good bill.
I have some questions. I realize that the minister has to engage and talk to his provincial counterparts, which is very important, but in order for the bill to succeed, we have to be talking to all institutions, especially grocery stores. We have only two or three chain stores in the country, and almost 80% of people buy their products from them. What does the member suggest the minister or the government do to put things in place that would ensure that the grocery stores follow suit and are involved with the process to make sure her bill is successful?
Leah Dugas Memorial Kids Against Cancer Hockey Tournament March 27th, 2014
Mr. Speaker, I rise today to celebrate the 21st annual Leah Dugas Memorial Kids Against Cancer Hockey Tournament, which took place at the Sydney Mines community centre.
This event was renamed in honour of Leah Dugas, who lost her battle to cancer when she was only nine years old. Leah had been involved in the hockey tournament and had served as the official princess in 2005.
This year, 12 teams took part to raise money for the Cape Breton Regional Hospital's pediatrics fund. Over $60,000 has been raised for cancer research and programs over the last 20 years.
This event could not happen without the support of Leah's family, the many who provide the food, the Sydney Mines Forum, the Northside District Minor Hockey Association, the Sydney Mines and District Community Centre, and many contributors.
This tournament serves as a tribute to Leah's life and also helps families dealing with cancer. I would ask all members to recognize the Leah Dugas hockey tournament to fight cancer.
Rail Transportation March 7th, 2014
Mr. Speaker, why do railroads provide such bad service to grain farmers? Some people in the government blame the revenue cap in the Transportation Act, but getting rid of the revenue cap is a sure guarantee of only one thing: farmers' freight rates would double and service would be lousy.
To investigate who benefits from the revenue that comes from moving grain, will the government launch a full railway costing review? It is time. The last one was done in 1992.
Questions on the Order Paper March 6th, 2014
With regard to employment with Agriculture and Agri-Food Canada, how many involuntary job reductions have been implemented in the department each year from 2006 to 2013, broken down by (i) year, (ii) program activity, (iii) sub-program activity, (iv) specific job description, (v) the reason for the involuntary reduction?
Agriculture and Agri-Food March 4th, 2014
Mr. Speaker, there is a $5-billion disaster in the Canadian grains industry. It is not the farmers' fault. It is the utter failure of the Conservative government's rail bill, Bill C-52.
The law must be amended to better define rail services, to measure proper performance, and to compensate farmers with liquidated damages when the railways fail.
Liberal amendments to Bill C-52 would have fixed all these mistakes. Why did the minister and all those western Conservative MPs vote against these amendments?
Agricultural Growth Act March 3rd, 2014
Mr. Speaker, as farmers are finding out about the bill, they have a lot of questions about it. The member mentioned that some groups are for it. Yes, there are various things in it that might help farmers, but there are many questions. At committee we hope to find the answers.
One of the main concerns I hear is about the Plant Breeders' Rights Act. The bill says that it is a "privilege" for a farmer to store his or her seed for the following year. It should not be a privilege. It should be a right to keep those seeds and to continue to plant the following spring.
I am surprised that the Conservatives would come up with the word "privilege" instead of "right". They have talked about gun rights and so on, but now they are taking away the right of farmers to keep their seed.
Where are the Conservatives going with the privilege to keep seed? I would hope we would be able to change it to a right instead of a privilege.