Rodney Weston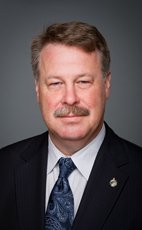 House of Commons photo
Track Rodney
Your Say
Elsewhere
Crucial Fact
His

favourite word

is opportunities.
Conservative
MP for Saint John (New Brunswick)
Won his last election, in 2011, with 49.70% of the vote.
Statements in the House
New Brunswick Election September 16th, 2014
Mr. Speaker, I am pleased to rise in the House today to draw the attention of my colleagues to the importance of the opportunities that lay ahead for Saint John and New Brunswick.
There has been a lot of progress made in the last few years, whether it is moving forward with local projects, such as resolving the long-outstanding water treatment issue in the city of Saint John, or building a new YMCA, or removing the tolls and refurbishing the Saint John Harbour Bridge. The co-operation between the three levels of government has been refreshing for my constituents, and the results speak volumes.
I know that many are aware of the huge potential that will come with the energy east pipeline and the development of our natural resources, but even as the future looks so promising, it is surely not guaranteed. The people of our province have a decision to make. We can accept not developing our natural resources, or we can take steps toward prosperity. We can continue to depend on support from outside of our province, or we can stand on our own. The decision belongs to New Brunswick, and the answer on September 22 is to simply say yes.
Shootings in Moncton June 5th, 2014
Mr. Speaker, yesterday in Moncton, New Brunswick, five RCMP members were senselessly shot by a dangerous person, who seems to have no regard for human life. Our thoughts and prayers are with the families and friends of the three RCMP members who gave their lives serving their country and protecting their fellow Canadians. We wish a speedy recovery to the two RCMP officers who remain in hospital.
Tragedies like this are a stark reminder of the dangers faced everyday by front-line police officers. Dangerous criminals like this must be stopped to ensure communities like Moncton remain safe and secure places. We look forward to the police bringing the individual responsible for these crimes to justice.
As we mourn the loss of the three members of the RCMP, for all of our front-line police officers, I would like to say a heartfelt thanks for the work that they do.
I would also ask that all members and Canadians please keep the people of Moncton in their thoughts and prayers during this very difficult time.
Economic Action Plan 2014 Act, No. 1 June 4th, 2014
Mr. Speaker, my colleague across the way can stand and talk all he wants, but I am talking about what is important to my riding. I am talking about what is important to New Brunswick. If the member does not want to hear it, that is too bad.
Economic Action Plan 2014 Act, No. 1 June 4th, 2014
Mr. Speaker, I heard my colleague across the way comment earlier to one of my colleagues here in the House about how my colleague spoke without notes. The member for Skeena—Bulkley Valley said my colleague talked about the budget implementation act without using talking points or notes from the Prime Minister's Office.
I laughed when I heard him say it, because I can tell members the Prime Minister's Office did not write my comments. The Prime Minister did not write my notes. Well, he might have. They are handwritten notes.
Economic Action Plan 2014 Act, No. 1 June 4th, 2014
Mr. Speaker, yes, I did mention the $28 million that would go the National Energy Board to review the energy east pipeline project. One of the things that I am excited about in that regard is that our government has ensured that there would be a firm timeline attached to this review process.
When I talk about these projects or a project of this nature, we want to ensure that we can get to it and have a definitive answer very quickly. We also want to ensure that the review process is done thoroughly. That is what this bill would do. It would enable that review process to be done thoroughly and within a definitive timeline. That would work well for my constituents, because they are anxious to see this process move forward so that they would be able to take advantage of the opportunities in this pipeline project.
Economic Action Plan 2014 Act, No. 1 June 4th, 2014
Mr. Speaker, the member asked if I have read the bill. Of course I have looked at the bill. I have read through the bill.
As I said in my comments tonight, I want to talk about how the bill would impact my local area and the benefits that would come to my local area through this bill. I am very pleased about the opportunities that would be there for us to take advantage of in Saint John and in New Brunswick as a whole, because we need those opportunities and we look forward to them.
I have been very clear that the situation in New Brunswick has not been the best in the last few years. However, the outlook is very positive, and that is what we are looking for. We are looking for the opportunity to take advantage of that rosy outlook.
Economic Action Plan 2014 Act, No. 1 June 4th, 2014
Mr. Speaker, it is a pleasure to stand and speak tonight in support of this bill.
Before I start, I want to take a moment to mention that there is a dangerous situation unfolding as we speak here tonight in the city of Moncton in New Brunswick, my home province. I just want to let the people of Moncton know that they are definitely in our thoughts and prayers this evening. I ask that they listen to the authorities and stay inside and stay safe until the situation is over. Thank you for the opportunity to say that, Mr. Speaker.
I want to echo the words of my colleague from Cumberland—Colchester—Musquodoboit Valley when he paid homage to our good friend and former colleague, the Hon. Jim Flaherty, because what we are talking about tonight are the fruits of the former minister's labour.
He worked very hard over his time as Minister of Finance to bring us back to balance. This budget, this economic action plan 2014, puts us squarely on track for returning to balance. It does exactly what the minister set out to do. I am very pleased to be able to stand here tonight to speak to this bill, because it speaks very firmly to what is so important to my riding.
I truly believe that all politics are local. That is why, when I speak about this bill this evening, I want to speak to how it impacts my riding and my province and what it will do to enable our province to take advantage of the opportunities that are there in front of us today. I say this because the Province of New Brunswick, not unlike a lot of other provinces, has been having a rough time, to be frank. Our fiscal situation and fiscal outlook have not been very rosy.
This budget does exactly what it should be doing: it respects the provinces, it does not cut transfers, and it does not try to bring the budget back to balance in the same way that previous governments did. It does not do that. It does not balance the budget on the backs of the provinces. It respects the provinces for what they have to do. It respects the taxpayer. It respects Canadians. That is what is important. It is important that we do that.
It is not just words that I am echoing here tonight. Our government has been solid on respect for the provinces and on growing the transfers to the provinces. To a province like New Brunswick, those transfers are very important. In this fiscal year, those transfers will total $2.6 billion for the Province of New Brunswick. Of that $2.6 billion, $1.7 billion will be through equalization. There will be $682 million under the Canada health transfer and $267 million will be through the Canada social transfer. Those dollars are extremely important, and those dollars have been increasing over the life of our government.
Since 2006, our government has increased those numbers. In equalization alone, those numbers have increased by 24%. In health, they have increased by 37%, and for the Canada social transfer, they have increased by 26% since 2006. That is important.
I talk about these numbers and about how important they are because I have a background with the Province of New Brunswick, which many members in this House have heard me speak about different times. I was a provincial member of the legislative assembly. I know how important these transfers are and I know what they do for the work that the province does on an ongoing basis.
The fact that we have been able to bring our budget back to balance without doing it on the backs of the provinces is laudable. We have done it by providing tax relief to Canadians and we have done it by providing new investments to provinces such as New Brunswick. Those new investments are very important, and that tax relief is so important to a province like New Brunswick.
As I said, our fiscal outlook is not very good. Our fiscal situation is rough, although there are some good signs on the horizon. There are some good things happening in New Brunswick. There are some real opportunities, and this budget allows us to take advantage of those opportunities. There are opportunities out there, such as our resource sector, which remains undeveloped for the most part. We talk about a resource sector that is just waiting for us to develop it.
I talk about shale gas development. I talk about potash. I talk about some of the things we have within my own city. I talk about the port and the opportunities that lie with the pipeline from western Canada. That energy east pipeline will come to Saint John, New Brunswick. Something that puts us in an enviable position is our deepwater ice-free port. Not only do we have a deepwater ice-free port, but we have the largest refinery in North America, and we are anxious to see the pipeline come to Saint John, New Brunswick, so that we can support and grow our industry and take advantage of some of those opportunities.
I talk about having the largest refinery in North America. I talk about our ice-free deepwater port, but we also have an LNG terminal that is anxious to transform itself from an import LNG terminal to an export terminal. Those opportunities come from the fact that we have this port.
The market is craving energy, and the people of New Brunswick have been waiting for some time to see their economy transformed. We have been waiting to see this happen. Unlike most New Brunswickers, I was born there, I was raised there, and I have watched a lot of my friends and relatives have to leave there for the opportunities that are sitting on our doorstep. They have to leave our province. Many of them go to western Canada. Many of them go to Newfoundland on a weekly basis.
I travel here to take my seat in the House of Commons to represent the people of my riding. I sit on airplanes with many people leaving my city and province to go to Newfoundland or western Canada as they look for opportunities. Those opportunities are right there at home for those people; we just need to take advantage of them.
The economic action plan gives us the tools to be able to take advantage of those opportunities. It invests in job creation. It gives us the opportunity to develop the skills and develop the workforce. Through the Canada job grant, we will be able to work with the provinces to develop our workforce so that when these opportunities come forward, people will be able to take full advantage of them.
We talk a lot in the House about temporary foreign workers. We have to bring temporary foreign workers into New Brunswick, and one might wonder why. It is because a lot of our trained workforce has left the province and there are situations that need temporary foreign workers, but we want to see our people come back home. We want to work with the province to bring our citizens back to New Brunswick to take advantage of these opportunities. They want to come back to do the same thing they are travelling west to do, the same thing they are travelling to Newfoundland to do: they want to develop our natural resources, and they want to do it at home. They want to contribute to the economy. They want to see their families, and there is nothing wrong with that.
We want to give them the opportunity. We want to give them the ability to do that. It is so important for this budget to move forward so that we will be able to do those things. We have to have a strong economy in the province. We have to have the tools in place to do it, and this government has done that through economic action plan 2014.
We provided funding of $28 million over the next two years to ensure that the National Energy Board review process goes smoothly. It is important that we put our money where these opportunities lie. There are many opportunities out there. We have supported these things and we want to see them move forward.
I could talk for quite some time on the budget and what it means to the people of New Brunswick and to the people of Saint John. Most of all it means that we will have the opportunity and the ability and the tools to take advantage of what lies in front of us, and that is all we are asking for.
We are asking for the chance to do that. We want members of the House to help support us and give us the ability to do that.
Natural Resources April 3rd, 2014
Mr. Speaker, a recent IMF study of energy development confirms that greater investment in exports in Canada's energy sector will further improve Canada's economy. In fact, it notes that investment in exports have increased by approximately 10% since the year 2000.
Can the Minister of Natural Resources update the House on the impact of our energy sector on the Canadian economy?
Saint John Public-Private Partnership December 5th, 2013
Mr. Speaker, November 22 was a great day for the city of Saint John. All three levels of government gathered together to deliver a long-awaited agreement that will enable Saint John to proceed with the city's safe clean drinking water project. The largest municipal infrastructure project ever in the province of New Brunswick, at $230 million, will be delivered by a public-private partnership.
P3s have a proven track record, ensuring that projects are finished on time and on budget, with the risk held by the private partner, protecting taxpayers from unexpected costs. Increasingly, municipalities like Saint John are demonstrating that they can build public infrastructure faster and better by taking advantage of the innovation and efficiency we find in the private sector.
I am also pleased to point out that with this water project, Saint John will have one of the most modern, environmentally sensitive systems for the treatment of water and waste water in all of Canada. These two projects will provide a safe, clean, 21st century level of service to the oldest incorporated city in all of Canada. I am proud to be a member of the Conservative government that provided funding to both of these very important projects.
Employment Insurance November 28th, 2013
Mr. Speaker, our government has made reasonable changes to EI to help better connect unemployed Canadians with available jobs in their local area that match their skills. However, there has been a campaign of fear from members of the opposition and it has been spearheaded by the member for Acadie—Bathurst, who has continually been saying that because of these changes people are suffering and the numbers talk.
Could the Minister of Employment and Social Development update the House on the facts and what those numbers actually say?