Rodney Weston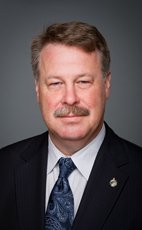 House of Commons photo
Track Rodney
Your Say
Elsewhere
Crucial Fact
His

favourite word

is opportunities.
Conservative
MP for Saint John (New Brunswick)
Won his last election, in 2011, with 49.70% of the vote.
Statements in the House
Business of Supply October 9th, 2014
Mr. Speaker, as the hon. member is no doubt aware, my area is very excited about the possibility of this energy east pipeline project. We are excited about the construction of a marine terminal in our area because we know the value of this industry. We know the value to the economy in our local area. We have seen it. We have the largest refinery in all of Canada in Saint John, New Brunswick. We have the Canaport marine shipping terminal, which brings oil into and out of the Bay of Fundy. Over 400 tankers a year have been traversing the Bay of Fundy for over 40 years now without incident, so we know how to get the job done. We know that those jobs bring real economic benefit to our region, and we are excited.
Business of Supply October 9th, 2014
Mr. Speaker, the member's question was very specifically related to the injunction brought forward by the Quebec Superior Court. I want to point out very clearly that this court case was in regard to provincial laws and provincial officials. It has nothing to do with DFO or DFO's process. We are confident that DFO's process is diligent, thorough, and based on the best available science.
Business of Supply October 9th, 2014
Mr. Speaker, my colleague and I have worked very closely over the years on the fisheries and oceans committee. I certainly enjoy working with him.
With regard to his question, I think I outlined it very specifically in my speech when I said that we have invested $31 million over the next five years when it comes to world-class tanker safety systems. That is what we are committed to. We are committed to ensuring that the Coast Guard has the tools it needs to do the job that we ask of it. We would not ask it to do any more than it can do without having the proper tools in place. We are continuing to invest in that purpose.
Business of Supply October 9th, 2014
Mr. Speaker, I will be splitting my time with the member for Dauphin—Swan River—Marquette.
It is a pleasure to rise today to speak to the motion put forward by my colleague across the floor.
In my comments today I want to focus on a particular part of the member's motion. The member talked about how the proposal will constitute an unacceptable environmental threat. I want to talk about what our government has done to mitigate any of the concerns that might come from the environmental threats that the member talked about.
Our government, in support of a world-class tanker safety system, has announced $31 million over five years for the Canadian Coast Guard to establish an incident command system, which is commonly referred to as an ICS, across the Canadian Coast Guard. This forms a crucial part of the world-class tanker safety system initiative by offering standardized on-scene, all-hazard management methodology, which is designed to ensure the effective command, control and coordination of response efforts to all maritime incidents.
Implementation of the incident command system will increase the Canadian Coast Guard's ability to work collaboratively with other emergency responders who currently use this system. Therefore, it will allow multiple stakeholders to participate in important decision-making processes simultaneously and also for effective planning and response initiatives in order to address all marine pollution and all hazard incidents in a predictable and structured fashion.
By 2018 the incident command system will be fully implemented, strengthening the existing response regime. Simply put, the Canadian Coast Guard and its partners will be better positioned to respond to oil spill events and other marine emergency incidents in co-operation with key partners and other departments and agencies in a timely and effective manner. The incident command system is another example of how Canada's world-class tanker safety system is being strengthened to protect Canadians and our environment.
Fisheries and Oceans Canada, including the Canadian Coast Guard, is pleased to have the opportunity to partner with Transport Canada, Environment Canada and Natural Resources Canada on a suite of important initiatives that are being implemented to support our world-class tanker safety system.
Under Canada's marine pollution preparedness and response regime, the polluter is responsible for cleaning up and paying for its own marine spills. Private sector response organizations play an important role by maintaining effective response plans and an inventory of equipment to respond to spills from ships in Canadian waters south of 60.
In May 2014 the government announced the implementation of area response planning, which will provide a new and improved method for preparing and responding to marine oil pollution incidents.
Area response planning is a new and dynamic risk-based model that allows for spill preparedness and responses to be tailored to the level and types of risk in a given region based on certain factors such as marine conditions, environmental sensitivities, tanker size, and traffic levels.
This new and improved response planning approach will replace the current regime where private sector response organizations are mandated to maintain the same response capacity across Canada. Our government is seizing an opportunity to ensure the appropriate frameworks and safeguards are in place and enhanced to protect our environment now and for generations to come.
This new area response planning process will be piloted in four initial areas: the southern portion of British Columbia; Saint John and the Bay of Fundy in New Brunswick; Port Hawkesbury in Nova Scotia; and the St. Lawrence Seaway from Quebec City to Anticosti Island, Quebec.
As one can imagine, transitioning to an area response planning approach is a significant undertaking. This is why we are focusing significant effort on the planning process to ensure the pilot projects successfully demonstrate the future of our world-class tanker safety system.
The Canadian Coast Guard and our federal colleagues acknowledge that we cannot develop the area response plans alone. To this end, beginning in 2015, a series of engagement activities will be planned to ensure stakeholders' views are reflected in the process.
The Canadian Coast Guard is the lead federal agency in developing the local area response plans, using a collaborative approach to involve aboriginal communities, other levels of government, and a broad range of local stakeholders.
Safety is the top priority of the Canadian Coast Guard. In fact, Canada has one of the most advanced and comprehensive search and rescue systems in the world and is regularly consulted by other countries seeking advice and training on how to establish and maintain a system as effective and efficient as ours. The Canadian system is made up of multiple layers that provide an effective response capacity to any search and rescue incident within Canada and our surrounding waters.
The Canadian Coast Guard and National Defence are the principal pillars of the federal system. They provide the primary response to aeronautical and maritime emergencies with specialized equipment and highly trained professionals who remain ready to respond to incidents 24 hours a day, 365 days of the year.
The Canadian Coast Guard continues to maintain a maritime rescue sub-centre in Quebec City which provides bilingual search and rescue coordination services for mariners in distress. The search and rescue system can be activated by the professional search and rescue coordinators at any of the three joint rescue coordination centres in Canada. These search and rescue coordinators are highly trained and can coordinate additional response capacity from other government resources, the highly committed volunteers of the Canadian Coast Guard Auxiliary, the Civil Air Search and Rescue Association, and commercial vessels and aircraft in the vicinity of mariners in distress.
The final but no less important piece of the search and rescue system is the multitude of plans and exercises that ensure that all the layers of Canada's search and rescue regime are ready to respond effectively and efficiently to real-life distress situations. The federal government continues to invest in the assets and the modernizing of systems to ensure the ongoing high level of service that Canadians expect and deserve. Billions of dollars have been invested in new Coast Guard, naval, and air force assets that will not only ensure the present level of service but also improve our capacity and capabilities to respond to incidents anywhere in Canada well into the future.
Finally, the federal search and rescue system regularly reviews and re-evaluates Canada's capacity and capability in relation to the risk. This entails working closely with our provincial and private partners to ensure that our plans are up to date and as comprehensive as possible to serve and protect all mariners in Canadian waters.
In closing, the Government of Canada will continue to support the brave men and women of the Canadian Coast Guard by equipping them with the resources required to protect Canadians and our environment.
It is exactly because of initiatives like these that I cannot support the motion brought forward by my colleague today.
The Economy October 8th, 2014
Mr. Speaker, our government is focused on what matters most to Canadians: jobs and economic growth. Over 1.1 million net new jobs have been added since the recession, one of the strongest job creation records in the G7. On top of that, our low-tax plan is making Canada a more attractive place to invest. In fact, Bloomberg has named Canada the second most attractive country in which to do business.
Could the Minister of State for Finance please update the House with the latest good news on the economy?
New Brunswick Election September 16th, 2014
Mr. Speaker, I am pleased to rise in the House today to draw the attention of my colleagues to the importance of the opportunities that lay ahead for Saint John and New Brunswick.
There has been a lot of progress made in the last few years, whether it is moving forward with local projects, such as resolving the long-outstanding water treatment issue in the city of Saint John, or building a new YMCA, or removing the tolls and refurbishing the Saint John Harbour Bridge. The co-operation between the three levels of government has been refreshing for my constituents, and the results speak volumes.
I know that many are aware of the huge potential that will come with the energy east pipeline and the development of our natural resources, but even as the future looks so promising, it is surely not guaranteed. The people of our province have a decision to make. We can accept not developing our natural resources, or we can take steps toward prosperity. We can continue to depend on support from outside of our province, or we can stand on our own. The decision belongs to New Brunswick, and the answer on September 22 is to simply say yes.
Shootings in Moncton June 5th, 2014
Mr. Speaker, yesterday in Moncton, New Brunswick, five RCMP members were senselessly shot by a dangerous person, who seems to have no regard for human life. Our thoughts and prayers are with the families and friends of the three RCMP members who gave their lives serving their country and protecting their fellow Canadians. We wish a speedy recovery to the two RCMP officers who remain in hospital.
Tragedies like this are a stark reminder of the dangers faced everyday by front-line police officers. Dangerous criminals like this must be stopped to ensure communities like Moncton remain safe and secure places. We look forward to the police bringing the individual responsible for these crimes to justice.
As we mourn the loss of the three members of the RCMP, for all of our front-line police officers, I would like to say a heartfelt thanks for the work that they do.
I would also ask that all members and Canadians please keep the people of Moncton in their thoughts and prayers during this very difficult time.
Economic Action Plan 2014 Act, No. 1 June 4th, 2014
Mr. Speaker, my colleague across the way can stand and talk all he wants, but I am talking about what is important to my riding. I am talking about what is important to New Brunswick. If the member does not want to hear it, that is too bad.
Economic Action Plan 2014 Act, No. 1 June 4th, 2014
Mr. Speaker, I heard my colleague across the way comment earlier to one of my colleagues here in the House about how my colleague spoke without notes. The member for Skeena—Bulkley Valley said my colleague talked about the budget implementation act without using talking points or notes from the Prime Minister's Office.
I laughed when I heard him say it, because I can tell members the Prime Minister's Office did not write my comments. The Prime Minister did not write my notes. Well, he might have. They are handwritten notes.
Economic Action Plan 2014 Act, No. 1 June 4th, 2014
Mr. Speaker, yes, I did mention the $28 million that would go the National Energy Board to review the energy east pipeline project. One of the things that I am excited about in that regard is that our government has ensured that there would be a firm timeline attached to this review process.
When I talk about these projects or a project of this nature, we want to ensure that we can get to it and have a definitive answer very quickly. We also want to ensure that the review process is done thoroughly. That is what this bill would do. It would enable that review process to be done thoroughly and within a definitive timeline. That would work well for my constituents, because they are anxious to see this process move forward so that they would be able to take advantage of the opportunities in this pipeline project.