Rodney Weston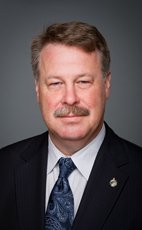 House of Commons photo
Track Rodney
Your Say
Elsewhere
Crucial Fact
Conservative
MP for Saint John (New Brunswick)
Won his last election, in 2011, with 49.70% of the vote.
Statements in the House
Natural Resources April 3rd, 2014
Mr. Speaker, a recent IMF study of energy development confirms that greater investment in exports in Canada's energy sector will further improve Canada's economy. In fact, it notes that investment in exports have increased by approximately 10% since the year 2000.
Can the Minister of Natural Resources update the House on the impact of our energy sector on the Canadian economy?
Saint John Public-Private Partnership December 5th, 2013
Mr. Speaker, November 22 was a great day for the city of Saint John. All three levels of government gathered together to deliver a long-awaited agreement that will enable Saint John to proceed with the city's safe clean drinking water project. The largest municipal infrastructure project ever in the province of New Brunswick, at $230 million, will be delivered by a public-private partnership.
P3s have a proven track record, ensuring that projects are finished on time and on budget, with the risk held by the private partner, protecting taxpayers from unexpected costs. Increasingly, municipalities like Saint John are demonstrating that they can build public infrastructure faster and better by taking advantage of the innovation and efficiency we find in the private sector.
I am also pleased to point out that with this water project, Saint John will have one of the most modern, environmentally sensitive systems for the treatment of water and waste water in all of Canada. These two projects will provide a safe, clean, 21st century level of service to the oldest incorporated city in all of Canada. I am proud to be a member of the Conservative government that provided funding to both of these very important projects.
Employment Insurance November 28th, 2013
Mr. Speaker, our government has made reasonable changes to EI to help better connect unemployed Canadians with available jobs in their local area that match their skills. However, there has been a campaign of fear from members of the opposition and it has been spearheaded by the member for Acadie—Bathurst, who has continually been saying that because of these changes people are suffering and the numbers talk.
Could the Minister of Employment and Social Development update the House on the facts and what those numbers actually say?
Economic Action Plan 2013 Act No. 2 October 28th, 2013
Mr. Speaker, to the member's point exactly, that is what my comments were centred around: what the bill has it in that would benefit my region, my community, and my riding. I certainly look forward to embracing those opportunities, and I suggest that the hon. member might want to look at embracing them as well.
Economic Action Plan 2013 Act No. 2 October 28th, 2013
Mr. Speaker, I think it is unfortunate that my hon. colleague across the floor feels he has been forced to do something here in this House, because none of us are forced to do anything. I stand here tonight talking about economic action plan 2013 with great enthusiasm because I see the opportunities that are there for Saint John, and I will wholeheartedly embrace the opportunity to vote in support of it.
Economic Action Plan 2013 Act No. 2 October 28th, 2013
Mr. Speaker, I understand the hon. member's frustration. There is a lot of frustration over on the opposition benches.
However, to be quite frank, we are excited about the opportunities that we are putting forward. We are excited to tell Canadians about them, and Canadians are excited to hear about those opportunities. We make no apologies for communicating with our constituents. It is important they understand the work that their government is doing. We look forward to continuing to work with Canadians and to telling them about the great things this government is doing.
Economic Action Plan 2013 Act No. 2 October 28th, 2013
Mr. Speaker, the hon. member is quite correct. I did not cover all of the details in Bill C-4. As I said very clearly at the beginning, I was going to focus on some aspects that are very important to my region, to my riding, and I did that very specifically.
I talked about some of the opportunities that are out there. I talked about how important this budget is, what it would give us, how it would give us the tools to go forward, and how it would better prepare the people of Saint John and the people of southern New Brunswick for the opportunities that lie ahead. I am very excited about that. I look forward to the opportunity to engage people on that level and to talk more about it. These are exciting times in Saint John, New Brunswick, and we look forward to continuing to discuss these things.
Economic Action Plan 2013 Act No. 2 October 28th, 2013
Mr. Speaker, it is a pleasure to rise today to speak to Bill C-4, the budget implementation act, which of course is part of economic action plan 2013, which is very appropriately entitled jobs, growth and long-term prosperity.
Before I get into the details of my comments and start expanding on where I want to go, I will take this opportunity to once again thank the people of Saint John for giving me the honour and the privilege of serving them in this great House.
The reason I bring up the riding of Saint John, which I am so pleased to represent, is that a lot of my comments tonight will be focused on Saint John, and all my comments will be focused on the region of southern New Brunswick and new Brunswick as a whole. As I speak to the budget implementation act and economic action plan 2013 tonight, I want to talk about some of the things that are on the horizon for Saint John because in Saint John we are really excited about some of the prospects that are out there for the future. A lot of those prospects are centred around resource development and the opportunities that exist for Saint John because of what we have to offer.
It is no accident that Saint John is very well positioned to take advantage of some of these opportunities, and more specifically, I speak tonight about the energy east pipeline project. We are excited about the prospects of the energy east pipeline. Why, members ask? Quite frankly, we are home to Canada's largest oil refinery.
The urban oil refinery is situated right within the heart of my riding. We are home to Irving Canaport, which is a deep water terminal for importing oil, and we will soon hopefully be exporting oil through that same terminal. We are home to Canaport LNG terminal, which is Canada's only liquefied natural gas terminal. That terminal is set up for imports, but at this point in time it is undergoing a review to seek permission to become an export terminal.
These are some of the opportunities we face in Saint John, and it is specifically because of our proximity to deep water, ice-free deep water. It has given us a huge advantage and a huge opportunity with what we are talking about in this country, which is responsible resource development.
We are talking about developing a pipeline from Alberta to Saint John, New Brunswick. It will benefit the entire country. It will benefit Saint John greatly, and we want to be well positioned in Saint John to take advantage of those opportunities as they come. We know that with the potential of these developments, there will be great opportunities when it comes to employment, and there will be other benefits beyond the pipeline when that comes our way. We are holding our breath and hoping daily that it is getting closer.
There is a lot of optimism around that. The premier of the province of New Brunswick is very actively engaged. I was actively engaged. The mayor of the city of Saint John and the officials from the port of Saint John are actively engaged in trying to impress upon officials in TransCanada with respect to the business opportunity that was there for this pipeline to be developed through eastern Canada and to Saint John, New Brunswick.
That is a great opportunity that we see sitting out there. Members are probably wondering where I am going with this. I will get back to that point in a few minutes, because economic action plan 2013 directly speaks to what we are facing in Saint John. It gives us the tools to be equipped to handle some of those opportunities that are coming our way.
There is more than just the development of this pipeline. There is more than just the changes with Canaport LNG. There are shale gas opportunities in New Brunswick. The provincial government is working very hard to ensure that we are in a position to develop those resources. We are looking at the opportunities that are there and the provincial government is doing exploration work at this time to try to determine what sort of deposit lies there. That is another opportunity.
Potash is an opportunity that we have in New Brunswick, and we are home to PotashCorp's marine terminal. That terminal ships potash worldwide, and we have tremendous opportunities there. The company's people are looking at expansion of that marine terminal because of PotashCorp's mine in Sussex. It has put down a new shaft and is looking at taking advantage of the opportunities that are there.
All these opportunities that I talk about have led to discussions within St. John about how we would best become prepared to take advantage of these opportunities. Economic action plan 2013 includes that very specifically, and it lays out some very important things that we need to be prepared for. There are infrastructure investments in economic action plan 2013 that are so necessary when a community is trying to develop itself and trying to move forward. The city of St. John, the port of St. John and the province of New Brunswick all have to take advantage of some of these opportunities. Therefore, we will give them the tools and the opportunities to do so with this budget.
However, it is not only through community infrastructure, when we talk about infrastructure investments. There is equipment and our people for the opportunities that are there. We have the Canada jobs grant, which will certainly turn the page on how we train people in the country and it will give employers and the private sector a voice in determining where those investments should be made. This is so important. We talk about how we move forward. Do members not think it is important that we give the people who will make the investments, drive the economy and drive the prosperity in our country a voice and a chance to say where those investments should be made? They can tell us exactly where the opportunities will be and they can tell us if we need so many tradespeople or so many accountants. They can tell us exactly where we should be spending our job training dollars. This is so important. Not only would they get to give us advice on that, but they would also get to invest in an opportunity.
I had the pleasure of visiting one of the Irving mills in Saint John just recently with the Minister of Employment and Social Development. We have two Irving pulp and paper mills, so we visited Irving paper and we sat down and had a discussion with the officials from the human resources department about their needs. We talked about some of the things they were facing as they went forward and how they only hired people with at least two years of post-secondary education. That surprised me because we tend to look at some of the jobs in some of these organizations as not being highly skilled. These people are very highly skilled and they come in the door with a minimum of two years of post-secondary education and they are trained to do the jobs they need to do. The officials at the company are prepared to make the investment in these people and their futures.
It is so important that we are able to play a role and work with them, because it is more important that the business people who are actually hiring for these jobs, and not government bureaucrats, make the decisions on where these dollars go. Going forward, we should be giving business people a say in what they are doing.
However, we would also make huge investments when it comes to tax breaks. We are investing in the extension of the hiring tax credit and of the accumulating capital costs allowance for investments in new equipment and machinery. This will give the people who are in the business and industrial side of the equation the opportunity to invest dollars at home and to provide those highly-skilled jobs that we are talking about.
This budget, the economic action plan 2013, would give us the opportunity to be prepared for the future. There is a lot of opportunity on the horizon for the people of St. John and the province of New Brunswick and by taking advantage of this program and of what is in this budget, we would be very well equipped to go forward.
Speech from the Throne October 17th, 2013
Mr. Speaker, Canadians have a rare opportunity to build on our immense natural wealth, our stable democracy, our sound finances, our expanding network of trade relationships around the world and the ingenuity of Canadians.
Yesterday, our government laid out its priorities: creating jobs and opportunities for Canadians; supporting and protecting families; and putting Canadians first.
What are the opposition parties' priorities? The NDP is anti-trade, anti-business and pro-tax. It would raise billions of dollars in new taxes on top of its $20 billion carbon tax. The Liberal leader admits he has no economic policies. In fact, the only topic that seems to interest him is legalizing marijuana, which would make it easier for children to access.
We can only assume that the Liberal leader agrees with Chrystia Freeland, the person he hand-picked to co-chair his economic advisory council. She is the one who told MSNBC "amen to raising taxes".