Terence Young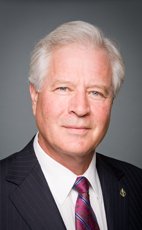 House of Commons photo
Track Terence
Your Say
Elsewhere
Crucial Fact
Conservative
MP for Oakville (Ontario)
Won his last election, in 2011, with 51.60% of the vote.
Statements in the House
Status of Women March 3rd, 2014
Mr. Speaker, all Canadians are invited to celebrate International Women's Week, this year from March 2 until March 8, with the theme, "Strong women. Strong Canada. Canadian women—Creating Jobs One Business at a Time". This theme recognizes the contribution of women entrepreneurs to our economy and allows Canadians to consider the challenges women face when starting and growing their business.
Would the Parliamentary Secretary for Status of Women please inform the House of how economic action plan 2014 would benefit women?
Tim Hortons February 26th, 2014
Mr. Speaker, Tim Hortons, the maker of Canada's favourite cup of coffee, says it sees "significant room for growth" in its core Canadian business. Thanks to our low tax plan, Canadians have more money in their pockets for the small pleasures every Canadian enjoys and now they will have 500 more locations to enjoy them in.
This week, the company announced it expects to add approximately 255 restaurants this year, for a total of 500 locations in Canada and 300 in the United States by 2018, and to "double-double" the good economic news for this Canadian success story, it has reported initial success in the Persian Gulf region and has a road map for adding about 220 locations in that area over the same period.
Tim Hortons currently has 3,588 restaurants in its Canadian system, 859 in the United States, and 38 in the Gulf region. What a great Canadian success story.
Cellular Towers February 11th, 2014
Mr. Speaker, last week our government announced important improvements to the process for approving cellular tower locations. We have given Canadians a far greater say in where cellular towers may be built in their communities.
In Oakville, Bell Canada ignored local residents, placing cellular antennae in residential areas, in one case 13 metres from a house, without giving any notice to the local residents. Bell ignored homeowners, many of whom are its own customers. Our policy would force all cellular companies to conduct a robust process to inform and consult municipalities and local residents where cellular towers are proposed, including, for the first time, towers under 50 metres.
I am hoping that Bell Canada CEO George Cope and his board of directors will now realize that Canadians have a right to participate in decisions affecting their families, homes, communities, and health, and that they will move their invasive antennae in Oakville—now.
Vanessa's Law December 9th, 2013
Mr. Speaker, last Friday, I was proud to join Canada's Minister of Health to announce new patient safety legislation, Bill C-17, the protecting Canadians from unsafe drugs act, subtitled "Vanessa's Law", named after my daughter, Vanessa Young. In 2000, at age 15, Vanessa's life was sacrificed to maintain the sales of a Wall Street blockbuster drug, Propulsid.
It is difficult to overstate the impact the bill will have for Canadians who take prescription and over the counter drugs. It represents a quantum leap forward in protecting vulnerable patients and reducing serious adverse drug reactions.
Combined with the plain language labelling initiative announced last June, Vanessa's law would: put an end to inadequate safety warnings; empower Health Canada to order unsafe drugs off the market when dangers first become clear; require mandatory adverse drug reaction reporting, creating an early and robust warning system for patients; and, undoubtedly, reduce preventable harm from drugs and save thousands of lives.
Vanessa would be pleased that her loss of life has led to this powerful legislation to prevent similar tragedies in other families.
Parliamentary Study on Eating Disorders December 3rd, 2013
Mr. Speaker, I am very pleased that my motion to initiate a parliamentary study on eating disorders was unanimously accepted by the Standing Committee on the Status of Women, with minor amendments. Approximately 80% of the victims of eating disorders are girls and women. Eating disorders are complex diseases, which are very difficult to treat and remain largely hidden. They are a deep, dark secret for patients, who are stigmatized by society.
On Thursday, the committee heard from Dr. Blake Woodside, a leading expert. In April, the National Initiative for Eating Disorders met with parliamentarians to discuss the struggles of the 500,000 Canadian women and men who suffer from bulimia nervosa and anorexia nervosa.
This study would become a significant resource for patients, families, social workers and physicians to help improve the treatment and support for girls and women with eating disorders. Canadians with a special perspective to offer should contact the clerk of the committee today through the parliamentary website, by searching under "status of women committee".
Let us end the suffering in silence.
Special Olympics November 26th, 2013
Mr. Speaker, 2013 has been a great year for Canadian sport, thanks in large part to the efforts of our Special Olympics athletes who competed in South Korea, where Team Canada won 109 medals, 47 of them gold.
Our government admires their dedication and passion for sport, and we are a proud supporter of the Special Olympics movement. We provide funding to Special Olympics Canada through the sport support program. We are also committed to developing and promoting an inclusive sports system that encourages participation and active lifestyles for all Canadians of all abilities. Canada's Special Olympics athletes show us that sport has the power to enhance lives, change attitudes, and strengthen communities.
I ask all members to join me in supporting the Special Olympics and to encourage others to do the same during their visit to the Hill today, and every day.
Consumer Protection November 19th, 2013
Mr. Speaker, I was concerned today to read that the president of Bell Media had delivered a speech warning Canadians about television unbundling.
With television bundling, cable giants force their customers to pay for channels they do not want to watch in order to access channels they do want to watch.
Bell Canada refuses to move powerful cellular antennae just 13 metres from a child's bedroom in Oakville, and now Bell is fighting consumer choice on cable TV.
Will the Parliamentary Secretary to the Prime Minister update the House on whether the government will continue implementing its throne speech commitments to defend consumers?
Typhoon Haiyan Relief Fund November 18th, 2013
Mr. Speaker, Canada has been standing with the Filipino people from day one of the terrible tragedy brought on by Typhoon Haiyan.
Today the Prime Minister announced Canada will contribute another $15 million for emergency shelter, water, food, and other essential services, bringing the total Canadian government contribution to $20 million.
We have also deployed two of our renowned disaster assistance response teams, DART, to provide medical supplies, water, and engineering expertise to many in Iloilo. However, governments cannot lead this effort alone. That is why on November 10 the Government of Canada established the Typhoon Haiyan Relief Fund. Canadians have donated nearly $16 million already to this fund.
I would ask all parliamentarians to join me in appealing to the overwhelming generosity of Canadians to help support this fund. I assure this House and the people of the Philippines that Canada stands ready to do what it takes to help the Filipino people through this tragedy.
Our thoughts and prayers are with them in these difficult times.
Canadian Museum of History Act November 6th, 2013
Mr. Speaker, it will be important for Oakville. We have several small museums in Oakville. What happens is that the membership starts to go down when people who live in the community and visitors have seen their displays and what they are showing.
However, part of the bill would be to provide insurance indemnity so that the valuable treasures that exist in the Canadian museum of history would be able to travel and be insured against a loss, and be spread right across Canada to 2,500 different institutions. We could literally stay in our communities and see a different display perhaps every two or three months or at different times of the year and not have to travel to Ottawa. All Canadians could access these treasures.
Canadian Museum of History Act November 6th, 2013
Mr. Speaker, I do not know if the member was in the House when I was speaking. It is very clear that the mandate of the museum is to have a focus on Canadian history and a Canadian view of history, but the international exhibitions will still go on. No one is going to ignore those. Those will still happen. I just made mention earlier of looking at the Greeks and Greek history in 2015.
Is it worth $25 million for Canadians to learn a Canadian perspective of history in their national capital, at a one-time charge? Yes, it most certainly is.